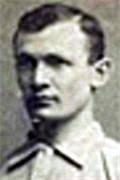 ---
Remember Mathewson, Ames, and Donlin,
Buck Ewing, Rusie, Smiling Mickey Welch?
Remember a left-handed catcher named Jack Humphries,
Who sometimes played the outfield, in '83?
— From Rolfe Humphries, "Polo Grounds."1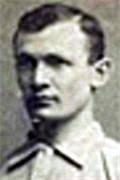 By the usual baseball benchmarks Jack Humphries' major-league career was the definition of forgettable: backup catcher with the New York Gothams and the Washington Nationals in the 1880s, a .143 batting average in 98 games.
But that's not to say his life and his career weren't notable. Humphries was, after all, the first native of Eastern Ontario, the first graduate of Cornell, and the first Phi Beta Kappa to make it to the major leagues.
And after his brief fling with big-time baseball, he became a pennant-winning minor-league manager, an educator, and a mentor to one of the great American poets and classicists of the 20th century.
John Henry Humphries was born2 in 1861 in North Gower, Ontario (then called Canada West), a few miles south of Ottawa.
In those days North Gower was a bustling lumber town of five boot and shoe shops, four general stores, three churches, two wagon shops and a post office.
Humphries' father, possibly a bookkeeper, had emigrated from England in the 1850s and married a local woman of Irish descent.
In 1866 the Humphries family moved to Syracuse, New York, where young Jack developed into a star ballplayer and student. Despite throwing left-handed, Humphries insisted on catching.3 He was also much in demand as a wicket keeper by top-level cricket clubs in Syracuse.
In 1879 Humphries won a scholarship to study science and letters at Cornell College (now Cornell University) in Ithaca, New York. As a junior he became captain of the varsity baseball team.
"Humphries has few equals behind the bat and throws well," said a Syracuse newspaper in 1882.4
In fact Humphries was known to have the strongest throwing arm at Cornell, twice capturing the baseball-tossing event at the school's spring athletic meet. His winning toss in May 1883 traveled 315 feet, 6 inches.
But most of all, Jack Humphries was tough, which was perhaps the prime requisite for a catcher in those days of minimal protective equipment.
He was once ordered to sit out a college game because of a hand injury, but refused. "When he got through," said one report, "his hand looked as though encased in a boxing glove."5
During his senior year at Cornell, 1883, Humphries was recruited to play for the National League's fledgling New York franchise, the Gothams, later the Giants (now the San Francisco Giants).
According to his future wife, Florence Yost, Humphries was "much criticized, not to say berated"6 by his university-educated peers for his choice of careers, but he insisted baseball would be a pleasant way to earn a living. And early on that was no doubt the case.
A week or so after graduation the 21-year-old Humphries found himself in the Polo Grounds catching a future Hall of Famer, Smiling Mickey Welch.
It was a debut that earned a thumbs-up from the New York Times: "The position of catcher was filled up to the mark by Humphries. … He supported Welch in fine style, and threw to the bases very accurately."7
The rangy 6-foot-1, 172-pound rookie also earned favourable reviews from the New York fans. One young woman described the youngest Gotham as "wont to jump up twelve feet in the air and catch in one hand a base ball as it flew over his head," and "as good looking as a real oil painting."8
On July 13, 1883, Humphries partnered with James "Tip" O'Neill, the "Woodstock Wonder," to form the first Canadian-born battery in big-league history. They lost 6-3 to Buffalo.
Despite the presence of four future Hall of Famers in the lineup — Welch, star catcher Buck Ewing, slugging first baseman Roger Connor, and all-rounder John Montgomery Ward — the Gothams would finish a dismal sixth in 1883, 16 games behind the pennant-winning Beaneaters of Boston.
Humphries batted only .112 in 29 games, but the Gothams were happy with his defensive work and made him one of 11 players reserved for 1884.
But during the offseason Humphries obtained his release from New York — the reason why is unclear — to accept an offer from the Minneapolis Millers of the Northwestern League. Then at the last minute he changed his mind and signed with the Washington Nationals, aka Statesmen, of the American Association.
Humphries became the first-string catcher for the sad-sack Nationals. He was hitting .176 when the club folded on August 2, having won just 12 of 63 games.
Humphries immediately reupped with the Gothams, but batted only .094 for the rest of the National League season.
In the spring of 1885 Humphries accepted an offer to captain the Syracuse Stars of the newly organized New York State League. His big-league career was effectively over.
For Humphries, playing in his adopted hometown was a mostly positive experience.
Highlights included catching a no-hitter thrown by Canadian Bob Emslie against Oneida and a 5-0 exhibition victory over Cap Anson's National League champion Chicago White Stockings before 10,000 fans in Syracuse. Humphries was widely considered the best catcher in the league.
In July, however, Humphries had some sort of a blowup with his manager, Henry Ormsbee, and was fined a hefty $50.
"John Humphries has been noted for his gentlemanly conduct on and off the ball field," noted the Oswego Palladium, "and his friends consider the penalty a severe one."9
The Stars said they would rescind Humphries' fine if he apologized. He refused.
Eventually, Humphries and Ormsbee worked out their differences, and Humphries returned to his position. "Bets are now being made that the Syracuse Stars will win the pennant," said Sporting Life.10
The day after Emslie's September no-hitter, with the Stars comfortably in first place, manager Ormsbee resigned for a reason no doubt unprecedented in baseball history: A veteran stage performer and manager, he left to prepare for an opera he was mounting in the offseason.
Twenty-three-year-old Jack Humphries replaced him, and the Stars continued their march to the league pennant. "Humphries has worked hard this season, and to him is to a large extent due the success of the Stars," said the Syracuse Standard.11
The Stars dithered in the signing of players for the following season, and Humphries accepted an offer to be player-manager of the Toronto Canucks of the Canadian League.
"I became tired and made up my mind that I had waited long enough," said Humphries of his decision to return to his native Ontario. "Ball playing is a matter of dollars and cents with me."12
The Canucks, meanwhile, were lobbying — successfully as it turned out — for the formation of a cross-border circuit that would see Toronto and Hamilton, Ontario, join with the strongest franchises from the New York State League. The new loop was dubbed the International Association.
Humphries, handed a $9,000 budget for player salaries, was able to lure most of his old Syracuse teammates to his new team.
"Base ball is booming," said Sporting Life, "and so is Toronto."13
By Canada's Dominion Day holiday, July 1, Humphries' club sat in first place with five more wins than its nearest rivals. But soon things started to go bad.
On a hot Sunday in early August — Ontario blue laws meant no Sunday baseball — Toronto's best hitter, 26-year-old third baseman Billy Smith, decided to spend the day swimming at Toronto Island in Lake Ontario.
Horsing around in the water with a friend, Smith struck his head on the bottom and broke his neck. He died that night, leaving his widowed mother and his sister back in Ohio with no means of support.
The Canucks and the league at large came to the aid of Smith's destitute family with a series of benefit games and sales of photographs of the dead player.
The details surrounding the handling of the proceeds are murky, but in any event Humphries found himself at the centre of a protracted scandal involving their disbursement.
For some reason he delayed for many months in sending Mrs. Smith a chunk of the benefit money, and his detractors seized every opportunity to flay him in the press.
"The matter is really assuming a very unpleasant shape," said the Toronto Mail.14
Meanwhile, with the pall of Smith's death hanging over the club, the Canucks slipped to third in the standings.
Toronto, said a pseudonymous and unsympathetic Sporting Life antagonist, "had a sorry experience with a weak directorate and a playing manager. The latter has proven himself a complete failure, for he had the material with which he could easily have won the pennant, but no one with his eyes closed to dissipations that were plainly visible to all … could have hoped for any better results."15
Despite the negative managerial review and a .183 batting average, Humphries was reserved by Toronto for 1887.
Anxious to get away from the negativity surrounding the team, Humphries apparently shelled out $200 of his own money to secure his release. He then signed a prearranged $1,800 deal to play for and manage the rival Rochester Maroons.
"The new management certainly starts with bright prospects," said Sporting Life's Rochester correspondent. "In Mr. Humphries they have an educated, gentlemanly manager, who is well up in base ball and fully capable of taking complete charge of the team for 1887."16
The Smith affair dragged on.
Finally, in March of 1887, Humphries sent Mrs. Smith a bank draft for $100 with an eloquently naked apology that read in part: "I frankly acknowledge that I have done wrong in so long delaying this matter, and confess I am most heartily ashamed of myself. If in the future I can in any way make amends for my neglect, you will oblige me by letting me know how. Trusting you will forgive the injury, I am yours sincerely, J.H. Humphries."17
And to Sporting Life he wrote: "The wrong I may have done in this matter is an affair of my own conscience, and perhaps I may be allowed to say that the scribblers who have been jabbing me with pens far more venomous than reasonable, have enough short-comings of their own to give all the conscience they possess some pretty severe exercise without taking up my load of guilt."18
Humphries' 1887 season proved hardly more placid than the previous one. From its inception the International had been a racially integrated league — that is to say a sprinkling of African-American talent was tolerated, but barely. By 1887 half the circuit's 10 teams had a black player or two in their lineup.
"How far will this mania for engaging colored players go?" Sporting Life wondered. "At the present rate of progress, the International League may ere many moons change its title to 'Colored League.'"19
But in July the league's governors passed a resolution to approve no more contracts with "colored" players.
Evidence of Jack Humphries' level of racial tolerance is slight and circumstantial, but what there is is not particularly impressive. None of the teams he managed employed blacks — with one exception.
In 1885 Humphries hired a "fat colored boy"20 to serve as mascot for the Syracuse Stars. The following season he recruited the same kid, identified (when anyone could be bothered to use his name — which was rarely) as Willie Hume, about 14, to come to Toronto.
"Humphries believes that the little fellow's presence helps his men to win games," said the Oswego Palladium, "and he has dressed him up in a pretty velvet uniform, striped in gold, and takes him along wherever he goes. But the little fellow's spell was broken yesterday. He ran across the diamond, spat on the home plate and showed his teeth at the umpire but all to no purpose."21
In July 1886 Humphries cut Hume loose for "insubordination and tardiness"22 while on a road trip to Binghamton. In a subsequent interview with a Syracuse paper, Hume declared "that the Torontos should not blame him for their poor success on this trip, as he has spit on their bats until he is weary."23
Such was the level of racial interplay in the 1880s.
Some managers — perhaps Humphries was one — felt they had enough internal problems without adding racial tension to the mix. The 1887 Maroons were a fractious enough bunch, even by the standards of the day, and Humphries, as he had been in Toronto, was under fire from the Rochester press for his perceived failure to instill discipline and sobriety in his players.
"Jack Humphries, catcher-manager, had little control over off-diamond activities of this aggregation," says a 1950 history of Rochester baseball. "Rollicking Rochesters flirted with hops and barley, and were the drinkingest fish yet spawned in International pool. Always in hock to management and town bar-keeps, they were known as the good-time Charleys of a riotous league."24
These Charleys stumbled home in seventh place, well back of the pennant-winning Canucks. Humphries batted .276 in 28 games. He was released in October.
For Humphries baseball was further than ever from the "pleasant way to make a living" he'd envisioned when he left Cornell five years earlier. That fall he decided he'd had enough of life in the sporting trenches and went to work at a Syracuse insurance firm.
But he couldn't stay away from the game entirely. The following summer Humphries and some of his old Stars teammates formed a cooperative team to play against other New York towns without professional teams. That was his last kick at competitive baseball.25
On June 30, 1890, Humphries married fellow Cornell Phi Beta Kappa Florence Yost (Ph.B. '88), the daughter of George W.N. Yost, the genius behind some of the most successful early typewriters.
The couple might have been heirs to a considerable fortune, but Florence's father, always something of a flake, got swept up in the world of spiritualism — he was convinced his typing machines could be used to communicate with the dead.
Yost was gradually drained of his considerable fortune by a series of fortune tellers. His sad decline became a slow-motion train wreck that made periodic front-page news across North America for several years in the 1890s.
"Completely at the Mercy of a Gang of Sharpers —" blared a headline from as far afield as Nebraska, just three months before Yost's death in 1895; "His Family Deserted and His Fortune Squandered — He Is Now Poor and a Physical Wreck — Still Believes in the Medium Frauds."26
Jack and Florence meanwhile raised five children, while both pursued successful careers in education.
By 1895, the year George Yost died and the eldest child, Rolfe, was born, Jack was head of the classics department at the venerable Philadelphia High School for Girls.
With a little prompting from Jack, Rolfe, the story goes, could speak Latin before he could even read. Like his father, Rolfe also became an excellent athlete, a star football player at Amherst College, where he later taught.
In 1903 Jack Humphries again found himself at the centre of a public controversy. After a decade at the Girls' High School, he was summarily fired, ostensibly so that a female teacher might be put in his place.
His students rose up, submitting a 2,000-signature petition in his defence. "We have had the advantage of his able instruction," it said, "and we feel qualified to testify to his strong personality, his perfect integrity, his absolute disinterestedness of purpose, his devotion to the interests of his pupils and his unfailing faithfulness to duty."27
Nonetheless Humphries resigned and became principal of a high school in Towanda, Pennsylvania.
In 1912 the Humphries clan uprooted to California, where Jack and Rolfe picked apricots to earn the money to have their book collections shipped out from Pennsylvania.
Jack taught high-school Latin and math for the rest of his working life. Florence taught high school and at Stanford University.
Building on the classical knowledge imparted by his father, Rolfe Humphries went on to become an important figure in American letters, a poet, teacher, editor, critic, and translator of Latin heavy hitters like Ovid, Juvenal, and Virgil — the British poet W.H. Auden called Rolfe's translation of The Aeneid "a service for which no public reward could be too great."28 He also translated poetry from French, Spanish, and Welsh.
But Rolfe was no language snob. "He was interested in baseball, in the race-track, in vaudeville and musical revues …," his friend, the poet Louise Bogan, wrote. "He could speak the American vernacular with skill, in a period when American poets were not giving 'slang' much attention."29
Rolfe went on to produce two of the best baseball poems ever, "Night Game" and the above-mentioned "Polo Grounds."
Ultimately "Polo Grounds" is a meditation on time and its passage. It ends:
Time is of the essence. The shadow moves
From the plate to the box, from the box to second base,
From second to the outfield, to the bleachers.
Time is of the essence. The crowd and players
Are the same age always, but the man in the crowd
Is older every season. Come on, play ball!
Jack Humphries, the left-handed catcher immortalized at the beginning of the poem, died in 1933 in Salinas, California, 72 years and 3,000 miles from his Ottawa Valley birthplace.
Acknowledgments
This biography was reviewed by Len Levin and fact-checked by David Kritzler.
Notes
Born
November 12, 1861 at North Gower, ON (CAN)
Died
November 29, 1933 at Salinas, CA (USA)
If you can help us improve this player's biography, contact us.
https://sabr.org/sites/default/files/HumphriesJack.jpg
600
800
admin
/wp-content/uploads/2020/02/sabr_logo.png
admin
2019-01-23 13:30:29
2020-04-09 14:38:37
Jack Humphries