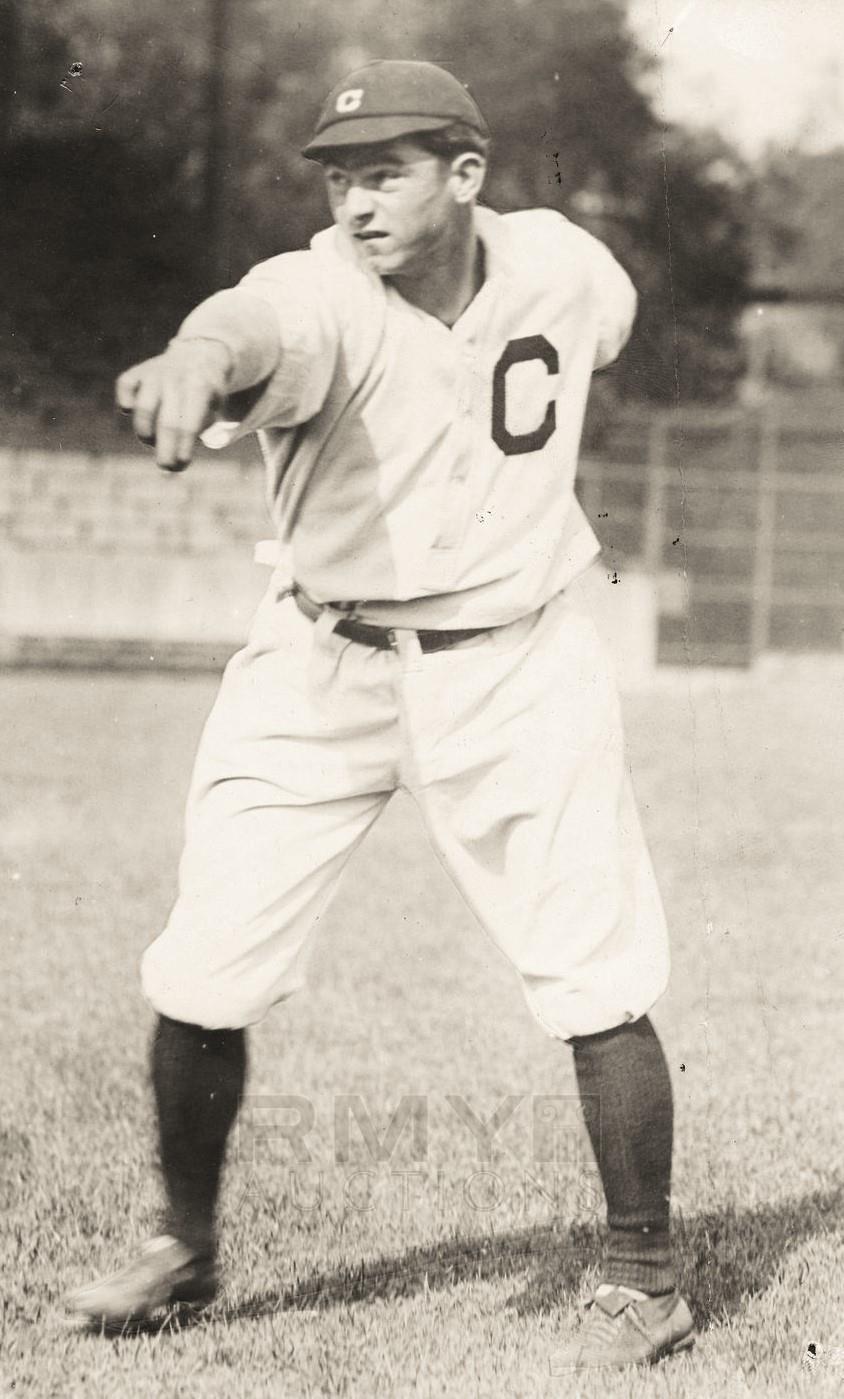 ---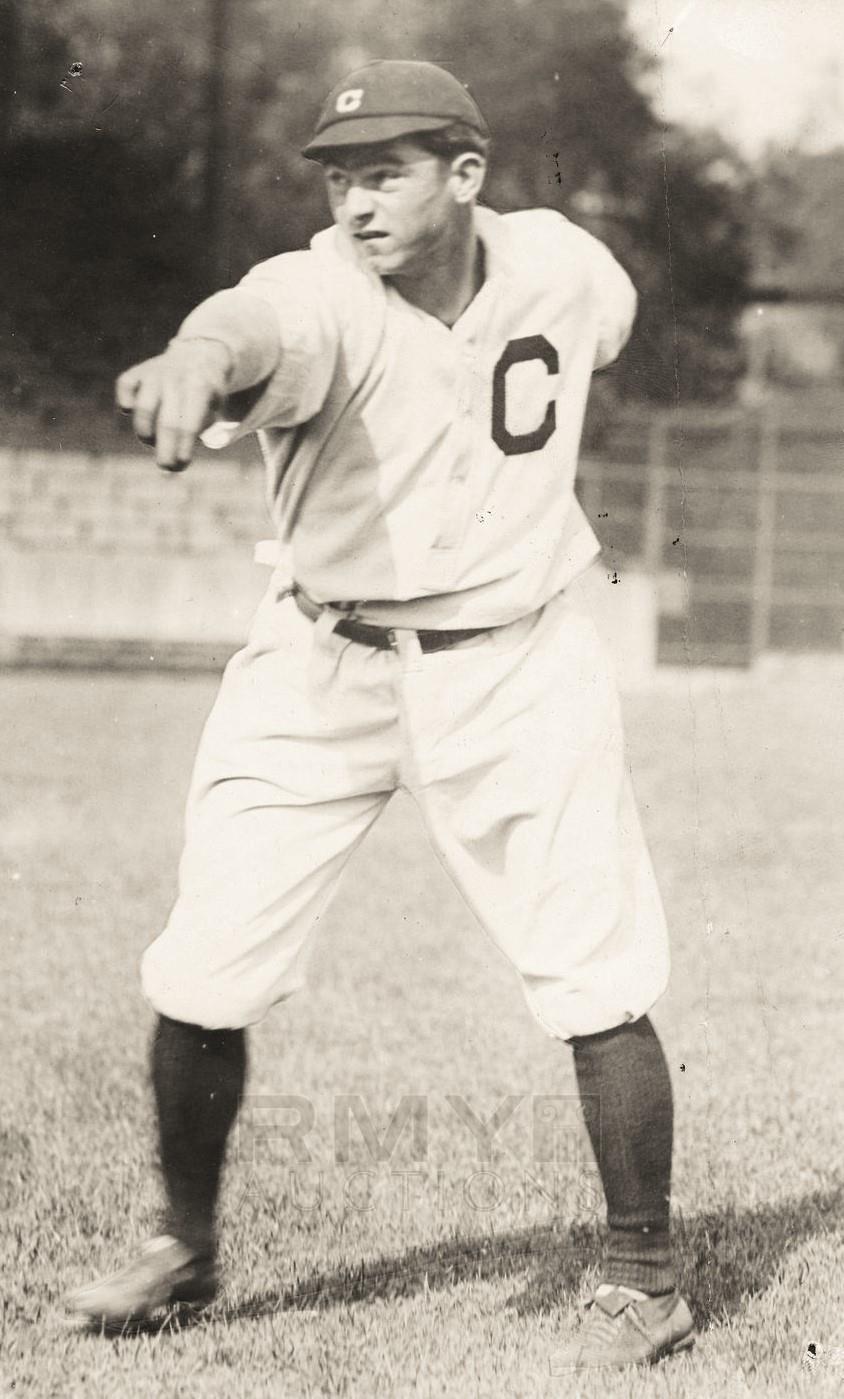 Jack Kibble's cup of coffee with Cleveland in the summer of 1912 amounted to just five games, but with teammates the likes of Nap Lajoie, Shoeless Joe Jackson, and Ray Chapman, it surely amounted to a lifetime of stories told at his cigar shop and sporting goods store back home in Montana.
John Westly "Happy Jack" Kibble, born on the second day of 1892 in the village of Seatonville, Illinois, was the fourth child of an English coalminer, James, and Elizabeth née Cherry, mother of eight. The Kibble clan made the move to south central Montana when Jack was 15, with Jack and his brothers working the coal camps in and around Roundup that supplied the Milwaukee Road.1
Known as "Happy" by 1908, Kibble suited up for the Roundup town team by age 16. His first mention in the Roundup Record came as he scored one of two tallies against a touring team from Drake, North Dakota as his big brother, James Jr. scorched a "sensational three bagger."2 James Jr. would marry one of the daughters of Henry Fletcher, "the father of base ball in Roundup."3
Jack Kibble began catching for his adopted hometown the following year. "Kibble is doing some classy playing behind the stick, and altho [sic] some consider him too light for the place, chances are that he will be retained in that position the greater portion of the season."4 A coalminer by this time, catching couldn't have been much harder work for Kibble, who was listed at 5'9" and 154 pounds during his major-league days. Batting leadoff in a road game with neighboring Melstone that summer, Kibble went 4-for-5, contributing a double and a triple. The paper noted the young team captain also "made a 'hit' with the fair sex of Melstone which ought to increase his batting average materially."5 Kibble's appearance would years later be compared to Charlie Chaplin.6
Kibble and associates composed the first athletic organization of Roundup in early 1910.7 In addition to his feats on the diamonds, where his name often appeared in box scores simply as Happy, Kibble umpired local games, was a guard on the basketball team, a footballer, and a 150-average bowler.8 Kibble's athletic enthusiasm seemed limitless, as later in life he would bring a nine-hole golf course to Roundup, often displaying his trophies in the windows of his shop.
In mid-July 1910 against Miles City, Kibble hit his first documented home run.9 Two weeks later he was on a train to Anaconda for his first engagement in the semipro ranks.10 "'Happy' Kibble, formerly one of Roundup's star players, is not only making good, but is making a hit with the fair sex as well."11
At the beginning of 1911, confectioner Harry Case, who later became Kibble's partner in the sporting goods business, collaborated with the Roundup Record to telegraph Helena manager Charles Irby about the standout abilities of the rounder from Roundup. Kibble was granted a tryout, catching for an amateur club called Smokehouse against the Helena Union Association team in a preseason exhibition game, and he was in the lineup for Helena in an opening day loss in Great Falls.12 Kibble, batting seventh and playing third base, was hitless in front of the 3,600 in attendance.13 The Record continued to heap on praise: "Roundup's boy wonder makes good and signs up with state capital team."14
In Helena's home opener, their sixth straight defeat, Kibble scored the Senators' lone run after being sacrificed by fellow rookie Del Baker.15 On April 29, Kibble and Helena were no-hit by Roswell "Rube" Hildebrand (born in Ulm, Montana in 1889) in what the papers heralded as, "the first man in professional baseball to pitch a 'no-hit' game on his first appearance."16 Hildebrand struck out 12, walked one, and hit three. Kibble was hit by a pitch in the third inning and came around to score Helena's only run on an error by the first basemen.
While his fielding was universally lauded, his hitting lagged, even at Class D, and in May Kibble experimented with switch hitting. "Playing third base in a manner that can't be excelled … Kibble has taken to batting left handed and the way he stepped into the ball Friday gives indication of ability to hit in much better form than when he was batting on the other side of the plate. Kibble will do."17
On the first day of June, Kibble contributed a pair of putouts and assists as Helena pitcher Dave Byrd no hit Boise, 2-1.18 Byrd's performance may have been aided by a hangover from the May 31 game in which two deputy sheriffs assisted umpire "Rasty" Wright in "preserving order." After "persistent kicking" that resulted in two ejections, three fines, and the entire Boise reserves ordered to the clubhouse, Helena won their fourth straight game, 3-1.19
In the second game of a doubleheader on July 9, Kibble was perfect at the plate, netting four singles.20 By the end of the month he was moved to the leadoff spot and making headlines. "Kibble Stars Again" and "Youthful Third Baseman Plays All 'Round Infield" read pages in the Missoulian.21 The following week another attention-grabbing headline read, "Kibble's Meat-Hand Stop Feature of the Contest." A rocket off the bat of Boise's cleanup batter found "Kibble's bare-hand, the prettiest play seen on the home grounds this year."22 Kibble was again perfect at the plate from the leadoff spot in an August 7 victory over Boise, and "pulled off the fielding sensations of the afternoon." "Kibble [is] giving correct demonstrations of how to play third base."23
At home on August 29 the Senators handed Butte their worst defeat of the season, 15-1. Kibble scored twice while going 3-6 with a double and picking up his first career home run, the first of the season to be of the inside-the-park variety.24 Six days later, Kibble made a running bare-handed catch in the ninth inning to preserve a 1-0 Helena lead that the Missoulian called, "the star play of the season."25 It was a regulation game that lasted a mere 57 minutes.
After Great Falls was crowned victors of the 1911 Union Association, the Missoulian named its all-star team. "We like Kibble of Helena for third base because he is aggressive, always in the game and fields his position to suit the most exacting. He has a splendid peg to first, is especially good at going back to third for hard-hit balls and is improving everyday."26 Kibble's year-end marks missing from available online records include: 48 RBIs, 15 sacrifice hits, 17 steals, and 66 runs.27 His 201 putouts and 289 assists were both tops for third basemen, resulting in a .918 fielding percentage—and his being drafted by Portland for the 1912 season, with $400 paid to Helena. "The whole thing means 'Happy' will take a step up next year, and Roundup's base ball idol is now in a fair way of becoming a big leaguer some day."28
The Portland brass liked the young recruit from the get-go, with the papers showering accolades, and comparing the 20-year-old to several big-league names. "For Kibble, I predict a most rapid rise. Nothing can stop him except illness or the swell-head … Bobby Lowe, scout for Detroit, noticed him [and] some of the 'vets' think Kibble resembles Duffy Lewis. The lad neither drinks or smokes, and has an odd habit of going to bed early."29 "Of the new men … Kibble probably made the best impression. Kibble is fast on his feet, carries himself like a finished product, and is one of the chattering variety, which is so essential to secure to proper amount of 'pep'."30 "In a practice game Thursday, Kibble lifted four home run drives over the fence, which indicates that the popular Union League lad may become the Ping Bodie of the Northwestern League."31
Kibble failed to make the Beavers AA squad, but got off to a fast start with the Class-B Colts of the Northwestern League tallying his first homer on April 18. He added a two-run shot on April 24 that earned the young recruit $9 in silver from the fans of Seattle.32 Kibble clubbed his third round-tripper on June 2, and soon after was tried atop the Colt lineup. On June 29 Kibble hit a homer off the top of the fence, narrowly missing one the popular tobacco offerings of the day.33 He'd add another that stretched far above the right-field fence three days later.34 A three-run shot that tied the game on July 12 brought his season total to six, and placed him ninth in the league in extra-base hits.35
By the end of July multiple scouts were paying attention, but none wanted to pay the $3,000 asking price for Kibble.36 Manager Mike Lynch of Tacoma was impressed, "This boy Kibble looks more like Joe Tinker than anyone I have seen for many days. He is fast, young, has a wonderful arm, in addition does not know the meaning of the word quit. He is up and fighting all the time, and that's what counts."37 Cardinals scout Dick Kinsella stayed on an extra day to get another look at Kibble, but passed. Sensing they would soon lose their third basemen, the Portland brass shifted Kibble to the Beavers to dodge the Class-B draft price of $1,200. 38
In a player feature that ran in the days leading up to his purchase, Kibble was asked if he was indeed a Montana sheepherder, as had been jabbed as the Colts made the rounds. "No, Roundup is not a sheep camp, but a mining camp," Kibble replied. "Sure, I was a miner. Why not? Mordecai Brown and other big fellows were miners. And then, too, you know mining furnishes three squares a day and the work is not the kind to hurt a man who intends to follow baseball for a living. I'm mighty glad I have looked good enough to have all these fellows boosting me to the big leagues."
Cleveland offered a contract on August 22 with Portland pocketing $2,000.39 On August 27, Kibble boarded a train to Ohio. He made his major-league debut for the Naps two weeks later on September 10, 1912, the same day as the debuts of Tim Hendryx, Lou Nagelsen, Jim Neher, and Ernie Wolf. It was an 11-3 blow-out loss to Washington, and Cleveland's 17th loss of the season to the Senators. Kibble took the place of Terry Turner at third base in the fourth inning and promptly retired Eddie Foster, Clyde Milan, and Chick Gandil in succession. In the seventh Kibble was hit by Carl Cashion. Ray Chapman walked, and Joe Jackson made an infield out moving both up. Nap Lajoie then laid down an unexpected bunt, and Kibble scored. Happy Jack was errorless in front of 8,000 fans, contributing six assists and two putouts while turning a 5-3 twin killing. 40
In his second game on September 13, Kibble was again a late-inning replacement for the Naps. Kibble turned a 5-4 twin killing with the team's namesake, but Boardwalk Brown kept him off the basepaths.41
News of his big-league trial made it back to Montana with both the Helena Independent and Missoulian reporting the work of the "former Helena boy." "Go to it, boy. We're strong for you."42 His hometown Roundup Record reprinted a story from the Cleveland Leader, "Most prominent among Kibble's assets is an arm of steel. He can surely peg."43
Kibble's third game on September 16 saw Cleveland shutout by Eddie Plank and the Athletics. In the dugout for the A's was a young spitballer, Roy Crabb, who would eventually be buried in Lewistown, Montana – a short drive from the final resting place of Kibble.
In his fourth game on September 26 against the Tigers, Kibble was again errorless in two chances, drew a walk, but remained hitless against George Boehler.44
Before his final appearance in the bigs, veterans tried to tell the young Montana boy how to play Ty Cobb and the Tigers, instructing him not to throw to first on a good bunt by Cobb. Kibble replied, "Oh, let me get in there. I'd like to show Cobb up. He can't beat me to first."45 Kibble got into the game, but replaced Hall of Famer Lajoie at second base after Nap had gone 4-for-4 at the plate. Cobb roamed center field, Kibble was again perfect in the field, but held hitless in his last chances by Charlie Wheatley.46
Kibble wouldn't get another chance with fast company, and on January 11, 1913 he was traded by the Cleveland Naps with Jake Atz, Bert Brenner, Tim Hendryx, George Yantz, and $5,000 to New Orleans for Nick Cullop.47
With New Orleans, Kibble failed to hit Southern League pitching and was sold to Class-B Evansville of the Central League. He played out 1913 with the River Rats, and would be back for the next three seasons. Kibble paced the Central League with 10 triples as Evansville won the pennant in 1915, and batted .257 in his four years with Evansville.
Back with Portland in 1918 and enjoying his best offensive season to date, Kibble was ordered to report for military duty on June 24.48 He left Portland on June 12, and was given a ball autographed by the team upon his departure, stating, "I'll certainly prize that apple. You can also bet I'll spike a Fritz if I get close enough to one."49 Former teammate in Helena, previous Detroit Tigers catcher and future Tiger and Red Sox manager Del Baker tried to track down Kibble for the Bremerton, Washington Navy team, but missed him by four days.50
The next eight months, Kibble spent with the Army's 28th Company 7th Battalion 166th Depot Brigade. Sergeant Jack Kibble was discharged from the Army on March 3, 1919.51
Kibble was in the lineup for Bloomington as the Three-I League opened play on May 6. Batting sixth and playing leftfield, Kibble was 2-4 with two runs scored.
On July 15 in Terre Haute, Kibble broke his right leg in two places. "Kibble, after getting a clean hit, attempted to advance to second on a high foul ball caught by the catcher and caught his spikes in the dirt as he slid safe into second base. One break was at the ankle and the other just above."52 "It will be hard to replace Kibble, [and] very doubtful to be able to secure as loyal and as capable an athlete as the Roundup, Montana Demon."53 "Jack is one of those athletes who always has the interests of the club at heart and is one of the most popular athletes in the [Three-I] league. He was hitting close to .300 when injured and .300 hitters don't grow on the bushes."54 A "Kibble Day" benefit game was held by the pennant-winning Blomington Bloomers near season's close with $400 raised to offset medical expenses.55
With his professional playing days behind him Kibble settled back in Roundup, Montana where Jack, listed in the 1920 census as a "ballplayer," would spend the rest of his life. Kibble managed a Billings semipro team in 1921,56 and later that summer found himself back playing alongside his brother Jimmy. The Kibble-led Klein team defeated a Winnett club, 4-2, with "a home run by Happy Kibble the feature of the game."57
Happy Jack married Ada Morrow on September 14, 1922 at Congregational Church in the presence of a few close friends.58 Their union produced no children. That same year, Kibble formed a partnership with Harry Case in sporting goods store called The Swastika – a popular good luck symbol prior to being stigmatized at the onset of World War II. The business also sold candy, tobacco, and featured a soda fountain and card room. The store produced a newsletter complete with comic strip renderings of local sporting events drawn by artist Fred "Fritz" Tressl Jr. called The Swastika Bugle. The store's name was eventually changed to Kibble & Case.59
In the summer of 1952, Moxie Meixell, a teammate of Kibble's at Cleveland in 1912 and Evansville in 1913, called on his old buddy and the pair, sitting in Kibble's sporting good shop, "had a pleasant interlude recalling the times they had, when they last saw each other."60
Kibble did more than just run his business. The one-time chief of the Roundup fire department was also an active member of Unity Lodge No. 71 of Roundup Ancient Free and Accepted Masons, Scottish Rite Bodies, and the Al Bedoo Shrine of Billings.61 A community leader and respected businessman of Roundup for 47 years died of a stroke on December 13, 1969 at age 77. As a 50-year member of the Musselshell Post No. 18 American Legion, Kibble is buried alongside his wife at Custer National Battlefield Cemetery outside Crow Agency, Montana.
Acknowledgments
This biography was reviewed by Bill Nowlin and fact-checked by Chris Rainey.
Sources
In preparing this biography, the author relied primarily on online newspaper archives including The Sporting News offered at Paper of Record, Sporting Life, as well as the Chronicling America newspapers hosted by the Library of Congress and the Montana Historical Society online archives, including the Anaconda Standard, Evening Star, Harlowton News, Missoulian, Oregonian, Richmond Palladium and Sun-Telegram, Rock Island Argus, Roundup Record, Times Dispatch, St. Charles Herald, Salt Lake Tribune, The Sun, Washington Herald, and Washington Times. The author's book with fellow SABR member Skylar Browning, Montana Baseball History, was also partially excerpted. Additional information was obtained from the player's file at the Hall of Fame Museum and Library in Cooperstown. Census data was acquired from familysearch.org. Photograph comes courtesy of the Jay Gauthreaux collection.
Notes
Born
January 2, 1892 at Seatonville, IL (USA)
Died
December 13, 1969 at Roundup, MT (USA)
If you can help us improve this player's biography, contact us.
https://sabr.org/sites/default/files/KibbleJack.jpg
600
800
admin
/wp-content/uploads/2020/02/sabr_logo.png
admin
2017-12-27 17:22:53
2020-04-09 14:40:28
Jack Kibble