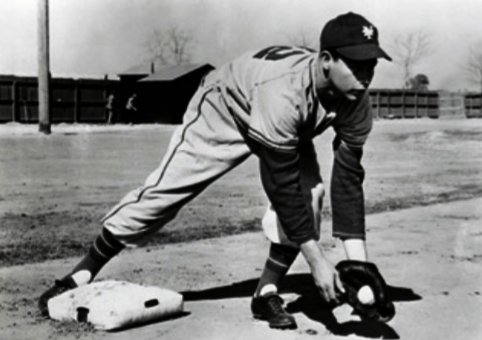 ---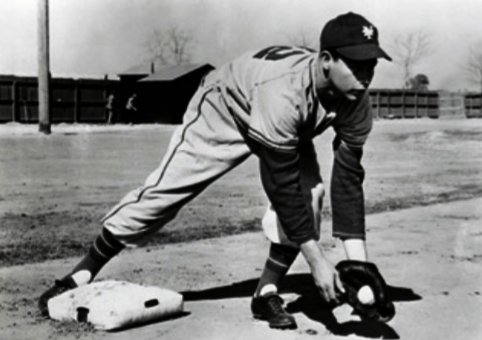 The story of Jack Lohrke is the type of tale that would be rejected by Hollywood producers and major publishers if you were to make it up. The odds are too long, the events too improbable, the luck a little too good. The fact that a man born in the 1920s lived to be 85 is not all that unlikely. But the fact that this particular man born in the 1920s lived to be even 23 is remarkable.
Jack Wayne Lohrke was born on February 25, 1924, in Los Angeles. He was the second of three sons born to John and Marguerite Lohrke. John was employed by the Fluor Corporation, a global construction and engineering firm.
Lohrke attended South Gate High School, part of the Los Angeles School District, and graduated in 1942. By the time he graduated, he was already a semipro baseball player. He was 18 when he signed with San Diego Padres of the Pacific Coast League, but played in only seven games before he found himself with Twin Falls (Idaho) of the Class C Pioneer League, for whom he hit .271 in 105 games at third base. He earned the team MVP award and, as an added bonus, met his future wife, Marie, whose brother was one of Lohrke's Twin Falls teammates. They married in 1948.
With the United States involved in World War II and with Lohrke at the prime age for a soldier, he did not play professional baseball again until 1946, when he was 22 years old. The fact that he ever played again is amazing in itself.
While serving in the Army's 35th Infantry Division, Lohrke fought in the Allied invasion at Normandy in the summer of 1944, and at the end of the year in the Battle of the Bulge, two of the most famous battles of the war. Four times a soldier next to Lohrke was killed, but he himself emerged from the war unscathed. Count these as the first four times that Lohrke avoided an early demise.
He didn't have to wait long for his fifth close call. Back in the United States on his way home from the war in 1945, Lohrke was scheduled to fly on a military transport plane leaving Camp Kilmer in New Jersey and headed to Los Angeles. Shortly before takeoff, Lohrke was bumped from the flight in favor of a higher-ranking officer (or as Lohrke put it in 1990, "some big shot"). Lohrke was angered and disappointed; despite fighting in Europe, he had never been on a plane before.1 But the plane on which Lohrke was to take his first flight crashed, killing everyone on board. Close call number five.
Even after the war, Lohrke was not quite finished dodging literal and figurative bullets. In 1946, his first season back in professional baseball after the war, he began with the Spokane Indians of the Class B Western International League. In late June Lohrke was hitting .345 when the team left Spokane on a road trip, headed for Bremerton, Washington. The team stopped in Ellensburg, Washington, for lunch, and there Lohrke got word that he was being recalled to San Diego, which had sent him to Spokane on option. The Spokane club's business manager had sent the message to the Ellensburg police force by way of the Washington State patrol.2 When the meal was finished, Lohrke said goodbye to his teammates and wished them well. The Indians got on their bus and went on their way while Lohrke hitchhiked back to Spokane.
On a slick road in the Cascade Mountains, the bus driver swerved to avoid a car that had crossed the median, and lost control. The bus broke through a restraining wall and rolled down a cliff between 300 and 500 feet to a ravine below. The bus ended up on its side and burst into flames. Nine of the 15 team members died at the scene or from their resulting injuries. Three of the six survivors never played baseball again. Eight of the nine who perished had survived action in World War II only to die in a bus accident in the mountains of Washington state. "When the bus took off … I bummed a ride back to Spokane," Lohrke said in 1990. "When I got there I found out both of my roommates had been killed."3 As of 2013 the crash remained the deadliest transportation accident involving an American professional baseball team. Close call number six.
Lohrke had been lucky once again. By the time he joined the Padres, "Lucky" had been bestowed upon him as a nickname. Lohrke never did like the name, but lived with it, and it is hard to deny how well it fit him.
Still only 22 and with enough close calls behind him to last several lifetimes, Lohrke went to San Diego and hit .303 with eight home runs in 92 games as a shortstop. After the season he was selected by the New York Giants in the Rule 5 draft. He made his major-league debut at third base in the Giants' third game of the 1947 season, getting his first major-league hit, a single, in his first big-league at-bat, against Vic Lombardi of the Brooklyn Dodgers. He was immediately caught trying to steal second. His first major-league home run came on June 9 at the Polo Grounds against the Pittsburgh Pirates' Kirby Higbe.
Lohrke played in 112 games for the Giants in 1947, starting 102 at third base. He hit .240 with 11 home runs and 35 RBIs. One of the home runs was of particular significance for the Giants; it was the team's 183rd home run of the season, which broke the major-league record for home runs in a season, held by the 1936 New York Yankees. (The record has since been broken many times.) Of hitting the record-breaking home run, Lohrke said, "With guys like Johnny Mize, Walker Cooper, and Willard Marshall around, I was pretty much lost in the shuffle."4
While 1947 looked like a solid debut for a player who was only 23 years old, it would in many ways prove to be the high-water mark of Lohrke's major-league career. He had his career highs in games played, plate appearances, runs, hits, home runs, RBIs, walks, and total bases. He also committed 20 errors at third base, third-most among third sackers in the NL.
For the remainder of his major-league career Lohrke was the type of utility infielder that every team needs, splitting time between second base, third base, and shortstop. Veteran Sid Gordon manned third base for the Giants in 1948 and '49 before Negro Leagues veteran Hank Thompson took over in 1950.
Lohrke had what may have been his most productive season in 1949, when he posted career-best marks in batting average (.267) and OPS (.789) in 202 plate appearance while playing all over the infield. He also played 81 games at Triple-A Jersey City in '49, hitting .302 with 10 home runs in his first minor-league action since 1946. After 1949, Lohrke never again had more than 100 major-league plate appearances in a season.
Lohrke had been with the Giants as they grew from a team that won no more than 81 games in his first three seasons (1947-49), into a team that won 86 games in 1950. The 1951 Giants, of course, won the NL pennant on Bobby Thomson's dramatic home run in a playoff with the Brooklyn Dodgers. But Thomson almost never had the chance. As the June 15 trade deadline approached, Giants manager Leo Durocher sought to get rid of Thomson, and offered him and Lohrke to the Chicago Cubs for outfielder Andy Pafko.5 The Cubs declined, traded Pafko to the Dodgers, and a little more than three months later, Pafko stood at the base of the left-field wall at the Polo Grounds and watched Thomson's drive sail over the wall to clinch the pennant for the Giants.
Going into the bottom of the ninth inning in that deciding game, the Dodgers held a 4-1 lead. Not once in 278 previous playoff and World Series games had a team trailing by three runs in the ninth inning come back to win the game. Lohrke, probably unaware of that fact, sat in the dugout and said to fellow infielder Davey Williams, "Piss on the fire and I'll call the dogs. I think the hunt's over."6 Minutes later, when Thomson's drive won the game for the Giants, Lohrke was in the Giants bullpen getting loose; if the game had continued into extra innings he would have entered the game at third base.
In the World Series, which the Giants lost to the Yankees in six games, Lohrke went 0-for-2 in his only action, pinch-hitting in Games Four and Five. Two months after the World Series, he was traded to the Philadelphia Phillies for minor-leaguer Jake Schmitt.
Lohrke spent the 1952 and 1953 seasons with Philadelphia, reprising his role as a utility infielder. He hit only .190 in limited action. He spent much of the 1953 season with the Phillies' Triple-A affiliate, the Baltimore Orioles of the International League, where he was not much better, batting only .194. After the 1953 season the Phillies traded Lohrke to the Pirates with pitcher Andy Hansen and $70,000 in exchange for Murry Dickson. Lohrke, 29, never played in the major leagues again.
Lohrke did play six more seasons in the minor leagues, however. He spent time with Hollywood, Seattle, and Portland of the Pacific Coast League and spent part of the 1959 season as player-manager of Tri-Cities (Kennewick, Richland, and Pasco, Washington) in the Class B Northwest League. He continued to play primarily as a utility infielder, but expanded his rėsumė by catching a few times and even pitching. Lohrke made 25 pitching appearances (24 in relief) in his last six seasons in the minors. He posted a respectable 2.35 ERA in 53⅓ innings (in games for which we have complete records ).
After his baseball career, Lohrke worked in security for AeroJet General, Lawrence Livermore, and the Lockheed Corporation, from which he retired in 1986.
Lohrke lived the last 40 years of his life in San Jose, California. He died at the age of 85 on April 29, 2009, in a San Jose hospital, two days after suffering a stroke at his home. He was survived by his wife of more than six decades, Marie, as well as six children, ten grandchildren, and seven great-grandchildren.
In an article in Sports Illustrated in 1994, Ron Fimrite wrote, "Lucky Lohrke. An amiable man, he lived with the nickname, but he never liked it, never wanted to be reminded of how close he had come to riding that bus into oblivion."7
While he avoided more than his share of catastrophe, Lohrke never lost sight of how fortunate he had been. "When you're the age I was back then," he said in 1994, "you haven't got a worry in the world. You're playing ball because you want to play – and they're giving you money to do it. And then … well, sometimes those names (from the bus accident) spring back at me. … Nobody outside of baseball calls me Lucky Lohrke these days. I may have been lucky, but the name is Jack. Jack Lohrke."8
This biography appears in "The Team That Time Won't Forget: The 1951 New York Giants" (SABR, 2015), edited by Bill Nowlin and C. Paul Rogers III.
Sources
In addition to the sources cited below, the author relied upon Baseball-Reference.com and Retrosheet.org.
Notes
Born
February 25, 1924 at Los Angeles, CA (USA)
Died
April 29, 2009 at San Jose, CA (USA)
If you can help us improve this player's biography, contact us.
https://sabr.org/sites/default/files/LohrkeJack.png
600
800
admin
/wp-content/uploads/2020/02/sabr_logo.png
admin
2012-01-04 20:49:52
2012-01-04 20:49:52
Jack Lohrke