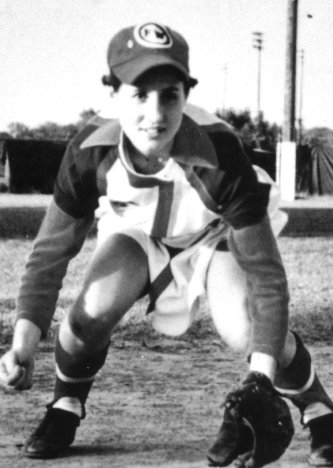 ---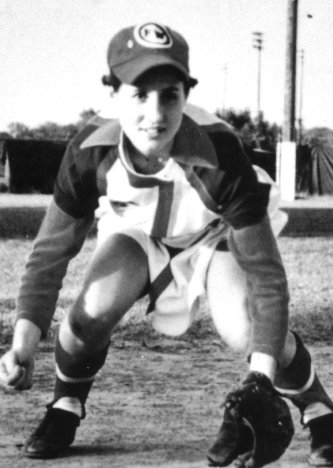 As a child growing up in the 1940s on Rice Street in St. Paul, Jean Ann Havlish played football at the local playground, tucking her pigtails into her helmet so no one would know she was a girl. When an opposing team found out, she was banned from playing football.
Later, Havlish distinguished herself in another non-traditional sport for women: baseball. She was among the women from Minnesota to play in the All-American Girls Base Ball League (AAGBBL), now known as the All-American Girls Professional Baseball League (AAGPBL), the subject of the well-known film, A League of Their Own. Havlish was the starting shortstop on the 1953 and 1954 Fort Wayne Daisies, helping her team win the regular-season pennant both years.*
When the league folded after the 1954 season, Havlish went on to play elite fast-pitch softball and then to compete on a national level as a bowler. Her success in bowling landed her in the Women's International Bowling Congress Hall of Fame in 1987. She is also the only bowler in the Minnesota Sports Hall of Fame.
Jean Ann Havlish was born in St. Paul on November 23, 1935, to Howard and Mary Havlish. Her father worked for the Great Northern Railroad, while her mother took care of the family and worked part-time for the Internal Revenue Service. One of five children, Havlish attended St. Bernard's grade school and then Washington High School in St. Paul. She was a multi-talented athlete growing up, playing hockey, baseball, football, and basketball and competing as a speed skater. "The only thing I couldn't play was tennis," she acknowledged.
As a small girl, she enjoyed the rich baseball life of St. Paul's Rice Street, spending her free time fielding balls on the Rice-Lawson playground. "All my life, I can't ever remember not playing baseball." Her dad encouraged her to play. "When I was 11 or 12 years old, my dad's golfing buddies would sometimes come over. He used to bet them a quarter that they couldn't throw a ball past me in the driveway. He always won." When she was a little older, she practiced with the boys' American Legion team in her North End neighborhood. She played with some of Rice Street's baseball legends, including Jerry Kindall, who played in the majors from 1956 to 1965, and Jim Rantz, who became minor-league director for the Twins. Havlish asserted, "If you lived on Rice Street, you either watched baseball or played it."
Havlish also played softball with the neighborhood girls. She remembers how she used to grab her glove and ride her bike to the playground to watch the older girls play. "One day, one of their players got hurt. So they asked me if I'd play shortstop. A left-handed batter hit a shot to me and I caught it in my stomach." After that, she was on the team, and her career as a shortstop began.
In 1950, Havlish and her father saw an article in Parade magazine about the AAGPBL and decided that she should try out. The two of them took a train to Chicago, home of league founder Philip Wrigley, in the hopes that she could snag a spot on a team. Havlish remembers how she and her father, who was holding three jobs at the time, stayed in a cheap hotel room over a bar. When they made their way to the Wrigley Building the next day, they quickly found out that there was no team in Chicago. Later that year, Havlish tried again, rushing out of her grade-school graduation ceremony to hop a bus with her father to Racine, Wisconsin, to try out for the Racine Belles. This time Havlish had the opportunity to do a little infield practice with the team. She must have made an impression on the manager, Norm "Nummy" Derringer, because he invited her to a full-scale audition the next year, when he was managing the Kalamazoo Lassies. She went to Kalamazoo, Michigan, in the summer of 1951, but she never heard back from the team.
Undaunted, Havlish made yet another attempt, traveling to Indiana in the summer of 1952 to try out for the Fort Wayne Daisies, a team that originated as the Minneapolis Millerettes in 1944. After another anxious wait, she came home one day from school to find a special delivery airmail envelope; it was an invitation to play for the Daisies. "There was no happier girl in the world than me. I can remember coming home from the movies on Saturday afternoons and I'd be fielding imaginary ground balls all the way."
In his letter on behalf of the Fort Wayne organization, business-manager Ernie Berg explained the circumstances of the call-up: "It might be of interest to you to know that we have traded Dottie Schroeder and that the shortstop post is now wide open. So—get in shape and be your best when you come." Dottie Schroeder, it turns out, was one of the great players in AAGPBL history. Schroeder played in all 12 seasons of the league. She was a three-time All-Star, and, when the league folded after the 1954 season, she held records for games played, at-bats, runs batted in (RBIs), and walks. Schroeder ranked second in hits and third in home runs. "That was my claim to fame," said Havlish. "Dottie Schroeder was traded for me." The Fort Wayne newspapers at the time expressed some distress about the trade, but acknowledged that Havlish was "a great prospect." The trade was made for financial reasons, but it was also the result of a new AAGPBL policy that required the top teams in the league to have at least two rookies on the starting squad. This was intended to even the playing field while encouraging the development of young players.
Havlish played a few games in 1952 for Fort Wayne, finishing high school by correspondence. That year the team was managed by Jimmie Foxx (Tom Hanks's character in A League of Their Own was roughly based on Foxx), and she regrets that she never got the slugger's autograph. The next year she was the starting shortstop for the Daisies, now managed by Bill Allington. Havlish soon found herself on a team that dominated the league. The Daisies won the regular-season pennant in 1952, 1953, and 1954, the only time in AAGPBL history that one team led the league three years in a row.
Fort Wayne was particularly potent on offense. In 1953, for example, the Daisies outscored their nearest rival by over 100 runs. The team's offensive success could be attributed to the fact that it boasted some of the best batters in league history. Two of the most accomplished were the Weaver sisters, Betty Weaver Foss and Joanne Weaver. In 1952, Foss led the league in runs, hits, doubles, triples, and RBIs, was second in batting average, and earned the title Player of Year. Her sister, Joanne Weaver, was on three All-Star teams, won the batting title in 1952 at the age of 16, and was Player of the Year in 1954. When she won the batting title again in 1954, she hit .429. Her nearest professional batting average rival was Nap Lajoie, who batted .426 in 1901.
As a rookie in 1953, the right-handed batting and throwing Havlish struggled at the plate, hitting just .189. "All my life I never wanted to hit, I wanted to go out and play in the field." Her batting improved considerably in 1954, when she hit .254 in 276 at bats. During one game that year, she went 4-for-4. "The older players, Betty Foss, Jo Weaver, they'd go down to the sporting goods store, they'd pick out bats and charge them to the club. When I went 4-for-4 that time, I went down the next day to the sporting goods store and bought a bat and charged it to the club. I think it was just the fun of doing it. Nobody tried to stop me. I got away with it."
Havlish also made waves when she hit a home run in three consecutive games. Her sudden outburst of power was largely due to the fact that the league had changed from a 10-inch to a 9-inch ball. Havlish recalls how manager Allington responded to her power surge: "Bill says, 'That's it, when Havlish starts hitting home runs, we move the fences back.' We went out of town, we came back, the fences were moved back. That was the last home run I hit."
While Havlish struggled at times with her hitting, she excelled in the field. The two Fort Wayne newspapers, the News-Sentinel and Journal-Gazette, consistently praised her fielding. Article after article notes her fielding prowess, with phrases like "flashy in the field," "nifty catches," "spectacular fielding play," "brilliant plays," and "leaping one-handed stab."
One highlight of her fielding experience was a triple play she started in 1954. "I caught a shoestring line drive. They had runners on first and second. It happened so fast. You catch a shot, throw to second, there's a throw to first, bingo!"
Havlish, whose playing size was 5' 6½" and 128 pounds, earned the nickname "Grasshopper" from Betty Foss, the great Daisies hitter. One day, Foss said to Havlish: "Little one, when you get down to field a ball, you look just like a grasshopper." Havlish attributed the metaphor to Foss's experience growing up in farm country in southern Illinois.
From 1953 to 1954, Havlish's offensive and defensive statistics improved markedly. Although she had 68 fewer at-bats and played in 15 fewer games in 1954 due to injury, she had three times as many doubles, 18 fewer errors, and participation in 14 more double plays. This dramatic improvement after her rookie year suggests that Havlish might have really come into her own if the league had continued: "I think I'd have been pretty good."
One of the best AAGPBL experiences for Havlish was working with Bill Allington. Unlike Jimmie Foxx, Allington wasn't a major-league star—he played minor-league ball for a number of years—but he was regarded with profound respect for his knowledge of the game. It was once said of Allington that if his head was broken open, baseballs would roll out. As an AAGPBL manager, Allington had the best won-lost record in the history of the league, and he was known among the players as a consummate teacher and mentor. Havlish says of Allington, "We called him the 'Gray Fox.' He knew baseball inside and outside—he lived baseball. He was very strict. When you went out and practiced, you really practiced. There were chalk talks all the time. You had to be able to read off the infield fly rule in your sleep." Havlish was honored when Allington invited her to play on his all-star touring team after the league folded. He wrote her a letter saying that she was his number-one pick for shortstop. Havlish turned down Allington's offer because she was afraid she would lose her job back in St. Paul if she went on tour.
Despite her forced retirement from baseball, Havlish's athletic life was far from over. She was quickly recruited by the elite Minneapolis Comets amateur fast-pitch softball team. As shortstop for the Comets, she traveled twice to the world championships in Connecticut. She remembers her team being the victim of a no-hitter tossed by Joan Joyce of the Raybestos Brakettes, a team that emerged in the late 1950s to dominate women's softball for over two decades (Joyce ended up pitching 150 no-hitters in her illustrious career). Havlish didn't continue to play softball, however, because she felt that the game was too slow and put too much emphasis on pitching.
Instead, she turned to another sport entirely—bowling. Havlish started to bowl recreationally in a company league that met in the upstairs of a St. Paul bar owned by Jake Mauer, grandfather of Joe Mauer. Improving rapidly, she was eventually invited to bowl in an all-star league. "When I worked at 3M I'd go over to the bowling alley in the Sun Ray Shopping Center. I'd spend my lunch hour bowling. After work I spent a couple hours bowling. Once you've got something you can excel at, it's a motivator. Anything you go into, you want to go up against the best."
Eventually, Havlish went up against the very best women bowlers in the country. She participated in numerous state and national amateur competitions, winning the State 600 Tournament four times. She won the singles and all-events titles in the Women's International Bowling Congress (WIBC) Championship Tournament in 1964, the first Minnesotan to do so. Havlish led the WIBC in 20-year average for many years, and was successful on the pro bowling tour, winning titles in Indianapolis, Kansas City, and Fort Smith, Arkansas. She made the Bowlers Journal first-team All-American team in 1969. She's had several high games of 299 and 16 700s in her career. Sportswriter Jay Weiner wrote that Havlish was "perhaps the finest bowler in Minnesota history."
In 1999, as century and millennium retrospectives abounded in magazines and newspapers, the Minneapolis StarTribune named Havlish one of the top Minnesota athletes of the millennium. Sports Illustrated ranked her 36th among the 50 top Minnesota athletes of the 20th century.
As of 2008, Havlish lives in Rockville, Minnesota, where she is housekeeper for a priest. She continues to drive into St. Paul once a week to participate in the St. Paul Ladies' All-Star League. As recently as 2003 she bowled a 298 game, and her average in 2007-2008 was 192.
Although Havlish did not see A League of Their Own (she did not approve of Madonna), she believes that the film has had a huge impact: "I was driving one night in Melrose, Minnesota, and here's the one little theater in town, and on the marquee it says, A League of Their Own. My insides nearly exploded. It was really a good feeling."
One of the highlights of Havlish's baseball career was throwing out the first pitch, along with Kay Heim McDaniel and Nancy Mudge Cato (two other women living in Minnesota who played in the AAGPBL), at a Minnesota Twins game in 1992.
Havlish doesn't take the field to play baseball anymore, but she does keep the glove she used at shortstop for the Daisies in her car. "My gas station attendant likes to play catch. And if there's nobody at the pumps he says, 'Have you got your glove, Jean?'"
Havlish attends AAGPBL reunions when they're within driving distance, and she answers numerous requests for signed cards from AAGPBL fans. She is grateful for the time she spent playing professional ball. "I thank God for the ability and the opportunity to play with and against the best women baseball players in the world."
*The league was originally named the All-American Girls Softball League (AAGSBL). In the middle of the inaugural 1943 season, however, the league changed its name to the All-American Girls Base Ball League (AAGBBL), reflecting a desire to separate itself from softball organizations. This led to protests that the sport as practiced in the league was not really baseball, and the name was then changed (still in 1943) to the All-American Girls' Professional Ball League (AAGPBL). In 1945, the name reverted to the All-American Girls Base Ball League (AAGBBL). When the players began to communicate and meet in the 1980s, they called themselves the All-American Girls Professional Baseball League (AAGPBL) in order to emphasize to the public that they played a professional sport.
Note
A version of this biography appeared in the book Minnesotans in Baseball, edited by Stew Thornley (Nodin, 2009).
Sources
Interviews with Jean Havlish, Tuesday, June 3, 2008 and Wednesday, June 11, 2008.
Assorted articles on the 1953 and 1954 seasons in the Fort Wayne Journal-Gazette and Fort Wayne News-Sentinel from Jean Havlish's file at the A. Bartlett Giamatti Research Center at the National Baseball Hall of Fame and Museum.
"50 Greatest Minnesota Sports Figures." Sports Illustrated, Dec. 27, 1999.
AAGPBL, official Web site. http://www.aagpbl.org.
bowl.com, official Web site of the United States Bowling Congress. http://www.bowl.com.
Fidler, Merrie. The Origins and History of the All-American Girls Professional Baseball League. Jefferson, North Carolina: McFarland, 2006.
Fort Wayne Daisies, 1953 and 1954 Official Program and Scorebook.
Galt, Margot Fortunato. Up to the Plate: the All American Girls Professional Baseball League. Minneapolis: Lerner Books, 1995.
Gregorich, Barbara. "Women in Baseball: Indiana's Dynamic Heritage." Traces of Indiana and Midwestern History. Vol. 5, Issue 2 (1993), 26-35.
Grow, Doug. "Ex-Shortstop Finds Baseball is Her Link to Mainstream." Minneapolis StarTribune. April 4, 1993, p. 3.B.
Heaphy, Leslie A. and Mel Anthony May, eds. Encyclopedia of Women and Baseball. Jefferson, North Carolina: McFarland, 2006.
Madden, W.C. The Women of the All-American Girls Professional Baseball League: A Biographical Dictionary. Jefferson, NC: McFarland, 1997; The All-American Girls Professional Baseball League Record Book: Comprehensive Hitting, Fielding and Pitching Statistics. McFarland, 2000.
Ritter, Kathleen. "Links, Courts, Lanes, Diamonds—Ramsey County's Women Athletes and Their History of Success." Ramsey County History. 33:2 (Summer, 1998), pp. 13-23.
Weiner, Jay. "Millennium: Top 100 Sports Figures." StarTribune, December 25, 1999, p. 9S.
Born
November 23, 1935 at St. Paul, MN (US)
If you can help us improve this player's biography, contact us.
http://bioproj.sabr.org/bp_ftp/images4/HavlishJeanAnn.jpg
600
800
admin
/wp-content/uploads/2020/02/sabr_logo.png
admin
2012-01-08 21:23:19
2012-01-08 21:23:19
Jean Havlish