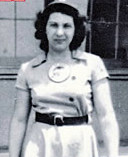 ---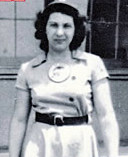 During the 2011 baseball season, Jeanette "Jan" Stocker Bottazzi was one of a number of guests of the Lehigh Valley (Allentown, Pennsylvania) Iron Pigs of the International League selected to throw out the first pitch of an Iron Pigs home game. Although 65 years had passed since she played for the Kenosha (Wisconsin) Comets of the All-American Girls Professional Baseball League in 1946, Bottazzi was determined that not only would the ball be caught by the catcher in flight, but that the pitch would not be thrown underhand.
To accomplish this, a few weeks before the game Bottazzi purchased a red rubber ball and from time to time tossed it against the wall of her apartment building. As she put it, her voice betraying no small amount of pride, "I practiced." On her chosen night, the ball, thrown overhand by the 86-year-old Bottazzi, arrived airborne in the catcher's mitt. The resounding thud was audible, at least to her family and friends attending the event.
This was not the first time since her career with the Comets that Bottazzi used her home as a tool to improve baseball skills—whether her own or someone else's. In the summer of 1961 she helped her 9-year-old son, Michael, learn to catch balls hit in the air. She described the process in an interview with the Allentown Morning Call: "He just couldn't catch a fly ball. He'd drop it. So I would have him stand in the yard. I went upstairs and hung out the window. Then I dropped the ball to him." From that she increased the degree of difficulty: "I used to throw the ball to him, too. He got hit a couple of times, but I told him not to let that stop him."
Despite the fact that Bottazzi's time with the Comets was limited to half a season and three plate appearances (without a hit), there is no doubt that those who saw Jan Stocker Bottazzi throw that pitch at the Iron Pigs' game were watching a "pro" in the true sense of the word.
Born in Allentown on December 13, 1926, to Charles and Annie (Belford) Stocker, Jeanette had one older sister, two older brothers and one younger brother. Her daily routine when she wasn't in school or helping with household chores involved playing ball with her brothers and the other boys on her block. Her modest self-appraisal was that she was "pretty fast and could hit." When she was in the seventh grade she started playing softball in the Allentown Girls Softball League, organized by a local sports enthusiast and coach, Charles Schuler. Because of her speed Bottazzi started out as a center fielder, then was moved to second base, and eventually to catcher because of her throwing ability.
Schuler was not only the organizer of the girls' league, he was also a scout for the All-American Girls Professional Baseball League (AAGPBL). After Bottazzi had an outstanding season catching for the Hooverettes in the Allentown league in 1945, Schuler encouraged her to try out for the AAGPBL. On his recommendation, she was signed to a tryout agreement with AAGPBL coach and scout Bill Wambsganss (he of the unassisted triple play for the Indians in the 1920 World Series).
Two months later, in April 1946, the 19-year-old Bottazzi traveled to Pascagoula, Mississippi, with three other women from her part of Pennsylvania: Jean Faut of East Greenville, Janet Brown of Copley, and Fern Shollenberger of Hamburg. (Faut and Shollenberger went on to have distinguished careers in the AAGPBL: Shollenberger was a five-time All-Star at third base; Faut earned All-Star status four times, pitched two perfect games in the league's overhand era, and was one of only two players named the MVP twice).
The train trip to Pascagoula was Bottazzi's first time away from Allentown or her family, so she welcomed the company of the other Pennsylvania women. The trip to the tryouts also meant that she would be separated from her fiancé, Aldo Bottazzi, to whom she had been engaged for about a year. Her future husband enjoyed watching her play in the City League and encouraged her playing in the AAGPBL, she said, recalling how he told her: "Go ahead and try, Jan. See if you like it."
After the first night on the train trip, Bottazzi recalled in one of a number of interviews with the author, "We woke up for breakfast and found the train had hooked up to a train full of soldiers. They went through our car while we were eating. They thought it was really something that a few young women were there."
At Pascagoula, the 5-foot-4, 140-pound Bottazzi, who batted and threw right-handed, got down to business, though she recalled feeling "overwhelmed with the large number of women and a lot of girls there." For the next two weeks she went through drills and practice games and stayed in barracks built for shipbuilders during the recently concluded Second World War.
Aside from the fact that she was tired from the rigorous daily routine, Bottazzi didn't venture out much into Pascagoula. "We went maybe to the drugstore but didn't get out away from the barracks very much," she said. Her few times out into the small town resulted in some interesting cultural experiences. Once, she said, "Fern, Jean, Janet, and I were all talking together when two little boys came up, looked at each other, and one said, 'They're Yankees.' " Another time, in a movie house in town, "I saw how they made the blacks go upstairs. I had never seen anything like that in Allentown. One of my girlfriends was black and we used to sit together in the movies. I wasn't used to that or colored and white water fountains."
Bottazzi was upset at the tryouts that the coaches tried to change her batting style. "I wasn't happy with the way I was hitting after they tried to change me around,"she said. "I just didn't hit like I usually did. I used to hit a lot of home runs, and after they changed my stance, that didn't happen. They wanted me to hold the bat way up like a man—that's not the way I usually swung. I usually would just get it back over my shoulder, and I hit fine that way."
Despite any problems resulting from the unwelcome adjustment in her stance, Bottazzi showed enough talent to be selected to play for the Kenosha team. The Comets shared a bus with the Rockford (Illinois) Peaches traveling through Louisiana, Texas, and Oklahoma, playing exhibition games along the way. One of her most vivid memories from the trip was seeing a white line down the main street in Texarkana. "On one side it was Texas, and on the other side, it was Arkansas." She also remembered visiting an Indian reservation in Oklahoma.
In Oklahoma City Bottazzi bought a first baseman's glove to use instead of the catcher's mitt she had brought from Allentown. The 11-inch ball used in the AAGPBL in 1946 was smaller than the official 12-inch ball used in softball, and Bottazzi found that the ball wouldn't stick in the pocket of her catcher's mitt. The first baseman's mitt worked better for her, although she noted in an interview with the Morning Call, "[W]hen that ball hit my glove, my thumb hurt!" The new glove was no small sacrifice on Bottazzi's part; it cost about $20 in 1946, and "That was a lot of money in those days."
The ball used in the AAGPBL would shrink to 10 inches, then eventually 9 inches by the time the league ended in 1954. The players "could really do tricks with a ball because they could really get their hands around it," Bottazzi told the Morning Call.
Fern Shollenberger, one of her traveling companions on the train trip from Allentown, was her teammate on the Comets, and was her roommate during the trip from Pascagoula to Kenosha (when the team got to sleep in hotels rather than on the bus). Though the hotels were preferable to sleeping on the bus, they were far from four star establishments, Bottazzi said. "One place we stayed in—I think it was in Louisiana—was a rickety old place where Fern and I had to share the bed. In the middle of the night it collapsed."
In Kenosha Bottazzi shared an apartment with Shollenberger, until Shollenberger's husband came to Kenosha." Then Bottazzi shared an apartment with teammate Janet Anderson Perkin, from Saskatchewan, because her $85 weekly salary from the Comets dictated that it was more economically prudent to share living expenses.
In 1946 Kenosha was managed by Charles "Press" Cruthers, who played on the 1913 and 1914 Philadelphia A's as second baseman Eddie Collins's backup. Bottazzi liked Cruthers and described him as acting toward the team members "like somebody's father or grandfather." The 1946 Comets finished seventh of the eight teams in the league, going 42-70.
Bottazzi played only half a season with the Comets, seeing only limited action behind first-string catcher Marge "Poncho" Villa Cryan. Team records indicate that Bottazzi appeared in only four games. "I used to hear, 'You're just a rookie' more than once." Villa also was a rookie, but was two years older than Bottazzi.
Besides losing playing time because of her rookie status, Bottazzi was injured when she was spiked in the hand while sliding head-first into third base. Unable to grip or throw the ball, she was sidelined for more than a month. Asked why she slid head-first rather than feet first, Bottazzi responded with a complaint common to veteran AAGPBL players, "If you slid feet first [in a skirted uniform], you got brush burns—sliding pads didn't help." Besides, because of their bulk under the uniform skirts, most players didn't wear sliding pads.
"[W]e traveled just by bus," Bottazzi told the Morning Call. "It wasn't pleasant. There was no air-conditioning then. It was a little tough. We played almost every day, and doubleheaders on Sunday. When you traveled, you went into different time zones because of the different states. Then, you had to practice. There was no goofing off. Sometimes we prayed for rain." Also, she remembered, the league was strict with players' off-field dress: They had to wear skirts in public. But they weren't required to wear makeup during games.
A month into the season, about the time her hand injury healed, the Comets told Bottazzi that she was going to be traded to the South Bend Blue Sox. She didn't want to go for a number of reasons, not the least of which was her friendship with a number of her Comets teammates. Then her distress was eased when Aldo Bottazzi showed up unannounced in Kenosha to surprise his fiancé with a visit. She summed up the events that followed: "He came out to see me, and I went home with him. It was as much a relief as it was a surprise when he came out. I wasn't having a very good time of it. I wanted to go home with him. He didn't make me go." She said she also was homesick, feeling the toll of never having been away from home before. Jan and Aldo were married on January 25, 1947.
Back in Allentown, Bottazzi went to work as a cutter for Penn State Mills, a garment factory, from which she retired in 1992. She played for the Phoenix Lassies of Allentown for about a year. Later, she coached for a year for the Crickets in Mountainville, Pennsylvania. Ultimately, she gave up coaching. "I was working and raising a son. It was just too much," she told the Morning Call. This, of course, didn't stop her from working out of second-story windows to further her son's development as a ballplayer.
Jan and Aldo's only child, Michael, was born in 1952. Michael used her glove from the Comets when he was on his high-school baseball team. Michael and his wife, Ellen, had two children and three grandchildren. Jan's grandchildren and great grandchildren have been to a number of AAGPBL events and seen pictures of the league in which their grandmother played. Aldo Bottazzi died in 2005. He and Jan were married for 58 years.
Bottazzi said she didn't talk much about her time playing in the AAGPBL other than to her family, until 1992, when the release of the movie A League of Their Own began to generate publicity for the league. Over the years, she had very little contact with the women from the AAGPBL, but she has made occasional appearances at local AAGPBL-sponsored events.
Looking back, Bottazzi described her days in the women's league as a "real thrill" and a "great experience." "The traveling was great," she said. "I never would have gotten outside of Allentown. We saw so many things—different cities all over the United States—along with other things I never would have seen if I hadn't gone."
With the release of A League of Their Own, Bottazzi began receiving letters from people not only from all over the United States, but from other countries as well, including Taiwan and several from Australia. She related enthusiastically that "Just this week, I got a letter from Japan."
Bottazzi said her "biggest thrill" from her time with the Comets involved a high-school classmate, Sherwood Herring, a soldier who was stationed in the Philippines in 1946. Herring told the Morning Call, "We were sitting on a hill watching [a newsreel about the AAGPBL]. The catcher threw off her mask—revealing Bottazzi! I hollered, 'Yo, Jeanette! I went to school with her!' I guess the guys thought I was nuts." Bottazzi said, "When people who ask me for autographs ask me what was my best memory from the league, I tell them that as far as I'm concerned, it was a thrill to have that happen."
November 3, 2011
Sources
AAGPBL Interview, Jeanette Stocker, http://thediamondangle.com/archive/dec04/stocker.html.
Schaefer, Stan, "Women's League Born In Wartime," the Morning Call, Allentown, Pennsylvania, August 22, 1996, http://articles.mcall.com/1996-08-22/news/3104530_1_glove-first-baseman-s-mitt-geena-davis-and-madonna.
Author Interviews
Jeanette Stocker Bottazzi, May 31, 2008, June 15, 2011, and September 2, 2011.
Michael Bottazzi, September 3 and September 15, 2011 (correspondence)
Full Name
Jeanette Stocker Bottazzi
Born
December 13, 1926 at Allentown, PA (US)
If you can help us improve this player's biography, contact us.
http://bioproj.sabr.org/bp_ftp/images5/BottazziJeanette.jpg
600
800
admin
/wp-content/uploads/2020/02/sabr_logo.png
admin
2012-01-08 21:51:23
2012-01-08 21:51:23
Jeanette Bottazzi