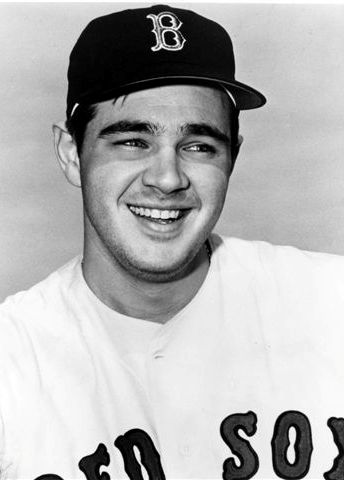 ---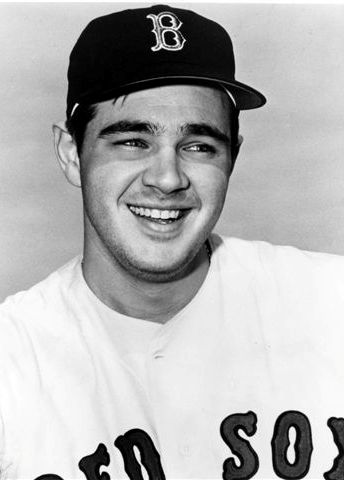 Jerry Moses aspired to become a major-league ballplayer, and declined football scholarships at Southeastern Conference (SEC) universities to pursue his dream. A 1970 American League All-Star, Jerry became the youngest Red Sox to hit a home run, at age 18 and 289 days, with a pinch-hit rocket off Jim "Mudcat" Grant on May 25, 1965. Jerry was 6-foot-3 and played at 205-215 pounds.
He had been offered a 1964 football scholarship by Paul "Bear" Bryant at Alabama, when Joe Namath had one year of eligibility left. Moses earned High School All-America honors as a Yazoo City quarterback.
Gerald B. Moses was born in a Yazoo City, Mississippi hospital on August 9, 1946, a special year for the Red Sox and Cardinals, Jerry's favorite big-league teams. Jerry's parents were Samuel Stephen Moses of Yazoo City and Mary Francis Moses, from Belcher, Louisiana. Jerry's siblings were Tiffie, Sam, (or "Rollo"), and Pam. Mickey Mantle was his favorite player.
Jerry's parents exerted a positive influence on their four children and, Jerry says, were "everywhere my brother and I went. Rollo, 5-foot-8 and 180 pounds, was an All-American Football player at Yazoo City High; got an Ole Miss Football scholarship; played nose tackle and offensive guard … no one could stop him." 1 Jerry's dad Sammy was a baseball scout from 1944 until his passing in 1969, mostly with Pittsburgh but also with the Angels and Dodgers. Sammy and Sam Nicholas coached Jerry in Little League baseball, where Jerry caught and pitched. Haley Barbour, Jerry's teammate, later became governor of Mississippi. "We had a good run…made it to the post-season in Lakeland, Florida," Jerry says. "Haley won the first game, with me behind the plate…we lost the next two games — I pitched the second game." 2
Jerry's teen years featured good American Legion Baseball competition in Canton and Jackson, Mississippi. "When I was 16, Dad took me to Jackson to play with the best American Legion team in Mississippi." Jackson won the state championship and went to the regional in Memphis. Jerry had a great tournament in front of many scouts. "Mr. [George] Digby was there and he [later] told me that he wanted me to play for the Red Sox when he saw me play in Memphis…Dad was the best coach I ever had, inspired me and my brother with great talks before our games, and about life and how to do the right things…."
Jerry's favorite high school sport was football. He starred as Yazoo City's quarterback in the Big 8 Conference, 1961-63, earning All-America laurels as a junior, and All-State his last two seasons. His dad and Jerry Clower, the comedian/entertainer, watched all his practices. "They were great friends and witty," Jerry recalls. "I had opportunities to accept scholarships at almost every SEC team…." Jerry was flattered that Bear Bryant recruited—and had breakfast with—him, noting Bryant "was the John Wayne of my era; asked me to play quarterback at Alabama." Jerry's high school nickname was Mule. His four years as Yazoo City High's star catcher coincided with Robert "Cob" Jarvis coaching them. "Coach was a great person and baseball teacher," said Jerry. "We were in awe to have a pro baseball player as our coach. I listened to coach and I can't tell you how much he helped me. What could have been better?"
Yazoo City High's baseball field was across town, several miles away from the school. "Jerry was our first-team catcher, and as a freshman, the only one to hit it over the 340-foot sign in leftfield," said Cob Jarvis. "He had good power and was a good defensive catcher." 3 Haley and Wiley Barbour were two main starters; Wiley was a strong, left-handed pull hitter, with Jerry the right-handed power hitter. They had winning records, but lost out to Jackson Central for the district title.
Jerry was pursued by the Red Sox, Yankees, Braves, Pirates, Angels, and Dodgers. The Red Sox won out, due to George Digby, who covered the Deep South for Boston. Digby says, "His dad took Jerry out to California, but Sammy—an Angels scout—didn't like the terms. They came back to Mississippi, and I signed Jerry for $50,000, in Yazoo City. Then Jerry left for Wellsville." 4
Jerry tells the story: "Mr. Digby found me, contracted me, and befriended me. He was and is a force in my life. Took me to Wellsville; stayed with me until I was comfortable…saw my first hit—a home run over the center-field fence in my first game…wrote Mom and Dad on my home run. Mr. Digby kept up with me; kept my family in touch." Bob Montgomery, signed by Digby in 1962, stated he was a signee, but Jerry was a bonus baby; a rule that had been put in effect to keep wealthier teams from getting all the best players. "I used to tell everybody that when Digby signed me he was driving a Chevrolet," said Montgomery. "When he signed Jerry, it was a Cadillac!" 5 Grace LeFlore Barbour [Haley Barbour's mom] was a Red Sox fan who regularly went to spring training to watch her favorite player, Ted Williams; Jerry recalls that she helped him make his decision to sign with the Red Sox.
The transition from high school ballplayer to the pros was made easier by Larry Thomas, Jerry's 1964 Wellsville manager. "Jerry was really talented, with only high school ball," said Thomas. "George Digby was one of our best scouts; when he put his name on you, it meant something; this was a full A [130-game] season in the New York-Penn League, unlike today where there is a short, post-draft season, preceded by a mini-spring training." 6Thomas noted Jerry came into a pro game straight from high school baseball, making the team alongside guys with the benefit of earlier big-league experience. Thomas played for Wellsville in 1963, with Tony Conigliaro, Joe Foy and George Scott, and at 24 was organized baseball's youngest manager. "Jerry was very courteous; a pleasure to manage; don't always get opportunity to manage such a nice guy, making the transition. His parents did a very good job of raising him. Jerry was good for me—the bonus did not affect him." The 1964 Wellsville Red Sox, smallest pro baseball town, finished 70-60, third of six teams. Their 192 homers in a 130-game season is a New York-Penn League mark. Bill Schlesinger's 37 led the team and the league. Jerry's 13 homers (in 219 at-bats), 39 RBIs, and .279 average, earned him a league All-Star spot with Geneva's Paul Casanova. He roomed with Bill Rohr, Carmen Fanzone, Bob Nash, and Ken Wright. Rohr recalled they lived in a small cottage on the grounds of Wellsville's only motel. "Miraculously, no one was killed," said Rohr. "Had more fun than anyone should, and those memories are some of the best of my life." 7
Schlesinger and Moses competed for Boston's final roster spot in spring training 1965. Schlesinger opened in Boston, but only lasted a few weeks. Jerry spent three months with Boston—he had to kept on the roster or risk being lost in the Fall Draft—and shared an apartment near Fenway with Jim Lonborg, who noted Jerry was "very engaging, friendly, eager to learn, hard working and a great teammate." 8 He roomed with Tony Conigliaro on the road. Jerry's four major-league pinch-hit appearances began May 9, 1965 (a Mother's Day at-bat) versus Cleveland's Sam McDowell—a strikeout. Then he came up to bat against Mudcat Grant. Frank Malzone watched from the dugout, and describes Jerry's pinch-hit blast as "halfway up the light pole in left-center—hit it a ton. Not as many home runs hit in those days. Jerry didn't get to play much; a strong, very intelligent young man. Boston fans really liked him here—I still call him Kid." 9
Moses was designated to Pittsfield and played sparsely behind Larry Johnson. He was then sent to Winston-Salem, where Bob Montgomery caught and Paul Dowd and Billy Rohr started, and Sparky Lyle relieved for manager Bill Slack. Carmen Fanzone relates the story of a "mystery" bell ringing on the team bus, after Winston-Salem was swept in Burlington. Bill Slack was reading the riot act to everyone when it rang again…the bell was stuck and ringing on its own! To this day, it's a mystery which player put the bell on the team bus.
Moses went to the 1965 Florida Instructional League (Sarasota) where he met infielder Mike Andrews. Moses remains one of Andrews' best friends; the two both lived in Eastern Massachusetts after their careers, and Moses often helped Andrews in Mike's fundraising for the Jimmy Fund.
The 1966 and 1967 seasons were spent with the AA Pittsfield Red Sox. Moses hit .263, with seven homers and 51 RBIs for Eddie Popowski in 1966 and hit .254, with three homers and 55 RBIs for manager Billy Gardner in 1967. He was a league All-Star in both years. Moses recalls Pop as more rigid, but a great teacher, while Gardner was a free spirit. He caught Sparky Lyle in 1966, and rented a cottage near a lake with Paul Dowd and Billy Conigliaro. Carmen Fanzone was on both Pittsfield teams. Ken Brett joined Pittsfield in 1967 and was promoted to Boston after Pittsfield's AA season.
Boston assigned Moses to the AAA Louisville Colonels, in 1968. Jerry felt a special bond with Eddie Kasko: "A great manager and person; smart, and he helped me in so many ways. On the bench, he gave me advice; he gave me my chance when we both got to the big leagues; he was my mentor." Kasko comments: "Jerry did a lot of learning in Louisville; it really helped him later—when he's catching, he's got 10 guys to handle. He helps the club more, knowing who he can yell at; who to speak softly to." 10 Jerry enjoyed catching Galen Cisco in 1968, describing him as the only pitcher he ever told to pitch without a sign. "He was that good."
Moses was a September 1968 call-up, and he responded with six hits, including two homers, in 18 at-bats. Boston fans called him "Mo." Gary Waslewski mentioned "You'd never know he [Jerry] was there until the [post-game] 'spread' was put out—Gary Bell told me to say that!"11 Jerry was reunited with Sparky Lyle and they rented side-by-side in Peabody, later living near each other in Danvers, Massachusetts. On October 13, 1968, two weeks after the season ended, Jerry married Carolyn Ruth Moses, from Wakefield, Massachusetts, a marriage that produced a boy and a girl, Stephen and Kristin. Sammy Moses died in Yazoo City, May 26, 1969, and never got to see his son play in the majors.
This was a dynamic team that Moses joined. After the Red Sox had won the pennant in 1967, the team drew exceptionally well (led the AL in home attendance both years) and had a powerful lineup, leading the league in home runs both years, too. Moses enjoyed catching Jim Lonborg, Ray Culp, Ken Brett, Lee Stange, and Sparky Lyle. Lonborg: "Jerry had very good hands and a very good arm; was agile and gave a great target behind the plate."12 Moses hit .304, with four homers, and drove in 17 runs as he shared 1969 catching duties with Russ Gibson and Tom Satriano, and then played winter ball in the Dominican Republic. Eddie Kasko became the Boston manager in 1970.
Jerry Moses and Carl Yastrzemski represented Boston on the All-Star team:
"[I] was so amazed. My wife, mother, sister, LeFlore Barbour were all there [Cincinnati, Ohio for the July 14 All-Star Game]. I was in the locker room with Brooks and Frank Robinson, Harmon Killebrew, Frank Howard, Jim Palmer, Catfish Hunter, etc. I was an All-Star. How cool is that! I should have played, but Freehan got the nod…Fosse and I should have been the catchers, but that's life…enjoyed the entire All-Star gig."
Moses warmed up Mel Stottlemyre and Clyde Wright. He recalled the horrendous collision at home plate between Pete Rose and catcher Ray Fosse. "Fosse should not have been blocking the plate without the ball," Moses says. "Rose should not have hit Fosse; the game did not count. Would have [liked] the opportunity to be at the plate instead of Fosse when Rose was coming down the line. I had the football mentality and he would not have run over me."
After a strong first half, Jerry suffered injuries, including a split in his finger, which limited him to 92 games, .263, with six homers and 35 RBIs. Jerry arrived home in Yazoo City to visit his mother. It was 3 a.m. on October 12, 1970; she greeted him with the news that Haywood Sullivan of the Red Sox had called and told her that Jerry had been traded. Jerry, Tony Conigliaro, and Ray Jarvis went to the Angels for Doug Griffin, Ken Tatum, and Jarvis Tatum. Both Jerry and his wife were sad to be leaving Boston.
Mike Andrews, traded to the White Sox [with Luis Alvarado] for Luis Aparicio on December 1, 1970, noted "Trades back then were different and all about salaries now…do not have the impact on individual players like they did back then. I was in the Red Sox organization nine years, knew everybody; when Jerry and Tony went to the Angels, it was painful. Jerry became immune." 13
In 1971, California finished fourth in the AL West. Moses hit .227, with four homers, and 15 RBIs. He was platooned and voiced his displeasure to skipper Lefty Phillips. Teammate Jim Fregosi recalls him: —"Great arm and old-fashioned catch and throw guy who was great at blocking balls and calling a game. Had great leadership qualities; a friend with a great personality who was well-liked, and a good teammate." 14
A fun moment was when Jerry Clower yelled out "Jerro" as Jerry Moses warmed up a pitcher. Clower, in Anaheim on business, ran down the stadium steps and hugged Jerry Moses. They met post-game, at a restaurant. "I introduced Mr. Clower to all eight of us and we ordered drinks," said Jerry Moses. "I put a cigarette in my mouth; Mr. Clower took it and put it in my margarita." Jerry Clower: "Your parents would not like you smoking and drinking." Moses agreed, and Jerry Clower ended up doing a one-hour "knock 'em out John" skit for the restaurant patrons!
California dealt Moses and Alex Johnson to Cleveland for Vada Pinson, Frank Baker, and Alan
Foster, on October 5, 1971. Moses called it a privilege to catch 24-game winner Gaylord Perry in Cleveland. He roomed with Graig Nettles on the road, and recalls Cleveland's Municipal Stadium somber, with few fans. Ray Fosse did most of catching. Jerry contributed four homers, with 14 RBIs in 52 games. He developed friendships with Chris Chambliss, Del Unser, Nettles, and Perry.
On November 27, 1972, Jerry was in the Caribbean as Cleveland's player rep, when Marvin Miller told him he was a Yankee. Jerry and Graig Nettles, who were also 1973 roommates, went to the Bronx, for Rusty Torres, Charlie Spikes, Jerry Kenney, and John Ellis. Just weeks later, in early 1973, George Steinbrenner purchased the Yanks from CBS. New York finished fourth in the AL East. Moses wanted to play more, but after he hit .254 in 21 games as Thurman Munson's back-up, he conceded for the first time – that a catcher was better than him. Jerry felt he deserved more playing time throughout his MLB career. Moses called Elston Howard a great catching coach; the Yankee pitchers were experienced, except Medich, and fun to catch. Sam McDowell bonded with Moses and says: "Jerry is one of the classiest players to ever put on a uniform – a very intelligent catcher, knowledgeable as to knowing the hitters; tremendous arm in throwing out runners….when pitchers are cognizant of the runners, they should not steal on Jerry." 15 Of all the pitchers Moses faced or caught, only Nolan Ryan threw faster.
Moses played 1973-74 winter ball in Venezuela. On March 19, 1974, he was traded to Detroit for Ed Farmer, Walt Williams, and Rick Sawyer. He played well for Ralph Houk, his manager with the 1973 Yankees and 1974 Tigers, until he hurt his hand during the latter season. Jerry hit .237, four homers, and had 19 RBIs with Detroit. Jerry liked Detroit's fans, but emphasized, "There are no better fans than the Boston fans: loyal, they know the game, if you hustle they will stand by you. They know each player and have their favorites. I have been out of baseball 36 years and still get 2-to-3 letters a week for autographs on baseball cards."
Moses, Bob Montgomery, Casey Stengel, Frank Robinson, Tommy Davis, Ron Blomberg, Ken Brett, and Johnny Pesky were honored at the 1975 Annual New Hampshire Baseball Dinner.
Jerry called Stengel's speech a "hoot." Jerry's contract was purchased by the Mets on January 30, but he never played; his contract was sold to the Padres on April 28, and to the White Sox on July 18, who released him on September 11, 1975. He felt he was in the best physical shape of his life and could have played much longer, but he needed to make more money and opted to find a job that was better for his family's economic stability.
Jerry Moses' career totals for Boston, California, Cleveland, New York Yankees, Detroit, Chicago White Sox and San Diego: 386 games, 1,072 at-bats, 89 runs, 269 hits, 48 doubles, 8 triples, 25 homers, 109 RBIs, with a .251 average and a .381 slugging percentage. In five minor-league seasons: 452 games, 1,541 at-bats, 176 runs, 386 hits, 68 doubles, 13 triples, 38 homers, 233 RBI, with a .250 average and a .385 slugging percentage.
Jerry stayed in touch with his family in Mississippi. Mike Andrews and Jerry ran a New England Baseball Camp for kids, from the mid-1970s for many years. "Jerry was so lovable; everyone loved Jerry," says Andrews. "He did real well in business; made the most of it—food industry. I ran a charity; Jerry was always available. When I look at people that made the most of their life after baseball, Jerry is at the top—takes care of his family; very family oriented." 16
Jim Lonborg echoed Andrews' comments, emphasizing Jerry's commitment to humanity, his friends and especially to his family. Lonborg added that Jerry's great sense of humor and positive attitude have been a plus.
Jerry's favorite hobbies are playing golf and coaching and spending time with six grandkids: Amy, Luke, Jack, and Ben Reynolds, and Quinn and Tynan Moses, all from Ipswich, Massachusetts. He loves watching the New England Patriots. Jerry remains very close to his mother and siblings, and is proud that each of his first hits in Class A, AA, AAA, and MLB was a home run. Frank Malzone cited Jerry's efforts on behalf of the Genesis Fund and MLB Players Alumni Association. Carmen Fanzone reiterated Jerry was a great teammate and very lovable kid to this day. Sam McDowell called Jerry a very caring and humble person, plus an individual you want in a foxhole with you if needed. Bill Rohr summed up their 46+ year friendship: "Jerry is truly one of the best. Red Sox have seen fit to reunite many of us a number of occasions; for that alone, I am forever grateful to them. Best roomie. Best Man. The Best. And I love him." 17
Postscript
Moses died on March 27, 2018, in High Pointe House in Haverhill, Massachusetts, from complications of aphasia and dementia.

Sources
Phone conversations and e-mail correspondence with Jerry Moses, October 2010 — January 2011.
Phone conversations: Robert Jarvis (December 6, 2010); Jimmy Heidel, (December 9, 2010).
Interview with Mike Armstrong (December 17, 2010), on working in Yazoo City, 1972 — 1977.
Phone conversation (December 18, 2010) with George Digby, the scout who signed Jerry Moses.
Phone conversations with former Boston, Pittsfield, Winston-Salem and Wellsville Red Sox teammates: Dalton Jones (December 18, 2010); Paul Dowd, Frank Malzone, Bob Montgomery (December 20, 2010); Bill Monbouquette (December 21, 2010); Mike Andrews (December 22, 2010); Carmen Fanzone (December 23, 2010); and Billy Conigliaro (December 28, 2010).
Phone conversations with Larry Thomas, 1964 Wellsville Manager (December 19, 2010); Eddie Kasko, manager of the 1968 Louisville Colonels & 1970 Boston Red Sox (December 20, 2010).
E-Mail correspondence with Carmen Fanzone, Sam McDowell, Bill Rohr; mail correspondence with Jim Fregosi, Jim Lonborg and Gary Waslewski; December 2010 — January 2011.
Cary Hill (Jerry's cousin), Triangle Cultural Center, furnished a Yazoo City perspective, 2010.Baseball-Almanac.com; Baseball-Reference.com.; www.Thebaseballcube.com.
Blomberg, Ron as told to Dan Schlossberg. Designated Hebrew. Champaign, IL: Sports Publishing LLC, Inc. 2006.
Davids, L. Robert. Young and Old Home Run Hitters. SABR Research Journals Archive, 1984.
Exploring Yazoo—Yazoo City is the "Gateway City to the Delta." E-article: October 2, 2008.
Gillette, Gary, and Pete Palmer, eds. The ESPN Baseball Encyclopedia. New York: Sterling Publishing Co., 2008.
Johnson, Lloyd, and Miles Wolff, eds. Encyclopedia of Minor League Baseball, Third Edition. Durham, North Carolina: Baseball America, 2007.
Morris, Willie. Good Old Boy: A Delta Boyhood. Oxford, MS: Yoknapatawpha Press, 2000.
Nowlin, Bill. Bill Schlesinger Bio. SABR Bio Project. November 2009.
Stump, Al. Cobb. Chapel Hill, North Carolina: Algonquin Books, 1996.
Youngest players to hit a home run. Baseball Digest, August 2006.
Photo Credit
National Baseball Hall of Fame Library, Cooperstown, New York.
Notes
Born
August 9, 1946 at Yazoo City, MS (USA)
Died
March 27, 2018 at Haverhill, MA (US)
If you can help us improve this player's biography, contact us.
http://bioproj.sabr.org/bp_ftp/images5/MosesJerry.jpg
600
800
admin
/wp-content/uploads/2020/02/sabr_logo.png
admin
2012-01-04 19:50:19
2012-01-04 19:50:19
Jerry Moses