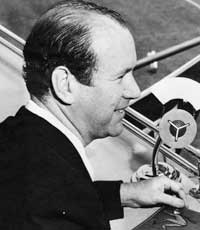 ---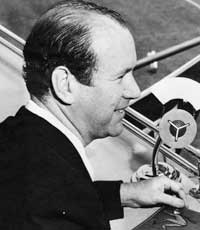 Jim Britt was the radio and television voice of both the Boston Braves and the Boston Red Sox in 1948, an enviable position he held from 1939 until the Red Sox began to broadcast road games as well as home games and therefore required a full-time broadcaster of their own.
In an era when several of the major radio stations in Boston competed nightly for the attention of sports fans, the most listened-to program on the air was "Jim Britt's Sports Roundup" from 6:15 to 6:30 on WNAC. It consisted of a mix of straight reporting, commentary, and in-studio interviews with newsmakers, and finished up with Jim's signature expression at the end of his program, "Remember, if you can't take part in a sport, be one anyway, will ya." From today's vantage point, that tagline sounds cornball but in the pre-television era it helped accelerate him into Boston's No. 1 sports personality on the air in the 1940s.
Jim Britt was born in San Francisco in 1911. The well-to-do family (his father was chairman of the board of the Burroughs Corporation) moved to Detroit when Jim was 11. Jim received a bachelor of arts degree from the University of Detroit (where his brother, a priest, would later become president), majoring in English and philosophy with a co-minor in speech and history. After graduation, he earned a law degree at the University of Southern California but chose not to take the bar exam. Always interested in speech, singing, and sports, he returned to Detroit to teach public speaking and debating in local high schools.
His entry into radio was accidental, not in one of the many ways open to those interested in media jobs today. He accepted a dare from the university's football coach to become better behind the mike than the current announcer, who Britt thought was horrendous and had declared emphatically as much to the coach.
Full-time radio work began in 1935 with Notre Dame football and basketball games. Then came two years of Buffalo Bisons baseball doing home games live and road games via telegraphic recreation with Leo Egan. A native Buffalonian, Egan came to Boston after the 1938 hurricane. He wrote for the Boston Herald and broadcast baseball and football for 30 years (many pigskin clashes being from atop Harvard Stadium). Ironically, Leo was the person who persuaded Jim to audition for an opening as sports director with WNAC and its Yankee Network. This network was a federation of radio stations from Maine to Connecticut and had nothing to do with the Bronx Bombers.
Britt got the job on November 10, 1939, and became Frankie Frisch's replacement as the voice of New England baseball. During his one year at the mike, Frisch had proven unable to fill the shoes of immensely popular local broadcast legend Fred Hoey and eagerly accepted the chance to return to the diamond as manager of the Pittsburgh Pirates.
Britt began to broadcast home games of the Braves and Red Sox in 1940 with Tom Hussey as his sidekick. Few other baseball announcers have covered two teams at the same time. Their partnership continued until the 1942 All-Star break when Britt received his induction notice from the Navy. He served as an intelligence officer in the Pacific for the next 3 1/2 years, an assignment not without risk. At one point, the bomber in which he was flying suffered a mid-air collision with another American aircraft. Britt was one of eight survivors.
Britt's return to civilian life allowed him to go back to cover Boston baseball games, now available on WHDH. Listeners welcomed the intelligent, smooth, and fluent sound of his voice again because play-by-play announcers assigned by the station in his absence were just not in his league. Reflecting back to when he was 13 years old, Sporting News columnist Wells Twombly reminisced, "Jim Britt…makes baseball sound better than red-haired girls with freckles." Ken Coleman, who broadcast for Boston in later years, recalls it as a treat when Britt returned to the booth. "There's no doubt in my mind that of all the broadcasters I've ever heard, and this includes network newspeople, no one had more of a command of the English language than Jim."
Both Twombly and Coleman succeed in putting into words exactly what my own sentiments were. Jim Britt represented Braves baseball for me in the late 40s and early 50s. Thanks to him, I became such a devoted fan of the team that their move to Milwaukee in 1953 was like a death in the family. I still have vivid memories of hiding my portable radio underneath the covers at night listening to him describe yet another heroic comeback staged by the Braves during their victorious pennant chase of 1948. The losses piled up progressively from 1949-52, but the drama in his voice always gave me fresh hope that the outcome of tomorrow's contest would be better.
Just a few months before what would become the final season of National League baseball in Boston, I wrote to Britt asking how best to pursue my lifelong dream. He took time from what must have been a busy schedule to offer me this advice during my sophomore year in high school: "Most important for either a sports broadcasting or sports writing career — get a good, well-rounded education. Go to college, if you can. There's no possible substitute. Then make the rounds of the various small radio stations and/or newspapers to get a job. It may be hard to break in. But the job is interesting and well worth all the time and trouble to get started. Good luck in whatever you do, wherever you go."
Boston's first baseball telecast occurred on June 15, 1948, with Britt and Hussey calling a contest between the Braves and the Cubs on Massachusetts' pioneer television station, WBZ-TV. Channel 4, as it was known then, had transmitted its inaugural program — a 15-minute newscast — a scant week before this historic event from Braves Field.
As the new medium grew, more games on the Braves (and soon the Red Sox) schedule were carried via television. The original broadcasting tandem remained intact through 1950, although Leo Egan and Bump Hadley also appeared from time to time. Hadley came from Lynn, Massachusetts and capped a 16-year pitching career with three World Series appearances for the New York Yankees in the late 1930s. His legacy forever will be tied to fracturing Mickey Cochrane's skull with an errant pitch that ended the future Hall of Famer's career. Years after this incident, Bump's trademark closing to his popular sports show on WBZ was "heads up and keep pitching."
When Tom Yawkey announced that his ball club planned to air road games in 1951, Britt could no longer broadcast for both the Braves and the Red Sox. He was given his option as to which team to broadcast. His decision to go with the Braves was criticized by many. Even Britt second-guessed himself. However, in hindsight it arguably was not a bad choice given the remarkable success the Braves would enjoy later in the '50s and the hard times the Red Sox had during the same period.
Did Jim evaluate the young talent in the Braves farm system in 1950 (Mathews, Logan, Buhl, Bruton, Conley) and foresee that they would benefit the team in Boston over the next decade while the Red Sox had stars who were aging (Williams, DiMaggio, Doerr, Pesky, Stephens), making the American League outfit more likely to suffer decline? I think he did and, more important, there were upcoming threats to Britt's physical and psychological well-being that renders the Braves vs. Red Sox dilemma inconsequential.
The counter view is that the poor judgment he exercised might have been somewhat attributable to erosion in his health, making the issue vital and far from inconsequential. Without knowing either Britt's rationale to stick with Boston's National League entry or what the aftermath would have been had he chosen the Red Sox, there is no way to tell for sure.
The Red Sox hired Curt Gowdy, who at the time was Mel Allen's junior partner with the Yankees, and retained Tom Hussey. With Narragansett Brewery as their chief sponsor ("Hi neighbor, have a 'Gansett"), they continued to carry their games on WHDH, where they stayed until 1975.
As for the Braves, their 154-game schedule moved to WNAC and was sponsored by Ballantine (remember the three rings?). Britt's backup during the Tribe's final two seasons in the Hub was Les Smith, a journeyman news and special features host at the station. Their sister station, Channel 7, showed home games periodically. The Braves broadcast duo was joined there by an always unintentionally amusing and sometimes seemingly-inebriated Bump Hadley. Bump was that generation's answer to Ralph Kiner with gaffes like "that ball is going, going…and caught by Sam Jethroe in short center field." This is not to say that Britt was without his own shortcomings. Leo Egan saw Britt as "sort of a Felix Unger type — quirksome, picky." He remembers one time when three times in the same game Britt miscalled fly balls as home runs. Egan characterized Britt as "very professional, very difficult. But, God, he was articulate."
Britt was the first broadcaster associated with a local children's cancer charity adopted by the Braves known as the Jimmy Fund, benefiting the Children's Cancer Research Foundation (now Dana-Farber Cancer Institute). His tireless work to help eliminate childhood cancer established a tradition among Boston broadcasters that is followed to this day. Britt's future broadcasting colleague in Cleveland, Ken Coleman, became an especially avid advocate for the Jimmy Fund upon his return to Boston. Ken later served as executive director of the Jimmy Fund from 1978 to 1984. Current Sox play-by-play man Joe Castiglione has carried on in the tradition as a spokesman for the Jimmy Fund since first partnering with Coleman in the mid-1980s, as has Joe's former protégé Uri Berenguer-Ramos, the Spanish radio voice of the club. A cancer survivor and former Dana-Farber patient, Uri knows the importance of the Sox-Jimmy Fund partnership better than anyone.
The size of Britt's audience increased in scope as he did the 1946, 1948, and 1950 World Series on radio, the 1949, 1950, and 1951 Series on television, the first nationally televised football game in 1949, seven All-Star baseball games, and several major college football bowl games during this time span. But his stardom fell as quickly as it rose, mirroring the fortunes of the team with which he was affiliated most closely during the postwar era before its abrupt shift to Milwaukee.
There were four years of Indians telecasts with Ken Coleman and then back to Boston as a news anchor and bowling program host prior to being fired by WHDH-TV. Drinking problems that led to arrest more than once, and a divorce took their toll, especially when these incidents were splashed across the front page of the Boston Daily Record tabloid. Most telling was an eye injury that ended his sportscasting career.
Progressively longer periods of unemployment ensued. He drifted from Boston to Detroit to St. Petersburg to Sarasota and finally to Monterey, California, where he was found dead in his apartment by the police on December 28, 1980, at the age of 70, with no known next of kin. His brother had predeceased him about two months earlier.
In Curt Smith's latest opus, Voices of Summer, the author ranks Britt 78th among the 101 all-time best baseball announcers. That placement is just ahead of Joe Angel (San Francisco Giants and Orioles) and right behind Bob Starr (Angels and Red Sox). Joe Morgan and Russ Hodges represent more famous benchmarks, listed 60th and 51st respectively by Smith.
Shortly after Britt's death, Ray Fitzgerald of the Boston Globe wrote that "life had turned its back on him a long time ago." And maybe some of his detractors who called him arrogant, uncompromising, perfectionistic, thin-skinned, or unwilling to admit mistakes were secretly tickled that it had.
In his prime, Jim Britt was the king of New England sports radio and early television. He was bright, knowledgeable, and very articulate, took pride in his professionalism, and had a dry sense of humor. He once told radio/TV sports director and announcer Ted Patterson that his credo was "report the game, don't play it." And that he did so objectively, although there was a hard-to-pinpoint pro-Braves and pro-Red Sox quality to his voice that hometowners could sense.
Even during his off-peak years in Cleveland, he never let serious alcohol and marital problems color his description of the game.
A mostly forgotten figure today, the final truth of the matter is that there was an admirable strength of character that defined Jim Britt's work, although not his life.
An updated version of this biography is included in the book "Pitching to the Pennant: The 1954 Cleveland Indians" (University of Nebraska Press, 2014), edited by Joseph Wancho. It originally appeared in "Spahn, Sain, and Teddy Ballgame: Boston's (almost) Perfect Baseball Summer of 1948" (Rounder Books, 2008), edited by Bill Nowlin.
Sources
Bloomberg, Mort, "The Voice of the Braves" in Society for American Baseball Research (Paducah KY: Turner Publications, 2000).
Britt, Jim. Letter to Mort Bloomberg, January 1952.
Buchanan, William, "Jim Britt, 70, broadcast Boston baseball games." Boston Globe, January 1981.
Fitzgerald, Ray, "Voice from Hub's past is stilled," Boston Globe, January 1981.
Patterson, Ted, The Golden Voices of Baseball (Champaign IL: Sports Publishing, 2002)
Patterson, Ted, The Golden Voices of Football (Champaign IL: Sports Publishing, 2004)
Redmount, Robert, The Red Sox Encyclopedia, 2nd edition (Champaign IL: Sports Publishing, 2002)
Smith, Curt, Voices of the Game (Lanham MD: Diamond Communications, 1987)
Smith, Curt, Voices of Summer (NY: Carroll & Graf, 2005)
Twombly, Wells, "Those '48 Braves Were the Greatest", The Sporting News, July 11, 1970.
Born
, 1911 at San Francisco, CA (US)
Died
December 28, 1980 at Monterey, CA (US)
If you can help us improve this player's biography, contact us.
http://sabr.org/sites/default/files/BrittJim.jpg
600
800
admin
/wp-content/uploads/2020/02/sabr_logo.png
admin
2012-01-08 21:23:19
2012-01-08 21:23:19
Jim Britt