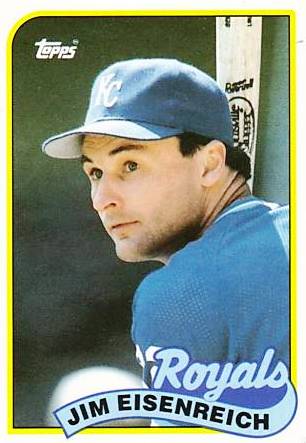 ---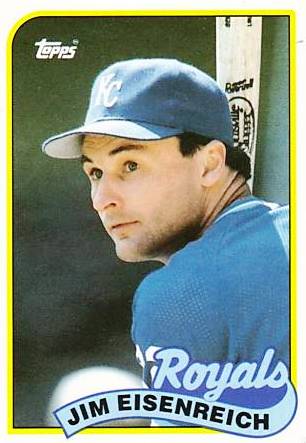 St. Cloud, Minnesota, native Jim Eisenreich retired from baseball in 1998, capping a career that spanned 15 major-league seasons and included two World Series appearances. Still, with all of his success, Eisenreich's baseball career may be most remembered for how it was almost ended before it ever really started.  
Eisenreich was born on April 18, 1959, in St. Cloud, the middle of five children of Cliff and Ann Eisenreich. He was introduced to baseball almost immediately and began to play when he was seven at Southside Park in St. Cloud. Right around that time, young Jim began to display some strange, unexplainable symptoms. His face would tic and jerk, or he would clear his throat uncontrollably. His peers made fun of young Jim, and teachers assumed that he could stop the behavior any time he wished.
As strange as Jim's behavior was, he was also well known at an early age for his baseball skills. Though teased often, Jim was usually the first chosen when teams were decided for pick-up baseball games. All the Eisenreich children were involved in youth sports in St. Cloud, and both of their parents attended most of the family sporting events. Eisenreich referred to his family later as a "strict Catholic" family but very close.
Eisenreich continued to stand out as a ballplayer at St. Cloud Tech High School and later followed his father's footsteps to St. Cloud State University. St. Cloud State head baseball coach Jim Stanek remembered recruiting Eisenreich: "He was 5-foot-9 and 140 pounds, not very big but he could hit the ball."
Eisenreich matured quickly and was a starter for the varsity team by his sophomore season. He was the team's leading hitter and earned all-conference honors. In his junior year in 1980, Eisenreich continued to impress. Despite his .385 batting average and second consecutive all-conference season, he wasn't even considered the top prospect at his school. The scouts were watching infielder Bob Hegman, who was getting a look from several major-league teams. Eisenreich's head coach at the time, Denny Lorsung, wrote to the Minnesota Twins to thank them for some tickets and suggested that they take a look at Eisenreich.  
Whether or not Lorsung's letter made a difference, Jim Eisenreich was drafted by the Minnesota Twins in the 16th round of the 1980 amateur draft and signed with the team shortly after. It wasn't too long before Eisenreich was opening some eyes in the Twins' organization. Just weeks after he signed, he hit his first professional home run, a grand slam for the Elizabethton Twins that came just weeks after he signed. Though his team only managed to finish fourth, Eisenreich was named Co-Player of the Year in the Appalachian League. At the end of the 1980 season, Eisenreich played five games with Class A Wisconsin Rapids of the Midwest League.
He returned to Wisconsin Rapids for the 1981 season and improved on his 1980 success, batting .311 with 23 home runs and 99 runs batted in (RBIs) for a fourth-place team. His performance, combined with an organizational youth movement, earned him a non-roster invitation to spring training with the Twins before the 1982 season. Eisenreich eventually made the major-league team as the starting center fielder and was one of 10 players with less than a year of major league experience to make the Twins' Opening Day roster that year. Among the other young players on that team were Kent Hrbek, Gary Gaetti, and Ron Washington.
Eisenreich's speedy promotion through the minor leagues seemed to be paying off for the Twins early in the 1982 season. Through April 25, Eisenreich was batting .324 with a couple of home runs. It was about that time that his childhood problems resurfaced. At first, Eisenreich and the baseball media dismissed it as a simple case of rookie nerves. On April 30, Eisenreich began a string of five consecutive games in which he pulled himself out of the lineup early due to "twitches and facial grimaces."
"I just get nervous," Eisenreich said to Patrick Reusse in a May 1982 issue of The Sporting News. "When I think about it and try to correct it, I make it worse. The more I do it, the madder I get at myself. When I forget about it and have fun, I am okay."
Eisenreich continued to have success at the plate during this time, but the final straw came at Fenway Park on May 4. Prior to the game, a Boston newspaper ran a story on Eisenreich's condition, which was still being treated as a simple case of nerves. Even Eisenreich's teammates found the initial symptoms somewhat comical at the time, so it was probably not surprising that the Red Sox fans began to taunt Eisenreich early in the game. Fans in the bleachers chanted insults at Eisenreich, and the symptoms progressively became worse. By the third inning, Eisenreich was still shaking violently and began to have trouble breathing, a result of hyperventilation, causing him to remove himself from the game.
Twins manager Billy Gardner tried to write Eisenreich's name into the lineup during the ensuing series in Milwaukee, but Eisenreich was unable to play in any of the games. On one occasion, Eisenreich ran from the outfield, into the dugout, tearing his clothes off while saying that he couldn't breathe. He was taken to the emergency room that night, where teammate Mickey Hatcher looked on as doctors tried unsuccessfully to calm Eisenreich down using tranquilizers. Eisenreich was placed on the disabled list shortly after and was admitted to St. Mary's Hospital in Minneapolis on May 9. 
After an unsuccessful attempt to return in late May, Eisenreich and the Twins pulled the plug on the 1982 season in early June. Eisenreich sought multiple medical opinions on his condition, which only added to his frustration. "I don't know what's wrong with me. No one else does. If I go to four doctors, I get four different opinions." The initial diagnosis was agoraphobia, and Eisenreich was put on medication to help reduce hyperventilation. He also tried self-hypnosis and different kinds of medication to control seizures. There was talk in the Twins' organization that Eisenreich might have been well enough to return in September, but the medication he was on made him unable to perform at the level to which he had become accustomed.     
The spring of 1983 brought with it new hope for Eisenreich and the Twins. Jim reported to camp believing that his problems might be behind him. A .400 batting average in spring training seemed to confirm that. As the Twins broke camp, all reports were that Eisenreich was set to start in center field and lead off in the batting order.
But after the second game of the 1983 season, seemingly out of nowhere, Eisenreich told Billy Gardner and Twins vice president Howard Fox that he wanted to retire, saying that baseball was not "worth it" anymore and that he was no longer enjoying the game. With that, Eisenreich headed home for St. Cloud. The Twins convinced him to go on the disabled list rather than retire, hoping that Eisenreich might return. His mind was made up, however, and despite several overtures by the Twins, Eisenreich remained in St. Cloud for the rest of the 1983 season, where he passed the summer by playing softball four nights a week.
The same pattern repeated in the spring of 1984, when Eisenreich attempted another comeback. He managed to appear in 12 games for the Twins before he once again announced his retirement. As they did the year before, the Twins organization tried to convince Eisenreich to give it another try. The Twins were always high on his talent. In the spring of 1984, Calvin Griffith said of Eisenreich, "a natural ballplayer like this might only come once in a lifetime." Manager Billy Gardner, around the same time, suggested that Eisenreich's presence in center field "added 10 additional victories."
The relationship between the Twins and Eisenreich finally came to an end on June 4, 1984, when Jim refused a minor-league rehabilitation assignment. The Twins negotiated to pay Eisenreich for the rest of the season if he requested retirement, which he did. The parting seemed mostly amicable, with only a hint of frustration coming from Calvin Griffith, who seemed upset that Eisenreich had not tried new medication. The Twins brought up a young Kirby Puckett from the minors and he soon replaced Eisenreich in center field. 
Eisenreich spent the next three years in St. Cloud working as a part-time painter, working in an archery shop, and playing semipro baseball with the St. Cloud Saints, where he remained retired from the majors until October of 1986. Eisenreich's former teammate at St. Cloud State, Bob Hegman, had become the Kansas City Royals' administrative assistant for scouting and player development. Through his correspondence with some of the other coaches in the semipro league, Hegman found that Eisenreich was excelling on the field and stood out among the other players like a "man playing on a girls' softball team." Hegman recommended Eisenreich to Royals general manager John Schuerholz, and ultimately Eisenreich was invited to Royals' camp as a non-roster player for the spring of 1987, his rights purchased from the Twins for the waiver price of $1.
At the time the Royals signed Eisenreich, Dick Howser was Kansas City's manager. Howser resigned in February of 1987, however, and the Royals hired Billy Gardner to be their new manager. (Howser was attempting to comeback as manager after resigning the previous season because of a brain tumor; however, he was too sick to manage and died in June of 1987). Gardner had been the manager with the Twins during Eisenreich's stint with Minnesota. Gardner remembered the frustration of Eisenreich's first attempt to play major-league baseball, but he wanted to keep an open mind and was openly rooting for Eisenreich to succeed with the Royals.   
Within the media coverage of Eisenreich's return, the first mention was made of Tourette syndrome. Jim told reporters that he believed Tourette syndrome was what had been causing the problem, not agoraphobia, as had been originally diagnosed and widely publicized. There was some skepticism from the media, and Eisenreich's original doctor stood by his first diagnosis. Still, to Eisenreich, the new understanding of his affliction gave him the confidence to try major-league baseball again.
Tourette syndrome is described by the Tourette Syndrome Association (TSA) as a neurological disorder that becomes evident in early childhood or adolescence before the age of 18 years. Tourette syndrome is defined by multiple motor and vocal tics lasting for more than one year. The first symptoms usually are involuntary movements (tics) of the face, arms, limbs or trunk. These tics are frequent, repetitive, and rapid. The most common first symptom is a facial tic (eye blink, nose twitch, grimace) and is replaced or added to by other tics of the neck, trunk, and limbs.
These involuntary (outside the patient's control) tics may also be complicated, involving the entire body, such as kicking and stamping. Many persons report what are described as premonitory urges—the urge to perform a motor activity. Other symptoms such as touching, repetitive thoughts and movements, and compulsions can occur.
There are also verbal tics. These include grunting, throat clearing, shouting, and barking. Occasionally, the verbal tics may also be expressed as the involuntary use of obscene words or socially inappropriate words and phrases and gestures. Despite widespread publicity, such behavior is uncommon with tic disorders.
Most people with Tourette syndrome and other tic disorders lead productive lives. There are no barriers to achievement in their personal and professional lives. Persons with Tourette syndrome can be found in all professions. A goal of the Tourette Syndrome Association is to educate both patients and the public of the many facets of tic disorders. Increased public understanding and tolerance of Tourette syndrome symptoms are of paramount importance to people with Tourette syndrome. Medication and counseling can help patients and their families cope with the illness.
Eisenreich just wanted a chance, and the Kansas City Royals were ready to offer that to him. He started the 1987 season with Memphis in the Southern League. In 70 games with Memphis, Eisenreich batted .382 with 11 home runs and a league-leading 10 triples. Those numbers quickly led to a spot on the major league roster, and Eisenreich made his return to the big leagues on June 22, 1987, in a game at Oakland.
The Royals team that Eisenreich joined was in the heat of a race for the American League West lead with the Twins. Eisenreich's first major-league hit since 1984 came in a game against the Twins, and he was a major contributor in a series that saw Kansas City win three out of four from Minnesota in late June and early July. On July 1, it was Eisenreich's run-scoring double in the bottom of the ninth inning that defeated his former team. The next day, Eisenreich had a home run and four RBIs in the Royals' 10-3 victory in the series finale
Eisenreich didn't get caught up in his success in 1987. He told The Sporting News, "I know people are making a big thing about this, but I don't consider this a comeback, not yet . . . if I can play the whole season and be successful, then I'll know I'm back." Eisenreich did finish the season, and, though his team did not win the division, he stuck it out and returned to the Royals the following season.
The 1988 season was a tough one for Eisenreich on the field. In the middle of the summer he experienced Class AAA for the first time in his career when he was sent down to Omaha. Eisenreich finished the season hitting just .218 with Kansas City
Both Eisenreich and the Royals got off to a great start in 1989. During the team's 17-9 start, Eisenreich batted .333 with 10 RBIs. Thanks to the hot stretch early on, Eisenreich played his first full season as a major-league regular. The season was such a success that Eisenreich beat out Bo Jackson to earn the Royals' Player of the Year award, as voted by the Kansas City media in the winter of 1989.          
Eisenreich stayed with the Royals and remained an everyday player until Hal McRae became manager at the end of 1991. McRae used Eisenreich as a fourth outfielder out of spring training in 1992 despite the fact that Eisenreich had had an excellent spring. After the Royals got off to a 2-16 start, McRae made some changes that included using Eisenreich more, though he still was primarily a platoon player for the rest of the 1992 season.
That offseason brought changes for Eisenreich, who tested the free-agent market and ultimately signed with the Philadelphia Phillies in January 1993. For Eisenreich, the move meant that he would play in the National League, where he would spend the balance of his career. The Phillies brought him in as part of an aggressive offseason in which they acquired veterans Milt Thompson and Pete Incaviglia in addition to Eisenreich.
Though he was originally signed by the Phillies to be the fourth outfielder, Eisenreich quickly became the platoon partner of Wes Chamberlain in right field. The 1993 season may have been the best of Eisenreich's career to that point. Not only did he have great individual success, his team went to the World Series. Eisenreich's three-run home run in Game Two of the Series was a key factor in one of Philadelphia's two victories over the Toronto Blue Jays.
The Phillies lost the 1993 World Series in heartbreaking fashion, but Eisenreich's contributions earned him a contract extension with the Phillies. He continued to put up good numbers even though he was kind of the odd man out in the Philadelphia outfield for most of his time there. During the 1996 season, it was reported that the Phillies were shopping Eisenreich aggressively, despite the fact that he was having one of his best seasons at the plate. In December of 1996, at the age of 37, Eisenreich signed as a free agent with the Florida Marlins.
Once again Eisenreich came to a team that was making noise in the offseason. The Marlins, a franchise in only its fifth year, added veterans Bobby Bonilla and Moises Alou in addition to Eisenreich, who served primarily as a back-up left fielder. Once again team success followed, and the Marlins won the National League Wild Card in 1997 and advanced to the World Series, where Eisenreich once again was a contributor, this time in a seven-game World Series victory for his club. Eisenreich hit his second World Series home run in Game Three and was on second base when Edgar Renteria hit the series-winning single in the bottom of the 11th inning of Game Seven.
In May of 1998, Eisenreich was traded to the Los Angeles Dodgers in a blockbuster deal that, among other things, briefly moved Mike Piazza to Florida. Eisenreich finished his major-league career in Los Angeles and retired after the 1998 season.  
Throughout his later years in baseball, Eisenreich became an inspiration for others dealing with Tourette syndrome. He would regularly receive calls from people asking him how he overcame Tourette to have success in the major leagues. In 1996, Eisenreich and his wife, Leann, founded the Jim Eisenreich Foundation for Children with Tourette syndrome. Eisenreich now lives in Kansas City with his wife and four kids. He continues to travel the country, telling his story to children and families in order to get the message out about Tourette syndrome, often doing so at major-league baseball stadiums, where the foundation hosts presentations and outings for Tourette-affected families. The foundation also provides resource guides for teachers, principals, counselors, and school support staff on Tourette syndrome and gives an annual Children's Most Valuable Player Award to major-league players and alumni who have made a significant positive impact on the lives of children. Past winners have included Sean Casey, Kirby Puckett, Barry Larkin, and Arizona Diamondbacks general manager Joe Garagiola Jr. 
Last revised: July 26, 2021 (zp)
Note
A version of this biography appeared in the book Minnesotans in Baseball, edited by Stew Thornley (Nodin, 2009).
Sources
 "Twins Rookie Battles a Nervous Disorder" by Patrick Reusse, The Sporting News, May 17, 1982.
"Eisenreich Move No Shock to Ex-coach" by Dave Anderson, St. Cloud Times, March 7, 1983.
"Eisenreich Hopes to Shake Affliction" by Patrick Reusse, The Sporting News, March 14, 1983.
"Eisenreich Says He Won't Be Back" by Patrick Reusse, The Sporting News, April 18, 1983.
"Eisenreich Says He is Retiring" by Patrick Reusse, The Sporting News, June 18, 1984.
"One Last Chance" by Tom Elliot, St. Cloud Times, February 26, 1987.
"Eisenreich: Illness or Anxiety" by Bob Nightengale, The Sporting News, March 23, 1987.
"The Story of a Comeback" by Tom Elliot, St. Cloud Daily Times, July 2, 1987.
"Eisenreich Is Doing It Every Day" by Randy Covitz, The Sporting News, September 11, 1989.
"Cliff Eisenreich Devoted Life to Family, Teaching" by Rick Preiss, St. Cloud Times, April 27, 1990.
"MVP: Jim Eisenreich's Dream is Reality" by Anne Abicht, SCSU Outlook, Summer 1990, pp 106.
Touching Bases with our Memories: The Players Who Made the Minnesota Twins 1961-2001 by Dean Urdahl, St. Cloud, Minnesota: North Star Press, 2001.
"Phillie Spirit Invades Holy Spirit as Students Cheer Famous Alumnus" by Joseph Young, St. Cloud Visitor, October 21, 1993.
Jim Eisenreich Foundation: http://tourettes.org.
Tourette Syndrome Association: http://www.tsa-usa.org.
Photo Credit
The Topps Company
Born
April 18, 1959 at St. Cloud, MN (USA)
If you can help us improve this player's biography, contact us.
http://bioproj.sabr.org/bp_ftp/images4/EisenreichJim.jpg
600
800
admin
/wp-content/uploads/2020/02/sabr_logo.png
admin
2012-01-04 20:33:38
2021-07-26 09:51:25
Jim Eisenreich