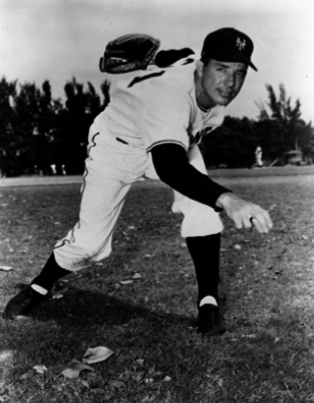 ---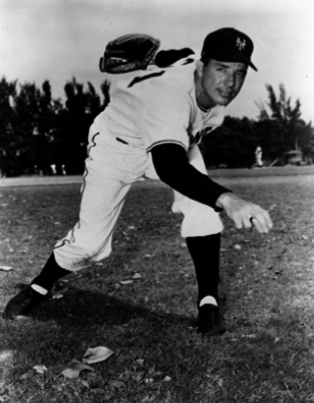 "I certainly had no idea of ever being a pitcher. I had never pitched as a kid," said 13-year big-league veteran Big Jim Hearn, who won 109 games for the St. Louis Cardinals, New York Giants, and Philadelphia Phillies from 1947 through 1959.1 A college basketball player, Hearn was signed by the Cardinals as a third baseman and was converted to a pitcher in 1942, his first year of professional ball. The Giants picked up the struggling right-hander off waivers in mid-July 1950, and Hearn caught fire, winning 11 of 14 decisions (he was 0-1 with the Cardinals) and leading the National League with a 2.49 ERA. In 1951, his best in baseball, he started and won the two most important games in his career: Game One of the three-game tiebreaking playoff set with the Brooklyn Dodgers and Game Three of the World Series against the New York Yankees.
James Tolbert Hearn was born on April 11, 1921, in Atlanta, Georgia, the sixth and final child born to Raymond and Pearl (Adams) Hearn. His father worked as a credit manager and his mother tended to the children born over a 13-year period. Growing up during the Depression, Jim lived in a tight-knit family of average means. He played baseball in sandlot and youth leagues, and continued playing at North Fulton High School, where he roamed the outfield and held down the hot corner, but never pitched. His passion, however, was basketball. At 6-feet-3, Hearn played center on his high-school team and accepted a scholarship to play on the hardwood at Georgia Tech in Atlanta. During the summer Hearn played baseball for various semipro teams in central Georgia.
Like many professional players, Hearn's "discovery" by big-league scouts was a combination of luck, good timing, and talent. After his sophomore year at Georgia Tech, Jim's semipro team participated at the National Baseball Congress championships in Wichita, Kansas, in 1941. At the heavily scouted tournament, Hearn caught the attention of St. Louis Cardinals scout Jack Ryan, who was impressed with his size, agility, and strong throwing arm from third base. After the tournament, Hearn accompanied Ryan back to St. Louis in order to work out at Sportsman's Park in front of Branch Rickey and other team officials. The club was impressed and made Hearn an offer he could not refuse. "I went out on a road trip with them," said Hearn of his career-altering experience with the Redbirds. "I roomed with the manager, Billy Southworth. Each day I took infield with Johnny Mize, Walker Cooper, and those guys. I sat on the bench for the games."2 Thoroughly impressed and convinced that he could someday join the ranks of the most successful team in the NL, Hearn signed in the late summer of 1941. He returned to Georgia Tech in the fall to play one more season of basketball, but left school in early 1942 to begin his professional baseball career.
Hearn reported to the Class B Columbus (Georgia) Red Birds of the South Atlantic League (Sally) as a third baseman and center fielder. "I became a pitcher overnight," Hearn told reporter Joseph M. Sheehan.3 Because several of the team's pitchers had enlisted in the military and others were injured, Hearn innocently (and in jest) threw batting practice, impressing player-manager, Harrison Wickel. "Wickel … asked me to try my luck against Macon (Peaches). I didn't even know how to stand on the rubber."4 In his first game as a professional pitcher, he pitched an extra-inning complete game, losing 2-1 on an error in the 11th inning. "From then on, I was a pitcher – or so they said."5 By mid-August he was touted by The Sporting News as "one of the best pitching prospects" in the league.6 Exceeding expectations and with practically no formal coaching, Hearn finished with an 11-12 record, logging 203 innings, for a weak Redbirds team (58-80).
Hearn's professional baseball career was then interrupted by a 3½-year stint in the Army. He pitched on several base teams, including Camp Davis, North Carolina, where he trained as an artillerist. In 1944 he made headlines by tossing a no-hitter and yielding just seven earned runs in 80 innings for the Blue Brigade at Camp Davis.7 Hearn was ultimately assigned to the coast artillery and was stationed in the Philippines. While there, Hearn pitched for Kirby Higbe's Manila Dodgers. In January 1946 Hearn tossed a 13-inning complete game with 16 strikeouts to defeat a team of NL All-Stars managed by Brooklyn Dodgers coach Charlie Dressen. Their fateful paths would meet again, 5½ years later. Higbe, a star pitcher for the Dodgers, proclaimed Hearn "ready for the big leagues."8
Hearn, described by The Sporting News as a "speedballer with good curves and control," reported to the Columbus (Ohio) Red Birds of the Triple-A American Association in midseason of 1946.9 He was limited to just eight starts among his 24 appearances, logged 98 innings, and won four of nine decisions. The Cardinals, coming off an unexpected victory over the Boston Red Sox in the 1946 World Series, added Hearn to their 40-man roster in the offseason.
Hearn was the first player to arrive at the Cardinals' spring training in 1947. Pitching was one of the anticipated strengths of the Cardinals; consequently, the prevailing sentiment was that the 26-year-old Hearn (with only 301 innings of professional ball) would not make the team. When the rest of the team arrived, Hearn was in excellent shape, and dazzled the coached and players with his speed and curveball. Teammates quickly tabbed the muscular Georgian "Big Jim," a moniker that remained with him for the rest of his career. Unexpectedly, Hearn was "given serious consideration" to make the team and rated the Cardinals' top rookie, regardless of position, in camp.10 Sufficiently impressed, manager Eddie Dyer slotted Hearn for the bullpen as the season opened.
Hearn surprised the Cardinals (and indeed the National League) by winning 12 games as a spot starter and reliever in his rookie campaign. He made his major-league debut on April 17 in mop-up duty, yielding two hits and an unearned run in the final three innings of a loss to the Cincinnati Reds, 9-4. Hearn made the most of his few opportunities to pitch early in the season. He earned his first win by hurling one-hit ball over the last four innings against the Pittsburgh Pirates in a ten-inning contest on May 11. Gradually, he worked his way into Dyer's convoluted six-man rotation (Al Brazle, Harry Brecheen, Murry Dickson, Red Munger, Howie Pollet, and Hearn). From June 28 to July 26 he won five straight decisions, including the first of ten career shutouts (a three-hitter against the Pirates at Forbes Field). Dyer took note of Hearn's stellar 3.22 ERA, third-best on the team, but expressed concern about his tendency to tire early. Hearn completed just four of 21 starts, an abnormally low percentage in that era; NL pitchers completed 37 percent of their starts in 1947. The Redbirds led the NL in team ERA for the fifth time in six seasons, but finished in second place behind the Brooklyn Dodgers.
Starting the 1948 season as a swingman, Hearn seemed more poised and in command on the mound. Even more importantly, he appeared stronger, tossing three complete-game victories in his first five starts. But then the bottom unexpectedly fell out. He lasted only 17⅔ innings in his next six starts, struggled in relief appearances, lost his control, and posted an ERA well above 7.00 from June 12 to August 15. "I had good primitive equipment, but I was a long way from being [major-league] ready," Hearn said, reflecting on his first two years with the Cardinals.11 Veterans on the staff told him that he was tipping his pitches, but he could not break the habit. With limited professional pitching experience and little formal pitching instruction, Hearn struggled to find a comfortable and natural delivery; and unlike in the military, he was no longer able to just whip balls past batters. "I started to monkey around," he said. "I changed my delivery, altered my grip, and all of a sudden, I lost my curveball."12 He had his moments – such as winning both games of a doubleheader in relief against the New York Giants on August 28, yielding just two hits in eight innings; but by season's end Hearn had lost Dyer's confidence. He won eight of 14 decisions, but posted a 4.22 ERA in 89⅔ innings for the second-place Cardinals.
Hearn's 1949 season was like an out-of-control car about to crash. He struggled from the gate and was banished to the far ends of the bullpen in mid-May after losing his first three decisions. Weighed down with a 5.14 ERA, he was demoted in June to the Cardinals' affiliate in the International League, the Rochester Red Wings. He won eight of 11 decisions, but a strained shoulder prematurely ended his season.
The Cardinals brought Hearn back in 1950, but his nightmare continued. Pitching infrequently and lacking confidence, Hearn's performed his swan song in a Cardinals uniform on June 28 against the Cubs. In four innings of relief, he surrendered ten hits and a career-high ten runs (nine earned) in a 15-3 throttling, and subsequently was placed on waivers. Stories circulated that Cardinals owner Fred Saigh doubted Hearn's heart and competitive spirit to pitch in pressure-packed games; Dyer openly called his ability into question.
The New York Giants' acquisition of Hearn for the $10,000 waiver fee on July 10, 1950, drew little attention during the All-Star break. Hearn joined the team in Pittsburgh with a lot of baggage – and not the kind filled with clothes. Compounding his pitching woes was a widespread belief that he was more interested in golf than baseball. Giants skipper Leo Durocher, in a widely-reported exchange, confronted his new pitcher: "Jim, they tell me you want to be a golf pro," said Durocher. "If you are interested more in golf than pitching, let's have it right now so we don't lose any time and effort on you."13
The Giants had lost nine of their last ten games when Hearn took the mound on July 17 for the first time. Unexpectedly, he tossed a complete-game four-hitter to defeat the Cincinnati Reds at Crosley Field, 10-3. It was his longest outing in more than two years. Two starts later he took revenge against the Cubs, who dealt him his supposed death knell less than four weeks earlier, by blanking them on five hits and walking just one batter. In the midst of the Giants' streak of 17 wins in 18 games, Hearn surrendered a leadoff hit to the Pirates' Bob Dillinger on August 5, then did not allow another hit to record the first one-hitter in his career. Led by two outcasts, Hearn and Sal Maglie (who had returned to the big leagues after his fiasco with the Mexican League and ensuing suspension) the Giants proved to be contenders, finishing in third place, five games behind the surprising Philadelphia Phillies.
Hearn's success with the Giants earned him the moniker Miracle Man from New York World Telegram sportswriter Dan Daniel.14 In the most dominant stretch of his career, Hearn won 11 of 14 decisions, completed 11 of 16 starts, tossed a league-leading five shutouts, and posted a remarkable 1.94 ERA in 125 innings. His victories included a one-hitter, three four-hitters, and four five-hitters. Despite his horrendous start with the Cardinals, he finished with a cumulative 2.49 ERA, which led the NL under the rules of the day. Hearn credited his success to the Giants' coaching staff. "When I came over from St. Louis I was basically a straight overhand pitcher," he recalled. "Then I hooked up with Frank (Shellenback) and Freddie (Fitzsimmons). … They told me to drop down a little in my delivery. I threw from a three-quarters position. The ball came off my fingers at a different angle and my fastball became like a sinker."15
In light of Hearn's success and the Cardinals' struggles, the press hounded Dyer, who was forced to defend his decision to place the tall Georgian on waivers. "We must have run out of patience too soon," he said.16 Following the Cardinals' worst showing since 1938, Dyer was replaced at the end of the season and never managed in the big leagues again.
The Cinderella story of the 1950 baseball season, Hearn was touted as a "likely 20-game winner" in 1951.17 Ken Smith of the New York Mirror wrote that the players were "inspired by their new starting pitcher," and echoed national sentiments that the Giants were serious pennant contenders.18 Hearn took advantage of his new-found success and demanded a substantial raise from his reported $8,500 salary; after a lengthy holdout, he agreed to terms on March 1 for an estimated $16,000. The Giants (21-21) and Hearn (3-3) started out slowly through May. The big right-hander failed to make it through the sixth inning in four of his first ten starts before reeling off three consecutive complete-game victories and winning seven of nine decisions in June and July. When he lost to Robin Roberts and the Philadelphia Phillies on August 11, the Giants dropped to a season-high 13 games behind the Dodgers.
With their pennant hopes in doubt, the Giants commenced their epic comeback, winning 38 of their final 45 games to finish in a first-place tie with the Dodgers. Rekindling his magic from the previous season, Hearn won six of eight decisions and posted a 2.37 ERA down the stretch (August 15-September 25). "The only really bad pressure was on the pitching staff," Hearn said of one of the most exciting pennant races in NL history. "We were just plain worn out; our arms were hanging dead. In those last four games of the season, two in Philly and two in Boston, we gave up a total of four runs, pitching with two, three days' rest. That, to me, is the Miracle of Coogan's Bluff."19
In the most important game in his career, Hearn started Game One of the best-of-three playoff against the Brooklyn Dodgers on October 1, to determine the league champion. Hearn took the mound at Ebbets Field in pain; in his previous start he had strained a muscle in his left side, and between innings on this fall-like day team trainer Doc Bowman applied hot ointment to his ribcage. Hearn gave up a second-inning home run to Andy Pafko for the first run of the game, then held the high-scoring Dodgers to three hits over the final seven frames. The Giants scored three off Ralph Branca to win the game, 3-1. Two days later Bobby Thomson hit the "shot heard 'round the world" to send the Giants to their first World Series since 1937. Hearn finished the season with a career-high 17 wins against 9 losses and a sturdy 3.62 ERA in 211⅓ innings.
Hearn's next turn on the mound was Game Three of the World Series with the Giants and the Yankees tied one game apiece. Pitching in Yankee Stadium for the first time in his life, Hearn scattered three hits in the first seven innings before tiring in the eight. He loaded the bases, then issued his eighth walk of the game to score Phil Rizzuto with two outs. Reliever Sheldon Jones got out of the jam when Hank Bauer grounded out to save the 6-2 victory. "My back was killing me from the first inning on," said Hearn of his four-hitter over 7⅔ innings, "but somehow nothing hurts any more after you win."20 Despite their exciting win, the Giants scored only six runs in their next three games, and lost the Series in six games. Hearn pitched one inning of scoreless relief in Game Six, helping to keep the game close in a 4-3 loss.
The Giants avoided a sluggish start in 1952 and battled the Dodgers, as expected, for the NL pennant all season long. Benefiting from good run support, Hearn got off to a strong start, winning eight of his first nine decisions, and pushed his record to 9-2 at the All-Star break. Durocher, manager of the NL team, named Big Jim to the squad to replace the injured Preacher Roe; however, Hearn did not pitch in the rain-shortened game. He won his team-leading 12th game (against three losses) on August 1 to keep the Giants in striking distance just five games back with two months to play. But neither he nor Sal Maglie and Larry Jansen (23-game winners the previous year) could replicate their commanding performances from 1951 as the team finished runner-up to Brooklyn. Hearn won just two more games, finishing with a 14-7 record, logging 223⅔ innings and carving out a 3.78 ERA, just a notch worse than league average. Hearn was frustratingly inconsistent; in his 14 wins, he sported an excellent 2.07 ERA; but in his other 22 appearances, his ERA was 5.79.
Two personalities could not be more divergent than Hearn's and Durocher's. Whereas the Lip earned his nickname as a loud, obnoxious drinker, gambler, and womanizer who had been suspended for an entire season (1947) for behavior deemed detrimental to baseball, Hearn was a Southern gentleman, educated, shy, and soft-spoken. The Sporting News wrote that "[Hearn] is not a pusher and is somewhat of the worry type."21 New York Post sportswriter Arch Murray opined, "Jim is inclined to brood" and is "highly sensitive."22 Durocher wanted players in his mold: aggressive, daring, challenging, and with an extroverted, rah-rah personality. That was not Hearn. By the end of the 1952 season reports surfaced that Durocher did not take kindly to Hearn's temperament, which he thought suggested a lack of desire to win.23 Never a friendly one, Durocher and Hearn's relationship worsened in 1953 and 1954 as the right-hander won just 17 games in the two years and failed to live up to the promise his first 2½ years with the club suggested. Trade rumors annually swirled around Hearn.
The Giants had a forgettable season in 1953, losing 41 of their last 59 games to finish 14 games under .500 and in fifth place. The glory days of Maglie, Jansen, and Hearn were a distant memory as the trio combined to win just 28 games and lose 37, a far cry from their 63-26 record two years earlier. After a respectable first half (6-4, 3.27 ERA), Hearn imploded during the final three months of the season, posting a 6.06 ERA and winning just three of 11 decisions. Never an innings-eater despite starting 32 to 34 games for three consecutive years (1951-53), Hearn lasted less than five innings in 12 starts in 1953.
As the 1954 season commenced, Hearn was the odd man out of starting rotation with the rise of 26-year-old Ruben Gomez and the offseason acquisition of left-handers Johnny Antonelli and Don Liddle. Hearn's lack of control rendered him ineffective in the bullpen; and without a regular turn in the rotation, his mechanics worsened as he experimented with different deliveries. "Jim Hearn was a pain-in-the-ass pitcher," wrote Bobby Thomson. "He was always a fussbudget on the mound. He had to rub the ball up just right before he would pitch."24 Back in the starting rotation from June through mid-August, Hearn showed flashes of dominance (two shutouts), but his inconsistencies baffled Durocher. With the Giants clinging to a 1½-game lead over the Dodgers in a tight pennant race, Hearn was removed in the second inning of a game with Brooklyn at Ebbets Field on August 15. He lasted only a third of an inning in his next appearance, a start against Cincinnati on September 1; then he spent the remainder of the season in the bullpen (five appearances) watching as the Giants captured their second pennant in four years. Hearn split his 16 decisions and logged 130 innings. He did not pitch in the Giants' World Series victory over the Cleveland Indians.
A major question mark coming into the 1955 season, Hearn unexpectedly earned a spot in the rotation. The 34-year-old right-hander proved to be the Giants' most productive and effective starter for most of the season. Always known for taking hard swings at the plate, Hearn clouted two home runs and knocked in four runs while pitching a complete game to defeat the Dodgers on July 9. Two starts later he pitched the second of his two career one-hitters, a 2-0 shutout of the Reds. The Sporting News described his unforeseen success as "outstanding" and christened him the "new number one on the right side."25 Pitching coach Frank Shellenback was widely credited with resuscitating Hearn's career for the second time. On August 18 Hearn pulled a leg muscle against the Dodgers and was lifted after yielding five hits and three runs in two-thirds of an inning. He was not the same after the injury, losing six of seven decisions with an ERA approaching 7.00. Nonetheless, he logged a career-high 226⅔ innings, won 14, lost 16, and posted a sturdy 3.73 ERA.
Following Durocher's ouster, Bill Rigney took over as skipper for the Giants in 1956. He gave his former teammate another shot in the rotation to start the season, but Hearn struggled, lost eight consecutive decisions at one point, suffered a pulled hip muscle, and limped to a 5-11 record for the sixth-place Giants. The team announced a youth movement in the offseason and Hearn was traded to the Philadelphia Phillies for pitcher Stu Miller.
Hearn spent his last three seasons with the Phillies, who converted him into a reliever. The senior member of staff, Hearn logged 74 and 73½ innings respectively in 1957 and 1958, and often in mop-up duty. Since 1954 Hearn had battled an assortment of hip strains and discomfort. Pain resurfaced in 1959, limiting his effectiveness. On May 22 he was given his unconditional release. The converted third baseman retired with a 109-89 record and a 3.81 ERA in 1,703⅔ innings. Hearn belted nine home runs in his career, including eight in the Polo Grounds, and finished with a .141 batting average (77-for-548).
Immediately after his playing career Hearn returned to his offseason home in Atlanta with his wife, Mary Anne (Linane), a former Miss Atlanta, whom he had married early in his career with the Giants. They had four sons, Jim, Jeff, Paul, and Chris, and one daughter, Mary Celine. Hearn took a sales job with the Van Heusen shirt company in the Northeast, but felt the tug of his other great sporting passion, golf. He returned to Atlanta and opened the 17-acre Jim Hearn Golf Center. In 1983 he was inducted into the Georgia Sports Hall of Fame.
Jim Hearn died at the age of 77 from Hodgkin's lymphoma on June 10, 1998, at his winter home in Boca Grande, Florida.
Last revised: October 19, 2021 (ghw)
This biography appears in "The Team That Time Won't Forget: The 1951 New York Giants" (SABR, 2015), edited by Bill Nowlin and C. Paul Rogers III.
Sources
Durocher, Leo, and Ed Linn, Nice Guys Finish Last (Chicago: University of Chicago Press, 1998).
James, Bill, and Rob Neyer, The Neyer/James Guide to Pitchers: An Historical Compendium of Pitching, Pitchers, and Pitches (New York: Fireside, 2004).
Kahn, Roger, Memories of Summer: When Baseball Was an Art, and Writing About It a Game (Lincoln, Nebraska: University of Nebraska Press, 2004).
Thomson, Bobby, The Giants Win the Pennant! The Giants Win the Pennant! (New York: Citadel, 2001).
Williams, Peter, When the Giants were Giants: Bill Terry and the Golden Age of New York Baseball (New York: Algonquin Books, 1994).
Chicago Tribune
New York Times
The Sporting News
Ancestry.com
BaseballLibrary.com
Baseball-Reference.com
Retrosheet.org
SABR.org
Jim Hearn player file, National Baseball Hall of Fame, Cooperstown, New York.
Notes
Born
April 11, 1921 at Atlanta, GA (USA)
Died
June 10, 1998 at Boca Grande, FL (USA)
If you can help us improve this player's biography, contact us.
https://sabr.org/sites/default/files/HearnJim.png
600
800
admin
/wp-content/uploads/2020/02/sabr_logo.png
admin
2012-01-04 20:37:27
2021-10-19 05:45:34
Jim Hearn