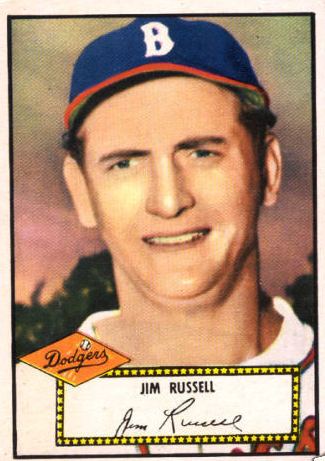 ---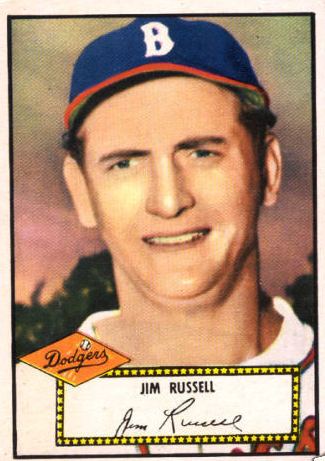 In August 1948, both the Braves and their centerfielder Jim Russell were riding high. The Braves were in first place and Russell, acquired in an offseason trade with the Pirates, was having another strong season leading the team in home runs and RBIs. A switch-hitter with speed as well as power, he was batting .264 with nine home runs and 54 runs batted in through 89 games before a serious heart illness ended his season and effectively ended his career as a productive player.
James William Russell was born on October 1, 1918 in Fayette City, Pennsylvania, the son of James and Lillian Russell. His father was of Irish-Welsh descent and his mother was Swedish. It was not an easy upbringing as money was scarce, his parents were not well educated, and his father was tough on young Jim. The elder Russell supported his family with work in several different coal mines, often switching jobs because he was a highly sought-after ball player for the teams organized by the mines. Doc Russell, known for Spencer Tracy-type looks and a crusty demeanor, acquired the nickname because he regularly wore a fur cap that was left behind at his home by a medical doctor. The military style fur cap was popular among doctors in the early part of the 20th century, but Doc was more suited to a baseball cap. An outstanding infielder, Jim's father was renowned for his slugging prowess; it was said that he once hit a ball that traveled 400 feet in the air and rolled another 250 feet once it landed.
Young Jim was an energetic boy who inherited his father's athletic genes and was always playing one sport or another. His favorite, of course, was baseball and Jim played whenever he could. As a young boy Jim, a natural right handed batter, learned to switch hit so he could hit his brother Carl's curve ball. Since neither of Jim's parents was well educated this sometimes led to some poor decisions in the care of their children. One cold and wet day, Jim was outside playing ball without being dressed properly for the weather and as a result contracted rheumatic fever, and an infection developed in his heart. For a while there was concern that he would not survive but in time he recovered and remained in good health until the unfortunate illness — related to his childhood disease — which cost him a chance to play in the 1948 World Series.
Jim lacked the same enthusiasm for his school work that he had for sports, and dropped out of school in the ninth grade to work in the mines like his father. Doc's sister Margaret kept a watchful eye on Jim to keep him out of trouble and encouraged him to pursue his baseball dreams. Aunt Margaret, with whom Jim lived off and on during his childhood and even later while in Brooklyn with the Dodgers, was not shy about giving Jim an occasional tongue lashing to keep him focused. He would always have a fond place in his heart for Aunt Margaret and years later he credited her with helping him become a major leaguer.
As Jim grew and his baseball skills became more polished, he began to attract the interest of area professional teams. He signed his first professional contract with the McKeesport (PA) Little Pirates in 1937 and for the next five seasons played minor league ball in several towns including Butler, Beaver Falls, Youngstown, Springfield (Illinois), and St. Joseph of the Michigan State League. In 1938, while playing for Butler, a Pennsylvania State Association (Class D) entry, he was teammates with Hank Sauer, the eventual 1952 National League MVP. Sauer led the league in batting that year and was named to its All Star team. Russell finished the year with the Beaver Falls squad and was an honorable mention All Star after batting .320. He was also an honorable mention All Star in 1939 with the Mayfield, Kentucky squad of the KITTY League, another Class D circuit, where his team won the regular season championship but lost in the first round of the playoffs. Two of his teammates that year were Vernon "Junior" Stephens, the KITTY League batting champion who later teamed with Ted Williams to make a great slugging duo with the Boston Red Sox, and Charlie Metro who later managed both the Chicago Cubs and Kansas City Royals. Jim acquitted himself well in this group with a .333 mark.
By 1941 Russell had moved up to Class B and in playing 125 games for Meridian of the Southeastern League, he led the league in stolen bases with 51 and established a new single season record. He finished the '41 campaign with the Memphis Chicks of the Class A Southern Association, but Russell was not wholly pleased with the promotion to a higher league. Although he batted .383 with 10 doubles in 24 games, he expected his salary to be increased commensurate with the jump in competition. He let his displeasure over his pay carry out on to the field and became a target of abuse from the Memphis faithful. When the last out of the season was a fly ball to Russell, he caught it and then heaved the ball with all his might into the bleachers.
During the off-season he was selected by the Pittsburgh Pirates in the minor league draft and assigned to Toronto of the International League (AA) for the '42 campaign. Russell enjoyed a fine season batting .295 with 19 doubles, three triples, three home runs, and 14 stolen bases. The Pirates purchased his contract in September and brought him to the big leagues where he appeared in five games. He made just one hit in 14 at-bats.
Russell had grown into a strong, athletic young man, standing 6'1" and weighing 180 pounds and was blessed with outstanding speed. A switch-hitter, he was instantly one of the fastest players in the majors, even winning a 60-yard dash contest held for major league players in conjunction with the annual relay meet at Purdue University. His winning time of 6.9 seconds was only five-tenths of a second off the winning time posted in the collegiate race. Bob Usher of Cincinnati was second, Allie Reynolds of Cleveland was third, and Mizell Platt of the Chicago Cubs was fourth.
Russell's manager in Pittsburgh was future Hall of Famer Frankie Frisch. Frisch, who gained fame first as a player for John McGraw's New York Giants and then as player-manager of the St. Louis Cardinals whom he piloted to the 1934 world championship, led the Bucs from 1940 to 1946. The Fordham Flash thought very highly of his young outfielder, commenting that Russell had a chance to be as good "as he wants to be." Frisch always appreciated players who possessed good speed and thought Russell to be an excellent defensive outfielder with a fine arm. He also worked with him to teach him how to drag bunt to take advantage of his speed. "Why, that fellow Russell ought to bunt .300 in any league! He actually overtakes and beats the ball when he pulls a bunt down the line!" Frisch exclaimed.
Jim's weakened heart from his childhood illness got him classified as 4F and kept out of World War II. With many major league players now in the service, he took advantage of this opportunity and won the starting center field job with Pittsburgh in 1943. Still just 24 years old, he responded well with a .259 batting average that included four homers and 44 runs batted in while appearing in 146 games. He followed that with the best year of his major league career in 1944 when he batted a career best .312, good for ninth in the senior circuit. He also collected 181 hits, 34 doubles, 14 triples, 8 homers, 66 RBIs, and scored 109 runs. One of his home runs was a grand slam on August 20 against Brooklyn; he became the first Pirate to hit one as a pinch-hitter.
He was developing into a consistent major league player that was noted for his speed and defensive abilities. In 1945 he batted .284, and his totals of 12 home runs and 77 RBIs would have been slightly higher if not for an incident that occurred on Opening Day against the Reds at Crosley Field. Russell came to bat in the fifth inning with two men on base, one of whom was shortstop Frankie Zak. Zak asked for time out from the second base umpire so that he could tie his shoes. However, the ump did not signal time until after Cincinnati pitcher Bucky Walters threw the pitch — which Russell promptly knocked out of the park. The umpire signaled "no play" and a heated argument followed. Eventually, the home run was disallowed and the Pirates went on to lose the game in extra innings by the score of 7-6. A still angry Frisch was said to have subsequently told Zak that he was going to buy him shoes with buttons.
Russell also proved to be somewhat of Braves killer in the 1945 campaign. In a doubleheader on July 6 in which Boston outfielder Tommy Holmes broke Rogers Hornsby's modern day record of hitting safely in 33 consecutive games, Russell had three hits including a homer in the second game. Two days later he had four hits in the first game of another twin bill in a 10-8 triumph and on July 17 he had another four-hit game against the Braves in an 8-5 Pirates victory at Forbes Field. Perhaps Braves management still remembered these feats when they traded for Russell a few years later.
Following the 1945 season he was selected to join a squad of 18 National League players that performed before servicemen in the South Pacific with stopovers in Manila and Tokyo. Headed by Brooklyn coach Charlie Dressen, the elite club featured future Hall of Famer Paul Waner, Ralph Branca, and Buddy Kerr. Also on the team were four players would become teammates on the 1948 Braves; Frank McCormick, Ed Wright, Red Barrett, and Bill Voiselle.
The next two seasons Russell, against a tougher crop of post-war pitchers, produced less impressive and almost identical numbers: eight homers with 50 runs batted across in 1946 and eight home runs with 51 RBIs in 1947. He had another big game against the Braves on August 20, 1947, a day that the Braves passed the million mark in home attendance for the first time in team history, Russell had five hits, among them a double and a triple, and drove in five runs in the 16-10 victory. That year he played center field sandwiched between two future Hall of Famers: Ralph Kiner and Hank Greenberg — and once was quoted as saying neither "could move." Russell liked both men and especially sympathized with Greenberg for all the abuse he took as the game's most prominent Jewish player. He remained friends with Kiner, who later in life would visit Russell's home, but wondered why the seven-time home run champ was elected to the Hall of Fame. Russell felt that Kiner was too one-dimensional as a hitter and a poor outfielder.
The business of baseball became a reality for Russell in the off season of 1947 when on November 18 he was shipped along with catcher Bill Salkeld and pitcher Al Lyons to the Braves for outfielder Johnny Hopp and second basemen Danny Murtaugh. Hopp had batted .288 for Boston in 1947 while Murtaugh was a 30-year-old journeyman who appeared in only three games for the Braves. Murtaugh would gain fame later as manager of the Pittsburgh Pirates for 15 seasons in three different stints including both the 1960 and '71 world champions.
Jim responded by having one of his better seasons and was an important element on a Braves team fighting for their first pennant in 34 years. On June 7 in a game against the Cubs in Wrigley Field, Russell had one of the most memorable games of his career when he tied a National League record with four extra base hits in a single game. He not only homered and doubled from both sides of the plate, but he also drove in six runs as the Braves defeated the Cubs 9-5. Russell also showed a knack for hitting the clutch home run that summer. In a May 15 game against the Dodgers at Ebbets Field he supplied the only run in a Warren Spahn shutout with a home run; this also marked the third consecutive shutout by a Braves' starting pitcher. On July 8 – again at Ebbets Field – Russell broke a 2-2 tie with an eighth-inning grand slam that helped end Brooklyn's six-game home winning streak. As he went out to take his position in center field in the bottom of the inning, he was greeted by fans throwing rubber balls and other rubbish. The public announcer in his finest Brooklyn accent shouted, "I thought I made that clear. Please don't throw nothing on the field." Threatened with a forfeit, the crowd complied.
Although Russell's bases loaded blow was overshadowed somewhat in game accounts by the broken ankle suffered by Braves starting second baseman Eddie Stanky in the same contest, it launched a red hot stretch that helped Boston build up an eight-game lead over second place St. Louis by July 18. Then, overnight, Jim's dream season came to an abrupt end. On July 22 Russell was admitted to Christ Hospital in Cincinnati with what was alternately reported by the newspapers as "a slight fever, "an infected tooth," and "a touch of grippe." Upon his release five days later the United Press reported that doctors had "removed an infected tooth and decaying jaw bone which were believed to have caused a fever he had for two weeks prior to entering the hospital." Reports of Russell's weight loss during this period ranged from 10 to 20 pounds or more.
Although he rejoined the team in Boston at July's end, Russell never saw action and on August 13 left for his Pennsylvania home for what the Associated Press deemed "a complete rest upon the recommendation of team physician Dr. Roger T. Doyle." Eventually Jim was diagnosed with subacute bacterial endocarditis, a condition caused by a blood infection from which bacteria made its way into the heart and damaged a heart valve. According to Russell in later interviews, this condition was 100 percent fatal before penicillin; however, with the help of this still relatively new wonder drug, he was able to recover his health — but not his batting stroke. On August 30 it was announced that Russell would miss the remainder of the season and have to stay in Charleroi-Monessen Hospital for at least another three weeks to a month. While the Braves stumbled briefly after both he and Stanky were gone and fell out of first place, they did recover to win the pennant. The Braves received permission from the commissioner's office to add outfielder Ray Sanders to the World Series roster to replace Russell, even though Sanders had just come up from minor league Hartford in mid-September and thus would normally be ineligible. Russell's stay in the hospital was a little longer than expected and he listened to the World Series on the radio in his hospital room. After the Series, manager Billy Southworth visited him and said the team, which hit just .230 versus Cleveland, could have used him on offense and defense.
After proclaiming himself "in perfect health" by mid-December, Russell came back to reclaim his roster spot in spring training of 1949. The feel-good story did not last long, as dissension filled the Braves clubhouse in 1949 and Russell was in the middle of it all. Dave Egan of the Boston Daily Record, who was notorious for his battles with Red Sox great Ted Williams, reported that Russell was fined $200 for breaking curfew in spring training, a story that Russell denied. Later in August, Russell and teammate Earl Torgeson got into a fight at a Chicago hotel and both combatants came away injured. Torgeson, who had been out most of the season with a shoulder separation, suffered a sprained thumb while Russell came away with two black eyes. Manager Billy Southworth did not fine either player as he claimed that no team rule had been violated. It was only a short time after this incident that Southworth took his "voluntary" departure from the team, which was plodding along with a 55-54 record. At the end of the season, in a meeting to divide the fourth-place money the team would receive, a majority of the players, including Russell, voted to give Southworth only a half-share. Commissioner Happy Chandler stepped in and awarded the embattled manager a full share. The incident spoke volumes about the state of the team and at the end of the season it was apparent that some housecleaning was necessary. Russell's 120 games played was more than any other Braves outfielder, but he batted only .231, and was traded to Brooklyn on Christmas Eve along with Ed Sauer and cash for Luis Olmo.
Prior to the trade the Braves had asked waivers on Russell, so that when the trade was made his contract was assigned to the Dodgers' top farm club, the Montreal Royals of the International League. Russell balked at the prospect of playing in Montreal; citing the weather as being too cold for him, he threatened to retire. Branch Rickey got him to relent when he promised that he would train with the big club and be given every chance to make the squad, which he did.
On June 5, 1950, the famous Russell temper exhibited itself again as a high hard one by Cubs pitcher Paul Minner in the fourth inning of a game at Wrigley Field sent him sprawling. He thought Minner was throwing at him and after a brief exchange of words, he charged the mound and was ejected. National League President Ford Frick interestingly made the trip to Chicago for the next game though nothing became of the incident and Russell was not fined. In a July contest versus St. Louis he duplicated his feat of 1948 by again homering from both sides of the plate, batting lefty against George Munger and righty versus Harry Brecheen, thus becoming the first major league player to accomplish this feat twice. There were not to be many highlights this season, however, as he hit only .229 while splitting time in left field with Gene Hermanski.
Russell spent the majority of the 1951 season with Montreal; he appeared in just in 16 games for the Dodgers and went 0-for-13 in what proved to be his final year in the big leagues. While in Montreal he roomed with a young left-handed pitcher named Tommy Lasorda with whom he developed a lifelong friendship. In later years both were on the scouting staff of the Dodgers and Lasorda would visit with Russell in his home when in the Pittsburgh area. Lasorda went on to greater fame first as third base coach under Walter Alston and then succeeding him as manager of the Dodgers, a post he held from 1976 to 1995 enroute to the Hall of Fame. It was also during his stint in Montreal that Russell met his future wife Theresa Mary Coreau of Arnprior, Ontario, whom he married on Halloween of 1951.
Russell finished his playing career in 1952 and 1953 with the Portland Beavers of the Pacific Coast League and then retired back to Pennsylvania. He was hired by the Dodgers as a scout, a job he held until 1960 when he took the same position with Washington; he worked for the Senators from 1961 to 1963. At the same time he was a scout, he also owned Russell Brothers Beer Distributing with his brother Carl which they sold in the mid-1960s. In 1964 he was unanimously selected by the Rostraver Township School Board to fill an unexpired term. He aspired to become the tax collector, but instead became a salesman for Smith-Corona. He still indulged his political interests, however, and won election to the school board in the Belle Vernon Area School District in 1967 and 1971. Keeping up his love of the game, he was also instrumental in bringing American Legion ball back to the area and coached the Fayette City entry in the 1970s.
During this period, Jim would occasionally experience severe chest pains. In June 1977 he had his aortic valve replaced with a pig's valve and it was then discovered that his heart was four times the normal size; by comparison the average athlete's heart is two times the normal size. While in the recovery room, his heart went into atrial fibrillation and the doctor's opened his chest right there in recovery and massaged his heart. After a long convalescence Russell, still employed at Smith-Corona, moved to the Tampa, Florida area. There he became an avid golfer, eventually becoming a 10 handicap, and often played with Hall of Famers Stan Musial and Al Lopez at Feather Sound Country Club in Clearwater.
It was early 1987 when he again experienced a severe health crisis as he underwent mitral valve surgery on March 12. On the day before Thanksgiving he boarded a plane for a long planned hunting trip, but something went wrong and he died on takeoff. He was remembered as a charismatic man with a certain dynamic that people wanted to be around, as well as a devoted husband and father to his three children.
Russell's son Stephen has enjoyed a long career as an educator and since 1976 has been principal of Bellmar Middle School in Belle Vernon, Pennsylvania. He has also had longevity in his second career as a ticket seller for the Pittsburgh Pirates. His career with the Pirates actually dates back to the 1960s when he began as an usher in old Forbes Field. He moved into his position as a ticket seller in 1972 and has been there ever since. One of his passions has been to collect memorabilia of his favorite players, especially Paul Molitor, whom he was fortunate enough to meet. Since 1998 he has been curator of the Mid-Mon Valley All Sports Hall of Fame where one famous inductee was in Stephen's homeroom in 10th grade; football great Joe Montana. Russell is proud of his father and fondly remembers his dad's friendship with Bing Crosby, Stan Musial, Tommy Lasorda, Ralph Kiner, and Chuck Tanner. In the eyes of an admiring son, these relationships help show the measure of the man that was Jim Russell.
Note
This biography originally appeared in the book Spahn, Sain, and Teddy Ballgame: Boston's (almost) Perfect Baseball Summer of 1948, edited by Bill Nowlin and published by Rounder Books in 2008.
Sources
Kaese, Harold. The Boston Braves, 1871-1953. Boston: Northeastern University Press, 2004.
Jim Russell player file at the National Baseball Hall of Fame
Interview with Stephen Russell, son of Jim Russell, January 6, 2007
Copy of speech delivered by Stephen Russell at Pennsylvania Sports Hall of Fame induction of Jim Russell, November 4, 2006
Short biography of Jim Russell written by Stephen Russell
2005 ESPN Baseball Encyclopedia
Sports Collectors Digest
Pittsburgh Tribune-Review
Pittsburgh Magazine
SABR Baseball Encyclopedia
Boston Daily Record
Photo Credit
The Topps Company
Born
October 1, 1918 at Fayette City, PA (USA)
Died
November 24, 1987 at Orlando, FL (USA)
If you can help us improve this player's biography, contact us.
http://bioproj.sabr.org/bp_ftp/images3/RussellJim.jpg
600
800
admin
/wp-content/uploads/2020/02/sabr_logo.png
admin
2012-01-04 20:44:50
2012-01-04 20:44:50
Jim Russell