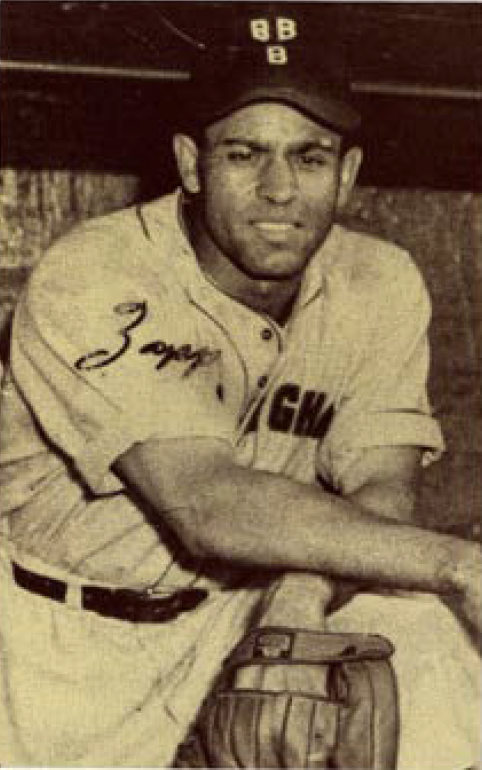 ---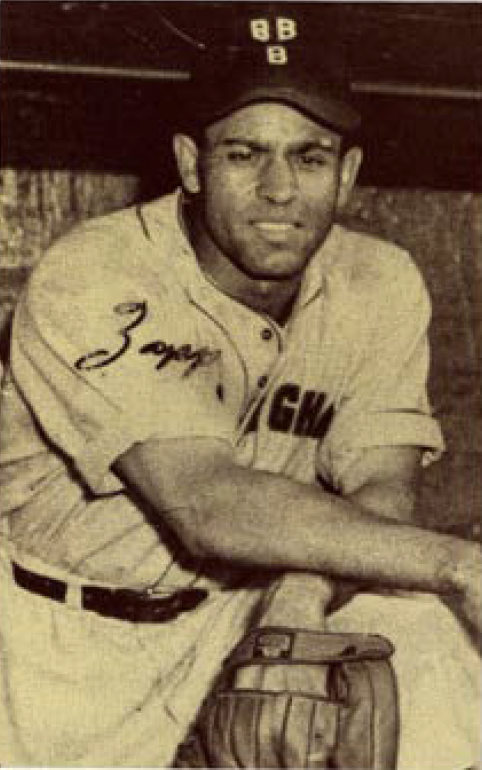 Jim "Zipper" Zapp played a big role in getting the Birmingham Black Barons to the 1948 World Series against the Homestead Grays. It was a season that had seen a young rookie named Willie Mays spell him in the second game of a doubleheader. Zapp was a big right-handed outfielder, standing 6-feet-2 or -3 and listed between 215 and 230-some pounds. He went on to play several more years before leaving the game.
In one sense, though, leaving the game was something Zapp did with some frequency. Looking back years later, he said that probably the one thing that held him back the most was that he kept quitting teams — and yet when he left he felt it was because he was standing up for fair treatment. He got branded as temperamental. "They called it temperamental," he told interviewer Brent Kelley, "but I didn't call it temperamental. If I didn't think the owners was treating me right, I'd quit, ask for my release, or whatever, as long as they didn't give me my money. Sometimes they did not."1
Nashville, Tennessee, was the birthplace of James Stephen Zapp on April 18, 1924.2 Because of the racial mores of the day, his family history is a little difficult to understand. His father, Burt, was a baker by trade. Jim Zapp was born to a white man and a black woman. As James Zapp Jr. explained late in 2015, "My granddad was of German-English descent. My grandma was black. My dad was born in what you call 'out of wedlock' because back in those days white guys could not be with black women."3 Jim's birth mother was Ardina Jordan and his birth father was Thomas Burton Zapp — Burt Zapp.4
The 1910 census says that Burt Zapp's father, Henry (a locomotive engineer, born to two German parents), came from Indiana, and his mother, Helen (Burton) Zapp, known also as Nellie, came from England.5 Burt was born in June 1876.
The 1900 census shows Zapp working in Nashville and living with his wife, Ellen, and the head of the household, Green Simpson (perhaps Ellen's mother.) He was employed as a baker for the County Asylum.6 The 1910 census has him living with a 7-year-old daughter, Katie A. Zapp. He's listed in the 1920 census as divorced, a native of Indiana, living with his daughter, Katie Wilian, 16, and her daughter, Ellen, who was 15 months old.
When Jim Zapp was born he was assigned the surname of his mother, Jordan. As James Jr. explained, back then "society was never told who the white father was, therefore, my dad and his siblings' birth certificates have no father named. My granddad was white. I've got pictures of him. He was white as snow. "7
Later, and sometime before he joined the Navy, Jim elected to take the last name of his father and became James Stephen Zapp. James Jr. added, "My dad's father was very bold and did inform society the children were his." His willingness to be so bold may have influenced Jim Zapp's willingness to stand up for himself when he felt he was not getting a fair shake.
Burt had a brother and a sister. James Jr. further explained that Kate was not Burt's daughter, but the daughter of his wife. Burt Zapp seems to have raised four children: Katie, Richmond, Jim, and Jennie.
Come 1940, "Birt" Zapp was listed as a roomer in the house of Audine (Ardina) Jordan, a widow. He was still working as a baker, and living with Richmond, an office clerk at a state park, and the younger James and Jennie. James, 15 at the time, was listed as a "new worker." Jennie was 13 and without an occupation.
Jim went into military service during World War II, early — in 1942, and that's said to be where he first truly got involved with baseball. He was a boatswain's mate 2nd class in the US Navy and was stationed in Hawaii at Pearl Harbor. There he started playing ball for the Aiea Naval Barracks team — first the all-black team "and then joined the barracks' integrated team. He also played at Manana Barracks in Hawaii."8
Indeed, it may have been Zapp who integrated the team: "One day we were playing and the manager for the white team was watching us play. I was playing third base at the time. His name was Edgar "Special Delivery" Jones. He was an All-American football player from the University of Pittsburgh. … He saw us play and he integrated the white team at that time. He took me and the first baseman … Andy Ashford."9 
Zapp's team won back-to-back titles in 1943 and 1944.10 Before the war was over, Zapp had been transferred back to the States in April 1945, and played baseball for the Navy at Staten Island, New York, that summer.11 He was one of two black players on the team, playing for manager Larry Napp, who later umpired over 3,600 American League games from 1951-74. Among those he had played with or against were Johnny Mize, Joe DiMaggio, Phil Rizzuto, and Pee Wee Reese.12
Apparently later in the year Zapp is also said to have been "signed by 'Fat Puppy' Green to join the Baltimore Elite Giants winter season," playing on weekends as a part-timer. In 1946 he "returned to Nashville to complete a season with the Nashville Cubs."13
In 1947, he said, he was traded to the Atlanta Black Crackers and played with them for about half the season. He hit 11 homers for Atlanta in the time he was with them, and so had to some extent proven his abilities.14 But Jim told Kelley that when the team went to New York to play, where his mother and sister were living, "I quit the team right there because of the owner of the Atlanta Black Crackers; you had to almost fight him to get your money."15
Back in Nashville, he said, "I was uptown one day, standing in front of a nightclub, and a fella from the Memphis Red Sox, T. Brown, was coming through Nashville and he saw me. He said, 'I heard you quit playing baseball.' I said, 'Yeah, I'm giving it up. I can't stand it no more.' He said, 'Would you go back to playing if I recommend you to the Birmingham Black Barons?' I told him, 'Yeah, I'd go to the Black Barons.'"16
John Klima writes that Zapp had "a tan complexion that allowed him to pass in many social circles. He also learned that being light-skinned sometimes meant exclusion from both groups. This hurt and haunted him throughout his early years, but he found complete acceptance in black baseball."17 
Zapp joined Birmingham during spring training at Alabama State University in Montgomery and played left field for manager Piper Davis. Davis had Ed Steele play in right field, with Norman Robinson in center. Rookie Willie Mays joined the team after school got out and would sometimes sub for Zapp in left during the second game of doubleheaders, but when Robinson broke his leg later in the season, Mays was brought in to play center. He hadn't yet developed the hitting skill and power that he would, but his fielding was strong enough to keep him in the spot — and when Robinson returned, Mays was moved to left field, leaving Zapp the odd man out for a while. Years later, Zapp very graciously said of Mays, "Here we thought we was the ones makin' him better, but it was the other way around."18
He was brought back in time to play a key role in the 1948 playoffs. "The highlight of my career was in 1948 when I was playing with the Birmingham Black Barons against the Kansas City Monarchs."19 The two teams had matched up well and gone into Game Five of the league championship series. The Monarchs were up by a run, 3-2, but Zapp homered in the bottom of the ninth to tie the game.20 Another run followed and the Black Barons held a one-game edge in the playoffs. They won the Negro American League pennant and went on to battle against the Homestead Grays in that year's World Series.
After the season, he quit again. There was a barnstorming tour put together, the Indianapolis Clowns against a team playing with Roy Campanella and Jackie Robinson. "They picked all the boys from Birmingham to go with Jackie Robinson and Campanella and they put me with the Clowns. I got upset again, so I told them just to give me my release. And they did, they gave me my release. That's probably one of the biggest mistakes I ever made in my life."21
That there might have been opportunities now that major-league baseball had begun to be integrated didn't seem to matter. Zapp told John Klima, "When [Brooklyn] signed Jackie, my attitude didn't even change. I didn't even think about going to the majors. I just kept on doing the same things I was doing. … I just could not believe I would have the same chance."22
And the release apparently resulted in his effectively being blacklisted by Tom Hayes of the Black Barons. "Piper always used to say I was the biggest fool he had ever seen," Zapp said. "He said, 'You quit a championship team over a few dollars.'"23
Zapp played semipro ball in the Nashville area for the next couple of years — in 1949 for the Morocco Stars and in 1950 for the Nashville Stars. Jim Riley reports that he returned to the Baltimore Elite Giants "in the latter part of the 1950 season … and remained with them in 1951."
During that 1951 season, Zapp was said to have been "playing the best ball of his entire career," but when he was not selected to the midseason East-West All-Star Game, he "immediately became disgruntled and left the team right there on the spot."24 As he put it, "Here's another quitting deal. I was playing for a man by the name of Sue Bridgeforth, who bought the team. In midseason they had the East-West Game. I should have been in the East-West Game unanimous, but they took me off the team and replaced me with somebody else, so I quit the team and went on to New York. That was my best there in Negro league baseball. It was politics."25 He added, "I said I'd never play in the Negro leagues again, which I didn't. Well, I played a few more games with them in '54, but I went out to Big Springs, Texas."
It was in 1952 that Zapp entered Organized Baseball by signing with the Paris (Illinois) Lakers of the Class-D Mississippi-Ohio River Valley League. The 1951 Lakers had won the flag with ease, finishing 15 games ahead of the second-place Centralia Zeros. In 1952 Danville won, by two games over Paris. SABR's Minor League Database shows teammate Clint "Butch" McCord with a .392 average and 15 homers, with Zapp playing in 122 games, homering 20 times, and batting .330.26  Zapp's 136 RBIs led the league; years later, memory was that he still held the league record.27
Probably the most spectacular win for the team was the June 11 road victory over Centralia, 15-6, with Paris scoring every one of its runs in the fourth inning. Pitcher Herb Heiserer hit a grand slam in the inning and once the bases got loaded again, Zapp hit one too.28 Zapp was named as the league's all-star left fielder.29
Zapp said, however, "Something happened during the season that they didn't like about my personal life, so they gave me an unconditional release during the winter."30 This time it wasn't Zapp electing to leave. The team released him because he was dating a white woman. They could have sold his contract to a major-league team but instead they released him outright, which prevented him from catching on with a major-league team.31
Burt Zapp died on January 29, 1953.
Riley's biography of Jim Zapp perhaps helps explain his 1953 season. "His temperament, which had also always contributed to problems while he was playing, continued to plague him after leaving the Negro Leagues. In his second season in the Mississippi-Ohio Valley League he began with Danville, but played only briefly before joining Lincoln in the Western League, also for a brief time."32 Zapp admitted as much: "Great temperament is not something I always had. I was very temperamental."33 SABR's database shows him with 11 games for the Danville (Illinois) Dans (with a .286 batting average) and three games (one hit in seven at-bats) for the Class-A Lincoln Chiefs.
After spring training at Corpus Christi, Texas, in 1954, Zapp remained in Corpus Christi for a brief time –"for three or four days and Corpus Christi came up with the idea that they weren't ready for a black ballplayer yet so they optioned me to Odessa, Texas. … I inquired about Odessa from some of the guys in a barber shop and they said, 'Man, you don't want to go to Odessa. That's nothing but sandstorms, tumbleweeds, and rattlesnakes.' So I took my train fare and instead of going to Odessa I came back to Nashville."34 He quit. "All of the trades, uprooting, and traveling had taken their toll. Jim had decided it was time to pack it in. He headed home to Tennessee."35 There he took a job, but had second thoughts and contacted Odessa. Too late. They'd found someone else. But they did refer him to owner Robert "Pepper" Martin of the Big Springs (Texas) Broncs. Martin bought his contract for 1954, and Zapp hit a home run to center field in his first at-bat for San Angelo. He homered again his first game in San Angelo itself. Because the area was segregated, Martin found him a room in a black private home.36
Zapp played the 1954 and 1955 seasons in Big Spring, two full and productive years in the Class-C Longhorn League. His 32 homers led the team in 1954; Zapp drove in 86 runs and hit for a .290 batting average. The Big Spring Broncs finished fifth in the eight-team league. Though the 32 homers were quite an accomplishment, this was the year that Roswell's Joe Bauman hit more than twice as many — 72. Bauman drove in 224 runs. Zapp may have hit more, but he played in only 90 games. In the last month of the season, he had returned to the Negro American League to play both for the Elite Giants and the Black Barons.37
In 1955 the team changed its name to the Big Spring Cosden Cops, and finished seventh. Zapp hit 29 homers, batting .311. (Bauman hit 46.) Zapp was with Big Springs for 89 games, then played his last 39 games in organized ball for the Class-B Port Arthur Sea Hawks (Big State League), batting for a .287 average with eight home runs.
The team wanted to cut Zapp's salary, which he did not accept so they sold his rights to the Cleveland Indians. That is when he decided to retire. James added an aside, "His normal playing weight was 210 but he told my brother Richmond that he started drinking a lot of beer and picked up weight to about 230."38 Zapp decided to leave baseball and took a position in Big Spring in 1956 as a civilian sports director with the US Air Force. "He was the athletic director at Webb Air Force Base," said James Jr. "He did that until 1977. The Air Force base closed in '77 and he transferred to Fort Rucker, Alabama, and was the athletic director at Fort Rucker until he retired. I want to say he fully retired in 1982. From that point on, he just lived the rest of his life in retirement."
Zapp did qualify for a pension. There's a bit of a story there, too, James Jr. explains. "My dad had turned in the affidavit with all his information and he got a letter back from Major League Baseball and they turned him down. I was still in the Army and I went there to visit and he showed me the letter and showed me the affidavit and I said, 'Well, Daddy, the dates on here are wrong. That's why they turned it down. You don't have the right dates on here.You didn't have enough time, based on these dates.'
"I called up a guy at Major League Baseball — I can't even remember his name — and I told him the dates were wrong. 'I'll tell you when my dad played. As a matter of fact, I have a book in my house that my dad gave each one of us years ago that this guy wrote on Negro Leagues baseball, and it has pictures and dates and everything.' I said, 'I will send you that book because I actually have two of them. He said, 'Well, I'll send it back.' I said, 'No, no, you keep it. Maybe you can use it to find out about other players.' I sent him that book and about two weeks later he called me and said, 'Your dad's approved. He will receive a check.' To this date, he still receives that $833.33 every month. It's called Pictorial Negro Leagues Legend Album by Robert D. Retort."
"In addition" to simply enjoying his retirement, Jim Zapp said, "I coached youth baseball and umpired for 20 years."39 He attended a number of Negro Leagues reunions of one sort or another, and Jim and his wife frequently went to spring training in St. Petersburg. On Christmas Day 2016, James Zapp Jr. — who himself was still active umpiring high-school baseball — recalled a story about his father:
"My dad was one of the best umpires in west Texas in the 70's.  He traveled quite a bit to umpire games and always made it to our baseball games no matter how far he had to drive to arrive at mine and my brother's games. 
"One night Dad was on the road umpiring; the next day was a Saturday, and my brother and I had a game in Odessa which was 45 miles from Big Spring.  He didn't come home Friday night, telling us that he would see us in Odessa.  When we arrived, he came to hug and kiss us after we got off of the bus. Then he disappeared.  We were in the dugout after warmups, and the umpires entered the field. One of them was my dad. He had never called any of our games. One of the umpires originally scheduled to call our game had to cancel and my dad was asked to replace him. We were shocked to see Dad calling the first game of a doubleheader behind the plate. 
"When I came to bat the first time, I hit a bomb that probably sailed 375 feet on the fly. The field had no fence so the outfielder quickly ran the ball down and held me to a triple.  When I came to bat again two innings later, I was hit by a pitch on the first pitch. No one thought much of it until I came to bat two innings later and was once again hit by the first pitch. When the pitcher hit me the second time, I started toward the pitcher's mound. Dad knew what was going on before I could take one full step toward the mound and aggressively said to me, 'Whooooooa, boy." (Knowing Dad and all that he taught us about respecting the game of baseball, I immediately stopped with tears of anger in my eyes and headed to first base. After that game my dad told me how proud he was of me. I guess I was not as temperamental as my dad was."40
Jim Zapp had four children. Born first, in November 1950, was James Earl Arnell. He later married Viola Elizabeth Webb and they had three children: Jenniffer Rhenee Zapp-Chaviest (b. September 24, 1954), James Stephen Zapp Jr. (b. May 1, 1957), and Richmond Christopher Zapp (b. August 6, 1958). All three children pursued careers in the military, and all three retired in the very same year, 2003.
James Jr. says: "I retired after 26 years in the Army. My rank was sergeant major (E9) and I was the senior medical NCO for III Corps and Fort Hood. I was a paratrooper with time in the 82nd Airborne and the Special Warfare Center at Fort Bragg. I was a paratrooper medic. I did NBC — nuclear, biological, chemical warfare. I was with the Special Forces for a while, until I broke my back on a parachute jump. I did a little bit of everything in 26 years. My sister retired from the Navy after 21 years after being involuntary extended for 2½ years due to 9/11. She retired as a first class petty officer (E6), with her job encompassing all aspects of aviation maintenance administration. Her duty stations, both sea duty and shore duty, spanned from Florida, Virginia, Maryland, and Texas. She also served overseas with numerous aircraft patrol squadrons, the USS John C. Stennis, and the USS Theodore Roosevelt [both aircraft carriers]. My brother retired after 23 years as a chief petty officer (E7) and was an independent duty corpsman. He served on three ships, several shore-duty commands, two overseas commands (Japan and Italy), and one tour with the US Marine Corps. His deployments aboard ship took him to Canada, Mexico, Bahamas, England, Denmark, Russia, Spain, Italy, Portugal, Philippines, Korea, Japan, Hong Kong, Thailand, and Australia. He also deployed in country to Latvia and Haiti. His last duty station was Pearl Harbor where our dad served during WWII. All of us served in Desert Storm and Desert Shield. I was also involved with deployments to Somalia and Bosnia, just short deployments. "41
Jim's wife, Viola, passed away in 1982 and he remarried Ehria "Muffy" Acklen — her former husband, Teddy Acklen, had owned a semipro team that Jim Zapp had played for, the Del Morocco All Stars. "Everyone knew him as Uncle Teddy," said James Jr. "As kids that is even what we called him. My dad also ran the numbers for him to make extra money." The Del Morocco itself was a "plush dinner club … owned by Theodore 'Uncle Teddy' Acklen, a remarkable self-made man who scrambled up from the streets to one day play host to Jackie Robinson and Roy Campanella."42
Ehria died in 2013. "That's when I went to Nashville," James Jr. said. "At Muffy's death we realized that he had Alzheimer's and I went to Nashville to pick him up. I got guardianship of him and brought him here." Here being Harker Heights, Texas. 
In 2014 it looked as though Jim was dying. The word went out to leave him in peace.
But in 2015, another chapter of Jim Zapp's life was unfolded and it took an unexpected turn. First, it had seemed as though he was gone, but then he came back to life.
Son James Zapp Jr. brought his father to his home in Texas from his dad's home in Nashville. Jim was no longer able to take care of himself. James says. "When I brought my dad back here … I had redone my house and turned my office into his bedroom. My goal was to keep him here, but after about seven weeks, I realized my dad needed round-the-clock care and I couldn't give it to him. He could not take care of himself at all. His memory span was about two minutes. He would get upset when I left. I was either going to school or going to umpire and every time I would walk out the door he would be upset at me. He would be mad at me because I was leaving. He did not want the nurse. He wanted me."
It became difficult, and untenable. James found accommodation for him in a senior citizens home only about five minutes away from his own place. "He is in the area that requires 24 hours care. When I first put him there, my dad was still partly there. He complained to me, 'James, I shouldn't be here. I'm not crazy like these people.' Some of them were pretty bad.
"They were worried about him escaping. I said, 'He is not going anywhere. He doesn't even know where he's at. He even told me, "James, I'm not going anywhere. I don't even know where I'm at."' He knew he couldn't walk out of this place because he wouldn't know where to go." This was in May 2013.
At a certain point, Jim was diagnosed with stage four Alzheimer's disease. The staff at the facility also experienced some problems with Jim. He'd get upset, as Alzheimer's patients usually do. Around June 2014, the staff increased the medications. Jim had reported some pain and the medications addressed it.
Then his condition appeared to deteriorate. "Every time we went to see my dad, he looked like he was comatose. He couldn't stay awake more than 10 seconds and he would go back to sleep. They had him in one of these type wheelchairs where he was laying back and he couldn't get up. He couldn't feed himself. He couldn't talk. Nothing. This went on for six months, and basically my dad was nonexistent. We thought he was going. He was gone. He was basically gone."
Until that point, Jim had routinely signed autographs by mail for those who would write in and request one. That became impossible. Around this time, SABR member Nick Diunte posted a letter from James Jr. on the Nick's Baseball Happenings website. The letter was dated January 8, 2015. It began: "Thank you for contacting me in reference to my father autographing your card. Unfortunately my father is in the final stages of Alzheimer's, has aspirations pneumonia, and is not expected to live to reach his 91st birthday." He added, "My father has been with me since March 2013 after losing his wife of twenty-seven years. He celebrated his ninetieth birthday on 18 April 2014. He was diagnosed with Alzheimer's six years ago and has gradually lost his short term and much of his long term memory. He has lived a great life."
Clearly, James Jr. didn't think his father was going to survive another three months, until his birthday in April 2015. But he did. In his own way, Jim Zapp fought on.
Fortunately, both James and his brother Richmond were medical professionals themselves. As anyone would, they believed the doctors at the senior home were doing what needed to be done — until one day James decided to question it. "I thought, 'This is odd. They're giving him all these drugs. Painkillers … for what pain, I do not know. They're giving him a lot of stuff. They were giving his anti-anxiety pills, clonazepam. And sleeping pills.'
"I got a hair on my butt one day and decided, 'You know what, I'm going to call a meeting with these people and I'm taking him off all the drugs. I'm going to tell the doctor not to give him another prescribed drug, period.'"
On September 7, 2015, they had that meeting, James with the doctor, the head nurse, the social worker, and the dietician. "I had a meeting with all of them, and I basically sat there and I told them, 'Hey, you are not to give my dad any more prescribed medicine at all, without my permission. You can't give him anything. Not even an aspirin.'
"They looked at me and said, 'What? Including the allopurinol?' He was taking allopurinol for gout. I told them, 'Look, my dad is almost 92 years old. We both know that when you get gout, it has to basically just run its course. If he gets gout, you guys call me and I'll come down here and I'll look at him and I'll talk to him and if he's in enough pain, I'll let you give him pain medicine. Otherwise, you guys are not allowed to give him anything.'
"One of the nurses asked, 'So, you mean to tell us if we call you at 2 in the morning, you're going to come down here?' I said, 'Look, I'm retired. I don't work. The only I thing I do is I umpire baseball. And if I'm not there, I will call my daughter who lives with me and is 19 and still going to college and I will tell her to go down there and look at her granddad. There's always going to be someone here.'
"So they took him off the medicine. They quit giving him any medicine at all."
Jim left Texas for Colorado for a couple of weeks and he was in for a shock when he returned. He went to the home, for another visit.
"We couldn't find my dad. We're like, 'Where's he at?' We finally look up and here comes my dad, in a regular wheelchair, with his feet walking and rolling down the hall. I stand in front of him and he looks up and he sees me, and he recognizes me!"
It had been over a year. "Over a year! My daughter Jayda was with me. He recognized my daughter. I immediately contacted my brother and my sister and said, 'You guys aren't going to believe this.' I took a video with my phone. I said, 'You guys are not going to believe this.' I sent them the video. My sister was in tears."
In January 2016 Richmond visited from Seattle. "He went down there to see my dad and he came back to my house and he said he couldn't believe it. He said, 'It's like he went backwards three years.'"
Overmedication is known to be a common problem in such facilities. "He was having some pain problems and they gave him pain medicine and they never took him off of it. I guess one thing led to another and they kept giving him more medicine. They gave him the anti-anxiety pills to help him sleep. They basically had been drugging my dad up, to stop from having to deal with him. I even called an attorney. I was going to sue them. My thought process is that they were drugging my dad to keep from having to do anything with him. The attorney said it's too hard to prove."
Did the nurse ever call at 2 A.M. due to pain? "They told me they would call me if he was ever in any pain. That was September. It's now almost February and they have called me one time when they said he was in pain and that was like a month ago. It was like at midnight. So I got up and I drove down there and my dad was asleep when I got there. I woke him up and he saw me and he says, 'Hey, Baby.' He always called us Baby. I said, 'Daddy, are you in any pain?' He goes, 'No, you woke me up.' 'OK, good night.' I gave him a kiss and I walked out. So all this pain medicine they were giving him, he was not in any pain."43
In any given facility, there are almost bound to be a certain number of people who are overmedicated. A lot of families would never question it. Some family members aren't able to visit very often. Most would not have the medical background to even begin to understand the possibilities. Though every situation is different, the Zapp family's experience offers a lesson that may prove of some help to other families.44
More than five months after being taken off all medication, Jim Zapp was effectively brought back to life, where he could recognize his children and granddaughter.
More than six months later, this author had the opportunity to speak with Jim Zapp briefly over the telephone on March 27, 2016. It wasn't the time to pose difficult questions that might have taxed a memory afflicted by Alzheimer's, but Jim introduced himself by name and recalled briefly playing for the Barons and in Hawaii with the Navy. Hopefully, it may have offered him a little bit of good in the moment to converse about some good times.
James knows it is never easy for his father. "It's been a long road with my dad, but it's sad. It's very sad. My dad was always so spirited. There was never a day in my dad's life when we were kids that he did not give us a hug and tell us he loved us. A hug and a kiss, and an 'I love you.' Every day. I try to do the same thing with my kids, and it seems to work."45
Jim Zapp passed away on September 30, 2016. His funeral was held on October 6 and he was buried in the Nashville National Cemetery. He was survived by his children — James S. Zapp, Jr., Richmond C. Zapp, Jenniffer Chaviest, and James Arnell and wife Arnetta — and by grandchildren Martice Chaviest, Jenniffer Zapp, Marilyn Zapp, James S. Zapp III, Jayda Zapp, and Theress Arnell, as well as great-grandchildren Fiona Hastings, Liam Hastings, and Nethanial Chaviest. The family requested that, in lieu of flowers, memorial donations be made to the Say Hey Foundation in Menlo Park, California, a foundation set up to help fulfill the dream of his old Birmingham Black Barons teammate Willie Mays, the dream of "giving every child a chance, by offering underprivileged youth positive opportunities and safer communities."46
This biography appears in "Bittersweet Goodbye: The Black Barons, the Grays, and the 1948 Negro League World Series" (SABR, 2017), edited by Frederick C. Bush and Bill Nowlin.
Sources
In addition to the sources cited in the notes, the author would like to offer thanks to Jim Zapp's three children — Jenniffer, James, and Richmond — each of whom read through the manuscript and offered suggestions for improvement.
Notes
1 Brent Kelley, The Negro Leagues Revisited (Jefferson, North Carolina: McFarland, 2000), 198.
2 James Riley in his Biographical Encyclopedia of the Negro Baseball Leagues places Zapp's birth at Elyria, Ohio, but available census information uniformly places him as native of Tennessee.
3 Author interview with James Zapp, December 30, 2015.
4 Mr. Zapp's name was spelled Bud in the 1900 census, Bert in the 1910 census, Burt in 1920, and Birt in 1940. In the 1905 Nashville City Directory, he is listed as T. Burton Zapp, residing at 511 Garfield.
5 The 1880 census, however, says she was a Hoosier as well, born to two parents from England. Henry and Helen lived in Terre Haute at the time and had four children: Harry, Nina, Thomas Burton, and Cora.
6 From at least 1900 to 1947, Burt Zapp was a baker. The Nashville city directories of 1905 and 1908 both specify his work for the County Asylum.
7 Email from James Zapp Jr., January 4, 2016.
8 baseballinwartime.com/negro.htm. 
9 Kelley, 197. After the war, Edgar Jones played five seasons in the NFL, one game in 1945 for the Chicago Bears and then 43 games for Paul Brown and the Cleveland Browns from 1946-49.  He was a halfback and defensive back and scored 18 touchdowns for the Browns. See pro-football-reference.com/players/J/JoneEd21.htm.
10 James Riley, Biographical Encyclopedia of the Negro Baseball Leagues (New York: Carroll & Graf, 1994), 893.
11 baseballinwartime.com/BIWNewsletterVol7No37July2015.pdf.
12 Kelley, 200.
13 Both the Elite Giants and Cubs information comes from baseballinlivingcolor.com/player.php?card=160. Zapp told Kelley of playing weekends for the Baltimore Elite Giants.
14 James Riley, 893.
15 Kelley, 198.
16 Kelley, 198-99.
17 John Klima, Willie's Boys (New York: John Wiley & Son), 2009), 57-58.
18 Klima, 183.
19 NLBM Legacy 2000 Players' Reunion Alumni Book (Kansas City, Missouri: Negro Leagues Baseball Museum, Inc., 2000).
20 Zapp remembered this as in Game Three, and the score as 2-1, him homering with a man on to win the game, 3-2. See Kelley, 199. He said that then the two teams went to Kansas City, where the Barons lost three games in a row, bringing it to a decisive Game Seven, which Bill Greason won, 4-1, for Birmingham.
21 Kelley, 199.
22 Klima, 58.
23 Klima, 193.
24 baseballinlivingcolor.com/player.php?card=160.
25 Kelley, 201.
26 See also Lloyd Johnson and Miles Wolff, eds., Encyclopedia of Minor League Baseball (Durham, North Carolina: Baseball America, 2007), 464.
27 NLBM Legacy 2000 Players' Reunion Alumni Book.
28 "Canton Loses to Hannibal; Paris 'Afire,'" Peoria Journal-Star, June 12, 1952: 38.
29 "MOV Loop Names All-Star Squad," Peoria Journal-Star, September 19, 1952: 24.
30 Kelley, 200.
31 Email from James Zapp Jr., January 17, 2016.
32 Riley, 893-894.
33 Klima, 97, 152.
34 Kelley, 201.
35 baseballinlivingcolor.com/player.php?card=160.
36 Kelley, 201.
37 Riley, 894.
38 E-mail from James Zapp Jr., January 17, 2016.
39 NLBM Legacy 2000 Players' Reunion Alumni Book.
40 James Zapp Jr., e-mail to Rick Bush, December 25, 2016.
41 Author interview with James Zapp Jr., December 30, 2015; email from James Zapp Jr., January 4, 2016.
42 Daniel Cooper, "The Long History of Nashville Rhythm & Blues," Nashville Scene, December 12, 1996.
43 Author interview with James Zapp, January 27, 2016.
44 The medications Jim Zapp had been placed on were:
Donepezil, 5mg. marketed under the trade name Aricept, is a medication used in the palliative treatment of Alzheimer's disease.
Risperdal (risperidone) is an antipsychotic medicine.
Clonazepam, sold under the brand name Klonopin among others, is a medication used to prevent and treat seizures, panic disorder, and the movement disorder known as akathisia. It is a tranquilizer of the benzodiazepine class.
Allopurinol reduces the production of uric acid in the body.
Metoprolol Tartrate 25 MG is used with or without other medications to treat high blood pressure (hypertension). Lowering high blood pressure helps prevent strokes, heart attacks, and kidney problems. This medication is also used to treat chest pain (angina) and to improve survival after a heart attack.
Donepezil is used to improve cognition and behavior of people with Alzheimer's, but does not slow the progression of or cure the disease. Common side effects include loss of appetite, gastrointestinal upset, diarrhea, difficulty sleeping, vomiting, and muscle cramping.
Risperidone works by changing the effects of chemicals in the brain. Risperdal is used to treat schizophrenia and symptoms of bipolar disorder (manic depression). Risperdal is also used in autistic children to treat symptoms of irritability. Side effects: Drowsiness, dizziness, lightheadedness, drooling, nausea, weight gain, or tiredness may occur.
Common side effects of clonazepam include sleepiness, poor coordination, and agitation. It may increase risk of suicide. Long-term use may result in tolerance, dependence, and withdrawal symptoms if stopped.
Uric acid buildup can lead to gout or kidney stones. Allopurinol is used to treat gout or kidney stones, and to decrease levels of uric acid in people who are receiving cancer treatment.
Side effects of Metoprolol Tartrate: Drowsiness, dizziness, tiredness, diarrhea, and slow heartbeat may occur. Decreased sexual ability has been reported rarely. To reduce the risk of dizziness and lightheadedness, get up slowly when rising from a sitting or lying position. This drug may reduce blood flow to the hands and feet, causing them to feel cold. Smoking may worsen this effect. Dress warmly and avoid tobacco use. Jim Zapp was never a smoker, had never had a heart attack, but did experience continuous coldness in his hands and feet.
45 Author interview with James Zapp, January 27, 2016.
46 http://www.sayheyfoundation.com/
Born
April 18, 1924 at Nashville, TN (US)
Died
September 30, 2016 at Harker Heights, TX (US)
If you can help us improve this player's biography, contact us.
https://sabr.org/sites/default/files/ZappJim.png
600
800
admin
/wp-content/uploads/2020/02/sabr_logo.png
admin
2017-08-28 13:20:03
2021-09-17 01:14:46
Jim Zapp