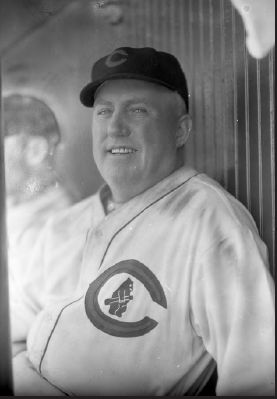 ---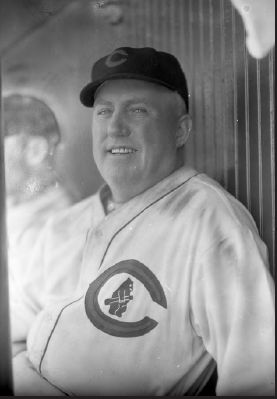 Jimmy Burke, a coach for the 1929 Cubs, was the quintessential baseball lifer. A marginal ballplayer at best, he somehow managed to hang around in the game for 38 years. His long career as player, manager, coach, and scout began in 1896 with the Peoria Distillers of the Western Association, where he felt privileged to play the game he loved for a modest $125-a-month salary. In later years he jokingly remarked that he would have gladly played for even $25.  For nearly four decades Burke was never without a job in baseball. He crisscrossed the country on countless train rides over tens of thousands of miles, ready to play for any team that wanted him and offered a baseball paycheck. When deteriorating health brought his career to an abrupt end in 1933 he retired in comfort to the city of his birth, St. Louis, Missouri.
James Timothy "Sunset Jimmy" Burke was born on October 12, 1874, in St. Louis, the son of John Burke and Catherine McGary, immigrants from Ireland's County Cork. Other known siblings included a brother John and an unidentified sister. Little is known of Jimmy's early years. The schools he attended are unknown and he did not attend college. His introduction to organized baseball came in the early 1890s with the Shamrocks, a sandlot club of kids who wore flamboyant white flannel suits trimmed with green caps, green belts, and green stockings. The Shamrocks were considered the best independent team in the St. Louis vicinity, and many major leaguers emerged from their ranks. His wife was named Lottie, but details of her life, their courtship, and the date of their marriage are also unknown. Lottie died at an early age, leaving Jimmy a young widower with one child, his beloved daughter Marion, who died while Jimmy was a coach for the Boston Red Sox in the 1920s. Jimmy remained an unmarried widower for the rest of his life.
Burke is often remembered as the manager who in 1911 "canned" Joe McCarthy from the minor-league Indianapolis Indians. As he said at the time, "McCarthy couldn't hit his weight."1 McCarthy never held a grudge against Burke over this dismissal, claiming in later years that it was the best thing that ever happened to him. He admitted that he was over his head at Double-A Indianapolis, and his focus shifted from playing to where his talents lay: leadership. This became the first step on McCarthy's path to his Hall of Fame managerial career. In a wonderful slice of baseball irony, Burke and McCarthy later became fast friends. Burke became McCarthy's trusted right-hand man during a successful pennant run in Chicago and a world championship in New York. Burke may have been directly responsible for McCarthy's landing his first big-league managerial job. While managing the Double-A Toledo Mud Hens in 1924, Jimmy recommended McCarthy to Cubs owner William Wrigley, who shortly after inked McCarthy as the new Cubs skipper. Burke is also remembered, along with Rogers Hornsby, Branch Rickey, Gabby Street, and Marty Marion as the only managers who took the helm of both St. Louis teams, the Cardinals and the Browns. Of this group, he is the only one who was also a St. Louis native.
Burke did not look like a ballplayer. He was small in size at 5-feet-7 and 160 pounds. With his red hair, florid complexion, steel-blue eyes, ready smile, and sunny disposition, he was the personification of a strapping Son of Ireland.  He was blessed with the Irish gift of gab and always had a baseball anecdote on the tip of his tongue ready to share with his many friends on and off the field. He hailed from St. Louis's famous Kerry Patch district, located north of downtown. It was described by sportswriter Fred Lieb as a "breeding ground for big leaguers."2 It may be a bit of a reach to characterize the Patch as the San Pedro de Macoris of its day — that small Dominican town that turns out so many of today's finest Latin ballplayers. Like San Pedro, Kerry Patch produced an inordinate amount of major-league talent, but in this case the players were Irish.
Burke was typical of many second-generation Irish ballplayers from the early decades of the 20th century: Often diminutive in stature, they made up for their lack of size and limited skills with a combative nature, a competitive spirit, and a willingness to use their fists wherever and whenever the occasion arose. Like their role model John McGraw and his feisty Baltimore Orioles, they hated to lose and loved to fight. They battled umpires and opposition teams with equal intensity. In 1931, when Jimmy was a Yankees coach near the end of his career, he reflected on his combative approach to the game:
"I had to be a fighting ballplayer. That's how I got by. I wasn't a great ballplayer, so I made the best of such assets as I possessed. I put all of the fight and enthusiasm I could into my work. So even if I had shortcomings, owners knew I always worked and hustled for them. Besides, in the old days a player had to have a reputation as a fighter in self-defense. It didn't do to be too meek. Everyone would step on you."3
Burke made his major-league debut at the age of 23 on October 6, 1898, as a scrappy, slick-fielding third baseman for the National League Cleveland Spiders. In 13 games he hit a less-than-robust .105 (4-for-38). That year also saw a return to the Peoria (Illinois) Distillers of the Class B Western Association and stops with the Milwaukee Brewers and Minneapolis Millers of the Class A Western League.
Burke had a two-game cup-of-coffee with the National League St. Louis Perfectos in 1899, but spent most of the year with the Rochester (New York) Bronchos of the Class A Eastern League. In 1900 he was a member of the Milwaukee Brewers of the newly named American League. The AL was a Class A minor league that year, having evolved from the Western League under Ban Johnson, and elevated itself to major-league status in 1901. That season Burke played with three different American League teams, the Milwaukee Brewers, Chicago White Sox, and Pittsburgh Pirates. He spent all of 1902 with the pennant-winning Pirates. It was his best season offensively, as he hit .296 in 60 games. In 1903 he was traded for infielder Otto Krueger, this time to his hometown St. Louis Cardinals. He became the team's player-manager in early May 1905, succeeding Kid Nichols. Burke finished his major-league playing career that year, appearing in his last major-league game on October 8, 1905. In his seven-year major-league career he played in 550 games and compiled a modest batting average of .244. With his major-league playing days over, he commenced on his second career, which included jobs as manager, coach, and scout in the major and minor leagues. This second career continued unbroken for 27 years.
Burke had minor-league managerial stints from 1906 to 1912 with three American Association teams, the Kansas City Blues, Louisville Colonels, and Indianapolis Indians; and with the Fort Wayne Billikens of the Class B Central League. He returned to the majors with Detroit from 1914 to 1917 as a coach and scout for manager Hughie Jennings, a future Hall of Famer. Next came three years (1918-1920) as manager of the St. Louis Browns succeeding the unpopular Fielder Jones. Jimmy's outgoing, optimistic personality made a striking contrast with the dour Jones and he was received warmly. He had limited success with the Browns, finishing no higher than fourth. In his four years as a major-league manager his teams had an unimpressive 206-236 record.
The St. Louis years were followed by three as a Red Sox coach under another future Hall of Famer, Hugh Duffy, and then back to the minors for two years as manager of the Toledo Mud Hens in the American Association. In 1926 he returned to the National League for five years as McCarthy's lieutenant in Chicago, which included the first of McCarthy's nine pennants, in 1929. When Marse Joe fell out of favor with owner William Wrigley in 1930 and was dropped as manager, his first item of business after being hired by the Yankees was to secure the services of his loyal friend and adviser Burke to succeed retiring coach Charlie O'Leary.
In 1932 Burke played an important role in the Yankees' sweep of the Cubs in the World Series, one remembered for Babe Ruth's purported called home-run shot off Charlie Root at Wrigley Field. As a former Cubs coach, Burke knew their weaknesses especially the throwing ability of their outfielders. This proved to be valuable information, which he readily shared with the players. His contribution to the Yankees' championship was summarized by a sportswriter:
"As a result of this knowledge on the part of their coach, such lumbering players as Gehrig, Ruth, and Bill Dickey scored from second on short hits to the outfield on which ordinarily they would have had to pull up at third or be thrown out at the plate."4
Over his long career, Burke played with many of the game's stars. Toward the end of his career, he was asked whom he regarded as the greatest player he ever saw. He replied without hesitation: Honus Wagner, ranking him ahead of Speaker, Cobb, and even Ruth:
"I think he was the greatest because he was such a marvelous defensive ballplayer in addition to his brilliant batting and baserunning ability. Wagner was without doubt the greatest shortstop, but he was just as great in center field or at first base. When I first went to Pittsburgh … Wagner played center field and I never saw anyone, not even Speaker, play the position any better. If a ball was hit to center, left, or right, Hans always yelled: 'I got it.' And the Dutchman was a smart ballplayer, as smart as they came. He didn't look it but the man who played alongside of him or with him knew it."5
After the World Series victory in 1932, Burke was unceremoniously released by the Yankees at the age of 58 as part of league-wide cost-cutting measures. The Yankees decided two coaches were enough and felt coaches Art Fletcher and Cy Perkins were more valuable. Given his unconditional release by Yankees business manager Ed Barrow, Burke, like McCarthy before him in 1911, took his dismissal like a man, held no grudges, and laughed as he quoted from, as he called it, his "walking papers": "We regret to inform you that your services will no longer be required, etc., etc."6 Speaking of his dismissal, Burke remarked:
"I'm glad of it. You know a fellow'll never quit in this game. He'll carry on and on and on. The years seem to whistle by — one after another — and he sticks to his job. But this release means that Jimmy's going to enjoy a vacation. I haven't spent a full summer in St. Louis since 1895. The town's grown considerable since then and I want to see what's been going on since I put on my first uniform."7
The move proved to be unpopular with the players and fans and the Yankees soon reconsidered. They offered Burke the opportunity to return to the team for the 1933 season. However Jimmy suffered a debilitating stroke that spring and was unable to continue with his coaching duties. His career was over and he had no choice but to retire. The stroke left Burke an invalid and he spent his remaining days chair-bound in his home at 5477 Queens Avenue in St. Louis. After a ten-year battle with Parkinson's disease he was admitted to St. John's Hospital on March 20, 1942, and died on the 26th of complications from pneumonia. Burke was 67. He was buried in Calvary Cemetery in St. Louis and was survived by a brother, John, and a sister.
Although his Baseball Encyclopedia entry reveals unimpressive career statistics as a player and manager, baseball lifer Burke could boast of membership on five pennant-winning teams. Not many ballplayers can say the same. Although he was never a candidate for the Hall of Fame, he played an important advisory role as a loyal coach to Joe McCarthy, the most successful manager in baseball history. He survived in the game he loved for 38 consecutive years — much longer than almost anyone else from his generation. He did it with the successful combination of his endearing personality, his unquestioned loyalty and love for the game, and his acknowledged baseball "smarts." When Jimmy Burke died in 1942, the game lost one of its most colorful and beloved figures.
Sources
Farrington, Dick, "It's Better Game Today — Jimmy Burke," The Sporting News, date unknown, clipping from Jimmy Burke's Hall of Fame player file.
Keener, Sid, "Sid Keener's Column," St. Louis Star, 1933, clipping from Jimmy Burke's Hall of Fame player file.
Lee, Bill, The Baseball Necrology (Jefferson, North Carolina: McFarland and Company, 2003).
Lieb, Fred, "Cutting the Plate With Fred Lieb," The Sporting News, February 24, 1931, clipping from Jimmy Burke's Hall of Fame player file.
New York Times, obituary for Jimmy Burke, March 27, 1942.
Reichler, Joseph, The Baseball Encyclopedia, Ninth Edition (New York: Macmillan, 1993).
Spatz, Lyle, The SABR Baseball List & Record Book (New York: Scribner, 2007).
Baseball-Reference.com
BaseballQuest.com
Retrosheet.org
Baseball Hall of Fame Library, player file for Jimmy Burke.
Notes
1 The Sporting News, date unknown, clipping from Jimmy Burke's Hall of Fame player file.
2 The Sporting News, February 24, 1931.
3 Ibid.
4 Unknown author and publication (probably The Sporting News), November 24, 1932, clipping from Jimmy Burke's Hall of Fame player file.
5 The Sporting News, February 24, 1931.
6 Sid Keener, St. Louis Star, 1933, clipping from Jimmy Burke's Hall of Fame player file, exact date unknown.
7 Ibid.
Born
October 12, 1874 at St. Louis, MO (USA)
Died
March 26, 1942 at St. Louis, MO (USA)
If you can help us improve this player's biography, contact us.
http://sabr.org/sites/default/files/JimmyBurke.JPG
600
800
admin
/wp-content/uploads/2020/02/sabr_logo.png
admin
2012-01-04 19:49:52
2020-10-12 11:58:14
Jimmy Burke