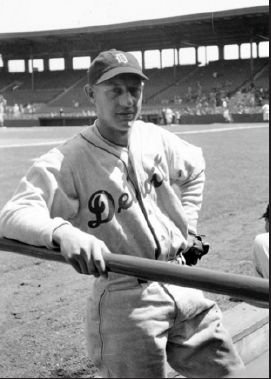 ---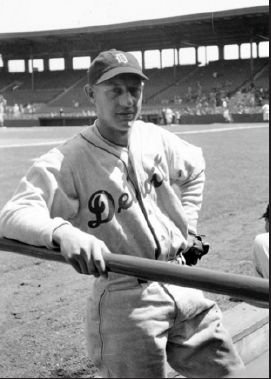 In the summer of 1909, Detroit Tigers center fielder Ty Cobb won the Triple Crown, his Tigers won their third straight American League flag, and Ty was involved in the infamous spiking of Frank "Home Run" Baker. Because of that slide, Baker's manager, Connie Mack, accused Cobb of being the dirtiest player in the history of the game. That same summer, on June 1, in Red Oak, Georgia, about 100 miles from Cobb's birthplace, Joyner Clifford White was born. White eventually became a Tigers center fielder himself. Legend has it that Cobb himself taught White the finer points of running the basepaths. Hard play and fan appreciation were an obvious quality of both men. In contrast, while Cobb earned his place in the record books, White earned the respect and admiration of his teammates.
When he was an infant, White's family moved to College Park, Georgia. Joyner, better known as Jo-Jo, was one of 11 children. Of the seven boys, only Jo-Jo took up baseball. He attended grade school in College Park and was a standout infielder by the time he graduated from Tech High in Atlanta. Baseball was his passion. Even his first jobs revolved around the game he loved. At 12 he sold popcorn at a park in Atlanta. In 1927 Jo-Jo took a job working for Georgia Power and Light Company, and starred on the company's baseball team. When not playing, White had the cushy task of being in charge of the company gym. The team's manager was former major-league pitcher Paul Fittery.
By 1928 Connie Mack was apparently more accepting of Cobb's antics, for Cobb, Mickey Cochrane, Lefty Grove, Al Simmons, and other future Hall of Famers earned him 98 wins for his Athletics. Meanwhile, back in Georgia, Paul Fittery took a minor-league manager's position for the nearby Carrollton Frogs of the Class D Georgia-Alabama League. Fittery wanted his star infielder to come with him, and the young Jo-Jo chose to pursue baseball instead of studying at Georgia Tech. In Carrollton Fittery converted White into an outfielder and Jo-Jo responded by leading the league in home runs (27) and runs scored (92) while hitting.330 to lead the Frogs to the championship. His performance did not go unnoticed. Tigers scout Dick Crozier had little trouble securing the next Georgia Peach for the Motor City.
In 1929 White was promoted to the Fort Smith (Arkansas) Twins of the Class C Western Association. Once again he won a league championship, batting.312. The following season he was promoted to the Evansville, Hubs of the Class B Illinois-Indiana-Iowa (Three-I) League and would have played in yet another championship series had he not been sent back to Fort Smith. As a Twin he hit .316, with 22 homers, and led the league in triples (19), steals (43), and runs (123). In Fort Smith he met Fern Rodenburg, the future Mrs. White. During his brief stay in Evansville, White was tagged with his nickname. The similarity of Joyner and Jo-Jo was just a coincidence. With a pronounced Southern drawl, Joyner would claim to be from the state of Joe Jah, and that evolved into Jo-Jo with Evansville teammates like Tommy Bridges, Pete Fox, and Hub and Gee Walker.
Jo-Jo spent 1931 with the Beaumont Exporters of the Class A Texas League, again leading the league in steals (52). Manager Del Baker led his troops into the playoff final series against the Houston Buffaloes. With Joe Medwick and Dizzy Dean, the Buffaloes quickly ended the Exporters' summer, even with Beaumont's late-season call-up Hank Greenberg. White had earned a reputation as an outstanding baserunner with exceptional speed. As an outfielder he had great range and a very strong arm, but was prone to errors. He was a patient batter who consistently hit .300, although his power was disappearing as he began choking up on the bat.
In the spring of 1932, White attended a baseball camp run by the Detroit Tigers' original shortstop from 1901, Norman "The Tabasco Kid" Elberfeld. Elberfeld taught White the scissor kick slide, whose goal was to kick the ball out of the infielder's glove. Arguably no one perfected it better than White. The back of White's 1934 Diamond Stars baseball card noted that White…
"… is one of the few major leaguers who employs the kicking slide as he comes to the bag. This is not recommended to boys for the reason that even ordinary types of sliding are dangerous unless carefully practiced. White's slide makes him doubly difficult to tag, for the reason that he keeps his feet underneath until the last instant before reaching the bag, when he lunges out, often kicking the ball loose from the grasp as it is held in front of the bag. Boys, however, will do well to learn the simple slides. …"
In 1931 manager Bucky Harris's Tigers were 61-93, ahead of only the Chicago White Sox. White's minor-league résumé was more than enough to earn him a spot on the 1932 Tigers. On April 15 he made his debut as a pinch-runner for that year's eventual batting champ, Dale Alexander. The next day he scored his first run, a game-winner in the bottom of 12th, as a pinch-runner for Muddy Ruel. Other major-league firsts included his first at-bat (against Wes Ferrell), first hit (off Sad Sam Jones), and first home run (off Lefty Grove). In 80 games, the rookie hit a modest .260. The following year was also unspectacular, as White managed only a .252 average for the sub-.500 Tigers.
In 1933 White was assigned a new roommate and they would remain roommates until White left town in 1938. The new roomie, Hank Greenberg, recalled:
"My first roommate was Joyner "Jo-Jo" White from Georgia. He was called Jo-Jo because of the way he pronounced his native state. And no two people could be more different than me, coming from the Bronx, and Jo-Jo White, claiming he came from Atlanta. Well, when we pinned him down, it was 25 miles out of Atlanta, a little town, Red Oak, Georgia, that didn't even show up on the map. Anyway, our relationship was terrific."1
White was far from being known as politically correct, but the odd couple remained close for years and years.
In 1934 the Tigers had a new player-manager, the fiery Mickey Cochrane. Cochrane had a young and talented team. This included four outfielders vying for the three starting spots. Cochrane liked Gee Walker's talent, but loved White's hustle. Walker also had a habit of infuriating Cochrane with his questionable baserunning and fielding. On the last day of June, Cochrane could no longer tolerate Walker's baserunning, with Gee being picked off first base twice in a game. White was finally inserted as the Tigers' everyday leadoff hitter and center fielder. He went on to finish second in the majors in stolen bases (28), batted .313, and was excellent at drawing walks, producing runs, and roaming center field. White was a vital cog in the Tigers' winning their first American League flag since the year he was born.
In the 1934 World Series, White batted only .130. However, he drove the Gas House Gang crazy with his hustle and daring play:
Game One. In the third inning, Dizzy Dean walked White and repeatedly tried to pick him off. A distracted Dean eventually allowed White to score the first Tiger run.
Game Four. White shook up Pepper Martin in the fourth with spikes flying high. White walked, stole second, took third on Martin's error, and scored on a wild pitch. In the eighth he walked and reached second when pitcher Bill Walker threw wild to Leo Durocher. Eventually White scored to ignite a five-run inning in a 10-4 Tiger win.
Game Five. Pepper Martin remembered, "(F)rom the looks of things, I had me a triple to left center and maybe an inside-the-park home run. I knew Goslin couldn't get to it"2 but White did. In all-out pursuit, White ran down Martin's drive just shy of the wall. Many in the press box believed it was the greatest World Series catch they had ever seen.  
Game Six. White walked in the third, stole second with a slide that upended Frankie Frisch and took third. He then scored on a bunt to tie the game. In the sixth White walked again, took third on a Cochrane single and scored when a rushed Daffy Dean bobbled a ball.
The Tigers dropped Game Seven and the Series to the scrappy Cardinals, with White batting a lowly .130, while Cochrane hit only .214. Concerning Cochrane's and White's play in the Series, Joe Williams noted in the World-Telegram that someone suggested they should have had on St. Louis uniforms. But White's average was deceptive. His eight walks, five off Dizzy Dean, gave him a .375 on-base percentage, and he terrorized the basepaths, scoring six runs.  
In 1935 White appeared to be getting off to a fast start. On April 18 he tied the American League record with five walks in a game (still, as of 2014, a Tigers record). However, as the Tigers rolled along, White struggled. Again he battled good friend Gee Walker for playing time. His .240 batting average would be his worst in the majors. He still was patient at the plate in drawing walks, was fourth in the league in stolen bases, and found ways to score 82 times on only 99 hits.
The Chicago Cubs were Detroit's 1935 World Series opponent. The Cubs, well-known hecklers, met their match in the feisty and vocal White. His .263 Series batting average hid his .417 on-base percentage. White drove in the winning run in the 11th inning off Larry French to win Game Three, after Greenberg had broken his wrist in Game Two. Even without Greenberg, the Tigers went on to beat the Cubs in six games for their first world championship. After playing the first five games, White surprisingly sat on the bench in the clincher against French.
White was now enjoying the Tigers' success. He was on Wheaties boxes, played golf with Cochrane, Dizzy Dean, and Babe Ruth in Florida. He enjoyed hunting and fishing, reading detective stories, and shooting pool. In 1933 he had married Fern, and the next year they had a daughter, Tanya Jo.
In December of 1935, new Tigers owner Walter Briggs acquired star outfielder Al Simmons. White fully expected to get sold or traded, but neither happened. Cochrane suffered a nervous breakdown during the 1936 season and was temporarily replaced. White's playing time was reduced as the Tigers fell to a distant second to the New York Yankees. In 1937 Cochrane returned and Simmons had been unloaded by the Tigers. White's hopes of full-time action were soon dashed when the Tigers acquired another star outfielder, Babe Herman. Once again Cochrane went down for the season, this time from a tragic beaning that nearly cost him his life. Again, White found himself a part-time player.
Hank Greenberg declared that he lost two of his favorites in baseball in 1938, when Mickey Cochrane was fired and Jo-Jo White was traded.
"During the season Jo-Jo had been sitting on the bench having been platooned in center field, and he was very annoyed with Del Baker, our manager. This was now the first week in October and Del had just bought a brand-new felt hat. While we were on the train returning to Detroit, Jo-Jo had a drink or two and decided to attack Del Baker's hat. He did. He messed it up. He got it dirty and pushed the crown and then threw it up on the hat rack and didn't say anything. Of course, when Del came to get his hat he was very unhappy. He knew someone had deliberately ruined his hat. He finally found out it was Jo-Jo, and by next spring Jo-Jo was gone."3
On December 12, 1938, White was part of a trade to the Seattle Rainiers of the Pacific Coast League for Fred Hutchinson, who had won 25 games at age 18. Six days later White and Fern's son Mike, named after Mickey Cochrane, was born. At first, White refused to report to Seattle. He said he would work in a Detroit auto plant instead. To his surprise, however, the outfielder was offered $10,000, an increase of $2,000 from the previous year in Detroit.
Hutchinson had been the PCL's MVP in 1937. Seattle led the league in attendance and finished second. Seattle might not have forgotten Hutch, but fell in love with Jo-Jo White. He led the league with 47 stolen bases as Seattle finished first and shattered the previous year's attendance. White's Seattle team went on to win the PCL championships in 1940, 1941, and 1942 in front of huge and adoring crowds. By the end of 1942 World War II had taken its toll on major-league rosters and the American League wanted White back. Connie Mack's Philadelphia Athletics purchased him on December 5, 1942.
White turned 34 in 1943, but he still led the Athletics in runs scored and was considered Philadelphia's best fielding outfielder. By 1944 White looked as if he were finally slowing down. Mack offered to help White find a job as a manager, but late in the season released him as a player. With so many teams still desperate for talent, White was picked up immediately by the Cincinnati Reds. Although he got off to a fast start, including a five-hit game on August 26, it was his last hurrah in the majors. On September 30 he concluded his big-league career with a pinch-hit single.
However, White's baseball career was far from over. Now it was the PCL that wanted him back, offering to make him its highest-paid player. In 1945 White joined Sacramento and led the league in batting (.355), runs scored (162 in 177 games), and hits (244), was second in stolen bases (40) and doubles (46), was third in triples (10), and was in the top ten in RBIs (87). Seattle also wanted his return and made White its player-manager for 1946. He performed both roles until mid-1949. That season he completed his playing career with the PCL's Hollywood Stars at the age of 40. His minor-league career batting average was .305 and he had over 400 stolen bases as a professional.
White went on to manage teams like the San Antonio Missions, the Keokuk Kernels, and the Mobile Bears. He was outstanding at teaching and encouraging young talent. A young outfielder at Keokuk named Roger Maris claimed White taught him his swing and how to pull the ball. After White managed the Reading Indians to the Eastern League championship in 1957, longtime friend Hank Greenberg offered him a coaching job with the Cleveland Indians. White served as a coach under an old PCL friend, Joe Gordon.
White also scouted for the Indians and was credited with discovering  and signing another infielder who went on to pay center field in the majors, his own son Mike. Right after Mike was signed he was severely injured in a scrimmage that Jo-Jo was coaching. Mike, playing shortstop, was taken out trying to complete a double play. His knee was badly damaged and required surgery that cost him a full season. Returning to the minors with a pronounced limp, Mike eventually made the majors in 1962 and lasted three seasons with the Houston Colt .45's.
During the 1960 season, the Cleveland Indians and Detroit Tigers traded managers. While Cleveland waited for Jimmy Dykes to arrive from Detroit, White was pressed into service to manage his only game in the majors. He won.
White soon followed Joe Gordon to Detroit as a coach. Afterward he coached for the Athletics, who had moved to Kansas City, and the Milwaukee Braves. Before the 1966 season the Braves announced they were moving to Atlanta, just miles from where White was raised. After that season White returned to managing in the minors for one season for the Dallas-Fort Worth Spurs. Finally Joe Gordon hired him to coach one last season in 1969 for Gordon's brand-new Kansas City Royals.
After 1969, having been in baseball for 42 years, Jo-Jo White called it quits. He and Fern retired to play golf in Corpus Christi, Texas. By 1976 they rejoined their son Mike in Tacoma, Washington. Mike had played in the minors until 1969. Mike's final major-league game had been against his father's Braves. He later had played for Jo-Jo White in the minors. On October 9, 1986, Jo-Jo White died after complications from open-heart surgery. He was 77 years old. Years later his son Mike was asked who his all-time favorite coach/manager was. The answer was easy: like everyone else, he loved Jo-Jo.
Sources
Auker, Elden, with Tom Keegan, Sleeper Cars and Flannel Uniforms: A Lifetime of Memories From Striking out The Babe to Teeing It Up With the President (Chicago: Triumph Books, 2001).
Bak, Richard, Cobb Would Have Caught It: The Golden Age of Baseball in Detroit (Detroit: Wayne State University Press, 1991).
Clavin, Tom, and Danny Peary, Roger Maris: Baseball's Reluctant Hero (New York: Touchstone, 2010).
Gregory, Robert, Diz: The Story of Dizzy Dean and Baseball During the Great Depression (New York: Penguin Books, 1992).
Johnson, Lloyd, and Miles Wolff, The Encyclopedia of Minor League Baseball, Second Edition (Durham, North Carolina: Baseball America, Inc., 1997).
Lieb, Frederick, The Detroit Tigers (New York: G.P. Putnam's Sons, 1946).
Rosengren, John, Hank Greenberg: The Hero of Heroes (New York: New American Library, 2013).
Skipper, John C., Charlie Gehringer: A Biography of a Hall of Fame Tigers Second Baseman (Jefferson, North Carolina: McFarland, 2008).
Smith, Fred T., Tiger Tales and Trivia (Lathrup Village, Michigan: Fred Smith, 1988).
Stanton, Tom, Ty and the Babe (New York: St. Martin's Press, 2007).
Baseball-reference.com
Baseballhistorian.blogspot.com
Baseball Hall of Fame Library, player file for Jo-Jo White.
Notes
1 Ira Berkow, The Story of My Life (New York: Times Books, 1986), 45.
2 William M. Anderson, The Glory Years of the Detroit Tigers: 1920-1950 (Detroit: Wayne State University Press, 2012), 186.
3 Berkow, 117.
Born
June 1, 1909 at Red Oak, GA (USA)
Died
October 9, 1986 at Tacoma, WA (USA)
If you can help us improve this player's biography, contact us.
http://sabr.org/sites/default/files/JoJoWhite.JPG
600
800
admin
/wp-content/uploads/2020/02/sabr_logo.png
admin
2012-01-04 20:39:22
2020-10-09 08:17:02
Jo-Jo White