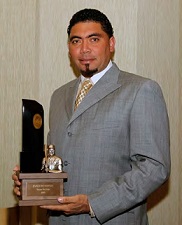 ---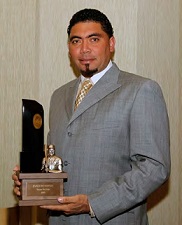 For many pitchers, the pathway to the major leagues is a trail marked with the challenges and opportunities of injury. Joaquín Benoit is among those for whom injury presented both a challenge and opportunity. The perseverance that led him to win the 2010 Tony Conigliaro Award was a character trait present even at the outset of his career. Benoit found himself on the disabled list with regularity and always managed to rise to meet the ever-increasing challenge of injury. As is the case with many pitchers, injuries to others provided his early opportunities to move up from the minors, while at the same time being the test he would need to face in remaining. Along the way, Benoit found a role that would allow him to stay in the majors and enjoy a lengthy career.
A native of the Dominican Republic, Joaquín Antonio Benoit Peña was born on July 26, 1977. His home city of Santiago was founded in 1504. One of the oldest continuously occupied colonial settlements in the Western Hemisphere, Santiago is the second largest city in the Dominican Republic and the fourth largest city in the Caribbean. In a country with a tradition of producing the greatest number of foreign-born players in major-league baseball, Santiago has its own great tradition. Represented in the Dominican Winter League since 1937 by the Cibao Eagles, Santiago has produced 11 players who have made a major-league roster as of Opening Day 2016. On May 20, 1996, Joaquin Benoit joined that list after being signed as a nondrafted free agent by Texas Rangers scouts Omar Minaya and Cornelio Peña.1
Benoit spent his first summer as a professional with the Rangers' 1996 Dominican Summer League team in Santo Domingo. He finished that short summer season with a 2.28 ERA, earning his way to the Rangers' Florida Rookie League the next year. Benoit then spent 1997 with the Port Charlotte Rangers of the Gulf Coast League.This was a city Benoit would see a lot of as the Rangers operated both their Gulf Coast League team and their Class-A Florida State League teams out of Port Charlotte from 1996 to 2002.
The 6-foot-4, 250-pound right-hander was initially thought of as a starting pitcher. He made his way through the minor leagues being developed for a starting role. Benoit started 10 games in Port Charlotte in 1997. He ended the year with a 3-3 record, pitching 44 innings and compiling a 2.05 ERA with 10 earned runs surrendered. Benoit closed out the season by pitching eight shutout innings against the Kansas City Royals' GCL affiliate in the semifinals of the league playoffs.
The Texas Rangers added the A-level Savannah Sand Gnats of the South Atlantic League to their minor-league system in 1998. Benoit started 15 games before his season ended early due to a strain to an ulnar collateral ligament in his right elbow. The determination was to heal with rehabilitation instead of surgery.2 This was the first of several interruptions to Benoit's career by injury. Before being shut down on August 4, Benoit had
put together a record of four wins and three losses. Nearly doubling his innings, Benoit increased his workload to 80 innings, giving up 79 hits and 18 walks. His 3.82 ERA was the best among Sand Gnats starters with 15 or more starts.
Benoit was back in Port Charlotte for 1999. His return trip to the city this time was a move up to the Florida State League Port Charlotte Rangers, the Rangers' high-A affiliate. Benoit started 22 games, going 7-4 with a 5.31 ERA while surpassing 100 innings for the first time. In 105 innings he gave up 117 hits and 50 walks.
Benoit was promoted to Tulsa of the Double-A Texas League for 2000 and was the Opening Day starter.3 Early in the season he injured his right shoulder.4 Limited to 82 innings in 16 starts, Benoit went 4-4 and improved his ERA to 3.83. After the season Benoit pitched in the Arizona Fall League. Going 2-2 with a 1.91 ERA in 33 innings, he was voted the league's best right-handed starter for that season.5 Benoit returned to Tulsa in 2001 to be the Opening Day starter there for the second year in a row.
After going 1-0 in four starts for Tulsa, Benoit was promoted to the Rangers' Triple-A team, Oklahoma City RedHawks of the Pacific Coast League.6 There he had control problems.
On May 1 he gave up six runs and six walks in two-thirds of an inning. On May 23 against New Orleans, he walked eight in 3⅔ innings. In spite of this, batters were batting only.188 against him at that point. Manager DeMarlo Hale said of Benoit that even though he had walked five batters in a row on the May 23 game, "[H]e has a bright future. He's a very good pitcher. He has three pitches that are major-league stuff in his fastball, slider, and changeup, and he mixes in his curveball."7
Benoit's 24 starts tied for the team lead with R.A. Dickey, and he finished second to Dickey in innings pitched with 131. On August 8 Benoit was called up to the Rangers for a spot start against Detroit. Making his major-league debut, Benoit lasted five innings in a no-decision, giving up six earned runs
During the 2001-2002 offseason Benoit pitched for his hometown Santiago team, Águilas Cibaeñas (Cibao Eagles), and was named the Dominican Winter League's Pitcher of the Year.8 Benoit put up a 5-0 record with a 2.37 ERA.9
Heading into the 2002 season Benoit was rated by Baseball America as the seventh best prospect in the Rangers' farm system.10 He spent most of the season going back and forth between Oklahoma City and the Texas Rangers. This was the year the Rangers began exploring using Benoit out of the bullpen, a decision that resulted in a permanent change in his career path. In the process Benoit set a major-league record while recording his first save. For Oklahoma City Benoit was 8-4 in 16 starts with a 3.56 ERA, striking out 103 batters in 98⅔ innings. He fell into the situation of being a spot starter who is called back and forth as needed between Triple A affiliate and the major-league club, often because of player injuries. Such was the case for Benoit, who was called up for the first time to make a start on May 9.
Called up because pitcher Ismael Valdes was bothered by stiffness in his back, Benoit flew to Arlington overnight and started against the Chicago White Sox on only three hours' sleep. Benoit pitched six innings in a 4-1 win. After the game he said, "In the first couple of innings, I was trying to do too much, but those last three innings, I was getting my energy back."11 Two days later he was back pitching for Oklahoma City.12
Benoit got another opportunity to pitch for the Rangers when Rudy Saenz was placed on the disabled list with shoulder tendinitis.13 This time, Benoit was used in long relief, pitching from the second into the sixth inning of a 13-7 loss to the Atlanta Braves on June 7. He walked five, gave up five hits, and surrendered two earned runs. After the game, he was optioned back to Oklahoma City. On June 24 outfielder Gabe Kapler went on the disabled list with tendinitis in his left wrist. Benoit was recalled and struck out two and walked three in five innings in an 8-5 win over the Anaheim Angels. After the game, in which Benoit picked up his second win, he was optioned back to Oklahoma City. After another callup and a start on July 15, a loss to the Kansas City Royals, Benoit came up for the rest of the major-league season at the end of July. He threw 84⅔ innings for the Rangers in 2002, with 13 starts in his 17 appearances with a 5.31 ERA.33
Though still used primarily as a starter, Benoit set a record on September 3, 2002, for the longest save in major-league history. It happened in a contentious meeting with the Baltimore Orioles that had its genesis a few days earlier when Orioles pitcher Travis Driskill hit Rangers star Rafael Palmeiro and Rangers pitcher Aaron Myette threw behind the Orioles' Chris Richard.14
On the 3rd, Orioles starter John Stephens hit Alex Rodriguez in the first inning. In the bottom of the first, Rangers starter Myette threw the first two pitches behind the Orioles' leadoff hitter Melvin Mora, and was ejected by home-plate umpire Mark Hirschbeck. Todd Van Poppel then pitched two innings in relief and Benoit entered the game in the third with the Rangers leading 4-0.
Neither Myette nor Van Poppel had given up a hit through the first two innings. Benoit extended the no-hitter to the ninth inning, when he gave up a triple to Jerry Hairston Jr., who scored on a hit by Chris Richard. In seven innings, Benoit struck out four while walking no one. Van Poppel was credited with the win and Benoit with the first save of his career. At seven innings, it was the major leagues' longest credited save.15
Benoit had a rough spring training in 2003, starting the year at Oklahoma City. On May 2 he made a spot start with the Rangers in a game the Cleveland Indians won in the late innings.16 He soon found himself on the disabled list, but other than rehab innings following injury, Benoit was at the major-league level to stay. While his path to the majors had often come through injuries to others, the new pattern for Benoit was to try to maintain his spot on the major-league roster in spite of his own injuries.
Benoit spent June 1-22, 2003 (elbow inflammation), on the 15-day disabled list, including five days with Oklahoma City. Over the next few years, he would go the list again with right shoulder tendinitis in 2004 and 2005, right elbow tendinitis in 2005, right shoulder inflammation in 2008, and finally the most serious injury to that point, a torn right rotator cuff in April 2009 that cost him the rest of the season.17
As injuries seemed to become more regular, Benoit shifted toward becoming a set-up reliever. In 2004 only 15 of Benoit's 28 appearances were starts, and in 2005, only 9 of his 32 appearances. In the middle of the 2005 season, he settled into a set-up role. Benoit cemented that position in September, recording a hold in five consecutive appearances between September 15 and 25. In 2006 Benoit pitched in 56 games for the Rangers, 35 of them in the sixth, seventh, or eighth inning. He had no credited saves, and only seven credited holds. He ended 2006 with a 4.86 ERA and 85 strikeouts in 79⅔ innings.
By 2007 Benoit had another healthy year and was able to cement his place in the majors, appearing in 70 games with 82 innings pitched. His highlights that year included 87 strikeouts, only 28 walks, 17 holds, 7 blown saves, and 6 saves while going 7-4 and putting up a 2.85 ERA. Benoit went the entire month of August without giving up a run. However, 2008 was a more difficult year for Benoit, including time on the disabled list. He appeared in only 44 games for the Rangers, throwing 45 innings while putting up a 5.00 ERA. Although he had returned to the big-league club at the end of July, and made a run of appearances in August, he had only two appearances in September before returning the disabled list.18After 2007, the Rangers had high hopes for Benoit, but his right shoulder had been acting up in spring training, limiting him to only four innings in Cactus League play. He attempted to play through that pain, but was shut down by September.
Diagnosed with a torn rotator cuff, Benoit had surgery in January 2009. The procedure was performed by the Cincinnati Reds' medical director, Dr. Timothy Kremcheck. According to Rangers GM Jon Daniels, "[M]ultiple doctors recommended rehab over surgery late last season. Unfortunately, [he] didn't respond to the rehab process as we'd hoped. That's a risk any time you rehab a shoulder."19 Although projected to possibly return for the second half of the season, Benoit ended up sitting out all of 2009. It also turned out to be the end of his career with the Texas Rangers; the team cut him on November 5, 2009. For his future, the often-injured pitcher would have to try his luck in the free-agent market to find a roster spot for the 2010 season.
Having only one truly successful season under his belt and a history of injury, Benoit was only able to secure a one-year minor-league deal for the 2010 season with the Tampa Bay Rays.20This proved to be a wise move by the Rays, as Benoit not only recovered from his surgery, but came back with his strongest season to that point. Appearing in 63 games as a set-up specialist in front of Rays closer Rafael Soriano, Benoit posted a 1.34 ERA over 60⅓ innings, allowing only 30 hits and giving up only 11 walks. In addition to his ERA being the best among all relievers in the American League, he led the league's relief corps with a .147 batting average against, as well as 4.48 hits and 6.12 baserunners per nine innings. He attained all of this despite starting the year with the Rays' Triple-A International League affiliate Durham Bulls. It wasn't until April 29 that the Rays' brought Benoit up.
The Rays finished 96-66 and made the playoffs. Benoit found himself in the American League Division Series against his former team, the Rangers. Although the Rangers took the series (on their way to the AL pennant before losing the 2010 World Series to the San Francisco Giants), Benoit himself had a good playoff series. Benoit didn't see any action until the seventh inning of Game Three, but was able to pick up a win in the game. In three games, he pitched 3⅔ innings with three strikeouts, and no hits, runs, or walks allowed.
After the 2010 season, the Boston Red Sox announced that Benoit had been voted the winner of the 21st annual Tony Conigliaro Award. Citing Benoit's performance after missing an entire season to injury, the Red Sox noted that the "honor is presented to a Major League player who has overcome adversity through the attributes of spirit, determination and courage that were trademarks of Tony C." The award was presented on January 20, 2011, at the annual dinner of the Boston chapter of the Baseball Writers Association of America.21
Benoit had the highest velocity of his career following his surgery, and he sustained this for several seasons.22 Looking back on his 2010 season, he said, "The first full month I was in the big leagues, I was really inconsistent. I was getting outs because people were swinging. After the first month, my arm responded great."23 Benoit was able to convert that season into a three-year, $16 million deal with the Detroit Tigers.
For the next three seasons, Benoit was a key member of the Tigers bullpen. He had 66 appearances in 2011, 73 in 2012, and 66 in 2013. He stepped into the closer role at times in 2013, saving 24 games as part of a career-high 43 games finished. The Tigers went to the playoffs each year. In 2011 Benoit was on the losing side against the Rangers again as they went on to win the AL pennant for the second year in a row. Both years, the Rangers lost the World Series.
The Tigers made the Series themselves in 2012, losing to the San Francisco Giants. In 2013 the Tigers lost the American League Championship Series to the Boston Red Sox, four games to two. Benoit finished both Tigers wins, but also gave up an eighth-inning grand slam to David Ortiz, allowing the Red Sox to tie a Game Two they later won in the ninth.
After the 2013 season Benoit was a free agent once more. He signed with the San Diego Padres on December 28 for two years, totaling $15.5 million, with a third-year option on the 2016 season for $8 million, if he pitched in at least 55 games in 2015. Benoit performed well in 2014, appearing in 53 games with a 1.49 ERA in 54⅓ innings, and followed that in 2015 with a 2.34 ERA in 65⅓ innings. He was traded on November 12, 2015, by the Padres to Seattle. His shoulder problems resurfaced in spring training with Seattle.24 After a return to the 15-day disabled list for the first time since the end of the 2008 season, Benoit appeared in only 26 games with a 5.18 ERA with Seattle in 2015.
On July 26, 2016, Benoit was traded (on his 39th birthday) to the Toronto Blue Jays for Drew Storen and cash. Pitching on a team contending to win the AL East, he appeared in 25 games during the final two months of the season, giving up only one earned run in 23⅔ innings. His 0.38 ERA in a set-up role proved him to be a timely late-season acquisition for the Blue Jays. Just before the end of the season, on September 26, he tore a calf muscle in a brawl during a 7-5 loss to the New York Yankees.25
At every stage of his career, Benoit had encountered adversity and opportunity through injury, and each year had come back stronger. Then, remarkably, when injury loomed greatest, Benoit was able to respond with his best season ever. Although time will eventually catch up with all players of the game, certainly the way Benoit responded to adversity extended his career and brought him and his teams to a remarkable run of success.
Last revised: May 1, 2017
Sources
In addition to the sources cited in the Notes, the author also consulted Retrosheet.org, Baseball-Reference.com, Benoit's biographical information on MLB.com, and a number of other sources including:
Lagesse, David. "Baseball Is a Field of Dreams and Dashed Hopes For Dominicans," National Public Radio, npr.org/sections/goatsandsoda/2016/04/03/472699693/baseball-is-a-field-of-dreams-and-dashed-hopes-for-dominicans.
Historia del Equipo, Águilas Cibaeñas, aguilas.lidom.com/home/historia-del-equipo/.
Notes
1 Major League Baseball, Joaquin Antonio Benoit biographical information, mlb.com, m.mlb.com/player/276542/joaquin-benoit, Accessed September 9, 2016.
2 Ibid.
3 Barry Lewis, "Drillers Starting With Rare Roster," Tulsa World, April 5, 2001 (tulsaworld.com/archives/drillers-starting-with-rare-roster/article_e4022f0c-9876-5745-8c18-db17aec46e85.html), accessed September 9, 2016.
4 Player bio, mlb.com.
5 Bob Hersom, "Competition Refines Opening Day Roster," The Oklahoman (Oklahoma City), April 3, 2001 (newsok.com/article/2736172), accessed September 9, 2016.
6 Bob Hersom, "Zephyrs Take a Stroll in RedHawks' Park," The Oklahoman, May 24, 2001 (newsok.com/article/2742502), accessed September 8, 2016.
7 Associated Press, "AL roundup – August 9, 2001," Lubbock Avalanche-Journal, August 9, 2001 (lubbockonline.com/stories/080901/pro_0809010075.shtml#.V5b6VI-cE2w), accessed September 4, 2016.
8 Cibao Eagles, "Pitcher of the Year,"Águilas Cibaeñas BBC (aguilas.lidom.com/home/premios-obtenidos-por-jugadores-de-aguilas-cibaenas-en-premiacion-de-producciones-apolo/), accessed September 8, 2016.
9 Josh Goldfine, "Rangers 2002 Prospect Report," USA Today, April 1, 2002 (usatoday30.usatoday.com/sports/baseball/rangers/prospect.htm), accessed September 17, 2016.
10 Gerry Fraley, "Texas Rangers Top 10 Prospects," Baseball America 2002 (baseballamerica.com/online/leagues/mlb/rangers/02top10.html), accessed September 17, 2016.
11 Stephen Hawkins, "Rangers' Benoit Stymies Sox," Northwest Indiana Times (Munster, Indiana), May 10, 2002 (nwitimes.com/uncategorized/rangers-benoit-stymies-sox/article_7ad15f4f-a2af-5305-85c2-370dfda28f83.html), accessed September 30, 2016.
12 Associated Press, "Rangers' Benoit Silences Sox," Northwest Indiana Times, May 10, 2002 (nwitimes.com/uncategorized/rangers-benoit-silences-sox/article_da0667b5-a454-575b-8591-d46c4d6d3de1.html), accessed September 9, 2016.
13 ESPN, "MLB Transactions," ESPN.com, June 7, 2002 (espn.go.com/mlb/transactions/_/date/20020607), accessed September 17, 2016.
14 Joe Christensen, "Nearly No-Hit, O's Drop 10th in a Row, 7-1," Baltimore Sun, September 4, 2002 (articles.baltimoresun.com/2002-09-04/sports/0209040378_1_texas-rangers-orioles-inning), accessed September 8, 2016.
15 Ibid.
16 Game Log, Texas Rangers at Cleveland Indians, May 2, 2003, CBS Sports (cbssports.com/mlb/gametracker/recap/MLB_20030502_TEX@CLE), accessed September 17, 2016.
17 2016 Seattle Mariners Media Information Guide (marinersblog.mlblogs.com/2016/02/18/2016-mariners-media-guide/), accessed September 4, 2016.
18 Ken Daley, "Benoit Trying to Turn Around Tough Start," MLB.com (texas.rangers.mlb.com/news/print.jsp?ymd=20080430&content_id=2619181&vkey=news_tex&fext=.jsp&c_id=tex), accessed September 17, 2016.
19 Joe Zedalis, "Texas Reliever Benoit Has Rotator Cuff Surgery," Yahoo Sports (sports.yahoo.com/mlb/rumors/post/Texas-reliever-Benoit-has-rotator-cuff-surgery?urn=mlb,137825), accessed September 17, 2016.
20 Adam J. Morris, "Rays Sign Joaquin Benoit to Minor League Deal," Lonestarball.com, February 15, 2010 (lonestarball.com/2010/2/15/1311453/rays-sign-joaquin-benoit-to-minor), accessed September 18, 2016.
21 Boston Red Sox, "Joaquin Benoit Wins 2010 Tony Conigliaro Award," Redsox.com, December 7, 2010 (boston.redsox.mlb.com/content/printer_friendly/bos/y2010/m12/d07/c16272496.jsp), accessed September 18, 2016.
22 Jeff Sullivan, "Mariners Get Joaquin Benoit, Who Won't Go Away," Fangraphs.com, November 12, 2015 (fangraphs.com/blogs/mariners-get-joaquin-benoit-who-wont-go-away/), accessed September 18, 2016.
23 Matt Chaprales, "Benoit Receives Boston's Tony C. Award," MLB News (m.mlb.com/news/article/16474306//), accessed September 18, 2016.
24 Bob Dutton, "Mariners Notebook: Benoit Placed on Disabled List Because of Sore Shoulder," Tacoma News-Tribune, April 25, 2016 (thenewstribune.com/sports/mlb/seattle-mariners/mariners-insider-blog/article73826107.html), accessed September 18, 2016.
25 Associated Press, "Blue Jays Lose 2 to Injury in Brawl-Marred Loss to Yankees," USA Today, September 27, 2016 (usatoday.com/story/sports/mlb/2016/09/27/blue-jays-lose-2-to-injury-in-brawl-marred-loss-to-yankees/91152846/), accessed October 1, 2016.
Full Name
Joaquin Antonio Benoit Pena
Born
July 26, 1977 at Santiago, Santiago (D.R.)
If you can help us improve this player's biography, contact us.
https://sabr.org/sites/default/files/Benoit.jpg
600
800
admin
/wp-content/uploads/2020/02/sabr_logo.png
admin
2012-01-04 20:28:06
2021-05-12 02:20:04
Joaquin Benoit