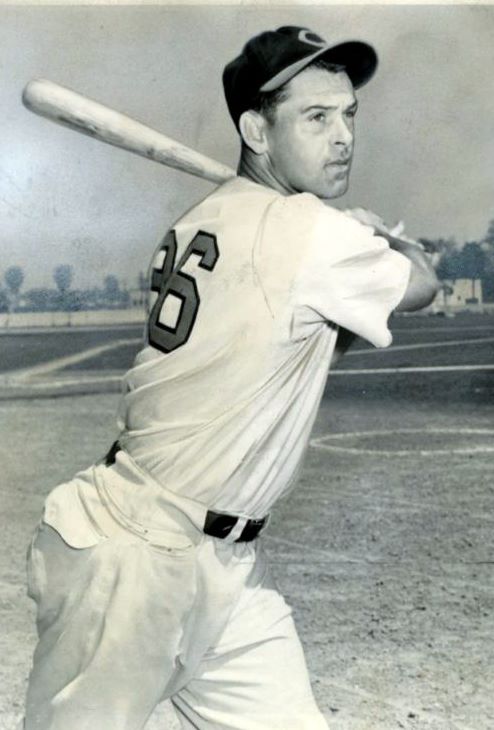 ---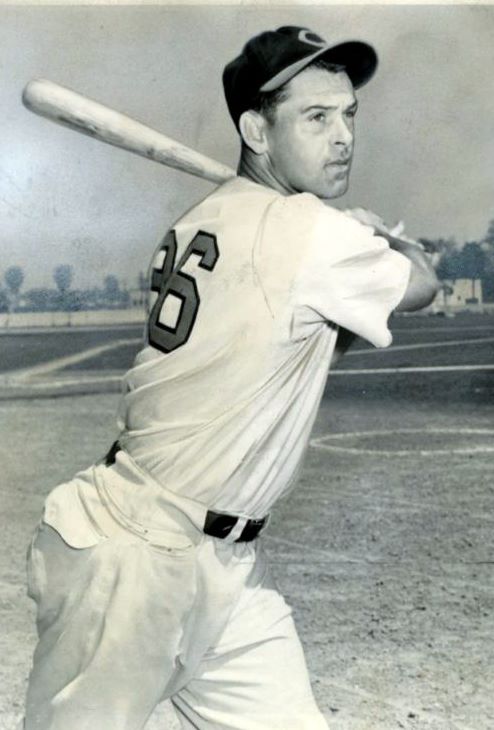 Although not a star, Joe Beggs distinguished himself from ballplayers of the 1930s and 1940s in several ways. In an era when baseball players were not known for their educational accomplishments, Beggs not only possessed a college degree, but was learned enough to be tagged as "erudite" by one profiler. Although a star athlete in college, it was not his baseball accomplishments that drew attention (his school didn't even have a team); Beggs was outstanding with the javelin. Although most players never play on a team that wins a World Series, Joe Beggs was a member of pennant and World Series-winning teams in both of the major leagues as well as a member of the Newark Bears, which won the 1937 minor-league Junior World Series, and was arguably the best minor-league team of all time.
Joseph Stanley Beggs, son of a steel worker, was born on November 4, 1910, in Rankin, Pennsylvania. Beggs grew up around Aliquippa, Pennsylvania, and although he played baseball as a boy, his first real athletic fame came from throwing the javelin. He won the state high school championship in that event and continued hurling the javelin at Geneva College in Beaver Falls. He was one of only a handful of collegians at the time who could throw the javelin 200 feet. He was runner-up in that event two years in a row at the Penn Relays and he set a school record of 206 feet. There was even talk of a spot on the 1932 Olympic team.
Beggs still found time for baseball and was playing for a steel mill's semipro team when he received a call from Benny Bengough, manager of the Washington, Pennsylvania, Generals of the Pennsylvania State League, asking him if he was interested in a job. It was with this organization that Beggs began his professional career in 1934. Joe earned a promotion from the Class D Washington team to Class A Scranton Minors of the NY-Penn League that summer. Following the season, he returned to Geneva where he finished his A.B. degree. He divided 1935 between Norfolk, Piedmont, and Akron and spent all of 1936 with Norfolk, where winning 22 games earned him a promotion to Newark in 1937.
The 1937 Newark Bears of the Double-A International League achieved a 109-43 won-lost record and won the league pennant by 25 1/2 games. They met the Columbus Redbirds of the American Association in the Junior World Series. After losing the first three games, the Bears swept the next four in Columbus. Beggs led the regular-season pitching staff with a 21-4 record. In addition to Beggs, almost every other member of that team played in the major leagues at one time. Among those with solid major-league careers were pitcher Spud Chandler, second baseman Joe Gordon, and outfielder Charlie Keller.
Beggs' outstanding record with Newark earned him a trip to the Yankees' camp the next spring. It was during 1938 spring training that Beggs's signature pitch, a sinker, was given the moniker "iron ball" by none other than Lou Gehrig. In describing how hard Beggs's pitches were to hit for any distance, Gehrig commented, "It looks like one of those old-time cannon balls of iron when your bat hits it." Beggs secured a spot on the 1938 Yankees roster and made his major-league debut in April. He did not, however, make much of an impact that season; he also appeared in 12 games for Newark. For the Yankees Beggs appeared in 14 games, pitched 58 1/3 innings, and posted a 3-2 won-loss record with an ERA of 5.40. A thrill for Beggs during his time with the Yankees was to be on the mound during Lou Gehrig's 2,000th game. Joe was not invited back to the big league club for 1939 but compiled a 12-10 record over 199 innings in 33 games for Newark.
A significant turning point occurred in his career when Beggs was traded to the Cincinnati Reds in January 1940. The Yankees acquired relief pitcher Lee Grissom in that deal, and the conventional wisdom was that the Yankees got the much better end of the bargain. Reds manager Bill McKechnie, however, had seen Beggs pitch in the International League and was impressed with his control and his ability to keep the ball low. Beggs also credited former Newark battery mate Willard Hershberger, who had earlier been acquired by the National League team, for talking him up to the Reds management.
Nineteen-forty proved to be the best year of Beggs's major-league career, and he made important contributions to the Reds' capture of the National League pennant. Although he had been used almost exclusively as a starter, McKechnie decided Beggs could be of greatest help to the team in a relief role. Beggs started just one game, but appeared in 37, with a league-leading 27 closes. He finished the season 12-3 with an ERA of 2.00 that season. Although the save was not an official statistic at the time, Beggs has since been credited with seven saves, tying him for the league lead. Total Baseball ranks him as the most effective reliever in the NL that year and, along with Reds star starter Bucky Walters, as among the league's three most effective pitchers – ahead of the other star on the Reds staff, Paul Derringer. Beggs only saw limited action as Cincinnati defeated the Tigers in the World Series. With the Reds already trailing 5-2 in Game 3, he took the mound for the bottom of the eighth. This one inning was his only appearance, and he gave up three hits and two runs. Grissom only pitched 4 2/3 innings for the Yankees.
Cincinnati publicist Gabe Paul, later G.M., described the attributes that made Beggs a valuable pitcher and that probably did much to keep him in the bullpen, "He is at his best under pressure … He has fair stuff, great control, and courage. He doesn't flinch." So Joe Beggs would acquire the nickname "Fireman" and would spend most of the 1941-43 seasons as a reliever. Although his win totals would never again approach double digits, he appeared in 37-39 games each season and finished approximately 75% of those games. He posted ERAs of 3.79, 2.13, and 2.34. Across the 1940-43 seasons, Beggs was one of the most reliable relievers in the National League. It wasn't a role he relished, however, and he came to feel that the limited number of wins he could achieve as a reliever hampered him in salary negotiations. In 1943, manager McKechnie gave Beggs a handful of starts. Of the 39 games in which he appeared that season, Joe started and completed four.
Beggs began the 1944 season in the starting rotation, but like so many ballplayers of that era, his career was interrupted by military service. He pitched a complete-game win in the only game he played for the Reds that season, and then spent the next 14 months in the Navy. He saw active duty serving as a gunnery officer on convoys in the Atlantic and Mediterranean and reached the rank of Lt. Senior Grade. He was out of the service in time to rejoin the Reds for 1946 spring training.
Joe returned to the starting role that had been so abruptly curtailed two years earlier. He pitched the opener against the Cubs and allowed only a scratch single through eight innings. He faltered in the ninth and was replaced. It was a no-decision but the Reds lost, 4-3. Over the course of the 1946 season he was a solid performer for a mediocre Reds team that finished sixth. He pitched more innings (190) that year than any time in his career and his win total (12) and ERA (2.32) were team bests.
That year, however, was the last one that Beggs enjoyed much success on the mound. In 1947 he was 0-3 in 11 appearances with the Reds before they traded him to the New York Giants in midseason. His performance was no better; in 32 games with the Giants, Joe was 3-3. From 1940-1946, his ERA had only once been above 2.40, but his combined ERA for the Reds and Giants was 4.58. AndBeggs, while with New York, also had the dubious distinction of being on the mound one of the times that Jackie Robinson stole home during his rookie season. Joe had arm surgery during the offseason and pitched 1/3 of an inning for the Giants in 1948. With that his major-league career was finished.
Joe Beggs had a brief managerial career in the minors. He skippered the Reds' Class A Charleston Senators for two years and the Boston Braves' Class D Bluefield, WV Blue-Grays for one. None of his teams posted winning records.
There was much more to Joe Beggs than baseball. He was known for his ability to speak several languages and was considered, along with Moe Berg, to be one of baseball's intellectuals. After he was finished with a career in baseball, Beggs made it his mission to pass on his love of learning to the next generation. For several years he taught high school history and geography in the Greater Cincinnati area. In his spare time Beggs enjoyed hunting, ping pong, movies, and novels.
Joe was also a family man. He married an Aliquippa girl, Ann Yargates, in 1934. Like Joe, Ann was an athlete–she swam competitively for the University of Pittsburgh. She earned a degree in physical education and went on to teach that subject at the high school level. The Beggs union produced two daughters, Joann and Jean. Fatherhood apparently was a role Beggs relished more than relieving. He told a reporter in 1948 that his biggest off-the-field thrill came from watching a child of his grow up. Evidently Joe relished fatherhood more than at least one of his daughters relished the thought of having a big-league pitcher for a father. The younger daughter, Jean, was disappointed when she learned that her father's nickname, Fireman, did not refer to his actual occupation. Both daughters earned college degrees. Joann became an English teacher, and Jean earned R.N. and M.B.A. degrees.
After Ann's death Joe married Laura Royce Kerst. They were residing in Indianapolis when Joe died suddenly of a heart attack at age 72 on July 19, 1983. His final resting place is the Hebron cemetery in Madison, IN, Laura's hometown.
March 14, 2011
Sources
Thanks to Jean Beggs Bolt for her assistance.
Anonymous. "Former Pitcher Dies" Kokomo (Ind.) Tribune, July 20, 1983, 28.
Anonymous. "Joe Beggs" Baseball Magazine 72, no. 3 (1944): 323.
Anonymous. "Springboard to Big-Time Berths: Bears Boasted Glittering List of Future Standouts in Majors" The Sporting News 154, no. 19 (1962): 7-8.
DuVall, Bob. "Whatever Became of …?" Baseball Digest 29, no. 12 (1970): 87-88.
http://www.baseball-reference.com/players/b/beggsjo01.shtml
http://retrosheet.org/boxesetc/B/Pbeggj101.htm
http://www.baseball-almanac.com/players/player.php?p=beggsjo01
Indianapolis Star, "Joe Beggs" (Obituary), July 20, 1983.
Mayer, Ronald A. The 1937 Newark Bears: A Baseball Legend. East Hanover, NJ: Vintage Press, 1985.
Mulligan, Brian. The 1940 Cincinnati Reds. Jefferson, NC: McFarland & Company, Inc., Publishers, 2005.
Rathgeber, Bob. " A Javelin that was Thrown Away" In Cincinnati Reds Scrapbook, Bob Rathgeber. Virginia Beach, VA: J.C.P. Corp. of Virginia, 1982.
Rumill, Ed, "The Erudite Mr. Beggs" Baseball Magazine 77, no. 3 (1946): 291-292, 318.
Thorn, John, Pete Palmer, and Michael Gershman (eds.). Total Baseball, 7th. Ed., Wilmington, DE: SportsClassic Books, 2003.
Winerip, Harold. "Cabbages and Kings" Baseball Magazine 81, no 1 (1948): 227-228, 247.
Born
November 4, 1910 at Rankin, PA (USA)
Died
July 19, 1983 at Indianapolis, IN (USA)
If you can help us improve this player's biography, contact us.
http://bioproj.sabr.org/bp_ftp/images5/BeggsJoe.jpg
600
800
admin
/wp-content/uploads/2020/02/sabr_logo.png
admin
2012-01-04 20:31:13
2012-01-04 20:31:13
Joe Beggs