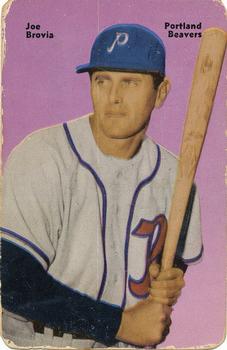 ---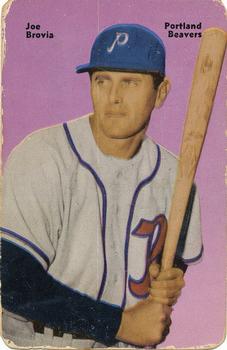 Joseph John Brovia, who starred on California sandlots and in high school as a righthanded pitcher and a lefthanded-hitting outfielder, signed his first professional contract before he turned eighteen in 1940. When he joined the San Francisco Seals for the 1941 season, he was already a rising star. By the time his playing days were over, Joe was a legend in the Pacific Coast League. During twelve seasons in the 1940s and the 1950s, he fashioned a lifetime PCL average of .304. The southpaw slugger also hit 174 home runs and drove in over 800 runs in the Coast League, a circuit then considered virtually the equal of the major leagues in the East.
But figures don't reveal enough about the quality of Brovia's baseball career–or why thousands of fans idolized him in Coast League cities. He was what fans used to call a baseball character. The "Jolter" was an eccentric individual who hit the ball his way, wore the uniform as he liked, often took out his rage by swearing or kicking his vintage glove into the outfield, and lived life as he saw fit. The popular song "My Way", made famous in 1969 by Frank Sinatra, might well have been applied to Brovia's career. At the song's end, as Sinatra would croon, "The record shows, I took the blows — And did it my way."
Brovia, known in his baseball years by such nicknames as "Joltin' Joe," the "Jolter," "Big Joe," the "Davenport Destroyer," or the "Italian paisano," was born on February 18, 1922, in Davenport, a hamlet on the California coast 30 miles south of San Francisco. The only son of two Italian immigrants, Pietro, or "Pete," and Maria Brovia, the youth had a twin sister, Virginia, and a younger sister, Lena. Later, the family moved ten miles south to Santa Cruz, which remained Joe's hometown for life. Tall, muscular, and curly-haired with ruggedly handsome features, he came of age during the Great Depression. Joe worked hard around home and, later, for a local cement factory where his father labored. Thanks to radio broadcasts of the San Francisco Seals, the youth developed an abiding passion for baseball.
By the 1930s, baseball was America's pastime, and thousands of boys grew up loving the game. The Santa Cruz area was a hotbed of baseball, and the game's local roots reached back to the 1880s. One early Santa Cruz semipro club was the Ely Electrics, owned by the founder of the city's growing streetcar system. In 1889 the professional Santa Cruz Beachcombers, later called the Sandcrabs, joined the California League and became the pride of local fans. Another Santa Cruz team competed in the California League during the 1908 and 1909 seasons. The 1930 Santa Cruz Padres, competing in the California State League, featured short, stocky, colorful former big leaguer "Ping" Bodie, a solid hitter who was one of the first Italians to make the major leagues when he debuted with the Chicago White Sox in 1911.
During the Depression decade, young Joe thrilled to the Coast League exploits of players such as Joe, Vince, and Dom DiMaggio, all of whom played for San Francisco; pitcher "Sad Sam" Gibson of the Seals; outfielder Arthur "Jigger" Statz of the Los Angeles Angels; and the San Diego Padres' Ted Williams, the future Baseball Hall of Famer. Williams, a lefthanded-batting flychaser, averaged .291 with 23 homers and 98 RBIs for his hometown Padres in 1937. Partly as a result, Ted became Brovia's hitting hero.
Popular among baseball partisans up and down the West Coast, Brovia became the lifelong idol of countless fans from the San Francisco Bay region when on a cold, foggy Thursday evening at Seals Stadium on April 3, 1947, he smashed what the United Press termed a 404-foot home run and a booming double to lift the Seals over the Seattle Rainiers, 8-2.
San Francisco reporter James McGee commented that Brovia knocked the "everlasting stuffing" out of the ball with his three-run blast, calling it "the mightiest clout of [Lefty] O'Doul's era with the Seals." Observed McGee: "Brovia, who runs mostly with his elbows and shoulders, rolled around the bases at a dog-trot while Sig Jakucki, a good hitter himself who now pitches for Seattle, watched him." In his next at-bat, Big Joe ripped a reliever's offspeed pitch for a low line drive that caromed off the screen in right field, 370 feet from home plate, for a double.
Later, the team placed a star to mark the spot where Brovia's four-bagger cleared the 40-foot-high wall in center field at Seals Stadium. Writers variously estimated Joe's longest home run to have traveled up to 560 feet. Already known for being a good line drive hitter but a slow-footed outfielder (he stole just one base in three full seasons with the Seals), the paisano finished the 1947 season averaging .309 in 359 at-bats spaced over 114 games.
Brovia also clouted 29 doubles, four triples, and 10 home runs. Standing a solid 6 feet 3 and weighing between 195 and 200 pounds, Big Joe, a brash, intense competitor, became best known for his tape-measure blasts. Still, San Francisco manager Lefty O'Doul, a former big league star who batted .349 lifetime, preferred to platoon Brovia, using him mainly against right-handed pitchers. But even after the big guy hit a nifty .322 for 127 games in 1948, O'Doul decided to release Brovia, who soon signed with the Portland Beavers. Asked about the deal, O'Doul said Brovia no longer "fit" the Seals' plans.
Commenting in 1994 about why he didn't hit more home runs at Seals Stadium, Joe said, "It was a big park, 375 feet to left center, 404 to center, and 365 to right center, and you always had the wind to contend with. The wind always blew in."
The ballpark did have large dimensions. Still, Brovia had not yet developed into a pull hitter. So with the Seals, Joe drove many of his best blasts deep to right center or center field.
"Joe Brovia has been a cult hero on the West Coast for years," Dave Newhouse of the Oakland Tribune observed in 1994. During Dave's youth, his father often took him to Coast League games, where Brovia became the youngster's favorite player.
Newhouse was hardly alone: Brovia, a hard-swinging power hitter who could excite the crowd by driving a baseball over virtually any distant fence, was a favorite of thousands of PCL fans, notably in the Bay Area. In later years he received letters almost daily from older folks who had seen him play as well as from younger fans who had heard or read about his hitting exploits.
Encouraged by his wife Cathy, Joe took a renewed interest in his fans. He began carefully answering each letter with a handwritten one of his own. Usually he sent along a signed 4-by-6 picture of himself in the uniform of the Cincinnati Reds, with whom he spent five weeks in 1955. In fact, he mailed out about 200 of his photos in 1994, the last year of his life. Joe often closed a letter with his favorite phrase, "Your baseball friend always," and signed it.
By then Brovia had battled health problems, including surgery on his back and hips, and tough luck for years, but his spirits remained good. The outline of his career reads like a novel of great, but not-quite-fulfilled, expectations:
Batted .311 lifetime in 1,805 games in the minor leagues, and produced 1,846 hits, 214 home runs, and 1,144 RBIs
Batted .304 lifetime over his 12 seasons in the Coast League, blasting 174 homers and batting in 828 runs
Batted .111 for 21 games in 39 days for Cincinnati in 1955, hitting two singles and driving home four runs in 18 at-bats (he also walked once), all as a pinch-hitter
Selected to the Italian Hall of Fame in 1980, joining PCL and major league greats such as Joe DiMaggio
Selected posthumously to Pacific Coast League Hall of Fame in 2005
Dennis Snelling published a fascinating profile of Brovia in his excellent book, A Glimpse of Fame (1993). The Davenport native's baseball career spanned from 1940 until he left the game after the 1957 season in Mexico. He made his final appearance in an Oaks-Seals "old-timers" game on August 18, 1968, along with PCL greats such as Gene Woodling, best known as a champion Yankee, Dino Restelli (Pirates), Hugh Luby (Giants), Mickey Rocco (Indians), and the DiMaggio brothers, Joe, Dom, and Vince. It would be Brovia's last performance.
During the 1970s Brovia endured back surgery (he had several bad discs) and had both hips replaced, which left him bedridden for much of the decade. Thanks to the help and inspiration of Cathy, he finally learned to walk again.
Brovia's professional career began in 1940 when he left school and contracted–actually, his father signed the pact, since Joe was under eighteen–with the Seals for $65 a month. He spent spring training with the club at Boyes Hot Springs, an inland resort in Sonoma County north of San Francisco. In addition to the usual training, Joe developed a reputation as a baseball character with idiosyncrasies like loving to eat huge meals (he once ate nine hamburgers washed down with seven colas), sleeping unusually long hours (one writer dubbed him Rip Van Brovia), wearing the bottoms of his baseball pants down around the ankles (he said the elastic hurt his circulation), not the usual tucked-in six inches below the knee, and being afraid to fly on planes.
Despite blasting the first professional pitch he ever saw for a triple against Oakland in a spring exhibition contest, Brovia lacked the experience to make the Seals. Since PCL teams of that era had their own minor league affiliates, San Francisco shipped the 18-year-old to El Paso of the four-team Class C Arizona-Texas League.
The Texans, managed by Elmer "Spec" Williamson, fashioned a 64-60 mark and finished in second place in 1940, a half-game behind Tucson at 64-59. However, in a seven-game playoff, El Paso outlasted Tucson, four games to three. The youthful Brovia, who led the circuit in hitting at .383, in RBIs with 103, and in triples with 19 (he hit three homers), went 16-for-22 in the playoffs.
Brovia, soon a fan favorite in West Texas, saw his reputation grow on and off the diamond. Seals general manager Charlie Graham, upon hearing reports of the rookie's hitting prowess, flew to Tucson to see a few games for himself. Williamson reported that Brovia could not be found before one doubleheader. Joe's roommate was sent back to the hotel, where he found the flychaser fast asleep. Awakened, Joe and his roomie raced to the ballpark in a taxi. Arriving just in time to don his uniform, Brovia feasted on the opponents' pitching, going 7-for-9 that day. At that point, the Davenport Destroyer had produced seven doubles and nine triples, but his best hitting was still to come.
In the off-season during the prewar years, Brovia worked, as did the majority of minor and major league ballplayers. Mainly the big guy labored for the Santa Cruz Portland Cement Company in Davenport, where he spent the winter living with his parents. By the Fifties, he usually played winter baseball in the Caribbean.
The Seals brought Brovia back for the 1941 season, and again they trained at Boyes Hot Springs. He spent 1941 with the Seals, getting into 92 games. But the Coast League, blessed by good baseball weather, played a schedule of more than 170 games. The major leagues, on the other hand, played a 154-game schedule in the 1940s and 1950s. San Francisco, with Lefty O'Doul at the helm, finished fifth with an 81-95 record, and Brovia showed a glimpse of his raw talent as a hitter, batting 195 times and averaging .318. The teenager contributed six doubles and three triples, but no four-baggers.
But the big man was labeled a weak fielder, a reputation that he never could shake. In Brovia's debut game for the Seals, O'Doul started him in left field. Later, talking to historian Brent Kelley, Joe recalled making four errors. "The media ripped me apart," he said, "but I got better." Known as a hard worker determined to succeed, Brovia took pride in his improvement.
Bob Stevens of the San Francisco Chronicle later told of seeing Brovia early in his first season as a Seal: "He was called in to swing for the late Jake Powell. Joe came up to the plate, then backed away and went into the traditional act of knocking dirt out of his spikes with his bat.
"He made only one mistake, besides trying to do it with the barrel end of the Louisville [Slugger]. He got his legs crossed, slammed the bat into his right ankle, knocked both feet off the ground and fell in a heap at the side of the [San Diego] Padre catcher.
"Nonplussed, Brovia painfully regained his feet and proceeded to nearly tear the pitcher apart with a line drive through the box."
In 1942 Joe returned to spring training with the Seals, but he began the season slowly. In the club's home opener on April 2, Brovia, who didn't start, was riding the bench when the Seals began a rally in the sixth inning. With the bases loaded, O'Doul sent in Joe Sprinz to pinch hit for pitcher Sam Gibson. When Los Angeles manager Jigger Statz brought in a reliever, O'Doul, hounded by box seat fans screaming for Brovia, sent forth the Davenport Destroyer. He promptly fanned, but the Seals continued the rally and eventually won, 10-6.
Except for a few at-bats as a pinch hitter, Brovia played little in the season's first three weeks. Finally, at home against the Sacramento Solons on Wednesday, April 29, O'Doul listed the paisano fourth in the order and stationed him in right field. Big Joe responded by going 2-for-4 with a double and a run scored, but the Solons won, 7-4. The following night, with Larry Jansen on the mound for San Francisco, Brovia played right field and went hitless in five trips. Jansen pitched well, but the Seals lost, 3-2, and fell into the PCL cellar. One writer blamed San Francisco's loss on "poor fielding support," although the box score recorded only two errors. In Friday's game Brovia again started in right and batted fourth. He singled once in five at-bats, giving him three hits in 13 trips as a starter. He also committed one of the game's six errors, and Sacramento won, 8-4.
On Saturday O'Doul sent Kermit Lewis, hailed as the "new DiMaggio," to right field, and he went 3-for-4 in the Seals' 12-10 victory over the Solons. Lewis continued to patrol right and enjoyed a banner season, hitting .312 and leading the Seals in homers with 20 and RBIs with 115. Meanwhile, Brovia, after his three starts, rode the pines, getting an occasional appearance as a pinch-hitter. In the opener of a Sunday twin bill against Portland on May 18, the paisano, batting in the ninth for pitcher Bob Joyce, singled and knocked in a run as the Seals rallied for two markers and beat the Beavers, 6-4.
When the Los Angeles Times printed PCL batting and pitching averages on May 26, Seals' third sacker Ted Jennings ranked as the league's leading hitter with a .382 mark. But Brovia lacked enough at-bats to make the list. Joe's last 1942 appearance in a Seals uniform came against the Hollywood Stars on Thursday, June 4. In the eighth inning he ripped a pinch single to score Ferris Fain and tie the game at 4-all. Hollywood scored once in the top of the ninth, but San Francisco tallied twice in the bottom of the inning and won, 6-5.
Shortly thereafter the Seals optioned Brovia, who needed to work on his fielding and get more playing experience, to Tacoma of the four-team Class B Western International League. Playing for a second place team, the big guy got into 78 games and hit .290, producing 52 RBIs and belting 17 doubles, three triples, and six homers. The Davenport native's stellar hitting at Tacoma caught the interest of the Chicago White Sox, and the American League club bought his contract in October.
But before Brovia had an opportunity to play in the Windy City, World War II intervened. Like thousands of other young men, he was drafted. Called to Uncle Sam's team in late 1942, Big Joe served more than three years in the Army. Inducted on February 1, 1943, he spent most of the year near San Miguel, California, where he played service baseball at Camp Roberts. After basic training in the infantry in 1943 and as a machine gunner in 1944, Private Brovia spent most of 1945 in the European Theater. He saw action for three months, mainly driving a truck carrying ammunition to the Allied front. He rose to the rank of sergeant before the war ended. After Germany's defeat, Joe was made an athletic instructor. To help entertain troops during off-duty hours, he organized and coached baseball teams and set up the schedules, and often officiated events.
Mustered out of the Army on May 16, 1946, Brovia joined the Seals six weeks into the PCL season. He had played little since 1943, so he had to work himself into baseball shape. The veteran was used as a pinch hitter, but he collected just one hit in nine at-bats. In the opener of a doubleheader against Los Angeles, he drove in his only run of the season for the Seals. Pinch-hitting in the eleventh inning of a 4-4 tie, the Jolter hit a long fly to center field, scoring Roy Nicely with the winning run. San Francisco also won the second game, 6-0, but Brovia didn't play. Shortly thereafter, he was sent to Salt Lake City of the six-team Class C Pioneer League.
In Utah the hard-hitting outfielder continued to struggle, making more than 30 trips to the plate before getting his first hit. During the drought, Mormon fans shuddered when the paisano would fail at the plate, return to the dugout, let go with some of his choicest expletives, and pound the wall with his big fist. Suddenly he caught fire. Overall, he played 47 games and hit safely in 27 straight, batting 183 times and averaging .339. Joltin' Joe came through with 16 doubles, five triples, and a pair of homers. Salt Lake City won the league's pennant, and Brovia went 13-for-26 in the playoffs, giving him an overall average of .373.
In early 1947, before the Seals' spring camp began, Joe married Gretchen, whom he had met in Germany during the war. The couple had two daughters, Jeannie, born in 1949, and Irene, born in 1951. The proud father got a veterans' loan and built his family a house in Santa Cruz.
But Lefty O'Doul, who remembered Brovia as a mediocre outfielder, mostly platooned the paisano in 1947 and 1948. O'Doul, who batted left, worked with Joe to open up his stance by pulling his right foot back from the plate. Lefty also showed his protégé how to lean on his back foot and swing through the hips. Brovia's batting style included dropping his hands near the waist and cocking them to stride better into the pitch. With improved balance and his hard swing, he got more bat leverage on the ball. The big guy began hitting more home runs. He credited O'Doul with his improved slugging, including the famous blast against Seattle later symbolized by a star.
On May 30, 1947, James McGee, the San Francisco newsman, observed that Brovia's return to the O'Douls' lineup a week earlier added greatly to San Francisco's offense. In one game the big guy ripped three hits, one a homer, and helped the Seals top the Angels. Fearless Joe, who chased a long fly ball into a concrete wall at Seals Stadium on April 13, suffered a shoulder injury and missed five weeks. As a result, he didn't play enough to qualify as the team's best hitter. "Otherwise," wrote McGee, "his better than .340 average would be tops on the club."
Evidently O'Doul agreed, soon calling Brovia a "natural hitter" and saying he would play regularly. The manager's move made sense. During a seven-game series in the first week of August against the Hollywood Stars, Brovia slugged three home runs over the right field fence. His "three clouts into the 75 cents seats," wrote Bucky Walter, "set a Seals Stadium record, for no player before ever lifted more than one into that distant sector in a week's span."
Relaxing in the Seals locker room after his third blast, Joltin' Joe roared, "Me Tarzan!"
"Damned if you wouldn't qualify," laughed fellow outfielder Neill Sheridan, who batted .286 with 16 homers and 95 RBIs in 1947. All of Joe's teammates were enjoying his good spirits and slugging heroics as they got ready for the PCL All-Star game.
Brovia enjoyed another good season in 1948, playing 127 games and batting a lofty .322 in 444 at-bats (all personal highs in his years as a Seal). He also connected for 28 doubles, four triples, and nine homers, slugging stats that virtually repeated his 1947 figures. But his stellar season was cut short on August 3, when he underwent emergency surgery for appendicitis. As a result, Big Joe missed five weeks, just as he was doing his best hitting. During that span San Francisco battled the Oakland Oaks for the PCL pennant, but fell short by two games. Brovia's big bat might well have made the difference, but fate handed him a tough break.
Also, sometimes the go-for-broke aggressiveness and fielding miscues of the Santa Cruz hero proved costly. For example, on June 17, 1948, according to Harry Borba's story, Brovia belted a homer but also provided "comic relief" during a 6-3 victory over the Rainiers. In the first inning at Seals Stadium, he slugged a two-run homer into the right field seats. When opposing pitcher Johnny Gorsica lifted a high fly to right center in third inning, "Joe took after it," Borba wrote, "but during the journey, he suddenly decided to take some sliding practice. He slid feet first under the ball, and it rolled on for a three-bagger." Gorsica scored on a sacrifice fly, and Cliff Melton lost his chance for a shutout, but the Seals rallied to win, 6-5.
Even though he homered, Brovia had a difficult night. After his miscue in the third, he gave chase to Hillis Layne's long fly to right center in the sixth. Big Joe crashed in the cement wall trying to make the catch, but Layne's ball bounded away for a double. In any event, Brovia's performance indicated both his strengths and weaknesses. When it came to hitting, his great passion, the Jolter was the equal of virtually any player in the PCL. But when it came to fielding, teammates and fans never knew quite what to expect.
But by all accounts Brovia was a likable character and a popular hero. After his strong performance with the bat in 1948, he held out on signing his contract until the end of February 1949, believing he had earned a raise. Instead, he was surprised when San Francisco announced on March 1 that he would be traded or released. The club waived Brovia, who was picked up by the Portland Beavers for $4,000. He never understood why management dealt him away. San Francisco offered a salary of $1,000 a month, while the slugger insisted on $1,100. In the end, Portland signed Brovia for $1,000 a month–and he remained at the same salary for the rest of his PCL years.
Writing in the spring of 1949, Prescott Sullivan explained Brovia's release. He claimed owner Paul Fagan was not guilty, even though the nattily-attired Fagan often criticized Brovia's "sloppy" style of wearing his pants legs down to his socks. Sullivan said Lefty O'Doul and Seals' general manager Charles Graham Jr. made the decision. While O'Doul liked Brovia's hitting, Sullivan said the pilot was "annoyed by Joe's glue-footed fielding and base running." Also, O'Doul disliked Brovia's whims. The paisano insisted on riding a train to away games, but because league cities stretched from San Diego to Seattle, the team usually flew–meaning Joe could arrive one day after the next weeklong series opened. The manager disliked missing Brovia's bat in the lineup, and the general manager disliked arranging for separate transportation.
Thus, wrote Prescott Sullivan, when Brovia held out until early 1949, O'Doul and Graham decided the flychaser no longer "fit" the team's plans.
For perspective on San Francisco in the postwar years, the Seals won the PCL regular season title in 1946, finishing four games ahead of the Oaks and a whopping 20 games ahead of third-place Hollywood. The Seals also topped Oakland for the playoff championship in six games. For the 1947 season, with Brovia averaging .309, San Francisco tied for first with the Los Angeles Angels, but lost the one-game playoff in LA, 5-0. In the first round of playoffs, the Oaks bested the Seals, four games to one.
In 1948 with Brovia enjoying a .322 season–even though it was shortened by appendicitis–the Seals placed second with a 112-76 ledger, this time two games behind pennant-winning Oakland. But Seattle, which finished fourth with a 93-95 record in the now six-team circuit (the Sacramento Solons and the San Diego Padres withdrew in 1948 and returned in 1949), dumped San Francisco in the playoffs. The Seals won just once in five games.
The Seals led the Coast League in attendance in 1948, drawing 606,563 paid fans, with Los Angeles ranking second at 576,372 and Oakland third with 552,072. But in 1949, with San Diego and Sacramento back in the California-dominated circuit, O'Doul's Seals dropped to seventh place with an 84-103 mark, and home attendance fell to 447,022, sixth in the PCL. Criticizing the Seals on June 28, 1949, Bud Spencer of the San Francisco News pointed out that fans were staying away in record numbers. Spencer wrote, "The whole season at Seals Stadium has been a long, continuous run of comedy." He called the team's play often "nauseous." Indeed when the Beavers came to San Francisco, Brovia's legions, who never forgave O'Doul for dumping their hero, would boo the manager heartily and call him names like "Marblehead."
Portland, managed by Bill Sweeney and frequently sporting Brovia in right field, ranked sixth in 1949, one rung above San Francisco. The Beavers drew 378,892 in paid attendance at Vaughn Street Stadium, up from the club's 339,758 in 1948. Big Joe produced another good season at the plate, averaging .313. He also contributed 21 doubles, two triples, 11 home runs, and 51 RBIs. But the Jolter got into only 117 of his club's 187 games, due largely to a spate of injuries.
The up-and-down nature of Brovia's season can be seen from three press clippings in April. In the Portland Oregonian for April 9, 1949, the AP reported that he had been playing for several days with a cracked vertebra in his lower back, apparently suffered when he ran into the wall at San Francisco trying to catch a long double hit by Dino Restelli. During the following week, the Jolter went 9-for-18 and drew five walks, despite the pain. Joe figured he had strained a groin muscle. On Wednesday night at 2 a.m., he was taken to the hospital for X-rays, and doctors learned of the cracked vertebra. They put the big guy into a belt resembling a sacroiliac jacket, allowing him to return to the team's hotel on Thursday night.
"There must be a jinx around my neck," Brovia told the Oregonian. "Two years ago in San Francisco I ran into the fence, broke a finger in two places and had to leave the lineup just when I was going good. Last year I was hitting hard when appendicitis hit me, and was out nearly a month. And now comes this, after I had got off to the best start I ever made in baseball. I wanted to show those Portland fans some real hitting when we got home."
The following Sunday, Brovia, who was sent in to pinch hit, was beaned by Oakland's Clyde Shoun. Local papers ran a picture showing Bevo hurler Red Lynn placing an icebag on Joe's forehead in his room at the Saint Francis Hotel. Eight days later, on April 18, Brovia returned to the lineup and belted a two-run homer in the bottom of the ninth, lifting Portland over Oakland, 5-4.
But according to Marlowe Branagan in the Oregon Journal, by the time Joe's daughter Jean Elizabeth was born in late June, "her old man hasn't been able to buy a base hit with anything approaching his usual consistency." For example, in the recent series against San Francisco, Seals hurlers limited Brovia to four hits in seven games. The Jolter came on strong in the second half of the season, but the Beavers missed his potent bat in 70 games.
Brovia always worked hard on his hitting. His efforts paid off as he developed into a pull hitter by 1950, and he produced three more stellar seasons for Portland. Remaining healthy and playing in a career-high 193 games in 1950, the Davenport Destroyer hit the ball harder than ever. While his average dipped to .280, he slammed a career-best 39 homers, adding 28 doubles (but no triples) and producing 114 RBIs at the Bevos' "band box" ballpark on Vaughn Street.
On May 30, 1950, L.H. Gregory, sports editor of the Oregonian, praised Brovia's success at pulling the ball and quoted him, "I have to work twice as hard as other players to learn things," and "When I learn them, though, they seem to stay with me; I don't forget!"
Gregory observed that Brovia had curbed his "overeagerness" at the plate, waited more for pitchers "to come in there," and, and, as a result, threatened the fences more than ever. Now teamed with heavy-hitting first baseman Mickey Rocco, who averaged .258 with 26 homers and 108 RBIs, the paisano thrilled many a Portland fan with his best long ball season ever. Further, the Jolter, who usually walked more than he fanned, drew 77 bases on balls in 1950, compared to 56 strikeouts, and another 77 free passes in 1951, compared to 50 strikeouts.
In 1951 the more patient Brovia improved to his average to .303 while continuing his slugging: 25 doubles, two triples, 32 four-baggers, and a lifetime best 133 RBIs. In 1952, the big guy hit .290 and contributed 25 doubles, one triple, 21 homers, and 85 RBIs. But after his 39 four-baggers in '50, two years later he led the league in walks with 109 while striking out 46 times.
For his last three seasons in a Portland uniform, Brovia swung the most dangerous bat in the circuit–delighting fans in every city with his home run total of 92. Also, playing for Sacramento in 1953, Joltin' Joe, giving hurlers many anxious moments, drew a league-leading 105 walks but whiffed just 32 times. Further, he topped the league in getting hit by pitches in 1952 (8) and 1953 (7).
Brovia continued to thrill Portland fans with hitting feats like his three-run opposite field shot to beat Seattle, 4-3, on August 14, 1952. The AP writer said, "The lumbering outfield guardian for Clay Hopper's Beavers put the wood to one of Bob Hall's pitches in the eighth and aided by a brisk tailwind the ball sailed over the 365 foot left field fence." The homer gave the Jolter 16 for the season, and the two runners who also scored ahead of him upped his season RBI total to 66.
Following Brovia's four slugging seasons with Portland, the club dealt the 30-year-old to Sacramento. Writing for the Sacramento Union on March 6, 1953, sports editor Bill Conlin lauded Brovia, calling him "the best hitter in the Pacific Coast league." A throwback to old-school hitters and a "really colorful personality," Joe lived and breathed baseball. Comparing him to another intense competitor, Rogers Hornsby, Conlin said Brovia made sacrifices for baseball, like avoiding the movies to save his eyes and refusing to drink whiskey for the same reason.
"Perhaps Brovia's greatest slugging feat," Conlin wrote, "was a series in Oakland several seasons back. Then he and Mickey Rocco, the first baseman, whammed 11 Portland homers. Joe got six of them."
Four days later, in another Brovia story, Bill Conlin said the pride of Santa Cruz enjoyed playing at Harvey West Stadium for the Solons, calling them a "big league" team. The voracious eater liked how the club furnished two sandwiches and a pint of milk at each player's locker for the midday break in workouts lasting from 10 o'clock to 2 in the afternoon. But the Portland club took the cost of the same sandwiches and milk out of players' meal money.
"By the same token, the Solon ball club regards Brovia as a big-league hitter even though his fielding leaves something to be desired. Those ground balls give fits to the Jolter."
Conlin compared Brovia to big Gus Zernial, a good hitter who went to the majors after a sterling season with the 1948 Hollywood club. Zernial, "a tanglefoot who was apt to get hit on the head by a fly ball," was earning $34,000 a year and starring as a hitter in the American League. Big Joe, Conlin figured, could make it as a pinch-hitter–like Johnny Mize of the Yankees. Even when partially fooled by a pitch, the Davenport Destroyer could whale it over the opposite field fence–a feat he had accomplished in almost every PCL ballpark.
"Perhaps there is a chance for Brovia to make the grade upstairs," Conlin concluded. "A lot of PCL pitchers could be counted on to welcome the promotion."
Dennis Snelling later quoted Brovia on his ferocious attitude toward pitchers: "When a guy's out there pitching, hey, I'd sit there and watch him. Everybody'd be up there in the clubhouse … I liked to go up and change after outfield practice. I'd watch how their guy's throwing: is he gonna throw three-quarters, sidearm, or overhand? I'd go out and watch this guy throw; try to pick the ball off, try to pick it up when it leaves his hand. Mental, 100 percent, hear me? And concentration, 100 percent. You gotta have that confidence, 'Hey, I'm going to hit you, you son of a bitch.' I hated pitchers, that's what made me concentrate. That's the way I was."
Artist Bill Forst, who recalled seeing Brovia play an exhibition game and blast a ball off the stadium light tower in 1953 or 1954, met Joe in the mid-1980s. Friendly and down-to-earth, the old pro showed Bill his scrapbook and reminisced about baseball days. "Like a lot of the old players, Joe told me he had no regrets," Forst reported. "He just loved the Coast League."
Like all ballplayers, Brovia had his up-and-downs. In one Sacramento game at Portland on April 24, 1953, he was waiting on deck for his next at-bat when a Beavers fan began calling him names that reflected on his ancestry. The Jolter took the insults for a few minutes, and suddenly he turned and climbed the screen next to the visitors' dugout, wielding a weighted practice bat. The fan chucked a cup of beer in his face, and Brovia, seeing red, swung at the offender. The umpires finally restored order. The outfielder's actions led to his banishment from the contest, while the police ejected the unruly customer from the ballpark. Said Brovia afterward, "I never have trouble with fans any place but this guy kept calling me names that no one could stand."
In fact, according to a story appearing that summer in the Santa Cruz paper, the Italian paisano always received large amounts of mail: "Few Coast League ballplayers receive as much fan mail as Joe Brovia, demonstrating once again that the paying clients love a slugger. Joe saves it all and in his parents' home here in Santa Cruz, has boxes and bales." When his backers found out, mistakenly it developed, that Joe was a stamp collector (he did collect some as a youth), he also received packets of stamps from fans.
The mail story reflects the charisma big hitters like Brovia can have. When fans know a batter can go deep, they anticipate he will connect and drive the ball out of the park. They look for the long ball each time he steps to the plate. Hitting a homer is the ultimate thrill as well as the secret but shared vision of every person who has ever played the game and swung a bat. And if the big hitter has weaknesses as a player, don't the flaws make him all the more human and endearing?
On Saturday, March 12, 1953, the Oaks held a "Brovia Day," one of several he enjoyed during his career. The big outfielder told sportswriter Arnold Wechter he was happy to play in Sacramento before fans who had supported him since 1940. "This is my home," Joe explained, "not because I was born and raised here, but because of the people I can call my friends."
When his two years at Sacramento ended, Brovia had produced two .300-plus seasons. Playing 165 games in 1953, he averaged .314 with a career-high 36 doubles, one triple, and 20 home runs. For 149 games in 1954, the longtime Coast Leaguer batted .302 with 32 doubles, no triples, and 13 homers–his lowest total of four-baggers since he hit 11 for Portland in 1949. Both seasons he also walked more than he struck out. But Sacramento, which finished last in the eight-team PCL again in 1953, saw the club's attendance rise from 159,776 in 1952 to 180,271 with Brovia in the lineup. In 1954, the Solons climbed a notch to seventh place, while attendance rose slightly to 186,245. Few doubted the increases were tied to Brovia's performances.
Traded to Oakland for Pete Milne in the offseason, the 33-year-old Jolter arrived in the Bay Area determined to prove he still swung a big bat. According to the Oakland Tribune of March 8, 1955, Brovia, who thus far participated in a couple of workouts, came in to pinch hit in the ninth inning of the Oaks' first exhibition against the Solons. He promptly belted a two-run triple. A few days later, in an exhibition against the Seals, Brovia started in his customary right field slot and slammed a home run that carried more than 500 feet, "the ball clearing the center fence and bouncing onto the porch of a house across the street." In a pregame workout on March 7, he blasted a pitch out of the park. The ball was still rising as it disappeared over the 325-foot marker!
Brovia had "explosive color," and it usually came with a whoosh: "Joe may not lead the league in home runs, and he may not hit for the distance as often as Acorn fans would like, but every time he does belt for four bases he'll bring the audience to its feet," the Tribune wrote.
Three weeks into the 26-week Coast League season, the Jolter was leading the circuit with six home runs. Jack McDonald of the San Francisco Call-Bulletin predicted that if Brovia continued his present pace, he would belt 52 four-baggers in 1955. Reminding readers the big power hitter was "fired" by the Seals in 1949 for wearing his bloomers too low to suit owner Paul Fagan, McDonald quoted Oakland pilot Lefty O'Doul–now reunited with his former Seals' star–as saying the flychaser could wear his pants anyway he liked, "as long as he continues to get those loud base hits." Along with George Metkovich and Jim Marshall, Brovia formed a triple slugging threat for Oakland.
Brovia enjoyed a good season for Oakland, hitting .325 with 19 doubles, four triples, and 19 four-baggers. But his performance for the Oaks was split around a "cup of coffee" with the Cincinnati Reds, who purchased his contract on June 29. At the time he departed for Cincinnati, he was hitting .336 and had blasted 15 homers.
The Davenport Destroyer, who long yearned for a shot at the majors, lost his first chance when the Chicago White Sox purchased his contract in late 1942. But within a month, he was drafted into the military. Also, the big guy learned that when the Detroit Tigers indicated an interest in buying his contract in 1951, Portland placed an "exorbitant" price tag on his services.
By 1950 some Coast League owners were working to gain an "open" classification, instead of Triple-A, for the prime West Coast circuit. Finally, they received open status in 1952 with the aim of getting the PCL designated as a major league. The dream ended in 1958 when the New York Giants moved to San Francisco and the Brooklyn Dodgers moved to Los Angeles, thus cornering the two largest PCL markets. But during the late 1940s and the 1950s, owners liked to trade star players within the circuit, not send them to the big leagues–a custom that hurt Brovia's career.
And so in Seattle on Wednesday morning, June 29, O'Doul awoke Brovia at 8 o'clock and informed him he had been sold to Cincinnati. The 33-year-old slugger packed his bags (but forgot his bat) and flew to Cincinnati via San Francisco. Reds manager Birdie Tebbetts informed Brovia he would be used for pinch hitting, which was tough duty for the big rookie. In his first at-bat in Milwaukee against the Braves, Joe, who always had the most trouble with lefthanders who threw a good curve, fanned on an excellent curveball from southpaw ace Warren Spahn.
In the end, Brovia didn't get much of a chance with fifth-place Cincinnati. He did start one game, an exhibition with Detroit during the Fourth of July weekend. Big Joe recalled connecting for a double and a circuit clout in four trips.
In a 1994 letter, Brovia wrote, "The homer and double I hit against Detroit was hit in Cincy. We went on the road after that. Gus Bell [his roommate] said, 'Joe, Birdie should play you now.' We had three outfielders who were hurt. I asked Tebbetts if I could play. We were playing the Giants in the Polo Grounds in New York.
"Tebbetts said to me, 'You are a liability in the outfield. We bought you to pinch hit.'
"That took everything out of me," recalled the old slugger. He was deeply disappointed, and his pride was wounded.
In fact, Cincy featured an outfield with two big sluggers: Wally Post, playing right field, hit .309 with 40 homers and 109 RBIs, and Gus Bell, covering center, averaged .308 with 27 four-baggers and 104 RBIs. In left field the Reds, looking to replace injured slugger Jim Greengrass, usually started Stan Palys, obtained in a midseason trade from the Philadelphia Phillies. Palys batted .217 with seven home runs and 28 RBIs.
Tebbetts had his regulars set, and Brovia, with his lack of speed and his average fielding skills, had no real chance to break into the lineup–unless he could quickly adjust to major league pitching and star as a pinch hitter.
Still, Arnold Wechter, writing on August 9, 1955, reported, "Brovia, who roomed with Gus Bell, said he went all out to make good. He claimed to have run every day at least 25 minutes to keep in shape, plus following orders to a letter. Among his duties were pitching batting practice and shagging flies in the outfield."
The Jolter figured he didn't get a long enough trial: "As it is, I didn't get to know the pitchers and what to expect when they threw. I also must admit I tightened up a little when I first started."
Brovia's dream had no good ending. The Reds sold him back to Oakland on August 7, and a few days later he was back in the Bay Area wearing his Oaks uniform. In 21 games for Cincinnati, the PCL great got 18 official at-bats. He singled twice, walked once, drove in four runs, and fanned six times, giving him a big league mark of .111. Evidently local sportswriters didn't care much for Brovia. Resting at home in Santa Cruz before rejoining the Oaks, he told sportswriter Phil Norman he saw newspaper stories criticizing the Reds' management for buying "washed up ballplayers" like himself and Sam Mele. The attitude of many scribes was, Joe recalled, "downright vicious." He had few good memories of his stint with the Reds.
In 1955, Brovia played 114 games total for Oakland in what became his final Coast League season, and he batted .325 with 19 home runs and 73 RBIs. In 1956 the Reds sent him to Buffalo of the Triple-A International League, but he didn't prosper, averaging .230 with six homers and 28 RBIs in 46 games. Released, he moved home and finished the year with San Jose of the Class C California League. There he played 72 contests, hit a strong .361, and thrilled area fans with 22 circuit clouts and 90 RBIs. In his last hurrah, the 35-year-old flychaser played part of 1957 with Vera Cruz of the Mexican League. In 25 games he averaged .313, but he failed to hit a single homer and he knocked in only four runs. The big guy ate some bad food, got sick, played one more week, and jumped the club. The league suspended Brovia, which effectively ended his baseball career.
The paisano returned to Santa Cruz and worked fifteen years at different jobs, including driving a beer truck. But the years spent lifting heavy kegs of beer later injured his back. Joe also worked many weekends at the Pokerino Booth on the Santa Cruz boardwalk. The second job meant he labored between 50 and 65 hours per week, but he had to support his family. He also served as a coach in the city's Little League, an assignment he enjoyed. His health struck out around 1970, but he came through with one more big hit when he married Cathy.
Dave Newhouse summarized his favorite ballplayer's health in a column on August 8, 1993. Brovia had lived through four back surgeries in the 1970s, which left him bedridden for four years. He also endured two hip implants, which, along with Joe's rehabilitation program, finally allowed him to walk with a leg brace by 1980. By that time he was living on a disability pension, while Cathy worked full time. Later, in June of 1993, doctors discovered a malignant chest tumor, and he received more than 30 radiation treatments.
"The Davenport Destroyer deserves a break," Newhouse concluded.
In 1994, reflecting on his famous home run, Joe said, "When I hit the ball, I could feel the bat give in or kind of bend in my hands.
"I could not buy a beer or pay for my meals. Everything was on the restaurants for about a month. People could just not believe it. Anyway, the ball ended up hitting a drunk on Potrero Avenue, and he gave it away for a gallon of wine!
"The ball club put up a star with my name on it where the ball left the park. The Giants came to town and they played two years at Seals Stadium. That's when Willie Mays saw the star, and he said that was a $10 cab ride.
"When they tore the fence down, I did not get the star with my name on it, and the fans in San Francisco were pretty mad about it. The next thing I knew they gave me a night and honored me with a star, which was made out of plywood with my name on it.
"It was a very emotional night for me. They had about 400 fans and Joe Orengo as the master of ceremonies. He presented it to me. Sports History had a nice article about me and the homer in 1988. The writer said it was hit 560 feet and compared it to Mickey Mantle's home run in Griffith Stadium in D.C."
In the end, the onetime Davenport Destroyer did not get the break for which Dave Newhouse and Brovia's many friends hoped and prayed. His ninth inning ended on August 15, 1994, as mail from fans, friends, and relatives arrived daily at the Brovia home in Santa Cruz.
Still, Joltin' Joe knew about his last big break: he finally won the respect and recognition from historians, sportswriters, and fans that his career merited. World War II took away his first shot at the majors with the White Sox in 1943, and Portland's high price tag cost him a chance with the Tigers in 1951. Later, in 1955, he could not live up to Cincinnati's great expectations of him as a pinch-hitter.
But for twelve remarkable seasons during the glory years of the Pacific Coast League, Joe Brovia, the son of Italian immigrants, the small-town-boy-made-good, the determined slugger who longed for his next chance to blast a baseball, excited thousands of people with his powerful hitting and his unconventional personality. Unfortunately, Joltin' Joe did not live to see his 2005 induction into the Pacific Coast League Hall of Fame, but he deserved the honor.
Sources
Letters from Joe Brovia, January 2, 18, February 11, 27, March 21, May 7, 1994; letter from Cathy Brovia written for Joe, June 26, 1994; and letter from Cathy, September 6, 2006; Baseball Encyclopedia, Macmillan Publishing, 1990 edition; Pat Doyle's Professional Baseball Player Database, version 6.0; clippings in Brovia File at National Baseball Hall of Fame's Library; clippings from Brovia Scrapbooks, courtesy of Cathy Brovia; chapter on Brovia in Dennis Snelling's A Glimpse of Fame: Brilliant But Fleeting Major League Careers (Jefferson, North Carolina: McFarland, 1993), pp. 89-102.
Born
February 18, 1922 at Davenport, CA (USA)
Died
August 15, 1994 at Santa Cruz, CA (USA)
If you can help us improve this player's biography, contact us.
https://sabr.org/sites/default/files/BroviaJoe.jpg
600
800
admin
/wp-content/uploads/2020/02/sabr_logo.png
admin
2012-01-04 20:27:13
2021-09-22 18:52:08
Joe Brovia