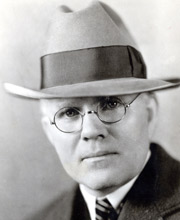 ---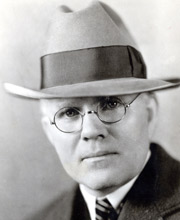 Best known as the president of the National Football League from 1921 to 1939, Joe Carr also worked many years in a variety of executive positions in minor-league baseball.1 He was an officer of the Ohio State League (1910-1916), president of the Columbus team in the American Association (1926-1931), and promotional director of minor-league baseball (1933-1939).
Joseph Francis Carr was born on October 23, 1879, in Columbus, Ohio, the son of Michael and Margaret (Hurley) Carr.2 The second youngest of seven children, Joe grew up in the Irish neighborhood on the north side of Columbus, where his immigrant father earned a living as a shoemaker before becoming a sewer contractor.3 Joe had just a grade-school education, going to work in his early teens to help with the family finances.4
In 1900 Carr began working as a machinist in the engine repair shop at the Columbus train station on the Pennsylvania Railroad.5 This rail line was known as the Panhandle, since its route from Pittsburgh to St. Louis crossed through the sliver of West Virginia dividing Pennsylvania and Ohio that resembled the handle of a pan. Carr found time to organize and manage a baseball team called the Panhandle White Sox, sponsored by his employer, which competed in the semipro leagues in Columbus.6 He no doubt also watched the newly organized Panhandle football team play its games on Sunday.
During his entire adult working life, Carr had an exceptional work ethic. He always held at least two jobs, and often three, although his tertiary ones were usually seasonal. His economic strategy was to have one primary job, to pay the bills in the short term, and use the other jobs to develop skills that would pay off in the long term. In this first stage of his working life, Carr's primary job was machinist in the Panhandle shop, where he probably worked the morning shift, which allowed him to hold a secondary job in the late afternoon and evening. In 1902 that secondary job was sportswriter for the Ohio State Journal.7
Why Carr, a manual worker with a grade-school education, was hired to cover sports in Columbus is unclear. Perhaps sports editor Robert Read was impressed by the promotional abilities that Carr demonstrated in his tertiary job (unpaid) as manager of the semipro Panhandle baseball team. By covering the minor-league games of the Columbus Senators in the American Association, Carr developed a relationship with Bob Quinn, the team's business manager, who was influential in advancing Carr's career in sports.
By 1905 Quinn had developed a farm system, using teams based in smaller cities in Ohio in the Class C Ohio-Pennsylvania League to develop promising ballplayers to improve the Columbus team.8 To better control player development, Quinn organized, and was president of, the Class D Ohio State League in 1908. As a sportswriter for the Ohio State Journal, Carr was familiar with the league's purpose and operation, since he likely covered some games or at least coordinated reports for publication.
In 1907 Carr's tertiary job managing sports teams for his railroad employer morphed into being the manager of the Panhandle football team, which competed against other semipro teams in Ohio, the incubator of American professional football.9 As the team's manager for another dozen years, Carr developed valuable business skills, such as negotiating pay with players, scheduling games, managing expenses, and promoting the games to attract paying customers.
When the Newark, Ohio, team in the Ohio State League suffered financial problems in 1909, Quinn hired Carr to be the team's business manager to try to revive the nearly bankrupt team. "Carr is a thorough going ball man and a clever fellow personally, and it looks like the league has picked wisely," the Portsmouth Times reported about Carr's first job in professional baseball.10 His secondary job in the newspaper business expanded in 1910 when Carr became secretary-treasurer of the Ohio State League, working with the new president who succeeded Quinn, Ohio State Journal sports editor Read.
On June 27, 1911, Carr married Josephine Sullivan at a wedding ceremony in Columbus.11 They raised a family of two children, Mary (born in 1913) and Joe Jr. (born in 1915), first in their home in Carr's childhood neighborhood and later in their more suburban Columbus home.12
Carr left his primary job as a machinist with the Pennsylvania Railroad in 1914 to be secretary of the Franklin County liquor-licensing board.13 With a white-collar primary job to support his family, he devoted more effort to being a sports executive. He augmented his writing job at the Ohio State Journal by working as the secretary-treasurer of the Ohio State League from 1910 to1914.
As league secretary, Carr discovered that operating a minor league was not dissimilar to herding cats. The independent-minded businessmen who owned the teams soon balked at Quinn's use of the league as a talent feeder system for the Columbus team. Many of the discontented owners dropped out of the league at the end of the 1912 season. Quinn then sought other avenues for a farm system, including establishing his own farm team, the Columbus Cats, in the Class B Interstate League.
For the 1913 season the Ohio State League contracted to just four Ohio-based teams, but expanded into four cities in Kentucky and West Virginia. When the Federal League operated as a third major league during the 1914 season, the Ohio State League barely stayed afloat, as just four of its eight teams remained in business at the end of the season. Carr became president in 1915 to try to stabilize the Ohio State League. He managed to navigate the six-team league through a full season in 1915, but by July of 1916 the league collapsed. Carr's first stint as president of a sports league lasted just a season and a half.
After the Ohio State League closed down, Carr left the liquor-board job for the more lucrative prospects of being a traveling salesman, which was his primary job into the mid-1920s.14 At his secondary job with the Ohio State Journal, he was promoted to assistant sports editor, covering bigger events such as the World Series and heavyweight boxing matches. Carr gave up the sportswriting job in the early 1920s when his tertiary job as manager of the Panhandle football team became more prominent and elevated to his secondary job.
In 1920 the Columbus Panhandles competed in the inaugural season of the American Professional Football Association. This role consumed even more of his time in 1921 when Carr became president of the APFA, soon to be renamed the National Football League. As NFL president, Carr's previous experience in minor-league baseball of trying to hold together a league made up of undercapitalized teams proved invaluable as he transformed pro football into a financially viable business by the late 1920s.
During the early 1920s Carr kept his hand in baseball as he attempted to revive minor-league baseball in Ohio. Several times he came close to re-establishing former leagues, but could not pull it off. Neither the proposed Ohio-Indiana League in 1920 nor the resurrection of the Ohio State League in 1921 turned into reality.15 Carr tried again in 1924, which generated a lengthy article in The Sporting News ("Baseball Fever in Ohio Towns Rising") but did not prove fruitful on the ground.16
Undeterred at his lack of success in baseball development, Carr tried his hand at promoting the new sport of professional basketball. In the spring of 1925 he was named the president of the American Basketball League.17 He held this tertiary job through the 1927-28 season, as he tried to persuade a skeptical public to pay to watch pro basketball.
During the summer of 1926 Carr become president of the Columbus minor-league baseball team in the American Association. His initial role was to engineer the sale of the team, which by 1926 was nearly bankrupt and hopelessly mired in last place in the standings. Carr helped to facilitate the sale in December of 1926 to the Cincinnati Reds.18 Staying on to run the team as a farm club for the Reds, Carr had a new primary job, as he gave up his job as a traveling salesman.
The gradual reordering of Carr's employment priorities was evident in the Columbus City Directory in the late 1920s, when his listing showed Carr working three jobs, presumably in his order of importance: president of the Columbus baseball team (primary), president of the NFL (secondary), and president of the ABL (tertiary).19
During his four full seasons (1927-1930) as president of the Columbus baseball team, Carr tried to balance the player-development element of minor-league baseball with the traditional civic-responsibility aspect for local businessmen to be stewards of the city and use minor-league baseball to promote the city's regional economic vitality. Carr struggled to stabilize the team's financial picture, especially after the Great Depression hit in 1930, and had few successes in player development, the main reason the Reds had purchased the team.
The Reds sold the Columbus team in February 1931 to a group headed by Larry MacPhail.20 MacPhail inaugurated night baseball in Columbus and transformed the team into a highly successful farm club of the St. Louis Cardinals during a chaotic period for minor-league baseball, whose future was in serious doubt.
In December of 1931 Carr was appointed to a five-man executive committee to oversee minor-league baseball following the retirement of Michael Sexton, the longtime president of the National Association of Professional Baseball Leagues (the governing body of the minor leagues).21 Carr and his associates conducted research during 1932 to fully comprehend the fundamental problems impacting the growth and stability of the minor leagues.
There were just 13 minor leagues left in existence at the end of the 1932 season, half the total of 26 leagues that just three years earlier had begun the 1929 season. Carr was named promotional director of the minor leagues in January of 1933 to reverse this dramatic decline.22 Newspapers called him the Columbus of minor-league ball and, more alliteratively, the Moses of the Minors.
While he was piloting the NFL to a larger presence on the national sporting stage during the 1930s, Carr devoted significant time to his secondary job in minor-league baseball. For once in his life, he had no tertiary job. Carr's role as NFL president prepared him well to be a missionary-at-large for minor-league baseball, as football had helped him hone his skills at consensus-building among high-ego people and working with the press to attract favorable attention to the league.
Carr revived three minor leagues for the 1933 season (New England, Dixie, and Northern), but he achieved a net increase of just one (from 13 to 14 leagues) since two holdovers from 1932 failed to restart. The Sporting News hailed this as positive news, though, since "this was the first time in 26 years that every league that started was able to finish, a sure indication that the sport is on a firmer basis."23 Carr's role was not to be merely an evangelist to start up leagues, but to use a businessman's eye to organize leagues to survive one full season and preferably longer. This was a tall order in the midst of the Great Depression.
Minor-league baseball had its own New Deal program, from Carr's perspective, similar to how FDR was revamping the national economy through government investment. "We are working on a five-year program and by the end of 1937 we hope to have 50 leagues in operation," Carr said at the beginning of the 1934 season. "We will draw our playing talent from younger men, but this expansion will furnish a great deal of employment for older players as managers and instructors."24
Carr used many approaches to convince people to invest in minor-league baseball. He talked to major-league team owners about establishing new teams to be part of their farm system to develop ballplayers. He used the civic-responsibility angle with businessmen to enlist their backing for a new team to promote their city's growth, not bashful about emphasizing the badge of shame associated with a city that was unable to field a team in Organized Baseball. He even lobbied federal-government bureaucrats to build new ballparks with money from New Deal programs such as the WPA.
In addition to the supply side, Carr articulated the new demand for baseball among emerging middle-class workers to be tapped through night baseball, to replace the shrunken day-baseball audience that had bankrupted so many minor-league teams in the late 1920s and early 1930s. He also touted the new Shaughnessy playoff format being adopted throughout the minors, which helped to maintain fan interest throughout the season.
Carr adeptly worked with both the local and national press to spread the word about the growth of minor-league baseball. In cities where he sought to revive a league, he generated publicity about the possibility of a new team in town. For example, in 1935 the newspaper in Zanesville, Ohio, touted "Minor League Revival Looms" in anticipation of the return of the Ohio State League.25 At the national level, Carr provided wire-service writers with annual press releases touting statistics to demonstrate the success of the growth strategy. For example, in 1937 the Boston Globe ran an Associated Press account headlined "Carr Sees Big Year for Minors."26
During the 1935 season there were 21 minor leagues, a 50 percent increase over the 14 leagues in 1933. Carr lined up five new leagues for the 1936 season, including his beloved Ohio State League following a 20-year hiatus. "Today, the structure of most of the minor leagues is at a point where the men who had the courage and faith to put time and money into the game can realize on their investment," Carr told a wire-service writer.27 Most of the new leagues were at the Class D level, where Carr could most easily deploy the selling points of player development and civic responsibility to persuade people to invest in new teams.
By April of 1939 there were 40 minor leagues operating in 279 cities in 40 states, according to Carr's annual state-of-the-minors press release reported by United Press, which one newspaper published under the headline "Minor League Baseball Now in Healthiest State."28 Less than a month later, though, The Sporting News was eulogizing Carr upon his death, writing that "Carr played a vital role in bringing the minors back to the top from the doleful depths of 1933."29
Joe Carr died on May 20, 1939, in Columbus and is buried at St. Joseph's Cemetery in nearby Lockbourne, Ohio.30
Acknowledgments
This biography was reviewed by Len Levin and fact-checked by Chris Rainey.
Notes
1 The focus of this biography is Carr's career in professional baseball. There is an excellent examination of his football career in a book written by Chris Willis, The Man Who Built the National Football League: Joe F. Carr (Lanham, Maryland: Scarecrow Press, 2010).
2 Birth records in 1879 for Franklin County, Ohio (Page 352-353, Number 1238). At the time, his family spelled their surname as Karr, which they switched to Carr in 1900.
3 Federal census records in 1880 for Michael Karr, 419 Mt. Vernon Avenue, Columbus, Franklin County, Ohio; federal census records in 1900 for Michael Carr, 274 Hamilton Avenue, Columbus, Franklin County, Ohio; Columbus City Directory, 1884, 1889, 1896.
4 Willis, Joe F. Carr, 13; Columbus City Directory, 1896, lists 17-year-old Carr working as a machinist.
5 Willis, Joe F. Carr, 14.
6 Willis, Joe F. Carr, 16.
7 Willis, Joe F. Carr, 15.
8 Craig Lammers, "Bob Quinn, Founder of the Farm System," in Can He Play? A Look at Baseball Scouts and Their Profession, Jim Sandoval and Bill Nowlin, eds. (Phoenix: SABR, 2011), 12.
9 Willis, Joe F. Carr, 28.
10 "Newark Make[s] Clean Sweep," Portsmouth (Ohio) Times, August 4, 1909.
11 Marriage records in 1911 for Franklin County, Ohio (Number 25923).
12 Federal census records for 1920 and 1930 for Joseph Carr, Columbus, Franklin County, Ohio, in 1920 at 1285 East Long Street and in 1930 at 1863 Bryden Road.
13 Columbus City Directory, 1914.
14 Columbus City Directory, 1916, 1920, 1924.
15 "Carr to Combine Circuits," The Sporting News, April 15, 1920; "Ohio State Taking Shape," The Sporting News, November 3, 1921.
16 "Baseball Fever in Ohio Towns Rising," The Sporting News, January 3, 1924.
17 "American Basketball League Is Formed by Cleveland Meeting," Huntington (Indiana) Press, April 26, 1925.
18 "Purchase of Columbus Club as Farm Appears Near," The Sporting News, December 9, 1926.
19 Columbus City Directory, 1927.
20 Associated Press, "Columbus American Association Club Taken Over by MacPhail," Hagerstown (Maryland) Herald, February 14, 1931.
21 Edgar Brands, "Committee of Five Assumes Administration of National Association," The Sporting News, December 10, 1931.
22 "Joe Carr to Promote Game," The Sporting News, January 19, 1933.
23 Harry Neily, "Carr Sets Ultimate Goal at 50 Minor Leagues," The Sporting News, February 15, 1934.
24 Neily, "Carr Sets Ultimate Goal."
25 "Minor League Revival Looms," Zanesville (Ohio) Signal, January 21, 1935.
26 Associated Press, "Carr Sees Big Year for Minors," Boston Globe, April 11, 1937.
27 United Press, "Business Boom in Baseball Predicted for This Season," Charleston (West Virginia) Mail, April 12, 1936.
28 United Press, "Minor League Baseball Now in Healthiest State," Hammond (Indiana) Times, April 30, 1939.
29 "Nation Mourns Passing of Joe Carr," The Sporting News, May 25, 1939.
30 Death records in 1939 for State of Ohio (Number 30845); records of St. Joseph's Cemetery, Lockbourne, Ohio, at findagrave.com website.
Born
October 23, 1879 at Columbus, OH (US)
Died
May 20, 1939 at Columbus, OH (US)
If you can help us improve this player's biography, contact us.
https://sabr.org/sites/default/files/CarrJoe.jpg
600
800
admin
/wp-content/uploads/2020/02/sabr_logo.png
admin
2018-11-06 12:24:26
2020-04-09 14:38:39
Joe Carr