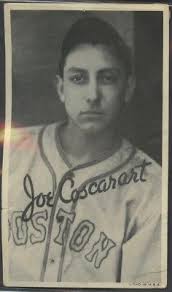 ---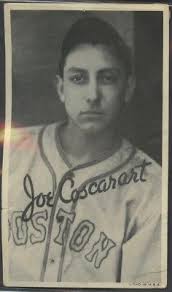 The Coscarart brothers, Joe, Pete, and Steve, were the pride of their hometown of Escondido, California, even when still high school students. Called "ball playing fools" by the San Diego Union, Joe Coscarart was the shortstop and cleanup hitter, his brother Steve batted second and played second base, while brother Pete Coscarart was the "little fellow," and lead-off hitter who played left field or "wherever you want to put him." These three brothers, hailed as "among the most promising players in the country" would indeed see great success on the baseball diamond.1 Pete, an outspoken leader for pre-1947 major leaguers who wished to receive a pension, had a nine-year career in the big leagues. 2 Steve, considered by his brothers to be the best hitter among them, spent several years in the minor leagues, but a beaning kept him from joining his brothers in the majors.3 Then there was Coffee Joe, who spent six years working his way through the minors before attaining a spot on the 1935-36 Boston Braves/Bees, only to spend his remaining six years back in the minors. Though a short career for Joe, he could smile 40 years later regaling listeners with stories about being a teammate of Babe Ruth.
Joseph Marvin Coscarart was born November 18, 1909 in Escondido. Joe, his brothers, and a sister Helen were born to Peter (also listed as Pierre or Pedro) and Victoria (Rangall) Coscarart. Peter was from Urepel, Aldudes in the Basque area of the Pyrenees Mountains of southwestern France bordering Spain. He immigrated to the United States in 1888. Victoria was born to Spanish parents in San Diego County in California, making Joe and his siblings first-generation Basque. The family lived on a farm raising horses, sheep and goats which is now part of Rancho Bernardo.4
The Coscarart brothers learned from their father the Basque game known as pelota, similar to the American game of handball, although racquets could also be used.5 Much of the boys' athletic skill was attributed to this game. When they discovered baseball in town, it was hard for them to convince their parents, who worked long hours on the farm, that this new game was a worthwhile pursuit. "But," young Pete remembered, "when my father and mother found out that good money could be made playing ball, they changed their attitude. Joe was the first to convince them that it wasn't a bad trade to follow."6 Victoria remembered the boys' eagerness to play baseball. "It seems that almost every time they came home they would get out their ball gloves and start throwing the ball around," she said. "We used to get after them once in awhile and remind them that there was work to be done. Each one had his chore to do after school, and they worked hard; they usually hurried through to be able to play ball."7
Joe remembered the baseball fields of his youth. "We used to play in a vacant lot and find a limb of a tree to make a bat with and then tape up an old ball with black tape to play with. I don't think the kids today appreciate what they have."8 Despite such humble beginnings, the brothers were star players for both Escondido High School (San Diego County League champions in 1927) and the Grape Pickers, a local semi-pro team.
Joe's life changed on Sunday, February 11, 1929. He was playing shortstop in a sandlot game. Red Killefer, the manager of the Mission Reds of the Double-A Pacific Coast League, out on a Sunday drive with his family, noticed the game in progress and thought he would stop and watch a few minutes. Killefer was amazed at Coscarart, whom he said "stood out like a lighthouse over all the others."9 Red watched the rest of the game, and at its conclusion he offered Coscarart a contract on the spot.
He sent the young talent, whom he described as the "best looking young shortstop" he had seen in years, to Stockton (California) for training in the winter league.10 Coscarart spent the 1929 season playing for the Class D San Bernardino Padres of the California State League, batting .250 in 49 games. Abe Kemp, sportswriter for the San Francisco Examiner, noticed Coscarart's glove more than anything. "Hands like an oak," he wrote. "Gets a good jump on the ball, fine arm. No poise, no noise, terribly awkward. The kid will lose some games at the start, but he will come and when he does the boys will be pasting lullabies on their typewriters."11
Coscarart played winter ball in Miami, Arizona, before the 1930 season, where he batted .340. But he later struggled at the plate and in the field for Killefer's Mission team. "Joe tried his best and kicked ground balls as far as any man ever in baseball," wrote Ed R. Hughes in the San Francisco Chronicle. "He also waved a lot of air out of the park as he struck out with men on bases."12
Coscarart's batting improved to .271 in 1931, and he became the Missions regular third baseman in 1932, and he again hit .271 in 110 games. A collision on a pop fly resulted in an injured knee, causing him to miss some action. Mark Koenig, a seven-year major leaguer attempting to make his way back, had been playing shortstop for the team. When Koenig was traded to the Chicago Cubs, Coscarart upon return from his injury replaced him at short. But shortstop wasn't a good fit. "He has strong hands and handles hard hit balls with case and sureness," wrote Hughes. "At short he is apt to let the ball play him and fumbles are frequent." 13
The 1933 season was a reality check for young Coscarart. Despite Killefer's faith in him, this season was now Joe's fourth with the Missions. While still considered a prospect, he had yet to rise to the next level. In fact, after his erratic play during spring training that year, he was released, but another PCL team, Seattle, soon signed him. In a game against Portland, all three Coscarart brothers were in the game: Joe playing third for Seattle, while Steve (at second), and Pete (pinch hitter), played for Portland. "There's a sister at home to cheer for us," Joe remarked, "but we're all the ballplayers." Coscarart had a successful season with Seattle as he batted a combined .306 with 14 home runs. He also became a fan favorite there, known for "his ability to scamper between the light poles to haul in foul flies [which] pulled Seattle pitchers out of many a hole."14
His success continued with Seattle in the 1934 season. Coscarart batted .294 with 206 hits, six home runs, and was voted by the fans to play third base in the postseason all-star series against pennant winner Los Angeles. It was just the exposure he needed, because later in the month the Boston Braves acquired him for Dick Barrett, Dick Gyselman, and Clarence Pickrel. After six seasons of professional baseball, the recently-turned 25-year-old was headed to the major leagues.15
"If a young fellow can win a regular job in the Coast circuit for four seasons then he is entitled for a chance at higher honors," Coscarart wrote in a letter of thanks to the Braves. "It is strictly up to him whether or not he makes good. I think I have the necessary background." Braves manager Bill McKechnie saw early signs of promise in spring training. "The things I like about him at the plate, is that he just meets the ball," the veteran manager said. "He isn't trying to kill it."16
The potential rookie's confidence showed through in the Braves first intra-squad practice game in St. Petersburg, Florida, where more than 5,000 people turned out. They were not there to see Coscarart's debut, but rather to see Babe Ruth, the aging superstar who signed in the offseason as a part-time player/assistant manager with the team. The fans were delighted as the Bambino lifted a couple of pitches out of the park in batting practice, but Ruth didn't play during the game. Instead, he stood and watched as Coscarart hit a sinking liner to center which rolled all the way to the fence as he was "tearing around the sacks as though the sheriff were after him for non-payment of taxes."17
Coscarart's early momentum, particularly in the field, impressed McKechnie. "I haven't seen enough of Coscarart to make a final decision on him, but I know that he can hound that apple." Coscarart made the club as a utility infielder and watched Ruth hit a home run on Opening Day before the delighted crowd at Braves Field. Coscarart made his major-league debut on April 26 at Brooklyn when he went in to pinch run in the ninth inning of a 5-4 loss. On April 29, against Philadelphia, Pinky Whitney, the Braves regular third baseman, was hit in the knee by a sharp grounder and had to leave the game. Coscarart replaced him, and smashed an RBI single to center in his first at bat off pitcher Joe Bowman. From May 18 to the end of June, Coscarart started 31 of the team's 39 games, batting .270 (with a .317 OBP) which included his first major-league home run on June 22 off Chicago's Charlie Root. Coscarart's play in June was fill-in duty at shortstop for the injured Billy Urbanski.18
Coscarart played third base the day Ruth hit his memorable three home runs at Forbes Field in Pittsburgh, the final home runs of his illustrious career. Ruth played his last game on May 30; the aging icon, batting a pitiful .181, called it quits after disputes with the Braves front office about his role in the organization. A classic career had come to a sad end, but Coscarart sparkled almost 40 years later as he showed off his autographed ball and reminisced about his time with the Babe. "He's tops as far as I'm concerned," Coffee Joe beamed to Scooter Chapman of the Port Angeles Daily News in 1974 at his coffee table:
He could hit anybody and even opposing players used to come out to batting practice to watch his swing. There'll only be one Ruth. Just to see him swing was a thrill. As Babe came around the bases (after that third home run in Pittsburgh) he said 'The old guy can still hit 'em once in a while' and laughed. He was hurting us in the field, however, as his legs were gone, but when he was in shape, he was strong and quick in the outfield with a good arm.19
Coscarart started 14 games in July at either shortstop or third and batted .279, including a six-game hitting streak. His three doubles on July 6 contributed to a Braves' win over Philadelphia. But his numbers tailed off when he batted only .163 (15-for-92) in August and September. He finished the season with a .236 average in 86 games, 41 at third, 27 at shortstop, and 15 at second. His fielding percentage, only .954, wasn't impressive either.
Coscarart had also earned the distinction of being part of one of the worst teams in baseball history. The Braves finished 38-115, an unthinkable 61½ games behind the Cubs, not to mention a .248 winning percentage, still the NL record since 1901. The Ruth debacle was partly due to major financial issues facing club president Judge Emil Fuchs, who was desperate to try nearly anything to save the franchise. His luck ran out and he resigned control of the team August 1. When Coscarart arrived in spring training in 1936, Bob Quinn was now the team president and part-owner, attempting to resurrect a mess of a team now known as the Bees.
Long before spring training, however, Coffee Joe heard wedding bells. He went to Seattle on October 23 to marry Edna Lanier, a native of the city whom he had met while playing there.20
When Urbanski hurt his index finger in spring training, Coscarart was determined to take advantage of his opportunity. He put in extra time fielding grounders from Hank Gowdy and McKechnie long after the rest of the team hit the showers. He was expected to continue his role as a utility infielder, but plans changed. At the end of April, Whitney was shipped off to the Philadelphia Phillies for infielder Mickey Haslin. The new guy was expected to be the Bees new third baseman, but he refused to show, demanding a higher salary to compensate for higher living expenses in Boston. When he finally did arrive in mid-May, Coscarart had already provided a spark to the infield. The regular column under the nom de plume Bob Dunbar in the Boston Herald noted that Coscarart "talks it up a lot more than Pinky Whitney did" and was one of the reasons the Braves infield "seems to have so much more color this year than for many a season."
Coscarart batted an even .300 in July, including a career-best 4-for-4 on July 19 in an 8-1 loss. He remained strong, batting .295 in August. His RBI triple in the 10th inning on August 27 in St. Louis provided the only run the Braves needed as Danny MacFayden shutout the Cardinals. Alas, Coscarart cooled off, batting only .179 from August 30 to the end of the season. He finished the season with a .245 average (.292 OBP) in 104 games with a .931 fielding percentage. His 18 errors at third base in 97 games were second-worst in the NL. Coscarart went 0-for-5 in a 4-3 loss at Philadelphia in the last game of the season. It would prove to be his final major-league game. The Braves' 71-83 season, which would be a poor one for most teams, was for them a 33-win improvement.21
Just days after the season finale, Coscarart was traded to Saint Paul of the American Association. He became the player to be named later for pitcher Lou Fette. He batted .278 with four home runs for St. Paul in 1937 and his .961 fielding percentage led all third baseman in the league. Following the season he was traded for cash to Hollywood, California, of the Pacific League. Reunited with Killefer, Coscarart batted .271 with six home runs in 155 games, and his .949 fielding percentage was tied for third in the league among third basemen.22
Coscarart had a falling out with Killefer when he was asked to take a pay cut. He left the team in spring training and returned to Escondido. "I will stay out of professional ball unless I receive the same salary as last season," he said. Seeking an infielder, Seattle re-acquired their once popular star, but an April ankle injury sidelined Coffee Joe for almost two months. The gimping, however, didn't prevent him from becoming co-owner of a florist shop on Olive Way in Seattle.
He returned to the field in plenty of time to join Seattle's pennant run. On July 12, with the bases loaded in the 10th inning of a 3-3 game, Coscarart lined a game-winning single against his old Hollywood team. A month to the day later, Seattle hosted the Los Angeles Angels. With his team holding a tight 4-3 lead, Coscarart successfully handled a slow roller off the bat of a speedy Paul Carpenter with the tying and go-ahead runs in scoring position in the eighth. "I had just one idea when I charged for that ball," Coscarart said. "That was to be sure and get it . . . then if the man reached first I would still have kept the winning run from the plate."
Coscarart batted .300 that season for the Rainiers. They repeated as PCL champions in 1940, but Coscarart's playing time diminished to only 38 games; he hit .264.23
Just before the 1941 season Seattle's league rival, Portland, purchased the now 31-year-old Coffee Joe for $2500. But he batted only .180 and was released in July. In August, the Coscararts had a son Edward born to them, and Joe left the baseball world to work for a Seattle-Tacoma shipyard, where he played for their Seatacs baseball team.24
Coscarart had yet a third stint with Seattle, which was again looking for a utility infielder in 1943. Joe barely had time for a cup of coffee in this, his final stint, batting only .153 in 19 games. Released at the end of May, he headed back to the shipyard and the Seatacs. He also worked for the Seattle housing authority, but by November moved back to California due to an illness in the family. On November 28, Joe and his brother Pete played on a team of "all-stars" from the San Diego area against the Baltimore Giants, a barnstorming African-American team which included legendary stars Cool Papa Bell, Buck Leonard, and Satchel Paige, who no-hit Coscarart & Co. in his five innings of work. Joe scored the only run for the San Diego squad in the 5-1 loss.25
Coscarart eventually moved back to the Seattle area and worked as a driver and salesman for Rainier Brewery for 21 years, retiring in 1970. Edna Coscarart fell ill in December of 1959 and died the following March at the age of 48. Besides Edward, Edna also left behind a daughter, Joan. Joe married Katherine Brent on September 16, 1961, which added several step-children to his life.26
Joe frequently drove to the Sequim, Washington, area where he and Katherine eventually settled for the rest of their lives. He survived two cancer operations later in life.27
Joe Coscarart died April 5, 1993, at the age of 83, the first of the Coscarart brothers to do so. Pete died in 2002, and Steve four years later. The Coscarart name lives on in Escondido, however: the high school baseball field was dedicated and named the "Pete Coscarart Baseball Field" in 1995.28
And Pete had an older brother they called Coffee Joe.
Acknowledgments
This biography was reviewed by Tom Schott and fact-checked by Alan Cohen.
Sources
In addition to the sources listed in the Notes, the author also wishes to thank Cassidy Lent, librarian at the Giamatti Research Center at the Baseball Hall of Fame, for access to Joe and Pete Coscarart's files and questionnaires, as well as Pete Coscarart's scrapbook.
Notes
1 "The Prides of Escondido" San Diego Union, April 28, 1928: 17.
2 Bill Swank, "Strikeout: A 1946 Baseball Strike," The National Pastime (19), 1999: 16-19.
3 Ibid.,
4 Ibid., "Pete Coscarart." Journal of San Diego History. Jan (1995). https://sandiegohistory.org/journal/1995/january/coscarart/ accessed November 27, 2017.
5 Undated article, "3 Coscarart Boys Escondido's DiMaggio's; All Make Good in Baseball's Big Time," no author, in Pete Coscarart's scrapbook, HOF, Cooperstown, NY; The article incorrectly identified the name of this game as "revote." No such game can be found. I believe the proper name is "pelota," because that game was played in the Basque country of France and the article states it seemed similar to handball. See https://theculturetrip.com/europe/spain/articles/a-brief-introduction-to-pelota-bilbaos-sport-youve-never-heard-of/, accessed December 3, 2017.
6 Clipping, Dick Farrington, "Pete, Youngest of Three Ball Playing Coscarart Brothers, Moving up as N.L.'s No. 1 Man at Second with Brooklyn," July 18, 1940, Pete Coscarart scrapbook, HOF, Cooperstown, NY.
7 See note 3.
8 Scooter Chapman, "Coffee Joe Says Babe Ruth was the Greatest," The Daily News [Port Angeles, WA], July 11, 1974: 10.
9 L.H. Gregory, "Killefer Resumes Old Juggling Role," The Oregonian, March 28, 1930: 18.
10 "Veteran Pilot Says Kid is Fine Prospect," San Francisco Chronicle, February 13, 1929: 25.
11 "Bay City Scribe Lauds Coscarart for Fine Showing," San Diego Union, April 1, 1930: 16.
12 Ed. R Hughes, "Coscarart Signed by Missions," San Francisco Chronicle, February 6, 1931: 25.
13 "San Diego Ball Stars Make Good in Leagues," San Diego Union, June 5, 1932: 23; Ed R. Hughes, "McDougall and Sails Fail to Reach Terms," San Francisco Chronicle, February 18, 1933: 12.
14 "Coscarart Released by Mission Club," San Francisco Chronicle, April 16, 1933: 59; "Family Affair," Fresno Bee, April 16, 1933: 13; "'Coffee Joe' Back With Seattle, But Padres Win," Seattle Times, April 7, 1939: 20.
15 "Fans Pick Teams for L.A. Tilt," San Francisco Chronicle, September 26, 1934: 17.
16 Burt Whitman, "Business End of Sox Batting Order Now Under Contract as R. Johnson Signs," Boston Herald, January 30, 1935: 23; Gerry Moore, "Joe Coscarart Features at That 'Hot Corner," Boston Globe, March 2, 1935: 4.
17 "Lee Signs with Braves; Jordan in Camp; Sox Hopes Hinge on Solters," Boston Herald, March 8, 1935: 36.
18 John Drohan, "Ruth, Berger to Face Yanks," Boston Herald, March 15, 1935: 39.
19 Chapman, see note 8.
20 "Coscarart Weds Ceremony Here; Will Go South," Seattle Times, October 24, 1935: 25.
21 LeRoy Atkinson, "Coscarart has a Try at Short," Boston Herald, March 20, 1936: 48; "Haslin Refuses to Don Uniform," Springfield MA] Republican, May 2, 1936: 7; "By Bob Dunbar," Boston Herald, May 14, 1936: 20.
22 "Todt Shades Siebert, Taylor at First Base," Minneapolis Star, December 8, 1937: 18; "Saints Handed Third Baseman," Minneapolis Star, December 10, 1937: 28; "Warner Leads League, Bob Gibson Near Top," Oakland Tribune, December 5, 1938: 16.
23 San Francisco Chronicle, March 25, 1939: 22; "Injury Severe," Morning Olympian (Washington), April 24, 1939: 4; John Lardner, "No Runaway Here," Seattle Times, June 2, 1939: 25; "Coscarart Revenged as Hit Breaks Up Ties Game," Seattle Times, July 13, 1939: 26; "Edo Collects 'Em," Seattle Times, September 13, 1939: 21.
24 "Beavers Add Joe Coscarart for Utility Infielder," The Oregonian, March 31, 1941: 17; "Beavers Start Seattle Series," The Oregonian, July 22, 1941: 23; "Coscarart's Have a Son," San Diego Union, August 27, 1941: 16; "Greg's Gossip," The Oregonian, May 17, 1942: 47; Harry Sharpe, "Boilermakers Sign Star Pitchers for Game With Flyers," Seattle Times, July 1, 1942: 26.
25 "Back in Action," Seattle Times, June 5, 1943: 8; Alex Shultz, "From the Scorebook," Seattle Times, November 20, 1943: 8; "Satchel Paige Sparkles as Giant Nine Wins, 5-1," San Diego Union, November 29, 1943: 11.
26 "Mrs. Joseph Coscarart Taken by Death," Seattle Times, March 24, 1960: 14.
27 Joe Coscarart questionnaire for the Baseball Hall of Fame, Cooperstown, New York; Vince O'Keefe, "Sonics to Lend a Helping Hand," Seattle Times, November 7, 1970: B1; Chapman, see note 8.
28 Pete Coscarart scrapbook.
Born
November 18, 1909 at Escondido, CA (USA)
Died
April 5, 1993 at Sequim, WA (USA)
If you can help us improve this player's biography, contact us.
https://sabr.org/sites/default/files/CoscarartJoe.jpg
600
800
admin
/wp-content/uploads/2020/02/sabr_logo.png
admin
2018-05-29 20:35:44
2020-04-09 14:40:19
Joe Coscarart