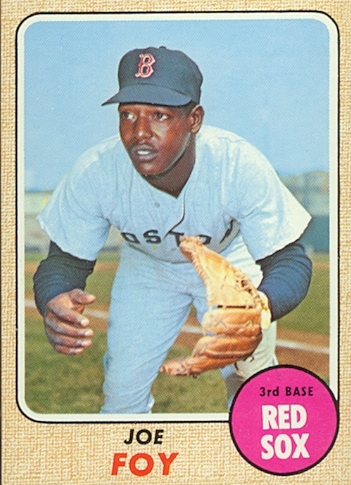 ---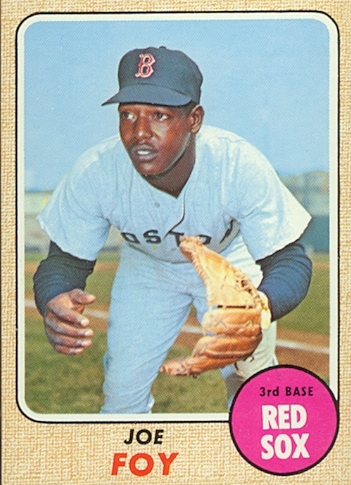 Joe Foy came to the Red Sox organization with an abundance of promise. He showed flashes of brilliance in the minors and during the 1967 pennant-winning season, but Foy's weaknesses, both on and off the field, kept him from being the player he was capable of becoming. Foy was eventually able to overcome some of his personal problems, but tragically died at the age of 46 of a heart attack. Despite his failings, Foy remains a name that will be always be associated in a special way with the miracle 1967 Boston Red Sox World Series team, a team that revitalized baseball in Boston.
Joseph Anthony Foy was born on February 21, 1943 in New York, New York. Ironically, for a future Red Sox player, his home was only seven blocks from Yankee Stadium, although he professed to be a Dodgers fan in his youth. Foy honed his baseball skills by playing stickball in his neighborhood, and from his earliest days in Little League, sandlot, and at Evander Childs High School in The Bronx, Foy, nicknamed Joey, showed versatility, playing catcher, first base, and shortstop; eventually, though, Foy was moved to third base.
Upon graduating from high school in 1960, Foy was not selected by any major-league team despite attending tryout camps held by St. Louis, Pittsburgh, and Philadelphia. He was selected to play in the Hearst Journal-American All Star baseball tournament in New York in 1961. In a 1966 article in the New York Times, Foy remarked that "one scout told me to go to school; another said wait till next year; the others said nothing."1 The primary weakness noted by scouts was that he was too "roly-poly" at 5-feet-9 and 200 pounds. This foreshadowed a weight problem that plagued him throughout his major-league career.
Eventually, Foy was signed by the Minnesota Twins, for "a very small bonus" in 1962, after a successful season with an amateur team in The Bronx, the New York Billikens. He was first assigned to Erie of the New York-Pennsylvania League. After an early attempt to convert him to catcher — he felt he "was a retriever, not a receiver" — he was moved to first base. After he hit .285 in 113 games in 1962, the Boston Red Sox selected him for $8,000 in the minor league draft on November 26. Foy went to spring training with Reading of the Eastern League, again as a catcher, but at the start of the season was a first baseman with Wellsville in the New York-Pennsylvania League as a first baseman. After a month of hitting .350, he spent the bulk of the season at Winston-Salem of the Carolina League, playing mostly shortstop, and hit .259. Following the 1963 season, Foy played in the Florida Instructional League on a combined team of the Boston Red Sox and the then Houston Colt .45s.
Foy began the 1964 season with the Seattle Rainiers of the Pacific Coast League, but on May 30 was sent to Reading of the Eastern League, after hitting only .225 in 14 games. At Reading, he firmly established himself as a third baseman. Foy was selected for the Eastern League All-Star team, along with future Red Sox teammate Mike Andrews, in part because of the .292 batting average Foy posted. Following the 1964 season, Foy again played for the Red Sox team in the Florida Instructional League, again primarily at shortstop.
His play earned him a spot on the Red Sox AAA team, the Toronto Maple Leafs, to begin the 1965 season. After a slow start, Foy's batting average had improved by June to near .300. He was hitting with power and showing improvement in the field, and also displayed a knack for stealing bases. A hot streak of 23 hits in 43 at-bats helped to earn him a spot on the International League All-Star team. This improvement was noticed by Toronto manager Dick Williams and, more importantly, Red Sox skipper Billy Herman, who noted that both Foy and Toronto shortstop Mike Andrews were strong candidates to be infielders in Boston for the 1966 season.
At season's end, Foy was named the Minor League Player of the Year by The Sporting News, won the International League batting title, was chosen to the International League All-Star team as a third baseman, and was named the league's rookie of the year and Most Valuable Player. His main problem area, however, was in his fielding, where he made 26 errors, the most for third basemen in the league, mainly as a result of poor throws.
On November 6, the Red Sox acquired Foy from Toronto; in the words of Manager Billy Herman, "he's our man at third." The prevailing feeling was that, as long as Foy did not try to pull everything as a hitter, given the short left-field fence at Fenway Park, he would become a good major-league hitter.
Mike Andrews remembered Foy with fondness, from way back. "I remember Joe was a catcher then. We were together all the way up to 1965 in Toronto, the Red Sox Triple A team, when Joe won MVP of the league and was so great." He was, Andrews said, "the first black person I was ever close to, and soon he was my best friend. Joe Foy was more than baseball…He was so very special…you won't find anybody who doesn't feel strongly about Joe Foy the person."2 Andrews recognized the additional hurdles Foy had to overcome: "He had to rise above the racial problems, he and Reggie Smith and George Scott, when we were in the low minors. Those guys went through hell in spring training. You just can't overestimate what those guys went through. We'd be in a little town in Florida, and when we'd be done for the day, we'd have to drive to the other side of town and leave them off at one of those houses sitting on blocks." If an issue arose in the clubhouse, Foy could frequently help, Andrews offered: "If ever there were a black-white problem that needed to be solved, Joe was the bridge."
In spring training 1966, Foy was installed as the regular third baseman, with Dalton Jones, who had been given a chance to audition for the job in 1965, as the backup. The long-time third baseman of the Red Sox, Frank Malzone, had been released following the 1965 season, so the job was Foy's to lose. To keep Foy focused during the preseason, coaches such as Eddie Popowski pointed out that Foy's many minor-league awards were in the past, and fellow minor leaguer George Scott, the MVP of the Eastern League at third base in 1965, was in hot pursuit of his job, should Foy slump. Eventually, Scott was switched to first base, while fellow-rookie Foy batted .262 with 15 home runs and 63 RBIs in 554 at-bats, while playing mostly at third base with a few games at shortstop. His fielding average, though, was unimpressive at .953 with 21 errors at third base in 139 games. Foy had a great second half in 1966. He hit .213 with four home runs in the first half, then .306 with 11 homers in the second half, while the team played well. He hit second in the order most of the year.
The 1967 Red Sox, led by new manager Dick Williams, saw Foy as the number two hitter in their lineup. Foy's style of hitting was to hit line drives, with the occasional home run swing; he also was good at hitting behind the runner and did not strike out too often. Once the season began, though, Foy got off to his usual slow start, resulting in his occasional benching in favor of Jones and, later, the June 2 acquisition of Jerry Adair. Williams, as was his style, frequently brought up the issue of Foy's weight and also questioned his hustle on the field. Williams felt that Foy's fielding would improve if he lost some weight.
One highlight of the 1967 season was his fine fielding play which helped preserve pitcher Billy Rohr's no-hit bid in the third game of the season. Foy also hit a two-run homer in the eighth to give Rohr a little breathing room in the 3-0 game. On June 9, despite going 3-for-9 with a home run in the June 8 doubleheader against the White Sox, Foy was benched again. Foy came back quickly, though. Called off the bench to pinch-hit for Lonborg, he hit a fifth-inning homer and added another one later in the game to spark an 8-7 Red Sox win over Washington. There was speculation that manager Dick Williams was benching Foy from time to time as a tool to motivate the young infielder. Williams was also not shy about mentioning Foy's continuing weight problems as a reason for his disappointing performance.
On June 18, prior to a series in The Bronx against the Yankees, Foy spent the night with his parents, and a fire broke out in their home. Fortunately, due to Foy's efforts, his parents and the rest of his family were able to get out safely, but Foy lost many mementos and keepsakes that he had earned over the years. On June 20, in the opener of the Yankee series, Foy hit a grand slam, helping the Red Sox to win 7-1. Later in the game, Foy was brushed back, upsetting his teammates on the Boston bench. The next night, after a Tony Conigliaro home run in the first inning, Foy was brushed back again, in the fourth inning this time by Yankee pitcher Thad Tillotson. Tillotson's very next pitch hit Joe in the helmet. When the Yankees came to bat in the bottom half of the inning, pitcher Jim Lonborg hit Tillotson, who promptly began yelling at Lonborg. This prompted Foy to scream, "If you want to fight, why not fight me? I'm the guy you hit to start all this trouble."3 This ignited a major brawl between the two teams. A sidebar to the brawl was that the Sox' Rico Petrocelli and the Yankees' Joe Pepitone, who grew up with each other in Brooklyn, were involved in the fight. Petrocelli raised Tillotson over his head, slamming him to the ground. Pepitone later left the game with an injury suffered in the brawl.
In a game against the Baltimore Orioles on July 15, Foy started a triple play. He showed exceptionally solid play both on offense and defense for an extended seven-week stretch. Foy's easy-going nature around his teammates really helped in the clubhouse.
One of the players closest to Joe was Carl Yastrzemski. Yastrzemski told the Boston Globe's Michael Madden, "Joe would be so positive. Mr. Yawkey was the most positive guy who ever lived, but if it was possible, Joe was even more positive. I remember the last six weeks of '67, when we were getting down to the nitty-gritty, and maybe there had been a tough loss or something had happened. Mr. Yawkey would come down and Joe would be so up."4 After the season, Yaz invited Joe out to his family's home in Bridgehampton, Long Island for several days.
In time, his bat cooled and he was platooned with Adair and Jones for the remainder of the season. In the World Series, Foy started three games and pinch-hit in three other games, sitting out Game Two. He ended the Series with a .133 batting average with only a single and a double for his 15 at-bats. At season's end, manager Williams stated that the benchings during the season were because of Foy's poor fielding, but that Foy would be the starting third baseman for the forthcoming 1968 season and that he would have to prove that the job was not his in spring training.
Despite reporting to spring training in much better shape than the year before, the 1968 season was a disappointment for Foy, though, both on and off the field. His poor .225 batting average and 30 errors at third base, the most in the league, was further complicated by an off-field incident with pitcher Juan Pizarro involving drunken driving. According to the Associated Press, Foy was the driver of a car, in which Pizarro was the passenger that collided with a taxicab. Boston police charged them both with being drunk. They were both fined $500 for curfew violations and suspended for a doubleheader without pay. This was apparently the last straw for the Red Sox who made Foy available for the expansion draft, which followed the season. Foy was picked high in the draft, selected by the Kansas City Royals as the fourth pick overall. Joe did not leave town quietly, however; he called Williams "a two-faced sneak" who enjoyed hurting people under the guise of making them better ball players.5
In a new city for the 1969 season, Foy improved his game, hitting .262 with 11 HRs and, despite his weight issues, stealing 37 bases, while making only 12 errors at third base. The New York Mets needed a third baseman and offered the Royals both Amos Otis and Bob Johnson in a deal consummated on December 3, 1969. This trade has generally been viewed as one of the worst in Mets history, since Foy hit and fielded poorly during the 1970 season, while Otis became a star with the Royals, playing in the 1980 World Series and in three All-Star games. After the 1970 season, Foy was sold to the Mets' Tidewater AAA team and then was selected, for $25,000, by the Washington Senators from the Mets in the Rule 5 major-league draft on November 30, 1970. After only 41 games with the Senators, managed by Ted Williams, Foy was released by the Senators on July 16, 1971. This ended his professional baseball career.
Both during and after his pro baseball career, Foy struggled through a number of personal crises involving drugs and alcoholism. While with the Senators, Foy, when questioned about his marijuana use, was quoted as saying, "How many young people in New York do you know who haven't smoked grass?"6 Fortunately, he proved able to conquer those demons and counseled troubled youths, as well as pursuing a degree at Lehman College in the Bronx. After a heart attack, Joe Foy died on October 12, 1989 at his home in The Bronx.
Looking back at Joe Foy's career, both a word and a phrase come quickly to mind. The word is "enigma," while the phrase is "what might have been." Foy was an enigma because, by all accounts, he was a good clubhouse presence and well-liked by his teammates. However, his conditioning throughout his career was poor, and incidents such as the 1968 drunken driving one made one question his dedication to the game. What "might have been" is even more interesting since he arrived in the major leagues in 1966 as a bonafide prospect, garnering multiple awards in the minors. His ability to get to balls in the infield, along with his good baserunning, complemented his more than adequate bat. But his relationship with Dick Williams soured somewhere between Toronto and Boston, and one is left to wonder if whether under a different manager, Foy's talents would have been better realized at the major-league level. Foy's choice of friends outside the baseball arena may have also taken a toll on his personal life. Despite a disappointing major league career, though, Joe Foy will always hold a special place in the minds and hearts of Red Sox Nation for his accomplishments during the 1967 season.
This biography originally appeared in "The 1967 Impossible Dream Red Sox: Pandemonium On The Field" (Rounder Books, 2007), edited by Bill Nowlin.
Sources
In addition to the sources cited in the notes, the author also consulted:
MacCarl, Neil. "Foy Cancels Early Flubs — Leafs Find He's Flash at Third," The Sporting News, May 29, 1965: 31.
MacCarl, Neil. "Strong Man Foy: Durable Maple Leaf Mauler," The Sporting News, December 4, 1965: 7.
Boswell, Thomas. "Opening Day: A Fading Memory," Washington Post, April 4, 1979: D1.
Coleman, Ken and Dan Valenti. The Impossible Dream Remembered (Lexington, Massachusetts: Stephen Greene Press, Inc., 1987).
Crehan, Herbert F. with James W. Ryan. Lightning in a Bottle: The Sox of '67 (Boston: Branden Publishing Company, Inc., 1992).
MacCarl, Neil. "Foy Cancels Early Flubs — Leafs Find He's Flash at Third," The Sporting News, May 29, 1965: 31.
MacCarl, Neil. "Strong Man Foy: Durable Maple Leaf Mauler," The Sporting News, December 4, 1965: 7.
Millegan, Lloyd, "Stickballer Ready for Bigger Game," New York Times, February 26, 1966: 37.
Reynolds, Bill. Lost Summer: The '67 Red Sox and the Impossible Dream (New York: Warner Books, Inc., 1992).
Notes
Born
February 21, 1943 at New York, NY (USA)
Died
October 12, 1989 at Bronx, NY (USA)
If you can help us improve this player's biography, contact us.
http://bioproj.sabr.org/bp_ftp/images2/FoyJoe.jpg
600
800
admin
/wp-content/uploads/2020/02/sabr_logo.png
admin
2012-01-04 19:50:16
2012-01-04 19:50:16
Joe Foy