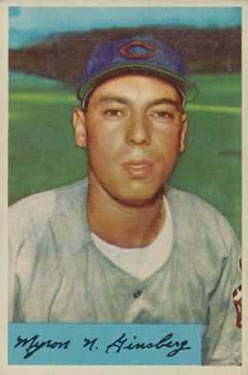 ---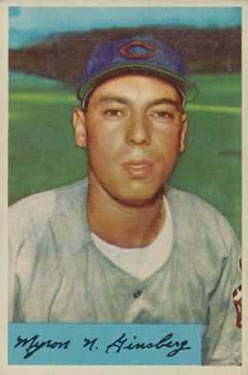 In Detroit's Briggs Stadium on April 17, 1951, Opening Day, 43,470 fans braved 39-degree weather to watch the Detroit Tigers host the Cleveland Indians. For the Tigers, veteran third baseman George Kell was out with an injury. Indians first baseman Luke Easter, also was injured but started and played five innings (two singles) before being removed for a pinch-runner. The Bengals' catcher, Joe Ginsberg, a 24-year-old product of Detroit's Cooley High School and the city's sandlots, had been up with the Tigers before but this was his first Opening Day since the Tigers signed him in 1944. For Ginsberg, it was the realization of a dream to finally be in the Opening Day starting lineup and play in front of family and friends after five years in the minors and two years in the Army.
Though the hometown team lost a heartbreaker, 2-1, on an unearned run in the top of the ninth, Ginsberg, according to manager Red Rolfe, played well despite going hitless in three at-bats.
It was 11 years before Ginsberg started another big-league opener: April 13, 1962, in New York, his birthplace, when he was with the brand-new New York Mets and started their home opener, played before 12,447 fans. He went hitless (0-for-4) that day also.
In the 11 years between those opening games, Ginsberg was an everyday player for just two seasons, 1951 and 1952. After that, he was a backup catcher for five major-league teams and two in the minors. The fact that Ginsberg stayed in the big leagues for 13 seasons, even though mostly as a backup, attested to his love of the game as well as his value to his teams.
Born in New York City on October 11, 1926, he was adopted as an infant by Joe and Rose (Cohen) Ginsberg. His given name was Myron Nathan Ginsberg, but he was called Little Joe after his father, and the name Joe stuck[fn]Peter S. Horvitz and Joachim Horvitz, The Big Book of Jewish Baseball, 69. [/fn]. The family of three moved to Detroit, where his father ran a saloon at Michigan and Third, five blocks from Briggs Stadium. Though the Ginsbergs were Jewish, Joe had no formal religious training and was not bar-mitzvahed[fn]Telephone interview with Joe Ginsberg, July 5, 2010.[/fn].
Besides playing baseball and basketball at Cooley High School, Joe played Legion baseball, and was spotted and signed by Tigers scout "Wish" Egan in 1944. No bonus was reported.
The 5-foot-11, 180-pound Ginsberg broke in with Jamestown (Pennsylvania) Falcons of the Class D Pennsylvania-Ontario-New York League. One of his teammates was 16-year-old center fielder and future Hall of Fame infielder Nellie Fox. Ginsberg did most of the catching, but found himself playing left field by the end of the season. On June 5, 1944, Ginsberg's hit drove in the winning run in the 15th inning of a game against Wellsville. He batted .271 with four home runs. At 17, Ginsberg was just 9½ months older than Fox. The Falcons finished in second place in the regular season, and won the league championship by winning all seven of their playoff games. Ginsberg started six of the games, all in left field[fn]The Sporting News, October 26, 1944.[/fn]. By season's end Ginsberg was listed as an outfielder and assigned to Buffalo for the 1945 season[fn]The Sporting News, September 14, 1944.[/fn]. Instead, he was drafted and wound up serving in the Army in the Philippines.
Ginsberg, described as "a hard-hitting catcher hitting .417 in an Army League in Manila,"[fn]The Sporting News, January 3, 1946.[/fn] was not recruited to play baseball in the Army, but learned of the Manila Dodgers team from a buddy[fn]Telephone interview with Ginsberg.[/fn]. He asked for a tryout and made the team but did not play until regular catcher Joe Garagiola suffered a broken finger. Ginsberg quickly made the most of his opportunity. On January 2, 1946, before a crowd estimated at 25,000 GIs, the most exciting game was a 2-1 Manila Dodgers victory over the touring National League All-Stars. Ginsberg drove in the winning run with a single in the 14th inning[fn]The Sporting News, January 17, 1946.[/fn]. (One of his strengths was his ability to perform well in clutch situations.)
Discharged from the Army, Ginsberg began the 1947 season at Triple-A Buffalo under the tutelage of Bisons manager Paul Richards but was sent to Class A Williamsport and finished the season there. In 92 games, he hit only .220. He played 14 games in the outfield. In 1948 he returned to Williamsport and began the season on a high note, hitting safely in 13 of his first 15 games, including two pinch hits[fn]The Sporting News, June 2, 1948.[/fn]. His .326 batting average was just one point behind the league leader, teammate Bruce Blanchard, and Ginsburg was voted to the league All-Star team[fn]The Sporting News, September 15, 1948.[/fn]. At the end of the season Ginsburg was called up to the Tigers and made his major-league debut on September 15, 1948, starting at home against Washington Senators right-hander Milo Candini. Wearing uniform number 1, Ginsburg caught his Williamsport teammate Lou Kretlow in a 4-2 victory, went 1-for-4, and made a throwing error on a stolen base by Gil Coan. Ginsburg caught ten September games and the Tigers won eight of them, including two dramatic come-from-behind victories[fn]The Sporting News, September 15, 1948; Holland (Michigan) Evening Sentinel, September 25, 1948.[/fn].
Ginsberg quickly became a fan favorite. But the organization did not know what to make of the left-handed-hitting catcher with an excellent batting eye and good speed but not much power. His clutch performance and handling of pitchers intrigued the officials but did not convince them that he was the Tigers' catcher of the future. They said Ginsberg would be their starter if he played well, but still signed a 19-year-old power-hitting catcher, Frank House, in the offseason for a bonus reported to be high as $75,000. They also had veteran catchers Aaron Robinson and Bob Swift. Under the bonus rule at the time, House had to stay on the Tigers' roster. It was obvious that one catcher would have to go. Ginsberg was sent to Toledo, where he batted .283 and pleased manager Eddie Mayo with his catching. Still, he was caught in the Tigers' catching logjam and was sent to Toledo again. He hit.336 in 63 games for the Mud Hens and .232 in 36 games for Detroit.
Ginsberg looked good during spring training in 1951 and manager Red Rolfe rewarded him by giving him the Opening Day assignment. (A few days earlier he had served as a pallbearer at the funeral of Wish Egan, the scout who had signed him for the Tigers.) Platooning with Robinson and Swift, he caught 95 games (starting 81 of them) and batted .260 with eight home runs, the most he ever hit in a season. That season, and throughout his career, his clutch hitting was exemplary, and he was a good baserunner, "not your typical catcher who hit into a lot of double plays," Rolfe once said[fn]Toledo Blade, April 4, 1951.[/fn]. On July 7, 1951, he had four hits, including a home run, and five RBIs in a 13-7 victory over Cleveland. On August 5, in a Tigers' doubleheader sweep at Boston, Ginsberg tripled in the tiebreaking run in the first game and doubled in the winning runs in the second game.
After a second-place finish in 1950, the Tigers fell to fifth place in 1951. Aaron Robinson was cut loose in August, leaving Ginsberg, Swift, and young Frank House still on the roster. With the possibility that House could be called up by the Army for the Korean War, the Tigers obtained catcher Matt Batts in a six-player trade with the St. Louis Browns in February and said he would probably be the first-string catcher. Batts was a 200-pounder with a rifle arm. Though it was a blow to Ginsberg, he good-naturedly joked that "there would not be any fighting over the job because (Batts) is too big for me."[fn]The Sporting News, April 2, 1952.[/fn]The Tigers finished in last place with an abysmal 50-104 record (manager Rolfe was fired in July). Ginsberg had a couple of the team's few highlights. On May 14 he caught the first of Virgil Trucks' two no-hitters that year (Batts caught the second, on August 25). And on July 14, Ginsberg, hitting just .185 at the time, broke up Vic Raschi's no-hitter with a home run in the eighth inning in an 11-1 loss at Yankee Stadium.
Batts had an excellent spring in 1953, which made Ginsberg expendable. On June 15 he was traded to the Cleveland Indians in an eight-player deal in which the Tigers obtained two-time All-Star Ray Boone. The Indians already had two fine defensive catchers, Jim Hegan, 32 years old, and Joe Tipton, 31. Still, Ginsberg, 26, hoped that he would get a chance to show what he could do. He made his Indians debut on June 16 pinch-hitting for Tipton, and flied out. He started the next day against Philadelphia's Harry Byrd and got two hits. On the 18th he started again and got two more hits. In his first two weeks with the Indians he was 6-for-17 (.353). He finished the season with a .290 batting average. Yet the following season, he had played in only three games by late May. So he went to traveling secretary Spud Goldstein and told him he'd like more playing time. "It was the only time in my career that I ever popped off," Ginsberg said in an interview in 2010. "I was young, and I wanted to play. Spud told me, 'We have just the thing for you, Ginsy.' The next thing I knew, I was on a train headed to Indianapolis."[fn]Telephone interview with Ginsberg.[/fn]
The 1954 Indianapolis Indians had one of the finest minor-league teams of the decade with players like Herb Score and Rocky Colavito. Hank Foiles was the everyday catcher, but shared playing time with Ginsberg, after Joe arrived. Ginsberg hit.291 in 59 games. The team finished first in the American Association by 10½ games, but lost in the playoffs to Louisville.
In 1955 there was a logjam at the catching position in Indianapolis. Foiles was gone, but veterans Matt Batts and Mickey Grasso, plus a couple of young receivers were there. Ginsberg wound up in Seattle of the Pacific Coast League as the starting catcher for his old batterymate, Fred Hutchinson, now the manager of the Seattle Rainiers. Ginsberg had an outstanding season, and it began on Opening Day, April 5, in Oakland, when his grand slam broke a 2-2 tie as the Rainiers won, 8-2[fn]Oakland Tribune, April 6, 1955.[/fn].Seattle went on to win the league championship, and Ginsberg was named the PCL's Player of the Year. On September 10 he and pitcher Lou Kretlow were sold to the Kansas City Athletics. In 1956 he hit .246 as Tim Thompson's backup, and in August he was traded to the Baltimore Orioles for catcher Hal Smith. Ginsberg got off to an awful start for his new team by going 0-for-26 before hitting two singles on the last day of the season to wind up 2-for-28, for an .071 batting average. At the suggestion of manager Paul Richards, he began 1957 wearing eyeglasses. He and Gus Triandos were the only catchers, so Ginsberg got more playing time (85 games) and hit respectable .274. But 1958 and 1959, Ginsberg's ninth and tenth seasons in the majors, were down years; he hit just .211 in 1958, followed by a career-low .181 in '59. Most of the press he received was for attempting to catch the knuckleball of Orioles hurler Hoyt Wilhelm
On May 1, 1960, Ginsberg got a key hit to help beat the Yankees. But earlier Richards had acquired veteran left-handed hitting catcher Clint "Scrap Iron" Courtney to platoon with Triandos, and Ginsberg was released on June 15. Three days later he signed with the Chicago White Sox, managed by Al Lopez, his former skipper with Cleveland. On June 25 Ginsberg helped his new team defeat the Red Sox, 7-6, by going 3-for-4 with a double, a walk, a sacrifice hit, two RBIs and three runs scored. He hit .253 in limited duty with the White Sox, played little at the start of 1961, and was released on May 15. Two days later he was signed by the Red Sox to back up Jim Pagliaroni and Russ Nixon. He got into only 19 games and hit.250 in 24-bats, with five runs batted in. After the season he was released by the Red Sox, and in January 1962 he signed with the Mets. on January 30, 1962. Though Ginsberg caught the home opener, he got into only one other game, and was released on May 1.
In June he caught on with the Denver Bears, a Tigers affiliate that needed a catcher because the regular catcher, Bill Freehan, had been shifted to first base when the first baseman was hurt. Ginsberg played in 46 games, hit .214, and retired as a player after the season.
After baseball Ginsberg became a salesman for the Jack Daniel's distillery, covering Michigan. He became an avid golfer and enjoyed participating in charity tournaments. He divided his time between Michigan and Florida before he and his wife, Donna, retired to Southwest Florida where a number of former Tigers had located. Ginsberg appeared at a few Tigers fantasy camps, and remained friendly with many ex-teammates, especially Virgil Trucks, whose no-hitter he caught in 1952. With Trucks, he appeared at the Tigers' Comerica Park on July 8, 2007, for a ceremony honoring Tigers pitcher Justin Verlander for his no-hit game of June 12, 2007.[fn]USA Today, July 8, 2007.[/fn]
He died on November 2, 2012, in West Bloomfield, Michigan.
This biography is included in the book Pitching to the Pennant: The 1954 Cleveland Indians (University of Nebraska Press, 2014), edited by Joseph Wancho. For more information, or to purchase the book from University of Nebraska Press, click here.
Sources
Telephone interview with Joe Ginsberg, July 5, 2010
Burton Boxerman and Benita W. Boxerman, Jews and Baseball: The Post-Greenberg Years (Jefferson, North Carolina: McFarland & Co., 2010)
Danny Peary, We Played the Game (New York: Black Dog and Leventhal, 1994)
Peter S. and Joachim Horvitz, The Big Book of Jewish Baseball: An Illustrated Encyclopedia and Anecdotal History (New York: S.P.I. Books, 2001)
Bill James, The New Bill James Historical Baseball Abstract (New York: Free Press, 2001)
Red Rolfe, with William M. Anderson, ed., The View From the Dugout, the Journals of Red Rolfe (Ann Arbor: University of Michigan Press, 2010)
In addition to the sources noted in this biography, the author consulted Ginsberg's player file from the National Baseball Hall of Fame, Retrosheet.org and baseball-reference.com.
Born
October 11, 1926 at New York, NY (USA)
Died
November 2, 2012 at West Bloomfield, MI (USA)
If you can help us improve this player's biography, contact us.
http://sabr.org/sites/default/files/GinsburgJoe-1954-Bowman.jpg
600
800
admin
/wp-content/uploads/2020/02/sabr_logo.png
admin
2012-01-04 20:42:52
2012-01-04 20:42:52
Joe Ginsberg