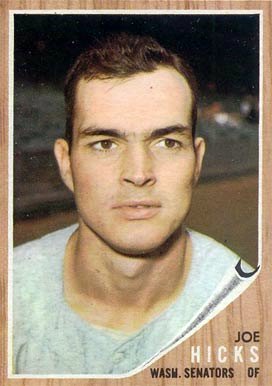 ---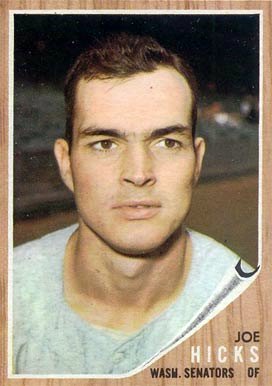 A hitting star for more than a decade in the minor leagues, Joe Hicks batted over .380 twice and compiled a career batting average of .313 while playing in the White Sox, Senators, and Mets farm systems. Hicks's major-league career was brief and a lot less successful (a .221 career average in 416 official at-bats), but the lack of success at the big-league level never diminished Joe's love for the game. Well into his 70s, Hicks was still actively involved in baseball at the amateur level.
William Joseph Hicks (he was known from his early years by his middle name) was born in Ivy, Virginia, on April 7, 1933. Young Joe grew up on a farm, and his father worked as both a part-time farmer and a rural mail carrier in the area near the Hicks's Northern Virginia home. Joe was the fourth of five children, with two brothers and two sisters. He attended Meriwether Lewis High School in nearby Charlottesville and played baseball and basketball there, leading the baseball team in hitting all four years. He also played some American Legion ball.1
Despite his success on the ballfield as a prep, Hicks did not did not received any offers to play professional ball, so after finishing high school, he accepted an academic scholarship to the University of Virginia (the school did not award athletic scholarships in baseball). Again he played well, hitting .325 as a collegian and leading the Virginia varsity in RBIs twice. It was his play for the Cavaliers' baseball team that first attracted the attention of major-league scouts.
"We were playing VPI during my junior year (1953)," recalled Hicks in a 2008 interview, "and during a timeout while VPI was having a conference on the mound, the plate umpire took off his mask and said, 'Hey, Joe, how would you like to play pro baseball?'"2 It turned out that the ump, Ralph Breeden, was a part-time bird-dog (scout) for the Chicago White Sox, and the next day the White Sox sent scout Harry Postove to look Joe over. Postove liked what he saw and offered Hicks a $250-a-month contract to join the Madisonville, Kentucky, team in the Class-D Kitty League. Hicks accepted the offer, but not until the Sox agreed to his mother's stipulation that baseball not interfere with Joe's completing his college education.
Hicks reported to Madisonville when the school year ended in June of 1953. He was an immediate sensation, hitting .389 with 16 homers and 63 RBIs in only 67 games while playing center field. When Madisonville's season ended, the White Sox promoted Hicks to Class-A Colorado Springs, and Hicks finished his first season in pro ball by batting .346 in 12 games for the Sky Sox. That fall Hicks returned to the University of Virginia, graduating the following June with a degree in education. He then returned to Colorado Springs, where the season was well under way. Again he hit very well, posting a .349 average in 41 games, but his season was cut short when he tore some cartilage in his knee while swinging the bat. The injury required surgery, but it had one side benefit for his baseball career: Hicks had received his draft notice, and the bad knee kept him out of the Army, at least temporarily.
In 1955 Hicks, still only 22 years old, was promoted to Memphis in the Double-A Southern Association. At the time the White Sox did not have a Triple-A farm club, and playing for Memphis meant that Hicks was only one stop away from Chicago. Playing against stiffer competition, Hicks was hitting over .300 entering the season's final day, but a 1-for-5 performance dropped his average to .299. A shot with the White Sox was the logical next step, but Uncle Sam intervened: Hicks's knee was now sound enough for him to pass his Army physical, and he spent the 1956 and 1957 seasons in the military. Although Hicks was happy to serve his country, the timing could not have been worse for his baseball career. "It was unfortunate," he commented later. "I was ready to come up in '56. (The White Sox) had positions open then." Hicks spent most of his service time in Frankfurt, Germany, but he was able to play a little baseball on Army teams both in Germany and the US.
After receiving his Army discharge early in 1958, Hicks rejoined the White Sox farm system. The club now had a Triple-A team in Indianapolis and Joe began the 1958 season there, but his bat skills were rusty after two years away from professional ball. After hitting only .153 in 22 games, he was sent back to Colorado Springs. He rebounded immediately, finishing second in the league with a .381 batting average and making the Western League All-Star Team.
After the 1958 season, Hicks went to Nicaragua to play winter ball. The stay in Latin America not only helped him sharpen his batting skills; it led to Hicks's meeting his lifetime partner. The office manager of the hotel where the ballplayers were staying was, in Joe's words, "a pretty señorita" from Nicaragua named Antonia Moody. Joe and Antonia began dating, and they were married in Managua, Nicaragua, on New Year's Eve 1958. Antonia returned to Virginia with Joe when the winter league season ended, and the couple eventually had three daughters.
The White Sox were poised to make a pennant run in 1959, and Hicks was sent back to Indianapolis for his first full year of Triple-A ball. He had another fine year, batting .314 for a club that included future major leaguers Johnny Callison, Jim McAnany, J.C. Martin, Camilo Carreon, Ken McBride, and Gary Peters. When Indianapolis's season ended, most of those players were recalled to Chicago for the September stretch run. The Sox were about to clinch their first pennant in 40 years, and Hicks saw only brief action. He was struck out by the Tigers' Jim Bunning in his first major-league plate appearance, on September 18, but went 3-for-7 (.429) in his first taste of major-league ball.
In the spring of 1960, Hicks was 27 years old with nothing left to prove in the minor leagues. He made the Sox' Opening Day roster for the first time, but there was no chance to play regularly on a championship club that had made an offseason trade for South Side favorite Minnie Minoso to join veterans Jim Landis and Al Smith in the outfield. "I made the team as an extra outfielder, but didn't play much and got really rusty," Hicks recalled. Though he spent most of the year on the White Sox roster, Hicks got only 47 major-league at-bats before being sent to Triple-A San Diego in early August with a .191 batting average. Again he proved he could handle minor-league pitching by batting .303 in 32 games, but Hicks's time as a member of the White Sox system had come to an end. With the American League expanding to 10 teams in 1961, the White Sox left Hicks unprotected in the expansion draft to stock the two new teams, and Hicks was selected by the new Washington Senators.
Though Hicks was now with an expansion club that seemed made to order for a player who'd never been given a real chance at the major-league level, he found himself battling for playing time as badly as when he was with the White Sox. The Senators had three other left-handed-hitting outfielders in veterans Jim King, Marty Keough, and Gene Woodling; though he made the team's Opening Day roster, Hicks played little over the first month (29 at-bats, .172 average) before being sent to Triple-A Indianapolis for the rest of the season. Before the demotion, he managed to gain some revenge on Jim Bunning, belting his first major-league home off the future Hall of Famer at Griffith Stadium on May 2. The 1962 season was better for Hicks, but only to a degree. This time he stayed on the major-league roster for the entire season and played in 102 games, but most of those appearances (65) were as a pinch hitter. It was a role ill-suited for Hicks, who batted just .224. "I needed to play more than sporadically to get into a groove," he commented. "Pinch-hitting's a horrible job."
The 1963 season proved to be Hicks's last as a major leaguer, but it was definitely his most satisfying one. As a result of an offseason deal, he was now with another expansion team, the New York Mets, who had purchased Hicks in preparation for their second major-league season. Hicks began the year back in the minors with Triple-A Buffalo, but after being recalled in mid-July (he'd posted typically good numbers with the Bisons, batting .320), Joe had his first real stretch of success at the major-league level. Inserted into the lineup as a platoon outfielder against right-handed pitchers, Hicks began to pound the ball. In one stretch he homered in three straight games, including an 11th-inning walk-off home run off Don Larsen that beat the San Francisco Giants, 9-7. Though he cooled off after his torrid start, he was still batting .267 with a .455 slugging percentage — good numbers in the pitcher-dominated National League of 1963 — in mid-August before a late slump dropped him to .226 at season's end.
With the Mets, Hicks played under Casey Stengel, a manager he greatly respected. "He really knew the game," Hicks commented about Stengel. "He had a tremendous memory. Now they have all these computers and printouts, but Casey knew in his head what pitchers threw." Hicks also liked the way that Stengel stuck up for him even when he failed. In his Mets debut on July 12, Hicks recalled, Stengel sent him up to pinch-hit against the Dodgers' Sandy Koufax, who would win the Cy Young Award and the National League Most Valuable Player Award that year. Hicks struck out, but as he walked back to the dugout, Stengel shouted, "Don't let it fret you, Hicksie! He's struck out a lot of guys!"
Had he been a little younger, Hicks might have stayed longer with the Mets, but the club moved into Shea Stadium in 1964, and as Joe commented, "They were beginning to have a youth movement." Hicks, 31 in 1964, went back down to Triple-A Buffalo ("a good town"), had two more solid seasons, then retired from baseball after hitting .174 for the Bisons in 1966.
Looking back at Hicks's career, it's obvious that he did not have much success at the major-league level, but it's also easy to imagine how things could have been different for a player with such impressive minor-league numbers. Coming out of college in an era when players generally began their professional careers after high school, he got a late start. When he seemed poised to reach the majors in 1956, the Army came calling. When the White Sox reached down to Indianapolis to recall an outfielder in the middle of their 1959 pennant run, they chose Jim McAnany rather than Hicks because they had more need for a right-handed hitter. When he finally reached Chicago, the club was loaded with outfielders, and the Senators used him primarily in a role (pinch-hitter) in which he always struggled. And he had turned 30 by the time he got his final brief chance with the Mets. Hicks himself commented, "It was a combination of not getting a chance to play when I was ready to play, and then being too late when I finally got the chance. I was kind of a victim of circumstances."
After retiring from baseball, Hicks returned to the Northern Virginia area where he grew up and became the athletic director for the city of Charlottesville. He also became an expert on baseball rules, so much so that the state of Virginia hired him to go around the state and hold clinics for coaches and umpires, explaining the intricacies of the rules. He also did some high-school and college umpiring. "I probably could have umpired professionally and I felt I was good enough," Joe said, "but all the traveling didn't appeal to me." Hicks was still active as an umpire on the high-school level in 2008, the year in which he turned 75, and he and Antonia celebrated their 50th wedding anniversary on New Year's Eve that year. Joe Hicks may not have had a successful major-league career, but he certainly has had a successful life.
Last revised: January 26, 2018
An earlier version of this biography originally appeared in SABR's "Go-Go To Glory: The 1959 Chicago White Sox" (ACTA, 2009), edited by Don Zminda.
Notes
1 Chicago White Sox file for Joe Hicks
2 Interview with Joe Hicks, August 14, 2008. All quotations from Hicks come from this interview.
Born
April 7, 1933 at Ivy, VA (USA)
If you can help us improve this player's biography, contact us.
http://bioproj.sabr.org/bp_ftp/images5/HicksJoe.jpg
600
800
admin
/wp-content/uploads/2020/02/sabr_logo.png
admin
2016-01-26 13:39:37
2016-01-26 13:39:37
Joe Hicks