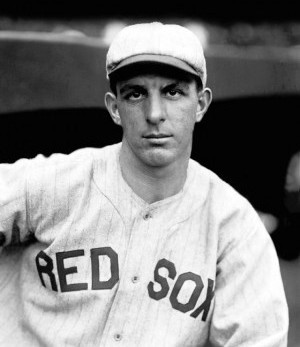 ---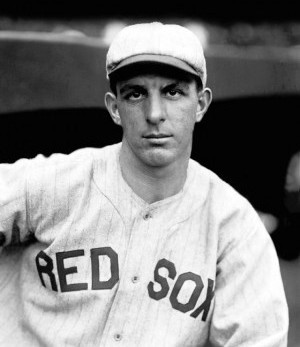 He was known for "continually battling to bring down maturity rates on municipal bonding, and for running a cost-efficient city department," and his nickname was Scootch.[1] The man was Holyoke, Massachusetts, City Treasurer Joseph E. Lucey, who had also served as the head of the US Internal Revenue Service's Western Massachusetts regional office before being appointed city treasurer in May 1944. Lucey had also served on the Holyoke School Committee and ran for mayor of Holyoke in 1939 (he lost). He served as city treasurer until he retired in May 1972, the longest-serving city department head in Holyoke at the time.[2]
Joe Lucey also played major-league baseball, for two teams and two teams only: the New York Yankees and the Boston Red Sox – five years apart. He was Irish-American, born Joseph Earl Lucey in Holyoke on March 27, 1897. His father, John, was a chauffeur who worked privately for a family in Holyoke. John's wife, Elizabeth Hayes Lucey, died while Joe (who was called Earl at the time of the 1910 census) was a teenager. Joe was in the middle of the family's seven children. By 1920, the year he broke into the major leagues, John was widowed and working as a janitor. The eldest two children worked in a furniture store, Mary as a bookkeeper and Frank (Francis) as a shipping clerk. Alice, a year younger than Joe, was a saleswoman in a department store. Margaret was only 13, but later became a public-school teacher. A fourth daughter was Helen.
Joe pretty much went straight to the big leagues. He hadn't played a day in the minor leagues before his debut with the Yankees in 1920. Joe had a Catholic education: nine years at St. Jerome's School, four at Rosary High School, and three years at Fordham University in New York (before his Army service) and Catholic University of America in Washington (after the Army). He served in the infantry for seven months in 1918 during the First World War.
Lucey played baseball and basketball at Rosary High, and focused on baseball alone at Catholic University. That's where he pitched his best game, against Lehigh on May 3, 1919. The leadoff batter struck his first pitch for a triple, and the second batter hit the first pitch he saw for a single. From that point on, Lucey didn't yield another hit and Catholic University won the 11-inning game for coach Charley Moran, 2-1. Lucey reportedly never lost a game with Catholic University. He had also played ball locally on a City League team named the Paragons, which held a longtime rivalry with another athletic club, the Wizards.
Lucey didn't graduate from Catholic University. He had an opportunity to join the New York Yankees, and signed for $1,500 a year.[3] His first game saw him take over second base for Del Pratt after the Yanks scored 14 runs in the fifth inning of a game on July 6, 1920, in Washington. He was hitless in one at-bat. The only three games in which he appeared were all lopsided affairs: the 17-0 win on July 6, a 9-0 loss to the visiting Red Sox on July 26, and a 19-3 win over the Browns in St. Louis on July 30. In each game Lucey registered one at-bat, and in each at-bat, he made an out. Such was his major-league career for the next five years: a batting average of .000 and a fielding average of 1.000 (three fielding chances and no errors). Lucey told sportswriter Bill Keating, "When I reported to the Yanks, Roger Peckinpaugh was their shortstop and one of the greatest of all shortstops. I never had a chance to bat. In those days the regulars chased the new players away from the batter's cage."[4]
Lucey remained with the team for the rest of the season, and was able to watch teammate Babe Ruth hit a record 54 home runs in his first year with New York. Sadly, he was also present when a Carl Mays fastball fatally struck Cleveland shortstop Ray Chapman on August 16, and told Bill Keating of the Holyoke Transcript-Telegram that he was one of the players who helped carry Chapman off the field.[5]
Lucey was in Washington for the inauguration of President Harding in 1921, planning to train with the Yankees in Shreveport, but was placed instead with the Jersey City Skeeters in the Double-A International League, and for the next four seasons it was Scootch with the Skeeters. In 1921 and 1922 he played 30 and 33 games respectively in the outfield, but he primarily worked as a pitcher in his time with Jersey City. He'd been intended as an infielder, but manager Patsy Donovan was aware of his successes at college and decided to try to convert him to pitching.
Lucey was 2-9 with a 4.68 earned-run average in 1921, but got progressively better and was 7-7 (3.87) in 1922 and 11-13 (2.73) in 1923, leading the league in earned-run average while pitching for a last-place team. His last year with Jersey City (1924) saw a sharp dropoff, to 7-13 (4.86). But Bob Quinn, the owner of the Boston Red Sox, signed him in December and invited him to come to 1925 spring training in New Orleans with the Red Sox.[6] In the offseason, Lucey coached basketball at Rosary High School.
His versatility was prized, and Ford Sawyer pointed out in the Globe that he had played almost every infield position and the outfield as well. A right-hander, he stood an even 6 feet tall and weighed around 170 pounds.
Lucey made the Red Sox and did two things he'd never done for the Yankees – he started a game as an infielder (three games, at shortstop) and he pitched (appearing in seven games, two of them starts). The Red Sox were down 9-1 against the Athletics on April 23 when he was brought into the game. An error behind him resulted in all four runs that scored in the third of an inning he pitched being unearned, but manager Lee Fohl couldn't help but notice the two base on balls and three hits he gave up.
On May 21, in his fourth appearance for Boston, Lucey was given a start and the Red Sox won the game in Chicago. But he was long gone by the time the game resolved. The Red Sox scored five times in the first, and Lucey even had a single, but the White Sox runs started piling up and Fohl yanked Lucey after 1 1/3…" innings; four runs were charged to him (two earned, two unearned).
Lucey's only other start was on June 2, and it lasted a third of an inning longer. This time, in Boston, the Athletics "had a regular batting jamboree at the expense of Lucey" – four runs in the first inning, and then another run in the second.[7] After he was pulled with the bases loaded, Mickey Cochrane singled to drive in all three. Eight runs, all earned. It was the only decision Lucey ever recorded as a pitcher, a loss. He pitched two innings in relief on June 10 and gave up three more runs. All in all, he threw 11 innings and saw 20 runs score, but only 11 were earned runs – leaving him with a 9.00 ERA. The 1925 Red Sox finished the season with a 47-105 record, but even they couldn't see keeping Lucey on board.
Actually, Lucey stuck around long enough to pitch an exhibition game at Russell Field in North Cambridge, outside Boston, on June 18 in front of about 10,000 people, a benefit for Holy Ghost Hospital for Incurables. The Red Sox won, 15-5, Even then, facing a collection of independent players, Lucey gave up five runs.
As a batter, Lucey had a hit in the May 21 game and another single later on. He did play three complete games at shortstop (on June 23, 24, and 25) but was far from impressive there, too, committing four errors in 16 chances, for a fielding percentage of .750. Pitching was one thing, but Lucey's throwing errors on the 23rd and 25th arguably cost Boston both games. That, with his .133 batting average and 9.00 ERA, helped convince the Red Sox they'd seen enough.
When the Buffalo Bisons agreed to buy Lucey's contract, the Red Sox sold it on July 7. It may have been a decent deal for Buffalo; Lucey was 6-2 with a 3.99 ERA in the rest of the 1925 season. He played 20 games at second base and hit for a .322 average. He was a holdout in 1926, playing in Florida for a team managed by Ira Thomas, but on April 22 finally came to agreement and worked the year for Buffalo.[8] Lucey lost his effectiveness on the mound in 1926, recording a 5.89 ERA, but won more games than he lost (10-9). He played in 33 games as an outfielder, and hit .317.
In 1927 Lucey wound up his career. He played some with Syracuse, then appeared in 18 games for the Dallas Steers, and finally seven games for Toronto.[9] Some of his records that year are not available but he seems to have thrown ten innings for Dallas and given up eight runs, five of them earned.
Lucey returned home to Holyoke and opened Holyoke Sporting Goods on Suffolk Street in 1928. At the time of the 1930 census, he was living with his brother, Frank, an insurance agent, and his sisters Mary and Margaret (a bookkeeper in a laundry and a schoolteacher, respectively), and was himself listed as "merchant, sporting goods." In 1932 he began his work with the Internal Revenue Service and sold his interest in the sporting-goods store to partner Jim Cleary. In September 1936, Joe married Cecelia Marie Walsh. The two had one child, Maureen. He left the IRS after his appointment to the city treasurer's post, and was such a popular figure that he ran for re-election seven times without opposition.
Joe maintained his interest in baseball, with partial-plan season tickets, often taking Maureen and his grandson, David, to games at Fenway Park. Friends from International League days who still worked in baseball called on Joe occasionally to informally scout high-school ballplayers in Western Massachusetts.[10]
When Lucey died of heart failure after a long illness on the morning of July 30, 1980, he left behind daughter Maureen Gasiorowski, his sister Margaret, with whom he made his home, and two grandchildren. For his funeral Maureen arranged for a floral arrangement that featured both Red Sox and Yankees baseballs, and a Red Sox cap. As those present left the church, the church organist played "Take Me Out to the Ballgame."
Maureen worked as a schoolteacher in Holyoke and became executive director of the Holyoke Council on Aging and conference coordinator at Westfield State College. She moved to Florida and served as a teacher and director of religious education at St. Patrick Church in Palm Beach Gardens.[11] In 2011 her daughter, Carol, worked in hotel management in Aspen, Colorado, and her son, David Lucey – a very good ballplayer at Trinity – worked as a lawyer for Fidelity Investments. All counted themselves as dedicated Red Sox fans.
January 2, 2012
---
Born
March 27, 1897 at Holyoke, MA (USA)
Died
July 30, 1980 at Holyoke, MA (USA)
If you can help us improve this player's biography, contact us.
http://bioproj.sabr.org/bp_ftp/images6/LuceyJoe.jpg
600
800
admin
/wp-content/uploads/2020/02/sabr_logo.png
admin
2012-01-12 20:24:23
2012-01-12 20:24:23
Joe Lucey