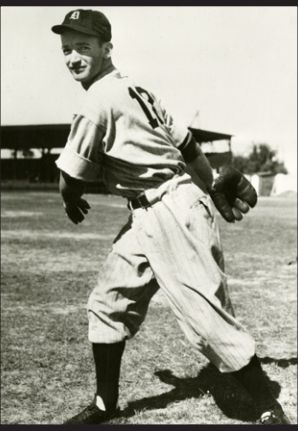 ---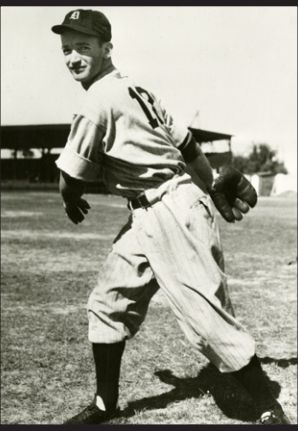 The reigning American League champion Detroit Tigers got off to a terrible start in 1935. With the team in last place with a 2-9 record after six consecutive losses, rookie left-hander Joe Sullivan took the mound and tossed a complete-game victory over the Cleveland Indians. After two more complete-game victories, Sullivan was praised as the team's missing link, a bona-fide left-handed starter.1 But the knuckleballer struggled with his control and never lived up to the promise that his first two months in the big leagues suggested. Buried deep in the bullpen by early June, Sullivan was seldom used in the Tigers' historic run to the first championship in their history.  He went on to win 30 games while losing 37 during his five-year big-league career with the Tigers, Boston Bees/Braves, and Pittsburgh Pirates.
Joe Sullivan was born on September 26, 1910, in Mason City, located in the geographical center of Illinois. His parents, Henry Clay and Lulu Elizabeth (Staffer) Sullivan, native Illinoisans who married in 1903, were struggling farmers in unforgiving times. With their three children, Dorothy, Dwight, and the youngest, Joe (whom they often called Tiger), the Sullivans moved to Twin Falls, in southern Idaho, to try their luck on another farm. They welcomed their fourth and last child, Harriett, to the family in 1920. Soon thereafter they decided to move again to find a permanent and steady source of income. In 1923 the family settled in Tracyton, Washington, a few miles north of Bremerton in Puget Sound. Henry found employment at the burgeoning Navy Shipyards there.2
By all accounts a natural athlete, Joe starred in baseball, basketball, and football at Silverdale High School (now called Central Kitsap). According to his brother-in-law and high-school baseball teammate Jim Morton, Sullivan possessed an excellent knuckleball in high school but was discouraged from throwing it because the team did not have a catcher who could catch the unpredictable pitch.3 After Sullivan graduated in 1928, he began playing semipro baseball for the Bremerton Cruisers of the Northwest League. His most important pitch was to a local resident, 16-year-old Maxyne Whitaker; they married that summer. After pitching for New Westminster in the Vancouver League in 1929, Sullivan played for the Bloedel-Donovan Lumber Company of Port Angeles in 1930. His break came when he participated in a 16-team state tournament that had attracted the attention of big-league scouts. Bill Essick, a longtime scout on the Pacific Coast for the New York Yankees, signed Sullivan.4
Just 19 years old, Sullivan was assigned to the Hollywood Stars, the reigning champions of the Pacific Coast League, in the late summer of 1930. Manager Ossie Vitt had little use for such a young, green recruit; consequently, Sullivan was shipped to the Tucson Cowboys of the Class D Arizona State League. It is not clear if Sullivan saw action with the team, which declared bankruptcy at the end of the season.5  Referred to as "Lefty" by The Sporting News, Sullivan signed with Tucson's new team, the Missions, who continued to play in the same league, rechristened the Arizona-Texas League with the addition of the El Paso Texans.6 He got off to an excellent start with the Missions in 1931, winning 12 of his first 15 decisions. The Associated Press reported on June 8 that the Beaumont Exporters, an affiliate of the Detroit Tigers, had purchased Sullivan's contract for $1,500.7 The 20-year-old pitcher concluded his first full season in baseball with 23 victories against just 8 losses and logged 282 innings.
Reporting to manager Del Baker's Exporters in 1932, Sullivan had a difficult time breaking into a rotation led by future  20-game winners Schoolboy Rowe and Luke Hamlin. Complicating matters was Sullivan's wildness, a problem he contended with for the remainder of his baseball career. In 30 appearances including 11 starts, Sullivan won three of seven decisions, but walked 62 batters in 105 innings (his 5.3 walks per nine innings were second highest in the league for pitchers with at least 100 innings). En route to the league title, the pitching-rich Exporters boasted five hurlers who won at least ten games each.
Sullivan returned to Beaumont in 1933 to work with a new manager, former catcher Bob Coleman, to harness his control. On a less experienced staff than the previous year, Sullivan pitched regularly, compiled 238 innings, and proved to be one of the hardest-to-hit pitchers, surrendering just 7.3 hits per nine innings (fourth best in the league). He improved his walk ratio slightly (5.0 per nine innings), but was often a hard-luck loser on a sub-.500 ball club (73-79), finishing with a 13-15 record. Indicative of his season was a combined no-hitter he tossed with fellow southpaw Ray Fritz against the Dallas Steers; Beaumont lost the game 3-0 with all of the runs a direct product of walks, wild pitches, and errors.8 After the season, the Tigers purchased Sullivan's contract and assigned him to the Hollywood Stars.
During a look-see at the Tigers' spring training in 1934, Sullivan suffered from "wildness" and was optioned to Hollywood to start the season.9 Reunited with manager Vitt, Sullivan developed into the "league's best southpaw" for the third-place Stars.10 An all-around pitcher with an effective fastball, Sullivan won a career-high 25 games (third most in the PCL), completed 25 games, and racked up 288 innings. Most importantly for his future in the big leagues, he improved his control. At the conclusion of the season, The Sporting News suggested that "[Sullivan] is fitted by background, physique, and pitching stuff for a full trial" and had "an even chance of sticking" with the Tigers at the team's next spring training.
Sullivan was an athlete's athlete with a svelte body and quick reflexes. At 5-feet-11 and weighing about 175 pounds, the good-looking Sullivan had dark hair, penetrating dark eyes, and an aquiline nose. In an era when some pitching stars were noted for their gregarious personalities and constant self-promotion as much as they were for their pitching prowess, The Sporting News noted that Sullivan was noticeably "low key." "[He's] no Dizzy when it comes to exploiting himself."11 Soft-spoken and reserved off the field, Sullivan was a fierce competitor on the diamond.
Described as the "most highly regarded" of new pitchers, Sullivan reported to spring training for the reigning AL pennant winners in 1935.12 The Associated Press noted that Sullivan had a "nice fastball and good change of pace and lots of stuff."13 Tigers manager Mickey Cochrane hoped that the 24-year-old could shore up the team's most glaring weakness: left-handed starting pitching. The club had not been able to find a replacement for the consistent Earl Whitehill (who averaged 15 wins and 238 innings over a nine-year period), whom they had traded in 1932. Carl Fischer (6-4, 95 innings) was their top left-handed starter from 1934.
Sullivan made his big-league debut on April 20, 1935, against the Cleveland Indians at Navin Field. In relief of submariner Elden Auker, Sullivan tossed six innings of three-hit ball before surrendering an RBI single to Earl Averill in the 14th inning to lose the game, 2-1. With the Tigers off to an unexpectedly miserable 2-9 start, Sullivan took the mound on April 28 against Cleveland at League Park for his first start. He pitched a complete game and was tagged for 11 hits — but only three runs — to earn his first major-league victory, 5-3. The young lefty helped his own cause by knocking in two runs. "Joe Sullivan Is a Mystery to the Tribesmen," reported the Associated Press, which also noted that Sullivan's delivery was tricky.14 With complete-game victories over the Boston Red Sox and Washington Senators in his subsequent starts, Sullivan captured the attention of sportswriters. "Sullivan About the Only Bright Spot," ran a headline in The Sporting News. Sullivan is "pitching with the confidence of a seasoned campaigner," the paper noted.15 Cleveland's manager, the pitching legend Walter Johnson, praised Sullivan as the best rookie he had seen thus far in the season.16 Sullivan's fourth complete-game victory was sandwiched between two well-pitched losses, both shutouts to the Yankees. "That boy knows how to pitch," praised Cochrane. "He has all of the poise of a veteran and he seems finally be the answer to our hope for a starting southpaw."17
Sullivan's star faded as quickly as it had burst on the scene. Winless in four starts in June (he notched one win in relief) and suffering from poor control, Sullivan made only nine appearances after June 23 and was relegated to mop-up duty. Tommy Bridges, General Crowder, Schoolboy Rowe, and Elden Auker (the latter two rebounding from early-season difficulties) formed the core of the Tigers' Big Four staff, winning 74 games and logging nearly 1,000 innings. Sullivan finished with a 6-6 record and 3.51 ERA in 125⅔ innings, but issued 71 walks, second most on the staff. The Tigers captured their second pennant and defeated the Chicago Cubs in the World Series, the club's first championship. Sullivan was on the World Series roster, but did not pitch.
With the inevitable retirement of General Crowder, the Tigers hoped that Sullivan could realize his potential and serve as his replacement. Sullivan struggled during spring training in 1936 and it appeared that he would be cut, but with only one other southpaw starter on the team (rookie Jake Wade), Cochrane decided to keep him.18 Given a spot start on April 28, Sullivan showed his potential by tossing an 8-1 complete-game victory over the Washington Senators. Sent in to relieve Auker in what appeared to be mop-up duty against the Indians on May 10, Sullivan pitched 12⅔ innings of relief before surrendering two runs in the 15th inning and taking the 9-7 loss. He made two more starts but was pummeled in both of them. Relegated deep in the Tigers' bullpen, Sullivan struggled, finishing with a 2-5 record and an unsightly 6.78 ERA in 79⅔ innings. Opponents batted .331 against him.
Sullivan spent the next two years trying to get back to the major leagues. At the end of spring training in 1937, the Tigers transferred him to Toledo of the American Association. Just 26 years old, Sullivan still had time to harness his control. He went 14-14 and pitched 228 innings while walking just 87 batters for the Mud Hens, and was recalled to the Tigers at the end of the season. But his career with the Tigers came to an end when Detroit sold him to the Toronto Maple Leafs to start the 1938 season. Fighting for his career, Sullivan led the International League with 18 wins, logged 220 innings, and seemingly solved his control problems, walking 93 batters.
Sullivan got his second chance in the big leagues in 1939 when the Boston Bees purchased his contract from Toronto. A perennial second-division club in the National League, the club had changed its name from the Braves to the Bees after a horrendous 1935 season in which it went 38-115. In his first year with the Bees, 1938, manager Casey Stengel guided them to a winning season (77-75) on the strength of a pitching staff that ranked second in the National League in team ERA. Like the Tigers in 1935, the Bees were conspicuously missing a left-handed starter. Sullivan struggled through July with an ERA of 5.58 in limited duty, but with the team languishing in seventh place and the staff failing to duplicate their success from the previous year, Sullivan was unexpectedly inserted into the rotation in August. He responded by pitching six consecutive complete game starts, winning four of them (he also picked up two losses in relief). After hurling a six-hitter to defeat Brooklyn 8-2 at Ebbets Field on August 13, Sullivan tossed the best game of his career, a personal-best 14-inning complete-game victory over the Dodgers at Braves Field. Described as a "knuckleball expert" by The Sporting News, Sullivan seemingly revived his career in the final two months of the season, finishing with a 6-9 record and 3.64 ERA in 113⅔ innings.19
After a promising spring training in 1940, Sullivan began the season in Casey Stengel's starting rotation. The left-hander feasted on the woeful Philadelphia Phillies that season, beating them five times. After pitching a complete-game seven-hitter against Philadelphia for his first victory of the season, Sullivan lost his next four decisions until he had the opportunity to face the Phillies again on May 30. He went the distance, allowing just six hits in 11 innings. He earned the victory when shortstop Eddie Miller hit a walk-off grand slam in the 11th inning. Just two days after his third complete-game victory over the Phillies, on July 3, Sullivan pitched 10 innings of relief, yielding just four hits. A hard-luck loser in the 20th inning, Sullivan surrendered four runs, only one of them earned, in the 6-2 loss. For the season, Sullivan set several personal bests for his major-league career: 22 starts (36 appearances overall), 177⅓ innings, 10 wins and 14 losses to go with a credible 3.55 ERA.
Sullivan's high expectations for 1941 were tempered by a poor outing in his first start of the season and subsequent demotion to the bullpen. Once again relegated to mop-up duty, Sullivan made 16 appearances before he was dealt to the Pirates in a waiver transaction on June 20. Manager Frankie Frisch, in his second season as Pittsburgh skipper, and catcher Al Lopez thought highly of Sullivan, and envisioned him as a swingman and all-around fireman.20 Sullivan got off to a good start, winning his first four decisions with the club, including a six-inning start against the Cubs on July 29 that proved to be his final big-league win. Little used in August and September, Sullivan pitched well for the Pirates (2.97 ERA in 39⅓ innings), despite walking 22 batters and striking out only 10.
Sullivan came down with a severe case of quinsy (a complicated form of tonsilitis) requiring hospitalization during spring training in 1942.21 Weak and unable to pitch, he was released to the Toronto Maple Leafs. He spent the next season and a half with Toronto with limited success (6-14 and 6-7) before leaving the team in midseason 1943 to join his hometown Bremerton Cruisers in the semipro Puget Sound Shipbuilders League.
Sullivan was lured out of semiretirement in 1944 by the Portland Beavers of the Pacific Coast League. He struggled with them (2-9), was sold in midseason to the Oakland Oaks, and concluded the season with a dismal 3-14 record and 4.23 ERA. Oakland released him during spring training the following season.
Assuming that his professional baseball career was over Sullivan (who was given a 4-F classification by the military) began working in 1945 as a fireman at the Navy Shipyards in Bremerton, where his father once worked. He also continued to play semipro ball for the Cruisers.22 Unexpectedly, his pro career was revived when the Bremerton Bluejackets were formed in 1946 and granted admission to the Class B Western International League. Pitching in only home games at historic Roosevelt Field, Sullivan was a member of the team for all four years of its existence (1946-49) and compiled a 39-24 record.
Sullivan retired from baseball after the 1949 season with 180 professional victories (30 of them in the big leagues), logging in excess of 2,800 innings. With his wife, Maxyne, and their son, Jackie (born in 1930), Sullivan remained in his beloved Pacific Northwest and continued working in the Navy Shipyards, achieving the rank of fire chief. In 1970, a year after his wife died, Sullivan retired and also married Marge, a close friend of Maxyne's. They settled in picturesque Sequim, located at the northern base of the Olympic Mountains, where Sullivan died of lung cancer at the age of 74 on April 8, 1985. He was cremated and his ashes were spread in Puget Sound.23
Sources
Newspapers
Central Kitsap Reporter (Kitsap, Washington)
New York Times
The Sporting News
Online sources
Ancestry.com
BaseballLibrary.com
Baseball-Reference.com
Retrosheet.com
Notes
1 The Sporting News, May 16, 1935, 1.
2 "Blue Jackets Remember One of Their Own," Central Kitsap Reporter, June 11, 2008. centralkitsapreporter.com/sports/19807914.html.
3 "Blue Jackets Remember One of Their Own."
4 "Blue Jackets Remember One of Their Own."
5 The Sporting News, December 27, 1934, 8.
6 The Sporting News, April 2, 1931.
7 Associated Press, "Beaumont Gets Pitcher," San Antonio Express, June 8, 1931, 12.
8 The Sporting News, September 7, 1933, 3.
9 The Sporting News, April 12, 1934, 7.
10 Associated Press, "Pacific Coast League," Berkeley (California) Daily Gazette, September 19, 1934, 10.
11 The Sporting News, December 27, 1934, 8.
12 The Sporting News, January 31, 1935, 3.
13 Earl Hilligan (Associated Press), "So Detroit's Wanted Lefties," Daily Herald (Big Springs, Texas), February 24, 1935, 8.
14 Associated Press, "Joe Sullivan Is a Mystery to the Tribesmen," Frederick (Maryland) News Post, April 28, 1935, 3.
15 The Sporting News, May 2, 1935, 2.
16 "Managers Name Whitehead and Blanton as Outstanding Rookies" (AP), Milwaukee Journal, May 20, 1935, 3.
17 The Sporting News, May 16, 1935, 1.
18 The Sporting News, April 16, 1936, 5.
19 The Sporting News, November 9, 1939, 3.
20 The Sporting News, June 26, 1941, 2.
21 The Sporting News, April 9, 1942, 8.
22 "Blue Jackets Remember One of Their Own."
23 Bill Lee, The Baseball Necrology (Jefferson, North Carolina: McFarland, 2009), 387.
Born
September 26, 1910 at Mason City, IL (USA)
Died
April 8, 1985 at Sequim, WA (USA)
If you can help us improve this player's biography, contact us.
http://sabr.org/sites/default/files/Joe%20Sullivan.JPG
600
800
admin
/wp-content/uploads/2020/02/sabr_logo.png
admin
2012-01-04 20:42:59
2020-10-09 08:12:57
Joe Sullivan