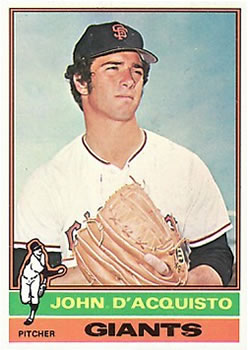 ---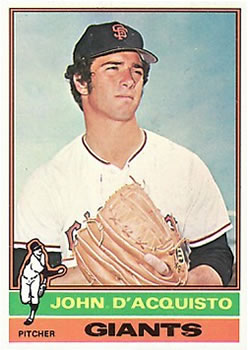 "Mr. D'Acquisto, Mr. D'Acquisto, you just broke the radar gun, the last pitch was 100 miles an hour and the gun just broke!"
Pitching for the Chicago White Sox' AAA Denver Bears affiliate in 1983; 31-year-old John D'Acquisto had other things on his mind as he as he crossed the foul line on his way back to the dugout. While he managed an outward "thanks, kid," to the excited Bears batboy, inwardly the voices in his head were telling him something quite different, thanks to the throbbing pain in his right elbow.
John Francis D'Acquisto was born on December 24, 1951, in San Diego, the second child of Fred and Frances D'Acquisto. John was preceded by older brother Fred Jr., sister Jeannette came along later to round out the family.
Fred D'Acquisto Sr. was a local celebrity in the San Diego area; for 51 years he worked for the legendary Anthony's Fish Grotto Restaurant right in the heart of the downtown area. Starting out as a teenager, Mr. D'Acquisto worked himself up to dining room manager and would split his time between the original restaurant and their sister location, the Star of the Seas.
Fred Jr. always wanted to be a pilot and enrolled in the U.S. Air Force, but a degenerative hip condition kept him from flying. Once he returned to civilian life, Fred went to work for Pacific Southwest Airlines, eventually becoming the Ticket Manager for all the sports teams coming in to San Diego to play the local teams. Sister Jeannette remained in the San Diego area as an adult as well, enjoying a lengthy career as an executive in the banking industry.
A cousin of the D'Acquisto family, Lou Marone, also played professional baseball; he had a long minor league career with several organizations and pitched for the Pittsburgh Pirates during the 1969 and 1970 seasons.
At St. Augustine's High School, located in the North Park suburb of San Diego, John starred in both football and baseball. Playing football for Coach Joe DiTomaso, D'Acquisto, a linebacker, was named an All-American during his senior year. His baseball coach was local legend Bill Whitaker, who among his many personal accomplishments is the longest tenured employee of the City of San Diego, serving for more than 60 years, all with the Recreation Department.1
D'Acquisto received numerous letters over the course of his final year in high school, offering scholarships and other benefits that go along with being a top recruit. But one caught his eye, to the point it was the only one he cared about. It was signed by University of Southern California coach and future College Baseball Hall of Famer Rod Dedeaux. "I still have the letter," D'Acquisto said.
D'Acquisto had a big senior season for St. Augustine's, with three no-hitters, including one thrown in front of a group of 50 scouts, including George Genovese, the San Francisco Giants' West Coast supervisor. Joe Henderson, the Giants' area scout, had been following John most of the high school season and had finally placed a call to his boss, Genovese, who came down to see him play.
It was becoming clear as the draft approached not only would D'Acquisto be drafted, he would be drafted pretty highly, and word on the street was the hometown San Diego Padres were very interested.
The Padres were entering their second season of major league play in 1970, and thanks to their expansion year last-place record of 52-110, had the first overall selection in the draft.
If the Padres were intrigued by the idea of having a local kid soon filling up the seats at Jack Murphy Stadium, they certainly weren't tipping their hand, on the contrary, most of their pre-draft discussion was around a big, strong high school catcher from Georgia named Mike Ivie.
"The Padres were my first choice, obviously," D'Acquisto recalled, "but Juan Marichal of the Giants was my idol. I even wore Number 27 in high school because of him. To get a chance to meet and play with him would be an honor, so if the Padres didn't call, I hoped the Giants would."
His wish eventually would come true, on draft day the Padres selected Ivie first overall, with the Giants taking John at number seventeen. After a brief negotiating period (with John's mom Frances calling the shots), D'Acquisto reported to Great Falls, Montana to start his pro career. He made 11 starts in the Rookie Pioneer League that season, and then reported to Decatur, Illinois, of the Midwest League in 1971 for his first full season of pro ball.
"When I got to Decatur, I was a thrower, when I left, I was a pitcher, and it was all because of our manager, Frank Funk," D'Acquisto said.2 "He taught me the difference between 'being aggressive' and 'controlled aggressiveness,' meaning it's possible to get guys out when you're not feeling 100 percent or if you don't have your best stuff that day."
Under Funk's guidance, D'Acquisto was a mid- and post-season Midwest League All-Star, led the league in games started (29), innings pitched (233), walks (124), and broke Vida Blue's league record for strikeouts (244).
The following season, the Giants promoted D'Acquisto to Fresno of the California League, and, coincidentally, promoted Funk to manage there as well. Once again finding himself in a comfortable environment, he led the league in strikeouts with 245 and winning percentage among all starting pitchers (.739), finished second in wins with 17, and was named to the All-Star team. Following the season, in a vote of California League managers, he was voted the best pitching prospect in the league, and the pitcher with the best fastball and curveball.
After a good spring training in 1973, the Giants took a risk and sent the now 21-year-old D'Acquisto to the Phoenix Giants of the Pacific Coast League, skipping Double A altogether. "I was a little nervous at the start, I had heard about the hazards of trying to jump from Class A to Triple A in one season, but once I got out there, I was OK," D'Acquisto recalled. He must have held his nervousness in pretty well, because Phoenix manager Jim Davenport, a former Giant third baseman, named John his opening day starter.
Neither the advanced competition nor the summer heat seemed to affect D'Acquisto as he led the PCL in starts (31), innings (212), and walks (113), finish second in wins (16) and strikeouts (185) and once again was named an All-Star. The highlight of his season came on May 16, when he pitched the first no-hitter in the 10-year history of the Phoenix franchise. Pitching in the second game of a doubleheader against Tacoma at Phoenix Municipal Stadium, he missed out on a perfect game when he walked outfielder Tom Kelly leading off the sixth inning.3
The Giants recalled D'Acquisto following the close of the PCL season, and on September 2 he made his major league debut, starting the second game of a doubleheader against the Braves in San Francisco. He pitched to a no-decision, allowing six hits and two runs while walking six and striking out five.
He would pick up his first major league victory three weeks later, on September 21, pitching a complete game four-hitter with 11 strikeouts in a 7-2 win over his hometown Padres at Candlestick Park.
After the season, while D'Acquisto was back in San Diego working out with buddy and Chicago White Sox reliever Terry Forster, the Giants were laying the groundwork for their 1974 rotation.
"John has a major league fastball and curveball," manager Charlie Fox said, "but to win at this level consistently you need a change-up, and that's what we've instructed Johnny to work on in the off-season."
When the Giants reported to Casa Grande, Arizona, for spring training in 1974, Fox wasted no time naming D'Acquisto as one of the likely rotation candidates for the regular season. Fox did say he and off-season acquisition Mike Caldwell had the most pressure on them; Caldwell because he was obtained in a trade with San Diego for Giants legend Willie McCovey; and D'Acquisto because he was a rookie.
John would, in fact, make the team out of spring training and go on to lead all Giants' pitchers in games started and strikeouts. His final strikeout total of 167 was surpassed by only one rookie in franchise history at the time, the legendary Christy Mathewson in 1901, who fanned 221. There were a number of highlights and career firsts for D'Acquisto during the season: first shutout (September 6 at Atlanta), an almost no-hitter against Montreal (eight innings of one-hit ball, pulled in the ninth after walking two hitters), and a 189-pitch complete game against the Houston Astros on September 15.4
The biggest highlight, perhaps, which doesn't show in any box score, occurred on June 23 in Los Angeles. D'Acquisto struggled that day, giving up five hits and three runs in six innings, picking up a no-decision, but along the way managed to throw a fastball that registered 102.4 mph on the "official" Dodger Stadium radar gun.5
For the year, D'Acquisto went 12-14 with a 3.77 ERA in 38 games (36 starts) and threw 215 innings. Following the season he was rewarded by the Sporting News, who named him their National League Rookie Pitcher of the Year, and by the Topps trading card company, which named him Major League Baseball Rookie Pitcher of the Year.
The 1974 off-season was an eventful one for John; he went to work for Bank of America, and in January of 1975 he became a father for the first time when his daughter Vanessa was born.
Despite his busier than usual off-season, things didn't start off very well in spring training. "I had had bone chips in high school," D'Acquisto recalled. "I'd been pitching in pain for five, six years. At first, I thought it might be the chips, but I thought it could have been me, something in the delivery or something, so I just kept throwing."
D'Acquisto started the 1975 season in the Giants' rotation, but after six starts and one relief appearance had walked 32 in just 24 innings and posted an ERA of 11.10. In early May the Giants had seen enough, and shut him down, hoping that rest would fix the problem.
It was not to be. "I came home one night, and reached to flip off the light switch, and the pain dropped me to the floor," D'Acquisto said. He called the Giants, who sent him to the doctor, who performed surgery on his elbow on June 9, knocking him out until almost the very end of the season when he made three relief appearances. The Giants then sent him to Arizona for some additional rehab work in the Instructional League, then shut him down in early November with orders to take it easy until March.
While the Giants themselves improved nine games in the standings in 1975, the season was a total disappointment for D'Acquisto, although being honored by Joe DiMaggio and the Italian-American Society as its "Italian-American of the Year" took some of the sting away.
When the Giants reported to spring training in 1976, it was under new ownership and field leadership. Robert Lurie and Bud Herseth had purchased the Giants, saving them from possibly moving to Toronto. The new owners had also made some personnel changes too, including naming Bill Rigney the new manager, replacing Wes Westrum.
The 1976 season was challenging personally for D'Acquisto, as well. First, Rigney used him as a "swing man," he only made 28 appearances (19 starts) and threw just 106 innings, posting a 5.35 ERA.
"Definitely the low point of my career thus far," he recalled.
It didn't last long.
On the afternoon of October 20, he was at home when traveling secretary Jerry Donovan knocked on the door and told him he had been traded to the Cardinals.
D'Acquisto reported to spring training in Florida for the first time in his career in 1977 a re-charged man after his disappointing 1976 season. He pitched well, earning a spot in the rotation, but on Opening Day he experienced cramping in his right calf while running in the outfield and was placed on the disabled list.
He would miss the first five weeks of the season, his first appearance came in a starting role against the Houston Astros on May 8 in St. Louis. He pitched well, although he was removed after just four innings. His second appearance was another four-inning start in St. Louis, this time against the Reds in which he allowed no hits. On May 15 in Atlanta, John came on in relief against the Braves, pitching one third of an inning, allowing two runs on two walks and one hit.
It was his last appearance in a Cardinals uniform.
On May 17, D'Acquisto's wish of playing in front of his hometown team finally came true, as the Cardinals sent him along with utility infielder Pat Scanlon to the Padres for pitcher Butch Metzger.
"It was a bit overwhelming at first, people calling for tickets, extra media requests, stuff I wasn't used to dealing with," D'Acquisto said.
Whether it was the off-field distractions or trying too hard for the hometown fans, the second half of the season didn't go as planned. he made 17 appearances with a 6.95 ERA and allowed more hits than innings pitched (49-44) and more walks than strikeouts (47-45).
The 1977 season would be a tough one for the Padres as well, they would lose 93 games and went through three managers; John McNamara, Bob Skinner and Alvin Dark. During the offseason, the Padres fired Dark and named pitching coach Roger Craig as their new manager. The change paid immediate dividends for the team as they improved 15 games in the standings, and perhaps no individual player benefitted more from the change than D'Acquisto.
The Padres made him a reliever. During the off-season, San Diego picked up Gaylord Perry (who would win the 1978 Cy Young Award) and former Detroit ace Mickey Lolich to fill out the rotation. "I wasn't happy about it for sure, I mean, we had a future Hall of Fame closer in Rollie Fingers in the 'pen, how much would I pitch?" D'Acquisto said.
After sitting down with Craig, who assured John his repertoire was perfect for a bullpen role and he would have plenty of opportunities to pitch; D'Acquisto bought into the change and flourished in the role.
Over the next two-and-a-half seasons, D'Acquisto made 135 appearances for the Padres, with just 14 of them starts. His relief totals included 216 innings pitched with 182 hits, 139 walks, 290 strikeouts and just ten homers allowed.
On August 8, 1980, D'Acquisto was traded to the Montreal Expos for Randy Bass, a transaction that kicked off a series of address changes that became the norm for the rest of his career. He made 11 appearances, all in relief, with the Expos over the final six weeks of the season, posting an 0-2 record and a 2.18 ERA. "I liked playing in Montreal," he said, "but my family stayed in San Diego after the trade, and while I was in a nice hotel and knew some of the guys, it was a tough time away from the ballpark."
Following the 1980 season, D'Acquisto found himself a free agent for the first time. His agent, Jerry Kapstein told John not to worry; he had received calls from at least four teams who were seriously interested in his services.
As it turned out, Kapstein would receive calls from seven teams, with the Expos, Phillies, Angels and Indians expressing the most interest. Armed with a list of John's demands, a preference to play close to the West Coast and a minimum three-year contract chief amongst them, Kapstein went to work.
One day, Kapstein dropped a bomb in D'Acquisto's lap: another team was now interested, the New York Yankees.
The prospect of playing in New York intrigued him. The Yankees were a solid team, appearing in the World Series three of the past four seasons. The off-field endorsement opportunities and he had friends on the team, including his San Diego high school opponent Graig Nettles. On the other hand there was the family, they had remained in San Diego after his trade to Montreal the previous season and playing in a city where they could be together during the season was important, too.
One afternoon D'Acquisto was sitting at home and the phone rang, on the other end was none other than George Steinbrenner himself. After some idle chit-chat, "The Boss" started his sales pitch on the all-around positive aspects of playing New York, off the field as well as on. As the call wrapped up, D'Acquisto told Steinbrenner he would sign with the Yankees.6
There was one problem: Jerry Kapstein had reached an agreement with the California Angels on a four-year, $1.25 million contract for D'Acquisto to take his fastball back to Southern California.
"I'm breaking my word to Steinbrenner, Jerry. This is going to come back and bite me in the ass," he recalls telling Kapstein.
D'Acquisto made the Angels out of spring training, but the team "broke its promise to Jerry" that he would be the closer, going instead with Don Aase. He made only six appearances over the first two months of the season. Around this time, Manager Jim Fregosi was fired and replaced by Gene Mauch, who promptly sent John to Triple-A Salt Lake City.
D'Acquisto was released by the Angels on April 6, 1982. He signed with the Atlanta Braves' Triple-A team in Richmond, where he remained until Eddie Mathews stepped in.
A scout with the Oakland A's, Mathews was passing through San Diego when he had a chance encounter with John's brother, who told the Hall of Famer his little brother was pitching in Triple-A for the Braves.
Mathews made a call to Oakland manager Billy Martin, who said he was interested. D'Acquisto secured his release from the Braves in late July and flew to Oakland.
"Martin picked me up at the airport himself," he said. "He was worried the Giants would find out I was in town and would come in and steal me."
Martin offered no promises, telling D'Acquisto he'd have to come to Oakland Coliseum and try out for pitching coach Art Fowler, who was impressed enough to recommend to Martin that the A's sign him, which they did. D'Acquisto spent the rest of the season pitching out of the Oakland bullpen, getting into 11 games, posting a 0-1 record with a 5.29 ERA.
In spring training 1983, he was a workhorse, leading the staff with 17 appearances. It didn't matter. On the final day of spring training, new manager Steve Boros informed him he was being released. "Obviously, that didn't go over well," D'Acquisto said.
D'Acquisto made calls to several teams trying to find a roster spot, but with it being so close to Opening Day and with rosters all but established, he was unsuccessful. One of those calls was to Billy Martin, who was back managing the Yankees. Martin promised to talk to George Steinbrenner, who gave the thumbs down sign, obviously remembering D'Acquisto taking the Angels' offer three years earlier.
D'Acquisto eventually signed a free agent contract with the Chicago White Sox, and after six appearances the pain in his elbow became too much to bear, and he underwent surgery for the second time.
He would never play professionally again.
John D'Acquisto played 10 major league seasons, and while he never made an All-Star Game or appeared in the postseason, he is still remembered today as being one of the first men to throw 100 miles per hour. In the book The Neyer/James Guide to Pitchers, written by SABR members Rob Neyer and Bill James, is a chapter entitled "The Mighty Fastball", which contains a passage written by James. "The fastest known radar reading from that era (the seventies), other than Nolan Ryan, was for John D'Acquisto."
After his retirement, D'Acquisto became a registered investment advisor-banker based in California. He built a successful business and seemed content with his post-baseball career, but in 1995 he was indicted for trying to pass off a forged $200 million certificate of deposit as collateral on a deal with Prudential Securities, and was subsequently convicted of four counts of conspiracy, forgery, and wire fraud and sentenced to 63 months in prison. In 1999, he pled guilty to additional charges related to using $1.3 million in investor funds to purchase racehorses, cars, and other personal property, and received an additional 55 months that ran concurrently with no additional time served. He served four years.
D'Acquisto has consistently stated that he was not responsible for any purported fraud and believes that his court documents spelled it out clearly. He continues to work to clear his name.
When he was drafted by the Giants in 1970, John had negotiated college tuition as part of his signing bonus, which he would eventually put to good use. His post-playing education started at Cerro Coso Community College, where he earned a degree in Fire Science with EMT Certification and spent some time working with the San Bernadino County Fire Department. In 2004, he graduated from Rochville University with a Ph.D. in Exercise Science and Physiology with a focus on biomechanics.
D'Acquisto put his education to good use. For the past five years he's been the director at Sorganics, a company that develops organic fertilizers and other compounds designed to replace cancer-causing chemical products currently on the market.
Through all this, he kept baseball in his life, playing in the Senior Professional Baseball Association and serving as the pitching coach for Eastlake High School, leading them to three district championships.
D'Acquisto has three children — Vanessa, Danica, and John Paul — and three grandchildren. He lives in North Phoenix with his wife Sharon and recently underwent a double hip replacement.
"I was in pain for so long," he said. "I was disqualified from the Army in 1970 because of hip and back problems, my brother Fred was discharged from the Air Force for the same reason, and my sister has had one replaced, too, so it's a family thing."
Healthy for the first time in years, he is looking forward to his upcoming retirement and working on his golf game. He's also looking forward to being able to travel, his previous hip problems kept him from sitting for periods of time, flying to San Francisco or St. Louis or driving to San Diego for Old Timers Games or other team functions was out of the question.
He is currently writing a book about his life; some of his writings can be found at InstreamSports.com.
He is also a commissioned artist based in Phoenix. He specializes in pencil sketches using an iPad, PC and art paper sketching mediums using Adobe Ink and Slide stylus. Most of his work is sports or outdoors related featuring Major League Baseball and wildlife and also does custom pieces as well. John is a licensed MLB artist through Legendary Sports Prints of Philadelphia. To see his work or set up a commissioned piece, please visit legendarysportsprints.com or artworkbyjohndacquisto.com.
He lists Eric Rasmussen, Gaylord Perry, and his idol Juan Marichal amongst his closest friends, and his first pro manager, Harvey Koepf, and Frank Funk as the two mentors who had the most influence over him as a young man learning the ropes as a professional baseball player.
"I played 10 years in the major leagues, and I earned a doctorate degree," he said. "It was important for me to be successful outside of baseball, and I've accomplished that."
Last revised: June 5, 2016
Sources
All quotes, unless specified, from the author's in-person interview with John D'Acquisto on June 6, 2013, and from numerous e-mail exchanges.
Notes
Born
December 24, 1951 at San Diego, CA (USA)
If you can help us improve this player's biography, contact us.
http://sabr.org/sites/default/files/D%27AcquistoJohn.jpg
600
800
admin
/wp-content/uploads/2020/02/sabr_logo.png
admin
2016-06-05 14:30:22
2016-06-05 14:30:22
John D'Acquisto