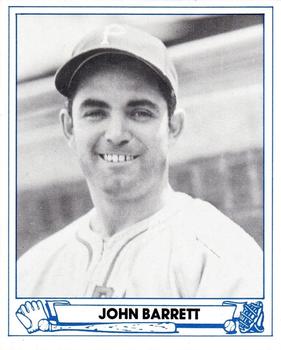 ---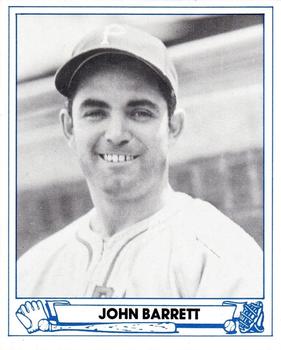 Outfielder Johnny Barrett played five seasons of major-league baseball with the Pittsburgh Pirates and Boston Braves from 1942 through 1946, when he compiled a .251 batting average in 588 games. His best season was 1944, when he led the National League in stolen bases (28) and triples (19) to help Pittsburgh to a second-place finish in the standings.
John Joseph Barrett was born on December 19, 1915, in Lowell, Massachusetts.1 He was the youngest of eight children of William Barrett, a fireman, and Julia Foye.2 Both of his parents died when Barrett was a youngster, his mother in 1916 and his father in 1926.3 He then lived with an aunt, Katherine Barrett, in the Belvidere section of Lowell.4
Barrett attended Lowell High School. Although he played only one year of high-school baseball, during his junior year in 1932, Barrett was elected captain of the team for his senior year.5 After starring as the center fielder on Lowell's American Legion team during the summer of 1932, Barrett decided to forgo playing baseball for Lowell High during his senior year in 1933 to instead play in the adult Municipal Twilight League. In 1934 and 1935 Barrett played in the more advanced semipro Greater Lowell Twilight League.
In June 1935, Barrett, who batted and threw left-handed, attended "a tryout at Fenway Park" with the Boston Red Sox, at a baseball camp run by Hugh Duffy.6 Duffy, a former major-league ballplayer inducted into the Baseball Hall of Fame in 1945, served the Red Sox in the multiple capacities of scout, spring training instructor, goodwill ambassador, and tryout-camp operator.7 At these tryout camps, often called "baseball schools," Duffy acted as a bird dog to spot talented young ballplayers for the Red Sox. While he might recommend that the Red Sox sign one or two campers to a minor-league contract, more often Duffy would dispense advice to these young men on how to improve their talent as a ballplayer. Although the Red Sox did not immediately sign Barrett, Duffy's tryout camp put him on the path to becoming a professional ballplayer.
For the 1935 season, Barrett played not only in the Greater Lowell Twilight League, but also in the Greater Boston Twilight League, with the C.M.A.C. team of Lowell.8 In 1936 he took another step up in semipro competition to play in the Boston Park League, for the Kennedy's team managed by Duffy himself.9 After the Park League season concluded in early August, Duffy arranged with the Red Sox for Barrett to play a few weeks with the Danville, Virginia, team in the Class D Bi-State League.10 The Red Sox signed Barrett to a formal minor-league contract in February 1937.11
The first stop on Barrett's minor-league trek was the Mansfield, Ohio, team in the Class D Ohio State League. During the 1937 season Barrett was an all-star outfielder, hitting for a .378 average, with 51 stolen bases, and league-leading 13 home runs and 129 hits.12 In 1938 he was promoted to the Hazleton, Pennsylvania, club in the Class A Eastern League, where he hit .301 and used his speed to bag 20 triples. For 1939 the Red Sox assigned Barrett to their top farm club, Louisville in the Double-A American Association. However, after he hit just .167 in nine games as a reserve outfielder, Louisville optioned him back to the Eastern League for more seasoning with the Red Sox farm club in Scranton, Pennsylvania. When Barrett hit .273 at Scranton, Louisville recalled him in September.
However, in January 1940, Barrett was optioned outside the Red Sox farm system to the independent San Francisco Seals of the Pacific Coast League, as part of the three-player compensation due the Seals for Boston's earlier purchase of outfielder Dom DiMaggio from the Seals after the 1939 season.13 Because Barrett was under contract with Louisville, but "the Red Sox are keeping an eye on Barrett as a possible major-league prospect," Red Sox manager Joe Cronin orchestrated an informal "understanding" among the Louisville, San Francisco, and Boston (a minority owner of Louisville) ballclubs. To retain a string on Barrett, Louisville optioned Barrett to San Francisco. To appease the Seals, who wouldn't control Barrett's contract, Cronin offered to transfer outright to the Seals two higher quality pitchers than he had originally proffered to complete the DiMaggio deal.14
While Barrett had good speed and a strong throwing arm, the Red Sox believed that he had "a minor weakness at the plate," which Cronin hoped Seals manager Lefty O'Doul could improve through his renowned hitting instruction.15 The tutelage by O'Doul paid some dividends, as Barrett showed increased power with 22 triples and 12 home runs to go with his .267 batting average for the Seals in 1940. But it was no picnic for Barrett to replace DiMaggio in center field at San Francisco. "I couldn't win Frisco," Barrett later recalled. "Those fans really had a high opinion of Dom. If I made a long run after a fly and just failed to catch it, they'd say, 'Dom would have caught it.' But if I chased a long one, caught it one-handed and turned two somersaults, they'd say, 'Dom would have made it look easy.'"16
On November 11, 1940, Barrett married Eileen McAuliffe at St. Patrick's Church in her hometown of Lawrence, Massachusetts.17 The bride was a nurse, who had graduated from St. John's Hospital training school in Lowell, which was located in the same Belvidere neighborhood of Lowell where Barrett lived. The couple established their own home in Lawrence, where they raised a family of three children: John Jr., Cathleen, and Patricia.18
Following his 1940 performance with the San Francisco Seals, Barrett received a shot at making the Red Sox roster for the 1941 season. Louisville, the middle man in the Barrett deal cobbled together in January 1940, exercised its option to recall Barrett from San Francisco, and then sold his contract to the Red Sox.19 To compensate Louisville for its role in the Barrett deal, the Red Sox not only sent cash to Louisville but also pitcher Alex Mustaikis, who had a six-game cup of coffee with the Red Sox in 1940, but never again pitched in the majors.
Barrett attended spring training with the Red Sox in 1941.20 However, the Red Sox already had three young talented outfielders on their roster, in Ted Williams, Dom DiMaggio, and Stan Spence. When he couldn't dislodge any of these three outfielders from the roster, Barrett was expendable. At the end of spring training, the Red Sox sold his contract to the independent Hollywood club in the Pacific Coast League, ending Barrett's relationship with the Red Sox.21
With Hollywood in 1941, Barrett compiled a .313 batting average, with speed (24 stolen bases) and some power (27 doubles, 14 triples, and 4 home runs). His fielding, though, continued to be suspect, with 13 errors and a subpar .955 fielding average. On the strength of this above-average 1941 season, Hollywood sold his contract to the Pittsburgh Pirates of the National League.22 Pittsburgh was rebuilding its outfield after the departure of the vaunted Waner brothers, Lloyd and Paul, who had manned two-thirds of the Pirates outfield for the entire decade of the 1930s. In right field, "the feather-footed Johnny Barrett, up from Hollywood, has a good chance to be a new Paul Waner in the Pirates scheme," touted the Pittsburgh correspondent to The Sporting News.23
Two months after Pittsburgh purchased Barrett's contract from Hollywood, the United States entered World War II. During spring training of 1942 Barrett earned his way onto the Pirates roster and made his major-league debut in the team's season opener on April 14, 1942. With his speed and ability to hit to all fields, Pittsburgh thought Barrett was an adequate substitute for Waner, since it cost the Pirates a lot of money to keep Barrett. When Barrett remained on the Pirates roster by May 1, Hollywood was due a $20,000 payment from Pittsburgh under the terms of the sale transaction.24
In 1942 Barrett had a decent rookie season, batting .247 in 111 games, with some speed (10 stolen bases) but little power (0 home runs, 6 triples). He had another unremarkable season in 1943, batting .231 in 130 games, with even fewer stolen bases (5) and less power (1 homer, 3 triples). Barrett was also merely average in the fielding department; in 1942 he had 11 assists in 219 chances in the outfield, but also committed 6 errors to produce a .973 fielding average. From a modern-day statistical perspective of his value to the Pirates, Barrett's combined WAR for his first two major-league seasons was negative.
Barrett was one of the very few major-league ballplayers to play all four seasons of wartime baseball, from the season opener in 1942 through the last game of the 1945 season. For the 1942 and 1943 seasons, he had a deferment from military service due to his 3-A draft classification (support of dependents). In 1944, when his 3-A status no longer assured him of a military deferment, Barrett was classified as 4-F, or unfit for military service, by the Lawrence draft board.25 Barrett was one several "healthy-looking rejects" on the Pirates team," The Sporting News reported in March 1944, adding, "The Pirates roster contains nine 4-F's who look like great physical specimens and who will challenge any nine 1-A's on other clubs to a game."26 Barrett remained in 4-F status during the 1945 season.
Against depleted competition during the 1944 season, when many ballplayers either served in the military or worked in a defense plant, Pittsburgh's band of 4-F's produced a second-place finish in the National League. Barrett had his best statistical season against the less talented pitchers of 1944. He hit for a .269 average, and had a .415 slugging average, with 24 doubles, 19 triples (best in the league), 7 home runs, and 83 runs batted in. He also had a league-leading 28 stolen bases, as he took advantage of the weaker arms of wartime replacement catchers. He had a 3.8 WAR for 1944. In the MVP voting for 1944, Barrett received some bottom-of-the-ballot consideration (8 points worth).
In 1945 Barrett continued his assault against wartime pitching with a career-high 15 home runs to go with his .256 batting average and 67 runs batted in. He finished second in stolen bases, with 25, just one behind league leader Red Schoendienst of St. Louis. Barrett fell short of leading the league in steals for a second consecutive season, since he was caught stealing 13 times in 1945, for a 66 percent success rate (in 1944 he had an 82 percent success rate).
During the postwar 1946 season, Barrett became a reserve outfielder for the Pirates, when he was bumped from the starting lineup by rookie outfielder Ralph Kiner. Pittsburgh traded Barrett to the Boston Braves on June 12. "What a break this is for me!" a smiling Barrett, the former Red Sox farmhand, told Boston sportswriters at the time. "Being in Boston allows me to be with my wife and children every night during a home stay and believe me, that makes a fellow feel good."27 However, Barrett injured his knee in a game on June 19 when his "right leg buckled" as he ran out an infield hit.28 After he had surgery to repair the torn cartilage in his knee, Barrett saw limited action with the Braves when he returned to uniform on August 11.29 While he finished the season with a .233 average with the Braves, Barrett's final game on a major-league diamond occurred on September 26, 1946.
In December 1946 the Boston Braves sold Barrett's contract to the independent San Diego Padres club in the Pacific Coast League, as compensation for the botched deal that would have sent Jack Lohrke from the Padres to the Braves.30 However, Barrett not only balked at reporting to San Diego, he also announced that he would appeal this transaction to the baseball commissioner, on the basis that he "didn't get a fair trial to re-establish himself as a Braves outfielder."31 While he soon reached agreement to play for the Padres, Barrett seemed to burn his bridges with major-league club owners, as he had openly challenged the power of baseball ownership to control his destiny as a ballplayer.
After two good seasons with San Diego, including a spectacular 1948 season when he hit .339 (third best in the league) with 14 homers and 18 stolen bases, there were no offers from major-league clubs to purchase the contract of the 32-year-old Barrett. He was perhaps blackballed for having cast aspersions about his treatment by the Boston Braves after his injury during the 1946 season. For the 1949 season, Barrett had unremarkable performances with three teams: San Diego and Portland in the Pacific Coast League and Louisville in the American Association. He voluntarily retired from professional baseball in March 1950 and bought a liquor business near his home in Lawrence.32
Following a brief baseball comeback in 1951, with Buffalo and Ottawa in the International League, Barrett focused on his liquor business for the remainder of the 1950s. The political connections he made as president of the Boston Retail Liquors Dealers Association in 1956 and 1957 helped him to obtain a plum county-government job.33 In May 1961 Barrett was appointed superintendent of the Essex County Training School in Lawrence. The job paid well and came with free use of a residence on the 15-acre grounds.34 "Barrett said he hadn't had time to 'get my teeth into this thing yet,' but did say that he has several ideas in mind," the Lawrence Eagle-Tribune reported on Barrett's first day on the job. "First change Mr. Barrett wants to make is in the location of the baseball field. He pointed to a lush flat pasture area across the street from the present field which he plans to convert into a ball field."35
Barrett had a controversial tenure as the superintendent of the Essex County Training School, a reform school that incarcerated boys who were school truants, not juvenile delinquents who had committed crimes. "Barrett was a liquor salesman and had played baseball for the old Boston Braves and Pittsburgh Pirates" and didn't possess a college degree, the Boston Globe summarized his education and training for this managerial position.36 Barrett was praised for changing the direction of the school during his 13 years at the helm from farming to vocational skills, such as metalworking and small-engine repair, which "helped many a lad back to a useful life."37 However, he was roundly criticized as being part of a system whose primary reason for existence was not reformation of wayward boys but rather "to provide patronage jobs for friends and relatives of county commissioners," whose main qualification for the job was having "endeared themselves to a local politician or state legislator."38 The school itself was deemed by its critics to be "an anachronism, a medieval punishment place with no business [existing] in 1973."39 In 1973 the state shut down the operation of the Essex County Training School; however, Barrett stayed on as the chief of security for the now-vacant facility to manage a 10-person staff "to protect the school from vandals."40
Barrett died on August 17, 1974, at his summer home in Seabrook, New Hampshire, and is buried in Ridgewood Cemetery in North Andover, Massachusetts.41
Acknowledgments
This biography was reviewed by Len Levin and fact-checked by Stephen Glotfelty.
Notes
Born
December 18, 1915 at Lowell, MA (USA)
Died
August 17, 1974 at Seabrook Beach, NH (USA)
If you can help us improve this player's biography, contact us.
https://sabr.org/sites/default/files/BarrettJohnny.jpg
600
800
admin
/wp-content/uploads/2020/02/sabr_logo.png
admin
2017-05-08 00:48:13
2017-05-08 00:48:13
Johnny Barrett