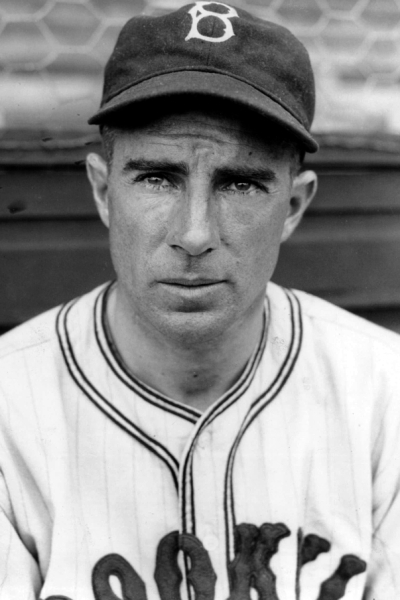 ---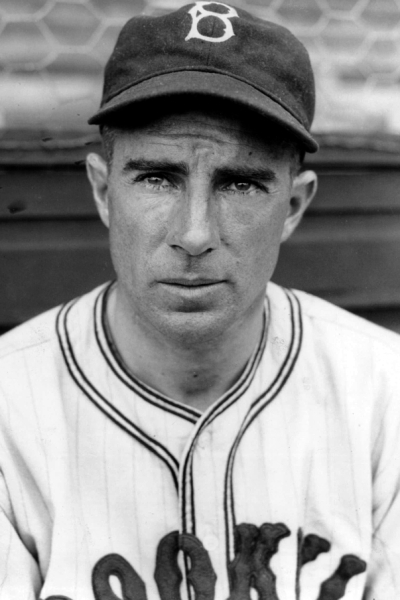 John Walter Cooney, the son as well as the brother of major-league baseball players, competed as a major-league pitcher, infielder, and outfielder for 20 seasons, primarily in the National League with the Boston Braves. Known as a fine defensive outfielder, he compiled a .286 career batting average, briefly managed the Braves, and even umpired a game in 1941. He was one of Al Lopez's coaches for the White Sox in the 1959 World Series. Cooney threw left-handed and batted right-handed, a rarity in baseball circles. Including time in the minor leagues and coaching jobs after he retired as a player, his baseball career lasted from 1922 through 1964.
Cooney could boast that he was the only man to have played in both the National League and the American League, coached in both leagues, managed in both, and umpired in one. He conceded that the managing part was a technicality; he filled in for manager Billy Southworth with the Braves while Southworth was sick and for Al Lopez with the White Sox when Lopez attended his mother's funeral.
Johnny Cooney was born on March 18, 1901, in Cranston, Rhode Island, the son of Jimmy Cooney Sr., a shortstop on the Chicago White Stockings, and Ella (Dunham) Cooney. Johnny was only two years old when his father died. His brother, Jimmy Jr., played with the Red Sox, Braves, Giants, Cardinals, Cubs, and Phillies during a seven-year major league career in the Teens and '20s. An older brother, Harry, played in the New England and New York State leagues.
When Cooney was in high school in Cranston, he threw a one-hitter, which attracted the attention of baseball scouts. In 1920, at the age of 19, Cooney became a pitcher for the Willimantic team of the American Thread Athletic Association, an industrial league, hurling a 1-0 perfect game on August 20 against Rockville.[1] Cooney pitched his gem under most unusual circumstances, according to a 1949 article in The Sporting News. On his way to the game, the train on which he was traveling struck an automobile and killed four people. Johnny tried to help get the victims out of the car, but couldn't, and became physically sick. But he took a few sniffs of ammonia to overcome the experience, then went out and pitched the perfect game. After that performance, a scout for the Boston Red Sox, Paul Krichell, remarked that Cooney "had the goods" to become a major league player. As the story goes, Red Sox manager Ed Barrow offered Cooney a $500 check to sign with them. But his manager at Willimantic, Ed McGinley, wanted the money in cash, fearful that the check would bounce, and an incensed Barrow threw them both out of the office; as a result, the deal with the Red Sox was not consummated. The Boston Braves then offered Cooney the same $500 – in cash – and he signed a contract.
Cooney reported for 1921 spring training in Galveston, Texas, and although he showed great promise, he was still quite young and in need of further physical development. Despite this, he made his major-league debut on April 19, 1921, and pitched in eight games that season. On May 8, 1922, he was optioned to New Haven of the Eastern League, where he starred, posting a 19-3 record that included nine victories in a row. He also stepped in at times to play the infield and outfield. He was so popular in New Haven that the fans took up a collection for him and presented him with $200. Cooney was recalled by the Braves at the end of the season.
In 1923 Cooney made some appearances in the Braves rotation. Despite concerns that his light weight (around 165 pounds) would be a handicap throughout the rigors of a long season, Cooney started eight games and compiled a 3-5 record with a 3.31 ERA, while displaying an effective change-of-pace pitch. On May 24, he was admitted to St. Joseph's Hospital in Providence for an emergency operation for appendicitis, but he was able to return later in the season, at one point hurling 15 consecutive scoreless innings; of note also was his .379 batting average in 66 at-bats.
Johnny followed that up with an 8-9 record and a 3.18 ERA in 19 starts in 1924, and in 1925 he had his best season pitching with the Braves when he started 29 games and completed 20 of them, winning 14 and losing 14 with a 3.48 ERA. During this time, Cooney also developed a "hesitation" pitch that served to baffle opposing batters. As described in the Washington Post:
"…the pitch is a "hesitation" delivery. When the batter is all set for the ball, Johnny winds up, comes down with his foot and then lets the ball go. Usually the foot comes down as the ball is leaving the pitcher's hand. This delay throws the batter off his stride as the ball comes up to the plate after the batter is ready for it." [2]
Toward the end of the 1925 season, Cooney also appeared in a number of games at first base and in left field, coinciding with the development of a stiff left arm that limited his pitching appearances in 1926 and 1927. He had a locked elbow; it prevented him from doing simple things such as scratching a mosquito bite. In the fall of 1927, he underwent an operation on his left arm in which 13 pieces of bone were removed, leaving it shorter than his right arm. After being used sparingly by the Braves in 1928 and 1929, and following a holdout over salary issues which did not endear Cooney to the Braves management, he was sent to Jersey City of the International League in 1930 for a 20-day trial, which turned out to be 2½ months. Returned to the Braves, he was optioned to Newark of the same league. Between Jersey City and Newark, he had an 0-1 pitching record but batted .269 with 10 RBIs. He returned to the Braves at the end of the season and eventually was sold to Toledo of the American Association, managed by Casey Stengel, a former teammate of Cooney's on the Braves; this began a four-year absence from the major leagues for Cooney.
Knowing that his days as a pitcher were over, Cooney continued the process of reinventing himself as a major-league player. Using his intelligence and speed, under Stengel's tutelage he developed into a fine outfielder. True to his reputation as a jack-of-all-trades, he even played second base for a game despite the fact that he was left-handed. But the Toledo franchise was having financial problems and sold Cooney to the New York Giants, who used him in a trade with Indianapolis, also of the American Association. Cooney played for Indianapolis for four years, both as a pitcher and as an outfielder, and played in the 1935 American Association All-Star Game.
Despite his success at Indianapolis, major-league teams were reluctant to take a chance on Cooney because of his age. But on September 10, 1935, the 34-year-old outfielder was sold to the Brooklyn Dodgers, due at least in part to the efforts of Stengel, who was then managing the Brooklyn nine; at the time, Cooney was leading the American Association in batting average and eventually won the title with a .375 average. Showing speed, a great throwing arm, and the ability to track fly balls with little apparent effort, he came to spring training in 1936 to vie for a regular outfield spot with the Dodgers. [3] But after securing the starting nod in center field for the season-opening series against the Giants, Cooney was benched after a poor start. Upon being reinserted into the lineup, his hitting, although short on power, picked up, and that, combined with his steady and at times spectacular outfield play, kept him in the Dodgers' starting lineup.[4] Speaking of Cooney's defensive prowess, teammate Van Lingle Mungo said, "I think Cooney is the best outfielder I ever saw in my life or ever heard of. He's not fast, but he doesn't have to be. He's just always there when a ball has to be caught."[5]
Cooney batted .282 and .293 in 1936 and 1937 and was highly popular with the Brooklyn fans. After the latter season, the Dodgers traded Cooney with three other players to the St. Louis Cardinals for Leo Durocher in a deal deplored by Brooklyn fandom because Cooney was leaving.[6] The Cardinals wanted to send Cooney to their Columbus farm club in the American Association, but he resisted and was given his unconditional release in April. He immediately signed with the Boston Bees, again joining Stengel, by now the manager of the Bees. Cooney showed his versatility by playing all three outfield positions as well as first base, and sharing pinch-hitting duties, while batting .271 in 120 games. In 1939, on the way to batting .274, Cooney, by now 38 years old, hit the only two home runs he would have in the major leagues – in consecutive days on September 24 and 25. Both were hit in the Polo Grounds, both hit in the third inning, and both were two-run homers.
While beginning to prepare for life after baseball, Cooney signed with the Bees as a player-coach for the 1940 season; he finished third in hitting in the National League with a .318 average. To acknowledge his great popularity with fans for his hustle and considerable baseball skills, Cooney was honored in September on Johnny Cooney Day; in addition, Cooney received the Walter S. Barnes Trophy at the annual Boston baseball writers' dinner, as the most valuable Boston player of 1940.[7]
During the 1941 season, Cooney made an unexpected appearance as a major-league umpire, behind the plate, on June 28 against Brooklyn when the regular umpiring crew was fogged in off the Cape Cod Canal after a boating trip. Cooney's stint as arbiter was short, as the regular crew returned to the ballpark in the second inning.[8] Slated to be a backup center fielder in 1941, Cooney continued to impress on the field with a .319 batting average, second best in the National League, and compiling a league-leading .996 fielding average in the outfield. The Sporting News selected him as Veteran Player of the Year for 1941.
Asked about his longevity, Cooney said that by keeping his legs strong, he was able to avoid charley horses, muscle pulls, and other nagging leg injuries that frequently hamper athletes. He also embraced a lifestyle that included no alcohol or tobacco and focused on physical fitness, including nine to ten hours of sleep each night.[9]
The 1942 season was not a successful one for Cooney. The 41-year-old appeared in only 74 games and slumped to a .207 average. The Braves released him outright in January 1943. Feeling that he could still play, Cooney rejected a Double-A coaching offer from the Braves. Branch Rickey of the Dodgers, who referred to Cooney as a "coconut snatcher," his preferred pet name for a utility player, signed him as a free agent and Cooney played sparingly with Brooklyn in 1943 and 1944. Displaying his usual team play and detailed preparation, but plagued by neuritis in his shoulder, he played in only 44 games for the Dodgers in the two seasons. He was released by Brooklyn in June 1944 and quickly signed with the Yankees, coincidentally by team president Ed Barrow, who had been unable to sign him for the Red Sox at the start of his career. Released by the Yankees in August, he spent the rest of the 1944 season with Toronto of the International League and in 1945 became a player-coach for the Kansas City Blues of the American Association, managed by his old friend, Casey Stengel, before his playing days came to an end.
After compiling a .286 lifetime batting average, Cooney was asked about his success as a hitter. He replied that "Casey (Stengel) showed me the advantage of hitting down the foul lines, first and third. He pointed out that there is only one man to get the ball by at third and first, whereas if you hit through the middle there are three men who have a chance to retire you — the pitcher, shortstop and second baseman."[10] Not only was Stengel a positive influence on Cooney in baseball matters, but the Perfesser also encouraged him to invest in some oil land in Texas that provided considerable money in royalties.
The 1946 season found Cooney employed by the Boston Braves as a coach, after he turned down a chance to coach again for Stengel, this time in Oakland. Cooney remained in Boston as a coach through the 1952 season, at one point assuming the managerial reins when besieged manager Billy Southworth was forced to step down temporarily due to "failing health." Cooney's previous experience as a major-league pitcher was extremely helpful with the Braves pitching staff and he also gave invaluable help to the outfielders. Although reports from the Braves clubhouse were favorable regarding Cooney's leadership style, Johnny himself was very content to remain a coach, citing a desire to steer clear of the pressures of managing. When the Braves franchise moved to Milwaukee in 1953, Cooney followed and remained in Milwaukee as a coach through the 1955 season.
After sitting out the 1956 season, Cooney became a coach with the White Sox in 1957, retiring after the 1964 season; he was a part of the 1959 White Sox team that went to the World Series against the Los Angeles Dodgers.
Cooney died in Sarasota, Florida, in 1986 at the age of 85, leaving behind his wife, Alice, and a son, John.
This article originally appeared in the book Go-Go To Glory—The 1959 Chicago White Sox (Acta, 2009), edited by Don Zminda.
---
Born
March 18, 1901 at Cranston, RI (USA)
Died
July 8, 1986 at Sarasota, FL (USA)
If you can help us improve this player's biography, contact us.
http://bioproj.sabr.org/bp_ftp/images5/CooneyJohnny.jpg
600
800
admin
/wp-content/uploads/2020/02/sabr_logo.png
admin
2012-01-04 20:35:09
2012-01-04 20:35:09
Johnny Cooney