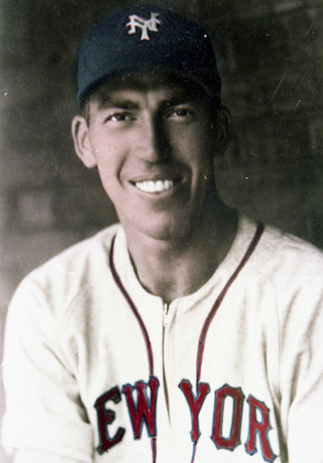 ---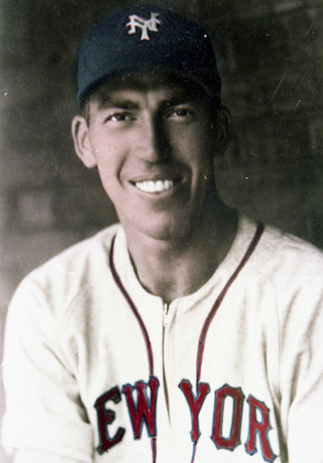 John A. (Johnny) Gee, Jr. drew national attention in August 1939 when the Pittsburgh Pirates purchased him for cash and four players from the Syracuse Chiefs of the International League. A front-page story in the September 21 issue of The Sporting News stated that the $75,000 price was the "biggest independent deal since 192[4], when Lefty Grove was sold to the A's [for $106,000]."1 Gee's 6-foot-9 height also drew attention. He became the tallest player in major-league history, and remained so until 6-foot-10 Randy Johnson made his debut in September 1988.2 Sportswriters couldn't resist making light of Gee's height – "long Johnny," "altitudinous," "mountainous," "Herculean," "sky-scraping," "the whopper," "towering," and "the pitching giraffe" were just a few of the sobriquets chosen.
Johnny Gee (pronounced 'jē' as in "Gee Whiz") was born in Syracuse, New York, on December 7, 1915, to parents John A. and Anna (Nicholson) Gee. His father was superintendent of school buildings and repairs for the Syracuse school district. Johnny had one older sister. He made the Central High School baseball team as a freshman, but didn't become the team's number-one pitcher until his junior year. Because of his height it might be assumed that he played basketball growing up, but in fact he had never played on a varsity team at the time he enrolled at the University of Michigan in the fall of 1933.3 He played tennis well enough to be a contender for citywide open tournaments.4
Gee was recruited to Ann Arbor by Michigan's head baseball coach, Ray Fisher.5 (Fisher won 100 games in a ten-year major-league career, and was Michigan baseball coach for 38 years, 1921-1958.) Fisher was also the freshman basketball coach and, it was thought, brought his tall pitching recruit to the freshman basketball team tryouts.
Varsity basketball coach Franklin Cappon may have had a hand in recruiting Gee for the basketball team, too. According to an article in the Ann Arbor Daily News, Michigan's "B" team had beaten tiny Calvin College (Grand Rapids, Michigan) in 1933, but Cappon had been impressed by Calvin's 6-foot-9 center. "I wonder what would happen if I could get a tall center like that for the Western Conference [Big Ten]," mused Cappon. [College rules at the time called for a center-court jump ball after each basket.] During a walk on campus one day, Cappon noticed a boy – Johnny Gee – "as tall as a telegraph pole," and asked him to join the freshman team.6
Gee made the freshman team as the second-string center. "He was awkward, having his gigantic proportions as his only attribute," wrote columnist Art Carstens. "Coach Fisher devoted more time to Gee than any other of the freshmen, and Cappon, determined to utilize his height, worked on him during spring practice."7 Gee was the starting center the next three years and team captain as a senior. At the time he was the tallest man to have played basketball for Michigan.8
Gee also won three letters in baseball, highlighted by the Wolverines winning the Big Ten championship in 1936 and ending a six-year drought for Coach Fisher, whose teams had won six conference championships in the 1920s. Gee received the Big Ten Medal of Honor in 1937. (The medal is awarded annually at each school in the conference to a student in the graduating class who best demonstrates proficiency in scholarship and athletics.) Gee had been at best a good student in high school, but blossomed in college. He was a member of the secret Sphinx Society and Phi Kappa Sigma fraternity, and graduated in 1937 with a bachelor of arts degree in education.
Syracuse Chiefs owner Jack Corbett courted the hometown pitcher while he was still in college. "Three years ago [1934] Corbett 'spotted' Gee as a baseball possibility and persuaded him to pitch batting practice for the Chiefs. He showed enough ability to have Corbett elicit a promise from him that he would report to Syracuse after graduating from Michigan," the Syracuse Herald wrote.9
Corbett had planned to bring Gee along slowly, perhaps waiting until 1938 to unveil him. Initially, Gee was placed on the ineligible list, but he showed so much in practice that manager Mike Kelly insisted he be placed on the active roster. Gee pitched well in two relief appearances, and then made a big impact with a complete-game, 4-2 exhibition win on July 13 over Cincinnati, the Chiefs' major-league parent club. Gee finished with a 4-3 record and a fine 2.90 ERA. He appeared in 16 games, starting seven.
Gee was the Opening Day starter for the Chiefs in 1938 – the first Syracuse native to have that honor. He pitched a complete game to defeat Montreal 3-1 before a large, adoring crowd. He finished the season with a 17-11 record in 30 starts. His 2.71 ERA was second in the league.
Gee started fast in 1939. His record was 16-4 on August 1 when he was purchased by Pittsburgh in the blockbuster $75,000 deal, effective at the end of the International League season. He finished with a 20-10 record and a 3.11 ERA. He made his first start for the Pirates on September 17, losing to the Phillies 7-3 as his new teammates made eight errors. Gee gave up only six hits in eight innings, and no earned runs. His first taste of major-league baseball was encouraging – he started three games, completed one, and ended up with a 1-2 record and a 4.12 ERA.
Thus, the offseason was full of hope and promise. Gee took a trip back to Ann Arbor to watch a football game, and then returned to Syracuse to prepare to coach and play basketball in a city league. He was a popular guest on radio shows and Hot Stove League dinners. "Just before he headed west with the Pirates," Charles J. Doyle of the Pittsburgh Sun-Telegraph wrote in The Sporting News, "Johnny attended the annual 'Sports Roundup' of the Pittsburgh baseball writers and made a fine impression. The 6-foot-9 Hercules has unusual grace and poise and inasmuch as he is a graduate of the University of Michigan, he knows the answers to a lot of questions not connected with baseball."10
Sadly, Gee did not throw a pitch in a regular season game in 1940. He came down with a sore arm shortly after arriving in the Pirates' training camp in San Bernardino, California. Gee failed to last an inning in his first start, on March 17, and his arm was still a concern as the team broke camp for a series of exhibitions on the way back to Pittsburgh. He was wild in a game against the White Sox in Lubbock, Texas, on April 4, and didn't make it out of the second inning in a start against Evansville of the Class B Three-I League on April 14. A St. Louis specialist said that Gee was suffering from neuritis, and recommended that he rest his arm for a week.11
Pittsburgh optioned Gee to Syracuse on May 9. He worked out for several weeks, but did not appear in a game, and the Chiefs canceled his option and sent him back to Pittsburgh. The Pirates then optioned him to Albany of the Class A Eastern League. Gee refused to report, stating that his arm was in no shape to pitch. He left Syracuse to work out with Ray Fisher at his former coach's summer camp in Vermont.12
Pittsburgh placed Gee on its 1941 spring-training roster and hoped for the best. Gee had been a durable pitcher and there apparently had been no warning signs about his arm in college or the minors. He had pitched 226 innings with Syracuse in 1938, and 240 innings in 1939, plus 19⅔ innings with the Pirates. Charles Doyle expressed the opinion of many – that the highly publicized rookie tried too hard in spring training to justify the big $75,000 price tag: "Against definite orders, issued by [Pittsburgh manager Frankie] Frisch, that no pitcher throw a curve-ball in the first workout of the season, the highly publicized southpaw proceeded to put his hook on display in San Berdoo and for weeks was well-nigh helpless."13 Gee later admitted his mistake in a 1944 Associated Press story filed from the Pirates' spring-training camp in Muncie, Indiana. "I guess I just threw too hard too soon, that's all," he recalled.14
Pittsburgh sent Gee to training camp ten days early in 1941 to work with a Los Angeles specialist, and he had earlier spent time working out indoors at Ann Arbor with Fisher. Gee said his arm was responding to his former coach's workouts. "I'm placing myself entirely under Fisher's directions," Gee said. "He'll do the pacing and I'll do the pitching. He taught me all I know and he's the one who can straighten me out."15
But the 1941 season was another disaster. Gee had a few good outings in spring training, but Frisch farmed him out to Portland of the Pacific Coast League, figuring he would benefit from more regular work than he would get with the Pirates. He pitched in only two games for Portland before being optioned to Dallas of the Texas League. Pittsburgh hoped the hot weather would be good for his arm, but Gee refused to report, citing a contract dispute, and Charles Doyle lamented that the Pirates were having more "Gee trouble."16 Gee spent some more time working out with Fisher in Ann Arbor, and then agreed to report to Albany. He did not appear in a game there, but was one of four players called up to Pittsburgh in early September. Gee lasted only 1⅓ innings in his first start, and finished with 7⅓ innings in three appearances and a 6.14 ERA.
Major-league teams were starting to lose players to the military draft, making Gee particularly appealing, since men 6-feet-6 or taller were classified 4-F. Nevertheless, Pittsburgh optioned him to Toronto of the International League on February 18, 1942. They hoped he would benefit from the teaching of manager (and future Hall of Fame pitcher) Burleigh Grimes. It looked as though that might work, as a sportswriter observed: "Johnny Gee broke into the victory column with a win over his home town Syracuse Chiefs. Under Grimes' handling, the big fellow appears to be on the way to pitching greatness."17
The apparent improvement was short-lived. After five games Gee was 2-2, but had given up 24 runs in 34 innings pitched. Grimes gave up on Gee, and Pittsburgh optioned him to Atlanta of the Southern Association, once again hoping a steady diet of hot weather would help their ailing pitcher. Gee decided not to report and asked to be placed on the voluntarily retired list. He signed to teach and coach at Adams (New York) High School, and on August 30 married Suzanne Corl of Maumee, Ohio. They'd met while attending the University of Michigan.
But Gee wasn't done with baseball just yet. He tested his arm early in 1943 by pitching batting practice for the Toronto and Syracuse International League teams, and petitioned Pittsburgh president Bill Benswanger for a tryout. Gee looked good in batting practice trials and the team reinstated him to its roster once again.18 He lasted only 2⅔ innings in his first start, on July 3, and was pummeled for 11 runs in 2⅔ innings by the Dodgers in his next start, but then shut out the Phillies in a seven-inning relief appearance on July 23 to earn his first major-league victory since 1939. Gee followed with complete-game victories over the Giants and Braves, but lost his last three starts to finish at 4-4, with a 4.28 ERA and 82 innings pitched in a half-season of work.
Gee and the Pirates had high hopes heading into 1944. He reported to camp late because of teaching responsibilities, but Charles Doyle reported that "Johnny Gee looks more formidable right now than at any time in his unfortunate career."19 The old sore arm problem came back again, though, and Gee was unable to make his scheduled start for the second game of the season in St. Louis. He appeared in only four games through the end of May and the Pirates finally gave up on him. They sold Gee to the New York Giants for the $7,500 waiver price on June 12.20 Gee worked in only four games for the Giants, for a total of five innings.
The 1945 season was even worse – Gee pitched two innings in April and one in May, and asked to be placed once again on the voluntarily retired list. He signed a contract to teach and coach at Waterloo (New York) High School.
When the weather warmed up in 1946, Gee tested his arm and it felt pretty good. He pitched a few games for a semipro team in Palmyra, a short drive from Waterloo, and decided to give Giants manager Mel Ott a call to request another tryout. Gee offered to join the team after the school year, and Ott told him a spot would be open on the roster whenever he was ready. "Gee was given complete charge of his own training," Syracuse Herald-Journal sports editor Lawrence J. Skiddy wrote. "He worked himself into shape, told Ott when he was ready, and really went to town."21 Gee pitched two shutout innings of relief against his old Pittsburgh mates in his first appearance, on July 17. Then he started and pitched 8⅔ innings to beat Cincinnati 2-1 on July 21, and followed that up on July 26 with a complete-game 3-2 win over the Reds.
The tallest pitcher in major-league history couldn't expect to escape the size-oriented nicknames he'd been tagged with, but it finally looked as though, after battling his sore arm for six years, he might erase some of the crueler ones, such as "the $75,000 lemon." But it was not to be. Gee lost his next four starts, and was relegated to the bullpen. He finished the season with a 2-4 record and a 3.99 ERA in 47⅓ innings. He did not pitch in the major leagues again.
Gee returned to Waterloo after the baseball season to resume his teaching career. He signed to play with the 1946-47 Syracuse Nationals of the National Basketball League on a part-time basis, depending on his teaching schedule. He played in 24 of the team's 44 league games, but turned down a chance to play the next season when the team insisted he become a full-time player.
There were rumors, especially in the New York press, that Gee planned to return to the Giants in 1947. One article stated that he would report after the Waterloo High School basketball season was finished.22 Gee talked to the team, but the two sides could not reach satisfactory terms. He did his pitching the next four years for the semipro Homer (New York) Braves of the Southern Tier League.
Gee returned to organized baseball – controversially, as it turned out – on September 10, 1949, pitching a 3-0 shutout for Geneva against Ogdensburg in the first round of the Class C Border League playoffs.23 Geneva, the league pennant winner, had signed Gee in August, with the understanding he would report after the completion of Homer's season. He did not pitch a game in the regular season, but led Geneva to the postseason championship with four of the team's eight victories. Geneva had not violated league rules, but Gee's success caused the league to change playoff eligibility requirements before the next season.24
Gee played for Homer again in 1950, and then in 1951 returned to the Border League to pitch for Auburn (New York). He stipulated that he would pitch only in home games and in nearby Geneva until the end of the Waterloo school year. It was a troubled year financially for the league, and it disbanded on July 16. Gee finished the shortened season with a 4-2 record and an ERA of 2.49, and quickly found another pitching job with a semipro team in Blacks Harbor, New Brunswick. He brought his family along for an extended vacation.25
The family enjoyed a two-month stay at a cabin on Swan Lake in Minnesota in 1952, courtesy of the Fergus Falls Red Sox of the fast semipro West Central Minnesota League. Gee and his family arrived in Fergus Falls just in time for him to pitch a game on July 3. The Fergus Falls Daily Journal described his arrival: "Johnny Gee untangled his huge frame … from beneath the steering wheel of his car Thursday evening as he finished the long driving grind from New York state. … It was no easy task for the big lefthander who became stiff and tired from his long journey with his wife and four youngsters, but the former Pittsburgh Pirate chucker wouldn't let the crowd down who came to see him pitch and defeat the Willmar Rails."26
Gee's son, John A. Gee, III, remembered a wonderful summer in Fergus Falls. He even enjoyed the nearly 1,300-mile drive, especially the red skies from steel mills in Gary, Indiana, and the restaurant in Eau Claire, Wisconsin, where his parents danced. He remembered beavers in Swan Lake and the time he fell into the Mississippi River. (Of course it was at the source of the river in Lake Itasca, where it is only a shallow stream.) Young Gee got to play on a peewee baseball team coached by two Fergus Falls players from the University of Southern California, Lou Bishara and Don Herman. "I had a Beaver Cleaver childhood," he said, "based around baseball."27
Gee's record was 4-5 at Fergus Falls. He threw seven complete games in ten starts and struck out 80 hitters in 77⅔ innings. Complete ERA records are not available, but if the 30 runs he gave up were all earned, his ERA would have been 3.50.
What had happened to Gee's sore arm? We may never know for sure. It's possible he learned to pace himself, something he did not or could not do in the major leagues, where competition was stronger. It's also possible he figured out how to avoid the muscular stress that caused the sore arm. Harley Oyloe, a Fergus Falls resident and the team's other starting pitcher, said, "Gee threw pretty hard, and had a good curveball. He was a good pitcher and teammate, and I never heard him complain about his arm."28
Gee pitched for Homer again in 1953 because his wife was pregnant and the family wanted to stay close to home. They baseball-vacationed for the last time in 1954 when Gee pitched for a Truro, Nova Scotia, semipro team. It was the last time because Gee was made principal at Waterloo High School in 1955, a job that was a year-round assignment.
Gee received a master's degree in education from Syracuse University in 1956, moved to Cortland, New York, in 1960 and was principal there until he retired in 1977. He was one of the area's top football, basketball, and baseball game officials, and an inspiration for a generation of students. He could often be found at Syracuse Chiefs games. In 2014 Ron Gersbacher, the Chiefs' president, said, "Johnny Gee was known as a truly great professional and showed all of us that being an athlete is not enough. You must back it up with education."29 Gee was posthumously inducted into the Greater Syracuse Sports Hall of Fame on October 26, 1998, and to the Syracuse Baseball Wall of Fame on July 28, 2001.
Perhaps the award that would have pleased Gee the most took place on August 3, 2013, when the Cortland High School Class of 1968 honored him with a plaque and dedication ceremony to christen the John A. Gee Main Office. "We thought it would be very fitting," said John Woodward, a member of the class who helped plan the dedication. "Our class fared well under his stewardship and we thought a lot of him. We all looked up to him."30 Gee was also remembered as a stern disciplinarian who could easily silence an uncouth cheering section with his intimidating stature. "If he saw that raucous behavior, all he had to do was look up at the student section with his hands on his hips and it was done," [Bill] Kulikowsky said. "No more booing."31
Gee died on January 23, 1988, in Cortland. He and his wife, Suzanne, raised five children: Corlann (born 1943), John A. Gee, III (1946), Nancy (1947), Katherine ( 1950), and Thomas (1953). All five have college degrees.
This biography originally appeared in "Van Lingle Mungo: The Man, The Song, The Players" (SABR, 2014), edited by Bill Nowlin.
Sources
Ann Arbor Daily News
Cortland Standard
Fergus Falls Daily Journal
Michigan Alumnus
New York Times
Saskatoon Star-Phoenix
Syracuse Herald
Syracuse Post-Standard
The Sporting News
Watertown (New York) Daily News
2014 University of Michigan Baseball Record Book, mgoblue.com/sports/m-basebl/mich-m-basebl-body.html. Last date accessed: February 3, 2014.
2014 University of Michigan Basketball Record Book, mgoblue.com/sports/m-baskbl/mich-m-baskbl-body.html. Last date accessed: November 30, 2013.
Interviews
John A. Gee III
Ron Gersbacher, Syracuse Chiefs president
Jeffrey Morey, SABR member, Cliff Kachline and Luke Easter Chapters
Harley Oyloe, 1952 Fergus Falls Red Sox pitcher
Research assistance:
Debbie Gallagher, Ann Arbor District Library
Sarah Kozma, Onondaga Historical Association
Holly Sammons, Onondaga County Public Library
Notes
Born
December 7, 1915 at Syracuse, NY (USA)
Died
January 23, 1988 at Cortland, NY (USA)
If you can help us improve this player's biography, contact us.
http://sabr.org/sites/default/files/GeeJohnny.png
600
800
admin
/wp-content/uploads/2020/02/sabr_logo.png
admin
2012-01-04 20:47:05
2012-01-04 20:47:05
Johnny Gee