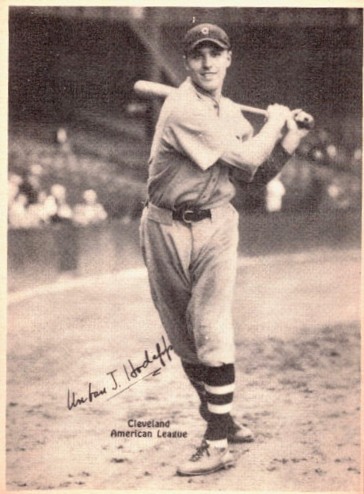 ---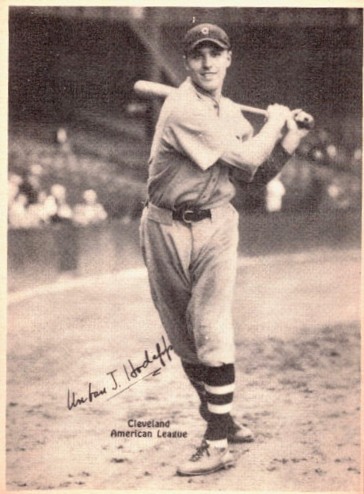 It took quite a while to pay off, but the investment that Cleveland team president Ernest Barnard made in Urban Hodapp finally paid off about five years later. Barnard had invested $40,000 as well as infielder Joe Klugman and two players to be named later (who were Riggs Stephenson and Elmer Yoter). Barnard was clearly really high on Hodapp.
Urban John Hodapp was born on September 26, 1905, in Cincinnati. His father, John, was an undertaker and embalmer, born in Boston of immigrant parents from Baden, a region in southwestern Germany. His mother, Lena (Helena) Kneuven, was born in Holland of Dutch parents. Johnny, as he was known, had a brother Clifford, about two years younger, and another brother named John, but known as Bill. The Hodapp boys grew up in an apartment above the family's funeral parlor.
Former Cincinnati Reds publicity man Hank Zureick wrote that Cliff played pro ball with the 1928 Quincy Indians in the Three-I League and was hitting over .300 as an outfielder when he broke his ankle and decided to concentrate on the family business instead. Bill was needed in the business, but played for some strong amateur teams in Cincinnati. [Information supplied by Gregory Korte, Johnny Hodapp's grandson, on December 20, 2009]
Johnny attended St. Charles Elementary School and St. Xavier High School, the alma mater of Jim Bunning, but Gregory Korte was unable to find anything indicating he played baseball there, though Johnny's daughter Martha declared, "My dad could hit balls over the roof at St. Xavier High School when it was in downtown Cincinnati, the scouts of the day observed this and signed him up."
Korte, a journalist and SABR member, researched his grandfather's history but found no indication that he played American Legion ball, either. He played semipro ball – for one game. As Korte wrote, "As a 15-year-old, he naïvely agreed to play for a local semipro team that needed an extra glove, thereby jeopardizing his amateur status. The amateur league let him back in after being convinced that he didn't understand the ramifications." [Correspondence from Gregory Korte, December 20, 2009]  
The Indianapolis Indians signed the teenage Cincinnati shortstop on February 1, 1924, "picked off the Cincinnati sandlots." [Washington Post, January 5, 1928] Korte explained: "He played for the Carthage Wildcats, which were city champions in 1919, when he would have been 13 or 14. Their record was 27-1. Cliff played on the same team, which was managed by 'Keg' Kneuven. I don't know anything about him, but surmise that he was a relative on Johnny's mother's side. (Carthage was the neighborhood he grew up in, where the funeral home occupied a prominent corner.)"  Johnny also played for a couple of years in Cincinnati's Millcreek Valley League, mostly (if not exclusively) for the Reading (Ohio) Royals.
Indianapolis manager Donie Bush was happy to get Hodapp, who hit .343 in an even 100 games and helped the Indy team place second in the eight-team American Association, four games behind the St. Paul Saints. He earned extravagant praise: A Sporting News story called him the "biggest find" of the season in the league and said that the "big, strapping youth" was a "veritable golden nugget." [The Sporting News, August 28, 1924]
Ed Sicking, the Indianapolis second baseman, who formerly played for the New York Giants, had been asked to assess Hodapp, and a couple of months after the season ended, Hodapp was full of hope, telling newsmen on December 8 that he had been told to expect a call from Giants manager John McGraw. He said he understood negotiations were under way and he would probably join the Giants for spring training. [Hartford Courant, December 9, 1924. The mention of Sicking was in an August 1925, New York World Telegram clipping from Hodapp's player file at the Hall of Fame.] There were scouts from numerous teams tracking him. Donie Bush, though, said he planned to keep Hodapp. He worried about a "too early elevation to the majors." [The Sporting News, May 7, 1925]
No sale to the Giants happened. Hodapp spent most of 1925 with the Hoosier ballclub, hitting .279 in 110 games despite a slow start. On August 1, the Cleveland Indians secured the rights to the Indianapolis third baseman, outbidding the Giants. Bush was an old friend of Cleveland player-manager Tris Speaker, which may have helped.
Hodapp saw all the dollar signs and wanted a piece of the action, so he held out and refused to report to Cleveland for more than two weeks. "His score is with Indianapolis, but the Tribe must suffer for it," lamented Francis J. Powers in the August 20 Sporting News.
When Hodapp finally turned up, he was put in the lineup playing third base in the August 19 home game against the visiting Washington Senators. Washington won the game, 12-8, but Hodapp was 2-for-5 with a single and a double. He hit two more singles the next day in five at-bats, but his errant throw in the top of the 12th set up the run that cost Cleveland the game. On the 29th, he figured in all three runs in a 3-2 win over the Red Sox, driving in the first two with a single and stealing home for a third run in the bottom of the seventh. In the 37 games he appeared in in 1925 – still 19 years old – Hodapp hit .238 and drove in 14 runs. Numerous stories remarked on his speed, and he was said to handle ground balls well.
Hodapp was expected to challenge third baseman Rube Lutzke for his job in 1926. As it happened, because of injuries and illness he wasn't in a position to mount a challenge. He suffered a serious injury right at the end of spring training. It was first reported as a sprained ankle. It turned out to be a broken ankle. He couldn't play, so the Tribe brought in Ernie Padgett as backup. Hodapp got into only three scattered games for Speaker (July 5, August 7, and September 7) and a total five at-bats. He had one single.
In 1927, a new skipper took over: former scout Jack McCallister. Hodapp was healthy enough to play the full season, but in a secondary role. His fielding at third base discouraged McCallister from using him more. He hit well – he appeared in 79 games and hit .304, including his first five major-league home runs. He drove in 40 runs, helped by a pair of four-RBI games. But the fielding was of concern.
Hodapp finally got in a fairly full season in 1928, with 449 at-bats and a .323 average. He drove in a team-leading 73 runs. He embarrassed himself badly in a home game on April 30, committing four errors and costing Cleveland the game. Back the next day, he turned things around promptly, driving in every run in a 4-3 win over the St. Louis Browns. Four days after that, he hit two homers to knock in three of the runs in a 5-4 win in Boston. He wrenched his knee badly on May 31 and was out for five weeks, and had an eye problem that cost him another week.
Getting two hits in one inning is a rare enough feat. In the July 29 game against the Yankees, Hodapp became the first American Leaguer to do it twice in the same game. Cleveland walked over New York, 24-6.
Looking ahead to 1929, it was thought Hodapp would move from third base to first base. But on March 21 the report came out of New Orleans that he had torn a ligament or wrenched his knee again during spring training and would be out for the season. [Washington Post, March 22, 1929] That level of alarm was premature. He did appear in 90 games, beginning on Opening Day, but they were all at second base as Hodapp edged aside Carl Lind for primacy at the position (in 18 of the games, he served as a pinch-hitter). It wasn't a headline-filled year but he finished hitting .327, with 51 RBIs. There was one burst where in a stretch from July 31 to August 4, he had two RBIs a day for four days in a row. Teammate and first baseman Lew Fonseca's .369 average led the league in hitting.
Hodapp had been a subpar fielder throughout, particularly on the double play, but late in 1929, he said he got a tip that helped him out. Though he was a pretty consistent hitter, managers had sometimes been reluctant to give him much playing time. In '29, Indians manager Roger Peckinpaugh slotted him in at second base, but occasionally even had one of the outfielders play the bag. Hodapp kept asking other second basemen what the trick was on the pivot; they all said to step in before the pivot. It was only Oscar "Ski" Melillo who gave him the opposite advice: Step back. He did, and it worked like a charm. [Washington Post, December 25, 1929]
In 1930 Hodapp had his best season on offense. On April 30, he was so badly beaned by a Dick Coffman fastball that he had to be helped from the field, but he didn't miss a day. May 1 was a day off, and on May 2 he went 3-for-5. He played in every one of the Indians' 154 games. He was 6-feet tall and weighed 185 pounds, enough to rank him the largest second baseman in the league. He hardly made a national headline other than briefly when he took the lead in batting average in mid-June, on the strength of a 22-game hitting streak that pushed him to a .391 average on June 19, collecting 42 hits in the 22 games.
Now the "$40,000 lemon" had become a peach. Barnard had paid a high price to bring him to Cleveland and he'd generally disappointed. Not this time.
But Al Simmons (.381) and Lou Gehrig (.379, with 174 RBIs) were the ones who fought for the batting crown in the end, and Johnny wound up sixth – an excellent year. He batted .354 and led the league with 225 base hits, and his 51 doubles led the league, too. Parenthetically, it's surprising to note that 20 batters had 200 or more hits in 1930, 12 from the National League and eight from the AL. Hodapp's 32 bases on balls were his highest to that point; he didn't walk much at all. He drove in 121 runs, by far the best of his career.
Hodapp was a holdout again in 1931, and Cleveland sportswriter Ed Bang noted that he had a profession to fall back upon: He was "in a position to become one of Cincinnati's best young undertakers any time he desires." [The Sporting News, February 19, 1931] He came around, with first baseman Eddie Morgan holding out even longer. The day after Morgan joined the fold, "Hodapp's trick knee gave one of its inimitable performances." In the first inning of a spring training game against the New Orleans Pelicans, he "twisted to make a throw to first, only to fall in a heap and had to be carried from the field by his mates." The cartilage had "slipped out of position." [The Sporting News, March 26, 1931] There he was, though, ready on Opening Day.
There was a big dropoff in 1931, a solid year by many standards but nothing like 1930. Hodapp's average dropped more than 50 points, to .295, and he played in 122 games. He drove in 56 runs, less than half of the 121 of the year before. After the season was in the books, he married Martha Garaghan of Indianapolis on November 3 and the couple left for New York and Europe for a honeymoon. Their first child, Carolyn, wasn't born until 1938 but they had five children in all – daughters Carolyn, Martha, and Linda, and sons David and Tom.
Hodapp only had two hits for the Indians in 1932. He started the season with them, but after appearing in just seven games he was traded to the White Sox on April 24. He and utility outfielder Suitcase Bob Seeds were sent to Chicago for Bill Cissell and Jim Moore. Cissell was the prize sought by the Indians; he was known as the player for whom Chicago had paid $123,000 to pry him loose from the Portland Beavers in 1928. Cissell's hitting had never been up to Hodapp's but he was a good base-stealer and scored more runs, and was considered much better defensively. The Indians did get one very good season out of him as a hitter; he batted .320 in 1932.
Hodapp's manager in Chicago was his old 1927-31 teammate Lew Fonseca. Fonseca was looking to add a little more hitting, and both Hodapp and Seeds were, he thought, good bets. But Hodapp hit only .227, with 20 RBIs, in 176 at-bats. It wasn't the punch the team needed.
Johnny lasted out the season with Chicago but not the year. Come December 15, he joined Seeds again and went to the Red Sox along with outfielder Bob Fothergill and infielder Greg Mulleavy, in a 4-for-2 swap for pitcher Ed Durham and infielder Hal Rhyne. Hodapp's star was seen as waning.
He was quick to sign with Boston, and reassured the Red Sox that his knees were fine. He was able to get 413 at-bats and put in a fairly full season for manager Marty McManus, mostly at second base. During spring training, Hodapp and shortstop Mulleavy were praised for their work around the bag at second, and the Red Sox under new owner Tom Yawkey (who had purchased the team after the December trade) were hoping to crawl out of their accustomed cellar dwelling. Hodapp did his part. He was leading the league in hitting as May closed. The June 1 Sporting News had his photo front and center. The text, in part, said that he had "turned out to be the life of the reorganized Hub team from the standpoint of batting." Despite his already long career, he was only 27 years old. He was up with the league leaders in June and finished the year batting .312, just one point behind right fielder Roy Johnson for the team lead. It was clearly a comeback year and seen as such. The 1933 Red Sox were able to get out of last place, and finished seventh.
No one knew it at the time, but Hodapp's major-league career was complete. He was a lifetime .311 hitter. Tom Yawkey and the Red Sox were ready to spend money to buy themselves the best team they could and they were willing to shake things up to reshape the ballclub. In 1933, their best pitcher won only 12 games (the 12-15 Gordon Rhodes). Pitching was a priority and the Red Sox were really anxious to land southpaw Fritz Ostermueller. Part of the price they had to pay was to trade Johnny Hodapp to the Rochester Red Wings on October 31. Two other Red Sox players were packaged in the deal – outfielder Tom Winsett and John Michaels – as was some cash. Cissell played second base for Boston. His .267 was a big step down in average alone, but the mixture of all the moves saw the 1934 Red Sox wind up with four batters hitting over .300 and four pitchers of 10 or more wins. Ostermueller won 10.  As it happens, Johnny didn't ever play for Rochester. In December, the Red Wings sold him to the Columbus Red Birds. (Both were Cardinals farm teams.) With George Toporcer set to return to Rochester, they didn't need Hodapp.
And Columbus saw little of him; he saw but 10 games, despite hitting .344 in the short stay. He finished his season with the Knoxville Smokies in Single A, acquired on July 23 and hitting .307 in 54 games. He could still hit, but his infield arm wasn't what it was. [Chicago Tribune, August 21, 1934]
It was time to go back to Cincinnati and pursue the mortician's trade as a funeral director. A 1970 clipping in Hodapp's Hall of Fame file said he was in business with his two brothers. "I've been with our firm, John Hodapp Sons, since I returned from baseball," he said. It kept him busy. "My business is confining," he said. "I never know when the phone is going to ring." He worked at the Hodapp funeral home until his retirement in 1974. The company had been founded in 1886 and in 2010 was being run by the fourth generation of Hodapps, with seven Hodapps among the nine members of the board of directors. Johnny Hodapp died in a long-term care facility at North College Hill, Ohio, from prostate cancer on June 14, 1980. He was 74. He was survived by his wife, Martha, who lived to the age of 98 when she died in 2005, and by their five children.
Sources
In addition to those cited in the text, the author consulted the online SABR Encyclopedia, retrosheet.org, Baseball-Reference.com, and Bill Lee's The Baseball Necrology.
Born
September 26, 1905 at Cincinnati, OH (USA)
Died
June 14, 1980 at Cincinnati, OH (USA)
If you can help us improve this player's biography, contact us.
http://bioproj.sabr.org/bp_ftp/images4/HodappJohnny.jpg
600
800
admin
/wp-content/uploads/2020/02/sabr_logo.png
admin
2012-01-04 20:09:44
2021-10-08 00:07:53
Johnny Hodapp