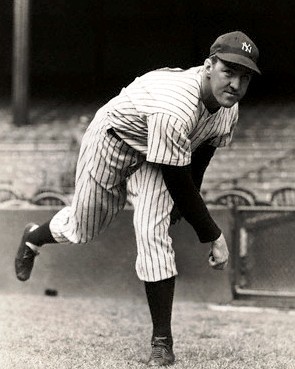 ---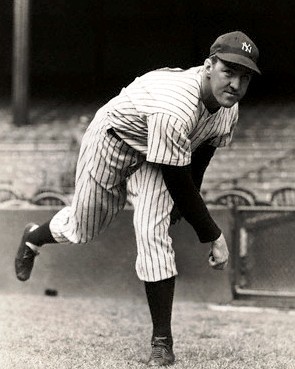 Johnny Murphy was an ace relief pitcher for the 1930s New York Yankees who spent 18 years playing professional baseball. Murphy spent even longer in the front office, first with New England's obsession—the Boston Red Sox—serving as a scout and then ran the team's minor league operations. Moving onto New York's National League expansion franchise, Murphy oversaw scouting activities and became the general manager of the '69 Miracle Mets.
John Joseph Murphy was born July 14, 1908 in New York City. He attended Our Lady of Mercy elementary school and Fordham Prep, located in the Bronx. While in high school, Murphy was noticed by legendary New York Yankees scout, Paul Krichell. He followed Murphy at Fordham University and signed Murphy on the eve of his final college baseball game.
Fordham University was Murphy's school of choice and a highly-regarded baseball program that had produced Frankie Frisch a decade earlier. On March 13, 1927, the Times opined at outdoor practices in the Bronx, "Johnny Murphy, a sophomore, is one of the best of last year's freshman team and may take a turn on the mound in some of the minor games." On May 5, the third game of Fordham's '27 season, Murphy started and allowed seven hits against the University of Virginia, including a two-run homer that handed him the loss. However, five days later, the right-hander fared better in relief of starter Joe Harrington in a one-sided game against the University of Delaware. Roger Hanlon permitted the Blue Hens their only tally of the day in a 19-1 rout. Among the few hundred spectators to see the conquest was the Fordham Flash himself—Frankie Frisch.
By 1928, Murphy was a key component to coach Jack Coffey's club. The 6-foot-2, 190-pound, lantern-jawed junior's highlight was a three-hit shutout over Georgetown. His senior year would leave a mark on the Fordham record book and push him into professional baseball.
On April 23, 1929, Murphy fanned 16 Columbia batsmen and scored the game winning run on a passed ball to beat the Lions, 1-0. He set the single-season school record with a 1.47 ERA that stood for 56 years until future Mets hurler Pete Harnisch topped it. Murphy had a chance to match the record set by teammate Bob Cooney with three shutouts in a season when he was scheduled to start on May 25, 1929 against Boston College. He never took the hill against the Eagles. Coffey announced to the press that his pitcher was now ineligible as he had inked a professional baseball contract and was now property of the New York Yankees. Murphy was initially sent to their Albany farm club and later on to St. Paul, where he won 16 and threw 256 innings in his second year with the Saints in 1931.
On December 31, 1931, Murphy wed Elizabeth Havern. Their 48-year marriage produced two sons, John Jr. and Tom.
On March 30, 1932, Murphy pitched the final game of that year's Grapefruit League season for the Yankees in St. Petersburg, Florida. His opposition was baseball's storied bearded, religious sect, the barnstorming team of Benton Harbor, Michigan: the House of David. Babe Ruth was not in the Yank line-up, due to a reported stiff neck. Murphy contributed at the plate with a hit and scored a run off Lefty Moose Swaney. Murphy's three hit-hit shutout helped earn him a trip north with the parent club.
Murphy debuted in the major leagues on May 19, finishing up a 12-7 loss to the Washington Senators. He pitched once more before the Yankees sent him to the International League's Newark Bears. When the Yankees voted on how to distribute their World Series shares—that being the year of Ruth's "Called Shot" and a sweep of the Cubs—Murphy was voted $500. He'd earn a larger chunk of the pie later.
After another year in Newark, making 36 of his 40 appearances in relief and having his best ERA to date as professional (2.97), Murphy came north again with the Yankees in 1934. This time he never went back. Murphy started 20 games for New York—completing 10—but tossed another 20 in relief and going 14-10 with a 3.12 ERA. He made only 20 more starts the rest of his career and he never again approached the 202 2/3 innings he had as a rookie.
Manager Joe McCarthy's decision to put Murphy in the bullpen paid dividends for the finesse pitcher and his club. At the time, relievers were usually pitchers who were past their prime or deemed not good enough to start; if teams needed a reliever at a crucial point late in a game, they often turned to starters who were in between starts. Though Yankees starters still completed the majority of their games, McCarthy utilized the young pitcher's masterful curveball out of the pen in tight situations. Murphy's reliability to finish close games earned him the trust of his manager and teammates. When perennial All-Star Lefty Gomez was asked to predict how many games he would win one season, the wry pinstriper retorted, "Ask Murphy."
The save was years away from becoming an official statistic, but applying it retroactively, Murphy led the American League in that category four times in five seasons. His 19 saves in 1939 were the second highest total in baseball history, trailing only Firpo Marberry's 22 for the 1926 Washington Senators. Two years earlier in 1937, Murphy notched 12 wins in relief; he matched that number again in 1943.
Murphy made the All-Star team three consecutive years from 1937 to 1939. The Fireman was in six World Series, winning them all. (The year the Yankees won the pennant and Murphy did not appear in the World Series, the Yankees lost to the Cardinals, in 1942.) His postseason numbers totaled a 2-0 record, 1.10 ERA, and four saves in eight games. In four separate World Series, Murphy allowed no runs. He pitched once in each World Series from 1936 to 1939, earning three saves and a win.
His best season was 1941 where he posted an 8-3 mark, 1.98 ERA, and 15 saves. On October 5 that year, Murphy entered Game Four of the World Series in Brooklyn in the eighth inning. Murphy wound up getting the win after Dodgers catcher Mickey Owen's missed third strike set the stage for a four-run Yankees ninth. He set down all six Dodgers he faced. He threw six scoreless innings overall in '41 as the Yankees won in five games.
The most popular nickname attached to Johnny was "Grandma." Many tales attribute the moniker to his rocking motion on the hill. A more plausible explanation is given by A Legend in the Making author Richard Tofel. Tofel claimed "Grandma" came from 1935-37 Yankees teammate Pat Malone, who had tired of Murphy's "incessant complaining about meals and accommodations."
Murphy had orderly and fastidious traits on the field and off. He enjoyed the better things in life. He liked fine French cooking and wine. As a front-office exec, he sipped vino at lunch in the Mets press room from his own special bottle. At his first press luncheon as Mets general manager there was French wine for all.
Part of the greatest generation, Murphy voluntarily left baseball in 1944 and worked on a special defense project. On March 7, 1946, fans read the curveballer was re-upping with Joe McCarthy and crew. The Washington Post reported, "Baseball's Bronx Bombers will have an atomic specialist in their ranks this year…Johnny Murphy had come to terms…on the retired list the past two seasons while he worked on the atomic bomb project at Oak Ridge, Tennessee."
Murphy had one more solid season, garnering a 4-2 mark with a 3.40 ERA and seven saves. The Yankees failed to win the pennant for the third straight year and McCarthy was replaced by Bucky Harris and Murphy's role—and nickname—of "Fireman" was taken over on the Yankees by Joe Page. Three days after Murphy's release, the Red Sox signed him on April 15, 1947.
He pitched 54 2/3 innings and had a 2.80 ERA for the defending AL champion Red Sox. Murphy had three saves and finished games in 16 of his 32 appearances. That gave him a career mark of 93-53 in 415 games with a 3.50 ERA and 107 unofficial saves in 1,045 innings.
Though Boston released him on October 20, 1947, Joe Cronin, field manager elevated to Red Sox general manager, made one of his first moves the hiring of Murphy as a team scout. Four months later, Murphy's opinion on the business of baseball would echo throughout the State Capitol.
In January 1948, the Massachusetts Legislature was considering a bill to outlaw the reserve clause in contracts between players and clubs. Murphy went on record to say, "The reserve clause is essential for the players' protection as well as the owners' and should be included as an integral part of the contract." Another player who testified to the Bay State solons and felt the same way was Fred "Dixie" Walker of the Pittsburgh Pirates. (Like Murphy, Walker was at the end of his career and soon to enter the management end of the equation.)
Murphy steadily climbed the team's organizational ladder. He was made vice president and director of minor league systems. When Cronin was chosen as American League president in late 1958, Bucky Harris became Boston general manager. Murphy worked under the man who had released him in New York, but 20 months later, both men were sent packing.
Two days after slugging superstar Ted Williams revealed his retirement as an active player in September 1960, Boston owner Tom Yawkey shook up the front office and fired both the GM and farm director. Hub sports writers alluded that possibly Teddy Ballgame would soon put on a business suit for the franchise, but he never served in the Red Sox front office in a daily capacity.
Murphy departed the American League but not baseball. On April 2, 1961, Murphy signed with the New York Baseball Club of the National League as supervisor of scouting activities. The position reunited him with, George Weiss, who had built up the Yankees farm system during Murphy's playing career and later took over as GM. Sent packing by the Yankees after three decades—along with Casey Stengel—Weiss was the president of New York's yet-to-be named NL club. He assigned Murphy's scouting territory as the New York City area and New England, two areas he obviously knew well.
One of the perks of the job was to watch his son play and call it work. At Yale Field, it was reported that Murphy "sat in the stands and watched his son, John Jr., take over in the fifth inning and ease Yale to a 10-1 victory over Connecticut in a manner reminiscent of his old man." The Bulldogs roster, led by former major leaguer Ethan Allen, also featured third baseman/pitcher Ruly Carpenter, son of Philadelphia Phillies owner Bob Carpenter.
On May 8, 1961, the new NL team held its christening party at New York's Savoy Hotel. Forgoing Continentals, Burros, Skyliners, Skyscrapers, Bees, Rebels, NYBS, Avengers, and Jets—the public selected the team's official nickname as the Mets. Of the 23 scouts employed by the fledgling club, Murphy was one of six at the shindig. When asked what he looked for in a young player before offering a bonus or signing him to a contract, answers touched every base: Rogers Hornsby, "Throwing…"; Babe Herman, "The arm…"; Billy Jurges, "The legs…"; Gil McDougald "Look for everything." Murphy, the lone pitcher among those surveyed, responded, "Batting. The first thing I want to know about a prospect is: 'Can he swing a bat?'"
Murphy's approach in business dealings could be aptly described as "taking the first pitch." He was a cautious, company man. At a time when bonuses for amateur players were hitting six figures, New York Times writer Arthur Daley alerted readers about Murphy spotting a talented ballplayer and being told by the athlete's father, "Make your bid in writing. The price starts at $50,000." With Casey Stengel officially named manager shortly before the expansion draft in October 1961, Daley assessed that "the Mets brain trusters—meaning…Weiss…Stengel…and Murphy tried to direct their player procurement toward men whose styles were tailored along certain lines…In the Polo Grounds scheme of things it isn't important that the center fielder be able to hit the long ball as to catch it." New York picked Richie Ashburn from the Cubs. When asked whether the 35-year-old Ashburn had lost his speed, Murphy said, "We know that Ashburn is not as fast as he once was, but he still is faster that most players in the National League. When [Mets coach] Solly Hemus managed the Cardinals last season he got a good look at him and Solly told us that Richie can still play an awful lot of center field."
Murphy was promoted to Eastern Administrative Assistant to Weiss in late 1962. The famed reliever proved a good number two man to Weiss. In the 1962 annual draft of minor league players, the Mets spent a record for $695,000. Expected to select a pitcher Al Worthington of Indianapolis, they surprisingly plucked Ted Schreiber, a .277-hitting second baseman from the Red Sox farm in Seattle. As Boston's minor league director in 1957, Murphy had signed the St. John's University lad from Brooklyn and had continued to monitor the infielder's upward progress.
In fiscal transactions with fledgling Mets players, Murphy did right by ownership. When first baseman Marv Throneberry sought a pay hike from Weiss and Murphy, Marvelous Marv highlighted to the duo his recent Good Guy Award from the baseball writers.
"Don't forget that I brought a lot of people to the ball park," Throneberry said.
"Yes," replied Murphy, "and you also drove a lot away."
In November 1963 the Mets acquired George Altman and Bill Wakefield from the Cardinals for Roger Craig, who had endured 18 straight losses that year and a 15-46 record in two seasons as a Met. Murphy's first words to the veteran hurler: "I have good news for you. You've been traded." Subsequently, Craig commented, "I was relieved and gratified when Murphy told me where I was going…I was praying it wouldn't be to another second division club. I felt I suffered enough." Craig pitched in the World Series the next year, though not before the Mets nearly kept St. Louis from clinching during a tense final weekend.
As personnel director, Murphy represented the Mets at the 1963 minor league convention. The Mets soon elevated him to vice president; former Brooklyn Dodger and New York Giant Eddie Stanky took his place as personal director. Murphy got another former Brooklyn Dodger, Duke Snider, to accept a renewed salary contract at $32,000, a $6,000 pay cut from the previous season—and then sold him to San Francisco on Opening Day (Snider wanted to go to a competitive team). The basement-dwelling Mets drew 1,732,597 to brand-new Shea Stadium in 1964, far better attendance then the AL-flag winning Bronx Bombers.
The 1965 Grapefruit League sports news buzz focused on outfielder Joe Christopher's pay haggle with Murphy. The battle was termed by Joe Durso in the New York Times as the team's "biggest financial headache of the season." Wanting a bigger share of that '64 cash flow, Christopher who batted .300, with 16 home runs and led the Mets in doubles, triples, total bases, slugging percentage, walks, and RBIs, argued with Murphy for days upon days. The two sides finally settled, but Christopher did not match his former year's numbers. He was traded to Boston after the season, then dispatched to Detroit, and then out of the big leagues all together.
Murphy handled the negotiations that wound up changing the future of the franchise. He was sent to Washington to try to bring back Gil Hodges to manage the Mets. The Senators had him under a long-term contract and weren't presupposed to let him go, but Mets board chairman M. Donald Grant was adamant that Hodges manage the Mets. Murphy had been a teammate and one-time roommate of Senators GM George Selkirk and the two old friends eventually worked out the deal: pitcher Bill Denehey and $100,000 for the Hodges. The Mets had a manager but soon lost their general manager when Bing Devine left the Mets to take the same post in his native St. Louis. On December 27, 1967, Johnny Murphy was named the third general manager in Mets history.
At spring training in 1968, the former Yankees fireman and the long-time Brooklyn first baseman made Mets activities uniform and established priorities. Practice sessions were regimented. The team ceased repeatedly rotating players between the farm system and the parent club. GM Murphy worked closely with director of player development Whitey Herzog. The main objective was pitching…something the Mets so happened to have a bumper crop of in 1968.
These organizational maneuvers perpetuated by Murphy came to fruition in the storied 1969 season. The Miracle Mets pitching staff, a significant key to the pennant and World Series was primarily comprised of club developed talent, namely Tom Seaver, Jerry Koosman, Gary Gentry, Nolan Ryan, Jim McAndrew, and Tug McGraw. The team needed hitting, an area the 1969 Mets did not excel in outside of homegrown Cleon Jones and his .340 average, but Murphy grabbed young third baseman Wayne Garrett from the Braves in the Rule V draft and when the Mets were surprisingly in contention in June, he acquired veteran slugger Donn Clendenon from Montreal. Though many of the players who starred for the 1969 team had been signed and developed by others in the organization, it was Murphy who worked out the trade for the manager who made it happen and acquired the veteran big bat in Clendenon without sacrificing the club's top prospects: Amos Otis and Nolan Ryan, both of whom the Braves had asked for in a proposed swap for Joe Torre during spring training.
Murphy did trade Otis—and pitcher Bob Johnson—in December in a regrettable trade with the expansion Kansas City Royals for troubled third baseman Joe Foy. Murphy had his reasons, though. Veteran third baseman Ed Charles had been released and the Mets didn't think Garrett could play the position regularly. Many gave Murphy the benefit of the doubt when the trade was made. He had, after all, helped turn the game's biggest loser into world champions—the first expansion team to ever win the World Series. Would he get them to repeat? The answer, tragically, was no.
On December 30, 1969, Murphy was felled by a heart attack at his home in Yonkers, New York. He was taken to New York's Roosevelt Hospital, where he died on January 14, 1970, following another massive heart attack. He was buried at Woodlawn Cemetery in the Bronx. He was 61.
The Mets still honor their former GM by annually handing out the Johnny Murphy Award to the top rookie in spring training, a tradition that dates to 1972. The Mets inducted Murphy into the team's Hall of Fame in 1983.
Sources
Lang, Jack, and Peter Simon. The New York Mets: Twenty-Five Years of Baseball Magic. (New York: Henry Holt, 1986.)
Pietrusza, David, Matthew Silverman, and Michael Gershman. Baseball: The Biographical Encyclopedia. (Kingston, New York: Total Sports Illustrated, 2000.)
Thorn, John, Pete Palmer, Michael Gershman, and David Pietrusza. Total Baseball, sixth edition. (Kingston, New York: Total Sports Publishing, 1999.)
Tofel, Richard J. A Legend in the Making: The New York Yankees in 1939. (Chicago: Ivan R. Dee, 2004.)
Tuite, James (ed.). Sports of the Times: The Arthur Daley Years. (New York: Quadrangle/New York Times Book Co., 1975.)
National Baseball Hall of Fame
Hall of Fame Questionnaire #718/(1959)
baseballlibrary.com
baseball-reference.com
en.wikipedia.org
Fordham University All-Time Career baseball Records, http://grfx.cstv.com/photos/schools/ford/sports/m-basebl/auto_pdf/CareerPitchingRecords.pdf
Born
July 14, 1908 at New York, NY (USA)
Died
January 14, 1970 at New York, NY (USA)
If you can help us improve this player's biography, contact us.
http://bioproj.sabr.org/bp_ftp/images4/MurphyJohnny.jpg
600
800
admin
/wp-content/uploads/2020/02/sabr_logo.png
admin
2012-01-04 20:49:00
2012-01-04 20:49:00
Johnny Murphy