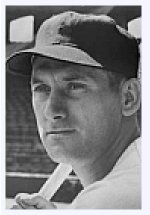 ---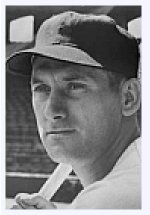 Johnny Ostrowski shares the same Polish ancestry as Carl Yastrzemski, but his Red Sox career was in many ways the polar opposite of that of the Hall of Fame legend. While Yaz accumulated a team-record 11,988 regular season at-bats over 3,308 games, Ostrowski is one of 12 position players to appear in only one game, with a single at-bat, in a Red Sox uniform. He did so in 1948, striking out as a pinch hitter in the second game of an April 19 doubleheader.
Born on October 17, 1917, in Chicago, John Thaddeus Ostrowski grew up in the Windy City and attended Tilden Tech, the same high school that later produced Red Sox infielder Chico Walker (1980-84). The youngest of three children, he was born to immigrant parents and grew up with his family's native language, Polish, spoken at home. Ostrowski attracted the attention of professional scouts while playing in Catholic Youth Organization leagues and was signed as an amateur free agent by the Brooklyn Dodgers.
Ostrowski, who batted and threw right-handed, started his professional career in 1939 with the Superior, Wisconsin, Blues of the Class D Northern League. He got off to an auspicious start, homering in his first at-bat as a Dodgers farmhand. He went on to hit a respectable .268 for the season, although he also led the league in strikeouts.
In 1940, Ostrowski moved on to the Class D Alabama State League. Playing for the Troy Trojans, he had his best professional season statistically, hitting .341 and leading the circuit in RBIs and total bases. He was named to the All Star squad. Despite his banner season, which saw him promoted to Class B Macon for the final 11 games, his days in the Brooklyn system were numbered. Under the rules in place at the time, Ostrowski became Cubs property after the season when Macon's minor league working agreement with the Dodgers expired and he was picked up by Chicago.
Ostrowski spent the 1941 campaign with the Cubs' South Atlantic League (Class B) affiliate, the Macon Peaches. Now 23 years old and in his third professional season, he again put up solid numbers. Among the highlights were a league-leading 20 triples and a game in which he drove in six runs in one inning. One of Ostrowski's Macon teammates was Eddie Stanky (a future big-league star), the Peaches' regular shortstop.
Ostrowski split the following season between the Peaches, where he hit .242 in 68 games, and Jackson of the Class B Southeastern League where he hit .294 in 46 games. Ellis Kinder, his future big-league teammate, appeared in nine games for Jackson that season.
In 1943, Ostrowski was picked up by the Pacific Coast League's Los Angeles Angels, considered by many to be among the greatest minor league teams in history. Starting most weekday games at 12:15 p.m. to accommodate war plant swing shift workers, the Angels rolled to a record of 110-45. Ostrowski was a big part of the team's success. Playing right field, he hit .282 with a league-best 21 home runs, five of which came in consecutive games. One day after his long-ball streak came to an end, he recorded a five-hit game. Earlier in the season, on April 30, he hit for the cycle in an 11-inning game, recording a single, two doubles, a triple, and a home run. Ostrowski made his big-league debut in late September, appearing in 10 games for the Cubs and hitting .207 in 29 at-bats. One of his six hits was a triple. During the offseason, Ostrowski worked as a carpenter.
In 1944, Ostrowski returned to the Pacific Coast League, where he spent most of the season. He had another solid campaign for the Angels, batting .282 with 10 home runs and 67 RBIs. He again received a call-up to the big leagues, but appeared in only eight games with the Cubs, banging out a pair of hits in 13 at-bats.
The 1945 season followed along the same lines for Ostrowski, as he again made a brief appearance on the Cubs' roster while spending the bulk of the season in the minor leagues. He did, however, have a change of scenery as he spent the summer with the Kansas City Blues of the American Association. Away from the PCL for the first time in three years, Ostrowski hit a solid .297 with 13 home runs and 99 RBIs. He saw action in seven games for Charlie Grimm's pennant-winning Cubs, garnering three hits in 10 at-bats.
Ostrowski finally earned meaningful playing time at the major-league level in 1946, appearing in 64 games. With longtime Cubs third baseman Stan Hack finally starting to slow down at the age of 36, Ostrowski played 50 of his games at the hot corner, hitting .213 in 160 at-bats. Among his 34 hits were the first three round-trippers of his big-league career.
The 1947 season offered promise, as Hack's days as a regular third sacker were over, but Ostrowski was unable to earn the starting job in spring training. Instead, the Cubs moved outfielder Peanuts Lowrey to third base, and Ostrowski found himself back in the Pacific Coast League yet again. Continuing to show that he could hit in the minor leagues, he batted .292 while hitting 24 home runs and driving in 119 runs. He shared the Angels' Most Valuable Player award with pitcher Jess Dobernic.
After the season, Ostrowski — now 30 years old and a veteran of nine professional campaigns — became Red Sox property when he was selected in the Rule 5 draft on November 10, 1947. He made his lone Boston appearance on April 19 in the second game of a Patriots Day doubleheader against the Philadelphia Athletics. Wearing the number 27 on the back of his uniform, Ostrowski pinch-hit for Ellis Kinder in the eighth inning and struck out against left-hander Lou Brissie. (Brissie, it should be noted, was a war hero, having survived an attack in World War II that left him with German shrapnel in his leg. Ostrowski, meanwhile, did not serve in the military as he had been designated 4-F due to a perforated eardrum.) Connie Mack's A's were victorious in both games of the season-opening twin bill, winning by scores of 5-4 and 3-2.
While Ostrowski was walking to the plate for his only at-bat as a member of the Red Sox, Korea's Yun-Bok Suh was on his way setting a new world record in the 51st running of the Boston Marathon with a time of 2:25:39.
Ostrowski remained with Joe McCarthy's Red Sox for nearly a month, but never made it back onto the field. As is still the case today, players taken in the Rule 5 draft have to stay on the big league roster for the entire season or be offered back to their old team. With no playing time to be had, he was returned to the Cubs' organization on May 15.
Ostrowski was assigned to the all-too-familiar Los Angeles Angels, who played their games in the PCL's version of Wrigley Field (the Angels and Cubs were both owned by Philip K. Wrigley). He spent the next two seasons there, hitting .295 in 1948 and .318 in 1949. His 32 homers and 90 RBIs in 1949 attracted the attention of the crosstown White Sox, who acquired him from Los Angeles on August 4 for infielder Bobby Rhawn and cash. Back in the big leagues, Ostrowski made it into 49 games with the South Siders, hitting .266 while filling in for the injured Gus Zernial in left field. In 158 at-bats, he logged career highs with nine doubles, four triples, and 31 RBIs. One of his teammates was former Red Sox outfielder George "Catfish" Metkovich.
In late April of 1950, White Sox general manager Frank Lane traded Ostrowski and cash to the Yankees in exchange for outfielder Dick Wakefield. Wakefield refused to join the Chisox unless they restored a $5,500 pay cut forced upon him by New York after he was dealt from Detroit the previous winter. Ostrowski had been immediately assigned to the Yankees' Kansas City farm club. Lane called off the transaction on April 30, with the support of Commissioner Happy Chandler. Tired of the temperamental outfielder's act, the Yankees sold Wakefield's contract to Oakland in the PCL in late May. Ostrowski remained in his native Chicago.
Ostrowski split his time between two cities in 1950, playing in 21 games for the White Sox and 55 with the Washington Senators. He was shipped to the Nation's Capital on May 31 as part of a six-player transaction that included three All-Stars: Eddie Robinson, Ray Scarborough, and Cass Michaels. On September 22 he was waived back to the White Sox, where he finished out his final big-league season, appearing in a single game for his hometown team. Ostrowski hit only .232 for the season, although he did establish career highs in hits (44) home runs (6), games (77), and at-bats (190).
His big-league days now behind him, Ostrowski spent the 1951 season north of the border, playing 127 games for the minor league Toronto Maple Leafs. Plying his trade in the city where Babe Ruth hit his first professional home run, Ostrowski hit only .215 with 13 home runs and 56 RBIs.
Ostrowski returned to the friendly confines of the PCL for one last time in 1952, playing for the Sacramento Solons (61 games) and the Oakland Oaks (77 games). He was managed by Hall of Famers at each stop: Joe Gordon in Sacramento and Mel Ott in Oakland. Ostrowski responded by batting .258 and hitting 22 home runs with 69 RBIs. Ostrowski finished his playing career in the Southern Association, suiting up in 22 games for the Memphis Chicks, a White Sox affiliate led by Hall of Famer Luke Appling. He batted .281.
A minor leaguer for the majority of his 14-year career, Ostrowski played in 816 Pacific Coast League games, homering 124 times, driving in 474 runs, and posting a .287 lifetime batting average.
Overall, Ostrowski played parts of seven seasons in the big leagues, debuting on September 24, 1943, and playing his final game on October 1, 1950. He saw action in 216 games, batting .234 with 14 home runs. He spent most of his time in the outfield (108 games) but also saw time at third base (66 games) and had a one-game stint at second base with the Cubs in 1946. The Chicago native was one of 163 players to have played for both of his hometown teams, the Cubs (1943-1946) and the White Sox (1949-1950).
Ostrowski was one of 41 players who have been selected by the Red Sox in the major league portion of the Rule 5 draft, and one of two taken in 1947. The other was catcher Babe Martin, who spent all of the 1948 season on the roster despite appearing in only four games.
After baseball, Ostrowski was a sales representative and drove a truck for Material Service Corp., an Illinois refuse company, retiring in 1980. A member of the Chicago Alumni Association and the Knights of Columbus, he was very active coaching in youth baseball programs in Chicago. Ostrowski died on November 13, 1992, at the age of 75 and is buried in Resurrection Cemetery in Justice, Illinois.
Note
This biography originally appeared in the book Spahn, Sain, and Teddy Ballgame: Boston's (almost) Perfect Baseball Summer of 1948, edited by Bill Nowlin and published by Rounder Books in 2008.
Sources
http://www.baseball-reference.com/o/ostrojo01.shtml
http://www.baseball-almanac.com
http://web.minorleaguebaseball.com/milb/history/top100.jsp?idx=13
http://oaklandoaks.tripod.com/
The Sporting News
The Chicago Tribune
Born
October 17, 1917 at Chicago, IL (USA)
Died
November 13, 1992 at Chicago, IL (USA)
If you can help us improve this player's biography, contact us.
http://bioproj.sabr.org/bp_ftp/images3/OstrowskiJohnny.jpg
600
800
admin
/wp-content/uploads/2020/02/sabr_logo.png
admin
2012-01-04 20:41:02
2012-01-04 20:41:02
Johnny Ostrowski