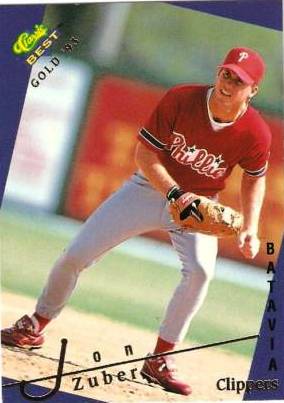 ---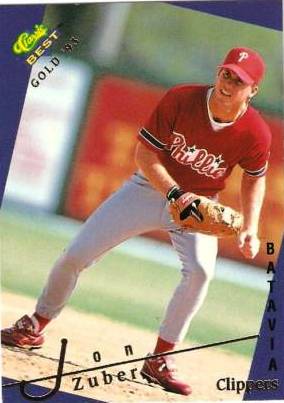 Jon Zuber was never able to make a permanent home in the major leagues, despite an unquestioned ability to hit a round ball with a round bat. After his playing career ended, the engaging and articulate Zuber could speak with knowing candor about life on the major-league bubble, the steroid era, and the struggles of a 33-year-old ballplayer giving up life on the field and attempting to adapt to the real world.
The last of nearly 2,000 players on the Philadelphia Phillies' all-time alphabetical roster, Jon Edward Zuber was born December 10, 1969, to Ed and Kathy Zuber in Encino, California, in Los Angeles' San Fernando Valley. When he was four years old the family (including an older sister) moved to the town of Moraga, near Oakland. From a very young age, Zuber's activities consisted almost entirely of sports, as he easily transitioned from baseball to football to basketball depending on the time of year, with generous helpings of fishing and golf mixed in. Living in the advantageous climate of Northern California allowed young Zuber to take part in his athletic pursuits virtually year-round without interruption. He grew up a fan of the Oakland Athletics, and Dodgers first baseman Steve Garvey was his favorite player. During his freshman year at Campolindo High School, Zuber stood only 5 feet and weighed 96 pounds, but this did not keep him from excelling on the basketball court and the baseball field throughout his high school years. A dual threat on the diamond as a position player and pitcher, he earned league MVP, East Bay MVP, All-Northern California and All-State honors.
Though by graduation day in 1988 Zuber had boosted his weight only to 136 pounds, he was heavily recruited by major Division I colleges, including the University of Miami, the University of California, Santa Clara, Pepperdine, and Southern California, where both of his parents went and his sister was enrolled at the time. At first Zuber planned to go to Miami as a left-handed pitcher who would also have a chance to hit, but eventually decided to stay near home and enrolled at California in the fall of 1988 as a left-handed position player who also had the chance to pitch. During his four years at Berkeley, Zuber pitched and played first base and the outfield. His four-year batting average was .364. As of 2010 he had the team's most hits, doubles, and putouts, and ranked among the top 10 in games played, at-bats, runs, runs batted in, walks, total bases, batting average, and saves
In Zuber's sophomore year, 1990, the Bears went 18-43 and only 3-27 in Pac-10 conference play. Led by Zuber, the team completed a turnaround that saw it go to a regional final in 1991 and play in the College World Series in his senior season, 1992. He played summer ball in the Alaska Baseball League in 1989 and in the wooden-bat Cape Cod League in 1990. In the Alaska League he learned to work pitchers and hit with two strikes, skills he picked up as a result of hitting leadoff for the first time. The fact that he was able to indulge in his love for fishing nearly every day in Alaska was an added bonus.
In 1992 the Bears barely qualified for regional play, and Zuber stood out in the six-team double-elimination series in Gainesville, Florida, pitching a 10-inning complete game against Florida and getting the game-winning hit, then hitting three home runs as the Bears routed George Mason. On the final day of the regional, the Bears had to win twice to advance to the College World Series in Omaha, and did just that. In the first game Zuber picked up the save against a Georgia Tech team that boasted future major leaguers Jason Varitek, Nomar Garciaparra, and Jay Payton, then trounced Texas A&M, 11-4. Zuber was named the MVP of the regional series. In Omaha, California lost two straight games and was quickly eliminated. Shortly after the College World Series, the Phillies selected Zuber in the 12th round of the amateur draft. Assigned to the Batavia Muckdogs of the short-season New York-Penn League, Jon started his professional career with a 15-game hitting streak. After hitting .341 in 22 games he was promoted to Spartanburg of the South Atlantic League, where he hit .286 in 54 games.
Over the next two seasons, Zuber climbed the ladder through Phillies outposts in Clearwater (Florida State League) and Reading (Eastern League). He stayed remarkably consistent, hitting .308 with five home runs and 69 RBIs in Clearwater in 1993, and.293 with nine home runs and 70 RBIs for Reading in 1994. He was named to both leagues' All-Star teams. The left-handed-throwing Zuber even played third base once for Clearwater when it was severely shorthanded after a brawl.1 Heading into 1995, Zuber was among the crop of Double-A and Triple-A players caught in the awkward position of reporting to spring training with the specter of replacement players and replacement games hanging over camp, as the Major League Baseball Players Association continued its strike against ownership that had wiped out the 1994 playoffs and World Series.2 When the dust settled, the major leaguers returned to work and Zuber never had to make a decision about taking the field with or against replacement players. When spring training ended and the Phils went north, Zuber was promoted again, this time to the Triple-A Scranton Wilkes-Barre Red Barons.
In Scranton Zuber found great professional success, but stayed just off the biggest stage. Except for relatively brief stints with the Phillies in 1996 (30 games) and 1998 (38 games), he spent the next five seasons with the Red Barons, and was even named the franchise Player of the Decade for the 1990s. While Scranton is only about 100 miles up the Pennsylvania Turnpike's Northeast Extension from Philadelphia, it could not seem farther away for a player like Zuber, always seemingly too good for Triple-A but not quite able to stick in the big leagues.
After a solid if unspectacular year at Scranton in 1995, Zuber was not invited to big-league spring training, and was not even supposed to hold onto the everyday first base job at Scranton in 1996.3 However in baseball, as in life, plans have a way of falling by the wayside as the reality of a situation develops. The Phillies' Opening Day first baseman, Gregg Jefferies, injured both hands on a head-first slide in their third game, and Gene Schall, who was invited to big-league spring training and was supposed to play first every day for Scranton, was recalled but hit only .192 with one extra-base hit for the Phillies.
By April 19 Schall's ineffectiveness brought Zuber the phone call of a lifetime from Phillies farm director Del Unser: He was going to the major leagues. "I was shocked,'' Zuber said at the time. "My body went all numb. I was speechless. I can't even remember what I said on the phone."4 Upon his recall, Zuber was described by Philadelphia general manager Lee Thomas as a "line-drive hitter and better than average first baseman."5 Supporting Thomas's assessment was the fact that Baseball America named Zuber the best defensive first baseman in the International League in 1995.6 Zuber reported to the Phillies that night and made his major-league debut right away, pinch-hitting and striking out against the St. Louis Cardinals' T.J. Matthews in the Phillies' 1-0 loss. The next night Zuber made his first start, which turned out to be another 1-0 loss to the Cardinals. Hitting seventh and playing first base, he went 0-for-3 against Alan Benes before grounding out to shortstop against Dennis Eckersley to end the game. Zuber made three more pinch-hitting appearances without reaching base before being returned to Scranton on May 3. There he wound up hitting .311 while being named to the Triple-A All-Star game and taking home Red Barons Player of the Year honors. When the Phillies sent Pete Incaviglia and Todd Zeile to the Baltimore Orioles at the end of August, Zuber and Schall were recalled. From August 30 through the end of the season, Zuber appeared in 25 of the Phillies' final 27 games, including 19 starts. Over this span he hit .277. He got his first major-league hit off the Dodgers' Tom Candiotti August 30, and his first home run, a liner over the wall in right field at Veterans Stadium, off the Mets' Robert Person. Zuber hit .253 for the Phillies, with the one home run and 10 RBIs.
After the Phillies' 67-95 season, manager Jim Fregosi was fired and replaced by Terry Francona. In 1997 Zuber went to big-league spring training for the first time. His stay was brief; he was reassigned to the minor-league camp on March 10. Zuber spent the entire 1997 season at Scranton, where he ranked among the league leaders with a .315 average. Zuber hit for the cycle against Columbus on May 1, and also had two 13-game hitting streaks, the first in April/May and the second in August. He was named to the All-Star Game again.
But Zuber never got a call to join the big club. In November Zuber married Shannon Montgomery, whom he had met at Berkeley. In 1998 the Phillies invited Zuber to spring training as a non-roster player. The Philadelphia Inquirer referred to him as having "the sweetest left-handed swing in camp" but also wrote that he "(didn't) figure in the Phils' plans."7 Farm director Unser said, "If he hit more home runs, we wouldn't even be having this conversation because he'd be in the big leagues now." Unser said he thought Zuber could be a left-handed pinch-hitter in the majors, and that his best opportunity might be in another organization, adding, "He's expressed a desire to go somewhere he might be able to play, but I'm not going to rush into it. As much as I like this kid and would like to give him a new lease on life, I still think he can hit in the major leagues."8 Zuber, not surprisingly, bristled at Unser's analysis. "I can't understand why, if they think that, I don't get an opportunity here," he said. "It's frustrating, but baseball is still fun. I love it when I'm on the field, whether it's in Scranton or the big leagues. What I have to do is focus on hitting, because if I don't hit, I don't have a gripe."9
(The assessment of Zuber's lack of power keeping him out of a permanent role in the majors comes into sharper focus more than a decade after the fact, as the sources of artificial power in baseball of the late 1990s and early 2000s become more apparent all the time. Still, Zuber harbored no ill feelings toward the steroid era or the role it may have played in keeping him out of the majors. "It was part of the game at that time," he said. "I had many opportunities to use steroids, but I didn't and I'm glad I didn't because now I can talk to my own kids and the kids I coach about it. But I don't feel cheated or wronged by what happened at all.")
On March 17,1997, despite having hit.462 in camp. Zuber was again demoted to Triple-A. Francona paid Zuber a backhanded compliment, saying he (didn't) think Zuber had enough power to be an everyday first baseman, "but I can see him being a bench player in the majors. He's a very good hitter, a professional hitter."10 Zuber dutifully reported to Scranton for the fourth consecutive season, doing nothing but hit yet again, this time at a .325 clip.
When Phils utilityman Rex Hudler was released in late June, Zuber was brought up. His first hit was memorable. Down to the Phils' final out in a 9-0 whitewashing by the New York Yankees in the Bronx, Zuber sent a David Cone pitch into the seats in right field to spoil the shutout. He remained with the Phillies through July and August, appearing mostly as a pinch-hitter, even getting a base hit off the most dominant left-handed pitcher of the generation, Randy Johnson. Zuber was eagerly awaiting a late August trip to his home area of San Francisco to play the Giants when the cold business of baseball reached up and smacked him one more time. The day the Phillies were to leave for San Francisco, where about 50 friends and family planned to see him in a big-league game in his home area, Zuber was sent back to Scranton to make room on the roster for pitcher Tyler Green, who was returning from the disabled list.11 After finishing Scranton's season, Zuber rejoined the Phillies in early September, appearing in six more games, with his one start coming in the last game of the season. Jon Zuber never played in a major-league game again.
In 1999 Zuber again went to spring training with the Phillies, and again found himself locked in a multiplayer tussle for the last roster spot. Infielder David Doster, whose own career ran virtually identical to Zuber's, won the spot. Zuber spent the entire season at Scranton-Wilkes Barre, hitting .295. In the summer of 1999 he was selected to the United States team for the Pan-Am games in Winnepeg. He considered it a great honor. "It was unbelievable to wear that 'USA' across your chest," he recalled in 2010. "I was in a bad slump when I went and didn't play well, and I felt bad about it. But that was probably the greatest honor of my career, to wear that uniform." The US team earned the Silver Medal and qualified for the 2000 Summer Olympic games in Sydney, where it captured the Gold Medal.
In 2000, Zuber found himself in a major-league spring-training camp again, but the cast around him could not have been more different. While losing reigned n Philadelphia, he was now in camp with the defending World Series champion New York Yankees. A non-roster invitee, Zuber turned heads with his professional approach at the plate. He also felt more comfortable in the Yankee atmosphere, where he was greeted by star players like Derek Jeter and Bernie Williams with a friendly 'How's it going, Zubes?" after finding stark class lines in the Phillies clubhouse.12 When he was called up to Philadelphia for the first time, only four Phillies players would even speak to him, he said.13 With the Yankees, Williams, Paul O'Neill, and Tino Martinez solicited advice from him on hitting against left-handed pitching. Zuber drew frequent praise from manager Joe Torre, and appeared to have won a roster spot, traveling to San Francisco with the team for an exhibition before the season-opening series against the Angels in Anaheim.
While in San Francisco Zuber was called into a meeting. "I was sitting there with Torre and [general manager Brian] Cashman, and they were telling me that I had earned a spot on the team, that I deserved to be on the team, but I couldn't back up Bernie Williams in center field and Lance Johnson could, so I was being sent down. That was the hardest thing that ever happened to me in baseball." Zuber was sent to Triple-A Columbus, where he spent the entire season. In 2001, through a link with a former college teammate, Zuber spent a season with the Yokohama Bay Stars of the Japan Central League, where he happened to play alongside Doster, his rival for a Phillies roster spot in 1999. In 2002 Zuber played for the Milwaukee Brewers' Triple-A affiliate, the Indianapolis Indians, before calling it a career at the end of the season. The next year he was inducted into the Cal Bears Hall of Fame. While recovering from major knee surgery following his final season as a player, Zuber was invited by an old coach him to help out coaching a group of high-school-aged players over the summer. Finding frustration in the job market, while also finding that he enjoyed teaching the game of baseball, Zuber got the job as the head baseball coach at Alcalanes High School in Lafayette, California. Taking over the program in 2004, he led a team that went 11-12-1 the year before to a 21-7 record, the league title, and a berth in the regional championship game. He was named high-school baseball coach of the year by the Contra Costa Times14. Following his successful season at Alcalanes, Zuber was named to the coaching staff at the University of California, where his father, Ed, had been the Bears' baseball public-address announcer since the mid-1990s.
Zuber served primarily as the Bears' third-base coach and hitting coach, working with such players as Allen Craig of the St. Louis Cardinals, Brennan Boesch of the Detroit Tigers, and as a handful of hitters who have been selected in the top rounds of the major-league draft. He left the coaching job after the 2009 season. On May 20, 2010, Zuber sat in the stands at Oakland-Alameda County Coliseum and proudly watched as one player he coached at Cal, Tyson Ross, started on the mound for Oakland against a Detroit Tigers lineup that featured another player he coached at Cal, Boesch.
As of 2010, Zuber lives in Lafayette, California, with his wife, Shannon, and their two children. He spends the fall and spring giving lessons and running a baseball academy for 9- to 14-year-olds, and in the summer, coaches a team of high-school-age boys playing in 18-and-under tournaments. Zuber felt he was well suited in his role as an ambassador of baseball to youth in Northern California. "Baseball is what I know, what I'm comfortable with," he said. "It's fun to teach. With the older guys, it's great to see talent and watch it blossom. With the young guys, it's fun to teach fundamentals and see the kids grow and 'get it.' We're trying to create fans for a lifetime, to teach them how to play the right way and to love the game, whether they grow up to be future All-Stars or if they end up not making their high-school team."
Last revised: August 1, 2010
Acknowledgments
Thanks to University of California baseball sports information director Scott Ball for his assistance. Thanks also to Jon Zuber for spending time talking about his life and career. Sources:
Unless otherwise noted, all quotations by Jon Zuber are from telephone interviews with the author on August 19 and 21, 2010.
Sources
Philadelphia Inquirer
Baseball-Reference.com
USA Today
New York Times
Baseball America
Reading Eagle
St. Petersburg Times
Calbears.com
1998 Philadelphia Phillies Media Guide
Jon Zuber's player file from the National Baseball Hall of Fame and Museum, Cooperstown, New York
Telephone interviews with Jon Zuber, August 19 and 21, 2010.
Notes
Born
December 10, 1969 at Encino, CA (USA)
If you can help us improve this player's biography, contact us.
http://bioproj.sabr.org/bp_ftp/images4/ZuberJon.jpg
600
800
admin
/wp-content/uploads/2020/02/sabr_logo.png
admin
2012-01-04 20:41:28
2012-01-04 20:41:28
Jon Zuber