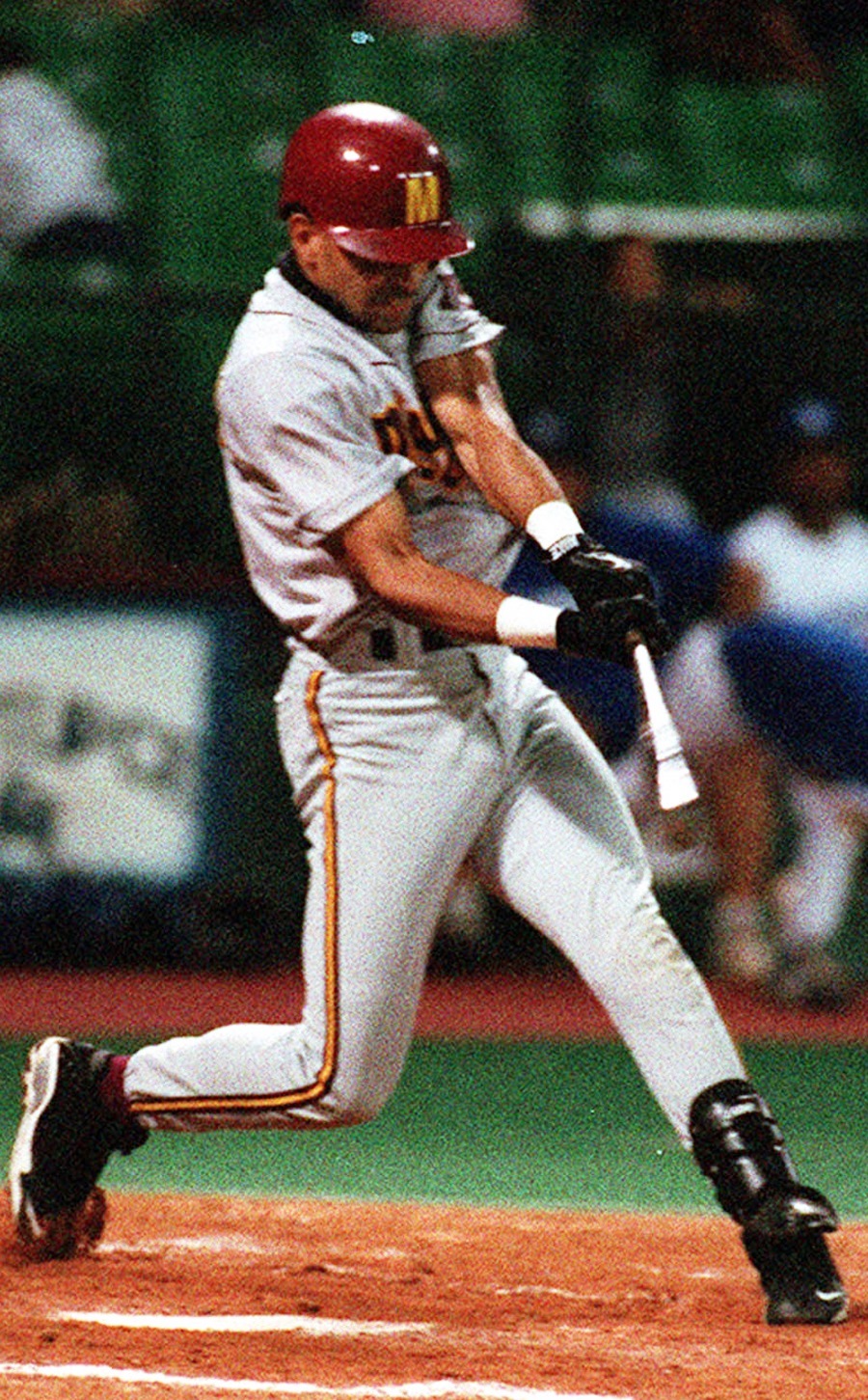 ---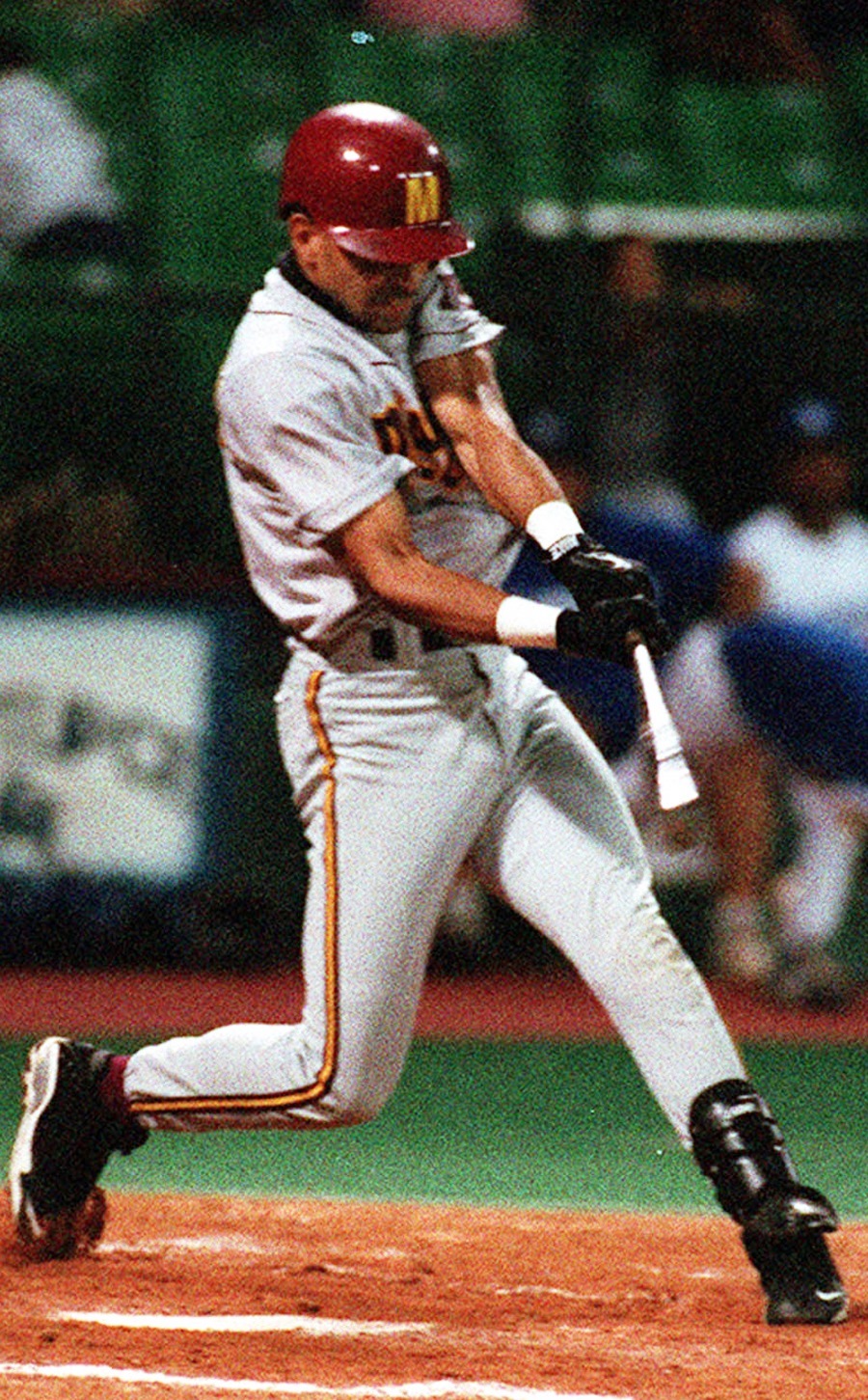 In his 15 years in the majors, José Antonio Hernández Figueroa spent time with nine different ballclubs, including two stints with the Chicago Cubs. Born on July 14, 1969, in Rio Piedras, Puerto Rico, Hernández came from a baseball family, counting Luis Figueroa (Pirates, Blue Jays, and Giants) among his cousins, and Orlando Gomez (longtime minor-league manager) as his father-in-law.
In a June 2016 interview, when asked about what team he identifies with, he remarked, "Probably the Cubs, because that was my prime years, I played from '94-'99. But I've got different places I can probably mention. In Milwaukee, I made the All-Star Game, I can mention, probably, the few months I played in Atlanta, just a bunch of good guys on the team. We went all the way to the World Series. All the teams I went to, I enjoyed being on the team. I consider myself a nice guy, and everybody liked me"1
Hernández, who batted and threw right-handed, debuted at age 22, on August 9, 1991, with the Texas Rangers. Over his career he had a .252 batting average and hit 168 home runs, driving in 603 runs in his 1,587 games. Although primarily a shortstop, he played every position except pitcher. In 1999 he was a member of the National League champion Atlanta Braves. In 2002 he was a member of the National League All-Star team. His final game was with the Philadelphia Phillies on October 1, 2006.
Hernández attended Maestro Ladi High School, in Vega Alta, Puerto Rico, where he played baseball, basketball, and volleyball. He graduated in 1987. He studied at the Inter-American University, in Bayamon, Puerto Rico.
Scout Luis Rosa signed Hernández for the Texas Rangers as an undrafted free agent on January 13, 1987. He debuted at shortstop in the rookie Gulf Coast League, hitting just .173, and struck out 25 times in 52 at-bats. However, the next year, he played third base and led the Gulf Coast League in fielding percentage (.950). Although his strikeout rate dropped (36 in 162 at-bats), his batting average, .160, declined.
Hernández continued developing in the minors. One of his teammates with the Gastonia Rangers of the Sally League in 1989 was his countryman, Hall of Famer Iván Rodriguez. In 1990, playing shortstop with the Port Charlotte Rangers of the Florida State League, he led the league's shortstops in fielding percentage at .959.
In 1991, after short stints in the Double-A Texas League with the Tulsa Drillers and 14 games in Triple A with the Oklahoma City 89ers, Hernández was promoted to the big-league club on August 9. He hit safely in each of his first four at-bats, but his numbers for his 45 games that season weren't remarkable. In 107 plate appearances, he batted .184 and drove in only four runs, scoring eight times.
The Rangers placed Hernández on waivers and he was claimed on April 3, 1992, by the Cleveland Indians. They placed him with the Double-A Eastern League's Canton-Akron Indians, playing shortstop. He hit .255 with 108 strikeouts. He was called up to Cleveland in September and played in three games. A lackluster Puerto Rican League winter season with the Ponce Lions found him batting just .227.
Hernández started the 1993 season with Canton-Akron, playing 45 games and batting.200. On June 1 the Chicago Cubs acquired him on June 1, sending pitcher Heathcliff Slocumb to the Indians. Hernández spent the rest of the season with Orlando and the Iowa Cubs, and made the Cubs roster in 1994 as a backup for Steve Buechele at third base and Shawon Dunston and Rey Sanchez at shortstop. He showed steady improvement over the next several seasons with Chicago. In 1996 Hernández began to play more regularly, and in 1997 he batted a solid .273 as the Cubs' main bench player.
Hernández still spent his winters in Puerto Rico, playing winter ball. In the 1997-98 winter season, he hit 20 home runs to break Orlando Cepeda's league record for home runs by a Puerto Rican. Hernández played for the Mayaguez Indians that season, and won the league's MVP award. Baseball America named him shortstop for the Winter Leagues All-Star Game. In 1998 he played with the Santurce Crabbers in the Caribbean Series, leading the Series in home runs and RBIs. The club finished second, after an error he made in Game Four cost them the Series win. Baseball America accorded him another order, naming him Winter League Player of the Year.
In 1998 Hernandez spent time around short and third, as well as in left field and center field. He batted .254 with 23 home runs. He started 1999 as the Cubs' shortstop, and was batting .272 with 15 home runs when on July 31 he was traded, along with pitcher Terry Mulholland, to the Atlanta Braves for pitchers Micah Bowie, Ruben Quevedo, and Joey Nation.
Hernandez was the Braves' main shortstop after the trade. He went 4-for-18 in the playoffs; his two-run single in Game Six of the Championship Series against the New York Mets was a significant contribution to Atlanta's 10-9 victory. His two-run double in the third inning of Game Three of the World Series against the Yankees gave the Braves a 4-1 lead, but Braves pitchers were unable to hold the lead.
After the season Hernández was a free agent and signed a three-year, $10 million deal with the Milwaukee Brewers. He played third and shortstop in 2000, and was
the Brewers' regular shortstop in 2001, when he had career highs in home runs (25) and RBIs (78). He also led the National League with 185 strikeouts.
Hernández had a big 2002 with the Brewers, batting .288 with 24 home runs, 72 runs scored, and 73 RBIs. However, he became the center of controversy when his manager, Jerry Royster, benched him for eight of the last 11 games, when with 188 strikeouts he was one short of matching the record then held by Bobby Bonds. (That record was broken by Adam Dunn, who struck out 195 times in 2004.)
The 2003 season found Hernández with Colorado, signed over the winter in a slow free-agent market. Rockies general manager Dan O'Dowd had wanted him from the beginning, but could not afford the contract Hérnandez had just finished with Milwaukee. Other offers were not forthcoming, and Hernández finally accepted the Rockies' offer, which guaranteed him $1 million including a $300,000 signing bonus. He said, "It wasn't an easy decision to sign the contract, but my wife and I say, 'This game is not about money. It's about a chance to play the game every day.'"2
It was the first of five consecutive one-year free-agent signings for Hernández.
Hernández played for the Rockies until June 20, when he was traded to his old Chicago Cubs team for Mark Bellhorn. He hit just .188 with the Cubs and a month later was traded to the Pittsburgh Pirates on July 23 in a deal that sent outfielder Kenny Lofton This deal turned out great for the Cubs, while Hernández struggled in Pittsburgh, too. For the year, he hit .225 with just 13 home runs while striking out 177 times. It was his last season as a starting player.
The Los Angeles Dodgers picked up Hernández as a free agent in 2004, a relative bargain at $875,000, and he enjoyed a good year in a role of utility player. "It's nice to be here," Hernández commented. "I'm not playing every day, but I enjoy watching from the bench because this team is fun to watch. (Manager Jim Tracy) gives everyone a chance to play. … I just thank God I made the right decision to sign here."3 He hit .289 with 13 home runs and 61 strikeouts in 211 at-bats. Hernández made his third trip to the playoffs but had just one at-bat (a walk) as the Dodgers fell to St. Louis in the Division Series.
A free agent again in 2005, Hernández was picked up by Cleveland Indians and batted .231 in 84 games. Jim Tracy, now managing Pittsburgh, picked him up for the 2006 season. Again Hernández struggled early, but improved by midseason. He was hitting 267 when he was acquired by the Philadelphia Phillies for cash in late August, in part due to a season-ending injury to Philadelphia center fielder Aaron Rowand. That moved up Shane Victorino and called for a veteran presence on a young bench. Assistant GM Ruben Amaro Jr. said "We're pretty pleased at this point to be able to get a guy of this caliber. He's been around a long time and has been through the wars. He's excited and looking forward to being here."4
Hernández signed a minor-league contract with the Pirates in 2007, promising him $900,000 if he made the big-league club. He was considered a favorite to be Pittsburgh's utilityman but lost the job to Don Kelly. He did not make the team, and his major-league career was over. The Pirates assigned him to Indianapolis, where he hit .242. He was unconditionally released on March 30, 2008. The well-traveled journeyman played for the Leones de Yucatan in 2008 Mexican League baseball, and hit for a .298 batting average. That same year, 2008, he helped Puerto Rico win the Americas Baseball Cup. In 2009 he appeared in 17 games for Yucatan. He was 39 years old, and it was his last year as a player.
In 2010 Hernández joined the Gulf Coast League Orioles as a coach. He moved to the Delmarva Shorebirds in 2011, the Frederick Keys in 2012, and in 2013 joined the Triple-A Norfolk Tides as third-base coach.
In a 2016 interview he spoke of the challenges of coaching at third base, "just making decisions, I think – when you're supposed to stop the guy, or the situation of the game, sometimes it's tough. …"5 He said he enjoyed what he was doing with Norfolk: "I'm enjoying what I'm doing every day: just come to the park and see these guys. We are having lots of fun." But he said he would also enjoy coaching at the big-league level.6
Hernández and his wife, Melanie (Gomez) Hernández, live in Puerto Rico in the offseason. He is an avid golfer, and enjoys golf as a distraction from the ballpark.
Last revised: August 1, 2018
This biography is included in "Puerto Rico and Baseball: 60 Biographies" (SABR, 2017), edited by Bill Nowlin and Edwin Fernández.
Sources
In addition to the sources cited in the Notes, the author also consulted baseball-almanac.com, baseball-reference.com, mlb.com, and the Giamatti Research Center at the National Baseball Hall of Fame.
Notes
1 David Hall, "Tides Report. A Few Words With Third Base Coach José Hernández," Norfolk Virginian Pilot, June 18, 2016. pilotonline.com/sports/baseball/norfolk-tides/tides-report-a-few-words-with-third-base-coach-jose/article_5c5e77c0-dddb-566c-a77f-54232887bef.html.
2 Tracy Ringolsby, "Hernandez Is Focused on the Opportunity," Rocky Mountain News (Denver), February 13, 2003.
3 Tony Jackson, "Disposition for Position," Los Angeles Daily News, June 7, 2004.
4 Ken Mandel, "Phils Acquire Hérnandéz From Bucs," MLB.com, August 22, 2006.
5 David Hall.
6 Ibid.
Full Name
Jose Antonio Hernandez Figueroa
Born
July 14, 1969 at Rio Piedras, (PR)
If you can help us improve this player's biography, contact us.
https://sabr.org/sites/default/files/HernandezJose.jpg
600
800
admin
/wp-content/uploads/2020/02/sabr_logo.png
admin
2012-01-04 20:19:09
2012-01-04 20:19:09
Jose Hernandez