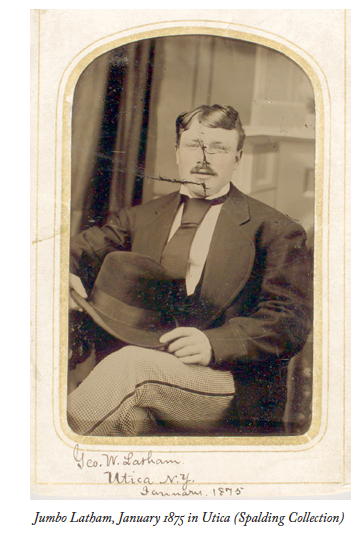 ---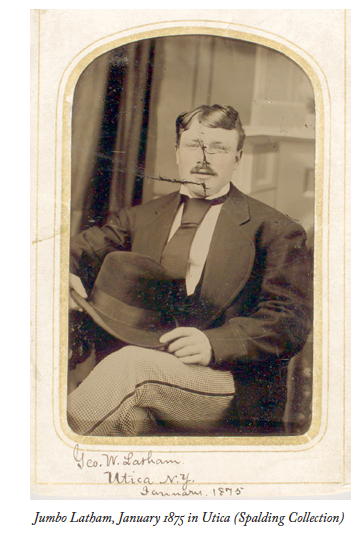 George Warren "Juice" Latham was born September 6, 1852, in Utica, New York, to Amy Victory Latham and Charles Latham, a constable and one of Utica's first patrolmen. Growing up, George attended Utica's South Street School and then the Advanced School while playing ball for amateur teams, including the Lightfoots and the Actives. At some point early in his playing days, he received the nickname "Juice," apparently a reference to the energy he displayed while playing and coaching. Later, he would also be called "Jumbo," an obvious reference to his stocky 5′ 8″ and eventually 250-pound build. Regarded as one of the most vocal coaches in the game during the nineteenth century he was known to most baseball fans as "Juice."
As one of baseball's first professional players, Juice Latham was well-known and respected in his hometown. His long career as a player, manager, and umpire brought him into contact with some of the legendary names in baseball history. In 1869, Latham played in Ottawa, Ontario. Where he spent the next four years isn't known, as he next turns up playing in New Haven, Connecticut in 1874. In a newspaper interview just before his death, Latham mentions the many places he played, but makes no mention of any teams from 1870 to 1873. In 1875, Latham was a member of the Boston entry in the first organization of professional teams, the National Association's Boston Red Stockings. Baseball pioneer Harry Wright ran the Boston club, and because Juice had been with the New Haven Elm Citys the year before, after playing first base in 16 games for Boston, Wright sent Latham to New Haven to help that club out as a player/manager. The 1875 New Haven club, a new entrant in the National Association that season, had two wins against 21 losses when Latham arrived, so while their record of 4-14 under his leadership may not appear that good, it was a definite improvement. The following year he started in Canada as player/manager of the Tecumseh club of London, Ontario, but finished the season in Binghamton, New York.
Latham made his National League debut in 1877 with Louisville, but he maintained a residence in Utica, and the 1877 Utica City Directory listed his occupation as "baseballist." The 1877 Louisville team would go down in history as the club with the first great gambling scandal in professional baseball. The team was having a successful year, winning a vast majority of their games until late in the season several games were lost under questionable circumstances. While four Louisville players would eventually be banned from baseball for throwing games, Juice Latham was never accused of any wrongdoing. In fact, he was so well thought of that when the club's board met hoping to re-organize the team for 1878, Latham was the first player considered to be brought back. Unfortunately, for financial reasons Louisville was not able to field a team that season.
Latham did not play in the NL in 1878 because he went home to become a member of the first professional team representing his hometown of Utica. The only Utica native on the team, the well-respected and popular second baseman helped the Utica club to a third-place finish in the International Association. The following season, Latham played for minor-league teams in Springfield and Washington.
After spending two years with the Treasury Department in Washington, Latham returned to the major leagues in 1882. That year, Philadelphia fielded a team in a new major league, the American Association. Latham served as player/manager for the Philadelphia Athletics, guiding the team to a third-place finish with a 41-34 record. He spent the 1883 and 1884 seasons in the American Association with the Louisville Eclipse, playing a majority of his big-league games at first base, although he did play every infield position at least once.
In 1885, Latham split time between Trenton and Richmond in the Eastern League. In 1886, he was playing for Jersey City, and Utica was in a tight International League pennant race. Utica asked Juice to secure his release from Jersey City so that he could help them down the stretch drive. When Latham joined the team on July 7, the club's record was 23-16 (.590 winning pct.) After that date, Utica was 39-18 (.684 winning pct.), and Juice was voted team captain in August by his teammates in recognition of his leadership. Utica's 1886 International League championship was the first pennant in the city's history. Latham returned to play for Utica in 1887, with much different results. The team struggled on the field and at the gate before the club was eventually sold and transferred to Wilkes-Barre.
The now 35-year-old Latham's playing career was winding down. He was with Columbus, Ohio, for part of 1887 and played or coached for New York State clubs such as Oneida and Elmira over the next few years. He still could be found playing an occasional first base for semipro teams around Richfield Springs when he was over 40. When not playing, he umpired in numerous amateur, charity, and professional games in the Utica area.
Being well-respected in the community didn't prevent Latham from being arrested in 1891 when he was umpiring a game being played on Sunday in apparent violation of "blue laws." The issue of Sunday ballplaying in New York State was a complicated one that took three decades for the legislature to decide, but suffice it to say that occasionally the clergy and members of a community would raise the issue, and it would result in the local police arresting some combination of players, managers, ticket takers, owners, or, as in this case, an umpire. Latham and several players were arrested by Utica's Chief of Police Charles Dagwell. There was a one-day trial, with the jury returning with a verdict in their favor in just 15 minutes. Chief Dagwell certainly knew who Juice was because Dagwell had been a member of the Utica Base Ball Club a quarter century earlier and Juice's brother John was a Utica policeman.
After his days in baseball ended, Latham worked as a driver on the Utica Belt Line street railway, as a mason (an accident while working this profession cost him the sight in his right eye), and with the Utica Gas & Electric Company. Juice Latham died of uremia on May 26, 1914 at the age of 61. He never married and had no children. Even though he had other careers, it is entirely appropriate that his death certificate lists his occupation as "Retired Base Ball Player."
This biography is included in "Boston's First Nine: The 1871-75 Boston Red Stockings" (SABR, 2016), edited by Bob LeMoine and Bill Nowlin.
Sources
Cook, William A. The Louisville Grays Scandal of 1877: The Taint of Gambling at the Dawn of the National League (Jefferson, North Carolina: McFarland, 2005).
Shiffert, John. Base Ball in Philadelphia: A History of the Early Game (Jefferson, North Carolina: McFarland, 2006).
Albany Knickerbocker Press, and the following Utica newspapers; Sunday Tribune, Saturday Globe, Daily Press, and the Observer.
Born
September 6, 1852 at Utica, NY (USA)
Died
May 26, 1914 at Utica, NY (USA)
If you can help us improve this player's biography, contact us.
https://sabr.org/sites/default/files/Latham_Jumbo.png
600
800
admin
/wp-content/uploads/2020/02/sabr_logo.png
admin
2012-01-04 20:49:57
2012-01-04 20:49:57
Jumbo Latham