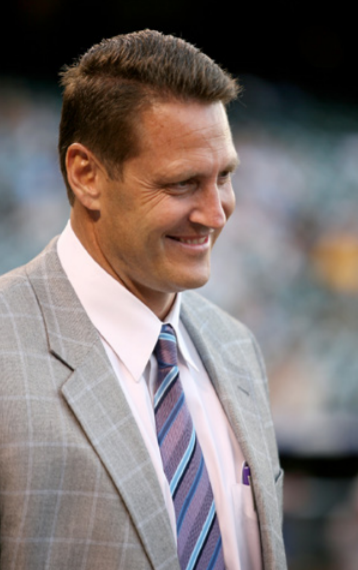 ---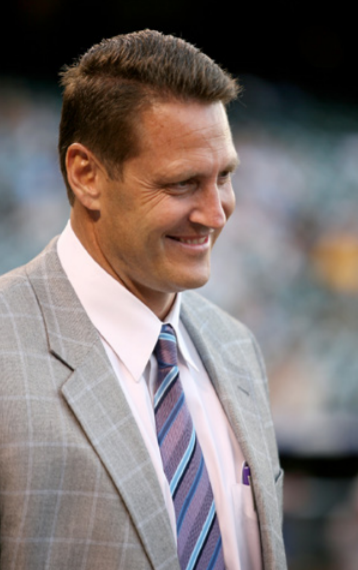 "No matter what your role or title, model greatness and invite others on the journey." That is the quote that is stapled into a sign outside the baseball park at the Salt River Fields baseball complex on the Pima-Maricopa Indian Community in Scottsdale, Arizona. It greets you as you arrive at the entrance of the Keli McGregor Reflection Trail, which is a small walking trail that circles the west side of the baseball complex. It was a dedication from the Pima-Maricopa tribe because they were so touched by the interest McGregor had in their tribe and community as a whole. The Reflection Trail also allows those who walk it to reflect on Keli McGregor as a person; someone who always cherished people over projects, friendships over fare, above all else, relationships over records.
Keli Scott McGregor was born on January 23, 1963, in Primghar, Iowa. Shortly after he was born, his parents, Brian and Margaret McGregor, left Margaret's family farm and moved to the Denver area. Brian joined the coaching staff at Lakewood Junior High School. "I wanted to be a teacher and a coach," he said.1 He moved to Arvada West the following year as assistant football coach and head track and field coach. He soon became the head football coach, and his 1972 Arvada West team won the state championship. Keli's father was very passionate about football, and baseball was something to just fill the summer months. "Baseball never was a big thing for me," said Brian.2
Keli McGregor was a multisport athlete at Lakewood (Colorado) High School from 1977 through 1980. For college, McGregor decided to stay close to his childhood home and was accepted by Colorado State University. (Of course, he had other motivation: He wanted to marry his high-school sweetheart, Lori.) He took his skills as an all-state running back to play for the university's football team as a walk-on. Considered to be an undersized halfback when he arrived on campus, McGregor went from freshman walk-on to second-team all-American tight end in 1984. He grew to 6-feet-8 and was listed at 250 pounds, and went on to become an all-Western Athletic Conference tight end from 1982 to 1984. He set a single-season school record with 69 catches in 1983, a mark that stood for 10 years. In his four years at CSU, he had 153 receptions, 1,604 yards, and 8 touchdowns.3 He was voted to Colorado State's all-century team in 1992 and was named to the CSU Hall of Fame in 1996.
McGregor was selected by Denver in the fourth round of the 1985 NFL draft and played for the Denver Broncos and the Indianapolis Colts during the 1985 NFL season for a total of eight games. In 1986 he tried to catch on with the Seattle Seahawks, but never made it out of training camp. When he could not catch on with any other professional football team, he decided to hang up his playing career. He never accumulated any offensive stats.
McGregor then embarked on a career in sports administration. He worked as an associate athletic director at the University of Arkansas for four years, and then as assistant football coach for two years at the University of Florida (1988-89), where he earned a master's degree in education with an emphasis on athletic administration.
Although he had been very passionate about football through his early adult life, he was finding it was not such a fulfilling career. Little did he know that because of a close friendship, he would truly make his mark in professional baseball.
During his time at Colorado State University, Keli had become friends with Mike McMorris, whose father, Jerry McMorris, had become the initial principal owner of the Colorado Rockies, in 1993. Jerry McMorris was looking for some new and fresh ideas from outside the baseball world.
McMorris hired Keli in October 1993 as director of stadium operations. "The way that Keli came in and handled everything so smoothly, and the way he worked with others in baseball, I just knew it would be a matter of time before he would be the man sitting in the big chair with the ultimate authority," said McMorris.4 McGregor held that position until 1995; he was promoted to senior vice president in 1996 and then executive vice president in 1998. His meteoric rise in the Rockies organization reached its apex when he took over from the very man who had believed in him, believed that he could change the organization. Jerry McMorris decided to step down as the team's president and McGregor replaced him in 2001.
Despite coming from a football background, McGregor quickly learned the inner workings of major-league baseball and was highly respected by players, administrators, and owners throughout the sport. The health-conscious McGregor often worked out at Coors Field with Rockies players. He knew that the future of the Rockies not only had to come from within, by bringing in and developing young baseball talent, but by also establishing great relationships with communities, those who followed baseball and even those who did not.
He worked to fortify the team's farm system, declaring that the franchise would emphasize character while building the team with home-grown players. He also strongly emphasized community involvement from players and others within the organization. He cofounded and served as president of the Reaching Out to Youth (ROY) Foundation in the battle against cystic fibrosis, which had claimed the life of his dear friend Mike McMorris. He served on numerous boards, including the Denver Metro Chamber of Commerce and the Colorado Commission on Higher Education. The Rockies helped build more than 100 youth baseball fields during his 18 years with the franchise. McGregor believed in building strong and trusting relationships throughout the Rockies organization and the state of Colorado in general.
"I talked to (Commissioner) Bud Selig, who is a good friend of mine, the day after Keli died," Jerry McMorris said. "He told me Keli was on the short list of people being considered to be the next commissioner of baseball. That's how highly regarded he was. It makes me sad when I think about how much more he could have accomplished."5
McGregor's passion and vision for the Rockies paid off in seven short years. In the fall of 2007, the Rockies made an impressive late-season charge that carried them into their first World Series. Even though they were swept in four games by the Boston Red Sox, reaching the World Series was the ultimate affirmation that McGregor's emphasis on player development and character were the keys to the franchise's future success. McGregor had built the relationships he wanted, and now the whole Rockies franchise was celebrating his impact.
Once McGregor had steered the Rockies franchise in a better baseball direction, he wanted to bring them closer to their respective communities as well, starting with their spring-training operations in Arizona. The team had been at Hi Corbett Field in Tucson since its beginning, but the Rockies and the only other team training in Tucson, the Arizona Diamondbacks, wanted to move to a better facility, one closer to all spring training teams in the Phoenix area. So in July 2009, McGregor led the negotiations and agreement to build a new spring training-facility in Scottsdale, Arizona, within the Salt River Pima-Maricopa Indian Community on land that is called Talking Stick. "The complex will provide for our fans and organization the best pure spring experience in major-league baseball," McGregor said in a statement once the deal was finalized. "We're excited to partner with the Salt River Pima-Maricopa Indian Community and the Arizona Diamondbacks."6
It was McGregor's desire to bring the communities of the Colorado Rockies (along with the Diamondbacks) and the Salt River Pima-Maricopa Tribe together to help one another, for that was what he believed in: the power of relationships. Sadly, McGregor would not live long enough to see his true vision come to pass.
On April 20, 2010, he was found dead at the age of 47 in a Salt Lake City hotel room while on a business trip. He was in his 17th season with the Rockies, his ninth as club president. Initial indications were that he died of natural causes. Major figures in McGregor's life paid tribute to him, including members of the Rockies and Diamondbacks, Commissioner Selig, and representatives of Major League Baseball, Colorado State University, the Denver Broncos, and his family and friends.7 The power of these relationships was on full display to show the world it had lost such a wonderful person.
On August 30, 2010, it was announced that McGregor had died of a rare virus that infected his heart muscle. The infection caused lymphocytic myocarditis, an inflammatory disease of the heart muscle, killing an otherwise healthy McGregor. His family (he was survived by his wife, Lori, three daughters, and a son) issued a statement about the diagnosis and how they could remember him:
"Keli McGregor had the heart of a lion. He did not die of a heart attack or of any other preventable heart condition. Instead, his healthy heart was attacked by a rare virus which unfortunately infected the heart muscle, causing the lymphocytic myocarditis that led to Keli's death. In an unusual manifestation of a viral illness, this organism infiltrated his heart muscle and disrupted the electrical pathways that signal the heart to beat properly. The heart muscle may have recovered from the viral attack had these electrical pathways not been destroyed, but the muscle may have been permanently weakened and destined for eventual heart failure. This infectious process most likely occurred during the last week of Keli's life, causing nothing more than flu-like symptoms. Just as a healthy brain can be infected with viral meningitis, a healthy heart can be infected with viral myocarditis. Fortunately, the vast majority of viral illnesses do not damage the heart or the brain. Keli McGregor was a champion of the physical and spiritual health of the heart. He acted as a strong advocate for the early detection and prevention of cardiovascular disease, both with the Rockies and throughout Denver and Colorado. Keli lived an active life and had his cardiovascular status evaluated regularly. Unfortunately, even a heart as strong as Keli's can, in rare cases, fall victim to these microscopic viral invaders. Like you, we miss Keli every minute of every day."8
During one of the final home games of the 2010 season, the Rockies honored McGregor by placing his initials "KSM" among the retired numbers at Coors Field.
Before his death, McGregor had spent much of the year putting the finishing touches on the Rockies' new spring-training facility near Scottsdale. Before the facility's official opening for 2011 spring training, on February 11, a blessing was given at sunrise on a spot that is dedicated to McGregor.
McGregor had a huge impact on the Salt River Fields project before his passing. The Salt River Pima-Maricopa Indian Community president, Diane Enos; its vice president, Martin Harvier; community manager Bryan Meyers; and Derrick Hall and Dick Monfort, the Rockies' owner/chairman and CEO, took turns sharing their memories about McGregor during a private dedication outside the Salt River Fields main stadium. Lori McGregor, Keli's widow, also shared memories of her late husband, including how he would come home to Colorado after visiting the Community and would talk about the coming spring training facility. She thanked everyone and the Community for their support, and shortly after she spoke she was presented a miniature sculpture of three water birds identical to the sculptures featured in the facility's Reflections Trail, which is dedicated to the memory of McGregor. The Maricopa singing group Bird Singers and Dancers by the River sang as the guests walked along the trail to see the sculptures being revealed. At the beginning of the trail, the Maricopa group showed to Lori the plaque that had Keli's famous quote, as they felt it embodied what Keli McGregor was all about, and that was the power of relationships.
This biography originally appeared in "Major League Baseball A Mile High: The First Quarter Century of the Colorado Rockies" (SABR, 2018), edited by Bill Nowlin and Paul T. Parker.
Notes
1 Irv Moss, "Death of Former Rockies Keli McGregor Still Stings Father," Denver Post, December 23, 2015.
2 Ibid.
3 https://sports-reference.com/cfb/players/keli-mcgregor-1.html.
4 Todd Phifer, "Keli McGregor," Colorado Sports Hall of Fame — Who's in the Hall. https://coloradosports.org/index.php/who-s-in-the-hall/inductees/item/161-keli-mcgregor.
5 Ibid.
6 Kevin Reichard, "D-Backs, Rockies Break Ground on New Spring Complex," ballparkdigest.com, November 17, 2009. https://ballparkdigest.com/200911172324/major-league-baseball/news/d-backs-rockies-break-ground-on-new-spring-complex,
7 Remembering Keli McGregor — a tribute, Coloradorockies.com. https://colorado.rockies.mlb.com/mlb/news/tributes/obit_keli_mcgregor.jsp?c_id=col.
8 Michael Roberts, "Keli McGregor, Late Rockies President, Died of Rare Virus That Attacked His Heart, Family Says," Westword, August 31, 2010. https://westword.com/news/keli-mcgregor-late-rockies-president-died-of-rare-virus-that-attacked-his-heart-family-says-5869497.
Born
January 23, 1963 at Primghar, IA (US)
Died
April 20, 2010 at Salt Lake City, UT (US)
If you can help us improve this player's biography, contact us.
https://sabr.org/sites/default/files/keli%20mcgregor.png
600
800
admin
/wp-content/uploads/2020/02/sabr_logo.png
admin
2018-03-27 09:02:47
2020-04-09 14:40:22
Keli McGregor