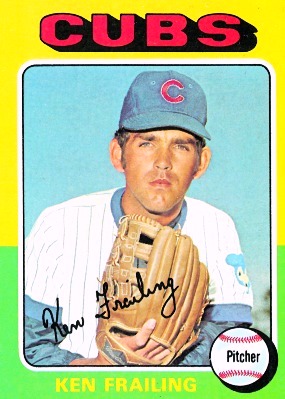 ---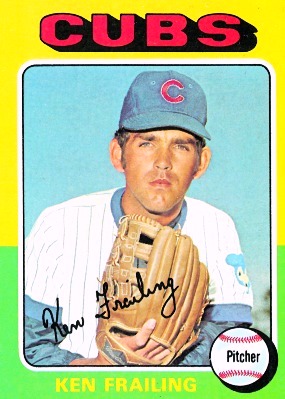 Kenneth Douglas "Ken" Frailing, a 6-foot southpaw who spent most of five years pitching for the Chicago White Sox and the Chicago Cubs in the 1970s, saw his once-promising career cut short by a shoulder problem in 1975 that led to surgery. Starting in 1972, after he spent seven seasons working his way up through the White Sox farm system, the left-hander compiled a 10-16 lifetime mark and a 3.96 ERA in 116 games during two seasons for the White Sox and three years with the Cubs. He pitched in relief in 1972 and 1973 with the White Sox, and he was traded and became a spot starter and reliever for the crosstown Cubs. Frailing's best season came in 1974 when he pitched in 55 games—second high to rookie relief pitcher Oscar Zamora's 56 games. He started 16 times and posted a 6-9 record with a 3.88 ERA. Chicago, however, had a team ERA of 4.28, and the Cubs finished last in the six-team National League East Division with a 66-96 record.
But Frailing's baseball career was cut short. Bothered by a shoulder problem in 1975, he struggled during the first half of the 1976 season. After six appearances for the Cubs and ten for Wichita of the American Association, he decided to have surgery. The shoulder tendon operation, however, effectively ended his career at the age of 28. Ken rehabbed the arm in 1977. After serving as a White Sox player-coach at Knoxville of the Southern Association in 1978, he spent two seasons as roving minor-league pitching instructor for the Kansa City Royals. Still, due to the injury and surgery, the former schoolboy star gave up the game he loved—at an age when many big leaguers enjoy their prime years.
Born in 1948 and raised in Marion, Wisconsin, a town of 1,000 about 120 miles north of Madison, Frailing grew up loving sports, particularly baseball. He came of age in the early 1960s, when baseball was still considered the national pastime. Reflecting on his youthful experiences in a 2001 interview, he remembered that most of the kids he knew had limited choices for entertainment. As a result, they would get together and play ball:
"Baseball was a big deal at Marion High. But considering our cool weather, in a good year we'd get in maybe 20 games. But we also had American Legion ball. There would be nights that we would draw 800 people in a town of 1,000 to a game. I was a pitcher in high school, but I played the outfield, too."
The former big leaguer was modest. Playing for a high school with 200 students, Frailing, at 6-feet and 190 pounds, became an all-around athlete who starred in the three major team sports of the era, football, basketball, and baseball. He earned all-conference honors in all three sports during his senior year of 1965-66. Speaking in a 2001 interview, John Bartelt, who coached Marion High's baseball team for 41 years, called Frailing "pleasant, conscientious, hard-working, talented—the type of kid you want to coach."
Frailing's peers agreed. In 2000 the school's former ballplayers selected the left-hander as Marion High's Athlete of the Century. Bartelt, commenting to the Marion Advertiser, called Frailing one of the most coachable athletes he ever knew: "He was an intense competitor and had just a fantastic attitude. The more I think about it, the more I realize how fortunate I was to be associated with Ken as his coach, his teacher, his neighbor, and his friend."
A standout end in football as well as a forward in basketball who scored exactly 1,000 points in high school, Frailing was also a remarkable left-handed batter who played the outfield when not on the mound. He hurled four no-hitters for Marion, including his first game as a freshman, a 6-0 victory over Tigerton in which he fanned 16 hitters. Major-league scouts began watching him during his sophomore year, and he really caught their attention as a senior when he fashioned a 13-0 mark with a 0.17 ERA and helped Marion High finish unbeaten at 16-0.
The White Sox selected Frailing in the fifth round of the amateur draft in 1966. The club tried to sign him the day after his Mustangs finished playing in the semifinals of the state American Legion Tournament. Thanks to Coach Bartelt's advice, Ken held out for a month, and the White Sox to offer a sizable bonus.
"To play pro baseball was my dream," Frailing recollected. "I grew up following the Milwaukee Braves. So I got to see a couple games a year in Milwaukee, and that was really exciting. Somebody's parents would take us. We'd go early when the gates opened, and we'd get to see the clubs take batting practice. We'd be in the bleachers and get the home-run balls hit during batting practice. I thought that was the greatest thing!"
Enthusiastic, cheerful, and blessed with a positive attitude and a good work ethic, Frailing signed a professional contract, and when he did, the White Sox not only agreed to pay for his college education but also gave him a $25,000 bonus. He attended Wisconsin State University-Stevens Point, beginning after his stint in the Rookie Gulf Coast League in 1966.
Frailing made $500 a month in his first season, but he spent seven long years working his way up through the minors. Pitching for the last-place Sarasota White Sox in the Gulf Coast League in 1966, the southpaw made ten starts and one relief appearance, finishing with a 1-5 record and a 4.88 ERA, walking 39 batters, but striking out 52. He also pitched, and lost, one game at Fox Cities in the Class A Midwest League.
Like many young hurlers, Frailing started out as a power pitcher, relying mainly on his sinking fastball. But he learned that his breaking ball was his best "out" pitch. He spent two full seasons as a starter for Appleton, Wisconsin, in the Midwest League. Pitching on a regular basis at Appleton in 1967, when his team took first place, Frailing started 15 games, hurled 99 innings, and compiled a 4-7 ledger with a 2.55 ERA. In 1968, when the Foxes finished sixth, he started 14 games, relieved once, worked 90 innings, and fashioned a 5-3 record with a 3.30 ERA.
Frailing's long minor-league odyssey, typical for the era, continued. In 1969, starting 14 times for Lynchburg, Virginia, a club that finished last in the Class A Carolina League's West Division, Ken still enjoyed another winning season, going 5-4 with a 3.12 ERA. Pitching 78 innings, he fanned 48 hitters while walking 29. Promoted to Mobile, Alabama, of the Double-A Southern League in 1970, the sinkerballing southpaw made 22 starts. Toiling 146 innings for a ballclub that finished seventh in an eight-team circuit, he compiled a 4-9 mark with a 2.71 ERA, but he struck out 77 and walked 40 batters.
Frailing, now 23, was promoted again. Honing his skills one step below the majors, he pitched all of 1971 and most of 1972 for Tucson of the Triple-A Pacific Coast League. In 1971, under the dry heat of the Arizona summer, he started 19 games and relieved nine times, working a total of 124 innings and producing a 6-9 record with a 6.02 ERA. In 1972 he made 22 starts in 30 appearances, pitched 158 innings, and finished with an 8-10 ledger and a 4.67 ERA. He improved his strikeout-to-walk ratio, going 67-49 in 1971 and 90-45 in 1972. During both seasons the Toros had losing records, and both years the club finished last in the Coast League's four-team South Division.
"During my two seasons in Tucson," Frailing said, "it was so dry they couldn't keep the field soft enough to play. I was fastball/sinkerball and slider pitcher, but Tucson is too dry for that. I threw the fastball, which was a sinkerball, and I threw the breaking ball, which was usually a slider. With so little humidity, your breaking ball won't break as much. Your fastball doesn't sink as well either. There would be nights we'd give up 10 or 11 hits. Maybe eight of them would be ground-ball base hits—because the ground was so hard.
"As a sinkerball pitcher, you usually get a lot of ground balls. But for me, I had to finesse the hitters, rather than challenge them, because you needed to get guys out. But being a sinkerball pitcher is not conducive to finesse."
Still, the White Sox called the hard-throwing Frailing to the majors in September 1972. He pitched three innings in four games, winning once.
What was it like to pitch in the minors and the majors during his era?
"I remember the practical jokes we used to pull," Frailing observed with a laugh. "It was fun stuff! Also, there were times in the minor leagues you just had to laugh about. When I played at Iowa [of the Triple-A American Association], we'd pull into towns with hotels that had no air conditioning. It was hot.
"You'd be on the fourth floor, put your suitcase down on the bed, and dust would come up, because nobody had been staying there. At the end of the hall would be a rope with knots in it. That was the fire escape! You'd lay there at night with the window open and a wet towel on your body, trying to cool off. Maybe you'd drop off to sleep by two o'clock in the morning. We got $3 a day meal money. We'd sit around and say, 'Where are we going to go tonight? Are we going to get pizza and a pitcher of Pepsi between us?'
"It was that way in all the minor leagues. You went from Class A to the High-A Carolina League in, say, Lynchburg, Virginia, where I pitched in 1969. You'd go from $500 a month to $650 a month. Double-A ball paid a little more. Triple-A paid us about $900 a month.
"When you got to the big leagues, it was a huge difference. I made it with Chicago in 1972. The meal money, $25 a day, together with the money for washing our clothes, added up to $350 a week. That was more than we made for playing a month in the minors. We were just happy to be there."
Thinking about the first major-league game he pitched, on September 1, 1972, Frailing recalled, "I got called up at the end of August, and I flew into New York. We stayed at the Waldorf-Astoria, which was incredible. I was up half the night, just checking to make sure I was really there. The next day, September 1, we took the subway to Yankee Stadium.
"I was on the field before the Yankees arrived. I put the uniform on and I walked out there. The first time you walk into Yankee Stadium, that was before they remodeled it, they still had those monuments out there in center. I was thinking, 'Babe Ruth played here. Mickey Mantle played here.'
"It was an incredible feeling being in the big leagues and being at Yankee Stadium. Chuck Tanner was our manager. He said, 'We like the rookies to get their feet wet by coming in for relief.' It was a Friday night game, and I was sitting in the bullpen. It was one of those things where you're hoping your pitcher doesn't do so well, so you can get in the game. Sure enough, the phone rings and Tanner wants me to warm up. I threw about three pitches and I was ready. That's how pumped I was!
"They had a scare and got through it. The next inning I was up and throwing again. Tanner called for me. In those days, a guy came out in a car and brought you in from the bullpen and let you off at the first-base dugout. I had my warm-up jacket over my arm. I got out of the car, slammed the door, took two steps, and my arm was caught. I had to get the door open and pull the sleeve out. I knew the guys in the dugout were laughing. I walked out to the mound and Chuck Tanner was standing there, 'Go get 'em, kid.'"
Frailing entered the contest with two outs in the bottom of the sixth and a runner on third base, and he retired Bobby Murcer on a groundout.
"Somehow I got out of that first inning without allowing any runs," he said. "When I got to the dugout, my jersey was soaking wet. It was the adrenaline rush, you know. I felt like, 'Yeah! All right! I can do this!' When I got back to the hotel, I called my folks and told them about that first game. It was really exciting!"
Frailing continued, "We went back into Chicago the next week. I threw two pitches and got my first win. Chuck Tanner called me from the bullpen against the Twins. Rod Carew was the next hitter, and Dick Allen came over from first base. Dick said, 'How are you going to pitch this guy?'
"I said, 'I'll have to go with the catcher. I'm just a rookie here.'
"Dick said, 'I'll tell you what. Start him out with a fastball off the plate. Come back with a slider. He'll be looking for your fastball.'
"Sure enough, I throw a fastball wide for ball one. I followed with a breaking ball, and Carew hit a groundball to second base for an out.
"I go into the dugout, and Dick said, 'Hey, stick with me, kid, and you'll be all right!' We're sitting there talking, and the Sox came back and scored three runs in the bottom of the inning. That gave me my first big-league win. After the game, Dick comes over to my locker and said, 'It's really not that easy, kid. It's really not.' "
After Frailing set down Carew, Tony Muser pinch-hit for the pitcher and ignited a three-run White Sox rally with an RBI double, helping make Frailing a winner, 5-2.
Frailing recalled, "That's when Dick Allen started telling me, 'Look, if you want to know how to pitch to these guys, I'll let you know.' I said, 'Okay.' So between innings, I would sit and talk to Dick when he wasn't hitting. Part of it was that in the 1970s, you had a lot of players who were around for a while. Once you got established, it was fine. But it was tough for rookies. I had to learn to throw guys off-speed pitches. Dick helped me with all that."
After his rookie experience with the White Sox, four innings in three games near the end of the 1972 season, Frailing was advised by Chicago that he needed more game experience. As a result, he traveled to Mexico to play winter ball. In a singular performance on January 12, 1973, for Mazatlan of the Mexican Pacific League, Ken pitched a 2-0 no-hit victory over Los Mochis, Tony Oliva's team. Thinking he had a good negotiating position, Frailing met with the White Sox general manager, Stu Holcomb, the former Purdue football coach, in February.
After saying Chicago's offer was not enough, Ken recalled, "The general manager said, 'Dick Allen got your raise.' Dick went from $100,000 and something to $250,000. Nobody was making $200,000, not even guys like Harmon Killebrew." Frailing wound up signing for the 1973 season without a raise.
The Wisconsin southpaw, however, spent most of the 1973 season pitching Triple-A ball, at Iowa (Des Moines) of the American Association. ". . . It turned out to be a break. My stuff worked at Iowa."
At Iowa he hurled 145 innings, struck out 107, walked 49, and produced an excellent record of 11-3 with a 2.86 ERA. He benefited from the Midwestern air and also from pitching tips from Wilbur Wood, who worked with Frailing that spring on the knuckleball, and Denny McLain, who provided advice at Iowa. Still, Chicago shuttled Frailing up and down. Pitching 18 1/3 innings in 10 games in relief for the White Sox, he posted no decisions but fashioned a nifty 1.96 ERA.
"I lost my first game that year in Wichita, 1-0," Frailing remembered about the American Association. "Then I won something like seven or eight in a row. I was on a roll. I pitched nine innings on Thursday night. Then I got called up to the big leagues.
"I was put into the game on Saturday night, and I walked a guy. Then I sat. I'm sitting in the bullpen for two weeks. Then I got sent down for about three weeks, and I was called up in September. I pitched well in September for the Sox."
After the season, Ken and his wife, Dianne, bought a condo in Sarasota, Florida. He learned in 1973 that a ballplayer can be on the right team but face a wrong (for him) combination of manager, players, team needs, and/or timing. Ken needed a break, and he got one. The White Sox traded him on December 11 to the Cubs along with right-hander Steve Stone, rookie outfielder Jim Kremmel, and catcher Steve Swisher in return for veteran third baseman Ron Santo.
The deal turned out to be a boost for Frailing's career. The pitching-poor Cubs needed a left-handed starter in 1974, and Ken filled the bill, compiling a 6-9 mark with a 3.88 ERA. Chicago, however, finished last in the National League's six-team East Division with a 66-96 record.
"I got an opportunity to pitch for the Cubs," Frailing observed. "I started off the 1974 season really well. We'd have a team meeting before every series. They didn't have any stuff for left-handed starters, so I was on my own. I did what I did best, which was to throw that sinker. I kept throwing my breaking ball over the plate, and things were going good. I started, I pitched middle relief, and I pitched short relief. I did a little of everything. I was happy pitching for the Cubs." The southpaw started 16 times, hurled a career-best 125 1/3 innings, struck out 71 batters, and issued walks to 43.
"My first time up to bat in the National League, I got a hit off Ernie McAnally. Ernie Banks was the first-base coach. He called time and got the ball, put it in his pocket, and gave it to me after the game was over. That was exciting! I hit .258 [he was 8-for-31] that year. After that, I started seeing sliders, curveballs, even change-ups. But I liked the challenge of hitting."
Years later, after the cheering stopped, Frailing spoke little about the wins or losses. For him, it was all about being in the big leagues. Later, in 1978, he enjoyed serving as a player-coach with Knoxville of the Southern League. Tony LaRussa was beginning his managing career with Knoxville that year, and Harold Baines, Rusty Kuntz, Dick Dotson, Britt Burns, and others who later became big leaguers played for Knoxville that summer. But in 1975 he was still pitching and was suffering arm problems. "I felt pretty good most of the time," he recalled. "But there were some bad days, too."
Frailing remembered a game in the middle of the 1975 season when his arm first gave out: "I was pitching with a runner on second base, and the catcher called for a fastball. I thought I threw a good fastball. The catcher came out and said, 'If you're going to throw a change-up, let me know.' I thought, 'What? That's my fastball.' Then I threw what I thought was another fastball to the next hitter. He got way out in front and popped it up. Again the catcher wanted to know when I was throwing a change. After the inning, my arm started to shake. After a while, that would go away. But when that happened, I wouldn't have any strength left in my arm. It ended up that I needed surgery."
Frailing also enjoyed a great thrill in mid-1975: "Chicago was the closest team to Milwaukee and the All-Star Game. They needed someone as a fill in. I got to go to the game and be part of the program. I have a picture of the NL All-Star team. The guys included Dave Concepcion, Tony Perez, Tom Seaver, Don Sutton, Andy Messersmith, Larry Bowa, Mike Schmidt, Greg Luzinski. You talk about stars! I had fun just being there. Also, it was Milwaukee, and that was home country for me. You came out the day before, took batting practice, and they put on a home-run hitting contest. The Chamber of Commerce took us on a tour of the city. I met Goose Gossage and Bucky Dent, and I had played with them in the Sox organization. We hadn't seen each other since those days."
When the season was over, Frailing, who appeared in 41 games and pitched 53 innings, all in relief, knew he was having less success. He finished ten contests, producing a 2-5 ledger, but saw his ERA balloon to 5.43. He was trying to pitch over the injury, but not having much success. The pattern continued in 1976. Starting the season with the Cubs, he went 1-2 in six games, three of them starts. Afterward, he spent a couple of months at Wichita in the American Association. He made eight starts and two relief appearances, posting a 2-3 record with a 4.50 ERA.
The painful days kept increasing. Midway through the season, Frailing had surgery to repair a frayed bicep tendon in his left shoulder—an operation that cut down on his range of motion. The plan was that it would take 17 months to rehab the arm. After spending all of 1977 on the disabled list, except for some time with Wichita, he was released by the Cubs on Christmas Eve.
During the spring of 1978, Frailing tried to strengthen his left arm. He worked out in Sarasota, throwing mainly a knuckleball. He also contacted the White Sox, and they gave him a look. Bob Lemon, the manager, told Ken that ten Sox pitchers had guaranteed contracts. As a result, the Wisconsin lefty was asked to help Tony LaRussa with the pitchers at Knoxville, and he agreed. At Knoxville he worked with young pitchers like Dick Dotson and Britt Burns. After that season he was a minor-league pitching instructor for Kansas City in 1979 and 1980.
Frailing's winding 15-year professional baseball journey was over. After driving 25,000 miles for two years in a row as a roving instructor, the former big leaguer went into the insurance business in Sarasota in the fall of 1980. He also helped with the Fellowship of Christian Athletes, an organization that he began serving in the mid-1970s. Like most of his teammates and friends, Frailing collected pictures and memorabilia over the years, notably his two All-Star bats and several signed baseballs—including a ball signed by Hank Aaron and Roger Maris when they visited Kansas City's spring camp one day in 1979.
Ken also remembered the $5 check he received for signing to be on Topps baseball cards in 1974. The Topps Company also gave him a couple of baseball gloves each year. "It was really a thrill to see yourself on a baseball card for the first time," he reminisced. "I got a $500 gift from Topps. Billy Williams, our perennial All-Star, got a $1,500 gift because they used his picture on more than one card. Billy told me that after he got into the Hall of Fame, he made more money signing autographs at card shows than he made in baseball!"
A former star athlete with a good sense of priorities in his life, Ken observed, "I knew that I had to be a relief pitcher to make the big leagues. That was fine. Chicago had good starters in the late 1960s and early 1970s. I knew my spot. I was just happy to be there. As for highlights, I'd say that pitching in Yankee Stadium the first time and winning my first game were two good ones. Being on a baseball card was another highlight."
Frailing described a favorite memory: "Another highlight was batting against Nolan Ryan during an exhibition game at Palm Springs, California, in 1974, when Ryan was with the Angels. He struck out seven of the first eight batters. He was incredibly fast. Nolan threw the first fastball so hard that I could hear the seams spinning.
"I didn't see his first pitch. I turned and said to the ump, 'That sounded like a ball.'
"The ump said, 'It sounded like a strike to me.'
"The second pitch took off and rose, and it tore the web from Ellie Rodriguez's mitt.
"On the third pitch, I swung when Nolan was at the top of his windup. I hit the ball all the way to the warning track in right field. After I ran around the bases and came back to the dugout, the guys wanted to know how I got around and pulled the ball. But I wouldn't tell them that Nolan just hit my bat!"
"What I miss when I look back is the camaraderie," Frailing said, "the joking with the other guys, the friendships that we made, the fun that we had together. Many of us lived in the same places, we traveled to the ballparks together, and we talked baseball. Today in the bullpen, they talk about stocks that they own."
Even though his opportunity to play professional baseball led to just one complete major-league season that was injury-free, Frailing had no regrets: "I enjoyed being able to play ball with guys like Dick Allen, Bill Madlock, Rick Monday, and all of the guys on the White Sox and Cubs. We were friends and teammates. It was really a lot of fun to play baseball in the 1960s and the 1970s."
Reflecting on his memorable seasons in the sun, Frailing concluded, "After a while I learned that if I had a bad day at Wrigley Field, I could go by the Children's Hospital on the way home. I would visit kids who had diseases like cancer or leukemia. I always came away from those visits with a better perspective on baseball and on life."
June 13, 2011
Sources
Books:
The Baseball Encyclopedia (New York: Macmillan Publishing, 9th ed., 1993)
The Encyclopedia of Minor League Baseball (Durham, North Carolina: Baseball America, Inc., 2nd ed., 1997)
Official 1976 Baseball Register (St. Louis: The Sporting News, 1976)
Articles:
Kathy Krueger, "All In The Game: Ken Frailing Named Athlete of the Century at Marion High," Marion (Wisconsin) Advertiser, January 27, 2000
Lois Brandenburg, "Ken Frailing Displayed Baseball Interest and Talent at Early Age," Appleton (Wisconsin) Post-Crescent, March 10, 1968
Tomas Morales, "White Sox Uncover Frailing," January 30, 1971, clipping in Frailing File at National Baseball Hall of Fame Library, Cooperstown, New York.
Murray Chass, "Yanks Turn Back White Sox By 4-0," New York Times, September 2, 1972
Richard Dozer, "Muser Ignites Sox Rally to Beat Twins," Chicago Tribune, September 6, 1972
John Sotak, "Variety, Advice, Air Make Frailing Iowa Hill Success," July 21, 1973, clipping in Frailing File, HOF
"Cubs Acquire Frailing as Part of Santo Deal," Appleton Post-Crescent, December 12, 1973
"Frailing Pitches, Bats Cubs Over Giants, 12-4," Pontiac (Illinois) Daily Leader, May 28, 1974
"Cubs, Frailing Defeat Error-Prone Giants, 7-4," Pontiac Daily Leader, June 12, 1974
"Cubs Trim Ken Frailing," Hutchinson (Kansas) News, April 3, 1977
Online:
Baseball Reference.com – http://www.baseball-reference.com/players/f/frailke01.shtml
Interviews: This article is based in part on interviews with Ken Frailing on March 9, 2000, April 11, 2001, and May 7, 2001; an interview with Frailing's high school coach, John Bartelt, on April 10, 2001; and Bartelt's follow-up letter, also dated April 10.
Born
January 19, 1948 at Madison, WI (USA)
If you can help us improve this player's biography, contact us.
http://bioproj.sabr.org/bp_ftp/images5/FrailingKen.jpg
600
800
admin
/wp-content/uploads/2020/02/sabr_logo.png
admin
2012-01-04 20:32:59
2012-01-04 20:32:59
Ken Frailing