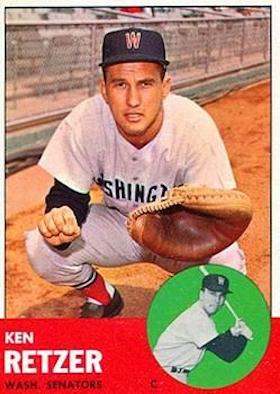 ---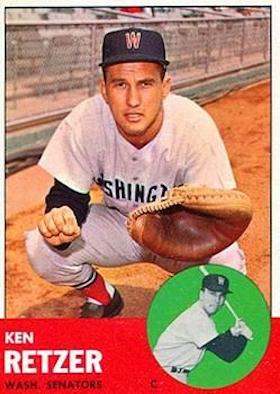 Played out before the empty seats of Washington's Griffith and D.C. Stadiums in the early 1960s, the "breath-takingly impressive"1 launch of Ken Retzer's career was nearly "invisible to the [national sports]writers … [to the point that he was] mistakenly identified as Dick Retzer" in a Sporting News article about the rich crop class of rookie catchers in 1962.2 The promising launch was based largely on Retzer's offensive prowess—.293with 9 HR and 40 RBI through his first full season—but his questionable defense spurred the Senators to seek help on the trade circuit in each of the four years he spent in Washington, and there is no indication the club considered moving him to another position to take advantage of his bat. In 1964 Retzer was traded to Minnesota and immediately assigned to the Twins AAA affiliate. He never made the major league scene again.
Kenneth Leo Retzer was born on April 30, 1934, the youngest of seven children of Joseph Felix and Lena Augusta (Fields) Retzer, in Wood River, Illinois, on the northern outskirts of St. Louis, Missouri. He was the great-grandson of German immigrants Sebastian Retzer and Theresa Elizabeth Schreiber who arrived separately in the United States in the mid-19th century. They married in Pennsylvania in 1853 and shortly afterward moved to Calhoun County, Illinois, where they raised four children to adulthood. Through the early 20th century George Retzer—Ken's grandfather—achieved some success as a blacksmith and farmer, but his son would not fare as well following the 1929 market crash. During The Depression Joseph travelled the Midwest working a variety of odd jobs before finding regular employment as a still man's helper at the Standard Oil refinery in Wood River. Joseph's children were shuffled by the continual moves among various schools in different states. Ken eventually attended Wellsville High School in Wellsville, Missouri, 90 miles northwest of St. Louis, where he graduated in 1953.
Arguably better on the hardwood courts than on the diamond, Retzer accepted an athletic scholarship in 1953 to play basketball at Jefferson City (Missouri) Junior College. He later transferred to Central Missouri State College (now the University of Central Missouri) 60 miles southeast of Kansas City in Warrensburg, where he continued in the basketball program. But Retzer would not finish college. For despite his skills on the courts, baseball was his true passion. A second baseman and occasional catcher in high school and American Legion play, Retzer moved behind the plate full time after a coach advised that it was the quickest path to the pros. Retzer was playing semi-pro ball in Estherville, Iowa, when he was discovered in 1954 by Cleveland Indians scout Johnny Schulte. Being better known for the 1942 signing of future HOF catcher Yogi Berra while he was scouting for the Yankees, the former major league catcher successfully brought Retzer into the Indians fold.
Assigned to the Tifton (Georgia) Indians in the Georgia-Florida League (Class D), Retzer earned the bulk of work behind the plate despite a team-leading 28 errors he shared with third baseman Larry Spinner. Fortunately, the left-handed hitter's offensive output offset the frequent miscues. Retzer placed among the league leaders in hits (138), home runs (8), total bases (188) and average (.307). In 1955, Retzer was promoted to the Faro-Moorhead Twins in the Northern League where he ranked among the club leaders in every offensive category. The next year he was jumped to Class A ball in the Eastern League where, despite a dip in offense, he successfully handled the plate duties for a deep staff that included future major league All Stars Gary Bell and Mudcat Grant. Proceeding south to play for the Willard Blues in the Columbian Winter League, the fiery catcher "was fined $25 for offensive remarks to an umpire" a mere two weeks before he received notice to report for induction into the US Army.3 At the time of his departure Retzer was hitting a brisk .318. He did his basic training at Fort Carson, Colorado, before being assigned to the White Sands Missile Range in southern New Mexico.
Discharged from the Army in late 1957, Retzer returned to Columbia in time to help the Vanytor Reds capture the Pan American Series title on February 4, 1958, by going 4-for-4 in the final playoff game. The winter league served as a springboard to Retzer's successful return to Reading where he placed among the club leaders in hits (81), doubles (14) and batting (.290) in only 279 at-bats. He was jumped to the San Diego Padres in the Pacific Coast League (AAA) in 1959 where he made a conspicuous debut with a homer, double and three RBIs. In May Retzer was leading the circuit with a .343 average before being slowed by a leg injury. From his June 7 return until the end of the season, Retzer managed just 154 AB and finished with a decent .281/.350/.384 slash line.
But beginning in 1960, Retzer appears to have become an afterthought in the Cleveland organization as the Indians catching duties transitioned from 25-year-old Russ Nixon to an equally young John Romano. Over the next year-and-a-half Retzer bounced around in the minors both in the club's farm and on loan to the AAA affiliates of the Philadelphia Phillies and Chicago White Sox. Though his hitting remained a constant, Retzer continued to struggle defensively—nine errors and 13 passed balls in 94 games for the 1961 Padres. On September 6, 1961, he was traded to the Senators for a player to be named later (who in October turned out to be 26-year-old infielder Chet Boak).
Despite his defensive challenges Retzer was viewed as a welcome addition to the expansion Senators who, at various points throughout the season, had been forced to press outfielder Jim King and first baseman Harry Bright in duty behind the plate. On September 9 Retzer made his MLB debut in Baltimore's Memorial Stadium against Orioles righty Jack Fisher. With Washington trailing 2-0 in the second, Retzer came to the plate with two outs and a runner on first and lined a double to centerfield. The inning ended on the next play when he was thrown out at the plate attempting to score on a Chuck Cottier single to left. Though Retzer walked, struck out, and grounded out in his next three plate appearances, his flawless handling of pitcher Bennie Daniels allowed the Senators to mount a 6-2 comeback win.
Retzer earned the starting nod in the club's next 11 games, and over a span of 34 at-bats he collected 15 hits including his first major league home, a solo blast against Kansas City Athletics righty Jerry Walker. Retzer finished his 16-game debut with a sparkling .340/.386/.472 line while committing just one error in 80 chances. Four days after the season the Senators traded Gene Green, their primary catcher, to the Indians. Having provided "excellent protection behind the bat" Retzer departed to the Nicaraguan Winter League seemingly holding the inside track for the Senators starting job in 1962.4 "[He did] a good job and he looks as if he will hit," said veteran outfielder Gene Woodling. "He'll get nothing but better."5
But on December 2 Retzer's prospects began to wane after he suffered an injury to his right hand in winter ball. Less than two weeks later the Senators acquired catcher Bob Schmidt from the Cincinnati Reds. The trade appeared to be little more than insurance—the veteran backstop had appeared in only 29 games in 1961—but when Retzer's injury carried into the spring, Schmidt was able to lay claim to the starting job. Retzer garnered just 23 at-bats through the first quarter of the 1962 season before he got comfortable playing on a regular basis. His season turned on May 30 when he collected four RBIs on a homer and two singles to lead the Senators to an 8-0 win against the Athletics. Six days later, Retzer, who rarely hit for power, connected for his only multi-homer game in the majors with two drives against Baltimore righty Milt Pappas. Used almost exclusively against right-handed pitchers (a trend that continued throughout his entire career), Retzer launched a nine-game hitting streak in June that lifted his average to .330 and briefly put him among the AL leaders in hitting (trailing only rookie Manny Jimenez, future HOF outfielder Mickey Mantle and the season's eventual batting champ Pete Runnels). Though he slowed in the second half—.264 with only 2 homers and 15 RBI in 193 at-bats—Retzer proved clutch on August 23 with a game winning two-run homer against Twins veteran rights Ruben Gomez. Once again among the league leaders in errors by a catcher, the strong armed Retzer compensated somewhat by also placing in the top tier with 19 runners caught stealing and 44 assists by a catcher. Washington sportswriters selected him the club's Rookie of the Year after he finished among the team leaders in runs (36), hits (97), homers (8), RBIs (37), total bases (136) and average (.285). Only a 1-for-33 slide at the end of the season had forestalled his hitting .300 during his rookie season.
Retzer's reward was even more competition in 1963 after the Senators acquired defensive-specialist Don Leppert from the Pittsburgh Pirates during the offseason ( Hobie Landrith and Cal Neeman would also be added to the backstop mix through the course of the campaign). On Opening Day Retzer nabbed the ceremonial toss from President John F. Kennedy—a feat that earned him an autographed baseball from the commander-in-chief—but he did not make his first appearance of the season until five days later. Unfortunately, the JFK autograph would prove to be one of Retzer's few highlights during the 1963 season. Following a brisk start in April—.316 in his first 19 at-bats that attracted trade queries throughout the majors—Retzer plunged into a 6-for-52 slump that quickly relegated him to part-time play. Further indignities visited him in May when, for the second time that spring, Retzer was obliged to surrender his uniform number—he yielded number 9 to All Star outfielder Minnie Minoso, number 14 to his new manager Gil Hodges. (When Retzer was awarded number 6, one wise guy sportswriter inquired, "Does that mean the Senators are going to get Stan Musial?")6
On July 26—in only his seventh start in six weeks—Retzer delivered a game winning two-run homer against Detroit Tigers righty Frank Lary. He continued receiving more play after Landrith suffered a career-ending broken hand and Leppert struggled with a nagging bone spur. Except for three failed pinch-hit appearances, Retzer finished August on a 15-for-37 run. On September 6, he made history by catching the first pitch of the 100,000th major league game as determined by the Baseball Hall of Fame. The ball was immediately taken out of play and presented to the Hall.7 Three weeks later Retzer delivered a three-run homer and a career-high five RBIs amidst a perfect 4-for-4 outing in leading the Senators to a 6-2 win against the Tigers. The second-half surge lifted Retzer to a respectable .242, 5 HR, 31 RBI in just 265 at-bats.
Like clockwork the Senators were unable to complete an offseason without acquiring a new catcher. But unlike in years past Mike Brumley, an acquisition from the Los Angeles Dodgers, was immediately hailed as the team's starting catcher. Almost simultaneously reports of the Senator's desire to move Retzer cropped up, and the club was rumored to be in talks with the Athletics, Indians and Orioles. Nothing came of all the talk. And Retzer was not about to yield the starting job without a fight. On March 26, 1964, he collected two hits including a homer and two RBIs in leading the Senators to a 9-3 win against the Pirates in Pompano Beach, Florida. Four days later he hit a double and scored two runs in a losing effort against the Orioles. His strong spring earned him the first and only Opening Day start of his career. Unfortunately, Retzer lost his starting job after a 1-for-13 start. Ironically for a player much derided for his defense, Retzer made headlines on May 5 by nailing three would-be base stealers, including future HOF speedster Luis Aparicio in the fourth inning. It was the first time he had been thrown out stealing since since August 1962 and it ended a string of 21 consecutive thefts. But within days of these heroics Retzer was optioned to Toronto in the International League where he became manager Sparky Anderson's main man behind the plate., The big league club recalled Retzer in September. Hitless over four appearances, Retzer struck out twice in three barren at-bats in an October 3 start in Boston, and the curtain fell on his major league career. On October 15, he was traded to the Twins for catcher Joe McCabe and immediately assigned to the Atlanta Crackers in the International League.8 Retzer began play in the Venezuelan League for the winter, but his winter excursion didn't last long: he was released in December after he engaged in a scuffle with a bus driver and hotel elevator operator and was summarily dismissed from the team.
Retzer joined the Twins in spring training in February 1965 as a non-roster invitee. Having long sought a left-handed hitting backup catcher, the Twins were elated to have him in camp. But as the season drew near they were forced to choose between the "old guy" Retzer and John Sevcik, a 22-year-old backstop who surely would be lost on waivers if demoted to the minors. So a week before Opening Day Retzer was assigned to the Denver Bears in the PCL. He wasn't thrilled with the assignment, but Bears manager Cal Ermer, who faced the task honing the skills of a passel of young hurlers, welcomed the veteran warmly. Retzer shouldered the bulk of the catching duties platooning with catcher Ron Henry.
During the offseason the Athletics evinced some interest in trading for Retzer. But spring found the catcher back in the Twins spring camp as a non-roster invitee. Two days before the start of the 1966 season he was traded to the Houston Astros for veteran outfielder Walt Bond. He was immediately assigned to the Oklahoma City 89ers where he served as a backup to catcher Dave Adlesh. On January 4, 1967, Retzer was moved again, packaged alongside outfielder Lee Maye to the Cleveland Indians for catcher Doc Edwards, outfielder Jim Landis and minor league pitcher Jim Weaver. Two weeks after the trade the Indians lost first base prospect Bill Davis who was injured during a pick-up basketball game. Retzer was excited when manager Joe Adcock asked him to begin working at first as a potential backup for veteran Fred Whitfield. But Retzer did not make the cut. Assigned to the Portland Beavers in the PCL, in his second game Retzer broke a finger on his throwing hand and was placed on the disabled list. Upon his return he was sent to Rochester in the International League where he finished his career.
In the 1960s Retzer married a San Diego native while he playing for the Padres. The short-lived union produced one daughter. During his playing career Retzer spent the offseason selling automobiles and opened a restaurant in El Cajon. But when the marriage dissolved in divorce around 1977, he moved back to his native Illinois. Retzer worked in a wide variety of occupations including racquetball instructor, limousine driver, juvenile home attendant, and a golf course maintenance employee. Alongside golf and racquetball Retzer enjoyed bowling. In 1982 he married Janet Lewis Clark and the union produced one son. Around 2010 the couple moved to Las Vegas, Nevada, where they lived for two years and where his prized President Kennedy-autographed baseball was stolen from his home. Shortly afterward the couple relocated to Phoenix, Arizona.
A cherished teammate throughout his playing career, Retzer served as an usher in Claude Osteen's wedding in 1962. A solid hitter, Retzer might have garnered a longer career had he surfaced in the AL with the advent of the designated hitter a decade later. He concluded a four-year major league career with a .264/.316/.367 line in 690 at-bats.
Last revised: October 27, 2016
Acknowledgments
The author wishes to thank Dean Giampola for his invaluable research. Further thanks are extended to Tom Schott for review and edit of the narrative.
Sources
Ancestry.com
Ken Retzer, telephone interview, August 10, 2016
Notes
Born
April 30, 1934 at Wood River, IL (USA)
Died
May 17, 2020 at Sun City, AZ (USA)
If you can help us improve this player's biography, contact us.
/sites/default/files/RetzerKen.jpg
600
800
admin
/wp-content/uploads/2020/02/sabr_logo.png
admin
2016-10-27 14:20:40
2022-04-04 13:52:36
Ken Retzer