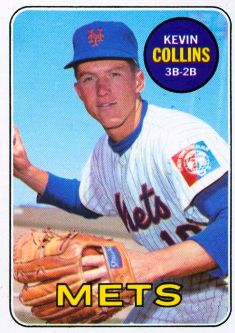 ---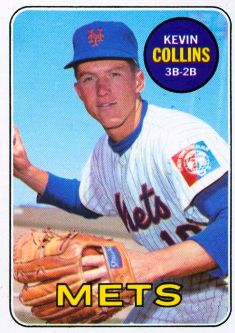 Kevin Collins was a hard-nosed infielder who stood up for his teammates and whose teammates stood up for him. He rose through the ranks with the Miracle Mets of 1969 only to be traded for the final piece of that championship puzzle.
"When people say I wasn't an important part of the 1969 Mets, I tell them, 'Are you kidding? They wouldn't have gotten Donn Clendenon without me,'" says Collins with a laugh. "I was very important!"
Kevin Michael Collins was born in Springfield, Massachusetts on August 4, 1946, the middle child and only son of Mike and Virginia Collins. Athletics came easily to Collins, who, though young for his grade in school, often played an age-level ahead in sports. His father, an insurance salesman, was his biggest influence. "He encouraged me, but he never pushed me," Kevin said in a 2008 interview. "We had a great relationship."
At Technical High School in Springfield, Collins was an All-City selection in basketball and also played halfback in football, but he excelled most in baseball, where the left-handed hitting shortstop led Springfield Tech to two Western Massachusetts championships. While Massachusetts wasn't exactly a hotbed of baseball talent, Collins nevertheless competed against future big leaguers Mark Belanger of Pittsfield High, and Fran Healy, from nearby Holyoke, during his high school years.
Pro scouts took notice of Collins as early as his freshman year in high school. Shortly after graduating in 1964, and still just 17 years old, Collins signed with scout Red Fazio and the Mets for $25,000. The Yankees—as well as the University of Massachusetts and a few other colleges—had also pursued Collins.
"My mother wanted me to go to college, but I didn't want to be looking back when I was 50 years old, wondering if I was going to make it. So I had my mind made up, much to the chagrin of my mother," he recalled. "My dad didn't lead me any way. He told me just to follow my conscience and follow your heart. With him it was, 'If you want it, go for it.'"
Collins was shortly off to Cocoa Beach, Florida, and the Rookie League Mets squad. In 44 games he batted a modest .220 but nevertheless earned a promotion to the 40-man roster, joining fellow freshmen Ron Swoboda and Collins's roommate, Tug McGraw, as first-time additions to the big league roster.
For these players—the "Youth of America" as Casey Stengel often referred to them—the Mets truly represented a world of opportunity. With the team still overcoming the aftereffects of a preposterous expansion draft that populated the major league team with rejects and longshots, young players like Collins could and did advance quickly. Collins saw his generation of prospects as having an outlook and an identity distinct from that of the major league club.
"The Mets in their embryonic stage were very interesting for me, because when I got to the minors we didn't have the same mindset that the big league team did. They had some good ballplayers like Ronny Hunt, but basically, the talent was down in the minors," he said. "They ended up with some good players in the expansion draft but they had people that nobody else wanted. We didn't have that mindset in the minor leagues. Most of us came from winning organizations in high school and college, and we didn't have the world-against-us mentality."
The velocity with which prospects could advance in this atmosphere—and the absurdity of draft rules that encouraged teams to carry first-year players, often in their teens, on their roster rather than risk losing them on waiver claims—was reflected the following spring, when Collins made the Mets Opening Day roster as an 18-year-old reserve infielder. McGraw (20), Swoboda (21), outfielder Danny Napoleon (23), and pitcher Jim Bethke (18) were other first-year players who came north with that team.
On April 25, 1965, Collins was to have made his big league debut, but fate intervened. Stengel had Collins's name penciled in the lineup of the second game of a Sunday doubleheader at Candlestick Park. But while tossing warm-up throws between games, Collins felt a tear in his shoulder soon diagnosed as a ruptured latissimus muscle requiring surgery.
The injury would delay his major league debut by more than four months. Collins resurfaced in September without having gotten a single at-bat that year in the minors. He debuted as a pinch hitter for pitcher Rob Gardner, who was also making his major league debut, on September 1 in the second game of a doubleheader at Shea Stadium. Little surprise that the unprepared teen struck out looking against Houston's Turk Farrell. Collins's first hit—a single off Pittsburgh's Bob Friend at Forbes Field—came three weeks later.
Collins, who had just turned 19, was in over his head. "I never should have been there. It was probably the worst thing for my development but those were the rules at that time," he said. The amateur draft, which went into effect for the first time that summer, helped bring an end to such arcane first-year player rules.
Collins summarily returned to the developmental pipeline, although his instructional league season in 1965 was cut short when he was hit by a thrown ball and hospitalized with a concussion. The following spring the Mets had Collins bat right-handed in an attempt to refashion him as a switch-hitter, but the experiment was eventually abandoned. Collins was assigned to Class AA Williamsport, where he spent the entire season as a shortstop under manager Bill Virdon, hitting .251 with six home runs and 32 RBIs.
In 1967, Collins was assigned to Class AAA Jacksonville, managed again by Virdon. By then it was becoming clear that Collins's road back to New York could be blocked for a long time to come. Bud Harrelson—then a Mets rookie—was just beginning what would be a decade-long run as an everyday shortstop. Jacksonville also employed Sandy Alomar, who failed to stick with the Mets but had a long career ahead of him as an everyday infielder in the American League; and Amos Otis, whose hitting ability guaranteed he'd get a job somewhere on the diamond—third base being one of those spots. And so Collins began preparation for a utility role that he saw as his best chance to break back in. He played 40 games at shortstop in 1967, 50 at second base, and 24 at third. When the Mets recalled Collins in September he got two starts, both as a second baseman alongside Harrelson at short.
"Somewhere along the line you accept that there may be people who do it a little better than you," he said. "You don't like it, you don't really believe it, but you have to accept it. I knew I was going to go to third base eventually because Buddy was ahead of everybody else and there wasn't room for both of us."
Maintaining motivation in a reserve role was never an issue for Collins. But it was a difficult mental adjustment, he admits. "I believed that the more often you play, the better you get," he said. "If you're in there every day, it makes a lot of difference. Familiarity breeds success. Knowing it's not one game and out, it takes a lot of mental heat off you. Otherwise you say, 'Oh, I better go 2-for-4 today or I'm going to sit for 10 days'. If you go 0-for-4 and know you have another shot at them tomorrow, it tends to come back to you in confidence."
Collins began 1968 in Jacksonville but was recalled in May when Harrelson reported for military duty. Though the Mets had initially planned to send Collins back to AAA when Harrelson returned from the Army, Collins's play in part-time duty impressed manager Gil Hodges enough to change those plans. Greg Goossen was sent down instead. On June 15, Collins collected three doubles in three at-bats against Giants ace Juan Marichal.
Collins by this time was a married man. He wed Linda Laflamme, a South Hadley, Massachusetts girl whom he'd met shortly before leaving for his first professional assignment in Cocoa Beach. A photograph from their wedding, published in The Sporting News in March of 1968, shows Collins receiving a handshake from Tug McGraw, an usher, while another usher, their former teammate Bill Denehy, kisses the bride.
Two of the most notable achievements in Collins's Mets career came during an August road trip in Houston. On August 6 he hit a two-out, three-run home run off Dave Giusti in the top of the ninth inning, to break a 1-1. It was his first major league home run and Collins drove in all four runs in the 4-1 win.
The next night, Collins was manning third base for the Mets when Doug Rader tripled, arriving at third base with a hard pop-up slide and an elbow into Collins's jaw. The Mets infielder collapsed onto his back in a daze.
"I'm waiting for the throw and here comes Rader. I remember catching the ball but never even coming down to make a tag," Collins said. "He came in with a pop-up slide and a forearm right in my face that broke my jaw. All I remember then was looking up and seeing the roof of the Astrodome. I'm not sure if I was knocked out, but I was dazed. I was like, 'Wow.'"
Collins's teammates jumped to attention. Mets coach Joe Pignatano briefly scuffled with Astros manager Harry Walker, and Mets pitcher Don Cardwell socked Rader above the eye. A bench-clearing brawl was on.
"The funny thing is, while all this is going on, here's the Irishman, the kind of guy who would get into anything, and he can't get off the ground," Collins said. "I might not win the fight, but I will be there with you. And I can't even get off the ground. And I remember everybody—Cardwell, [Tommie] Agee, Joe Pignatano…everybody just going at it. Unfortunately I couldn't participate because I was on my back, staring up the roof of the Astrodome."
Though Collins, who missed a week of play as the result of his broken jaw in the collision, held no ill will toward Rader ("It was just hard baseball"), writers speculated the brawl was culmination of hostilities between the clubs dating as far back to a hard slide by Agee that injured the Astros' Joe Morgan in the first week of the season. Houston would be the 1969 Mets' most ornery opponent, winning 10 of 12 meetings against New York that year. The Astros were the only club with a winning record versus the Mets that year (Cincinnati was 6-6).
In 1969, Collins made the Opening Day roster for the first time since 1965—and this time he didn't get hurt before getting in a game. Collins was one of three candidates to play third base along with the veteran incumbent, Ed Charles. Otis got the first crack, but he didn't take to the position and got on the wrong side of manager Gil Hodges. Collins got the next shot but struggled offensively. He hit .150 over 16 games (11 starts) and was dispatched to the new Class AAA affiliate in Tidewater in early May. The Mets turned to rookie Wayne Garrett, who wound up sharing the job with Charles.
Collins took his demotion with a "touch of class," The Sporting News reported. "He placed a note in the locker of Ken Boswell, his roommate, saying, 'Keep hitting Roomie.' And in the locker inherited by [Art] Shamsky, the man who also inherited his job, Collins left one that read, 'Good luck, Kid.'"
It turned out to be his last goodbye, at least to his Mets teammates. In June, he was one of four minor leaguers traded to Montreal in the deal for Clendenon (along with Steve Renko, Dave Colon, and Bill Carden). The trade brought Collins back to the major leagues as he played second base and spotted right-handed-hitting Coco Laboy at third base. Collins etched his name in the Montreal record books by providing the franchise's first pinch-hit home run, a three-run shot off Jim Bunning of Pittsburgh on July 17.
Collins described parting with the Mets as "bittersweet," but said he learned a lot from Gene Mauch, the Montreal manager. At a 30-year reunion of the 1969 Mets at Shea Stadium, Collins recalled an encounter with Jack Lang, the beat reporter who covered that team for the Long Island Press. "He told me, 'The Mets wanted Clendenon, but Gene Mauch wanted you.' That was a very nice thing to hear. It made me feel good."
Montreal assigned Collins to AAA Winnipeg to begin the 1970 season, and sold his contract to Detroit later that summer. Collins played the remainder of the 1970 season and all of 1971 with the Tigers as a pinch hitter, hitting .208 in 1970 under Mayo Smith and .268 in 1971 under Billy Martin. Collins roomed with outfielder Gates Brown in '71. The then-rare pairing of white and black players captured the attention of the news media but Collins raised no eyebrows. "I don't consider this a breakthrough of any kind," he told The Sporting News. "People are people. That's the way I was brought up."
Collins said Brown, as a veteran, could have chosen to live alone but preferred a roommate, in part, to help him with his neckties. Collins remarked that the only challenge of rooming with Brown was enduring his roommate's snoring. "The key with Gates was I wanted to fall asleep earlier than he did," said Collins, who remained close to Brown long after their careers. "And you hoped to hell you'd fall asleep before he started honking. It was like the Burlington Northern coming down the track."
Collins was assigned to Toledo following the 1971 season and played there through June of 1973 when he was traded to Cleveland, which assigned him to its Oklahoma City franchise. Collins played first base for the 89ers through May of 1974 when he decided to retire.
"I decided I had enough. My daughter was going into school the next September. I had a job offer in Michigan, and I said, 'I'm gonna take it.' I'm not going to be Crash Davis. I don't need Susan Sarandon, I have a nice wife."
The job was with Mexican Industries, the auto parts supplier founded in Detroit by former Tigers pitcher Hank Aguirre. Collins, who during baseball offseasons had attended North Adams State College, not far from where he grew up, and completed a degree at American International College in his native Springfield. Collins stayed with the company until retiring to Sand Point, Michigan. Still married to Linda, Collins says he enjoys golf and spending time with his three grandchildren. His daughter is an attorney and his son is a restaurateur.
Reflecting on his baseball career, Collins said he has few regrets. "I was a guy who played the game the right way," said Collins. "I didn't have a lot of power but I could hit the fastball, and left-handed pitching didn't bother me too much. I could field my position and I had a good arm. I could run a little. Nobody ever had to tell me how to compete. I was the kind of guy who gave you all I had, whether or not that was enough."
Last revised: March 15, 2021 (ghw)
Sources
Author interviews with Kevin Collins, 2008
New York Times
New York Herald Tribune
The Sporting News
The Ultimate Mets Database (www.ultimatemets.com/)
Born
August 4, 1946 at Springfield, MA (USA)
Died
February 20, 2016 at Naples, FL (USA)
If you can help us improve this player's biography, contact us.
http://bioproj.sabr.org/bp_ftp/images4/CollinsKevin.jpg
600
800
admin
/wp-content/uploads/2020/02/sabr_logo.png
admin
2012-01-04 20:38:28
2021-03-15 04:33:15
Kevin Collins