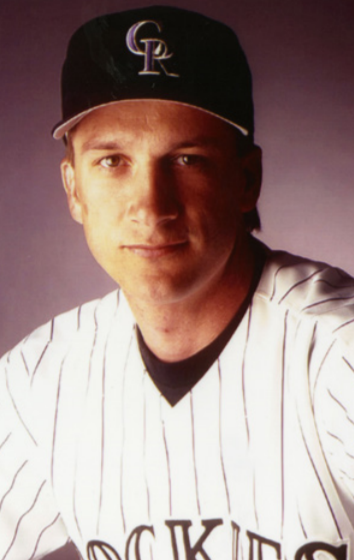 ---
F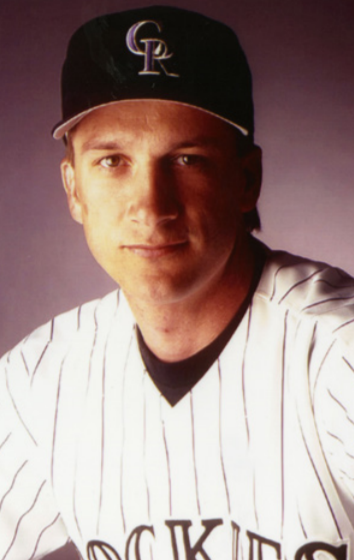 ollowing a promising rookie year in 1989, pitcher Kevin Ritz found his career on shaky ground after struggling with extreme control problems for the Detroit Tigers over his next couple of seasons. This was exacerbated by a serious elbow injury suffered at the end of his tenure in Detroit that sidelined him for a full season. Undeterred despite the setbacks, however, Ritz resurrected his flagging career and set a prominent club record that held for 14 seasons with the Colorado Rockies — despite pitching in the notoriously hitter-friendly Mile High City.
Kevin D. Ritz was born on June 8, 1965, in Eatontown, New Jersey, where his father had been serving in the US Army. Like his father, Ritz was only given a singular letter for his middle name. Within six months of his birth, his family relocated to the rural Midwestern town of Bloomfield, Iowa, where he grew up.1 There, his father, Carl, was a bus driver, and his mother, Darlene, worked at a plastics factory. Living in a "modest" home on a gravel road, Ritz was the second youngest of five children, with siblings Dana, Renetta, Rose, and Stacey rounding out the family.2 Although his parents did not instill in him a love for the game — they were not particularly ardent baseball fans — the dream of playing in the major leagues became a passion early on for Ritz due to the innate skills he displayed on the diamond.3 "My interest started like most boys. I went through Little League, Babe Ruth, and then on to the high-school team," he reflected. And the game came naturally to Ritz: "I really didn't have to work at it and I didn't have to practice very hard."4
As a teenager, when not working as a dishwasher at a local restaurant, Ritz excelled on the mound at Davis County High School. Coach Pat Perry knew the big right-hander threw hard, so he used the local police department's radar gun to measure his exact pitch speed. Ritz was throwing in the mid-80s.5 He utilized this talent to toss a no-hitter for Davis County in 1983, and earned an all-state selection.6 Further illustrating his athleticism, Ritz was also recognized as an all-state basketball player during his time with the Mustangs.
After high school, Ritz enrolled at William Penn University in nearby Oskaloosa, Iowa. His freshman season with the Statesmen, 1984, did not go as he had hoped. "I wasn't too thrilled with William Penn," Ritz said. "The coaching staff wasn't what I expected and I found myself playing on the junior varsity. It was just a long year."7 Still, Ritz's potential was noticed by the San Francisco Giants, who drafted him in the fourth round of the January 1985 amateur draft. Not having been offered a signing bonus, however, he decided to stay in school.8
For his sophomore year, Ritz decided to play baseball at Indian Hills Community College, a junior college in Centerville, Iowa, even closer to home, on whose home field he had played many times during high school. "We had a great rivalry with Centerville when I was at Davis County," he said. "It was just nice to be close to home so the family could come and watch, but we also played on that field against Centerville a lot. That area has always been a big part of my life."9 Ritz immediately felt much more comfortable playing for the Falcons. "There were a lot of older guys on the team, guys like Mitch Knox who I think was ancient. He was like 40," Ritz quipped. "There was good leadership there, different guys from different cities. It was a great atmosphere right from the get-go."10 This change of scenery translated into success for the young hurler. Ritz finished the season at Indian Hills with a 7-3 record, and struck out 78 batters in 57 innings while allowing only 42 hits. His efforts — which included winning two postseason games — helped lead the Falcons to a Junior College World Series appearance in 1985.11 Although the 1985 campaign ultimately was his only season with the Falcons, Ritz's contributions were recognized by the school with his induction into the school's Athletics Hall of Fame in 2013.12
Ritz's strong performance at IHCC again attracted the attention of a major-league club, this time the Detroit Tigers. Scouted by George Bradley, he was selected by Detroit in the fourth round of the June 1985 amateur draft. Ritz struggled with the decision whether to sign or remain in college — albeit at a different school. "The coaching [at IHCC] wasn't very good, so I felt a change was needed," he explained.13 Several larger universities including Georgia, Missouri, Nevada-Las Vegas, Oklahoma, and Southern Mississippi had given him offers to transfer to their baseball programs.14 While taking time to decide, Ritz continued to work at his craft by playing in the summer for the Alaska Goldpanners of Fairbanks in the amateur collegiate Alaska Baseball League. Pitching primarily in relief, he led the team with four saves.15 Finally, after initially announcing that he had decided to attend Nevada-Las Vegas because he felt he needed more seasoning, Ritz reconsidered when Detroit sweetened its contract offer with a bonus of $12,000.16 On September 3, 1985, he signed with the Tigers.
For the 1986 season, Detroit assigned the 6-foot-4, 195-pound hurler to the Class-A level. Splitting time with the Gastonia Tigers of the South Atlantic League and the Lakeland Tigers of the Florida State League, Ritz struggled in his first stint in the minor leagues. Between the two clubs, he finished the year with a 4-11 record in 25 games (22 starts), and posted a 5.16 ERA and 1.71 WHIP. Despite the disappointing results, Tigers farm director Frank Franchi was still "delighted" with Ritz, considering his lack of experience, and touted him as one of the team's top prospects to watch.17
Showing confidence in the 21-year-old, Detroit promoted Ritz to the Glens Falls Tigers of the Double-A Eastern League for the 1987 season, where he was used strictly in a starting role. Although facing more formidable competition, Ritz showed improvement in nearly all statistical categories, and led the club in wins and innings pitched. In 25 starts, he finished the season with an 8-8 record, 4.89 ERA, and 1.59 WHIP. Although he expected to advance to Triple A, at the beginning of the 1988 season, Ritz found himself back with Glens Falls. "[In 1988] I was expecting to make the Triple-A roster and on the next-to-last day they sent me to Double A. Sometimes it's kind of disappointing when you see younger guys getting a chance," Ritz said.18 Although his confidence was shaken, Ritz again showed marked improvement, posting an 8-10 record, 3.82 ERA, and 1.35 WHIP in his 26 starts. He limited opposing batters to a .229 batting average (fifth lowest in the league), and picked up a victory in a playoff start which according to Ritz was "probably the highlight of the season."19
Added to Detroit's 40-man roster for the 1989 season, the promising Ritz attended the Tigers' spring training in Lakeland, Florida. He did not make the Tigers' regular season roster, but performed well with the Toledo Mud Hens of the Triple-A International League, posting a 3.16 ERA after 16 starts into midseason, with wins in his last four decisions. Meanwhile the parent Tigers were languishing as one of the worst teams in baseball. And with both injuries and lackluster performance plaguing their aging starting rotation, the Tigers called up the promising 24-year-old to replace struggling fill-in starter David Palmer in the rotation.20
With the team's season all but lost, the move was an indication that the Tigers were planning for the future. Asked whether Ritz would have been called up had Detroit been in contention, manager Sparky Anderson responded, "No way."21 On July 15, Ritz made his first major-league appearance, getting the start against the Seattle Mariners at Tiger Stadium. With a contingent of 15 family members and friends who made the 12-hour trek from Iowa to Detroit to support him, Ritz pitched reasonably well through four innings, allowing five hits and two runs.22 His night ended, however, after he allowed four consecutive baserunners and two runs to begin the fifth inning, and he left the game down 4-3. The Tigers were unable to mount a comeback, and Ritz was tagged with the loss.
Ritz bounced back in his next start with a strong performance against the California Angels in a no-decision, and followed that with his first major-league victory in a start against the Minnesota Twins on July 28. Twins manager Tom Kelly said of the rookie, "Ritz has a very good arm. He has a nice, easy windup, can throw hard, has a good curve, and a little bit of a changeup."23 While celebrating his first big-league win by enjoying a ham sandwich after the game, the low-key Ritz kept things in perspective, confessing, "I'm glad to have this out of the way. It's just a win in another league. I didn't expect to get hyper, because it's just another game."24 After he won his next two starts, the Tigers maintained him in their starting rotation for the balance of the season. Ritz got positive reviews within the organization based on his solid overall performance. "A couple years from now, hitters won't want to get out of bed on the day he pitches," manager Anderson quipped.25 Ritz finished the season with a 4-6 record and 4.38 ERA in 12 starts, and was named Tigers Rookie of the Year.
Ritz's success was a much-needed "Cinderella story" inspiration to residents in his Iowa hometown, many of whom made the 3½-hour drive to attend his start in Kansas City in August. "It's been a tough decade for Bloomfield. We've had our hard knocks," said Bloomfield merchant Susan Howard. "So because this is a small town there's a special feeling about what's happened to Kevin. A community is full of independent people, but we become one under both good and bad circumstances. That's why I'm so happy at seeing this decade finishing on this nice high note."26 In another indication of the pride Ritz instilled in his community, after the season he was guest of honor at a civic luncheon at the Bloomfield United Methodist Church.
Deciding against re-signing 39-year-old Doyle Alexander for the 1990 campaign, Detroit instead targeted the more youthful Ritz to fill the starting-rotation void. Instead of building on the promise of his rookie year, however, Ritz got off to a disastrous start. Struggling to find the strike zone and hit hard when he did, after his first three starts he had allowed 13 hits and 10 walks in 7⅓ innings. Things hit rock bottom for Ritz in his fourth start, when he was removed from the game against Minnesota without recording an out after allowing four walks and one hit to the first five batters he faced. Although Ritz complained about battling a "dead arm" during his struggles, teammate Frank Tanana diagnosed Ritz's problems as stemming from a lack of confidence. "After the confidence goes the fastball, then the location. That's the usual course of events," said Tanana. "In Kevin's case, it looks like he's trying to overthrow to compensate for his control problems. It's something every young pitcher goes through. Once he starts having a little success, he'll be fine. All he needs is that first victory."27 Ritz did not get a chance to get that first victory, however, as Detroit had little choice but to send him to the minor leagues after he compiled a 0-4 record with an 11.05 ERA and 3.82 WHIP in his four starts. Spending the rest of the season back at Toledo, Ritz continued to battle wildness. He finished the disappointing year there with a 3-6 record, 5.22 ERA, and 1.70 WHIP in 20 games (18 starts). Ritz walked 59 batters in 89⅔ innings.
Because of his sophomore slump, Ritz was not in the Tigers' plans at the beginning of the 1991 campaign, and again found himself in Toledo to start the year. Featuring a newly developed slider, Ritz rebounded. His 4-0 record with a 1.77 ERA for the month of May, coupled with an unreliable Detroit starting rotation, afforded Ritz another chance with the parent club. Mud Hens pitching coach Ralph Treuel noted of Ritz's prevailing successes, "A lot of hard work and more self-confidence have been the keys. With his mound presence and poise, he looks like a pitcher. He just decided to take the bull by the horn. This is not the same Kevin Ritz from the past."28 On his return to the Tigers, however, it did indeed look very much like the Kevin Ritz from the past. After five starts with Detroit between late May and late June, he posted a 0-3 record with an abysmal 18.00 ERA. And the wildness had returned, with Ritz walking 18 batters in nine innings. Unsurprisingly, he was sent back to Toledo. Although Ritz was again recalled to the Tigers late in the season, he accomplished nothing particularly noteworthy there in his six appearances out of the bullpen.
"Some type of mental block" was pointed to by members of the Detroit and Toledo coaching staffs as the cause of Ritz's inability to throw strikes. "Who knows what's going through the guy's mind? I like Kevin an awful lot. He's got a great arm. There's no explanation," said Detroit pitching coach Billy Muffett. Manager Anderson also shared his thoughts: "I told him, 'You gotta overcome that block.' That's all it is. It's easy to say, but hard to cure. I don't think there's anything harder to cure than that." At the time, Ritz revealed that he might consider consulting a psychiatrist if the problem persisted. "In my mind there's a subconscious block," he confessed.29
Despite his incredible struggles at the major-league level over the prior two years, Ritz still figured in the Tigers' plans for the 1992 season; he had "too good an arm to give up on."30 Beginning the campaign pitching in relief for Detroit — although still featuring a high walk rate — Ritz seemed to have finally overcome his mental block. He pitched reasonably well out of the bullpen, carrying a 4.03 ERA into late May after 10 appearances. And with Detroit starter Eric King struggling on the mound and dealing with a sore shoulder, Ritz rejoined the starting rotation.31 Although lacking consistency, he pitched well enough to become a mainstay in the rotation for the next two months. In his July 29 start against the Chicago White Sox, however, Ritz suffered another setback, in the form of an elbow injury that caused him to exit the game early. "I felt it a couple of pitches before I came out. Hopefully, it's nothing too serious," Ritz said after the game.32 But it was serious — enough to keep him sidelined for the rest of the year. Ritz had posted a 2-5 record with a 5.60 ERA in 23 games (11 starts) when his season — and tenure as a Detroit Tiger — came to an unceremonious end.
Injury situation notwithstanding, on November 17, 1992, Ritz was drafted by the Colorado Rockies as the 46th pick in the major-league expansion draft. He was not bitter about having been left unprotected by Detroit, saying, "I most definitely was given every opportunity. I just didn't take advantage."33 While he sought a fresh start with the expansion Rockies for the 1993 campaign, the elbow problems resurfaced, however, requiring him to battle through pain during spring training and negatively affecting his performance. Although the Rockies attempted to send him to the minor leagues to open the season, Ritz refused the assignment, instead opting to test the free-agent market, knowing the Cleveland Indians had strong interest. Upon undergoing a physical examination by Cleveland, Ritz was diagnosed with a torn elbow tendon requiring surgery. This voided the deal with the Indians, and left Ritz sidelined for the 1993 season while dealing with a potentially career-threatening injury. "I was close to giving up and looking for another job," Ritz said.34 Encouraged by his wife to not give up, he underwent surgery in April and spent months rehabbing, unable to throw a ball until August.35 Released by the Rockies in October, he found himself without a team. Less than two months later, however, the Rockies re-signed Ritz, offering him a glimmer of hope of getting back in the game as the 1994 season approached.
With his surgically repaired elbow feeling "fine" and having been given a clean bill of health from his doctors, Ritz went to spring training in 1994 with the Triple-A Colorado Springs Sky Sox. "It feels good to just be out playing baseball again. Things are looking pretty good for me," he said of his comeback.36 His first preseason appearance also looked pretty good, with Ritz tossing three hitless innings against the California Angels' top farm club on March 22. He carried that strong performance into the Sky Sox' regular season, posting a 5-0 record with an outstanding 1.29 ERA into late May, and only six walks in 35 innings — particularly impressive considering his history of high walk rates. With Colorado starter Armando Reynoso lost for the season with an elbow injury, Ritz's efforts were rewarded with a summons to the Rockies. He made his first start on May 25 against the Cincinnati Reds. After throwing 34 pitches and allowing two runs in a rough first inning, he settled down, not allowing another run in his next four innings. Although he got a no-decision, Rockies pitching coach Larry Bearnarth said of Ritz's performance, "That was a Herculean effort. Going against Jose] Rijo, coming off surgery, not pitching in the big leagues in nearly two years, and overthrowing like crazy in the first inning. … He settled down, and that was the pitcher we scouted."37 Ritz remained a fixture in Colorado's starting rotation until the players strike cut the season short, and finished with a 5-6 record and a 5.62 ERA. Rockies manager Don Baylor put things into perspective when he said, "What he has done as far as coming back from an injury that has ended the career of some players is simply remarkable."38
In spring training in 1995, Ritz was named the Rockies' fifth starter to begin the team's first season in what became a noted hitters' park, Coors Field. With the other members of Colorado's starting rotation struggling in the early going, however, he soon became the ace of the staff, tying a team record with nine strikeouts on June 8 against the Chicago Cubs. Heading into the All-Star break, Ritz had a 7-3 record with a solid 3.50 ERA, and was touted as the team's "savior" by manager Baylor.39 Despite his success, the low-key Ritz was not comfortable with the associated media attention. "I just want to do my job. Maybe it's because I just come from Iowa, I never had that kind of attention, and don't want it," he said.40 Although he suffered through a dreadful August (0-5, 6.12), Ritz still finished the season with an 11-11 record and 4.21 ERA (tops among Rockies starters), and led the club in wins, innings pitched (173⅓), and strikeouts (120). Helping the Rockies advance to the playoffs in only their third season, Ritz saw action in two National League Division Series games against the Atlanta Braves. He started the series opener against Greg Maddux and pitched relatively well, receiving a no-decision in a 5-4 loss. Ritz also appeared in relief in the series finale, a 10-4 loss. Unsurprisingly, he was named the Rockies Pitcher of the Year.
Coming off his breakthrough year — and with veteran aces Bill Swift and Bret Saberhagen on the disabled list — Ritz was named the starter for the Rockies' 1996 season opener. "I'm looking at it as just another start. It's just day one of a long season," was his restrained comment.41 Ritz responded to the honor by firmly establishing himself as the number-one starter on the staff, giving up just one hit (but seven walks) in 5⅓ innings as the Rockies defeated the Phillies, 5-3. On May 5, in defeating the Florida Marlins 5-4, he became the first Rockies pitcher to toss a complete game at Coors Field. And by the end of June, Ritz was tied for second in the NL with nine wins, leading to media speculation that he might be named to the All-Star team. Although it did not happen, he said years later, "I couldn't be too disappointed about the All-Star Game, especially where I had come from in my career. At least I was mentioned."42 By season's end, Ritz had smashed several franchise records en route to his second consecutive selection as the Rockies Pitcher of the Year. Compiling a 17-11 record, he became the team's leader in career victories with 33, and also set single-season records for most innings pitched (213), games started (35), and victories.
Ritz's record 17 victories held for 14 years before being supplanted, and remains as of 2018 tied for second. Among NL season leaders for 1996, he finished tied for second in games started, tied for third in wins, and 10th in won-lost percentage. Despite these successes, Ritz's statistics featured some counterintuitive peculiarities. His 125 earned runs were the most in the league, his 236 hits and 105 walks were both second, and his 10 wild pitches were eighth highest. This all translated into a rather lofty 5.28 ERA and 1.60 WHIP. Nonetheless, that winter Colorado signed Ritz to his first major contract — a two-year deal with a third year at Ritz's option for a reported $3 million per year. "With the dearth of pitching in the major leagues the fact, as we have found out, that bringing a new pitcher in here is no guarantee he will be successful, and with Kevin having pitched here for three years, we had a higher level of comfort that he can continue to be a major factor for us," Rockies general manager Bob Gebhard explained regarding the signing.43
Asked in 1997 spring training whether he would perform differently now that he was the recipient of a lucrative contract, Ritz responded, "It's hard to say because I've never made that kind of money. But the few days that I've been here, I've been relaxed and had a good time. I'm throwing well." He was again named the Rockies' Opening Day starter, and expectations were high. "I think Kevin Ritz is at a point in his career where he can be categorized in that elite group they call 20-game winners," proclaimed Rockies pitching coach Frank Funk. "He should be able to get real close to that 20-win mark on a consistent basis."44 But Ritz was battered around in taking the Opening Day loss to the Reds, and continued to struggle into midseason as he dealt with an ailing shoulder throughout June.45 A medical examination in July revealed a torn labrum in his throwing shoulder that required surgery; thus, Ritz's season came to a premature end.46 His final statistics for the disappointing season featured a 6-8 record and a 5.87 ERA.
With his repaired shoulder not quite ready for Opening Day in 1998, Ritz started the year on the disabled list, and did not fare well in some early-season rehabilitation outings with the minor-league Sky Sox. Still, the 32-year-old was activated in May by the big-league club, declaring himself "ready."47 After two starts with the Rockies, however, Ritz had allowed 17 hits and 11 earned runs in nine innings, and was placed back on the disabled list. According to manager Baylor, his lack of success appeared to be due to reduced velocity on his fastball, which at 88 mph was down 4 mph from his pre-injury form.48 Ritz pitched reasonably well in three rehabilitation starts for the New Haven Ravens of the Double-A Eastern League, but struggled when given a start with the Triple-A Sky Sox in June. Shortly thereafter, he underwent season-ending surgery to repair tears in both his labrum and rotator cuff.49 Although hoping for yet another comeback in the 1999 season, Ritz was realistic about his chances considering his age and injury history. "They did five surgeries on my arm and hopefully it will heal properly. It feels good right now, but who knows what the future will hold," he said. For Ritz, the future did not hold any further professional baseball.
The effects of Ritz's arm injuries from his playing days lingered into his post-baseball life, causing him to undergo additional surgeries after settling down with his family in Cambridge, Ohio, his wife's hometown.50 He and his wife, Sally, whom he met in the late 1980s through a former minor-league teammate, have four children: Molly, Kyle, Eli, and Lilly.51 Although Ritz involved himself in business pursuits including batting cages, golf and hunting simulators, and a sporting-goods store, he primarily spent his time as a "professional father," following the activities of his children — some of whom have played collegiate athletics. "I'm really just a family man," Ritz said in 2008. "My family is more important to me than any baseball accomplishments I've had."52 He and Sally spent a significant amount of time doing volunteer work, and started the Kevin Ritz Family Foundation, which has helped support youth baseball and football leagues in addition to other activities benefiting children. As spare-time hobbies, Ritz took up hunting, fishing, camping, and golf.53
Ritz continued to support the Rockies, cheering them on at Fenway Park with his two sons when they reached the World Series in 2007.54 He did not mince words when reflecting on how he approached pitching in Denver. "I've never been scared of Coors Field," Ritz said. "There's a lot of guys who come in there and mentally can't pitch there because of the bad things that they've heard. If you give up a cheap, three-run homer, you just say the hell with it."55 Despite the challenges he faced pitching before a humidor was installed to help normalize ball flight in the high-altitude environment, he still enjoyed his time with the Rockies. "I had a great time in Denver," Ritz said. "That season [1995] kind of put me on the map."56
Last revised: April 1, 2018
This biography appears in "Major League Baseball A Mile High: The First Quarter Century of the Colorado Rockies" (SABR, 2018), edited by Bill Nowlin and Paul T. Parker.
Acknowledgments
The author wishes to thank Kevin Ritz, Sally Ritz, and Kevin Pink for their time and research assistance.
Sources
In addition to the sources noted in this biography, the author accessed Ritz's file from the library of the National Baseball Hall of Fame and Museum in Cooperstown, New York; Ancestry.com; Baseball-Reference.com; Facebook.com; GenealogyBank.com; NewspaperArchive.com; Newspapers.com; and Retrosheet.org.
Notes
1 Kevin Ritz, phone interview with author, April 10, 2017. Ritz said he was uncertain of his heritage, but believed it to be predominantly German.
2 Gene Raffensperger, "Detroit Tiger Kevin Ritz Is a Hit in His Hometown," Des Moines Register, October 8, 1989: 2B.
3 Ritz phone interview, April 10, 2017.
4 Brenda Macy, "Ritz Ready for Spring Test," Ottumwa (Iowa) Courier, February 26, 1986: 12.
5 Raffensperger, "Detroit Tiger Kevin Ritz."
6 "Ritz Fires 8-Inning No-Hitter for Davis County," Des Moines Register, June 21, 1983: 2S.
7 Scott Jackson, "Kevin Ritz Returns to His IHCC Roots," Ottumwa Courier, February 19, 2013: B3.
8 Jeff Rivers, "Ritz Passes on Dip Into the Big League," Ottumwa Courier, June 13, 1985: 13.
9 Jackson, "Kevin Ritz Returns to His IHCC Roots."
10 Ibid.
11 Rivers, "Ritz Passes on Dip Into the Big League"; Kevin Pink (sports information director at Indian Hills Community College), email correspondence with author, August 29, 2017.
12 IHCC Athletic Dept., "IHCC Announces 2013 Athletic Hall of Fame Class: Ex-Pros Kevin Ritz, Tony Galbreath
Among Five Athletes Honored," Ottumwa Courier, January 16, 2013: B1.
13 Macy, "Ritz Ready for Spring Test."
14 Rivers, "Ritz Passes on Dip into the Big League."
15 Lew Freedman, Diamonds in the Rough: Baseball Stories from Alaska (Kenmore, Washington: Epicenter Press, 2000), 244; Alaska Goldpanners of Fairbanks, "1985 Alaska Goldpanners Pitching Statistics," https://pannervault.com/Seasons/1985/statistics.html, accessed March 6, 2017.
16 Rivers, "Ritz Passes on Dip into the Big League;" Macy, "Ritz Ready for Spring Test."
17 Mark Kram, "Unkindest Cut of All: Released Players Feel Anger, Shock, Relief," Detroit Free Press, July 9, 1986: 6D; "Farm Crisis Could Mean Famine for Tigers," Detroit Free Press, July 6, 1986: 4D.
18 John McPoland, "Bloomfield Native Hurling Toward Tiger Town," Ottumwa Courier, March 21, 1989: 9.
19 Larry Paladino, ed., Detroit Tigers Yearbook 1989 (Detroit: Detroit Baseball Club, 1989), 60; McPoland, "Bloomfield Native Hurling Toward Tiger Town."
20 Gene Guidi, "6 Moves: Guillermo on DL; Palmer Cut," Detroit Free Press, July 14, 1989: 4D.
21 John Lowe, "M's Rock Ritz; Tigers' Skid Hits 10," Detroit Free Press, July 16, 1989: 11E.
22 John Lowe, "Henneman Experiences Game's Ups and Downs," Detroit Free Press, July 17, 1989: 8D.
23 John Lowe, "Tigers Win for Ritz, Then Do the Splits," Detroit Free Press, July 29, 1989: 7C.
24 Ibid.
25 Tom Gage, "Tigers Rookie Pitcher Is Putting on the Ritz," The Sporting News, August 28, 1989: 21.
26 John Lowe, "Whole Town Turns Out to See Kevin Ritz Pitch," Detroit Free Press, August 31, 1989: 6D; Raffensperger, "Detroit Tiger Kevin Ritz Is a Hit in His Hometown."
27 John Lowe, "Dead Arm Might Have Been Burying Ritz," Detroit Free Press, April 24, 1990: 4D; Randy Peterson, "Iowan Finds Patriarchal Advice About Losing From Those Who Know," Des Moines Register, April 26, 1990: 2S.
28 John Lowe, "Unreliable Rotation Speeds Need for Ritz," Detroit Free Press, May 30, 1991: 4E.
29 Victor Chi, "Out of Control: Mental Block Keeps Ritz From Major Success," Detroit Free Press, July 20, 1991: 5B.
30 John Lowe, "Gibson Deal Helps Push Young Arms," Detroit Free Press, February 24, 1992: 3D.
31 John Lowe, "King's Ailing Shoulder, ERA Out of Rotation," Detroit Free Press, May 26, 1992: 4C.
32 Gene Guidi, "Tigers' Skid 6 — 8-6," Detroit Free Press, July 30, 1992: 1C.
33 Gene Guidi, "Tigers Will Face Competition to Keep Lou," Detroit Free Press, November 23, 1992: 2C.
34 John Lowe, "Ritz's Tenacity, New Confidence Rewarded," Detroit Free Press, January 15, 1997: 1D.
35 Ibid; Dereck Lewis, "Iowan Ritz Seeks Return to Old Form on Mound," Des Moines Register, March 29, 1994: 3S.
36 Ibid.
37 Tracy Ringolsby, "Colorado Rockies," The Sporting News, June 6, 1994: 26.
38 Randy Peterson, "Elbowing His Way Back Into the Majors," Des Moines Register, July 5, 1994: 1S.
39 John Lowe, "Bosox Take Huge Lead Despite Injuries, and Help's on the Way," Detroit Free Press, June 9, 1995: 4G.
40 Mike Klis, "Ritz, Castilla Pace Rockies in Chicago," Colorado Springs Gazette Telegraph, June 9, 1995: C3.
41 Randy Peterson, "Ritz-y Opener," Des Moines Register, March 29, 1996: 4S.
42 Irv Moss, "Ritz Won Sweet 17 With 1996 Rockies," Denver Post, https://denverpost.com/2010/06/07/ritz-won-sweet-17-with-1996-rockies/, June 7, 2010, accessed April 25, 2017.
43 "Colorado Signs Ritz for $3 Million a Year," Des Moines Register, January 4, 1997: 4S.
44 Mike Klis, "Ritz's Maturity Makes Him a Winner at Coors," Colorado Springs Gazette Telegraph, February 18, 1997: C3.
45 Associated Press, "Rockies Pitcher Ritz Sidelined by Injury," Des Moines Register, July 13, 1997: 3D.
46 Mike Burrows, "Torn Shoulder Shelves Ritz for Season; Bailey Next Off DL," The Gazette (Colorado Springs), July 13, 1997: SP7.
47 Ray McNulty, "Thompson's Torn Muscle Idles Hurler Two Months," The Gazette (Colorado Springs), May 8, 1998: SP5.
48 Mike Burrows, "Once Again, Ritz Shows He's Still Far From Being First Class," The Gazette (Colorado Springs), May 17, 1998: SP7.
49 Ray McNulty, "Ritz's Season Is Over," The Gazette (Colorado Springs), June 25, 1998: SP5.
50 Jeff Birnbaum, "Where Are They Now? Kevin Ritz," MLB.com, https://m.mlb.com/news/article/3370097, August 27, 2008, accessed March 6, 2017.
51 Jeff Harrison, "We've Got Our Own Rockie Right Here — Kevin Ritz," Daily Jeffersonian (Cambridge, Ohio), https://daily-jeff.com/local%20sports/2007/10/21/we-ve-got-our-own-rockie-right-here-kevin-ritz, October 20, 2007, accessed April 25, 2017.
52 Birnbaum, "Where Are They Now? Kevin Ritz."
53 Ibid; Moss, "Ritz Won Sweet 17 With 1996 Rockies."
54 Birnbaum, "Where Are They Now? Kevin Ritz."
55 Klis, "Ritz's Maturity Makes Him a Winner at Coors," C1.
56 Moss, "Ritz Won Sweet 17 With 1996 Rockies."
Born
June 8, 1965 at Eatontown, NJ (USA)
If you can help us improve this player's biography, contact us.
https://sabr.org/sites/default/files/kevin%20ritz.png
600
800
admin
/wp-content/uploads/2020/02/sabr_logo.png
admin
2018-03-27 09:35:02
2020-04-09 14:40:21
Kevin Ritz