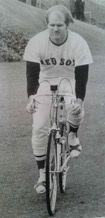 ---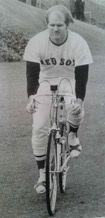 Undefeated in 1971 for the Kansas City Royals, and again in 1974 for the Boston Red Sox (he was 1-0 for both teams), left-hander Lance Clemons lost his only decision for the Cardinals in 1972. His major-league record stands at 2-1 with a career 6.06 earned run average in 19 games and 35 2/3 innings.
Lance Levis Clemons was born in Philadelphia on July 6, 1947. His father was James Clemons, a banker, and his mother was Olive Clemons. She taught deaf children. Lance grew to stand 6-foot-2 and was listed with a playing weight of 205 pounds. He both pitched and batted left-handed.
Clemons attended Rosemont Elementary School and Radnor-Delaware County High School and graduated in 1969 from West Chester State College (West Chester, Pennsylvania) with a B.S. in Health and Physical Education.
In 1968 the American League added two expansion teams, the Kansas City Royals and Seattle Pilots, to start play in 1969. Both teams took part in their first amateur draft on June 7. Cedric Tallis oversaw the drafting of players for the Royals. Clemons was their seventh-round selection, his signing credited to Syd Thrift. In October that year, the Royals and Pilots participated in the expansion draft.1
Drafted as an outfielder, Clemons played both first base and outfield. He hit .282 in 71 games for the Corning Royals (New York-Penn League), homering seven times and driving in 47 runs. In 1969 he played for the Class-A (Midwest League) Waterloo Hawks. In 67 games he hit .275 with five homers and 27 RBIs. Again he played first base and outfield.
During the season, Clemons married Linda Irene Bechtel on June 30, 1969.
Clemens pitched briefly in both 1968 and 1969. He is listed as having thrown just one inning for Corning, allowing two base hits but throwing two wild pitches and walking three. He was charged with three runs. In 1969, he pitched five innings, in two games, for the Florida Instructional League Royals. Though he recorded his first four strikeouts as a pro, he also walked eight and gave up five hits, charged with nine runs in nine innings. He did not have a decision in either game. He hit .370 in Florida.
Over the winter, the decision was made to convert him to a pitcher. His first decisions came in 1970. Clemons pitched first in Single-A ball for Waterloo (renamed the Waterloo Royals), working 30 innings — all in relief — over 18 games. He was 1-2 with a 2.70 ERA. Promoted to the Triple-A Omaha Royals, he was again 1-2, starting eight games and working another eight games in relief. His ERA was 4.67. He struck out 51 batters in 52 innings. His focus was on pitching; in a combined 38 plate appearances, he hit .167. The 1970 Omaha Royals won the American Association for the second year in a row, under manager Jack McKeon.
Lou Gorman, the Royals' head of both scouting and minor-league development, provided an assessment of Clemons after the season: "He is an unbelievable find for us. He pitched some in high school and college. Last year, in the instructional league, we decided that he didn't have a future as a first baseman. His pitching was not impressive in spring training and he was feeling his way at Waterloo, but then all of a sudden he started to put it together. He had a stretch at Waterloo where he pitched 30 innings, gave up 17 hits struck out 44 and walked 21. He was overpowering the league so we moved him up to Omaha after some of their pitchers had been called up to Kansas City." Gorman added, "I don't think he can start next season with the Royals because he lacks experience, but I think at some point next year he should help us."2
Clemons had only 88 innings of professional baseball under his belt. An unnamed Kansas City official was later quoted as saying, "He couldn't hit a curve, so he started throwing them."3
Gorman's thoughts were right on target. Clemons started 1971 with Omaha. By August he was 7-11 with a 3.69 ERA and 107 strikeouts in 134 innings. He threw three shutouts, including a seven-inning one-hitter on June 30 against Tulsa. Called up by the Royals, he made his debut on August 12 in the second game of a doubleheader in Washington against the Senators. The Royals won the first game, 2-0, but lost the second, 2-1. Clemons started and faced eight batters, working two full innings while walking one and allowing a single. A twisted ankle forced him to leave the game.
At Yankee Stadium five days later, again starting the second game of a doubleheader, he pitched well against the Yankees and held a 4-1 lead going into the bottom of the seventh. He had apparently been asked to pitch one inning too many and was charged with three runs. He had a no-decision, but the Yankees won the game.
Clemons got his first big-league decision on August 25, in Kansas City against the visiting Boston Red Sox. Boston scored four times off starter Al Fitzmorris. Clemons came in with runners on first and second and one out and struck out the first two batters he faced. He pitched the rest of the game, allowing just one run, and got the win.
On August 31, Clemons contributed in another way. The Royals were played the Brewers in County Stadium, Milwaukee. With two outs in the bottom of the seventh, and the Royals holding a 5-4 lead, Clemons came on in relief. After issuing a walk that loaded the bases, he got Dave May to ground out to end the inning. Clemons was second up to bat in the top of the eighth. Facing Ken Sanders with one out, Clemons homered.
He worked in seven more games, for a total of 24 innings by year's end, with a 1-0 record, and a 4.13 ERA. In 10 plate appearances and was 2 for 7 (.286), with the one homer accounting for his only run batted in. His other hit was a triple. He scored four runs. (His only other at-bat came for the Cardinals in 1973. He was 0-for-1, but reached base and scored a run. In a career total of 10 major-league plate appearances, Clemons scored five runs.)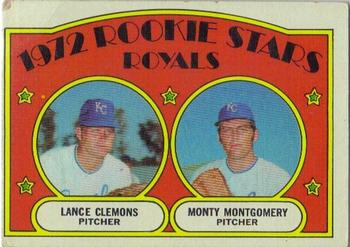 On December 2 at the winter meetings in Phoenix, the Royals traded Clemons and Jim York to the Houston Astros for John Mayberry and minor-leaguer David Grangaard. "We hated to give up York and Clemons," Cedric Tallis said. "They are outstanding young pitchers. But we had to get a power hitter and Mayberry was available."4 Clemons never pitched for the Astros, other than during spring training. He was assigned to their Triple-A team at Oklahoma City, but never played there since he was traded on April 15, 1972, to the St. Louis Cardinals, with Scipio Spinks, for Jerry Reuss.
Clemons started the season with St. Louis and pitched on April 25, May 13, and May 17. He had one decision, in Cincinnati on the 13th when he started but only lasted two-plus innings. He gave up three runs in the first, retired the side with ease in the second, but then gave up a three-run homer to Tony Perez in the bottom of the third. He was relieved with nobody out.
Though he didn't give up an earned run in either of his other two outings, the Cardinals sent him to Tulsa for what proved to be the rest of the season. He was 0-1 (10.13) for St. Louis and 8-4 (3.63) for the Oilers. That winter he played winter ball in Puerto Rico with the Arecibo Lobos.
Late in spring training 1973, Clemons was traded to the Red Sox on March 29 as the player to be named later in a January deal for Mike Nagy. The Red Sox assigned him to their Triple-A team in Pawtucket and he spent the full year there, relieving in 35 games. He only worked 51 innings, and recorded stats of 1-2 (4.06). Pawtucket won the '73 Junior World Series.
Clemons both started and ended the 1974 season with Boston, spending the bulk of the year with Pawtucket again. With the Pawsox, he was 7-5 (3.45 ERA), his standout performance being his nine innings of scoreless relief on August 12, enabling Pawtucket to beat Tidewater in 17 innings. In his first appearance for the Red Sox he retired the three batters he faced at Yankee Stadium on April 18. In the bottom of the eighth on April 27 in Kansas City, he had a nightmare of an experience; coming on in relief with one out and a man on third, he gave up an RBI double, then another RBI double, and followed an intentional walk by hitting a batter. He was pulled from the game, but two more runners scored and were charged to him. His ERA was 27.00. He brought it down over his next three appearances. He came into a game tied, 5-5, relieving Juan Marichal in the bottom of the seventh at Tiger Stadium. He threw only one pitch, inducing Jim Northrup to ground out.5 That ended the inning. Clemons then saw the Red Sox score two runs in the top of the eighth. Dick Drago retired the six Tigers he faced in the eighth and ninth, but Clemons was the pitcher of record when Boston had taken the lead, and so he got the win.
Clemons spent the rest of the season at Pawtucket, returning in time to pitch one scoreless inning in Boston on October 2.
In 1975, Clemons was a non-roster invitee to spring training with the Red Sox. He didn't make the team, and spent the full year at Pawtucket without a call-up to the big-league club. His best day was July 23, when he won both halves of a doubleheader against Richmond at McCoy Stadium in Pawtucket.
That was last year in baseball. After the season was over, the family moved to Florida from their home in Cranston, Rhode Island. Lance and Linda had two daughters, Tandra and Rebecca.
Clemons's record as a pitcher was 2-1. His career batting average was .250. His fielding percentage was .889 (one error in nine chances.)
Tandra Clemons Lamia talked a bit about her father's work after baseball. "He got a job being the physical education teacher at our local high school, Springstead High School. Spring Hill, Florida. He did that until at least 1981. He also coached the baseball team during those years.
"Then he dabbled in another couple of careers here and there, just very briefly, and then he went to UPS. He started from the bottom up, but he worked his way up to regional supervisor for the Loss Prevention Department. He started doing pre-loads, where they basically just load the trucks, and then he got hired on as a regular driver. From there he became a manager — I don't know the steps, but he ended up being the regional supervisor for the Loss Prevention Department for Central Florida."6
A couple of honors came his way, recognizing his time in baseball. In 1992 he was inducted into the West Chester University Hall of Fame, and in 2006 he was placed in the Radnor High School Hall of Fame.
Clemons didn't dwell on his having been a major-league ballplayer, his daughter added. "My dad was a super humble person and also very private. He never liked talking about it. In fact, he sold a lot of his memorabilia. It was just stuff in boxes. It was part of his previous life that he was grateful for, but then he just moved forward from there. He wasn't real wrapped up in it. He was very humble."7
Lance Clemons died of non-smoker's lung cancer in Brooksville, Florida, on January 22, 2008. He was survived by his wife Linda, his two daughters, and three grandchildren — Nicholas, Laney, and Hunter Lance — as well as his brother Aubrey.
Acknowledgments
This biography was reviewed by Norman Macht and fact-checked by Steve Glotfelty. Photo courtesy of the Clemons family.
Sources
In addition to the sources noted in this biography, the author also accessed Clemons's player file and player questionnaire from the National Baseball Hall of Fame, the Encyclopedia of Minor League Baseball, Retrosheet.org, and Baseball-Reference.com. Thanks to Rod Nelson of SABR's Scouts Committee.
Notes
1 For a discussion of how the Royals launched the franchise, see Joe Thompson, "Mr. K Brings Baseball Back to Kansas City," in Maxwell Kates and Bill Nowlin, eds., Time for Expansion Baseball (Phoenix: Society for American Baseball Research, 2018).
2 Joe McGuff, "Sharp Kid Hurlers Give Royals A Quick Return," The Sporting News, October 10, 1970: 18.
3 John Wilson, "Big Dealing Astros See Contender Role in 1972," The Sporting News, December 18, 1971: 52.
4 Joe McGuff, "Royals Count on Mayberry To Wing Productive Stick," The Sporting News, December 18, 1971: 54.
5 Peter Gammons, "Sox Run Like Blazes, Tigers Get Burned, 8-5," Boston Globe, May 12, 1974: 89.
6 Author interview with Tandra Clemons Lamia on September 4, 2018.
7 Ibid.
Born
July 6, 1947 at Philadelphia, PA (USA)
Died
January 22, 2008 at Brooksville, FL (USA)
If you can help us improve this player's biography, contact us.
https://sabr.org/sites/default/files/Clemens.jpg
600
800
admin
/wp-content/uploads/2020/02/sabr_logo.png
admin
2018-10-04 12:18:14
2020-04-09 14:38:41
Lance Clemons