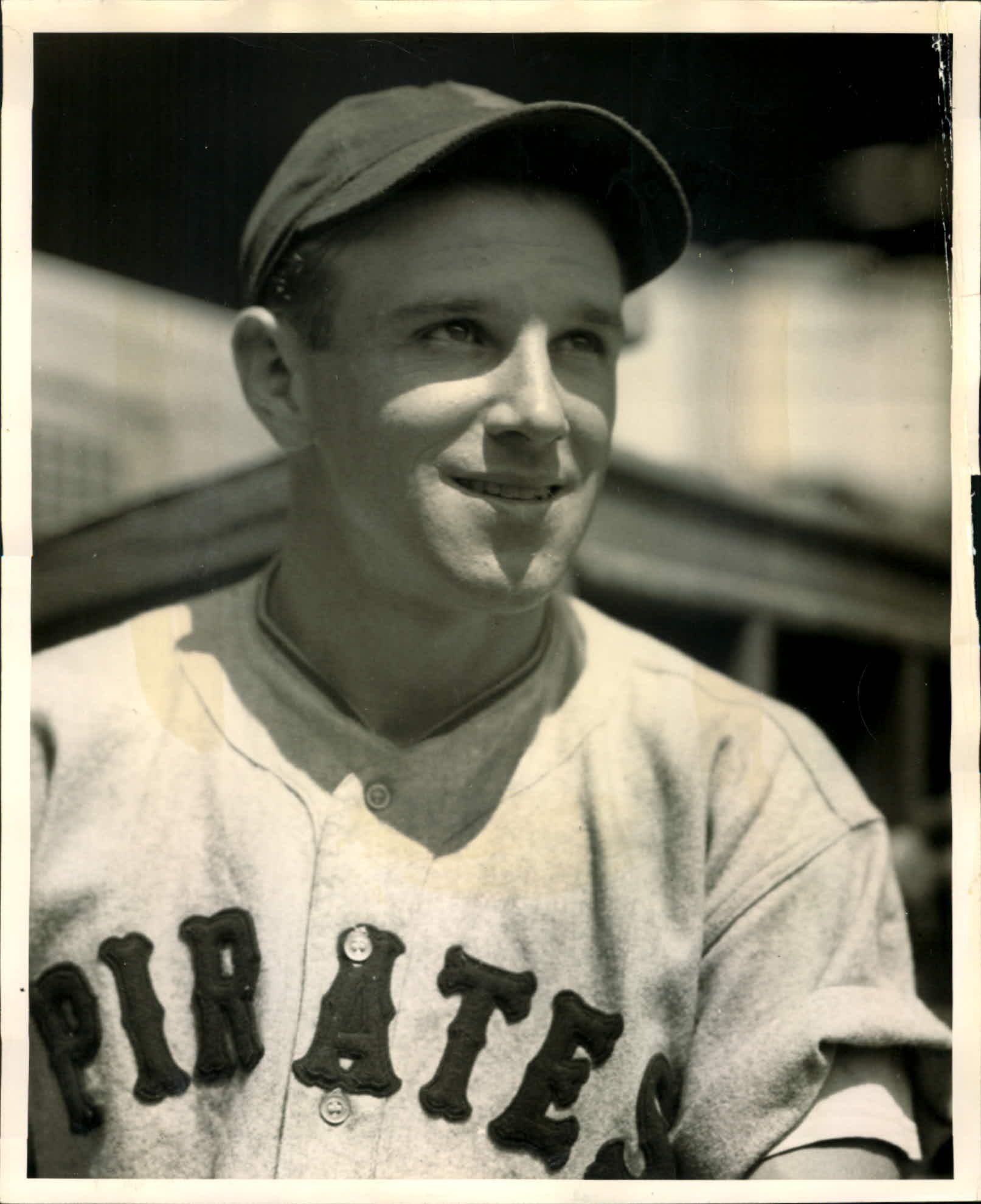 ---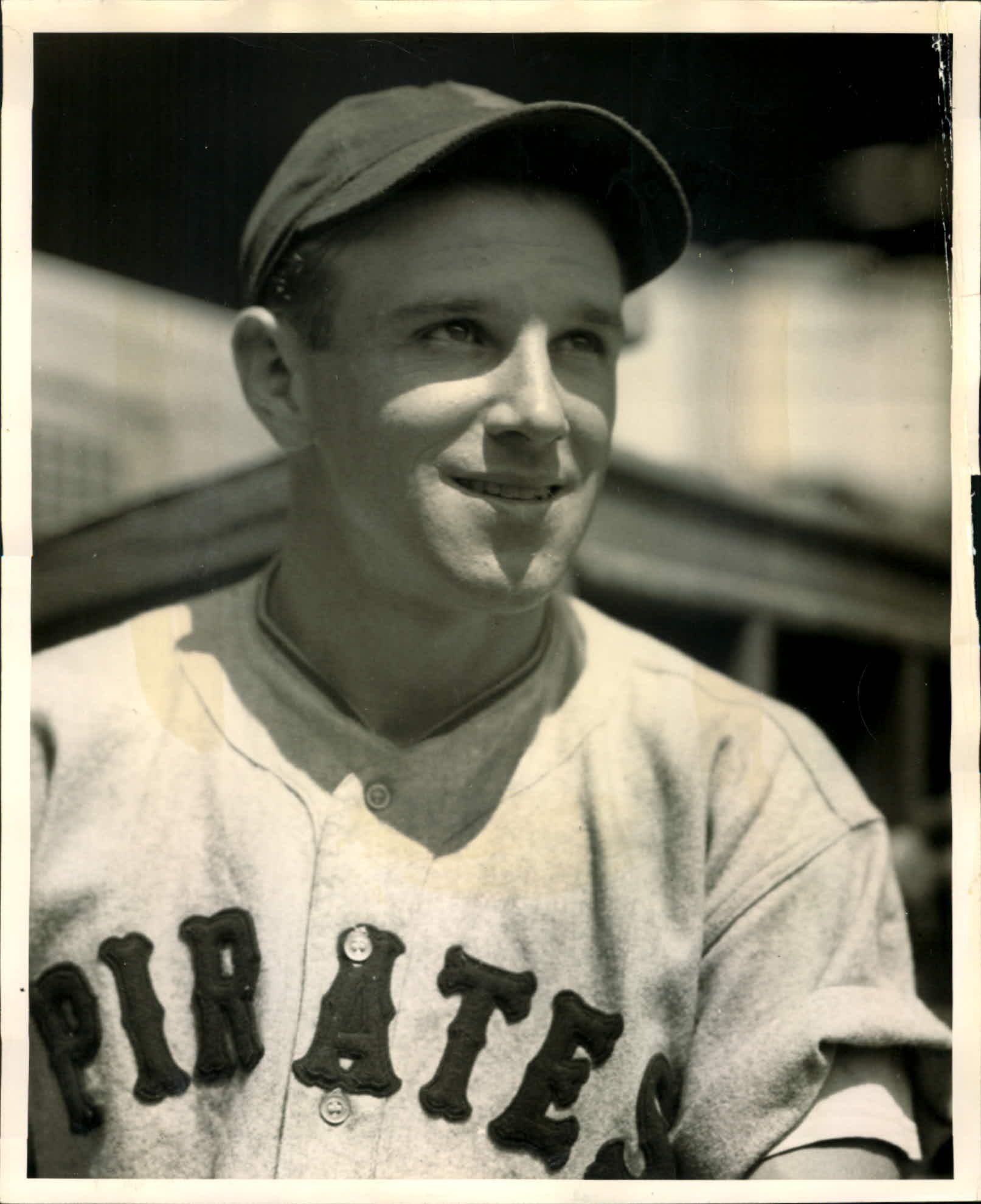 Few players have had to overcome more adversity during their major league careers than Lee "Jeep'' Handley. The 5-foot-7, 160-pound infielder played in 968 games in a 10-year career punctuated by several major injuries, a couple of which nearly cost him his life. Best known for his hustle and defensive acumen, Handley hit only 15 career home runs but was a solid .269 hitter for his career and struck out only 204 times in 3,698 plate appearances.
Lee Elmer Handley was born July 13, 1913, to Lee Hupert and Lulu Handley, who had a farm near Clarion, Iowa. He moved at an early age with his family to St. Louis, where he and two brothers attended Soldan High School. He first gained fame as an athlete at Bradley University, then known as Bradley Tech, in Peoria, Illinois. He earned 11 varsity letters, starring as the quarterback on the football team and playing for the basketball team, but his lack of size led him to choose baseball as a profession. He batted better than .400 during his college career and led the Goldman Juniors of St. Louis to the Missouri American League state championship during the summer of 1934.1
That was enough to catch the attention of major league scouts. The Pittsburgh Pirates were the first team to give him a tryout and could have signed him for $1,000 but declined to do so. Cincinnati assistant GM Frank Lane saw Handley hit a game-winning home run against Indiana, and Handley ended up signing with the Reds, who sent him to Triple-A Toronto of the International League for the 1935 season. He batted .272, and despite missing a week after being beaned by a pitch — the start of a career-long trend of miscellaneous injuries — he earned a promotion to the major leagues in 1936. Handley played in 24 games with the Reds that season and batted .308, but eventually was sent back to Toronto to learn how to play second base. He was slated to return to Cincinnati for the 1937 season.2
However, MLB commissioner Kenesaw Mountain Landis determined improprieties in the way the Reds handled Handley's demotion to Toronto, and in late November he declared Handley a free agent. This turned out to be a windfall for Handley, who received offers from 11 different major league teams. He eventually signed with the Pirates for $20,000, considerably more than he would have cost them two years earlier.3
Handley's father had died in 1931, and with money in short supply, he had been forced to work in a restaurant and do other odd jobs to pay his way through Bradley. He now used his newfound wealth to help his family, using $13,000 of his signing bonus to buy a seven-room house in Peoria for his mother, Lulu.4
For most of 1937 Handley started at second for the Pirates; he was moved to third base in 1938. He emerged as a feisty, scrappy fan favorite, batting .268 and reaching career highs in games played (139), hits (153), runs scored (91), runs batted in (51), doubles (25) and home runs (6) that season.
And at the hot corner he was a defensive sensation. Pittsburgh Press sportswriter Lester Biederman called him "the most spectacular and consistent fielder in the circuit" and likened him to Pirates Hall of Famer and then manager Pie Traynor, who played the same position and wore the same number (20). "The kid has a strong arm, a strong voice (you can hear him chattering out there all the time) and a gift for playing the game with juvenile enthusiasm," Biederman wrote. "These factors are bound to make him famous."5
Unfortunately, Handley's physical problems began the following spring. In the eighth inning of an April 9 preseason exhibition game in New Orleans, a fastball from Cleveland's Johnny Allen struck him in the side of the head, squarely on his left ear and rolled all the way to the first-base coaching box. (Doctors later speculated that the cushioning effect of his ear may have saved Handley's life.) Although his Pittsburgh teammates stormed onto the field, Allen quickly diffused the situation by apologizing. "It was a side arm flip,'' he said. "I'm thankful I didn't put much on the ball. As for suspicion that I threw at him deliberately, that's foolish."6
Carried from the field unconscious, Handley did not have any broken bones, but he underwent surgery to remove a blood clot and remained hospitalized for a week. He returned to the Pirates lineup in early May and showed no ill effects from the beaning, collecting nine hits in his first 20 at-bats and leading the Pirates to six wins in seven games.7
That scare did not end his medical problems for that season. He later developed whooping cough, lost 30 pounds, and ended up missing 52 games over the course of the season. He still managed to bat .285 and lead the National League with 17 stolen bases.8
He got back to his normal weight the following season and continued to hit for average, batting .281 in 1940 and .288 in 1941. He played in 98 games in 1940 but was sidelined again in 1941 when he was badly spiked in a collision with pitcher Johnny Gee. The two players were pursuing a bunt down the third base line that eventually rolled foul, but Gee fell over Handley and opened a gash in his foot that required five stitches.9
Handley encountered more misfortune before the 1942 season when he was involved in a serious car accident west of Peoria. Blinded by the lights of an oncoming vehicle, he lost control of the convertible he had borrowed from a friend, hit a culvert, and was thrown through the canvas roof. He suffered serious injuries to his head, right arm and shoulder, and laid by the side of road for an hour before being discovered. He needed 10 stitches to close a cut in his forehead. His wrenched his arm and shoulder severely affected his throwing ability. He was relegated to the minors for the next two years, playing 37 games at first base and batting only .212 with Toronto in 1942 and .241 in 84 games the following season as a third baseman with the Maple Leafs.10
He came back to play three more years with the Pirates (1944-46), batting .298 in 1945, and then spent one final season with the Phillies in 1947. His medical issues continued: in 1944, he collided with the Cardinals' Whitey Kurowski during a play at second base and suffered a serious spike wound to his knee. Then on the final day of the 1945 season, he broke the index finger on his right hand.11
Handley's finest moment as a major league player was yet to come. It happened during an April 22, 1947, game in which Phillies manager Ben Chapman unleashed a steady stream of racial abuse on the Dodgers Jackie Robinson, then in his first few weeks of breaking through baseball's color line. The 2013 film "42" captured the scene vividly. What the film didn't show is what occurred later in the game. Handley, who was not in the Philadelphia lineup that day, sought out Robinson and quietly told him "I'm sorry. I want you to know that stuff doesn't go for me." Robinson frequently told interviewers in later years that Handley was the first opposing player to wish him well.12
The 1947 season was Handley's final one in the big leagues. His younger brother, Gene, who also had been a star athlete at Bradley, had joined him in the major leagues and was a utility infielder with the Philadelphia A's in 1946-47. Both Handley brothers played the final games of their careers on the same day (Sept, 28, 1947), both for Philadelphia teams against New York teams. Lee got in as a late defensive replacement for the Phillies in the second game of a doubleheader against the Giants while Gene went 0 for 2 against the Yankees. (Both Lee and brother Gene were inducted into Bradley's Athletic Hall of Fame together in December 1949.)
Lee Handley had gotten into broadcasting by then, doing a 15-minute nightly sports program for WMCK in McKeesport, Pennsylvania, during the off-season. He also did some play by play for high school football and basketball and even served as an occasional broadcaster for boxing and college football.13
He wasn't quite done as a player, though. He batted .300 in 181 games with the San Diego Padres in the Pacific Coast League in 1948 and played for four different teams — San Diego and Los Angeles in the PCL, Baltimore in the International League and Chattanooga in the Southern Association — over the following two years. After the 1950 season, he finally gave up hope of finding his way back to the majors.
Lee's final years were not without moments of controversy. He twice was arrested on morals charges in 1957 and 1958. In one case, he was fined $100 and given a one-year suspended sentence after being accused of being in a motel room with three teenage girls and showing them "obscene literature and movies."14
Handley and his wife, Alexine, had three sons: Lee Jr., Gene, and Michael. He lived his final years in Greentree, Pennsylvania, dying of a heart attack at the age of 56 in 1970.
Acknowledgements
This biography was reviewed by Tom Schott and fact-checked by Kevin Larkin. It is an expanded version of a profile about Handley in the author's book, Iowa Baseball Greats (Jefferson, NC: McFarland & Company, 2015).
Notes
1 Fred W. Tuerk, "Lee Handley, Hero of House That Buc 'Jack' Built, Made Way Against Hardships As Boy," The Sporting News, February 25, 1937, 10, & "Obituaries," April 25, 1970, 40; Lester Biederman, "Pirates Win Handily, With Handley," Pittsburgh Press, July 24, 1938, 17.
2 "Ex-Pirate Lee Handley Dies at 55," Pittsburgh Press, April 9, 1970, 42; Daniel M. Daniel, "Rambling Round the Circuit With Pitcher Casey Snorter," The Sporting News, December 10, 1936, 4.
3 "Landis' blue pencil trims Cincy roster," The Sporting News, December 3, 1936, 1; Tuerk, "Lee Handley," see note 1.
4 Tuerk, see note 1.
5 Lester Biederman, "Pirates Win Handily, With Handley," Pittsburgh Press, July 24, 1938, 17.
6 Ronald T. Waldo, Pennant Hopes Dashed by the Homer in the Gloamin' (: Jefferson, NC: McFarland Publishing, 2013) 217-18; "Blanton Hurls No-Hitter as Bucs Top Tribe, 6-0,'' Reading [PA] Times, April 10, 1939, 11.
7 "Second Bean Ball Fails to Bother Lee Handley," Orlando FL] Evening Star, May 11, 1939, 8.
8 Waldo, Pennant Hopes, 218.
9 Lester Biederman, "Speaking of Jinxed Athletes–Lee Handley," Pittsburgh Press, March 9, 1942, 21.
10 "Lee Handley Hurt in Auto Accident,'' Belvidere Daily Republican, December 1, 1941, 6; ibid.
11 "His Major Accidents," Pittsburgh Press, February 22, 1948, 28.
12 Mike Sielski, "Decency worth remembering," Chicago Tribune, April 23, 2003, 4:2 (quote); Gerald Astor, The Baseball Hall of Fame 50th Anniversary Book (Upper Saddle River, NJ: Prentice Hall, 1988), 222.
13 Lester Biederman, "Jeep Rides Easily on Air Waves," Pittsburgh Press, February 22, 1948, 28.
14 "Jeep Handley Fined On Morals Charge," Kane [PA] Republican, February 18, 1958, 5.
Born
July 13, 1913 at Clarion, IA (USA)
Died
April 8, 1970 at Pittsburgh, PA (USA)
If you can help us improve this player's biography, contact us.
https://sabr.org/sites/default/files/Handley%20lee.jpeg
600
800
admin
/wp-content/uploads/2020/02/sabr_logo.png
admin
2018-09-06 19:04:45
2020-04-09 14:38:41
Lee Handley