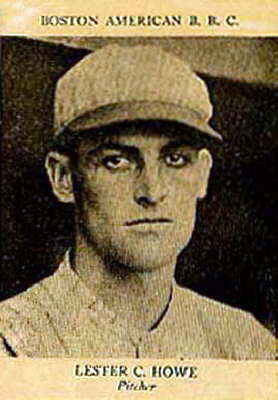 ---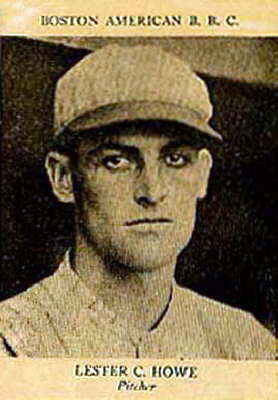 Just 10 days after team owner Harry Frazee sold the Boston Red Sox to a group headed by Bob Quinn, one of the first moves the new administration took was to purchase the contract of right-handed pitcher Les Howe, who was wrapping up his third season with the Eastern League's Waterbury (Connecticut) Brasscos. The Boston Globe reported the acquisition on August 10, 1923, saying that scout Hugh Duffy had had Howe in his sights for some time but felt he had to act since there was word another team had begun to express interest. A little over a week later, Howe pitched in his first game for the Boston club.
The deal was struck with Brasscos owner J. T. Sullivan, who less than two weeks earlier had apparently convinced Howe to stick with the Waterbury club rather than sign with a semi-pro outfit which apparently had tendered Howe an attractive offer.[1]
Lester C. Howe, who went by the nickname "Luck" (not "Lucky'), was a 5' 11" 170-pound right-hander who'd been born in Brooklyn on August 24, 1895, but pretty much grew up in Woodmere, Long Island. He attended the Woodmere public schools for 12 years, served in the United States Army in 1918 and 1919, and went on to two years of higher education, graduating from the New York State School of Agriculture in 1923. His father James H. Howe was a manager of a wholesale drugs firm who had moved the family to Hempstead by 1920, where Les lived with his mother Winnie and younger brothers, William and Russell. William was 22 at the time of the 1920 census and working as a buyer of chemicals and drugs. Lester was a partner in an auto garage. He'd been keeping busy playing baseball since first signing with Richmond in the Virginia League in 1921, where he was 7-7 for the Richmond Colts.[2] He joined Waterbury in time to put up a record of 7-8 with a 2.64 ERA in 1921.
Les signed with the Bridgeport Americans for 1922 and opened the season with them, pitching for Bridgeport through early June but by July is found back with the Brasscos. He finished the 1922 season with Waterbury, pitching in the closing game, and then losing a 3-2 decision in the 1923 opener. In 1922, he had a combined record of 12-11 with a 2.71 ERA over the course of 196 innings.
In 1923, Howe was 14-10 with a 3.51 ERA over the course of 195 innings when he was signed by the Red Sox. Howe debuted on August 18 in Detroit, entering a game that was already lost to the Red Sox, throwing one hitless inning in a 10-3 loss. He did the same thing against the Browns on the 22nd, one hitless frame. He was touched for one hit in two innings the very next day. Howe appeared in 12 games, 10 of them in relief, and his one decision of the season (a win) came on September 3, in the first game of a Fenway Park doubleheader against the Washington Senators. It was his first appearance before the home crowd, and some 15,000 fans saw Howe pitch in both games, with a couple of innings of one-hit ball in the second game as an anti-climax to the day's first game, a thrilling victory as the Sox scored four runs in the bottom of the ninth for a 5-4 come-from-behind win. Howe had thrown the top of the ninth, retiring the Senators 1-2-3, and picked up the "W."
The Boston Globe said Howe made a good impression on the fans; the Washington Post wrote, "A chap named Howe, from the Eastern League, was rushed in for experience in that last round of the opener. Looked like good practice for him. He let down the enemy scoreless, so when the rally arrived, he had the credit of the victory." After allowing just three hits in 51/3 innings of relief a couple of days later, the Globe said he looked like a "splendid prospect". Manager Frank Chance gave Howe his first start on September 13, but Howe was knocked out of the box in the top of the first, allowing three runs to Cleveland, but the Red Sox ultimately won, 9-8, so it was a no-decision. His only other start came on September 24, and save for two runs which scored on a miscue in the field in the top of the first, he set down St. Louis for the next seven innings. The Red Sox scored once in the first, then took Howe off the hook by tying it up in the bottom of the ninth after he'd been taken out for a pinch hitter in the bottom of the eighth.
Howe finished the 1923 season 1-0 with a very strong 2.40 ERA (the best of anyone on the team, which had a 4.20 ERA). The Red Sox finished dead last, as they did almost every year of the 1920s. Howe walked seven and struck out seven, and put up a WHIP of exactly 1.000 in 30 innings of work, having faced 122 batters.
Lee Fohl took over as Red Sox skipper in 1924, and he began to assess his men during spring training in San Antonio. A considerable amount of bad weather gave Fohl less opportunity to do so than might have been expected. Howe made the club, however. Working in relief of Howard Ehmke during Opening Day at Yankee Stadium, Howe also holds the distinction of surrendering the first homer hit by Babe Ruth in the Stadium, as the Sox were beaten, 13-4. Ruth's blast was a three-run homer in the bottom of the eighth.
Howe didn't get much more work after the three innings he'd thrown that day. He appeared in just three more games, for a total of 41/3 more innings. He gave up three more earned runs and after pitching the seventh inning of the June 6 game (one run on two hits). Again, he had a 1-0 record (he was undefeated in major-league play), with an ERA of 7.36, but his WHIP was 1.773 and he had pitched his last in the big leagues. The July 18 Courant noted that he had been acquired from the Red Sox by the Hartford Senators. He's listed as going 5-6 (4.42) with Hartford and also in 1924 1-3 with the Mobile Bears in the Southern Association.
Howe's pitching career was not entirely over. On April 23, he pitched for the Pittsfield Hillies, and lost to Waterbury, 10-7. Pittsfield finished eighth in the eight-team Eastern League with a 54-98 record (Waterbury won the flag), but Howe's record of 4-12 (4.34) wasn't even as good as the club's. He'd pitched part of the time for New Haven as well, but was given his unconditional release on July 20.[3] In 1926, "Luck" Howe pitched for a while for the Bridgeport Bears, knocked out of the box on his first outing on May 13, and didn't last long (1-2 with an 8.29 ERA). Someone named Howe apparently also appeared in three games for the Eastern League's Albany Senators in 1927, first name and position unknown.
After leaving the game, Les married Agnes Reid, and they had two sons: Richard, who was just nine months old at the time of the 1930 census, and Donald, born in January 1931. Howe had a position as assistant superintendent at a state park, and captain of Jones Beach. At the time he completed a questionnaire for the National Baseball Hall of Fame in 1960, Howe was living in Woodmere again and doing florist work.
He died of lung cancer on July 26, 1976, in Woodmere. Howe's grandson Russell Curtis Howe was 14 when Les Howe passed away. He has some fond memories: "I remember we would watch the New York Mets back in the 60's & 70's. Watching those games with him turned me into a lifelong Mets fan. I never had the opportunity to see my grandfather pitch in the big leagues, but I'll always remember if I was in the back yard having a catch with a friend, he would come out to where we were playing and say, 'Let me see that ball'. I knew what was about to happen, as he did this many times before. After I gave him the ball, he would go into his windup, and as he did, I would imagine a voice over a loudspeaker, 'Now batting, number 3, Babe Ruth' and as he released the ball… a perfect strike! After all those years, almost 80 years old, he still had it. He never failed to amaze me and my friends."[4]
July 30, 2011
Sources
The Lester Howe player file at the National Baseball Hall of Fame library was an important source, as were contemporary newspapers such as the Boston Globe, Christian Science Monitor, Hartford Courant, The Sporting News, and Washington Post.
---
Born
August 24, 1895 at Brooklyn, NY (USA)
Died
July 26, 1976 at Woodmere, NY (USA)
If you can help us improve this player's biography, contact us.
http://bioproj.sabr.org/bp_ftp/images5/HoweLes.jpg
600
800
admin
/wp-content/uploads/2020/02/sabr_logo.png
admin
2012-01-04 19:53:55
2012-01-04 19:53:55
Les Howe