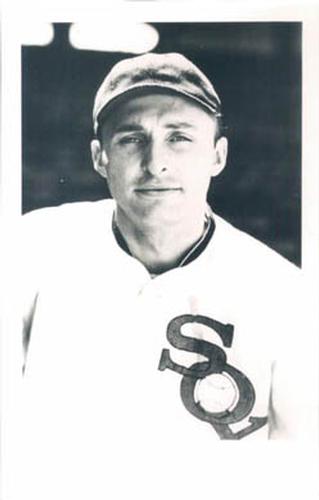 ---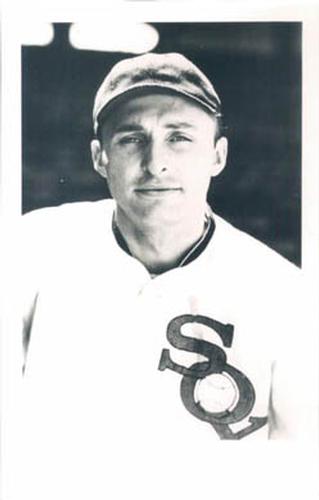 One year removed from a Class D league, Chicago White Sox right-hander Les Tietje made his major-league debut in the "House that Ruth Built" on September 18, 1933. Unfazed by the taller-than-life figures of the Babe and Lou Gehrig, the 22-year-old outdueled Red Ruffing and defeated the New York Yankees, 4-3. Playing for perennial also-rans, Teitje's career was derailed by severe arthritis soon after his trade to the St. Louis Browns in 1936. After suffering an elbow injured in the following season, Titeje was out of the big leagues, having posted a 22-41 record in parts of six seasons.
Leslie William Tietje was born on September 11, 1910, in Sumner, a town of about 1,400 inhabitants in the rural northeast quadrant of Iowa, about 100 miles northwest of Dubuque. His father was Henrich H. Tietje, a hard-scrabble man originally from Illinois and whose parents had emigrated from Germany. Known as Henry, he held down a number of jobs, from farmer, tiler, and truck driver in the hard economic times in the first third of the twentieth century. Mother Sophie (Blume) Tietje was native Iowan and also of German stock (her father had been born there). Devout Lutherans, Henry and Sophie raised two children, daughter Mabel, born in 1905, just a few years after the couple had married, followed by Les.
An athletic youngster, Les was introduced to baseball in the sandlots of Sumner and Bremer County and eventually began playing for a town team, West Union, while he was still a student at Sumner High School. The agile 6-footer also excelled on the hardwood and played semipro basketball for several years. With a reputation as a hard-throwing right-hander and part-time outfielder, the 19-year-old Tietje was invited to try out for the Dubuque Tigers in the Class-D Mississippi Valley League in 1930. "He has the speed, size, and the essentials" for success, cooed the Sumner Gazette about their favorite son's chances to make the team.1 A dejected Tietje returned home two weeks later, resumed his job at a local grocery store, and rejoined West Union, but his desire to play professional baseball still burned as the Great Depression tightened its grip on the Heartland. Rejected after another look-see with Dubuque in 1931, Tietje caught a break when West Union played the Waterloo (Iowa) Hawks, also of the Mississippi Valley League, in an exhibition game. In an interview with SABR member Steve Smart, Tietje explained that he pitched well against that club and was invited back for a tryout and ultimately landed one of the six spots on the pitching staff.2 Tietje also recalled humorously that he earned more money pitching on Sundays for $50 a game for his town baseball team than he did with Waterloo, which paid him $150 per month.
Tietje's 8-13 slate and 5.03 ERA with Waterloo in 1931 might not have seemed impressive, but the youngster showed promise, highlighted by a 16-inning complete-game victory against the Keokuk Indians on July 15.3 His record was not much better the following campaign (8-14) as the Hawks once again finished with a losing record (52-73), in seventh-place in the eight-team circuit. The Chicago White Sox, whose working agreement with Waterloo permitted them to reserve three Hawks players each season, dispatched scout Charley Stis to file a report on the 21-year-old. Based on Stis's recommendation, the White Sox purchased Tietje at the end of August.4 The hurler was subsequently feted on "Tietje Night" at the ballpark.5
Optioned to the Dallas Steers in the Texas League in 1933, Tietje prepared for the big jump to Class A by working out with the Luther College baseball squad in Decorah, Iowa. He arrived at spring training with Dallas and immediately impressed pilot Hap Morse. Facing experienced players who had or would have big-league experience, Tietje emerged as the staff ace, posting a 14-10 record and a 3.51 ERA in 218 innings. By the end of the season, the White Sox had purchased his contact from Dallas.
Tietje was often known by the playful moniker "Toots" during his playing days. According to the pitcher, teammates had difficulty pronouncing his last name, which he himself pronounced "Teet-ga."
Tietje reported to the White Sox in mid-September of 1933, capping off an unlikely odyssey from Class D to the major leagues in less than one year. His debut came on baseball's biggest stage, Yankee Stadium, on September 18. He held the Yankees in "complete subjection," opined sportswriter James P. Dawson in the New York Times, yielding seven hits and walking seven over 8⅓ innings to earn a 4-3 victory in the second game of a doubleheader.6 He concluded the season with a stellar five-hit complete game to defeat the St. Louis Browns, 5-1, on October 1, in his debut at the Baseball Palace of the World, Comiskey Park, on the south side of the Windy City.
Tietje joined the White Sox, who had resided in the second division every season since capturing the World Series in 1919 and finishing in second place just days after seven members of the Black Sox had been suspended by Commissioner Kenesaw Mountain Landis in 1920. Even before Tietje reported to spring training in Pasadena, pilot Lou Fonseca "expect[ed] him to be a regular," reported the Chicago Tribune.7 The youngest member of an eight-member staff led by graybeards Ted Lyons, George Earnshaw, Milt Gaston, and Sad Sam Jones, the 23-year-old Iowan began the season in the bullpen. Tietje struggled as a swingman, posting a 7.26 ERA in his first 11 appearances through June 13 before tossing a rain-shortened five-inning shutout in the second game of a doubleheader against the Philadelphia Athletics at Shibe Park on June 18 for his first victory of the season. "He won his own ballgame," noted the Tribune, when he smashed a double to clear the bases.8 It was Tietje's only hit and only RBIs in 59 at-bats in 1934. Even though the White Sox dwelled in the cellar beginning in early May, resulting in third baseman Jimmy Dykes replacing Fonseca as player-manager after just 15 games, Tietje enjoyed moments of success. He concluded July with complete-game victories against Washington and Detroit at Comiskey Park while emerging as the White Sox' most consistent hurler. During a stretch from August 15 to the end of the month, Tietje allowed just nine earned runs in 40⅓ innings (2.01 ERA) all on the road, yet lost all four of his starts in heartbreaking fashion, twice in extra innings; his only victory was a five-inning relief appearance. He finished the season with an unsightly 5-14 record; his 4.81 ERA (in 176 innings) bettered Lyons (4.87), Jones (5.11), and Gaston (5.85) for a staff that finished last in team ERA in the majors (5.41). "The won and lost record do not always play square with a pitcher," asserted The Sporting News, "especially if he happens to be pitching to a tailender."9 Windy City sportswriter Irving Vaughn also tried to put the rookie's season in context: "Tietje pitched tight ball, but assimilated more than his share of beatings because his mates seldom provided him more than a couple runs of support."10 A hard-luck loser, Tietje received two runs or less of support in 13 of his 14 losses.
Tietje praised Muddy Ruel, the White Sox' 38-year-old part-time catcher in 1934 and subsequently the club's pitching coach and Dyke's right-hand man, for helping him learn the ropes in the big leagues. "He'd explain the game and what you should do," Tietje told baseball historian Steve Smart.11 "He'd talk to the pitchers and tell them what to do in certain situations and explain what pitches to throw. He had a good psychology." Tietje said that Ruel always told his pitchers "to watch the guy's feet" and try to get the batter off balance.
"The outlook of the Pale Hose [in 1935] is not what you could call pleasing," opined Irving Vaughn ominously. "[I] have no reason to predict that the Sox can do anything more than seek consolation in seventh place.12 The well-known scribe would later rue that prediction – at least in June and July. Tietje had an excellent spring training, garnering praise from the Tribune as the "prize performer" of the staff;13 however, four weeks into the season, he was derided as the staff's "problem man."14 Bothered by infected teeth (which eventually were pulled), Tietje struggled (6.57 ERA after his first seven starts) and was demoted to the bullpen, where he lost his first appearances to drop to 2-5. Vaughn still considered Tietje an "important factor" in the White Sox' success15 and suggested that he was "far better than the everyday run of pitchers."16 Tietje began to fulfill that prophesy beginning with a stellar five-hit shutout in the second game of a doubleheader against the St. Louis Browns in the Gateway City on July 4. He tossed another route-going victory in his next outing and concluded the month with an impressive 1.93 ERA in 33 innings, all of which were on the road. The White Sox staff, opined Vaughn, "is proving itself better than the experts expected," while the club played its best ball since 1920, just 3½ games off the AL lead as August started.17 The Pale Hose imploded thereafter, losing 41 of 64 games to finish in fifth place while Tietje lost in six straight appearances, en route to a 9-15 slate and 4.30 ERA in 169⅔ innings.
Tietje was an emerging yet inconsistent starter. Then his health deteriorated rapidly in 1936, jeopardizing his career. Traded to the Browns on May 5 for pitcher Sugar Cain, Tietje struggled, allowing 18 earned runs in his first 15⅓ innings (10.57 ERA) for skipper Rogers Hornsby's club. Tietje explained in his interview with Smart that he developed a severe case of arthritis beginning in his knees soon after arriving in St. Louis. The swelling and pain spread gradually to other joints, from his hips to his shoulders and wrists. He had difficulty completing even basic chores around the house, and on some days he was completely immobilized. Often he was unable to raise his arms above his shoulders and his wife had to shave him. Nonetheless, Tietje played through the pain, and tossed consecutive complete games against Philadelphia in June to earn his first victories as a Browns starter. But the pain soon became unbearable. He also lost 50 pounds from his normal playing weight of 185. Soon after a disastrous relief outing on July 5, he was placed on the involuntary retirement list. St. Louis sportswriter James M. Gould feared for the hurler's career, and noted that the same malady almost caused the retirement of former Cardinal Jim Bottomley.18
Tietje convalesced at home in Iowa and regained his strength and weight. In December he was among the first Browns to sign a contract for 1937 after being pronounced in good health by team physician Robert F Hyland.19 The Browns were in desperate need of help on the mound. The 1936 staff was one of the worst in baseball history, posting a big-league worst 6.24 ERA and allowing 1,064 runs (935 earned); five of the club's pitchers yielded at least 100 earned runs, led by Jack Knott (9-17, 156 earned runs and 7.29 ERA), Chief Hogsett (13-15, 132, 5.52), and Earl Caldwell (7-16, 126, 6.00) Whether Tietje (3-5, 6.62 ERA in 50⅓ innings) could help was a different question.
Despite Tietje's improved physical condition, St. Louis sportswriter John E. Wray noticed a difference in the pitcher at spring training in San Antonio in 1937. "[H]is delivery is not impressive," wrote Wray. "He doesn't get his arm into the final motion, instead he seems to snap the ball from his elbow."20 Tietje explained that he suffered a sore arm throughout the spring. At some point "something popped" in his elbow, he said. "The arm wasn't as strong as it was before because of the arthritis."21 Tietje opened the season with the Brownies but was optioned to the San Antonio Missions in the Class A-1 Texas League in June when rosters were reduced to the 23-player limit.22 Working his way into shape, Tietje responded with a 14-7 record and 2.67 ERA in 165 innings playing in the Texas heat. By mid-August he was scouted personally by Browns GM Bill DeWitt, whose moribund club was headed to a franchise-worst 108-loss season and was in dire need of a live arm on the mound.23 Called up in late September, Tietje tossed a complete game to defeat his former club, 4-3, at Comiskey Park. In his second outing, on October 3, he battled the White Sox ace Thornton Lee for 10 scoreless innings in the second game of a doubleheader before giving up two runs in the 11th to lose, 2-0, at Sportsman's Park. It was the third and last time Tietje hurled at least 10 innings in a game.
Tietje's late-season feel-good success did not translate to a fairy-tale comeback in 1938. He remained with the Browns all season long, though he missed large chunks of time with elbow and shoulder pain. Splitting his time as a starter and reliever, Tietje won only two games, one of which was a six-hit shutout against the Detroit Tigers in the second game of a doubleheader in front of a standing-room-only crowd at Briggs Stadium in a Memorial Day twin bill on May 30. After surrendering five runs and recording just one out in a relief outing against the Cleveland Indians on September 4, Tietje (2-5) was shelved for the rest of the season with a 7.55 ERA in 62 innings. It proved to be an inglorious culmination of his big-league career.
Tietje's six-year tenure in the big leagues ended when the Browns sent him outright to the Minneapolis Millers of the Double-A American Association in March 1939.24 His final slate included a 22-41 record and 5.11 ERA in 512⅔ innings. Like many players of his era, Tietje gradually worked his way down baseball's farm system. Given the Millers' surfeit of hurlers, Tietje was subsequently reassigned during spring training to the Oakland Oaks in the Double-A Pacific Coast League, where he made only four appearances, and was demoted again, to the San Antonio Missions. In two seasons with the Missions, Tietje posted 14-8 and 5-7 records.
After the 1940 season Tietje figured that his professional baseball days were behind him. He returned to Iowa with his wife, Bonnie (Miller) Tietje, whom he had married in July 1934, and their infant daughter, Sandra. They settled in Waverly, Bonnie's hometown, where they had also lived in the offseasons. Tietje got an unexpected call from Waterloo president (and future Pittsburgh Pirates GM) Joe L. Brown, who enticed the 30-year-old hurler to return to the Hawks, who now were in the Class-B Three-I League.25 His final stint with the Hawks lasted just about one calendar year. After posting a 9-8 record in 1941, Tietje lost all four of his decisions in 1942 and was released so that the team could reach the 16-player limit in June. The Sumner Gazette reported that Tietje had difficulty getting his chronically aching arm into shape in the chilly Iowa spring.26
With World War II underway and American soldiers mobilized, Tietje made a tactical decision. He moved to Kasson, Minnesota, about 110 miles north of Waverly, and opened his own produce business. He specialized in eggs and soon had a government contract to supply fresh eggs for soldiers and civilians.27 His business grew to more than 30 employees and included a fleet of trucks that picked up eggs from farmers and delivered them to collection depots. He operated his business for 20 years, until 1962, when he took a job with Crenlo manufacturing in nearby Rochester. Tietje retired at the age of 70 in 1980.
Tietje, whose family grew to five children, was an active citizen of Kasson, a tight-knit community of fewer than 2,000 inhabitants. He served on the city council, was a member of the Elks Club and the Masons, and also coached baseball. In retirement, he and Bonnie were snowbirds, wintering in Rancho Viejo, on the southeastern tip of Texas, about 12 miles north of Brownsville.
Les Tietje passed away on October 2, 1996, at St. Mary Hospital in Rochester. He was 86 years old. Services were held at St. Peter's Episcopal Church in Kasson and he was buried at Maple Grove Cemetery in Kasson.
Sources
In addition to the sources cited in the Notes, the author also consulted Tietje's player file and player questionnaire from the National Baseball Hall of Fame, the Encyclopedia of Minor League Baseball, Retrosheet.org, Baseball-Reference.com, Bill Lee's The Baseball Necrology, the SABR Minor Leagues Database, accessed online at Baseball-Reference.com, The Sporting News archive via Paper of Record, and Ancestry.com.
Notes
Born
September 11, 1910 at Sumner, IA (USA)
Died
October 2, 1996 at Rochester, MN (USA)
If you can help us improve this player's biography, contact us.
http://sabr.org/sites/default/files/TietjeLes.jpg
600
800
admin
/wp-content/uploads/2020/02/sabr_logo.png
admin
2017-02-08 16:24:23
2021-09-26 10:45:13
Les Tietje