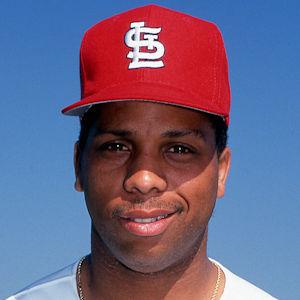 ---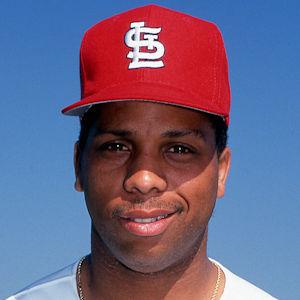 In St. Louis, where baseball is in the blood, many a boy fantasizes about growing up to play for their hometown team. Only a select number really pursue the ambition and even fewer achieve it. Lonnie Lee Maclin III fulfilled this aspiration.
Born to Lonnie Maclin Jr. and June (Garner) Maclin on February 17, 1967, in the St. Louis suburb of Clayton, Maclin grew up admiring some of the Cardinals players like Willie McGee. The second of two boys, Maclin followed his older brother, Brian, who also had a multi-sport athletic childhood. Maclin's father was a US Army veteran and worked for the Metropolitan Sewer District before performing various handyman services around the community. Maclin Jr. had played football, wrestling and baseball as a child, and shared and instilled a love of sports in his sons. Maclin also watched his uncle, Larry Maclin, and cousin, Roland Garner, compete in local adult baseball leagues. Sports (particularly baseball) were ever-present.
When Maclin was a child, he joined baseball leagues at the Athletic Boys Club (ABC) Ball Park in north St. Louis County. As a teenager, this included American Legion Baseball with Thoman-Boothe Post 338. Maclin is pictured below in the second row, far left.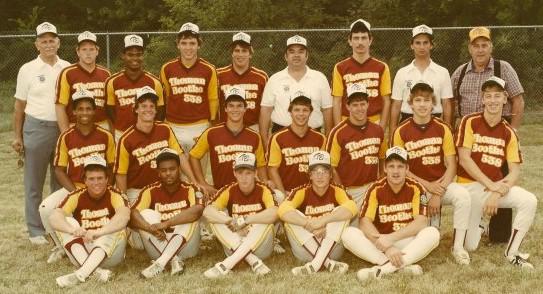 Additionally, Maclin participated in pickup corkball games — sometimes for money. Corkball is a crude form of baseball utilizing a smaller ball and thinner bat. The game was developed in St. Louis with roots as far back as 1890.1 St. Louis servicemen spread its attraction across the country during World War II and the Korean War, and the city still maintains active leagues.2 Corkball helped Maclin sharpen his batting eye. By age 14, he was outperforming many adult counterparts.
At Ritenour High School located in the municipality of Breckenridge Hills in St. Louis County, Maclin was a versatile athlete contributing in baseball, basketball, track, and wrestling. He had an athletic build and eventually matured to 6-foot, 185 pounds. Baseball was where Maclin really shined, earning two all-conference commendations for his outfield play.
After high school, Maclin attended St. Louis Community College-Meramec Campus where the left-handed hitting and throwing outfielder caught the eye of major-league scouts. By the time Maclin was finished at Meramec, he held several offensive school records. Ric Lessmann, Meramec's coach and a Cincinnati Reds' scout, recounted, "From day one, Lonnie Maclin was a major-league hitter — and he proved it."3
The Reds selected Maclin in the tenth round of the 1986 January regular phase amateur draft, but he did not sign. Instead, he opted to continue at Meramec anticipating higher draft consideration through continued offensive production. The plan worked. In the June phase, his hometown Cardinals drafted Maclin in the third round and later signed him to a contract. The regard Maclin held for Cardinals players of the time such as Willie McGee, Ozzie Smith, Terry Pendleton, and Tommy Herr heavily influenced his signing.
As many young minor-league careers begin, Maclin migrated across six different Cardinal affiliates from rookie to AAA levels from 1987 to 1993. Those teams included Johnson City (rookie), St. Petersburg (A), Savannah (A), Springfield (A), Louisville (AAA), and Arkansas (AA).4 Maclin's strengths were described in the notes of White Sox scout, Rod Fridley, "Good bat speed, short quick stroke, line drive alley pwr esp. to RCF, good athlete who handles self well in outfield, eng. speed steal base when needed, good alertness running bases, fights off lot of pitches, lot of flares…"5
His progressing ability to hit for average finally propelled Maclin to the big-league club on September 7, 1993, for both sides of a doubleheader against the hosting Reds. In the first game, Maclin occupied the seventh spot in the starting lineup. After being retired via a strikeout and flyout in his first two at-bats, Maclin delivered a line-drive single over the shortstop off of Reds rookie starter, John Roper, to lead off the sixth inning. The Cardinals blew a four-run eighth-inning lead and lost the high-powered game, 14-13. However, more fireworks were in store in the second round of the bout later that day.
Manager Joe Torre opted to move Maclin up to the second spot in the lineup for the nightcap. Although he went hitless in four at-bats, Maclin contributed to the 15-2 Cardinals victory with his first major-league stolen base after reaching on a fielder's choice in the first inning and later in the fifth with his first run batted in. From the Cardinals television broadcast:
Jack Buck: "Aaaand that fly ball is gonna get the run home. Tewksbury tags and comes scooting home with a cheap run — a walk, a wild pitch, a sacrifice, and a fly ball. Maclin's first run batted in ever in the big leagues — nice going!"
Al Hrabosky: "Got his first hit in the first game. Joe Torre applauding his efforts here with a sac fly and the Cardinals now lead five to two."6
Yet, the efforts of Maclin's major-league splash were greatly overshadowed by the historic four home run outpouring that same September day by teammate Mark Whiten. Still, Maclin compiled quite a list of career firsts during the doubleheader: at-bat, hit, stolen base, run scored, and run batted in. Maclin saw limited action in only ten more big-league games — never in the starting lineup. Those games consisted of pinch-running appearances and five pinch at-bats resulting in no additional hits. The Cardinals finished the season in third place in the National League East and Maclin never cracked the team again. The Cardinals and other major league teams were looking for more offensive power production. "Not a lot of power," was the summation of White Sox scout Tony Franklin in June 1990.7 Rod Fridley agreeingly assessed, "power limited just slashes ball to LF, will pull inside pitch."8
After the 1993 season, Maclin was granted free agency and was picked up by the San Diego Padres but did not make the big-league club. Instead of reentering the Padres minor-league system, Maclin opted to join the Veracruz Eagle Reds of the Mexican Baseball League for the 1994 season. The 1995 season saw two new uniforms for Maclin. He began the season in the one-year-old, independent Texas-Louisiana League with the Rio Grande Valley White Wings before being traded to the Amarillo Dillas for Mike Fernandez.9 Maclin batted .380 in 50 remaining games and began a successful playing career with the Dillas that lasted through the 2001 season except for a 20-game stint back in the Mexican Baseball League — this time with the 2000 Tabasco Olmecs. Dillas teammate and coach, Daren Brown, remarked about Maclin, "I was fortunate to have him here. He was a tough out. He used the whole field — just a professional hitter. He was a fun guy to be around in the clubhouse."10
For the 2001 Dillas, Maclin served as both manager and player. The manager-only transition was complete for the 2002 Dillas in the newly-formed independent Central League. This would be his last season managing professional baseball. Maclin made one final attempt at ballplaying with the 2003 Jackson (MS) Senators. Professional baseball came to an end for Maclin after seventeen games that season.
During his career with the Dillas, which included three regular-season championships, Maclin produced a .348 batting average and is regarded as one of the franchise's all-time top talents.11 The Dillas organization folded after the 2010 season. Former Rio Grande Valley WhiteWings pitcher, James Frisbie, about facing the Dillas, "I can remember Lonnie Maclin and those guys hitting some baseballs a long way off me." 12
The experience Maclin gained from seventeen seasons playing and managing professional baseball continued to benefit new generations of players. Maclin has spent years working youth baseball camps alongside other major-league alumni. Additionally, the Cardinals have utilized Maclin for their charity Fantasy Camp — a baseball camp for adults.
The St. Louis Metro Collegiate Baseball League, a highly competitive summer league for collegiate players seeking professional opportunities, added Maclin to their Hall of Fame for his long involvement in coaching and mentoring younger players. The Metro League has produced several professional players, and many continue to reinvest their baseball wisdom. As of 2020, Maclin serves as the Indians' manager along side coach, Ken Reitz.
In Maclin's personal life, he has three children: daughter Alexis and sons Malachi and Mekhi. He has operated a commercial insulation company named LMB Companies since 2011. Also in 2011, Maclin suffered a brain stroke which left him hospitalized for nearly a week. Maclin recalls the stroke, "It hit me and I didn't know what happened. All I could say was, 'OK, OK, OK.' I didn't understand why I couldn't say anything."13 Recovery has been ongoing, with most abilities fully recovered. Former teammates such as Ozzie Smith were instrumental in helping Maclin cover medical costs by participating in fundraising events.
Outside of baseball, Maclin's interests include stand-up comedy and hunting. Maclin takes pride in his fast hunting beagles.
During Maclin's twelve major-league games, he finished with one hit in thirteen at-bats. He was able to score two runs, drive in one, and swipe a bag. Maclin is proof of the difficulty of reaching and maintaining a presence in the major leagues. At the same time, he was able to reach the highest level of a game he loves for a team he loves.
Last revised: May 14, 2020
Acknowledgments
This biography was reviewed by Bill Lamb and Phil Williams and fact-checked by Kevin Larkin.
Sources
Content includes the author's interviews with Lonnie Maclin, Ric Lessmann, and Daren Brown in 2020.
Notes
1 McGuire, John M. "A Love for Mutant Baseball," St. Louis Post Dispatch, August 20, 2000.
2 Pierce, Charles P. "The Sport That Time Forgot," Esquire Magazine, June 1, 2000.
3 Author's interview with Ric Lessmann.
4 Baseball-Reference.com.
5 Fridley, Rod. "Lonnie Maclin scouting report, 1990 October," National Baseball Hall of Fame Scouting Reports Digital Collection.
6 "9/7/93: Hard Hittin' Whiten," https://youtube.com/watch?v=3K2l8QjiOcU.
7 Franklin, Tony. "Lonnie Maclin scouting report, 1990 June 01," National Baseball Hall of Fame Scouting Reports Digital Collection.
8 Fridley, Rod. "Lonnie Maclin scouting report.
9 "Transactions." New York Times, July 12, 1995.
10 Author's interview with Daren Brown.
11 "The Mac attack," Amarillo Globe-News, May 15, 2001.
12 Lahnert, Lance. "AirHogs manager unfazed by unique situation," Amarillo Globe-News, May 3, 2016.
13 Slabaugh, Luke. "Former Cardinal Maclin's road to recovery both long and short," KOMU 8, July 12, 2015.
Born
February 17, 1967 at St. Louis, MO (USA)
If you can help us improve this player's biography, contact us.
https://sabr.org/sites/default/files/MaclinLonnie.jpg
600
800
admin
/wp-content/uploads/2020/02/sabr_logo.png
admin
2012-01-04 19:53:54
2020-06-30 09:27:28
Lonnie Maclin