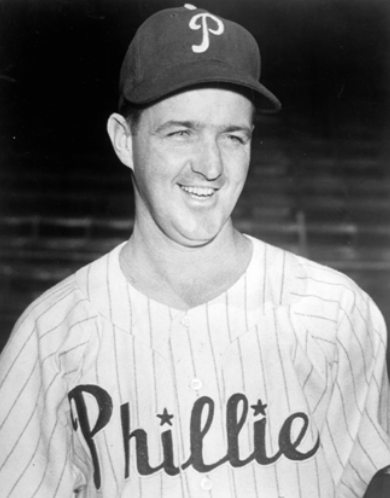 ---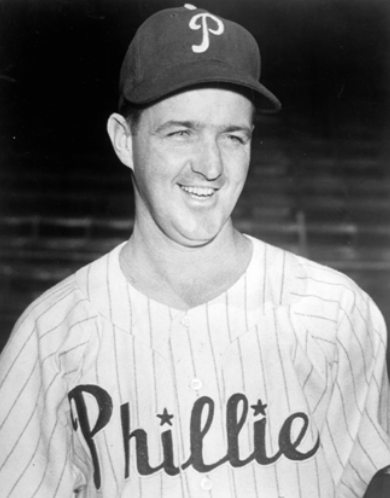 From 1950 to 2008, the Philadelphia Phillies won five National League pennants and two World Series. Only one man was a part of the Phillies organization during each of those five pennant years — Maje McDonnell. McDonnell joined the team in 1947 as a batting-practice pitcher and, except for the period 1966-1973, was with the Phillies until his retirement in 2009.
A World War II veteran, McDonnell came to the Phillies after his graduation from Villanova University in 1947. He played both basketball and baseball for the Wildcats and it was as a pitcher that the diminutive (5-feet-6) right-hander caught the attention of the Phillies. His hard work and humor turned a job as a batting-practice pitcher into a full-time position as a coach. And because he wasn't much older than the young players the Phillies were bringing onto the team in the late 1940s, McDonnell had a rapport with the players that kept him around when managers came and went. He coached for 11 years under six managers. He eventually transitioned first to the scouting department, then, after a seven-year sabbatical, to the front office.
Robert A. McDonnell was born in Philadelphia on July 20, 1920, to Hugh A. and Jennie (Glenn) McDonnell. He was the second, and the only boy, of three children born to the couple. When Maje was born, Hugh McDonnell was a riveter at a Philadelphia shipyard. Maje grew up in the Port Richmond section of Philadelphia.1
McDonnell earned his nickname while growing up and playing sports. "I was always dribbling a basketball or tossing a baseball," he remembered. "Somebody said I was a like a 'real major leaguer.' So I went from 'Major League' to 'Major' to 'Maje.'"2
While playing baseball and basketball for Northeast High School, he was known as "Major" McDonnell. He played forward on the basketball team and was a pitcher on the baseball team. His senior year he was captain of both teams.3 He graduated from Northeast in 1938 and then, in the fall of 1939, took a postgraduate year at Brown Preparatory School in Philadelphia. One of his classmates was Max Patkin, who became known as the "Clown Prince of Baseball."4
McDonnell gained the notice of Villanova University in basketball when his Northeast High team beat the Villanova freshman team, and then in baseball when he held the Villanova freshmen to two hits in a Brown Prep victory in 1940.5 Al Severance, the legendary Villanova basketball coach, gave McDonnell a full scholarship to Villanova to play basketball. He also played baseball for the Wildcats.6
As a sophomore, on April 6, 1942, McDonnell combined with Henry Donahue to pitch a no-hitter against the University of Vermont. Donahue pitched the first 8⅓ innings before injuring his arm. McDonnell came on and struck out the last two batters to seal the 2-1 win.7
Midway through his junior year, on March 1, 1943, McDonnell was inducted into the US Army. By early 1944, he was stationed at Fort Indiantown Gap, Pennsylvania, and pitching for the base's team, hurling a no-hitter against the Parish Steel Company team.8 Soon McDonnell's unit, the 379th Infantry Regiment of the 9th Infantry Division, was sent overseas. He was initially stationed at Camp Barton Stacey in England, and in June 1944 his regiment moved to France two or three days after D-Day, landing at the Omaha Beach invasion site.9
It was on Omaha Beach that McDonnell won the Bronze Star. The regiment's first responsibility upon reaching the beach was removing the bodies of dead GIs. McDonnell found two soldiers who were still alive. He managed to stabilize them and get them to a hospital, saving their lives.10
His division continued on through France and into Germany, soon earning the nickname the Iron Men of Metz for its fierce fighting in liberating the town of Metz in France. In Saarlautern, Germany, an enemy shell hit a building McDonnell was in, and he was hit over the eye by shrapnel. The wound left him with a scar and earned him the Purple Heart. In addition to the Bronze Star and Purple Heart, McDonnell was awarded five Battle Stars for campaigns in Europe. His regiment was near Berlin when the war in Europe ended.11
McDonnell was back playing basketball for Villanova by January 1946.12 He contemplated not playing basketball his senior year but had a "change of heart."13 At 5-feet-6 and 130 pounds, he was one of the smallest college basketball players. But his leadership as captain and his athleticism led the team to a 17-7 record. "Bob is cool under fire and a valuable influence on younger players when the going gets tough," said Villanova coach Severance.14
While pitching for Villanova McDonnell got the break that would change his life. The Phillies played Villanova in an exhibition game just before Opening Day in 1946. McDonnell pitched a complete game but lost, 7-6. Phillies general manager Herb Pennock needed a batting practice pitcher and was impressed by McDonnell's control. So the day after he graduated from Villanova, McDonnell went to work with the Phillies.15
McDonnell's ability to throw strikes impressed the Phillies. "Maje McDonnell was the best batting-practice pitcher that ever lived," said outfielder Johnny Blatnik. "He could throw them right down the pipe every time."16
In addition to throwing batting practice, McDonnell also did odd jobs around the clubhouse. The Phillies loved the hard-working McDonnell. "I was young and could work morning, noon, and night," he said. "If anybody wanted extra hitting, I would go out at any time. Whatever they wanted, I would do. [Phillies manager] Ben Chapman appreciated that."17
Another person who appreciated McDonnell was Phillies outfielder Harry Walker. In 1947 Walker was in a battle for the batting championship and often called on McDonnell to throw an additional 5 to 10 minutes of batting practice to keep him in the groove. After Walker won the batting title, he told manager Chapman that McDonnell should be named a coach. Chapman agreed. So for 1948, McDonnell was officially a Phillies coach.18
In November 1948 McDonnell was named the freshman basketball coach at Villanova under his old coach, Al Severance.19 He held the position for nine seasons, never registering a losing season.20
Meanwhile, McDonnell had survived as a Phils coach even after Chapman was fired in July 1948. His successor, Eddie Sawyer, was McDonnell's favorite manager of the six he coached under. "What a beautiful man he was," said McDonnell. "I truly enjoyed working for him."21
Under Sawyer, the Phillies won their first pennant in 35 years in 1950. Although the Phils were swept by the New York Yankees, it was a season to remember for McDonnell. And so valued was his presence on the bench that he was voted a full World Series share of $4,081.33.22
McDonnell earned the reputation of a champion bench jockey. The Philadelphia Inquirer called him the "noisiest of all the Phils."23 In 1954 he was named one of the top hecklers in baseball along with Eddie Stanky, Leo Durocher, and Dick Williams.24
McDonnell's humor kept the mood light whether in the clubhouse or while the team was on the road. "Maje kept everybody going with his sense of humor," said Phillies pitcher Bob Miller. "He and Dick] Sisler were a riot together. They did some of the craziest things to keep us loose."25
Once on a flight, the Phillies plane experienced severe turbulence in a thunderstorm. As the plane shook violently passing through the storm, Phillies outfielder Richie Ashburn yelled to the devout Catholic McDonnell, "Maje, do something religious!" So McDonnell jumped up and took up a collection with his hat. The ballplayers roared with laughter, breaking the tension of the moment.26
McDonnell roomed with ballplayers on the road. From 1950 through 1952, he was pitcher Russ "Monk" Meyer's roommate. Meyer was known for his hot temper and antics on and off the field. In one game Meyer was getting hit pretty well and Eddie Sawyer had seen enough. But Sawyer was so disgusted with Meyer's outing that he sent McDonnell to take him out of the game.
"Monk, you're out of the game. Gimme the ball," McDonnell told Meyer.
"Here it is. Stick it up your ass," replied Meyer.
"Well, the way you're going, it's a lot safer there," said McDonnell.27
Because of his good humor, the players loved McDonnell. In 1952 again, the Phillies players voted McDonnell a full share of their fourth-place winnings.28
McDonnell also became an asset to the Phillies in the offseason. He was an excellent public speaker and regularly spoke 75 to 100 times a year at banquets in the area.29 In addition to speaking, he continued to coach the Villanova freshmen basketball team and also worked in the office of a downtown department store.30
He also played basketball with a group of Phillies, most notably Robin Roberts, on a team that played around the Philadelphia area in the offseason. In 1954 Phillies owner Bob Carpenter stopped the players from playing basketball because of the risk of injury.31 But he eventually acquiesced and allowed them to play. The Phillies basketball team continued to play with McDonnell as a coach and player, off and on, into the mid-1960s.
At least twice during McDonnell's coaching career he was thrown out of games. On September 5, 1952, he and Phils manager Steve O'Neill were thrown out for arguing balls and strikes.32 And on July 21, 1957, McDonnell was tossed for comments from the bench during a game.33
Toward the end of the 1957 season, the Phillies decided to eliminate McDonnell's position and released him before the final Western road trip of the season. The Phillies were interested in keeping McDonnell in the organization but he turned down an offer to join the front office. However in December, McDonnell accepted the club's offer to be a scout in the Philadelphia area along with Jocko Collins and Cy Morgan.34 His duties were eventually expanded to include the mid-Atlantic region.35
McDonnell continued coaching but on the high-school level. In 1960 he became basketball and baseball coach at Germantown Academy in Philadelphia for two years.36 In 1966 he took over the reins of the basketball and baseball teams at Chestnut Hill Academy in Philadelphia. He coached there for three seasons.
In 1966 McDonnell left the Phillies organization when he took a job with Ballantine Beer as a good-will ambassador.37 After 19 years he left the organization he loved. He was lured back seven years later, in 1973, to work in the community-relations department by Bill Giles, a front-office executive who eventually became a co-owner of the Phillies.38
McDonnell remained in the community-relations department for 36 years, retiring in the spring of 2009 but not before, on April 30, 2008, throwing out the first pitch to celebrate the Phillies' 125th anniversary.
"All my life I only wanted to be a Phillie," said McDonnell as he neared retirement. "I never worked a day in my life. It's been beautiful, the greatest life a man could know. I may have not made a lot of money but what I experienced is worth a fortune."39
On July 8, 2010, McDonnell died in Philadelphia, 12 days shy of his 90th birthday. He was survived by his wife of 63 years, Millie, and three daughters.
He is a member of four halls of fame — Villanova University Sports; Northeast High; Philadelphia Sports; and the Philadelphia chapter of the Pennsylvania Sports Hall of Fame.40
"It's been a great life," said McDonnell. "I've done exactly what I wanted to do."41
This biography appears in "The Whiz Kids Take the Pennant: The 1950 Philadelphia Phillies" (SABR, 2018), edited by C. Paul Rogers III and Bill Nowlin.
Notes
1 Philadelphia Inquirer, July 8, 2010.
2 Bob Gordon, Game of My Life: Philadelphia Phillies (New York: Sports Publishing, 2008), 75.
3 Philadelphia Inquirer, July 8, 2010.
4 Gordon, 75.
5 John Glazer, "Maje McDonnell," philadelphiaathletics.org/maje-mcdonnell/, November 28, 2009; Philadelphia Inquirer, May 16, 1940.
6 Gordon, 75. McDonnell's scholarship was eventually switched to half basketball, half baseball.
7 Boston Herald, April 7, 1942.
8 Gary Bedingfield, "Maje McDonnell," baseballinwartime.com/player-biographies/mcdonnell_maje.htm.
9 Mike Nesby and Jason Weitzel, Hard to Believe (Raleigh, North Carolina: Lulu Publishing, 2009), 122.
10 Ibid.
11 Nesby and Weitzel, 121-123.
12 Springfield (Massachusetts) Union & Republican, January 6, 1946.
13 Trenton Evening Times, December 9, 1946.
14 Ibid.
15 Gordon, 75-76; Robin Roberts and C. Paul Rogers III, The Whiz Kids and the 1950 Pennant (Philadelphia: Temple University Press, 1996), 133.
16 Roberts and Rogers, 111.
17 Nesby and Weitzel, 122; Roberts and Rogers, 133.
18 Roberts and Rogers, Throwing Hard Easy: Reflections on a Life in Baseball (Lincoln: University of Nebraska Press, 2014), 41; Roberts and Rogers, My Life in Baseball (Chicago: Triumph Books, 2003), 133-134. A newspaper story in 1951 stated that Phils coach Benny Bengough went to president Bob Carpenter and suggested that Carpenter make McDonnell a coach so he could be eligible for the players' pension fund. Carpenter agreed with Bengough. Whatever the truth is, McDonnell was a Phils coach in 1948. Rome (New York) Daily Sentinel, June 5, 1951.
19 Trenton Evening Times, November 23, 1948. McDonnell may be the only person to coach in a World Series game and an NCAA basketball tournament.
20 There is a discrepancy in McDonnell's final record as freshman coach. A newspaper article in 1957 said he was 103-20 as a coach. A recent book said his record was 117-18. Chester (Pennsylvania) Times, February 20, 1957; Gordon, 76.
21 Nesby and Weitzel, 122.
22 Rome (New York) Daily Sentinel, June 5, 1951.
23 Philadelphia Inquirer, September 21, 1950.
24 The Sporting News, April 28, 1954: 2.
25 Philadelphia Inquirer, July 8, 2010.
26 Ibid.
27 Rich Westcott, Tales from the Philadelphia Phillies Dugout (New York: Sports Publishing, 2013), 70.
28 The Sporting News, October 22, 1952: 18.
29 Nesby and Weitzel, 122
30 The Sporting News, December 7, 1955: 18.
31 The Sporting News, September 29, 1954: 19.
32 Baton Rouge Morning Advocate, September 6, 1952.
33 Philadelphia Inquirer, July 22, 1957.
34 The Sporting News, September 18, 1957: 36; and December 11, 1957: 31.
35 The Sporting News, November 25, 1959: 14.
36 Philadelphia Inquirer, October 1, 1960.
37 Gordon, 75-76; Scott Gummer, ed., The Philadelphia Phillies: An Extraordinary Tradition (San Rafael, California: Insight Editions, 2010), 57.
38 Gettysburg Times, July 9, 2010.
39 Gummer, 57.
40 Bedingfield.
41 New York Times, October 26, 2008.
Born
July 20, 1920 at Philadelphia, PA (US)
Died
July 8, 2010 at Philadelphia, PA (US)
If you can help us improve this player's biography, contact us.
https://sabr.org/sites/default/files/McDonnellMaje.png
600
800
admin
/wp-content/uploads/2020/02/sabr_logo.png
admin
2012-01-04 20:35:28
2012-01-04 20:35:28
Maje McDonnell