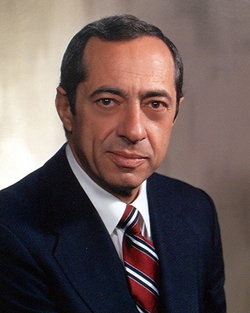 ---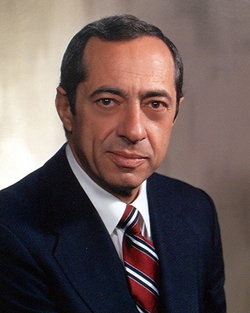 With a passion for problem solving fueled by an unyielding streak of empathy for his constituents, Mario Cuomo garnered allegiance from Democrats and respect from Republicans — most notably for his 1984 keynote speech at the Democratic National Convention. Whether on the stump or in Albany, the 52nd Governor of New York exemplified politicians being informed, instructive, and intellectual without condescension.
His fervor for baseball was equally strong.
When Cuomo appeared in Ken Burns's nine-part documentary Baseball, he had bona fide credentials to speak about the nuances of the National Pastime. More than a fan, Cuomo understood the game because he played it. In 1952, his only year in professional baseball, Cuomo batted .244 in 81 games with the Class D Brunswick (Georgia) Pirates of the Georgia-Florida League.
Mario Matthew Cuomo was born on June 15, 1932, to Andrea and Immaculata Cuomo, who came to America in the 1920s. Poor and unable to speak English, Cuomo's parents made their first home in Jersey City after emigrating from Salerno, Italy — a province south of Naples.1 They ran a grocery store in Queens; the family lived behind it.2 They had three children — Frank, Marie, and Mario. The third child died. When Andrea and Immaculata had another child — the future Governor of New York — they gave him the deceased sibling's name.3
Like many New York City kids between the 1930s and 1950s, Cuomo learned baseball on sandlots. In Baseball, he described his childhood, where his love of the game formed. "Baseball and basketball were the sports of the streets and the lots in the old neighborhoods," said Cuomo. "We played in south Jamaica, Queens on a field that was literally hacked out of an old parking lot that had mounds and we had to build the backstop, we had to build the mound, we had to put down the line. Actually, we had a saint of a man by the name of Joe Austin, a night manager in a brewery, who was single, who had played semi-pro ball and who was the godfather of baseball for this black, ethnic community. And he built the field, the players helping him and we played there on weekends. Had a very, very good team. Even got uniforms after a while and passed the hat at the doubleheaders on Sunday and all the poor people put in their nickels and pennies and if you were lucky, dimes and quarters. And that's where I learned the game. And it was wonderful."4
Cuomo's focus on academics, first at New York P.S. 50 and then at St. John's Preparatory School, resulted in a scholarship to St. John's University in Queens, where he played baseball. Though Cuomo wanted to play center field, Coach Frank McGuire viewed him as a replacement for the team's injured catchers. With a cannon-type arm, Cuomo agreed to fire a throw to second base during a practice. McGuire thought he struck gold, but Cuomo refused to play the position. When McGuire threatened to nullify the scholarship, Cuomo stood his ground. "Then I told him where he could stick that glove," explained Cuomo.5
A Pittsburgh scout eyed Cuomo, praising him as a solid player with a bright future: "Potentially best prospect. Could go all the way. Aggressive and intelligent. Very well-liked by those who succeed in penetrating the exterior shell. Will run over you if you get in his way."6
With a $2,000 bonus, Cuomo headed to the Peach State; the voyage happened two weeks after his last final exam of the year because Cuomo's father valued education for the next generation, a common attitude among immigrants.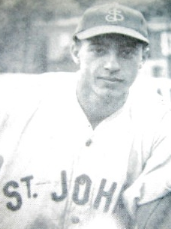 When the Brunswick Pirates began the 1952 season, they didn't have one player from 1951.7 Their first game ended in a 3-2, 15-inning victory against the Waycross Bears at Brunswick's Lanier Field.8 Cuomo joined the team in mid-season.9 On June 8 he knocked his only home run — a 335-foot blast in a 5-3 victory over the Albany Cardinals. Known as "Matt Cuomo" in the Brunswick News, the Empire State export had three putouts in center field.10
There were some physical obstacles for the kid from Queens. During one game, the intense Georgia heat caused him to collapse. In another, Cuomo hurt his right wrist when he crashed into the outfield wall while chasing a fly ball. Hitting above .350 at the time, Cuomo's average plummeted because of the injury. A beanball ended his career. Cuomo went blind for a week, refused brain surgery for the doctors to see if there was further damage beyond the diagnosed blood clot, and recovered. But the beaning inspired him to give up the game.11
The Pirates went 62-78 for the season.
With the analytical mind that later served him in his political career, and without the romanticism often accompanying explanations of the game's allure, Cuomo positioned baseball so that even someone unfamiliar with the National Pastime would be inspired. "There's so much about the game that appeals to the intellectual and to the psyche," said Cuomo in Baseball. "The symmetry of it. The orderliness of it. The justice of it. The fact that it throws off other controls. It's greater than time strictures. In the other sports you have time. You have to play against the clock. And when the clock runs out, your chance is over. No clock in baseball. You play until you lose, and if you can keep that rally alive, if you can keep going, if you can keep getting hits, you can play until a week from now. Nothing stops you. There is no parameter that makes it impossible for you to perform still more excellently."12
After finishing his undergraduate work, Cuomo stayed in the St. John's community, pursuing a legal career with his trademark dedication at St. John's Law School. It paid off with a tie for valedictorian. In its obituary for Cuomo in 2015, St. John's noted his position as an editor for the St. John's Law Review, plus his dedication to his faith, as manifested in being a founding editor of The Catholic Lawyer.13
Clerking for Judge Adrian Burke in the New York Court of Appeals gave Cuomo invaluable knowledge of the justice system's inner workings. Baseball may have gotten Cuomo the job, a welcome respite from the prejudice against ethnic attorneys that prevented them from working for the established and esteemed Manhattan firms. When Burke inquired about Cuomo's activities, the former prospect explained that he had once played in the Pirates' minor-league operation. Burke, a former shortstop for his alma mater, Holy Cross, scolded Cuomo for deciding that the baseball experience was not mentionable, therefore absent from the résumé: "If it's not relevant, then you're not as smart as your resume [sic] indicates."14 And so, the future politico's career began.
With an appellate clerkship as a calling card, Cuomo veered off to Manhattan, where he undoubtedly had enough cachet to be included in the inner sanctums of the legal community that once shunned him and his fellow ethnics. He settled in Long Island, working for an "established" firm. Here, he was a minority among "mostly WASPs, with a few Irish Catholics."15 There was a wellspring of work for Cuomo and his fellow attorneys. Whether he sought them or they were assigned to him, government matters came into his caseload.16
In addition to his legal work, Cuomo's keenness for language brought him back to St. John's Law School, where he taught for "more than a decade" as an adjunct professor of legal writing. "In light of Cuomo's well-documented love of the spoken and written word, we can only imagine what an experience sitting in his classroom must have been for those aspiring attorneys," praised St. John's Law School in the obituary.17
But the political sphere brought Cuomo into its orbit. New York City Mayor John Lindsay sought his counsel in the early 1970s regarding the conflict between Forest Hills, Queens — an upper-middle-class area — and low-income public housing. Cuomo attracted local media attention when he represented the "Corona Fighting 69," a group of 69 homeowners in jeopardy of losing their homes in the Corona section of Queens because of plans to build a high-school athletic field. Cuomo's efforts in mediating the conflict with the Lindsay administration and negotiating a reduction from the planned 12-acre project to six acres yielded a compromise that let most homes escape the bulldozer. But 13 owners confronted a decision: sell the home to the city or keep the home and sacrifice the location for "other sites in the vicinity" — the city offered to pick up the tab for moving the structures.18
Cuomo's political career soon began with an unsuccessful bid for lieutenant governor in 1974; he went to Albany in 1975 as part of Governor Hugh Carey's incoming administration to serve as Secretary of State. A bare-knuckled, old-fashioned, intraparty battle with Ed Koch for the Democratic nomination in the 1977 New York City mayoral race ended in a loss for Cuomo, yet his political star was clearly rising.
Cuomo then ran for Lieutenant Governor in Carey's second election in 1978. They won, but two gubernatorial terms were enough for Carey. So, Cuomo sought to take the governor's slot in the 1982 election. He beat his old foe Koch in the primary and then beat GOP candidate Lew Lehrman, a businessman, in the general election.
By 1984, Cumo's status as a Democratic Party leader secure from plain speaking in national media appearances and man-on-the-street appeal, sourced from his upbringing as a child of immigrants. He campaigned for former Vice President Walter Mondale, who sought to end Ronald Reagan's presidency at one term. According to pundits and political lore, Mondale's list of potential VP candidates included Cuomo, but he ultimately chose Congresswoman Geraldine Ferraro.
At the 1984 Democratic National Convention, Cuomo gave a "tale of two cities" speech highlighting what he saw as the dark side of President Ronald Reagan's optimism in a narrative describing the nation's capital as a "shining city on a hill." Cuomo said, "A shining city is perhaps all the President sees from the portico of the White House and the veranda of his ranch, where everyone seems to be doing well. But there's another city; there's another part to the shining city; the part where some people can't pay their mortgages, and most young people can't afford one; where students can't afford the education they need, and middle-class parents watch the dreams they hold for their children evaporate."19
Mondale lost 49 states in the election — winning only his home state of Minnesota — leading political buffs to speculate about a different scenario if Cuomo had been in the VP slot instead of Ferraro, a fellow New Yorker.
Though political insiders thought that Cuomo was on a trajectory for the presidency, he never sought it, at least not formally. Reasons vary in scuttlebutt surrounding DC politics, but Cuomo never fully and publicly disclosed his motives. Instead, he served three terms as New York's governor. Among Cuomo's accomplishments was the trailblazing quality of staffing old stomping grounds — New York Court of Appeals. He appointed the Empire State's first two female appellate judges; one of them has the distinction of being the first Hispanic judge on the tribunal. In addition, New York's appellate bench got its first black judge because Cuomo sought talent where others ignored it — perhaps reminded by his experience with prejudice immediately after graduating from St. John's Law School.
He left office after George Pataki defeated him in 1994.
During his second term, Cuomo's affection for baseball combined with political instincts, pragmatic vision, and a commitment to improve western New York — he pushed for a new baseball stadium for Buffalo.
Pilot Field, located in Buffalo's Joseph Ellicott Preservation District and named for Pilot Air Field, débuted during the nostalgia-soaked 1980s with a design harking back to Ebbets Field and other ballparks long since relegated to pictures, memories, and lore. HOK, the architectural firm responsible for Oriole Park at Camden Yards and several other retro-designed ballparks, originally conceived a domed stadium seating 40,000. "The dome study was more or less a float-the-idea kind of thing. What we came up with is more in keeping with the surrounding architecture and the tradition of baseball," explained Cuomo.20
Cuomo's attentiveness to political, financial, and commercial solutions would get the stadium idea past the conception stage. From there, Buffalo had the privilege and the burden of seeing it through to execution. In baseball parlance, Cuomo hit a double; the local power structure needed to get him to score."21
It was, in Cuomo's eyes, an enticement for baseball insiders to consider western New York as a future location for something bigger. "When you cut this ribbon, you cut this ribbon to the future," declared Cuomo upon Pilot Field's first game on April 14, 1988. "And you're gonna have the best minor-league stadium in the United States of America. But one thing is clear. One thing is clear. Buffalo never settled for minor leagues. Buffalo is a major-league city. And I want to come back when we have the franchise for the American or the National League. I'll be here then, too."22
As of this writing in 2018, Buffalo does not have an MLB team.
Bisons co-owner Robert E. "Bob" Rich Jr. and his wife Mindy enjoyed a friendship with the governor, though they were conservatives opposite the governor's well-known liberal views. Cuomo singled out Bob in a speech that also showed appreciation for former Erie County Executive Ed Rutkowski and his successor, Dennis Gorski; New York state legislators; and the people of Buffalo.23 He also noted another Buffalo leader's political acumen in his speech to Bisons fans: "One person pushed harder than anybody else and that was Mayor Jimmy Griffin. And I know him. I know him well. And I watch him closely. I have to. He throws beanballs, this guy."24
Indeed, Griffin was a major force in Buffalo politics, looking to elevate his metropolis both in image and commerce. "Jimmy told me that if I bought the team, then the city would build a stadium in downtown Buffalo," explains Rich, whose family owns food supplier Rich Products, the largest privately-held company in the city. "Jimmy was a huge baseball fan, so we started a quest for an MLB team. He's credited with having the tenacity to push and get it done. A lot of large and small cities at the time had grand plans but they were scarce on cash. Governor Cuomo was doing some wonders around the state with the Urban Development Corporation, later named the Empire State Development Corporation. The stadium was all about urban development. This was not a glamour move. It only concerned urban development to bring people and companies back to downtown with lodging and businesses, the classic things that cities need to survive. As a farmhand with the Pirates, the governor knew baseball. Coincidentally, the Pirates were our parent team.
"Governor Cuomo was greatly motivated, especially because baseball is a sport that he loved so well. But there were issues. Jimmy was a four-term mayor who had kind of a prickly relationship with Albany no matter who was governor because he was such an advocate for the city and many times took a negative tone about projects going to New York City and western New York being overlooked."25
Cuomo prioritized the stadium — a project of public and private sector cooperation where the state provided funds and the team paid rent. "This is just a premier and textbook example of a state, county, city, and private investor harmonizing for the good of the community. And so, the governor really stepped up to get this done," praised Rich.26
Pilot Field's construction transcended political battles, ethnic boundaries, and class structure. Such is the power of baseball to unite a community. Both Bob Koshinski (former Sports Director of Buffalo's WKBW-TV) and Rich recall seeing Cuomo and Griffin, wearing Bisons jerseys, passing time by having a game of catch before throwing out the first pitches to inaugurate Pilot Field.27 "I will always remember those two guys playing like a couple of kids. They walked off the field with their arms around each other," says Rich.28
With the stadium as a launching pad, Cuomo fulfilled his vision of reviving downtown Buffalo with new restaurants and hotels. The NHL's Buffalo Sabres (co-owned by Rich) got a new facility. The waterfront became a commercial boon. "Pilot Field was a heritage project that set the table for everything that came later," says Rich. "Cuomo was behind it all. We're overlooking a huge fact if we don't give him credit. He was with us all the way."29
The night before Pilot Field's inaugural game, WKBW aired a special highlighting the stadium's genesis. Bob Rich's wife Mindy, the team's co-owner, emphasized the aesthetic impact: "You've got to give a lot of credit to the city, and to the preservationists, and to the architects that they came up with a design like this that not only fit but that complemented the area and that it looks so perfect here. I'm real excited about it. The other thing that worked out so well about it is the look of an old-time ballpark. Everyone that we brought through here, the baseball people that have seen this place, just love it. They want to get out here and play or they want to be on the field because it reminds them of an old-time ballpark. That's another benefit. It fits in with the city and it's a brand-new building but it looks like an old-time ballpark."30
The Bisons won their first game in their new home, a 1-0 victory against the Denver Zephyrs. It was a historic game for another reason; Pam Postema, the first female umpire, was on the umpiring crew.
A year later, Cuomo appeared at an event in Cooperstown honoring the 50th anniversary of the Baseball Hall of Fame, where he informed MLB Commissioner A. Bartlett Giamatti on the benefits of Buffalo becoming the site for a major league squad.31
Cuomo's leadership plus his well-known love for baseball prompted speculation about him becoming Major League Baseball Commissioner after a heart attack killed Giamatti in 1989. Citing "some very important people" inquiring about the idea, Cuomo tamped it down: "I have no plans to seek the commissionership of baseball and I have no plans to make plans."32
On September 18, 1990, Cuomo joined the Riches, Erie County Executive Dennis Gorski, and attorney John Mansell from Kagen Media Appraisals at the Halloran House in midtown Manhattan to make a formal presentation to Major League Baseball for a National League expansion franchise. At the press conference afterward, Bob Koshinski earned the begrudging admiration of his peers for perfect timing of a question. And it was being broadcast live back to Buffalo because the station followed Koshinski's suggestion to break into programming.
"WKBW was the number one station in Buffalo. The governor was aware of that. He was a media-savvy politician. Always affable, knowledgeable about the issues, and a great interview," says Koshinski. "When the station told me that we were on the air live, the governor had just answered a question. I yelled, 'Governor Cuomo, we're live back to Buffalo. How did today's presentation go?' After he answered, it was basically a one-on-one interview because he knew that the time on live television in the Buffalo market was worth it. My comrades in the sports press gave me some good-natured ribbing for my luck!"33
Cuomo saw an opportunity to negate other competitors for the NL's two expansion slots. It was an example of his deftness in recognizing when a situation called for toughness, compassion, or humor. There was a bit of all three when he said, "Miami is a wonderful town, but you can't look around and say these are all baseball fans. You even have jai-alai fans. Jai-alai fans and baseball fans, they don't even drink in the same places."34
There were ownership groups from four cities vying for the opportunity to pay a $95 million entrance fee — Buffalo, Miami, Denver, Sacramento.35 Buffalo could draw fans from Rochester, Syracuse, and Erie (Pennsylvania); more than 3.5 million people lived in a 125-mile radius.36 Ultimately, though, Miami and Denver joined the MLB ranks with the Marlins and the Rockies, respectively. Miami had the link to spring training and Denver filled a geographic void because MLB had no teams in the Mountain Time Zone.
Part of Cuomo's legacy is his commitment to erase the scourge of drug and alcohol abuse. When the Riches pushed for an MLB franchise, they met with Commissioner Peter Ueberroth, who relied on their position as civic leaders to help solve the problem. They founded Western New York United Against Drug and Alcohol Abuse; Cuomo tapped the Riches to chair Drug Free New York State, which drew from the Buffalo template. "He gave us citizenry awards, which we treasure," says Rich. "There came a day when he brought Mickey Mantle to Buffalo to talk with kids, law enforcement, and other groups that we had coalesced. They prepared Mickey, but anybody who knew him understood that you could prepare him only up to a point. At one of the high schools, Mickey was talking about training. He said, 'Don't do those drugs, they can kill ya. But a couple of beers with your teammates after a game — that won't hurt ya.' Cuomo was so mad, he wouldn't talk to Mickey. Their relationship changed on that."37
Famed for his political savvy, Cuomo employed bluntness where his peers tried to answer all prayers from every precinct.
"I held a political event for Cuomo," said Rich. "It was across party lines, so I invited a lot of people who shared my conservatism. One person asked an openly hostile question about money. Cuomo said, 'I don't need this. I have three times as many voters in Queens. I can raise more money there than I'm going to raise here.'
"It was the greatest putdown. But it also demonstrated his commitment to western New York and that he would never rest until a project like the stadium was finished."38
After losing his bid for a fourth gubernatorial term, speculation emerged, once again, about Cuomo's taking over the MLB Commissioner job.39 Whether it went beyond conjecture in political and baseball circles was not disclosed by Cuomo or MLB insiders.
He went back to the legal profession, working at the powerhouse Manhattan law firm Willkie Farr & Gallagher beginning in 1995. Many at Cuomo's level of public service seek the private sector for a "rainmaking" position, where responsibilities are limited to pressing the flesh in conference rooms and at black-tie events for a lucrative salary without substantive work. Cuomo was not of this mold. Things had come full circle for the kid who once sought baseball as a career and began his post-political career in the legal establishment that has the ugly mark of prejudice in its history. Once banned for his ethnicity, he was now prized for his wisdom, experience, and ability to dissect complex legal issues to reveal the humanity, expose the vulnerability, and find the solutions. Willkie Farr & Gallagher's obituary for Cuomo describes his bailiwick as including "litigation, corporate transactions, special corporate investigations, and mediations."40
Cuomo, a 20th century Cicero famous for his oratory, took to writing. In 2004, his book Why Lincoln Matters: Today More Than Ever hit bookstores. It was not his first stab at this field, though — Diaries of Mario M. Cuomo: The Campaign for Governor was released in 1984. During the year that ended his political career — 1994 — Cuomo's speechmaking became the focus of More Than Words: The Speeches of Mario Cuomo.
Baseball remained a passion. The same energy that he brought to a speech before a crowd of thousands was evident in one-on-one conversations about the National Pastime. When Cuomo spoke of baseball, he did not merely describe the game. He conveyed its charm through tales steeped in personal involvement, historical fact, and idealized lore. In a 1986 profile for the New York Times, R. W. "Johnny" Apple remarked on Cuomo's lament for days gone by when his hero, Joe DiMaggio, represented a stature many felt had dissipated. "They said it all," says Cuomo of the Simon & Garfunkel song Mrs. Robinson, which features DiMaggio as the paradigm of what America needed in the late 1960s to counter the chaos ignited by the Vietnam War, riots, and assassinations. "That's the best description I've ever heard of what the country longs for: grace, character, style, an inspirational quality if you like."41
Mario Cuomo died of heart failure on New Year's Day in 2015. There was a gubernatorial inauguration on the same day — his son Andrew began a second term as New York's governor.
During his St. John's days, Cuomo married Matilda Raffa. She, too, went to St. John's — while he went to law school, Matilda worked as a teacher.42 Matilda and their four children survived him — Andrew, Maria Cuomo Cole, Madeline Cuomo O'Donohue, and television journalist Christopher Cuomo. There are 14 grandchildren.
Acknowledgments
This biography was reviewed by Norman Macht and Rory Costello and fact-checked by Warren Corbett.
Notes
1 Adam Nagourney, "Mario Cuomo, Ex-New York Governor and Liberal Beacon, Dies at 82," New York Times, https://www.nytimes.com/2015/01/02/nyregion/mario-cuomo-new-york-governor-and-liberal-beacon-dies-at-82.html, January 1, 2015, Last accessed July 1, 2018.
2 David Klepper, "Mario Cuomo, a giant in NY, liberal politics, dies," Associated Press, https://www.apnews.com/8909675345c04de6ae9e363a475ea515, January 2, 2018, Last accessed July 1, 2018.
3 "Immaculata Cuomo, 92, Governor's Mother," New York Times, April 25, 1995, https://www.nytimes.com/1995/04/25/obituaries/immaculata-cuomo-92-governor-s-mother.html, Last accessed July 1, 2018.
4 Baseball, "Inning 7 — The Capital of Baseball (1950-1960)," directed by Ken Burns (1994; New York: PBS, 2010), DVD.
5 Tim Leonard, "Cuomo boosted Brunswick in '52," Minor League Baseball, http://www.milb.com/gen/articles/printer_friendly/milb/y2006/m03/d03/c44888.jsp, March 3, 2006, Last accessed July 16, 2018.
6 Ibid.
7 "Brunswick Pirates 1952 Roster Announced Today," Brunswick News, April 19, 1952: 5.
8 "Pirates Ready to Open Baseball Season Tonight," Brunswick News, April 23, 1952: 9.
9 "Jorgensen Hurls Locals To 4-1 Win Over Tifton," Brunswick News, June 3, 1952: 5.
10 "Pirates Win League Lead," Brunswick News, June 9, 1952: 5.
11 Kenneth Lovett and Larry McShane, "Mario Cuomo, former New York governor, dead at 82, New York Daily News, January 2, 2015: 2. Leonard.
12 Baseball, "Inning 1 — Our Game (1840s-1900)," directed by Ken Burns (1994; New York: PBS, 2010), DVD.
13 "St. John's Mourns the Passing of The Honorable Mario Cuomo," St. John's University, January 3, 2015, https://www.stjohns.edu/about/news/2015-01-03/st-johns-mourns-passing-honorable-mario-cuomo, Last accessed July 16, 2018.
14 "Mario Cuomo," Washington Post, October 19, 1982: A19.
15 Ibid.
16 "They worked for Republicans in local government on Long Island; he mediated community disputes in Queens in the 1960s and ran for office in the 1970s as a liberal Democrat." Ibid.
17 "St. John's Mourns the Passing of The Honorable Mario Cuomo."
18 Murray Schumach, "Doubt Lingers in Corona on Housing Compromise," New York Times, July 16, 1974: 37.
19 Mario Cuomo, "Keynote Speech at 1984 Democratic National Convention" (July 16, 1984).
20 Scott Pitoniak, "Bisons will unwrap 19,500-seat Pilot Field, a marriage of old and new stadiums," Democrat and Chronicle (Rochester, NY), April 3, 1988: 67.
21 "Special on Pilot Field," Hosted by Bob Koshinski, WKBW-TV, April 13, 1988.
22 Governor Mario Matthew Cuomo, Speech, Opening of Pilot Field, Buffalo (New York), April 14, 1988, https://www.youtube.com/watch?v=M0PK7CCRTzU.
23 Ibid.
24 Ibid.
25 Telephone interview with Robert E. Rich Jr., May 24, 2018.
26 Ibid.
27 Ibid., Telephone interview with Bob Koshinski.
28 Ibid. "Pilot Field brought together some strange bedfellows. My wife, Mindy, and I were sitting with an Italian governor and an Irish Catholic mayor. I'm a WASP baseball owner married to a nice Jewish girl from Cincinnati, so baseball was part of our birthrights," says Rich.
29 Ibid.
30 "Special on Pilot Field," Hosted by Bob Koshinski, WKBW-TV, April 13, 1988.
31 Charles F. Porcari, "Hall of Fame celebrates 50th anniversary," UPI, https://www.upi.com/Archives/1989/06/10/Hall-of-Fame-celebrates-50th-anniversary/8075613454400/, June 10, 1989, Last accessed July 16, 2018.
32 "Baseball commissioner not in Cuomo's plans," Associated Press, Democrat and Chronicle (Rochester, NY), September 9, 1989: 1.
33 Telephone interview with Bob Koshinski, May 23, 2018.
34 Associated Press, "Cuomo pokes fun at Florida during expansion meeting, Democrat and Chronicle (Rochester, NY), September 19, 1990: 29.
35 Associated Press, "Buffalo, three other cities make pitch to National League," , Democrat and Chronicle (Rochester, NY), September 19, 1990: 7.
36 Alan Flippen, "Buffalo stakes its claim to major league baseball franchise," Associated Press, Democrat and Chronicle (Rochester, NY): 76.
37 Telephone interview with Robert E. Rich Jr.
38 Ibid.
39 Kevin Sack, "In an Interview, No Excuses, No Regrets, Some Uncertainty," New York Times, November 13, 1994: 48.
40 "In Memoriam: Mario M. Cuomo (1932-2015)," Willkie Farr & Gallagher, https://www.willkie.com/news/2015/governor-cuomo, Last accessed July 16, 2018.
41 R. W. "Johnny" Apple, "The Question of Mario Cuomo," New York Times, September 14, 1986, https://www.nytimes.com/1986/09/14/magazine/the-question-of-mario-cuomo.html, Last accessed July 1, 2018.
42 Nagourney.
Born
June 15, 1932 at New York, NY (US)
Died
January 1, 2015 at New York, NY (US)
If you can help us improve this player's biography, contact us.
https://sabr.org/sites/default/files/CuomoMario.jpg
600
800
admin
/wp-content/uploads/2020/02/sabr_logo.png
admin
2018-08-01 16:32:53
2020-04-09 14:38:42
Mario Cuomo