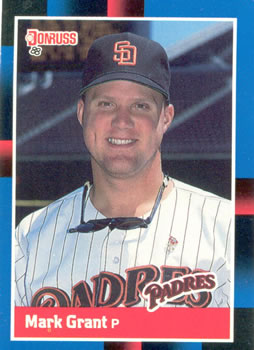 ---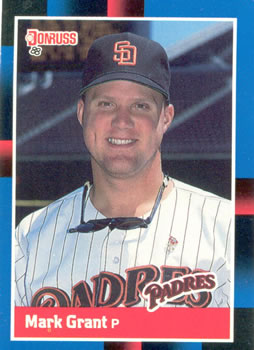 As major-league debuts go, Mark Grant's did not lack in drama. On April 27, 1984, the former first-round pick got the start for the San Francisco Giants, squaring off against Joe Price and the Cincinnati Reds at Riverfront Stadium.
Grant took the loss despite working six innings. It was a 9-3 contest between two teams that had stumbled badly out of the gate and that would end the season with the two worst records in the National League, so why the drama?
In the bottom of the third, with his team trailing 2-0, Grant hit Reds second baseman Ron Oester to lead off the inning. Both benches cleared.
As Grant recalls, "After I got Oester to pop up in the first inning, he was yelling at me from the dugout and he just wouldn't let up. All of a sudden [Giants third baseman] Joel Youngblood yells 'He got you out, you [expletive]' at the Reds dugout, and I'm like, whoa, what's going on?
"I get out of the inning, get in the dugout, and Scot Thompson and Youngblood [say], 'Hey, next time he comes up, throw him inside, brush him off the plate.' So I hit him, and then he threw his bat, kind of out in front of home plate. Benches cleared, no punches were thrown. Then I come up. My first time at bat, Joe Price hits me in the leg. Benches clear again. [Giants manager] Frank Robinson wanted his head on a platter. He was out there getting in his face."1
Welcome to the big leagues. Geographically, Cincinnati might not be far from suburban Chicago, but in many other respects, it's a whole different world.
Mark Andrew Grant was born on October 24, 1963, in Aurora, Illinois, to Larry and Sue Grant. The third of three children, he has two older sisters, Lynn and Leslie. "My dad was an architect," Mark said in December 2018, "and my mom was the best at raising three kids while my dad worked."2
Grant attended Joliet Catholic High School, where he starred for a dominant baseball program helmed by Jack Schimanski. The Hilltoppers went 83-18-1 in Grant's final two seasons before he was selected with the 10th pick overall by the San Francisco Giants in the 1981 draft.3
Grant has fond memories of his high school career, especially coach Schimanski: "He was great, first of all because he's a dear friend still to this day. He never pitched professionally, but he was a pitcher, so he got it as far as working with pitchers. But what I appreciated, because I was a clown back then, too: he let me be me. Because he knew that every time I got the ball to pitch, it was all business, so I had a good time with that and he let us have a good time."4
After being drafted, Grant's first professional assignment was to Great Falls, Montana, in the Pioneer League. As the second youngest player on his team (former major-league catcher Matt Nokes was born a week later) he went 2-6 with a 4.36 ERA.
The next year, 1982, Grant put himself on the fast track, going 16-5 with a 2.36 ERA for Clinton of the Single-A Midwest League. Despite facing generally older competition, he paced the circuit in wins and strikeouts (he had 243; the next highest total was 168), tying for the league lead in shutouts, and finishing second in ERA.
The following season, 1983, saw Grant enjoy another strong campaign at Double-A Shreveport. Though not as dominant as the year before, he again fared well against older competition, going 10-8 with a 3.66 ERA and finishing third in the Texas League in strikeouts despite being one of its youngest pitchers.
In 1984, Grant again moved up a level. He started the season at Triple-A Phoenix (Pacific Coast League) but soon got the call that would change his life.
Recalls Grant: "I lived in an apartment complex in Scottsdale. It was early in the season, first couple weeks. I'd yet to have my telephone hooked up in my apartment, but a teammate of mine lived downstairs. He came up to my apartment one morning and said, 'Hey, [Phoenix Giants manager] Jack [Mull just called me and he's trying to get in touch with you, he wants to see you.' So I got in my car [and] drove to Phoenix Municipal Stadium. He was in the clubhouse and he said, 'Pack your bags, big boy, you're going to the big leagues.' I was like, holy smokes. So then I said, 'Okay, can I make a phone call?' And he said sure, so we went to his office and I tried calling my dad at work. I misdialed three times. I finally got him on the phone and told him I'd be pitching the next night in Cincinnati. I was on a plane that afternoon."5
After his eventful debut, Grant went back to Phoenix, returning to the big leagues a month later. He made two more starts for the Giants, then spent most of the summer at Triple-A before being recalled for good at the end of August.
Grant made his first professional relief appearance on September 1, notching his first save in a four-inning scoreless effort in Philadelphia. Six days later he picked up his first win, at home against the Braves. He went 1-4 with a 6.37 ERA in his first taste of the big leagues, and though the numbers weren't great, he was again one of the youngest players in his league.
By this time Danny Ozark had replaced Robinson as Giants manager. It was Ozark who hung the nickname Mudcat on Grant: "My first big-league camp, we were in spring training, 1984, doing PFP [pitcher fielding practice] drills and he just goes, 'Hey, way to go, Mudcat.' I knew exactly who he was talking about. I eventually got the chance to meet Jim 'Mudcat' Grant and we keep in touch. I call him every now and then, just to say hey. He's a very sweet man."6
After spending all of 1985 and most of 1986 in the PCL, Grant got the call again when rosters expanded in September. He made three relief appearances before starting the Giants' penultimate game of the season, working seven strong innings in a losing cause against the rival Dodgers in Los Angeles. Grant gave up two runs that Saturday afternoon, but his counterpart, Fernando Valenzuela, only allowed one.
The Giants were now managed by Roger Craig, whose old-school mentality didn't always mesh well with Grant's free-spirited nature.
As Grant notes, "Roger kind of put his thumb down on me as far as keeping me under wraps. Maybe [he] didn't think that I was as serious as he thought I should be, which I was. I busted my ass every day to try to be prepared, but you know, when I've got some down time on my hands I want to have some fun.7
Still, Grant harbors no ill will toward his former skipper. To the contrary, he shows a keen understanding of their differences: "Just a different philosophy, which is cool. Love the guy. Respect the heck out of him. Good manager, good baseball guy."8
If any efforts to curb Grant's enthusiasm rubbed him the wrong way, he sure didn't show it. While Grant was still at Triple-A Phoenix in 1986, Giants General Manager Al Rosen opined that his young pitcher had a "$1-million arm and a 10-cent brain." Grant's response? He wore a headband emblazoned with the words "10-cent brain."9
Grant broke camp with the big club for the first time in 1987, again making three relief appearances before moving into the rotation. He sported a 2.92 ERA through mid-May but only had a 1-0 record because he had trouble working deep into games in his six starts.
A return to the bullpen didn't help, but a three-week stint in Phoenix did. In his second start back with the Giants, Grant held the Braves to one run on three hits over eight innings. Unfortunately, he took the loss, as Atlanta starter Zane Smith spun a shutout.
A week later Grant found himself traded to the Padres as part of a seven-player July 5 deal centering on Mark Davis and Kevin Mitchell. Grant's debut with his new club didn't go so well, but he stuck in the rotation for the rest of the year and held his own, including a two-hit, nine-strikeout shutout at home against the Braves on September 16.
The transition from Roger Craig to Larry Bowa also presented challenges for a player still trying to find his footing at the highest level: "[Bowa is] probably one of the best baseball minds I know. But the thing that he had going against him was his emotions. It was hard for him to keep his emotions in check because he was such a competitor. If something didn't go our way, he would kick, scratch, bite, scream. When younger players look at that it kind of makes them get a little tight."10
Bowa, for his part, publicly expressed frustration at Grant's inconsistent performance: "To pitch in the big leagues, you have to have your concentration from the first to last out. Mark doesn't do that. He tends to lose his concentration. There's no doubt about his arm, and there's got to be a reason he's not winning, and that's it. Sometimes, to see him … it's like he has no idea."11
Grant bounced back and forth between the rotation and bullpen in 1988. He enjoyed moderate success as a starter but really found his groove as a reliever, posting a 2.57 ERA in 35 innings.
Having achieved some success, he hoped to build on his strong showing the following year: "Something finally hit me this winter. I'm past the stage where they can say, 'Well, he's young, there's still time to learn.' I've lost that excuse. I realized I better get serious. My time is now."12
His new approach seemed to work. As a full-time reliever, he bridged the gap between a surprisingly strong rotation and the suddenly dominant Davis, who won the NL Cy Young Award that year. Grant started the season pitching in low-leverage situations, not appearing in a Padres victory until May 17, his 12th appearance of the season. He had posted a 2.41 ERA at the All-Star break but saw that balloon to 4.18 in the second half.
By September Grant was running on fumes. His ERA for the final month soared to 6.08. Of his 50 appearances in 1989, 34 lasted two innings or more and 14 lasted three innings or more. Still, despite the late fade, he had established himself as a legitimate mid- to late-inning reliever who could fill multiple roles on a big-league staff.
Whether his heavy workload the year before was to blame or not, Grant struggled early in 1990. After retiring all four batters he faced in his season debut, he surrendered 14 runs over his next 14 innings and saw his ERA skyrocket to 8.22. He soon rediscovered his groove, posting a 2.66 ERA over the next two months. However, Grant was not typically pitching in meaningful games, as the Padres went 1-16 in those 17 contests.
Perhaps not coincidentally, Grant was shipped to Atlanta on July 12, 1990, for Derek Lilliquist. Grant recalls the circumstances surrounding that trade: "We were working out at the stadium, at Jack Murphy. The day of the workout, Jack [McKeon came into the clubhouse with Greg Riddoch and said, 'I'm moving up to the front office, Greg Riddoch is our manager.' We flew to Pittsburgh after the workout. The next morning my phone rang in my room; it was McKeon saying, 'We just traded you to the Braves.' That was the last trade Jack McKeon made. I figured if he could have someone bite on me, then he'd finish on a high note."13
As Grant said at the time, "It's kind of a bittersweet feeling. I'm sorry to be leaving here, and I'm going to miss all of the guys, but I'm happy because I'm going to have a chance to pitch again."14
Grant retains fond memories of McKeon: "[He] was great, very positive. Got the most out of guys. He was almost like a father figure. He would sit you down and light a fire under you and not berate you, but kind of talk to you — 'Hey, you know what, you've got a lot to contribute, you're good at what you do, you know, we need you' — rather than being negative."15
Once, after a particularly bad outing, Grant asked McKeon for another chance: "I didn't want him to lose confidence in me. I told him I just wasn't myself last night. I'm going to have those kind of days. Please, please give me another chance. I think deep in my heart, I knew he still had confidence in me, but I wanted reassurance. I needed a confidence-builder. He was just great. He told me exactly what I wanted to hear."16
Grant went from one new manager to another in Atlanta, where Bobby Cox had just taken over for Russ Nixon. After having managed in the late-'70s and early-'80s Cox moved to the front office for a few years before returning to the bench just before Grant arrived.
If McKeon made a good impression on Grant, Cox made a great one: "[He's the] best manager I ever played for. He's the whole package, knows the game. Humble guy, knows how to treat his players. He's the type of guy that players will run through a wall for him. He's got your back. I mean, look how many times he was ejected. If he were sitting here right now, you'd say, 'Boy, you know, you're a Hall of Fame manager.' First thing out of his mouth he'd say, 'Oh yeah? Well, you need the players. I had some good players.' He'd be the first one to say that. He was by far the best manager I ever played for. I wish it was longer, because I was only there for a year and a half."17
Grant remained with the Braves in 1991 but missed the entire season due to shoulder surgery. After rehabbing for a year, he signed with the Seattle Mariners in January 1992. He served as a swingman for them, going 2-4 with a respectable 3.89 ERA, but was released after the season.
He then signed with the Astros in January 1993, making six appearances before being traded to Colorado in May. He struggled with the Rockies and was released at the end of July. The Angels picked him up a few weeks later, but he never pitched for them, making only one relief appearance for their Triple-A affiliate in Vancouver.
Grant did not play in 1994, but found himself in demand the next spring, when major-league players were on strike. "Teams were calling for replacement players. I must've got 12 phone calls: 'Hey, we need players.' I said, 'I'm not coming to camp as a replacement player. I'll come to camp, try to make the Triple-A team.'"18 Teams, alas, were not interested in that.
He gave it one last shot in 1995, pitching effectively as a starter for the Triple-A Iowa Cubs, but never got the call. Remembers Grant, "I eventually ended up getting hurt again — my shoulder — and that's when I quit. And I say 'quit' because you have to be good to retire."19
Self-effacement aside, Grant finished his big-league career with a 22-32 record and 4.31 ERA spread across 233 appearances over eight seasons. He also notched eight saves and enjoyed success against some of the best to ever play the game.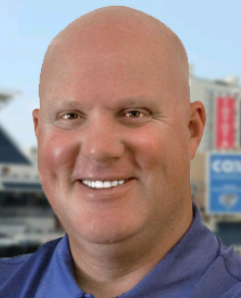 Grant's playing career gave him many memories. He recalls that his first hit "was a bunt off Guy Hoffman at Candlestick Park. It was a sacrifice situation, I bunted, it went down the first-base line and kinda just spun — and I had pretty good speed, I could run. I beat it out and they ruled it a hit."20
He also knows how he fared against the all-time greats: "Ozzie Smith was 2-for-20 off me. I've got two hits off Hall of Famers: one off of Rich Gossage and the other [off Greg Maddux]."21
Grant tried to extend his career in Taiwan in spring 1996, but a sore arm convinced him to return to the United States to pursue a career in broadcasting. He had begun planting those seeds a few years earlier, and credits former teammates Duane Kuiper and Mike Krukow for helping him move into the booth.
Grant started in radio before switching to television in summer 1996, working alongside legendary Padres broadcaster Bob Chandler. He points to the men he listened to growing up as influences on the way he calls a game, particularly his enthusiastic support of the home team: "Jack Brickhouse and Harry Caray. Those were my guys. Those guys are the biggest homers out there, so where do you think I get it from, you know? They made it fun; they were [fans], and you rooted right along with them and you were critical right along with them."22
Grant remembers his past broadcast partners with fondness, citing Chandler as a big influence and recalling the kindness of Hall of Famers Jerry Coleman and Tony Gwynn. He also speaks well of others, including Matt Vasgersian, with whom he teamed for many years.
Vasgersian is quick to return the compliment: "Mud is a blast to work with … loves to have a good time, but beyond his obvious 'fun factor' he's really good at explaining pitch sequencing and setting up a hitter. [He also has a] penchant for movie lines. Anything Caddyshack, Blazing Saddles, or Trading Places related and he's all in."23
Grant's enthusiasm in the broadcast booth is no accident. He has worked hard at his craft, striving to find the right balance between delivering serious information and giving the folks at home something to laugh about when appropriate.
As Grant explains, "I want to teach [fans] the game. I want to make them say to themselves, 'Wow, I didn't know that.' And I want them to have fun, I want them to laugh. I know a lot of fans are passionate about the game, and that's great, but it's such a long season. If you grip and grind at every single moment in baseball, you're gonna drive yourself nuts."24
And though he has worked hard, it's also clear that he loves what he's doing: "I'm a lifer, I'm a Padre. I want to do this for the rest of my life. Baseball's pretty much the only thing I know. Great gig. It's a seasonal job. I get to enjoy my family during the off-season."25
This last point is crucial, as Grant is very much a family man. He and his wife, Mary, have three children: daughter Alexis, and sons Andrew and Aidan. Grant's commitment to family extends to the larger community of which he is a part. He has supported many local organizations over the years, including several that help children with medical or other special needs.
His work with the Down Syndrome Association strikes particularly close to home: "I have a son with Down Syndrome, Aidan, and I try to do as much as I can. St. Madeleine Sophie's is also for developmentally challenged adults. They go out in the community and they teach life skills."26
With enthusiasm and commitment come a joy of spirit that is rare to find. Grant is acutely aware of how fortunate he has been in life, and he gives much credit to his family, who have supported his pursuit of a career that often takes him away from them.
Grant is quick to mention the importance of "having a family that understands what you do. My wife is a military brat, so her dad was gone on nine-month deployments. She's a stud, she gets it. When I'm gone she's got a handle on everything. My kids are getting to the age now where — well, Aidan will always be with us, but my daughter's a junior, she'll be going off to college in two years. I've got a son at Northern Arizona who's loving life."27
If Grant seems happy, there's a good reason: He spent 15 years playing professional baseball and the next 20 years (so far) broadcasting it, all the while anchoring himself to the people that matter most to him. As Chevy Chase's character Ty Webb advises in Caddyshack, "There's a force in the universe that makes things happen. And all you have to do is get in touch with it, stop thinking, let things happen, and be the ball."
Mark Grant is the ball. He's also having a ball.
Last revised: January 7, 2019
Acknowledgments
This biography was reviewed by Bill Nowlin and fact-checked by Alan Cohen.
Sources
In addition to the sources cited in the Notes, the author also relied on
Notes
1 Mark Grant, face-to-face interview with author, February 18, 2016.
2 Mark Grant, communication to Geoff Young, December 17, 2018.
3 Illinois High School Glory Days, http://www.illinoishsglorydays.com/id496.html
4 Grant interview, February 18, 2016.
5 Ibid.
6 Ibid.
7 Ibid.
8 Ibid.
9 Marty York, "Baseball: Jays not on base with McLaren line," Toronto Globe and Mail, June 7, 1986.
10 Grant interview, February 18, 2016.
11 Bill Plaschke, "Erratic Grant Leaves Padres No Way Out," Los Angeles Times, May 1, 1988.
12 Bill Plaschke, "Padres' Notebook: Grant Takes Relief Role Seriously," Los Angeles Times, February 28, 1989.
13 Grant interview, February 18, 2016.
14 Bob Nightengale, "McKeon Puts Grant in Outgoing Basket," Los Angeles Times, July 13, 1990.
15 Grant interview, February 18, 2016.
16 Bob Nightengale, "Padres Win Fifth in Row, Feel Feverish," Los Angeles Times, September 6, 1989.
17 Grant interview, February 18, 2016.
18 Ibid.
19 Ibid.
20 Ibid.
21 Ibid.
22 Ibid.
23 Matt Vasgersian, written correspondence with author, February 3, 2016.
24 Grant interview, February 18, 2016.
25 Ibid.
26 Ibid.
27 Ibid.
Born
October 24, 1963 at Aurora, IL (USA)
If you can help us improve this player's biography, contact us.
https://sabr.org/sites/default/files/GrantMark.jpg
600
800
admin
/wp-content/uploads/2020/02/sabr_logo.png
admin
2019-01-07 13:24:46
2020-04-09 14:38:37
Mark Grant