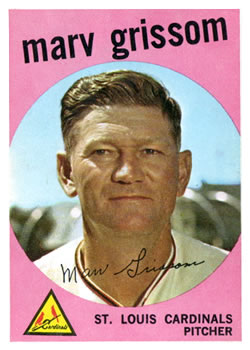 ---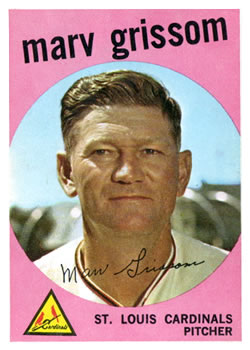 "When I was on the island of Tinian in the Marianas in '45, Johnny Mize was managing a Coast Guard team there. I had pitched against his team a couple of times. He belonged to the Giants at that time, so when he got discharged, the Giants asked him if there was anybody he had seen who they might try to sign. He told them about me, and I get a letter from them. So I went to Spring Training in 1946 on the recommendation of Johnny Mize." So said Marv Grissom in an interview in the summer of 1966.1
He hadn't known Mize had recommended him at the time. "It didn't come out until four or five years later that he had recommended me. When I found out. I thanked him for it."
Grissom was drafted, and served in the US Army from October 10, 1941. As a medic, he was stationed on the Pacific island of Tinian from December 18, 1944, to December 13, 1945. "They took a farm boy and put him in the operating room assisting doctors," his wife, Frances Grissom, later said. "He learned a lot."2
Just before entering the service, Grissom had played one year of professional baseball, for the San Bernardino Stars in the California League in the summer of 1941. He was 2-4 with a 4.67 ERA, but there weren't enough people coming out to the games so the club folded by July 1. That same year, 1941, was his older brother's final year in baseball, capping eight years in the majors. Lee Grissom was a left-hander who worked from 1934 through 1941 for the Cincinnati Reds, the Yankees, the Dodgers, and the Phillies. He finished with a career record of 29-48 (3.89). Lee was 10½ years older than Marv.
Marv was a right-hander. He stood 6-feet-3 and is listed at 190 pounds. After the war, he spent 10 seasons pitching in the big leagues, finishing 47-45 with a 3.41 ERA. He later coached for 15 years at the major-league level. Pitcher Jim Davis was Grissom's nephew; Davis pitched from 1954 to 1957 for the Cubs, Cardinals, and Giants.
Marvin Edward Grissom was born on March 31, 1918, in Los Molinos, California. He was the eighth of nine children in the family at the time of the 1920 census. Father Ulysses B. Grissom was a farmer, originally from Kentucky, who was living in Red Bluff, California, at the time and farming grain and fruit. His mother was the former Margaret E. Curtis, originally from North Carolina. Three of the four eldest children, including Lee, were both in Texas. From at least 1920 onward, Marv made his home in Red Bluff, and it was there that he died at the age of 87 in 2005. The community is in Northern California about 140 miles north of Sacramento.
He went to Los Robles for his first eight years of school, and then attended Red Bluff High for two years.
We are fortunate to have the Bob Brigham interview. It allows us to hear from Marv Grissom himself about life growing up. As to having an older brother in the big leagues, "In those days it didn't really mean that much. We knew he was playing baseball, but there was very little radio, no TV, not much in the papers." As Marv grew up, he hadn't been a pitcher himself. "I had actually never pitched, not even in high school. One time Lee told the Cincinnati Reds that he had a brother at home that could throw pretty hard. They said, well, bring him to spring training. That was 1938. The Reds trained in Tampa, Florida. I was sent home at the end of five weeks because Warren Giles, the general manager, said I would never amount to anything." What positions had be played, then? "I didn't. There was no baseball at all. … Baseball was the furthest thing from my mind in those years. Lee would bring some gloves and baseballs and my younger brother and I would get out in the yard and throw, but that was as close to baseball as we got. … Well, they had something in those days they called Farm Bureau League, where a bunch of amateurs got together on Sunday afternoon. When I came back from that tryout with Cincinnati in '38, I started playing for the Red Bluff team in that league."3
Grissom, who reached the rank of sergeant, hadn't been on a service team. He recalled, "The services organized teams of big leaguers that toured the Pacific playing exhibitions against each other. Two of them came to Tinian when I was there, and one was managed by Lou Riggs, who I had gotten to know when I had that tryout with Cincinnati in '38. I got him to bring his team over to play one Sunday afternoon. We got rained out in the fifth inning, but they stayed and had dinner with us. We had a lot of fun, but I can't remember any of the names of the players."
His younger brother Mervin "was a pretty good looking pitching prospect, but he was killed in a motorcycle accident. The brother between Lee and me [Glenn Grissom] hurt his arm trying to pitch, so he stayed with farming." Actually, Lee Grissom told Jimmy Cannon of the New York Post that bringing Marv to 1938 spring training was something of a mistake. Lee had recommended Mervin, as a real pitching prospect but after Mervin was killed, he got a message urging him to bring his brother, so he brought Marv. Cannon saw Lee there and asked him what position Marv played. "I don't know," he replied. Cannon asked, "Didn't you ever see him play ball?" "He don't play ball, so how I could I see him? … He ain't no ballplayer. He works on a farm."4
It was more than an informal look-over that Grissom was given. The Atlanta Constitution included him in a listing of players in the Reds' camp.5
After the war, Grissom was signed by the New York Giants as a free agent. San Bernardino had been a Giants farm club before the war, but Grissom had been on a Hollywood Stars contract. He never played for Hollywood, though he'd attended spring training with them in 1941, but after the San Bernardino club ceased operations, Hollywood gave him his unconditional release.
After 10 months in the service, Grissom married Frances Moller in August 1942. They'd known each other as children but, his widow explained after his death, they'd first really connected when he was umpiring one of her softball games in 1939. "He called me out," Frances Grissom said. "I argued with him. I said they were balls, not strikes. So he invited me out for a Coke so we could talk about it."6
Grissom did get in some pitching during the war before being sent to the Pacific. Pitching for the Camp Callan team, he threw back-to-back two-hitters on May 14 and 16, 1944, and then a no-hitter on May 21.
It was surprising he made it to the big leagues in 1946, his first full year in pro ball, particularly given that so many veterans with major-league experience were returning from military service. But he did, playing first for the Jersey City Giants in the Triple-A International League.
Grissom had impressed the Giants in spring training. Veteran coach and scout Tom Sheehan said, "This boy not only has a lot of stuff, but he has a wonderful spirit and he wants to learn. If his brother Lee had half his mental attitude he would have been one of the greatest southpaws the game ever saw."7 On April 1 Giants manager Mel Ott sent him to Jacksonville, so he could train with the Jersey City team.
Grissom joined the Giants in September. His major-league debut was at the Polo Grounds on September 10. The visiting Pirates held a 7-3 lead after seven innings. Grissom pitched a scoreless eighth and ninth, allowing one base hit and one walk, and striking out one. He had three starts, and lost the first two, a 4-1 loss on September 13 in which he gave up three runs in two innings and then, on the 18th, he pitched 7⅔ innings and gave up four runs. In a third start, on the 26th, Grissom pitched seven innings and gave up two earned runs. The Giants won the game, but only after he'd departed. He was 0-2, 4.34, for the season with the Giants.
Grissom just missed a no-hitter in his first game of 1947 (on a ball that was foul but struck a clump of sod and bounced into the third baseman's glove in fair territory), but had a very disappointing season, spending the full year in Triple A with Minneapolis and bearing an ERA of 6.26.8 His record was 9-16 and he'd walked almost the same number of batters as he struck out.
Prior to the 1948 season the Giants sent him to Sacramento. He had a better year – 11-7, 4.03. In November he was taken by the Detroit Tigers in the Rule 5 draft.
The Tigers played Grissom throughout 1949 – two starts and 25 relief appearances. His ERA was 6.41 (2-4). Manager Red Rolfe had not been sufficiently impressed. He had spent two years in the minors in 1947 and 1948, and then he spent two more years, 1950 and 1951, before getting another shot. In 1950 he was 9-10 (4.04) with Toledo. In January 1951 the Tigers traded him to the Seattle Rainiers and he was back in the Coast League.
Grissom really shone in 1951, becoming a 20-game winner for Rogers Hornsby's Rainiers, tied for the league lead in wins, as Seattle won the pennant and both rounds of the league playoffs. His record was 20-11, 3.04. In October Seattle traded Hal Brown and Grissom to the Chicago White Sox for four players.
For the next eight years, Grissom stayed in the major leagues. In 1952 it was for the White Sox. He won 12 games (a career high in the majors) and lost 10 (also the most he ever lost), with an ERA of 3.74. He'd been 0-3 for the season before his first big-league win – a 1-0 shutout of the Tigers on May 25. He won his next four decisions, too, including back-to-back 2-1 complete-game wins in June.
Chicago leveraged Grissom's success by engineering a trade with the Red Sox – the White Sox sent three pitchers (Grissom, Hal Brown, and Bill Kennedy) to Boston for Vern Stephens in early February 1953. Stephens, a seven-time All-Star, was past his prime, however, and hit only .186 for the White Sox before he was placed on waivers and his contract sold to the St. Louis Browns. Grissom himself went the waiver route, too, on July 1.
His first start for the Red Sox resulted in a 1-0 loss to Allie Reynolds and the Yankees, a "glittering effort," the difference in the game being a solo home run by New York's Joe Collins.9 Grissom was 35 years old at the time, and noted, "One thing different about this season is that it marks the first time I have repeated in the same league in successive seasons."10
He won his next start, 8-1, against the Indians, and then shut out the White Sox in his fourth decision. He was struck on the ankle by a batted ball on June 18 and had to leave the game after three-plus shutout innings. He had a 3.05 ERA at the time, but had lost four decisions in a row by the end of June and had a 4.70 ERA. On July 1 the Red Sox called up Ike Delock and sold Grissom on waivers to the New York Giants. Several articles at the time noted that the acquisition might be considered an important building block toward a Giants pennant the following year.11
The Giants had Grissom start seven games and relieve in 14 others in 1953; he was 4-2 with a 3.95 ERA. After the season he joined the Giants for an exhibition tour of Japan and the Pacific Islands. One story that earned him a headline back home was when he threw a six-hit, 12-0 shutout against Osaka on November 7.12 He'd found a home and was with the Giants – even through the franchise moved to San Francisco for the next five seasons. Indeed, he later said that he had been working on a screwball, but "I really wasn't able to hit the right spots until last year. I worked on it over the winter on our tour of Japan."13
In 1954 Grissom had his best year, and was named an All-Star. The NL lost the game, 11-9. Grissom came into the game in the sixth with the bases loaded and two outs. He closed out that inning without a run scoring and retired the three batters he faced in the seventh, two by strikeout.
Grissom was mostly a closer in 1954, appearing in 56 games and finishing 36 of them. He had three spot starts. Grissom and Hoyt Wilhelm were a formidable combination coming out of the bullpen; Wilhelm was 12-4 (2.10). Grissom was 10-7 with an excellent 2.35 ERA. It was the first of four consecutive seasons in which his earned-run average was under 3.00.
The Giants won the pennant, and went to the World Series to face the 111-43 Cleveland Indians. The score was 2-2 in Game One, at the Polo Grounds. There were two Indians on and one out in the top of the eighth, when manager Leo Durocher beckoned in Grissom. He pitched 2⅔ innings of scoreless, one-hit relief (he did walk three), and picked up the win when pinch-hitter Dusty Rhodes hit a three-run homer off Bob Lemon in the bottom of the 10th. The Giants swept the Series; the game Grissom won was his only appearance.
Most of the plaudits went to Willie Mays and Johnny Antonelli, but several writers ranked Grissom's contribution to the season right up there. Durocher himself said, "Show me another relief pitcher as good as either of 'em [Grissom and Wilhelm], let alone a pair anywhere in the majors. … I'll let you in on a secret. When the Giants won this pennant, they won it in the bullpen."14
There had been one unusual game – in the first game of the September 9, 1954, doubleheader in New York, Grissom beat his nephew, Jim Davis. "We both came into the game in relief in about the (eighth) inning," said Davis. Marv got the side out in order in the ninth but I got tapped for a couple of hits and was the losing pitcher."15 Grissom's win got him to 10-7; Davis's loss dropped him to 10-6.
In 1955 Grissom worked exclusively in relief, winning five and losing four with a 2.92 ERA. In 1956 his ERA for the season was a skimpy 1.56, in 43 appearances. He was 1-1. His wins and losses were even again in 1957, 4-4, and his ERA was 2.61. Manager Bill Rigney called Grissom the best relief pitcher in the league.16 Grissom said, "I like relieving better than starting," and added, "[I]t has put about three years on my career already."17
Jim Davis never did get his wish to beat Uncle Marv in a game, but on June 5, 1957, Davis was claimed on waivers from the Cardinals and nephew and uncle were teammates on the Giants for the balance of the year. Davis was 1-0 for the Giants in 10 appearances. They pitched in the same game five times, and on June 13 it was Grissom who relieved Davis in the eighth inning, earning himself a save, with the win going to Davis. Three days later, on June 16, Davis worked two-thirds of an inning against the visiting Reds in a game Grissom later won by pitching the eighth and ninth. It was barely remarked upon in the newspapers of the day.
Along with the team, Grissom moved to San Francisco in 1958 and he played the full season for the San Francisco Giants. He was 40 years old. His ERA was 3.99 and his record was 7-5 in 51 games.
On October 8, 1958, the Giants traded Grissom and Ernie Broglio to the St. Louis Cardinals for Hobie Landrith, Billy Muffett, and Benny Valenzuela. Grissom pitched only a total of two innings for the Cardinals, over the course of three games in June. His ERA was 22.50, given the five earned runs he'd surrendered. It was a back injury that had sidelined him. In June 1959 he asked for voluntary retirement. He remained on the books of the Cardinals through the rest of 1959 and 1960, until he was finally released on December 29, 1960. When the listings for the Red Bluff city directory were compiled in 1960, he had listed himself as a carpenter.
Grissom's work in baseball was far from done, however. In 1961 he went to work for Bill Rigney (who had managed him when he was with the Giants) as the pitching coach for the Los Angeles Angels, a position he held for six seasons, through 1966. In 1967 and 1968 he was the pitching coach for the White Sox. In 1969 he came back to the Angels for that season. In 1970 and 1971 he was the pitching coach for the Minnesota Twins. In all three seasons – 1969 through 1971 – Grissom was again working with Bill Rigney. After being out of baseball for three years, he was brought back to work as pitching coach for the Cubs in 1975 and 1976. His final stint was his third one with the Angels, in 1978 and 1979.
In the years of his retirement, Grissom was said to be active in the community, as a Mason, a Shriner, with his local golf club, and hunting, fishing, and gardening.
Grissom died in Red Bluff on September 19, 2005, at the age of 87. He was survived by his wife, Frances. Their son Bruce predeceased them both.
Sources
In addition to the sources noted in this biography, the author also accessed Grissom's player file and player questionnaire from the National Baseball Hall of Fame, the Encyclopedia of Minor League Baseball, Retrosheet.org, Baseball-Reference.com, Rod Nelson of SABR's Scouts Committee, and the SABR Minor Leagues Database, accessed online at Baseball-Reference.com.
Notes
Born
March 31, 1918 at Los Molinos, CA (USA)
Died
September 19, 2005 at Red Bluff, CA (USA)
If you can help us improve this player's biography, contact us.
https://sabr.org/sites/default/files/GrissomMarv.jpg
600
800
admin
/wp-content/uploads/2020/02/sabr_logo.png
admin
2017-03-20 13:02:22
2017-03-20 13:02:22
Marv Grissom