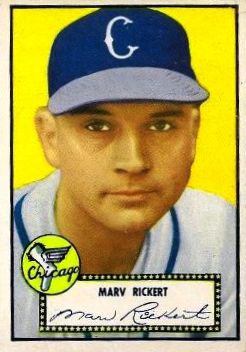 ---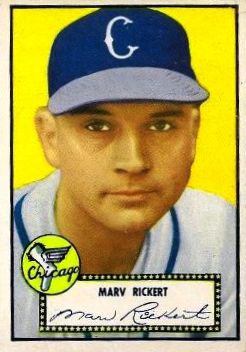 Marvin "Twitch" Rickert's career was typical of that of many players in the first half of the 20th century. Before the days of free agency and long-term contracts, Rickert was a useful piece that several clubs plugged in, and then discarded, over his six-year big league career.
The speedy, left-handed-hitting outfielder reached 100 hits only once in the majors, in 1946 with the Chicago Cubs, and never had as many as 400 at-bats in a season. He showed the promise of power in the minor leagues prior to his shot in the big time, but never hit more than seven homers in a season in the big leagues. And even when Rickert played in a World Series — suiting up for the Boston Braves in the 1948 fall classic — his appearance came only as the result of another player's injury. A year later, the Braves were just as quick to sell him off after his best season.
Born in the small (pop. 600) Olympic Peninsula town of Long Branch, Washington on January 8, 1921, Marvin August Rickert came from a family of ballplayers. His father was in the logging business, but a ballplayer on the side. The Long Branch team won the Washington State semipro championship in 1908, with eight Rickerts on the town squad — Marv's father and four uncles among them. The only non-Rickert on the team, Bert Watkinson, was brought into the family through marriage. "He married Uncle Fred's daughter," Rickert told sportswriter Edgar Munzel.
Young Marv was a bit of a legend as an excellent hitter with the Tacoma Tigers of the Western International League in his late teens, and he parlayed that into a journeyman major league career for five different teams.
Signed right out of high school, the 6'2", 195-pound athlete got his feet wet in 19 games as a first baseman for Class B Tacoma in 1938, at the age of 17, but lost most of the year due to a broken foot. He then spent the majority of 1939 optioned out to Boise in the Class C Pioneer League. There he moved full time to the outfield and hit a resounding .354 in 100 games with 14 homers and 75 runs batted in. He spent the entire 1940 season back up a rung with Tacoma and came back to earth somewhat, hitting a still-solid .288 (with 77 RBIs and eight home runs), dividing his time between first base and the outfield.
In 1941, Rickert was on the same pace with Tacoma once more (.284 after 87 games) when he was sold to the Chicago Cubs in August for a sum thought to be in excess of $3,000. Assigned to the Class A Tulsa Oilers, the Cubs' Texas League farm club, to finish the season, and variously described in The Sporting News as a "fleet center fielder" and a "sleek right fielder," Rickert hit .230 while getting adjusted to the more competitive league. During the playoffs, however, he tore it up — hitting .750 in six games against the Dallas Rebels.
Rickert really began to blossom in 1942 and batted .310 for Tulsa with nine homers and 73 RBIs, earning himself a call-up to the Cubs in September. He debuted on September 10 and saw duty in eight games, all in the outfield, batting a respectable .269. But like so many other players of that time, just as he got his chance to join a big-league club on a full-time basis, Marv was faced with World War II.
He enlisted in October 1942 and spent three years (1943-45) on active duty with the Coast Guard. It was no easy work, shipping out of Seattle and serving aboard an explosives ship transporting ammunition to American bases in the Aleutian Islands. "I still shudder when I think of it," Rickert told The Sporting News in 1946. Later in the war, things got easier when he was transferred from sea duty to coach the Coast Guard baseball team at Seattle, and they posted a spectacular 98-8 record over a two-year span.
Returning to the Cubs after the war ended, Marv joined the club for spring training on Catalina Island and battled two-time home run champ Bill Nicholson for a starting outfield slot. Rickert survived one incident late in the exhibition season when he tried to steal second base with the bases loaded. He got to within 10 feet of the bag when he realized his mistake. Phil Cavarretta tried to score during the confusion, but was cut down at the plate.
All in all, though, Rickert seemed to pick up right where he'd left off and then some, appearing in a career-high 111 games in 1946 and hitting .263 with 18 doubles, three triples, seven homers, and 47 RBIs. Valuable because he could play all three outfield positions as well as first base, he got a chance at regular action after Andy Pafko wrenched his ankle stepping on a baseball before a June 1 game with the Braves. Rickert made the most of the opportunity; he hit a three-run homer that very day, and drove in five runs during a doubleheader against Boston the next day. Perhaps the most memorable moment of his career came later that same month, when he and Eddie Waitkus hit back-to-back inside-the-park home runs on June 23 — the only time that has ever been done in the National League. (It was the only time in the majors until Toby Harrah and Bump Wills repeated the feat for the Texas Rangers in 1977.)
Waitkus and Rickert were fast friends. Along with Russ Meyer, they were three fun-loving bachelors who often hung out together. Rickert also had the reputation as one of the team clowns, and manager Charlie Grimm's loose clubhouse gave him plenty of opportunities, it seems. One of his favorite routines was parading around the clubhouse in just his jockstrap, pulling the straps up over his shoulders and prancing around, according to former teammate Len Merullo.
Rickert's playing time diminished in 1947, as he got to bat just 137 times, largely as a pinch-hitter or defensive replacement. After the '47 season he was sold to the Cincinnati Reds; Less than a month into the season, and after just six at-bats (with one single) as a Red, he was traded to the Braves for veteran outfielder Danny Litwhiler and assigned to their Milwaukee Brewers farm club in the American Association. Rickert's time with Milwaukee was notable. While his future teammates in Boston were battling it out for the NL pennant, he batted .302 with 27 homers and 117 RBIs and was named to his league's All Star team.
Once the American Association season ended and the Brewers disbanded, Rickert proceeded home to Tacoma — presumably for the winter. But then Boston starting outfielder Jeff Heath broke his ankle during the last week of the regular season. The Braves purchased Rickert's contract from Milwaukee and ordered him to fly east on the first available plane. He arrived in Brooklyn one hour before the start of the game and was inserted into the line-up in left field. Rickert recorded an RBI when Ralph Branca nicked him on the leg with the bases loaded in the fourth inning, aiding in the Braves' 3-1 victory. He went on to the Polo Grounds with the team and appeared in two of the last three games of the season. Boston petitioned Commissioner Happy Chandler to certify Rickert as World Series eligible because of the late call-up necessitated by Heath's injury. The AL Champion Cleveland Indians gave their consent, and Marv found himself starting in left field in five of the six '48 World Series games.
Rickert had just four hits in the Series in 19 at-bats (a .211 average), but made his presence felt. One of his safeties was one of only two Boston managed off Bob Feller in winning Game One, 1-0. The lone member of the Braves who had ever batted against Rapid Robert before the fall classic, Rickert "always has hit him as though he owned him," Arthur Daley of the New York Times wrote after the game. Daley was not exaggerating; a few seasons earlier, when he was with the Cubs, Rickert had faced Feller nine times in spring training and collected six hits.
Two of Marv's other hits in the Series came in Game Four off Indians hurler Steve Gromek, including a solo home run that accounted for the lone Braves tally in a 2-1 loss. Overall, Boston hit just .230 in the Series, which was dominated by pitching and won by Cleveland — which itself hit just .199 — in six games.
Daley was also responsible for creating the misimpression that Rickert technically played for "fun" that fall. In his October 11, 1948 New York Times column, he claimed, perhaps tongue-in-cheek, that since Rickert was called up after the season ended, he was never placed on the Braves payroll and had arrived too late to have been formally allocated a Series share. Daley categorized Rickert as "the first amateur in World Series history." As mentioned above, Rickert did play in regular season games for the Braves that would have required compensation. Since the split of the World Series player pool had already been voted on by the players and submitted to Commissioner Chandler's office, the commissioner, by executive order after the Fall Classic, awarded Rickert a one-third Series loser's share of $1,523.58.
Marv was widely praised for his outfield defense in the World Series as well, and after his credible performance, the Braves signed him to the big-league club — a signing deemed a reward — for the 1949 campaign. It came out in February, though, that he'd actually been offered $1,500 less than he'd made in the minors with Milwaukee in '48. The embarrassed Braves agreed to make up the difference, but Rickert said he would not play in the majors for what he was making in the minors. Finally, the team came to terms and Rickert called his new deal "the best contract I ever received."
Everyone was fairly happy by year's end. Rickert appeared in 100 games, primarily in the outfield but also filling in for the injured Earl Torgeson at first base during one time of need. Marv showed good pop in his bat with 18 doubles, three triples, and six homers to go along with 49 RBIs, and his .292 average was his best ever in the major leagues. Among players with 150 or more at-bats, it was also the top mark on the club that summer as the Braves slipped to fourth place.
Rickert may also have been the first major-leaguer to use a batting glove. While with the Braves, he used a golf glove on his right hand while batting. Needless to say, he caught his share of barbs from the opposing dugouts.
After the 1949 season, despite his fine performance, Rickert again found himself on the move when the Braves traded him to the Pittsburgh Pirates in December for $10,000 and a player to be named. The Cubs were sniffing around, but Pittsburgh wanted a fourth outfielder and snapped him up. After just 17 disappointing games with the Pirates in 1950, during which he hit .150 coming off the bench in pinch-hitting roles, Marv was once more unloaded — sent to the White Sox on waivers at the end of May in what would prove to be his final year in the big leagues. Although he played regularly for the Pale Hose, appearing in 84 games, he hit just .237 for a team that went 60-94. This left him with a lifetime .247 average, 19 homers, and 145 RBIs for his major-league career.
Sold outright by the White Sox to the Triple-A Baltimore Orioles in December 1950, Rickert kicked around in the minors for a couple of seasons, even leading the International League in homers with 35 while playing for Baltimore in 1951 and making the All-Star team. He also hit at a hefty .320 clip that season, and the Toronto Maple Leafs tried to pry him loose by offering $20,000 for his contract; Baltimore demurred. He also played very good ball with Almendares in the Cuban Winter League, and was a popular player with Cuban fans.
In late May of 1952, Marv was sold by the last-place Orioles (now ready to take the reported $20,000) to Toronto in the same league. When he was sold, he was hitting .311 with 25 RBIs in 35 games. Between the two clubs, he batted .262, hit 13 homers, and drove in 68.
By early 1953, Toronto was reported to have given Rickert the opportunity to strike his own deal with a Pacific Coast League club. He was determined to stay on the West Coast, closer to home. He seemed to have worked something out with Oakland in March, but it didn't last long, as the Oaks released him in April. Perhaps he was supposed to have returned to Toronto if he hadn't worked anything out, because when he "failed to report" the Leafs placed him on the suspended list on May 19.
That was it for baseball. The outfielder/first baseman returned to his native Washington, where he remained with his wife, Margaret, and children, Byron and Pamela. He worked for a time as a bartender and later operated a charter boat service.
An unheralded but meaningful honor came Marv's way when he was inducted into the Tacoma-Pierce County Sports Hall of Fame in 1964, along with Cy Neighbors, another local product with a "Moonlight Graham" career. According to the Baseball Encyclopedia, Neighbors played in only one game in the outfield for the Pittsburgh Pirates in 1908 and did not record an official at-bat in the majors, the same fate that befell Graham three years earlier. They joined perhaps the most notable former big-leaguer from that area, Jack Fournier, who batted .313 in a 15-year career primarily for the Chicago White Sox, St. Louis Cardinals and Brooklyn Dodgers from 1912 to 1927.
By this point Rickert was employed by the Pierce County Parks and Recreation Department, where he worked from the late 1950s until he retired in 1975. He lived out his remaining days on his farm in Oakville, Washington, and died on June 3, 1978, at the age of 57.
Note
This biography originally appeared in the book Spahn, Sain, and Teddy Ballgame: Boston's (almost) Perfect Baseball Summer of 1948, edited by Bill Nowlin and published by Rounder Books in 2008.
Sources
Theodore, John. Baseball Natural: The Story of Eddie Waitkus (Lincoln, Neb.: Bison Books, 2006)
www.baseball-almanac.com, www.retrosheet.org, and The Sporting News via www.paperofrecord.com
Chicago Daily Tribune
Los Angeles Times
New York Times
Tacoma News Tribune
Washington Post
Tacoma-Pierce County Sports Hall of Fame, Marc Blau, Director
Photo Credit
The Topps Company
Born
January 8, 1921 at Longbranch, WA (USA)
Died
June 3, 1978 at Oakville, WA (USA)
If you can help us improve this player's biography, contact us.
http://bioproj.sabr.org/bp_ftp/images3/RickertMarv.jpg
600
800
admin
/wp-content/uploads/2020/02/sabr_logo.png
admin
2012-01-04 20:30:19
2012-01-04 20:30:19
Marv Rickert