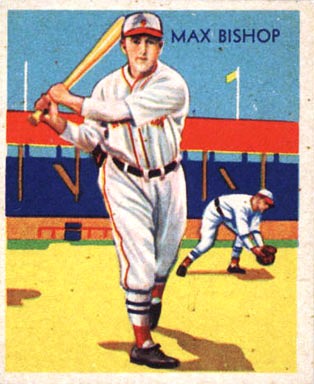 ---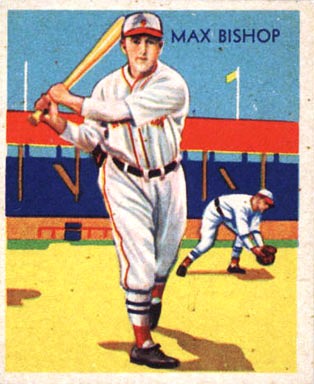 When a batter steps into the box, his most important goal is to get on base – unless he's been asked to sacrifice to advance a preceding baserunner. One talent in terms of getting on base is exercising the patience to work a walk. No one ever did that better than Ted Williams. His walks percentage of 20.63 is tops in major-league history. It means that just over 20 percent of the time Ted appeared at the plate, he earned a base on balls. There are only  two other players who holds a walks percentage at or over 20 percent — Barry Bonds (.2029)  and Max Bishop, whose .19955 rounds up to 20 percent.
Nicknamed Camera Eye for his ability to monitor the strike zone and predict the parabola of a pitch, Bishop was close behind Williams with a 20.46 walks percentage. He didn't have nearly as high a batting average – after 12 seasons in the major leagues (10 with the Philadelphia Athletics and a final two with the Boston Red Sox), Bishop's career batting average was just .271. Only once did he hit over .300. Add in the 1,153 walks, though, and he achieved a career on-base percentage of .423 – which ranks him 15th all-time, tied with Shoeless Joe Jackson (if one omits Todd Helton and Albert Pujols, both of whom were still active at the writing of this biography.) Bishop's is the classic case of someone whose steady play builds up statistics over time; Bishop never once led the league in on-base percentage and only once led in walks. Seven seasons, though, he walked more than 100 times. With the Athletics, his teammates called him Tilly – "because he holds his arms stiff at his side when he runs." [Atlanta Constitution, September 16, 1931]
Bishop was a table-setter, his job being to get on base in front of the sluggers who followed. In 1930, he even achieved the rare feat of scoring more runs (117) than he had base hits (111); the 128 walks he earned that year (he was also hit by a pitch six times) helped. That was the year that Max drew eight walks on one day, in a doubleheader on May 31. It set a record that he tied on July 8, 1934. Working a walk doesn't always guarantee a run, of course; on Opening Day 1932, Max walked four times but never scored.
Bishop was born and died in Waynesboro, Pennsylvania. His parents were Ulysses Grant Bishop and Lula Branch Zullinger Bishop, though one early census stated his father's name as Grant W. Bishop. The elder Bishop was reported in successive censuses as a time keeper, a secretary in a manufacturing company, and as "merchant / repair machinery." There were four boys in the family – Clair (b. 1892), Mark (b. 1894), Blane (b. 1898), and Max (born September 5, 1899).
The family moved to Baltimore when Max was 14.  [Philadelphia Evening Ledger, September 19, 1929] His first year in organized ball was about five years later, with the Baltimore Orioles (a Double-A team in the International League). He played third base in 1918, batting .260 in 125 games. He led the International League in putouts and assists his first year on the job. He became a regular and stuck with the Orioles for his first six seasons of organized ball.
Max wasn't the only boy in the family who played baseball. Claire played first base for the town team, and was approached by the York ballclub in the Tri-State League. Mark pitched college ball at Gettysburg, but neither he nor Claire sought a baseball career and both became businessmen. Blaine became a dentist in Waynesboro. It's of note that Claire Bishop served for over 30 years as an official of Williamsport, Pennsylvania, clubs in organized baseball. The year before he died (1969), he was vice president of the Williamsport Astros.  
Max went to Baltimore in order to attend the Polytechnic Institute, but transferred to Baltimore City College in 1918, and started playing second base for the college team, one that boasted future major leagues in Tommy Thomas and Johnny Neun. Wondering if there was a chance that he might make it as a professional ballplayer, he initiated his own signing, taking Thomas with him to a newspaper office. The sportswriter there, Rodger Pippen, agreed to call Jack Dunn of the Baltimore Orioles on the telephone.  Dunn came to look Bishop over and signed him right off the school's diamond, reported college coach Herb Armstrong. The college played an exhibition game against the Orioles "and two days later I learned I didn't have a second baseman." [The Sporting News, March 7, 1962]  The Bishop parents weren't entranced with the idea of their son leaving school after 2½ years. Max delayed one week in reporting to the Orioles, but eventually won his parents' consent and joined the team. [Philadelphia Record, undated clipping in Bishop's Hall of Fame player file] When he reached the Orioles, third baseman Mike Mowrey had jumped the team the day before to play outlaw ball. This unexpected circumstance created a spot for Bishop at third base, which is why he played there his first year.
So Dunn's second baseman played third base his first year – and then at the start of the 1919 season, Bishop played first base for the first two months, while Ray Morgan played second base – until one day, when Morgan abruptly quit in a huff. Bishop finally took over the keystone sack. [Philadelphia Record, undated clipping in Bishop's Hall of Fame player file] At one point or another, Bishop played every infield position and every outfield slot.
Starting in 1919, the Orioles won the International League flag for seven years in a row (1919-1925). This was Double-A baseball, at the time the highest classification. The only two leagues above the International League were the American and National leagues. Bishop was with Baltimore for the first five years of that ride. He was never one of the top leaders in the league, but played good solid baseball that saw him average over 130 games a year. After the first couple of months in 1919, he pretty much held the second base slot. His two best campaigns were 1921 (.319 with 24 homers among his 58 extra-base hits) and 1923 (.333 with 22 homers among 67 extra-base hits). That last season earned him an invitation to join Connie Mack's Philadelphia Athletics.
Jack Dunn had probably kept Bishop in Baltimore for at least three years when he could have played at the major-league level, but took care of him financially. "He had been drawing major-league wages with Dunn," reported one columnist five years after Max had moved up. [Chicago Tribune, September 19, 1929]
The Boston Red Sox had their eyes on Max, and as early as January 1923 it was reported that two or three Orioles were being purchased by Harry Frazee for his Boston ballclub. The man Frazee was after the most was Joe Boley. [New York Times, January 12, 1923] The deal never happened. Word came on December 10 out of Chicago that Connie Mack had landed Bishop. The Athletics paid Baltimore $20,000 for his contract, the plan being to have Bishop take over at second base while Jimmie Dykes switched from second to third base or to utility work. Bishop hit .255 in his first year (1924) but was bothered by sinus troubles. After the season, he was one of five players Connie Mack sent to have their tonsils removed.
Before the 1925 season, Mack urged Bishop to become much more patient at the plate, and to take a walk if the pitcher couldn't put the ball over.  The man later known as Camera Eye developed his eye deliberately, he explained to writer C. William Duncan: "Connie Mack wanted me to be a lead-off man, so I became a 'base-on-balls hitter.' With Baltimore, I was a slugger, leading the circuit in home runs one year." [Philadelphia Evening Public Ledger, September 19, 1929. That Mack's urging happened in 1925 is reported in The Sporting News of March 7, 1962.] Bishop raised his average to .280 and walked 87 times, for a .420 on-base percentage.
He'd been a regular in Baltimore and now Bishop played second for Mack for 10 years in a row. There aren't too many players who found such consistent work, but even as late as 1927, Max admitted in an interview that his family had still not reconciled to his taking up a career in baseball. "Even now, my family are not particularly anxious to have me play ball. They think I might make better use of my time, and they look upon the occupation as too strenuous." [Unattributed April 1927 clipping found in Bishop's player file at the National Baseball Hall of Fame] He was slight, 5-feet-8½ inches tall, weighing 165 pounds. He batted left and threw right-handed.
The highest Max ever hit for average was the .316 he recorded in 1928. His biggest single day came in a doubleheader on August 25 of that year, when he hit a triple, two doubles, and two singles off White Sox pitching. He won an earlier game in the 13th, and a later one with a home run against the Yankees in the ninth inning. It was a rare home run – in 12 seasons, he hit 41 – but it flew over Babe Ruth's head and reached Yankee Stadium's right-field seats to break a 3-3 tie. Bishop's 1928 fielding average of .978 led all second basemen in the league. The A's were becoming more and more competitive. When Bishop first joined them in 1924, they finished in eighth place, but for the next four years were either second or third in the standings, albeit not always that close to first place. New York, with Ruth and Gehrig and more, ruled the roost. The 1928 campaign saw the Athletics close to finish just 2½ games behind the Yankees.
And 1929 was a banner year. On February 1, Max purchased a house in Philadelphia, selling the house he'd had when he was with Baltimore. The money he used came courtesy of the new contract he'd wrung out of Mr. Mack. "Bishop demanded the ball club," Mack complained. Mickey Cochrane and Max had both held out for salary increases; Cochrane settled first. Mack said that economics might force him out of baseball.
On April 29, at Shibe Park, Bishop helped win a game against the Yankees by walking every time he appeared at the plate – a record five times. The box score shows Bishop as having zero at-bats, but scoring three runs and driving in one. There was one point in 1929 when he reported vision problems – a filmy fluid covering his eyes, perhaps due to a tooth problem. He committed three errors in the June 29 game and two more on the 30th, and asked out of the lineup to try to address the problem. His average suffered badly – dropping to .232, well below the .316 he'd hit just the year before. He led the league in bases on balls, though, with 128, and he scored 102 runs.
Columnist Westbrook Pegler seemed to take offense that Bishop was so businesslike in his approach to baseball. So, for that matter, did Mr. Mack. Pegler proclaimed, "Max Bishop is a mechanic." He called him "uninspired, unemotional … so phlegmatic about the game and everything" and compared the zest he brought to the job to a plumber or plasterer. He characterized Bishop as "yawning" as he approached his work. Not only that, Pegler quoted Connie Mack as saying, "He hasn't any heart for the game; he plays for the first and fifteenth of the month. If it weren't for the pay days, I don't think he would ever take a ball in his hands." Furthermore, Pegler declared that Jack Dunn hadn't liked Bishop in Baltimore, either. [Chicago Tribune, September 19, 1929]
It was a theme to which Pegler returned two years later in another column, decrying Bishop as "bland, blond, and phlegmatic" and a "mechanical athlete. …He would have made an ideal bridge tender somewhere." Pegler suggested that Bishop had more ailments than most players, snidely adding, "When Max lays off, it isn't said that Bishop is sick or Bishop is hurt, but that Bishop says he is sick or hurt." Again, Pegler quoted Mack: "He plays for pay day, not because he enjoys the game, and I never can understand how fellows can come along every now and again who can play a game so well with so little liking for it. I don't think he ever enjoyed playing a game of ball." [Chicago Tribune, September 16, 1931] 
Another writer offered a bit of a differing view: "He is a quiet gentleman both off and on the field," wrote a Philadelphia sportswriter. "He does not like 'whoopee' parties and does not rush first to Mexico and then to China in search of excitement. When the season ends, he like every other ball player, goes hunting. Max prefers the Eastern Shore of Maryland, and goes after small game instead of bear, deer and other big game. He spends many hours at home listening to the radio and reading." [Philadelphia Evening Public Ledger, September 19, 1929] He and Mrs. Bishop liked to attend the theater. How quiet he was on the field is uncertain; more than one account called him a "foghorn" and said he was the loudest player on his teams, although "Off the field he scarcely talks above a whisper." [Atlanta Constitution, September 16, 1931]
One thing Mack never denied: Bishop was a key part of an impressive team. The A's of 1929 finished with a 104-46 record and won the pennant. They were on a roll. They won 102 games, and the pennant, in 1930, and they won 107 games and the flag in 1931.
Philadelphia took the 1929 World Series in five games from the Cubs. They were widely expected to repeat in 1930, and they did. It took them six games to beat the Cardinals. They bowed to St. Louis in 1931 as the Cardinals had their revenge, the Series running to seven games and the A's succumbing to the superb pitching of Burleigh Grimes.
Bishop played in all 18 of the games, and handled all 69 chances without an error. No less than John McGraw said that Bishop's fielding was "spectacular" and that there were two plays in Game Six of the 1931 Series, both of which could go down in history. "It is unlikely that you will ever see two such beautiful plays in one game of any big series. He is one of the outstanding fielding heroes." [Los Angeles Times, February 28, 1932] Max's fall classic hitting was subpar, just .182 with one run batted in. He had four hits in each of the three Series – and matched that figure as a "waiter," walking an even dozen times, too. He scored 11 runs. And he had two world championship rings to his credit. A few years later, the Washington Post's Shirley Povich called Bishop "the fellow who sparked the Athletics to three consecutive pennant victories." With the five flags he'd helped win in Baltimore, Bishop had himself quite a collection.
Max lost his father in 1931. On February 19, Ulysses Bishop was found dead in the garage of his home in Westminster, Maryland, with a bullet in his head. The coroner's office ruled it a suicide.
In 1932, New York's Lefty Gomez walked Bishop four times on Opening Day. Why was Max so hard to pitch to? Gomez said, "I can't figure it out myself. This Bishop just stands there and takes 'em and the umpires call 'em balls. He doesn't look or act any tougher to pitch to than anybody else." At least one newspaper headline suggested he had cast a spell on the umpires. As he had in 1928, Bishop's fielding at second base was tops in the league: .988 in 1932. For the sixth year in a row, he earned over 100 walks. For the seventh year of the last eight, his on-base percentage was well over .400. (His .412 mark in 1932 was the lowest of those years.) In most years, Bishop was second or third in the league in walks, with Babe Ruth and Lou Gehrig the one or two above him. Unlike the two Yankee sluggers, Bishop rarely (if ever) was given an intentional base on balls.
In early May 1932, Mack released shortstop Joe Boley. After Bishop drew Boley to Jack Dunn's attention, Boley and Bishop had become a remarkably long-tenured combination around the second-base bag for five years in Baltimore and five-plus years with the Athletics. There were quite a pair personality-wise, too. We've seen what Westbrook Pegler called Max. Edward J. Neil of the Associated Press said that Boley was so quiet that the A's called him Silence and Fun. [Atlanta Constitution, September 16, 1931]
In 1933, Bishop recovered to have a better year at the plate, boosting his average back to the same .294 as in 1931 (but with a career-high OBP of .446 in '33). Philadelphia, though, was falling short in the standings – second place by 13 games in 1932 and third place by 19½ games in 1933. The Depression was hitting hard, and Connie Mack began to make moves to keep the team financially solvent. Speculation was rampant from October of that season right up to the Winter Meetings in December as to how many players Mack would sell off.
It was in a flurry of activity that Connie Mack cashed in, selling or trading a number of his better players. On December 12, 1933, Mack dealt Bishop and pitchers Lefty Grove and Rube Walberg to Tom Yawkey's Red Sox, sold Mickey Cochrane to the Tigers, and peddled George Earnshaw to the White Sox. The three transactions brought him an estimated $300,000. The Associated Press observed, "These deals all but complete a break-up of the famous Athletics." Philadelphia picked up some players in the trades, but it seemed evident that they were largely window dressing to provide cover for the cash transactions.  
Bishop was, he said, "tickled" to go to the Red Sox. "First, because I believe the Red Sox are going places in the league; second, because it's going to be great to work under (manager) Bucky Harris for an owner who isn't afraid to spend money to get what he wanted, and third, because I've always liked Boston and the sportsmanlike, appreciative fans there. If I could have had my choice of a club to be sold to, I should have picked the Red Sox." [Hartford Courant, December 14, 1933]
There was one particular notable game that year – on July 8, 1934, Max walked eight times in the doubleheader in Boston, tying his own major-league record.
The unloading of Athletics cost Mack his accustomed ranking in league play. He saw the Red Sox surpass the A's in 1934, taking fourth place and relegating Philadelphia to the second division, and in 1935 the Athletics finished in last place.
The Red Sox did seem to be on the way up, and manager Joe Cronin was acquired to lead the team starting in 1935. They won six of their first seven games. Asked how they got off to such a strong start, Cronin answered, "Max Bishop and our pitching staff." Bishop had reported to spring training in midseason shape, he said. [Christian Science Monitor, April 25, 1935] All in all, though, Max's better days seemed to be behind him. His average dropped to .261 in 1934 and then to .230 in 1935. He walked fewer than 100 times each year, though he had a .445 on-base percentage in 1934. He didn't play in as many games.
On November 19, 1935, Bishop signed a contract with the Portland Beavers of the Pacific Coast League to be a player/manager there. The new owner, Edmund J. Schefter (a beauty lotion manufacturer), apparently loved the idea of getting a two-for-one deal. Bishop pulled a groin muscle after the first game of the season and concentrated on managerial duties alone; when he found he'd lost his second baseman, Schefter fired Bishop. He hadn't waited very long into the season, giving him the gate on May 10. [Los Angeles Times, May 13, 1936]
Bishop filed a protest with the commissioner's office, saying that he was ill and on crutches and should not have been fired for not taking the field. A storm of protest arose from the fan base in Oregon; somehow Bishop had triggered strong positive feelings among the team's following. Perhaps Schefter's intemperate remarks went over poorly as well: "They talk about Max Bishop being a sick man – what about me? I've been ill for the last year from strain." He said he'd sell the ballclub if he could just get back what he'd put into it. Bill Cissell took over as manager and the team won the PCL pennant. [Los Angeles Times, May 16, 1936. A lengthy account of the uproar – "almost a fan uprising" – ran in The Sporting News on May 21.]
Bishop came back to Baltimore and signed to play with his original pro team, the Orioles on August 19, in time to get into 23 games at the end of the season. He hit .281 in 57 at-bats.
A threat to take his case against Schefter to the courts doesn't seem to have been pursued. Bishop turned to scouting in 1937, working for the Detroit Tigers – perhaps manager Mickey Cochrane, Max's old Athletics teammate, had a say in that February appointment. That lasted just one year. He'd agreed to manage Pocomoke City in the Eastern Shore League in 1938 but then learned that the United States Naval Academy was looking for a new baseball coach. Connie Mack's recommendation no doubt held considerable weight and Bishop was appointed to the post on February 3, 1938. His Athletics teammate Walt French was the baseball coach at West Point at the time.
Bishop had a very long and very successful run and coached midshipmen in Annapolis for the next 24 years, compiling a record of 306-143. The 1961 team was his best, at 24-2. It probably seemed like a good time to retire, and go out on top.
Bishop died on February 24, 1962, after returning home for his mother's funeral. Max was 62 years old. Lula Bishop was 93 and had died on February 22. Max traveled to Waynesboro for the funeral. He'd been under treatment for a heart condition and had scheduled his retirement from the Naval Academy for just a week later, on March 1. On the 24th, he died in his sleep at the home of a cousin. His brother Mark found him dead in bed. [The New York Times of February 26, 1962, and The Sporting News of March 7, 1962]  Lula Bishop was buried just a few hours after Max died. 
His wife was Esther Bonday Bishop, of Maryland. They had a daughter Maxine, born in 1929, later Maxine Schwartz of Los Angeles, and a son, Max Junior, born in 1940, and three grandchildren at the time of his death.
Sources
In addition to the sources cited in the text, and the Bishop player file at the National Baseball Hall of Fame, the author used the online SABR Encyclopedia, retrosheet.org, and Baseball-Reference.com.
Born
September 5, 1899 at Waynesboro, PA (USA)
Died
February 25, 1962 at Waynesboro, PA (USA)
If you can help us improve this player's biography, contact us.
http://bioproj.sabr.org/bp_ftp/images3/BishopMax.jpg
600
800
admin
/wp-content/uploads/2020/02/sabr_logo.png
admin
2012-01-04 20:38:03
2021-03-10 10:34:09
Max Bishop