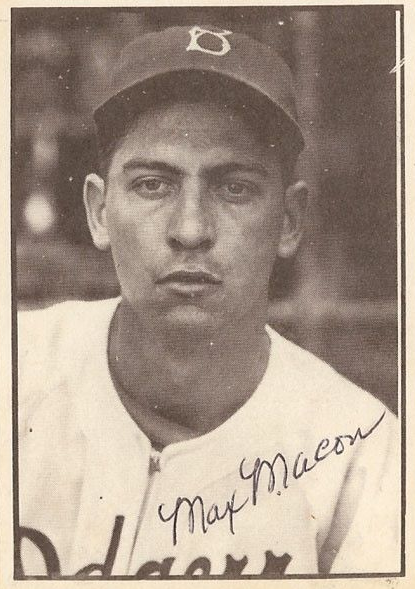 ---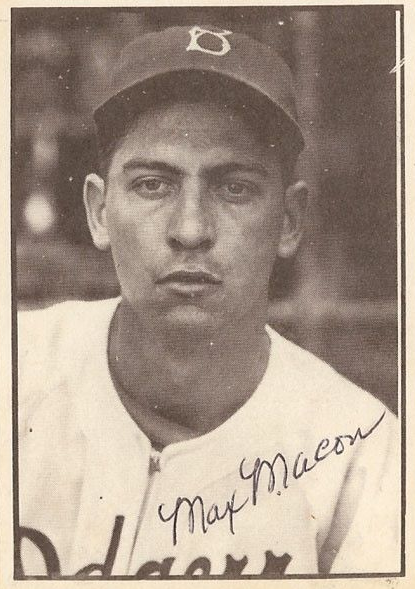 Max Macon was the top pitching prospect in the St. Louis Cardinals' farm system before he blew out his arm in his first spring training appearance. The left-hander, so skinny he could "close one eye and look like a needle," was the rare pitcher who hit well enough to make a comeback as a position player.1
As a manager in the Dodgers organization, he was remembered not for the prospects he developed, but for the one who got away: Roberto Clemente. His role in Clemente's first professional season is still in dispute more than 60 years later.
Max Cullen Macon was born in Pensacola, Florida, on October 14, 1915, to Arthur and Amy Laura Macon. He was a baseball, basketball, football, and track star, but while he was still in high school his father, who worked for the Louisville & Nashville Railroad, was transferred to the home office in Louisville. Max finished high school across the Ohio River in New Albany, Indiana.
He made his mark pitching and hitting in a Louisville church league where Pee Wee Reese was scouted a few years later. A Methodist minister, Rev. Golden A. Smith, recommended Macon to his friend Branch Rickey, vice president of the Cardinals.
Coming up through the St. Louis farm system, Macon was a young hotshot, but wild and overworked. Starting when he was 18, he pitched more than 200 innings every year. His performance at the highest level, Double-A Columbus, in 1937 stamped him as one to watch: a 21-12 record, 3.46 ERA, and more than five strikeouts per nine innings, well above average at the time "I was so fast in 1937 they couldn't see what I was throwing," he said later.2 The reedy 21-year-old, 6-feet-3 and 145 pounds, worked more than 300 innings, counting the postseason playoffs. With an invitation to big league spring training in hand, he married Marjory Smith, a young woman he had met when he crashed a fraternity dance in Columbus.
The next spring Cardinals manager Frankie Frisch quickly learned that the prize prospect was not shy. Macon talked back when Frisch ordered him to run laps: "OK with me. I can take it. I'm a reindeer. When do I pitch?" Frisch said, "He's going to be hard to tame, but I like them that way."3
Macon's first spring appearance came in an exhibition game against the Yankees, winners of the last two World Series. It was Dizzy Dean's first start as he tried to come back from a sore arm, and the Cardinals were holding their breath. Dean gave up a solid double to the leadoff man, then set down the next nine in a row to complete his workout. The Cardinals exhaled — prematurely, as it turned out.
Macon came on in the seventh with St. Louis leading, 1-0, and retired six straight. The Yankees filled the bases in the ninth on an error, a base hit, and a bunt single. A sacrifice fly tied the score, but Macon didn't buckle. He retired George Selkirk and Joe Gordon.
The Cards broke through with seven runs in the top of the 10th, and Macon closed out the victory in the bottom half. The next day's headline trumpeted, "Rookie Macon Outshines Dizzy Dean." The St. Louis Star-Times's Sid Keener thought the Cardinals had found a new ace: "If the National League is to come up with another Carl Hubbell, then Maxie is the boy."4
Leo Durocher was watching, too; he was visiting his former St. Louis teammates while holding out for more money from the Dodgers. "I remember [Lefty] Gomez sayin' "What am I throwin' out there, softballs? Look at that kid — he ain't human.'"5
But Macon recalled his first game as the beginning of the end: "I was supposed to pitch three innings that day and I wanted out after that. But Frisch said, 'Try another couple.'" Looking back four years later, he added, "I was only a hungry kid pitching for a job, you see. I never forgave Frisch for that…. I couldn't lift my arm the next day. I couldn't throw fast the rest of the season."6
Branch Rickey Jr. said later, "My dad told me at the time that Macon would become one of the great pitchers in the game."7 Instead, his rookie year was a disaster. He lost his first four decisions, was hit hard in three of them, and was pulled from the starting rotation. His electric fastball was gone at 22. The pain in his shoulder never abated.
Macon's record had a certain ugly symmetry: 4-11 with a 4.11 ERA. He never pitched for the Cardinals again. In 1939 the club loaned him to the Yankees' top farm club at Newark, where he pitched well enough that Dodger manager Durocher gambled the $7,500 waiver price on him after the season.
By this time pain was keeping Macon awake at night after he pitched. He could feel a lump under his shoulder blade. A doctor at Johns Hopkins University Hospital identified it as a calcium deposit, but said surgery would finish the patient as a pitcher. He advised Macon to switch to another position if he couldn't stand the pain.
Sent to Double-A Montreal, Macon was a part-time pitcher in 1940 and 1941 as he reinvented himself to rely on a curve, changeup, and screwball. He hedged his bets by playing the outfield and pinch-hitting. He thought winter ball in the Cuban sunshine after the 1941 season restored some snap to his arm. Back in Montreal, a city not known for its steamy climate, he was able to take his regular turn on the mound in 1942 and reeled off a 9-4 record and 2.33 ERA by mid-July.
Ten weeks in July, August, and September 1942 marked the pinnacle of Macon's career. The Dodgers appeared to be on the way to their second straight pennant when they called him up. Pitcher Kirby Higbe took one look at him and remarked, "If they put you in jail, Macon, they'd have to put chicken wire on the windows to keep you from slippin' through the bars."8 The lefty had filled out, sort of, to about 175 pounds at age 26.
The Dodgers had no roster spot for him, so he spent a week pitching batting practice and sitting on the bench. Durocher wanted to look him over before deciding whether he was worth keeping. Other teams protested the presence of a 26th man in uniform.
On July 18 Durocher gave him his first start in the second game of a doubleheader against the Cardinals, Brooklyn's closest challengers. It wasn't much of a pennant race; even after losing the first game, the Dodgers had a seven-game lead. Macon shut out the Cards on three hits through six innings. He tripled in the top of the seventh to drive in the Dodgers' fourth run. Good thing, because he blew up in the bottom of the inning and gave back three before he was relieved. Curt Davis finished to save Macon's first big league victory in more than two years.
After three relief appearances, he started against the Giants and faced the minimum 15 batters in the first five innings before giving up his first hit in the sixth. He finished with a two-hit shutout, continuing of a string of 19 consecutive scoreless innings. The victory stretched Brooklyn's lead to 10 games over St. Louis with less than two months to go.
That was the Dodgers' high tide. The Cardinals got hot and made a race of it. The Dodgers went into St. Louis on August 24 and dropped two games, cutting their lead to 5½. Macon started the third game against Cardinals rookie Johnny Beazley. The teams played to a 1-1 tie after nine innings. In the bottom of the tenth, Macon allowed a walk and a single. Then Coaker Triplett topped a squibber up the third-base line. Macon fell down as he tried to grab it, and the winning run scored. The Cards were just 4½ back.
The teams met for their final two-game series in Brooklyn on September 11. When the Cardinals won the opener, they closed to within one game. Macon took the ball the next day and gave up a two-run homer to Whitey Kurowski in the second. That was all the Cardinals got, but their lefty Max Lanier held Brooklyn to a single run. Macon left for a pinch-hitter in the seventh and was the losing pitcher as St. Louis climbed into a tie for first place. The Dodgers never led again. The Cardinals won 44 of their last 53 games to claim the pennant.
Macon finished with a 1.93 ERA and a 5-3 record, allowing just 67 hits in 84 innings. For the first and only time, he tasted success in the majors. But he was doing it with mirrors, not smoke. Branch Rickey called him "a pitcher who has nothing and uses every bit of it."9
Still, the Dodgers were counting on him for 1943. He opened the season in the rotation and won his first three starts, but two of the victories were by scores of 18-6 and 13-6. The Brooklyn Eagle's Tommy Holmes described his stuff as "slow freight."10 His arm was hurting again, and he went to the bullpen.
By August Macon was useless. In three games he was torched for 17 runs in 8 2/3 innings, and was sent outright to Montreal. For all practical purposes, he was finished with pitching.
He had always been a decent hitter, though without power. Durocher had used him as a lefty pinch-hitter, and he delivered 8 hits in 24 pinch at-bats over his two partial seasons in Brooklyn. He had pinch-run and even played parts of three games at first base for the Dodgers. Desperate to salvage his career, he spent the last month of 1943 at Montreal playing first base and center field while pitching only twice. He hit .347 in 26 games.
Macon's gamble paid off when the Boston Braves drafted him after the season, but he almost passed up the chance to return to the majors. He had escaped the military draft as a married father — he and Marjory had a daughter, Nancy — but now the draft was taking men with children. Macon went to work in a war plant in Louisville, a job that might qualify for an exemption from military service. He told the Braves he would not report.
Something changed his mind. Maybe it was the knowledge that the Braves' regular first baseman, Johnny McCarthy, had gone into the army. Maybe the club offered more money. He skipped spring training, then joined the Braves in the first week of the 1944 season.
Macon was the regular first baseman for three months. A 5-for-5 game on May 14 boosted his batting average to .373, but he soon fell back. In August he moved to left field. He batted .273/.296/.355 in 106 games, and hit all three of his major league home runs that season. In his only pitching appearance he was hammered for seven runs in three innings.
The military draft caught up with Macon, and he left the team in mid-September to spend the next two years in the Army. Stationed at Fort McClellan, Alabama, in the spring of 1945, he was badly injured in a dynamite explosion that put him in the hospital for a month. After he recovered, Macon was sent to the Philippines. Following Japan's surrender in August 1945, he played first base for the Manila Dodgers, an all-star Army team organized by his Brooklyn teammate Kirby Higbe.
Returning to the Braves in 1947, Macon was beaten out for the first-base job by rookie Earl Torgeson. He appeared in his last game on April 17, back on the mound in relief against the Dodgers. The first batter he faced was Jackie Robinson, playing his second big-league game. Robinson walked, but Macon pitched two scoreless innings. The Braves sent him to their Triple-A club at Milwaukee, and he was released after the season.
Macon went to baseball's winter meetings looking for a job. He approached the Dodgers about a player-manager position, but they had no openings. He picked up his offseason job as a basketball official in Louisville. He progressed from high school games to the Southeastern Conference. The legendary Kentucky coach Adolph Rupp once called him the SEC's best referee, but a few years later Macon refused to work Kentucky games because of his many run-ins with Rupp.
After playing semipro ball in 1948, Macon got his first minor league managing job with Modesto, California, a Pittsburgh affiliate. Taking over less than a month into the 1949 season and playing first base, he hit safely in his first 34 games and terrorized Class-C pitchers with a .383 average. That got the attention of the Pacific Coast League Portland Beavers, who drafted him after the season. At 34, Macon knew his future lay in managing, not playing, so he asked to be released.
In 1950 Macon began his long association with the Dodgers organization. Brooklyn farm director Fresco Thompson, who had managed him in Montreal, hired him for the Class-D Hazard, Kentucky, Bombers. Managing and playing first base, he overpowered the Mountain States League, winning the batting title with a .392 average. The next year Hazard won the pennant behind the pitching of 18-year-old left-hander Johnny Podres, who went 21-9 in his first season out of high school. Manager Macon raised his average to .409, but did not lead the league.
Macon won his second straight championship in 1952 with Miami in the Class-B Florida International League. That earned him a promotion to Fort Worth in the Double-A Texas League and, in 1954, to the Triple-A club at Montreal. He succeeded Walter Alston, who became manager of the Dodgers.
Macon's single season in Montreal ensnarled him in a lingering controversy. The Dodgers sent him outfielder Roberto Clemente, a 19-year-old playing his first professional season. Brooklyn general manager Buzzie Bavasi later acknowledged that the team hoped to hide Clemente so no other team would see his incandescent talent and draft him — as Pittsburgh did after the season.
Clemente went further; he was quoted as saying, "The idea was to make me look bad." Macon always denied it, but he was not believed. Looking through Montreal box scores, researcher Stew Thornley found that Clemente was platooned for much of the season, starting only against left-handed pitchers, just as Macon platooned other outfielders.11
"I never had any orders not to play Clemente," Macon said. He described the rookie as a raw player and a wild swinger who could look helpless against Triple-A pitchers.12 Clemente played in 87 games, many of them as a late-inning replacement, and hit .257 with no power. But the Dodgers could not hide him from Pittsburgh. Branch Rickey, now the Pirates GM, had spotted him in Puerto Rican winter ball before the 1954 season and knew that he was a gem.13
In 1955 the Dodgers transferred Macon to their other Triple-A team in St. Paul. The two top-level farms had to split the big club's best prospects. Montreal got the better of the deal, winning two pennants in the next five years, while St. Paul never made the playoffs and had a winning record only once.
The Dodgers let Macon go after the 1959 season, without explanation. When he went to the winter meetings to inquire about his next assignment, he said farm director Fresco Thompson and general manager Buzzie Bavasi "purposely avoided me."14 He thought he deserved better after a decade in the organization.
The only job he could find was a comedown to Class-A ball with Columbia, South Carolina. He led the Cincinnati affiliate to the Sally League pennant. In 1961 he signed to manage Double-A Macon, Georgia. The Southern Association Peaches had no major league affiliation and were anchored in last place when manager Macon quit Macon less than two months into the season. For the rest of his working life he scouted for several teams.
Macon was with Detroit as a scout and minor league pitching instructor in 1962. He was at home in Louisville on June 29 when he and his wife, Marjory, went to play golf at their country club. She left the course in the middle of the round, got into her car, and shot herself.15 Her suicide left Macon to raise their teenage son, Roderick; their daughter, Nancy, was married.
After his son graduated from high school, Macon moved to Jupiter, Florida, in 1966 with his second wife, the former Carol Petty. They divorced in 1980. Max Macon died at 73 on August 5, 1989. His third wife, Jackie Rose, survived.
When he was scouting for the Pirates late in his career, Macon reconnected with the team's star, Roberto Clemente, and talked to him about their year in Montreal. By then Clemente's complaints about his treatment were well known. Macon assured him there had been no plot to make him look bad. "He didn't believe me, I guess. But … he didn't harbor a grudge."16
Acknowledgments
This biography was reviewed by Jan Finkel.
Notes
Born
October 14, 1915 at Pensacola, FL (USA)
Died
August 5, 1989 at Jupiter, FL (USA)
If you can help us improve this player's biography, contact us.
https://sabr.org/sites/default/files/MaconMax-TCMA.png
600
800
admin
/wp-content/uploads/2020/02/sabr_logo.png
admin
2017-09-14 17:17:07
2020-04-09 14:40:31
Max Macon